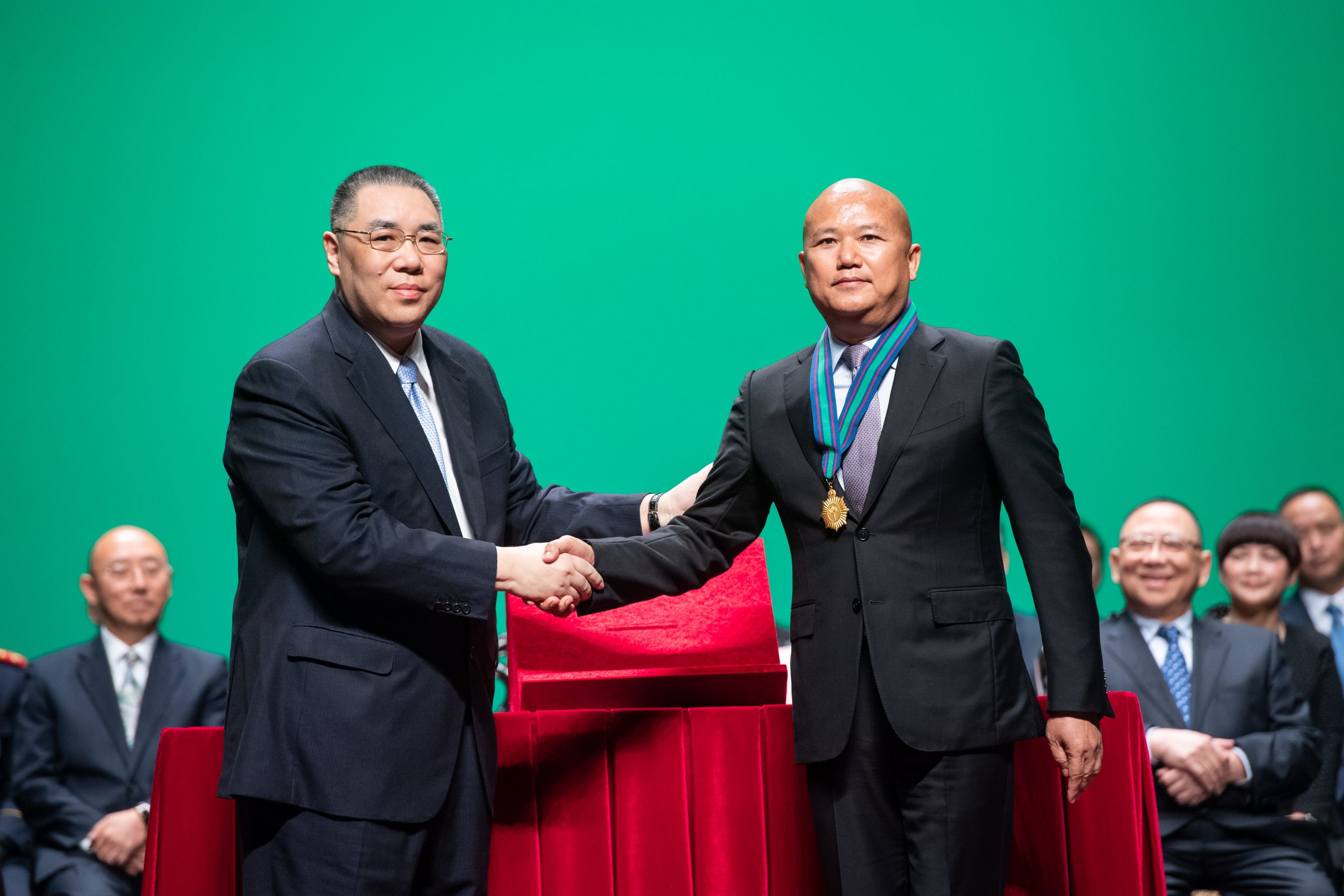 Macao businessman Chan Meng Kam, a former lawmaker and current Executive Council member, was awarded the Golden Lotus, the highest award given this year.
Chan is widely seen as the de facto leader of Macao's Fujianese community, which accounts for about one-fifth of the city's population. Born in Jinjiang, Fujian Province, in 1962, Chan immigrated to Macao in the early 1980s.
Today, he holds a number of political and social positions in both mainland China and Macao. Chan chairs the private City University of Macau and he is a member of the National Committee of the Chinese People's Political Consultative Conference.
He is also vice chairman of Macao Region China Council for the Promotion of Peaceful National Reunification, deputy director of the Committee for Promotion of Fujian-Taiwan Economic Cooperation, chairman of the Executive Committee of the Goddess A-Ma Foundation of Macao, and a trustee of the Macao Foundation.
In his professional life, Chan serves as president of Golden Dragon Group Co Ltd and Huan Yu Group Holding Company Limited, dedicated to the tourism sector.
Over the years, Chan has been linked to charitable causes and made many donations to both mainland China and Macao for education, public health, social welfare, and disaster and poverty relief.
Awarded the Gold Medal from the Fujian government for his charitable contribution in 2004, Chan also received the China Charity Award from the Ministry of Civil Affairs and China Charity Federation the following year. In 2008, he received the World Outstanding Chinese Award from United World Chinese Association. The Macao government also recognised him in 2008, awarding Chan the Order of Merit in Benevolence.
Chan received the Golden Lotus in a ceremony headed by Chief Executive Chui Sai On in January 2019. Four other Macao residents were awarded the Silver Lotus decoration: businessmen Davis Fong Chi Keong and Ho Hao Tong, former lawmaker Kwan Tsui Hang, and wushu practitioner Huang Junhua.
Macao's 2018 honours list also included the head of the local Roman-Catholic diocese, Bishop Stephen Lee Bun Sang; the city's best-selling Chinese-language daily, Macao Daily; and the former Portuguese consul-general in Macao, Vitor Sereno.
Macao's top honour, the Grand Lotus decoration, was not awarded in 2018.
The 2018 honours list comprised 46 people and entities, with 41 medals and certificates of merit awarded in addition to the 5 decorations.