Macao architect Carlos Marreiros' Red December exhibition is at Tap Seac Gallery until next month. The artist tells us all about his utopian 'floating ship', his 'naughty' sketches and his diaries full of memories and memorabilia that adorn the show's walls.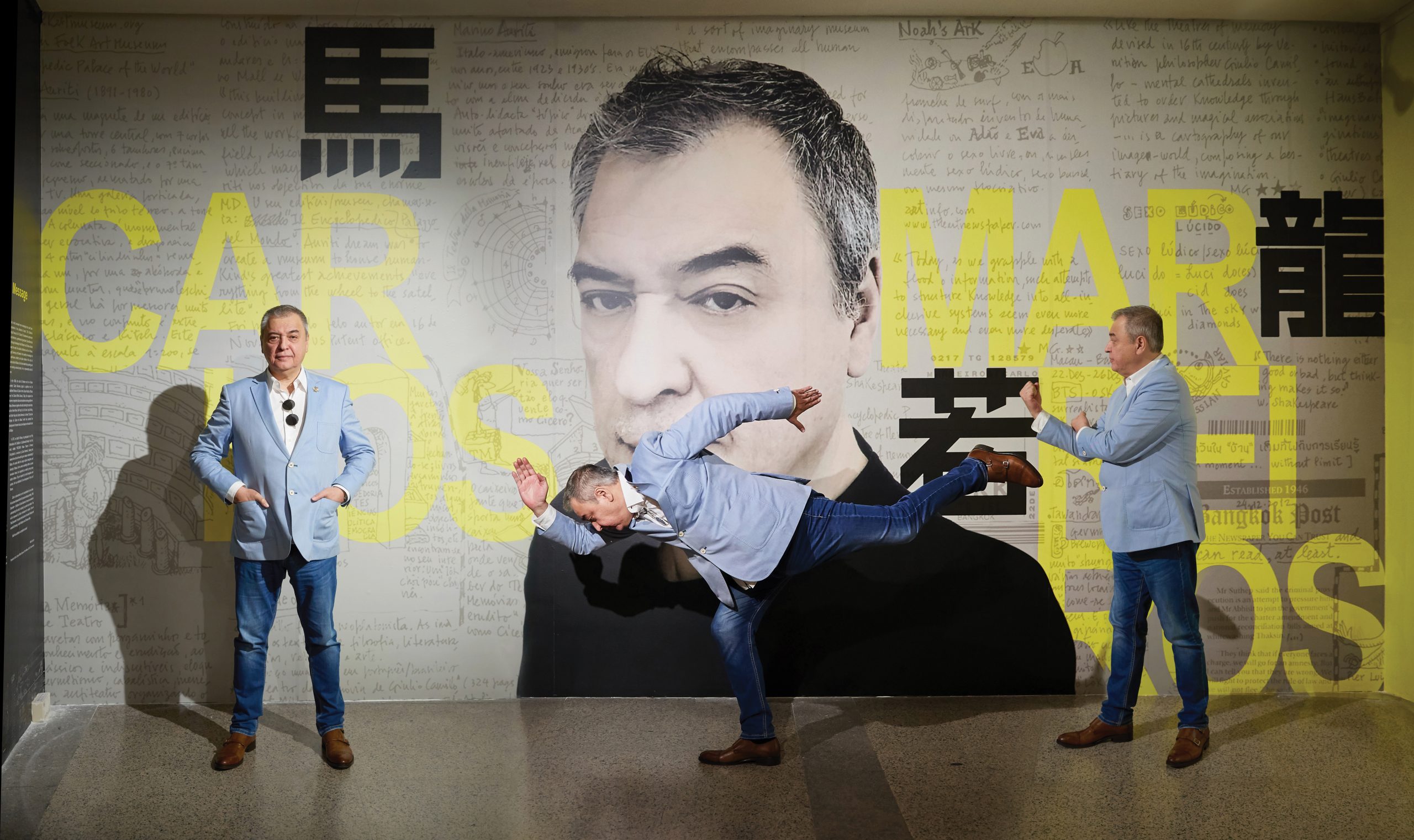 Carlos Marreiros identifies himself as 'an architect first and an artist second'. In reality, he is probably professor third, writer fourth, poet fifth, linguist sixth and the list goes on. The founder of MAA Marreiros Architectural Atelier on Rua de São Miguel is a talented man – and visitors to Tap Seac Gallery, just down the road in Avenida do Conselheiro Almeida Ferreira, are in for a treat at Red December, Marreiros' latest exhibition.
Marreiros, whose family has more than 200 years of history in Macao, welcomes us at the door of Tap Seac Gallery which opened in November. We step inside with the man behind the ideas – it's not often you get to be guided through an exhibition by the artist himself.
"Red December is an exhibition played in two concurrent tempos," says Marreiros. "On the one hand, you have [more than] 50 sketchbooks – almost everything I have drawn or written so far – and on the other, you have this imaginary, floating ship."
Marreiros was born in Macao in 1957 and he studied in the city, as well as in Portugal, Germany and Sweden. He has won an array of local and international awards in architecture and art over the years and is also an honorary professor at universities in China, as well as a guest professor at higher education institutions and universities in Macao. His artworks have been admired by many and Red December has already seen his pieces admired by many more over the past few weeks since its opening.
Comedy sketches
"It was a bit risky for me to exhibit all of my private sketches," says Marreiros as he leads us across the gallery. "I have a naughty sense of humour." The architect points at a black wall on which a number of large frames hold his sketchbooks. "If you look closely," he says, "you'll notice sketches of people we all know in funny costumes or saying interesting things. Some of them, I confess, I have had to hide – but most of them are here for everyone to see."
From several representations of German–speaking Bohemian novelist Franz Kafka to a movie poster for the 1942 film 'Casablanca' and a caricature of a Brazilian singer, there's an eclectic mix of sketches throughout the exhibition, which has also been organised by the Cultural Affairs Bureau. The whole collection, in fact, could serve as homage to popular culture and the arts across the world.
Visitors can also marvel at Marreiros' beautifully detailed drawings of foreign cities. And his diaries that are on display are full of details, including business cards, napkins from restaurants he has eaten in and airport luggage stickers, all arranged into an eclectic collage that covers more than 60 years of life experience. When asked if he thinks he works too much, he simply confesses: "I cannot stop."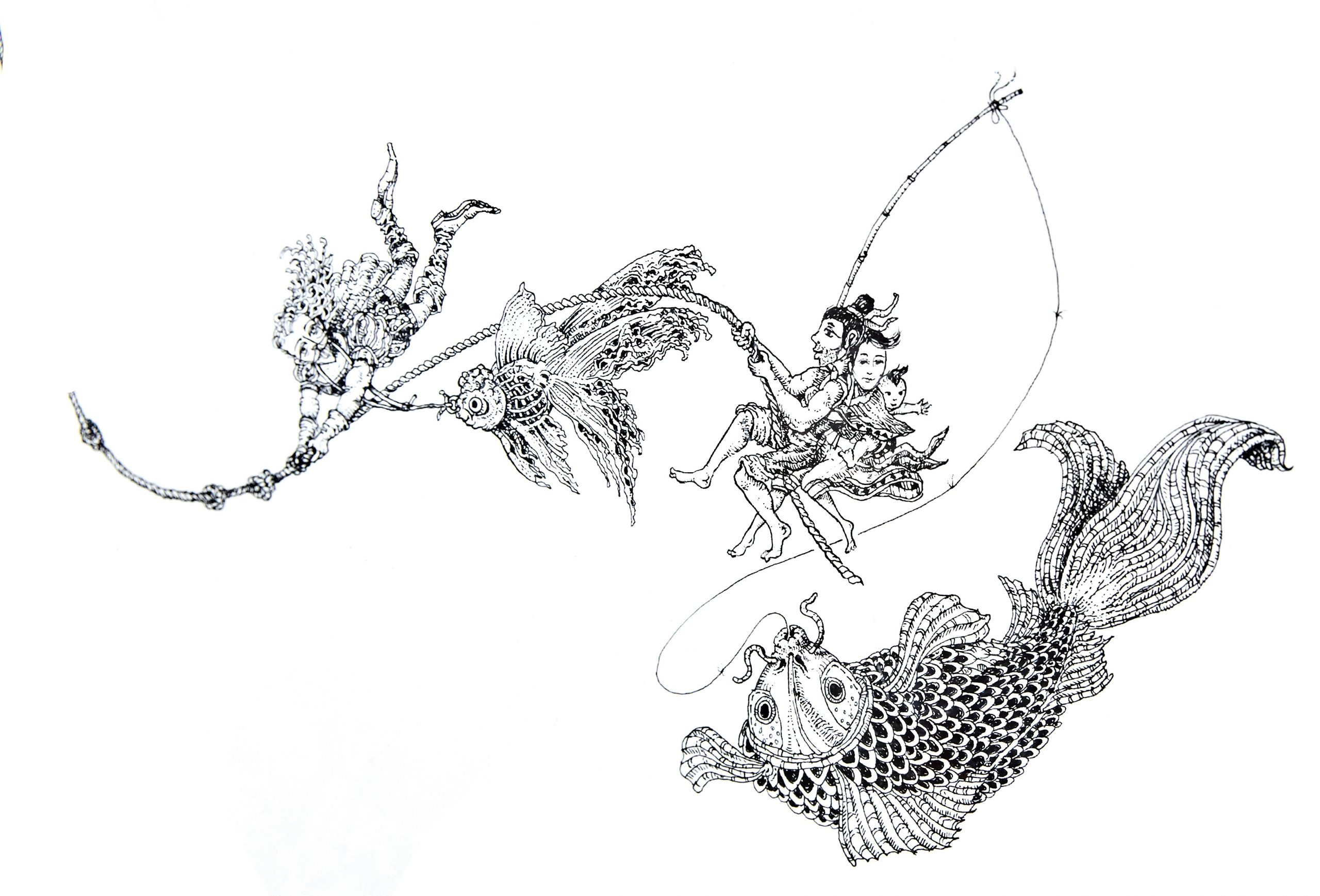 Floating imagination
The focus of the exhibition is surely Marreiros' 'floating ship', which is dubbed, like the exhibition, 'Red December'. This is a large composition that is embedded with detail, depicting a scene where Chinese and Western historical figures from different eras come together to chat, creating a utopia where all cultures, no matter when they come from, exist in harmony. "This is the 'pièce de résistance'," says Marreiros, adding that the name itself is in 'homage to China and Macao'. "No colour," he says, when asked about the 'Red December' title, "is as important as red and I wanted to celebrate the 20 years of the establishment of the Macao SAR, which happened on 20 December 1999."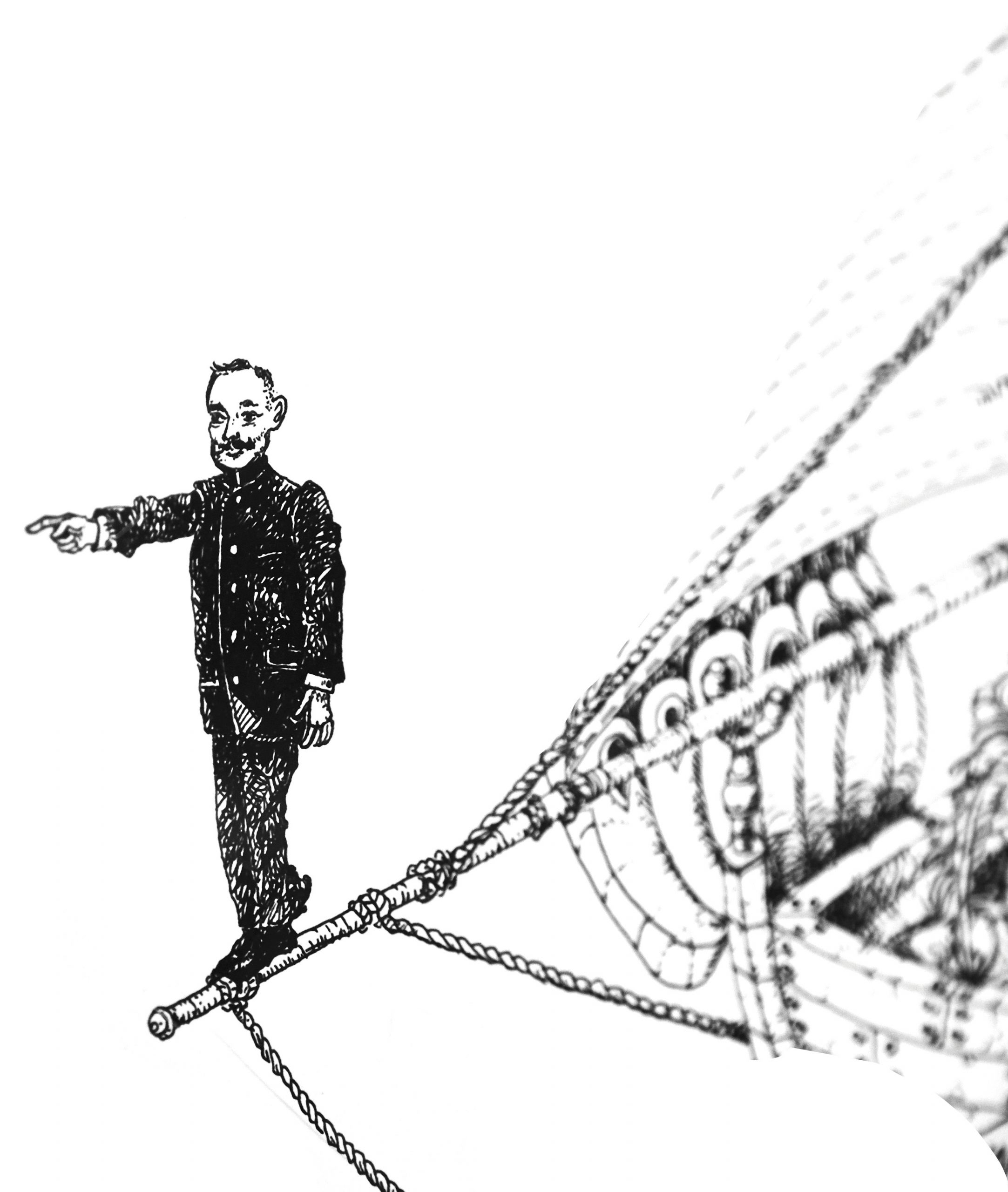 At three by four metres in size, the original 'Red December' was too large to fit in the gallery space, so Marreiros divided the work into four horizontal sections which were individually framed. He also arranged two smaller–scale replicas. In total, the great ship carries 109 different figures from across hundreds of years. "I only included the characters I consider the most important," he says, as he examines the piece closely with us. "You see these three people casually sitting together? They are [English poet and playwright] William Shakespeare, [founding father of the People's Republic of China] Mao Zedong and [16th century Portuguese poet] Luís Vaz de Camões. I like to imagine them casually smoking and chatting."
Traditional Chinese standards fly as the ship seemingly moves through the air, with little figures walking or enjoying a dim sum lunch. There's a Michael Jackson concert and even James Bond holding a gun while several cats scamper on by. Visitors stand mesmerised for long periods of time, spotting all the details in this 'pièce de résistance'. "I wanted to do in art what Gabriel García Márquez – the South American Nobel Prize winner – did in literature," concludes Marreiros, referring to Márquez's 'imaginary cities' in his books, which inspired the 'city' he creates in this piece. "Perhaps," he adds, "this is to make sense of this ever–changing reality we are all living in."
William Shakespeare, Mao Zedong and Luís Vaz de Camões are sitting there in the artwork. I like to imagine them casually smoking and chatting.
A word from a friend
Russian painter Konstantin Bessmertny has lived in Macao for more than 25 years and he is friends with Marreiros. He says that the first time he was confronted with the architect's works of art he was 'amazed'. "I was truly inspired," says Bessmertny. "It was at an exhibition [he had] at Casa Garden [next to Camões Garden in St Anthony's Parish] and I thought to myself 'this man could be exhibiting anywhere in the world. He has a unique talent'."
A video of Marreiros and Bessmertny conversing about the exhibition is projected as part of the show. "I always liked his line drawings," says Bessmertny. "They always had their own identity. When one sees any of his works – but especially 'Red December' – one can truly understand that this is Macao." Bessmertny adds that 'Macao in general has its own visual identity because of the artists living here'.
"When I first walked into the exhibition," says Bessmertny, "I did not know what I was about to see. But I found a lot of surprises awaiting me." Bessmertny singles out the sketchbooks as a highlight because they 'represent long Chinese scrolls' but they also boast 'a lot of Portuguese – European, even – flavour'. "It is rare these days," concludes Bessmertny, "to see a truly interesting contemporary art exhibition and enjoy it. More often than not, there is no authenticity. It was a completely different feeling when I saw Red December." Experience this 'different feeling' at Tap Seac while you still have time.
---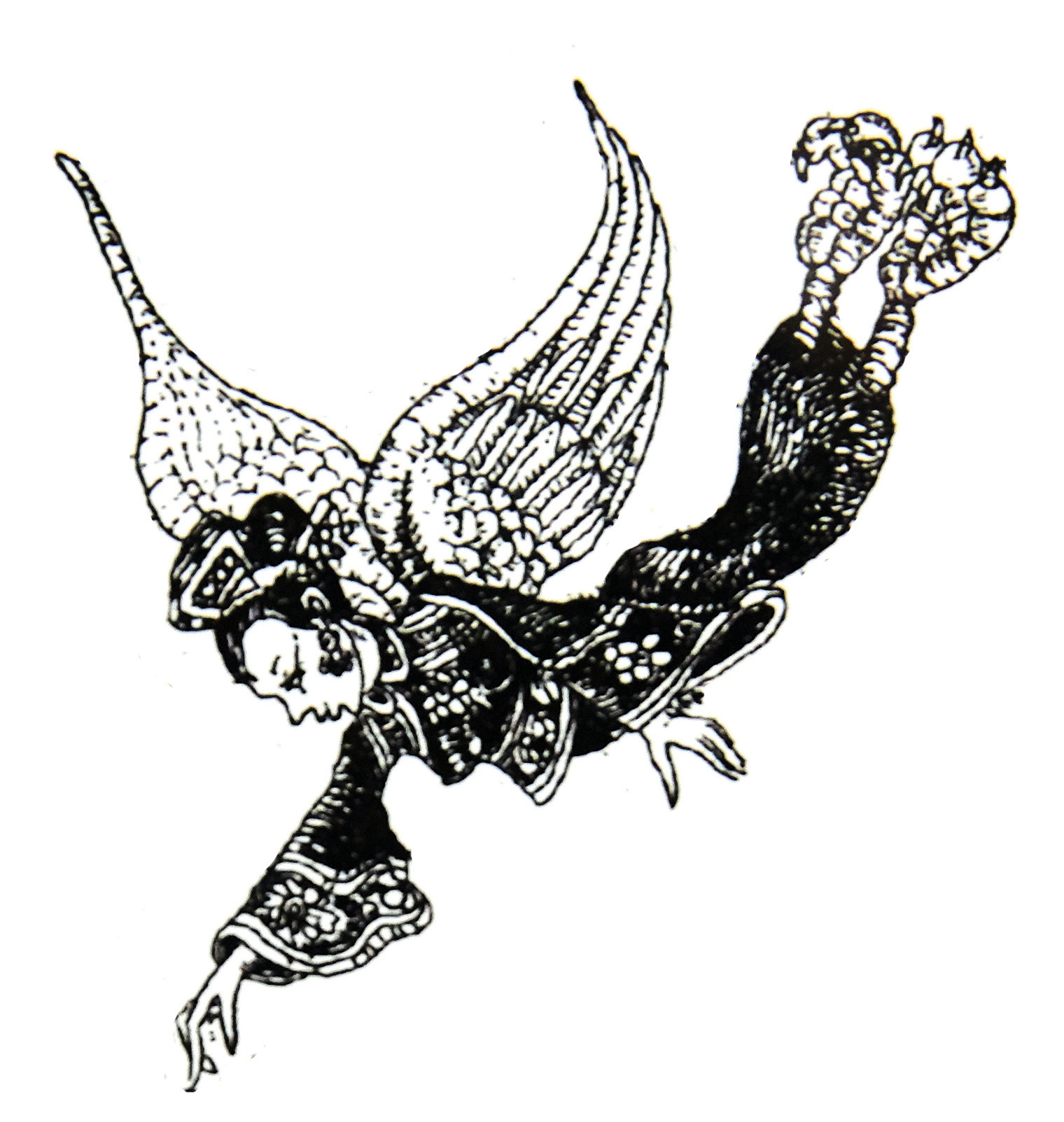 THE ART-CHITECT
Carlos Marreiros may be a thought-provoking artist but he has been first and foremost an architect, designing more than 250 buildings across the world. Here are a few of his noteworthy creations in Macao over the years:
Tap Seac Health Centre, 1984: A contemporary interpretation of Macao's neoclassical buildings, including a wall of glass that mimics traditional female Chinese dresses. It won the Macao Architects Association's 'Best Institutional Building' award in 1991 and, in 1999, it won the International Union of Architects' 'Jury Special Prize Award'. This is an NGO that's recognised by UNESCO as the only architectural union operating at an international level.
Academy of Public Security Forces (ESFSM), 1989: Built in Coloane, Marreiros designed blocks I, II and III.
Macau Portuguese School, 1999: A unique example of modernist architecture, the original building opened as Pedro Nolasco School in 1966 before it changed its name to the Portuguese School of Macau in 1998. The Marreiros-designed four-storey wing was opened the following year.
Requalification of Tap Seac, 2003: A massive undertaking, this project saw the creation of a square and the multifunctional Glass House, as well as the revitalisation of older buildings.
Villa Konstantin Bessmertny, 2004: Marreiros' design for his artist friend's home in Coloane received a Gold Medal in the Residential Building category in the Architects Association of Macao's 'Awards for Architecture 2009-2010'.
The Macao Pavilion at Shanghai World Expo, 2010: Not exactly Macao-based but this awesome bunny-shaped structure needs a mention. It was inspired by the traditional paper lanterns that are used in Macao during Mid-Autumn Festival. It won several international awards, including the 'Red Dot Award: Communication Design 2010'.
Partial Rehabilitation of the St Francis Barracks Phase I, 2016: The barracks are in a colonial-era building in Calçada dos Quartéis. The building was once, back in the 16th century, a monastery but it was later abandoned and became a military camp in the 19th century. It is now the headquarters for the Public Security Forces Affairs Bureau of Macao. Marreiros designed a contemporary low-rise building here, winning the Architects Association of Macao's 'Award of Excellence' in the Conservation Project category of the Architecture Awards in 2018.
New headquarters for the Forum for Economic and Trade Co-operation between China and Portuguese-speaking Countries, 2019: This building in the Lake Nam Van area is the new home of Forum Macao. It was designed to house the organisation's necessary facilities, including a special room to be used by the central government for plenary sessions and a gallery.
Macau Central Library Project, 2018+: Yet to be built, the Old Courthouse in Macao is expected to be transformed into a library with enough space for up to a million books.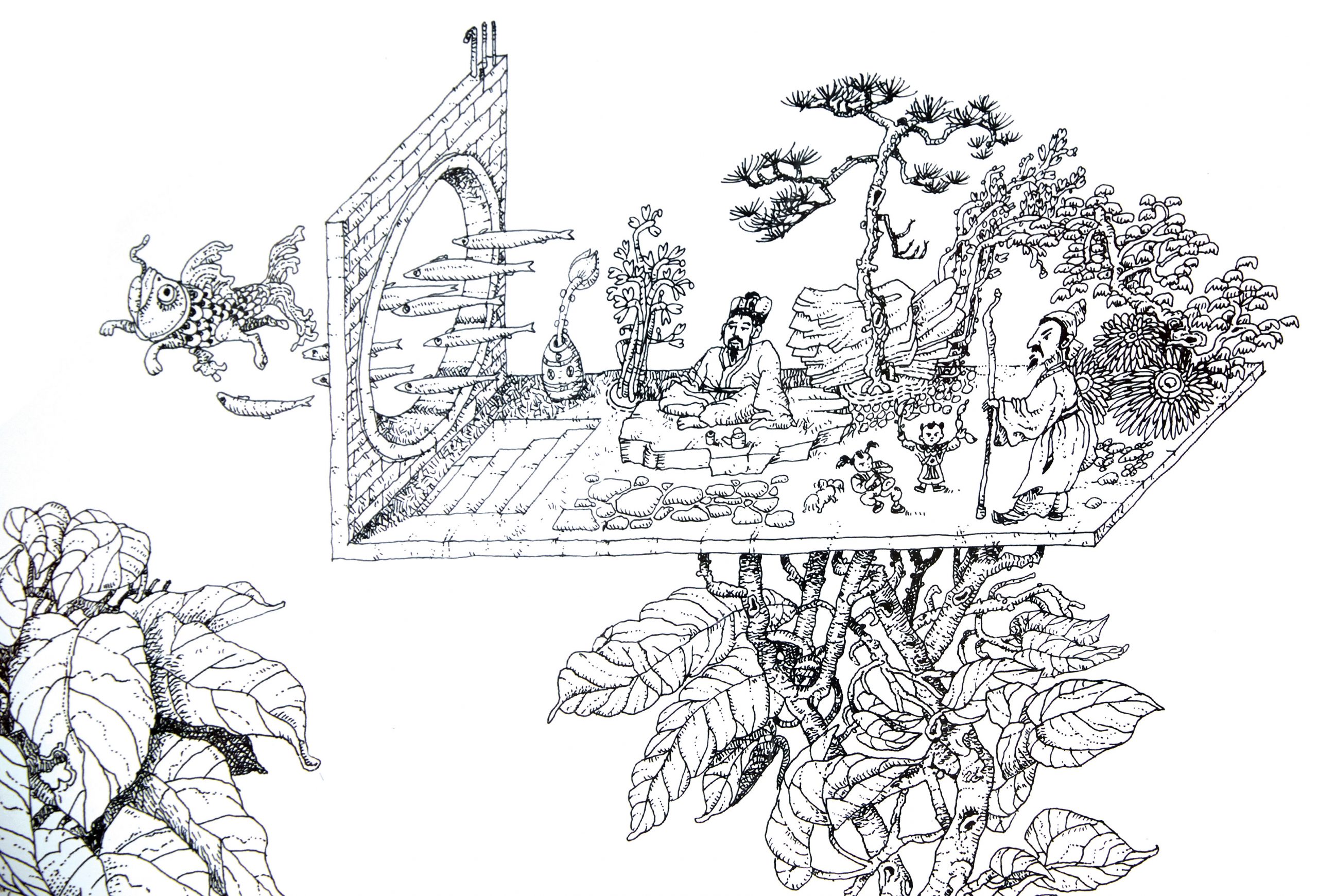 ---
RED DECEMBER is at Tap Seac Gallery until 13 February. Admission is free.