If you aren't wearing a facemask when you're out and about in Macao, you may not be seen as part of the city's unified fight against the spread of infection. We look at how important the mask has become since the outbreak.
It was the symbol of the SARS epidemic in 2003 and it's become a symbol of the coronavirus epidemic that is currently spreading across the globe: the facemask. This simple surgical mask has the simple honour of making the wearer feel safe during a virus outbreak while also feeling that they are not spreading the infection if they happen to have caught it. Since January, the facemask has once again been a symbol of defiance in the face of adversity.
Macao, unlike some places across the world, has not been lacking in facemask stocks, with the government's measures over the past couple of months encouraging people to cover half their faces everywhere they go in a bid to prevent infection. Seeing anyone without a mask on now is jarring – a naked face in a masked sea of humanity simply looks out of place. Despite being a daily safety precaution, the facemask has also become the symbol of a unified fight against the COVID-19 outbreak in Macao.
As Health Bureau director Lei Chin Ion has said over the past few weeks, the 'use of masks limits the spread and possibility' of people 'getting infected by the virus'. He has also said that facemasks 'will help fight the possible propagation of the virus and protect other people'. To wear a mask is to let the people around you trust you have their best intentions at heart on your daily commute or while you're shopping in the grocery store. It is a guarantee that people are putting their health and your safety first.
The use of masks limits the spread and possibility of people getting infected by the virus. Facemasks will help fight the possible propagation of the virus and protect other people.
When the first confirmed COVID-19 case was announced on 22 January, there was initially a mad dash for masks across Macao. But the government was ready as it had pre-emptively ordered 20 million of them. By the following evening, they were made available for purchase. And on 24 January, the Novel Coronavirus Response and Co-ordination Centre released a statement that said 'local residents need not panic or rush to pharmacies' if they wanted to buy a mask. The centre also made assurances to the public that Macao's 'mask supply is sufficient' and up to the 'quality assurance standard'. Since then – and up until we went to print  – there have been seven distribution rounds, with millions of facemasks being handed out. Taking into consideration the needs of the younger generations, the government also began distributing children's masks starting from the third round on 12 February.
Each purchase round lasted 10 days and there was a fixed price of MOP 8 (US$1) for 10 masks. Local permanent and temporary residents, as well as non-resident workers informally known as 'blue card holders', have been entitled to a pack each at any one of more than 80 designated outlets, which includes more than 50 pharmacies, eight health centres in Macao and Taipa, two health stations in Coloane run by the Health Bureau (SSM) and 21 'service points' run by the Macau Federation of Trade Unions, the Macau General Union of Neighbourhood Associations and The Women's General Association of Macau.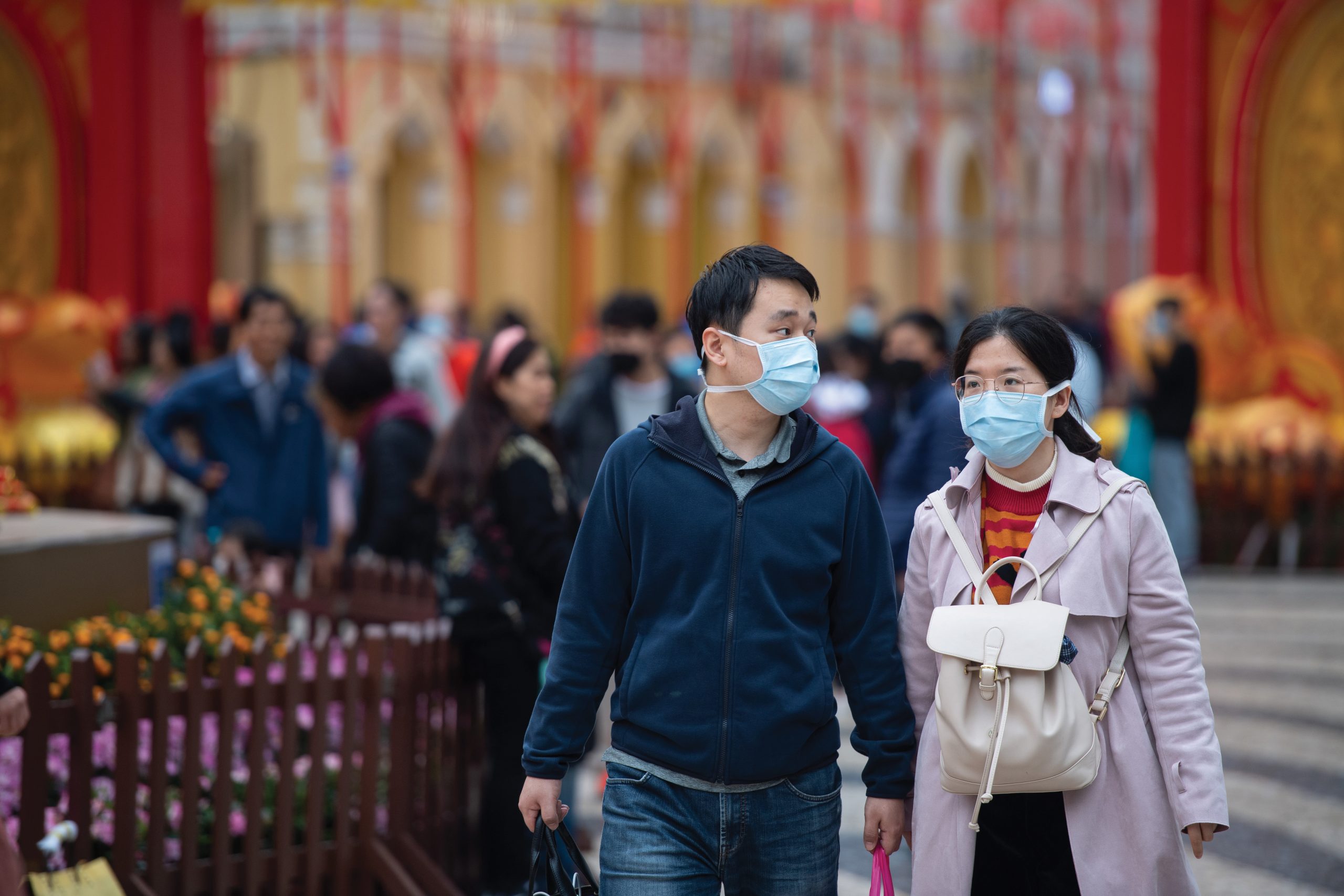 Wearing facemasks is now mandatory to enter public administration premises and banks, along with temperature scans and presentation of online health declaration forms. Even on public transportation, some bus drivers can refuse entry to those without one on. As for the entertainment complexes, both workers and gamers are also required to wear facemasks. And recovered COVID-19 patients have also been advised to wear facemasks even at home while also keeping a 1.5-metre distance from their family members. When going out, wearing a mask is definitely, still today, a must.
Aside from the masks provided by the government, private entities have also come forward with their own mask donations totalling more than 2 million. As of 22 March, the government had sold more than 30 million masks from the beginning of the outbreak. The imported masks have mainly come from Mainland China, Japan, South Korea, Europe and Southeast Asia with repeated assurance from the Economic Service Bureau that masks purchased by the government would be enough for everyone and that none have been found to be counterfeit.
Lei Chin Ion has strongly urged Macao residents to keep up all preventive measures – and that includes wearing a facemask when out. The Health Bureau's Control of Communicable Diseases and Surveillance of Diseases Department co-ordinator Leong Iek Hou has also urged that everyone continue with COVID-19 protection measures – one of which is wearing a mask when out and about.
The new cases which were announced in Macao between 16 March and before 24 March were immediately followed by government reminders that residents must keep up with all the preventive measures that are in place, including the use of facemasks. As Macao's government has plastered on all its websites and buses: 'Let's all persist; avoid crowd gathering; wash hands frequently; wear a mask properly; declare health conditions; reduce leaving Macao'. The facemask is clearly part of that message and it not only stands for safety. It will remain a symbol of unity and courage for long after the coronavirus has come and gone.