TEXT Catarina Mesquita and Mariana César de Sá
Maria Helena de Senna Fernandes, Director of the Macao Government Tourism Office, discusses her role in its expansion and the responsibility of presenting Macao's hospitality to the world
Ask Maria Helena de Senna Fernandes, Director of the Macao Government Tourism Office (MGTO), about her pastimes when she is not overseeing her role in modernising and expanding the tourism sector, and she will tell you about her love for skiing by travelling to international snowy destinations. When asked where in Macao she feels most at home, she will tell you it is the A‑Ma Temple area, where she grew up and her father used to work.
Describe the essence of Macao as seen through the lens of the Macao Government Tourism Office (MGTO).
When we promote Macao, we strive to emphasise that Macao is comprised of East and West as well as the old and the new. That sums up what Macao is today. Back 15, 20 years ago, the message was slightly different because we didn't have so many of the new facilities that we have now.
We really promote our events celebrating a wide variety of Eastern and Western festivities, our cultural and historical heritage and our modern developments.
The MGTO has been promoting Macao with the goal of attracting more international tourists. What strategies are being employed for different countries? Could you provide some examples of these strategies and how they differ from each other?
All in all, when you look to international markets, you really have to cater to their unique tastes, their means of getting information and their changing demographics, and then you try to tailor both your message as well as how you deliver that message to inspire interest in Macao.
Each and every market is different because the level of sophistication required varies: the way media is consumed is different, and even social media usage varies from place to place. Sometimes, you have to really research the proper method.
For example, in the Republic of Korea, we employ many different media to convey our message: we advertise in trade papers, tourism‑related papers and magazines as well as on social media platforms like Facebook and Line where we create accounts in Korean. Communication in their native language is very important. We also have to ensure that our marketing campaigns convey a sense of fun, because while there is interest in culture and history to a certain extent, most Korean tourists want to have fun above all. To create advertisements that make an impact, we feature Korean television and music stars. Another example is that Japanese tourists value cultural experiences.
MGTO employs a lot of representatives in different countries. Do you rely on them for market research to find out what people are interested in? How does that collaboration work?
Having a representative on the ground serves a number of purposes: they are more in tune with current trends that appeal to local markets, and they can easily facilitate contact with local partners as well as the local population. A market representative guides us in understanding the mentality of our target audience; from time to time, they also conduct country‑specific research.
Simultaneously, we do our own research here in Macao, collecting market data and feedback from our visitors: their overall opinion of Macao; what aspects of their visit make them want to return; and which attractions and tourism products they enjoyed the most.
Successful research actually works both ways: you need feedback from people who have visited Macao as well as the aspirations of people who have not.
Are there any specific countries that surprised you with the number of tourists that visited Macao?
Through our market research, we are generally fairly accurate with our tourism projections. There are occasionally rates of increase that we don't expect, like that of Thailand, but that's always a good surprise! We fully expected the number of visitors from Thailand to rebound following a few years of decline, but we didn't expect such a big increase.
One market, though, still below our expectations is Malaysia. We should be doing better there considering the size of its population, the general interest in Macao, and the availability of flights. This is one of the markets that we are looking to target next year.
In your opinion, why is there a gap with regards to Malaysia?
Malaysia should have enough general awareness of Macao, but I think more targeted product marketing of what Macao specifically offers is very important. Collaborating with local travel agencies and airlines that partner with Macao will be crucial as is finding a way to communicate with our target audience and creating a buzz about visiting our city. Singapore, like Malaysia, will also be a market into which we plan on focusing our efforts in 2017.
We are looking into on‑going and future attractions in the Cotai area that could be a potentially big draw for visitors, but I think the historic centre, with the Ruins of Saint Paul as an anchor, will continue to attract a lot of people
Do visitors from various countries experience Macao differently?
Yes and no because everyone is different. Our research on the most visited places in Macao indicate that the Ruins of Saint Paul is number one, while number two, surprisingly, is COTAI, which is always under development.
We are looking into on‑going and future attractions in the Cotai area that could be a potentially big draw for visitors, but I think the historic centre with the Ruins of Saint Paul as an anchor, will continue to attract a lot of people.
Throughout the years, Macao has hosted an increasing number of events, shows and initiatives. What is the MGTO's role in coordinating and integrating these events for a better tourist experience?
It is very difficult to implement an all‑encompassing coordinated effort because there are so many local and international entities who want to do events nowadays.
Outdoor events, in particular, present difficulties as Macao only has a certain window of months during which they can safely be held. The calendar for indoor events is also packed, so finding a suitable slot is not an easy task. Luckily, we see more venues opening up, so we will be able to spread the events out around town. In other cities, you might need a full day to visit one tourist destination, but in Macao, you can visit 10 locations in one day because everything is so close, just next door. We need to fill up the itinerary with a wide variety of things so people don't get bored.
Nowadays, with attention spans shrinking, if you want to capture people's attention, you need to give them a lot of things to do, places to see and reasons to visit. Events satisfy these criteria well because they provide a fresh experience every time.
It is very important to continue hosting events in Macao, but trying to schedule a reasonable calendar can sometimes be very difficult because everybody wants to do something different, and there are only so many slots to compete for.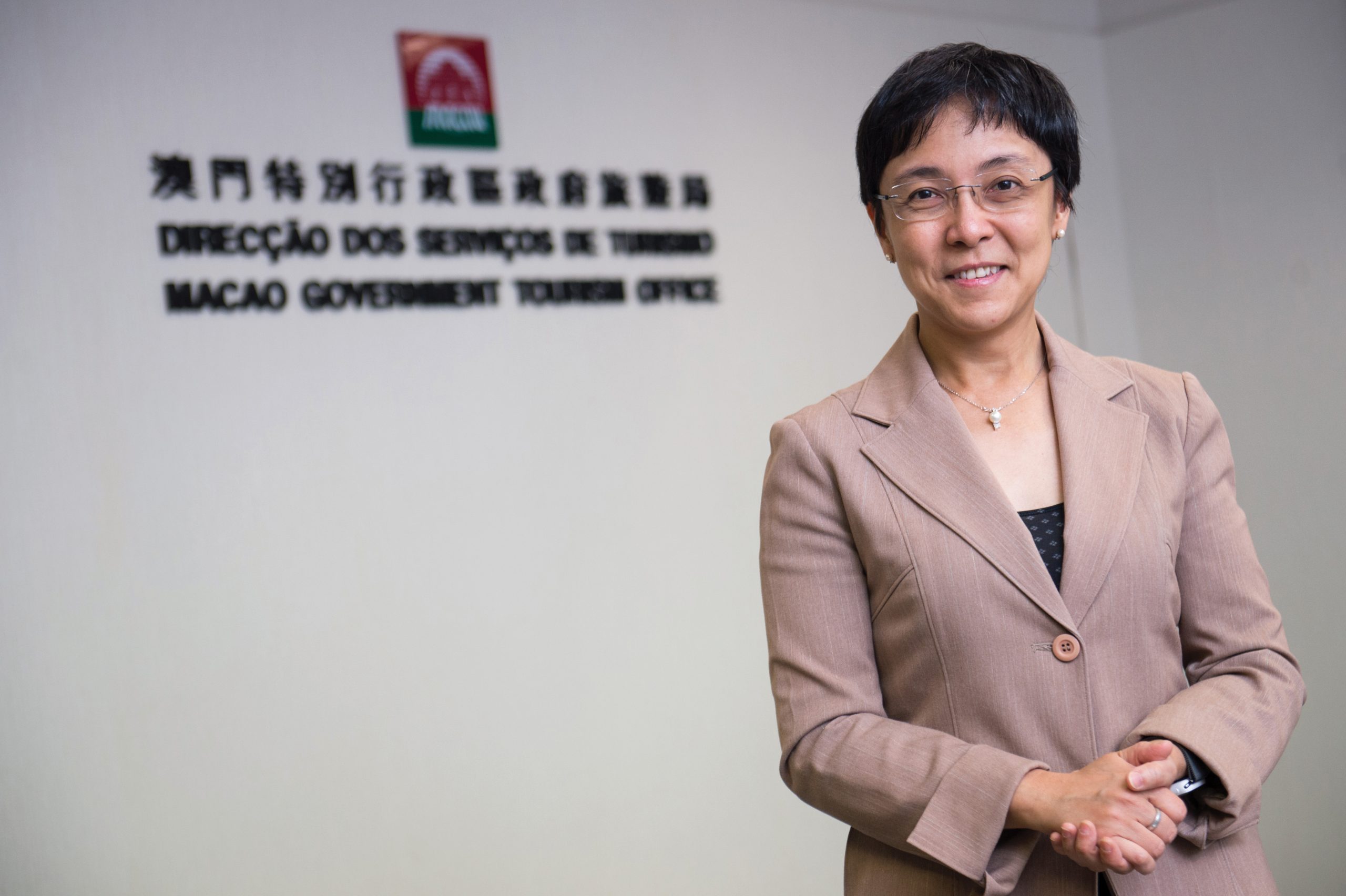 More and more, Macao is focusing on turning into a world centre of tourism and leisure. What implications does this have and what remains to be done in terms of development as the city transforms into a favourite destination for international tourists?
People have the impression that "world centre of tourism and leisure" refers only to tourism, but in fact, if you look as the aspirations of the Macao Special Administrative Region, the government has a broader definition that encompasses a good heath‑care system, an efficient transportation infrastructure and a convenient and comfortable lifestyle for local residents in addition to being a destination for visitors.
In terms of tourism, what we need to contribute to this concept of "world centre of tourism and leisure" is twofold: on the one hand, offering a diversity of products, and on the other, attracting a diversity of visitors. We can't just be a destination for Chinese tourists; we need to give Macao global appeal so we can proudly say, "This is an international destination, not just a regional one."
Therefore, we need to go out and spread the word about Macao and make it clear that the city isn't just about gaming and our heritage.
What strategies are in place to balance improving the tourist experience and preserving the quality of life for local residents?
Of course, overcrowding is a common issue when expanding tourism, but this is not purely the responsibility of the MGTO nor is it a phenomenon exclusive to Macao.
We are actively in dialogue with the locals regarding the value of tourism through our awareness campaign, which includes educating residents in hospitality and making our visitors feel welcomed. The MGTO is also developing a campaign we call Community Tourism which promotes places of interest within Macao's different districts, for example, the statue of A‑Ma in Coloane.
This requires not only having an awareness of places to visit but also knowing the logistics of how to get there, so we coordinate with various departments within the government such as transportation, law enforcement, etc. It has to be a combined effort by our society as a whole. This is, of course, easier said than done, but we all have to make an effort and put our best foot forward.
I often say that "a tourism product can only be successful if the local people also feel it is a valuable tourism product." Generally, places dear to locals inspire and excite tourists to visit, not the other way. Visitors come because they want an authentic experience: they want to see the places that the locals love and sample local cuisine.
Would you consider the people of Macao welcoming to tourists?
The local people are very hospitable. When they see someone who looks lost, they try to point them in the right direction even if there is a language barrier. The desire to help is definitely there.
The MGTO will continue our campaign in hospitality awareness, especially amongst the younger generation, because the future of Macao's hospitability rests on their shoulders.
A tourism product can only be successful if the local people also feel it is a valuable tourism product
Macao's relatively small land area limits the number of new attractions we can offer. With the development of neighbouring regions like Hengqin, is there a plan for adjacent regions to complement each other's tourism so visitors could benefit from both rather than choosing one versus the other? What about other cities in the Pearl River Delta?
Since 1993, we have had a joint tourism agreement with Hong Kong and Guangdong province.
In the last 15 years, we have struck up more direct collaborations with Zhongshan, Zhuhai, Shenzhen, Guangzhou and Jiangmen – all interesting cities with World Heritage sites – that could use Macao as a base due to their proximity.
We always want to extend the stay of our visitors for more than one night, but we can't be that self‑contained. Opening up to partnerships with our regional partners will benefit us in the end. We have to make the pie bigger so that everybody can eat a bigger slice.
Do you think there is a need for modernisation in existing infrastructures, such as museums? Was the Grand Prix Museum's renovation for its 50th anniversary following that initiative?
There is no fixed formula. I don't believe that every museum should be a modern museum. However, modern technology can improve the presentation of exhibits where relevant. For example, we played around with the Grand Prix Museum because it features cars which are pieces of technology themselves. After researching other exhibitions and museum setups, we felt that the Grand Prix Museum needed a revamp. The original design was not well‑suited for a contemporary mind‑set.
Modern technology can also lend more convenience to public utilities that benefit local residents and visitors alike, but the challenge there is balancing the contemporary with the historic so a place doesn't lose its character.
How many tourists will Macao receive in 2016?
By the end of the year, we should hold steady at the 30 million mark, similar to last year. Currently, we are not looking to increase this figure. As of September, tourism numbers are similar to last year's, and we would like to maintain that. This year has seen a 7 per cent increase in international visitors but a decline in tourists from the mainland.
But attracting international visitors is more difficult because we are competing with other global destinations that offer more convenience and efficiency. For example, Macao doesn't have robust infrastructures, like the airport, which is still a regional base.
Where do you see Macao at the end of the decade in 2020?
According to our masterplan for the tourism industry, the projection is an average increase of 3 per cent per year. We are not looking for bigger increases as that would not be a healthy or sustainable growth scale for Macao.
When you travel around the world, do you feel that people know about Macao?
Nowadays, definitely yes. But previously when I attended international trade fairs and said I was coming from Macao, I always had to explain it in relation to Hong Kong.
Today, people generally have heard about the city from some news report or have actually visited. We see a lot more interest in Macao, and I often hear people say that they enjoyed their trip.
And that's a reflection of the MGTO's success?
I can't take all the credit [laughs]! It's a combined effort by a lot of people: the government, for one, but a lot of effort is also put forth by the private sector which, like us, is trying to attract more visitors.