Archery is one of the world's oldest sports. It was even an official sport in the 1900 Olympic Games. But somehow it never made a dent in Macao until the 1990s, after a Macao local named U Sio On went looking for a sport that was "unique but not too strenuous."
U worked at the Conde São Januário Hospital at the time. "I asked one of my colleagues, António Fernandes [chairman of the Macau-China Paralympic Committee & Macau–China Recreation and Sports Association for the Disabled] who worked in the physiotherapy department, and he told me that archery is a great sport for physiotherapy [thoracic spine mobility in particular] and agreed to join me," U explains.
By 1993, U had rounded up a few colleagues to practise archery with him, and the Macau Archery Association, also known as Associação de Arco e Flecha de Macau (AAFM), was born.
It certainly made for an unusual beginning for a sporting association. But the AAFM members were all-in, and their dedication to growing the sport has paid dividends. Today, their group has grown to nearly 250 registered athletes. And if U's successors hit their targets, the sport will continue to attract more young athletes in Macao.
Shooting for the stars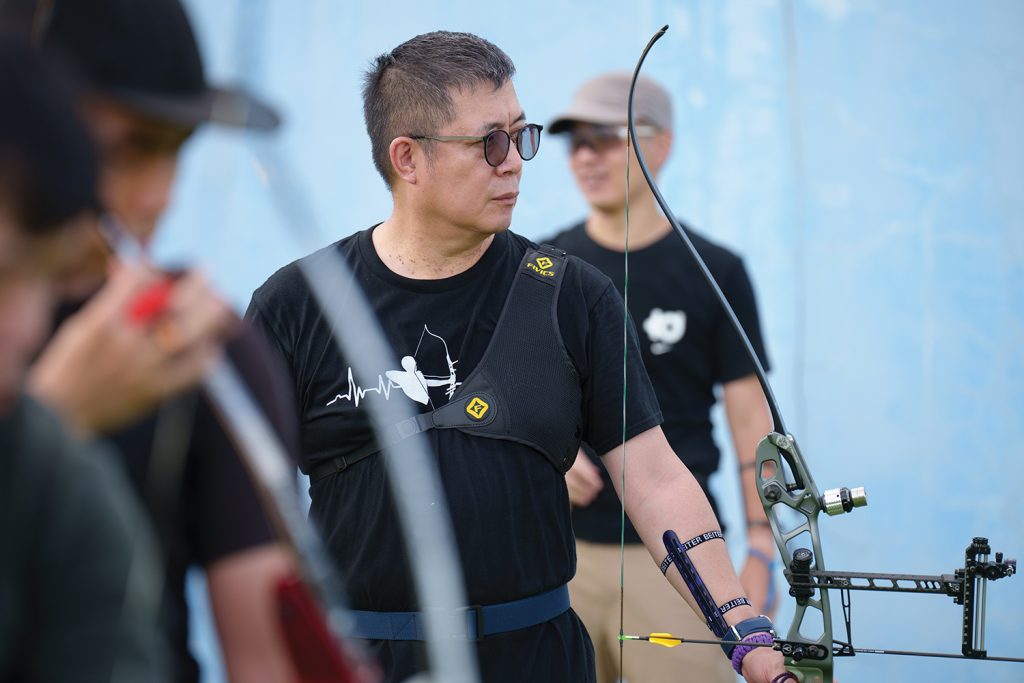 A year after starting their association, U began formulating a plan to grow the sport in Macao and contacted the Hong Kong Archery Association (HKAA) for assistance. He and Fernandes travelled to Hong Kong to join some of their classes. After they sharpened their skills, U and his colleagues officially established AAFM with the Sports Bureau in 1995 and a year later the association was registered with the Federation Internationale de Tir a l'Arc (FITA), now known as The World Archery Federation.
"It was so challenging to set up AAFM at the beginning. There was no space or equipment in Macao, it lacked everything," U says.
Even now, the association still struggles to find venues to practise or compete. They have moved practice ranges several times, from a police shooting range in Coloane to open land next to the Olympic Sports Centre, then a spot near Macao Sam Yuk Middle School and an industrial building near the School of the Nations. Today, they use two fields: a residential area in Hac Sa Wan for 8-metre, short-distance training and physical exercises, and the University of Macau (UM), where they joined in 2016, to practise shooting at targets 30, 50 and 70 metres away.
While the practice range in Hac Sa Wan is available regularly, as it was provided by the current association president, the university grounds are not always open for use. Still, the group makes do with what they have. "Even this place at UM was not easy to fight for, but we have to be fortunate and grateful to have these two practice ranges after moving many times in the last two decades," U says.
Apprentice takes charge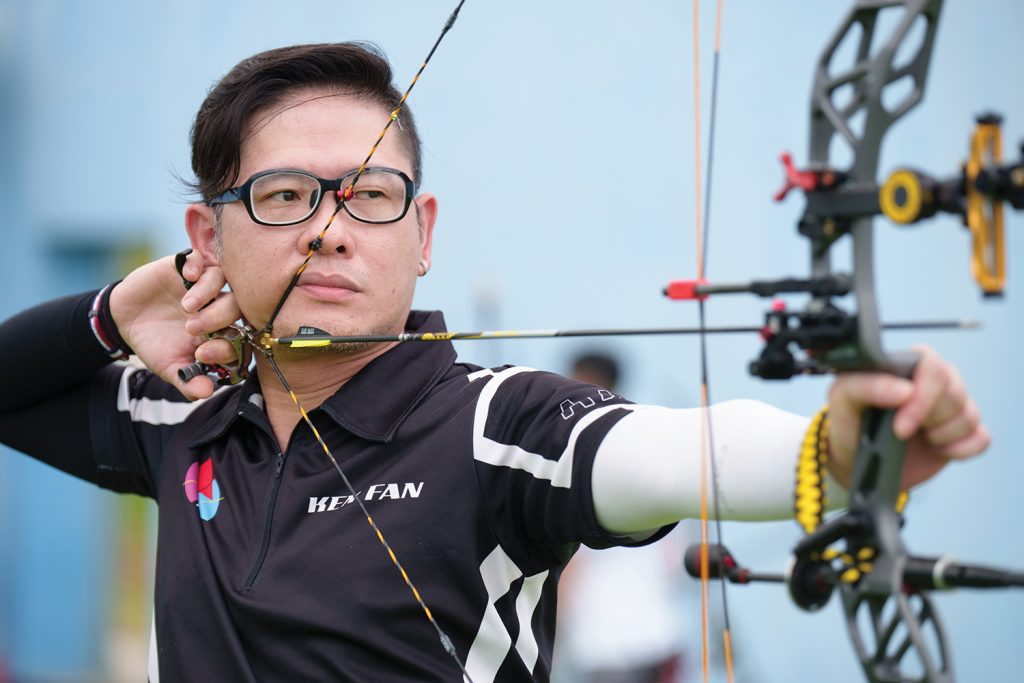 In 2017, U decided the association needed fresh energy and ideas, and so he hand-picked one of his students, Ken Fan, to take over as chairman.
Born in Macao in 1970, Fan recalls when he first saw one of the AAFM archers' modern recurve bows – a type of bow that, when released, curves away from the archer and gives it power, speed and accuracy – a lookalike to Hawkeye's bow in Captain America: Civil War.
A bow and arrow that "looked cool" was all it took to hook him.
"It was like you're playing with your first toy car and you're amazed by its features," Fan explains. "So I bought a full modern bow set from Dr U, which cost about MOP 7,000, and joined the association. It was a bit expensive at the time, but it gave you confidence in the field and made you feel like a pro."
U looked to Fan to carry on the archery legacy. He has not disappointed. "Ken was enthusiastic about archery and he's hard-working," U says. "At first, he couldn't manage to spend too much time on AAFM because he was busy with work [with Air Macau at the time], but he has done a lot for us since 2000."
Fan has worked hard to develop the sport and association, often playing a hands-on role. About 90 per cent of the archers at the AAFM today are Fan's students. Under his leadership, the coaches at AAFM have continued to work closely with youth and adults in the sport, offering individual lessons and introductory workshops open to most ages, starting from age six.
Through the years, the association has also promoted the sport with the help of different media channels, from articles in newspapers to AAFM Facebook live streams. Every time there's an international archery tournament in Macao, TDM (Teledifusão de Macau) televises it, and Fan commentates in Cantonese for local citizens.
According to Fan, attracting people to archery hasn't been difficult; making them stay is the problem. Throughout the year, the association hosts basic training open courses for individuals interested in the sport. "[We put it] up on our Facebook page, and every time we set a date for the course, the enrollment is full within an hour," Fan says, but he also adds that aspiring archers get pulled away from the sport just as quickly, whether it's because they dislike standing in the heat for up to eight hours during events or life gets in the way.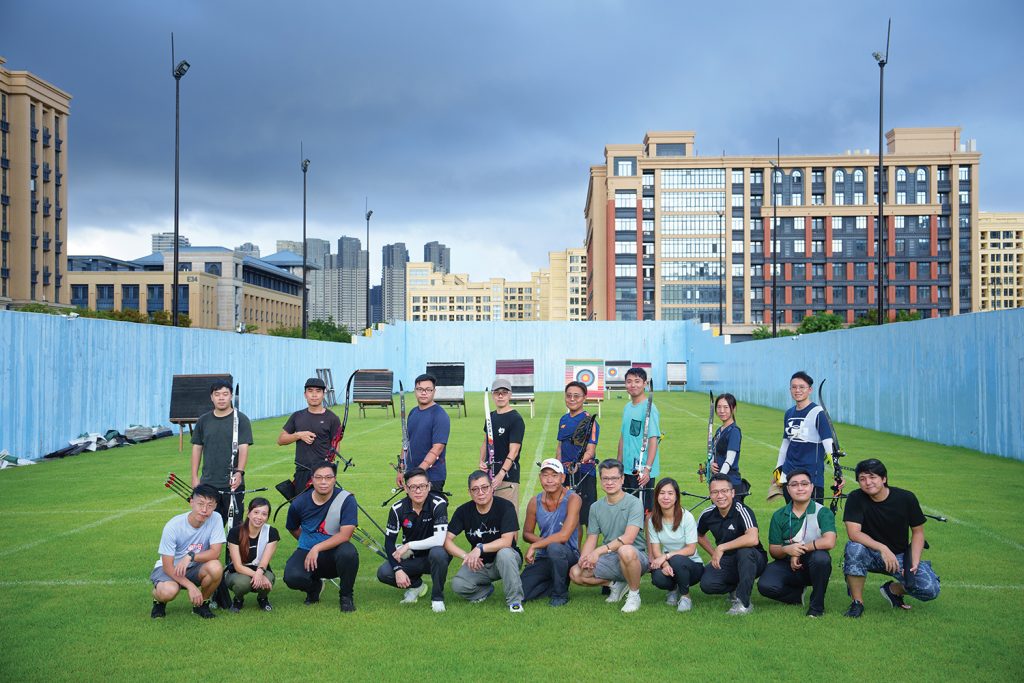 "Since the start of the pandemic we've had at least 50 members joining the association, which is a lot," Fan explains. "Generally, 90 per cent of the people who finish the courses will join our association, but only 10 per cent will continue regular practice after a year."
Archery is also a long game, and it can take years to climb the ranks. But the AAFM caters to all abilities. The group hosts four seasonal competitions annually for different skill levels: beginner, primary, intermediate and advanced. The competitions offer local athletes a path for growth, as between each competition, especially for the higher levels, the archers must build up skill and strength to improve their scores.
Archers tend to move quickly from beginner to intermediate level. To do that, you need a score of 560 in two rounds at 30 and 50 metres. But reaching the advanced (highest) level is much harder. "Archers must achieve a score of 540 during an official 70-metre two-round," Fan explains.
Still, the AAFM helps aspiring athletes go as far as they want in the sport. The group has an archery award badge scheme that rewards athletes for achieving a certain score standard, not unlike taekwondo or karate belt colours.
Learning from the best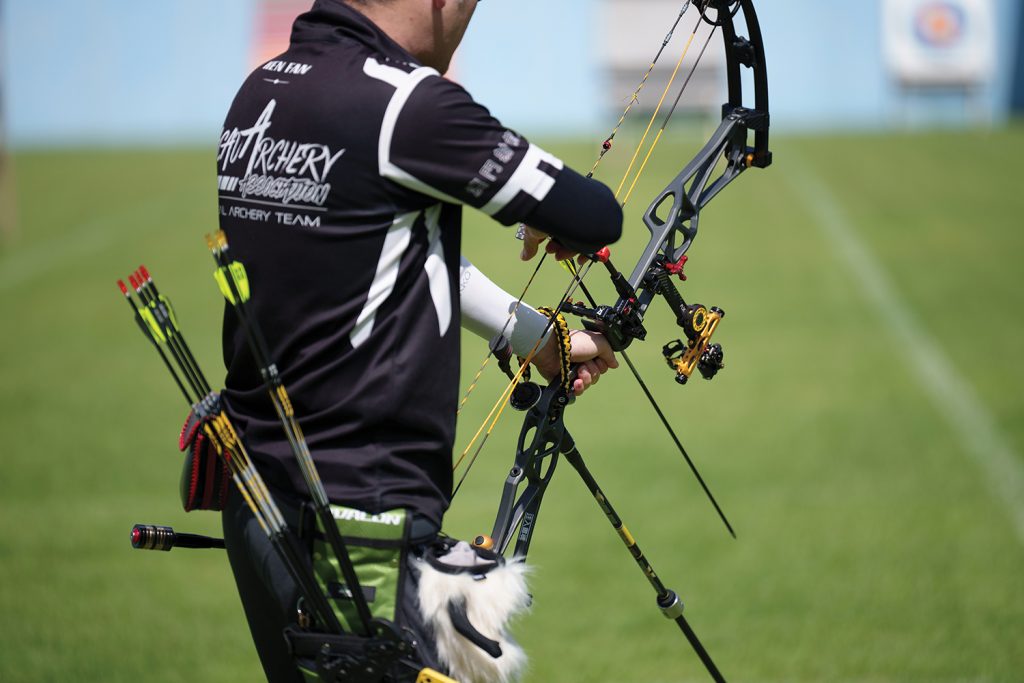 As a leader for the AAFM, Fan is able to draw on his own experience. Over time, he developed into one of Macao's top archers in the recurve bow category. He credits a lot of his success to the lessons he learned from U, his own mentor.
While many young archers today learn new tricks from the internet, when Fan started, he learned from books or lessons from his coaches, especially U, who trained him when he joined the club. He digested every word U said, especially when it came to mentality – the most important skill needed to excel in the sport, according to U. Then he would apply those lessons to tournaments, which helped him calm his nerves.
"You know, as archers, we want to be steady and consistent. But when you're in a competition and you lack experience, you end up getting nervous and you just can't shoot. Your whole body is shaking," he says. To make it even worse, during the competition a clock is present in front of you, as you have to shoot three arrows in two minutes, or six arrows in four minutes.
His classes with U paid off, though. U taught him to keep a timer in his head, ignore the clock and shoot whenever he was ready. Today, Fan teaches the same lessons to athletes who look up to him for guidance.
From 2000 to 2006, Fan won every local competition he entered. Even now, he wins, although not quite as frequently. Recurve competitions require a lot of physical strength, but 20 years of practice and competition made his left hand weak. On 21 March 2021, he entered his final recurve competition and walked away with a win. "It was a victory after quite a long time," Fan says.
"I decided to … shift to a compound bow [shortly before this event], so I was happy I managed to win my last recurve competition."
Next-gen archers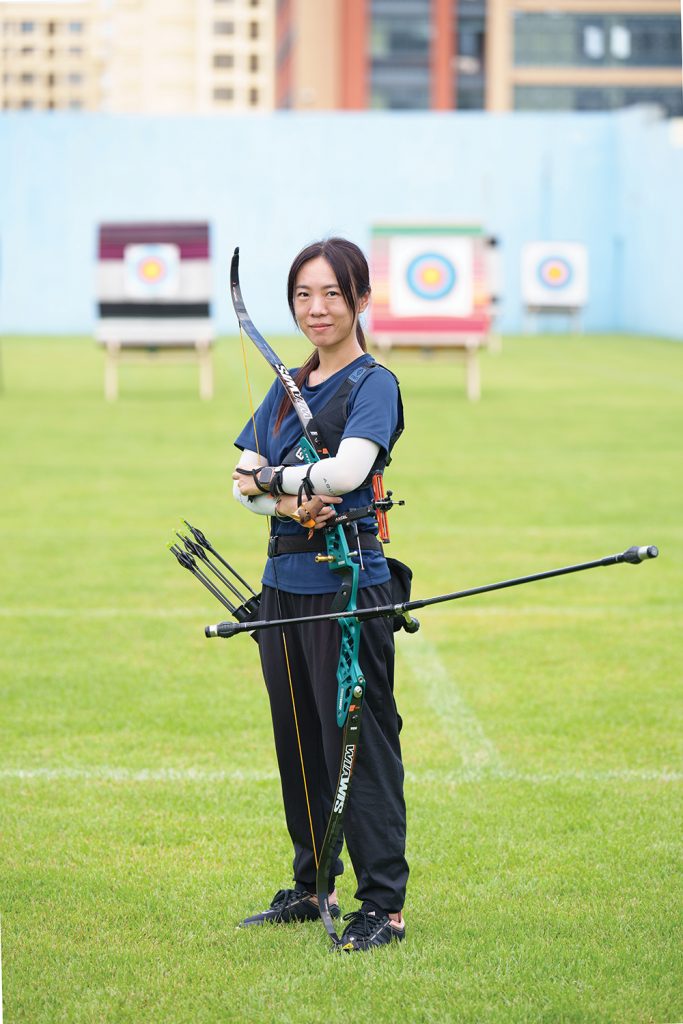 The AAFM has nurtured many talents since its establishment. Two archers that have stood out in recent years are Phila Lei and Tam Chi Chong.
Lei, 32, never expected to participate in sports, especially one with bows and arrows. In 2018, she came across an advertisement for an archery experience course held by the AAFM. "My first thought was this is a unique sport and something not so common in Macao. So why not give it a try?" she says.
At first, she lacked equipment, so some association members lent her their own. After a year with the association, her love for archery kept growing, and she decided it was time to invest in her own bow. "I realised when I put in more effort, the results got better and better and I felt content," she says. "Then I started to watch different competitions and was waiting to participate in [some myself]."
Lei finally did that in 2019 at the Macau Indoor Archery Open, organised by the Global Archery Alliance Macau. She claimed fourth place in Women's Recurve (18m). Then, she joined the 2019 Indoor Archery World Series Macau held at The Venetian Macao – her first go in the big leagues.
Having practised archery for only a year and a half, joining the competition was a huge challenge for Lei. Filled with nerves, she was extra careful with every little move she made so as to avoid mistakes.
"Luckily, I got my mentor [Fan] and teammates' encouragement and guidance," Lei says. "My overall performance was much better than I expected and the result was also unexpectedly good [coming in fourth place]."
She believes getting involved in these events had made her a better archer, if not a savvier person, too. "You won't win all the competitions, but at least you got yourself prepared and learned something and [improved]," she says.
On the other hand, Tam, 26, has been racking up competitions, mostly around the mainland and Macao. Now a graduate student at the University of Macau, Tam joined the AAFM in 2013, when he was still a teenager. Then he moved to Australia as an undergrad and discovered a different experience with the sport.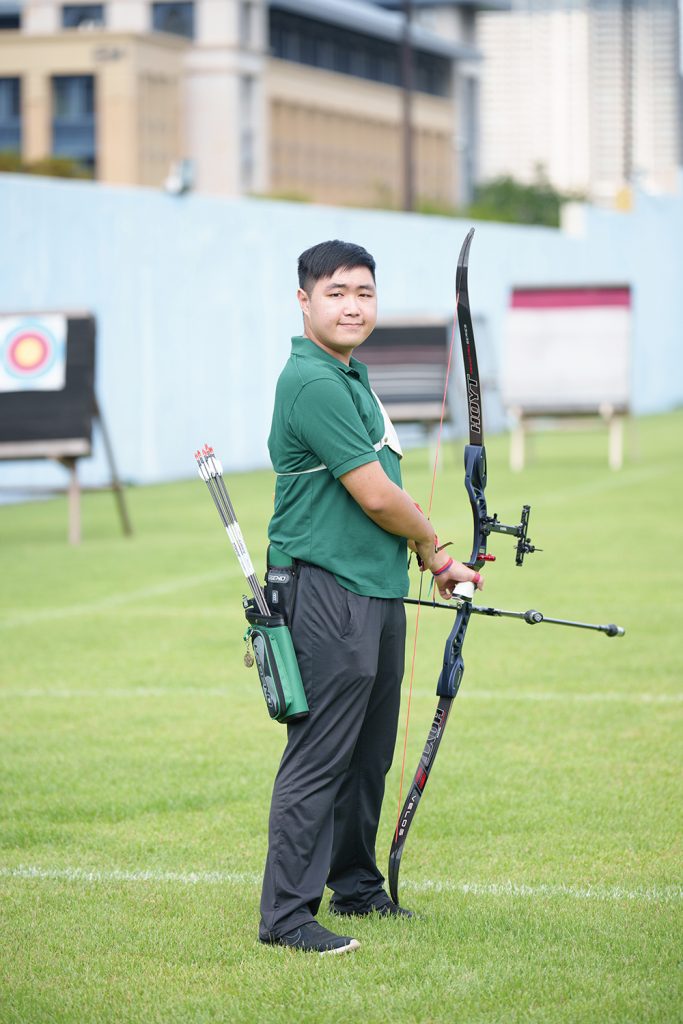 "What we have here [Macao] is like four lessons a week, and we learn every basic thing about archery, even the rules and safety," Tam says. "But in Australia, the class that I took is more like a fun trial, where after they taught you how to use a bow and arrow, you can do whatever you want in the range."
Two years ago, after returning to Macao, he got serious about archery again. He set himself a personal goal of representing Macao's archery team. Tam contacted the AAFM on Facebook. Since he had already taken the group's introductory course (four lessons a month) in 2013, the group called him in to join them directly, and he has been practising since.
Back in Macao, Tam has found a mentor in the shooting range in Fan. "[He and my friends] teach and tell me what I'm doing right or wrong, and what I should be improving. We train together and help each other like supervised sessions," he explains.
This sense of camaraderie is just one reason Fan believes archery can benefit everyone. No matter your age, weight or height, archery is for all, he says. It also offers a healthy release for daily pressures.
For example, Lei works full time at the University of Macau as an administrative staff, while Tam has a year left to complete his masters degree in Public Administration, yet the two manage to squeeze in a few hours each week for the sport they love.
"Here, you have this space to relax and let go of everything else," Fan says. "It's more than just a sport."