In a second-storey space, sandwiched between an antique gallery and an apartment on Travessa do Mercado Municipal, Aquino da Silva spends his days mired in the disappearing arts.
Accompanied by his four cats – Morning, Picnic, Music and Whisky, named after four things Silva loves – Silva spends his day researching a niche that, until he started teaching himself the craft a decade ago, had largely gone overlooked in Macao: Western calligraphy.
While most associate calligraphy with ancient China or Japan, the art form has roots stretching back thousands of years in European history as well. It wasn't until the printing press appeared around the 15th century that calligraphy started to fade in the West, in fact.
But now Silva is working to shine light back on the fading art. While the calligrapher, teacher, author and founder of the Macau Penman has many tools at his disposal to do it, he's breathing life back into it by preaching the virtues of patience, attention to detail and individuality.
"Calligraphy is hand-drawn – it takes time to practise beautiful handwriting," he says. "It's not something anyone with a computer and the right software can do."
An early start in arts and crafts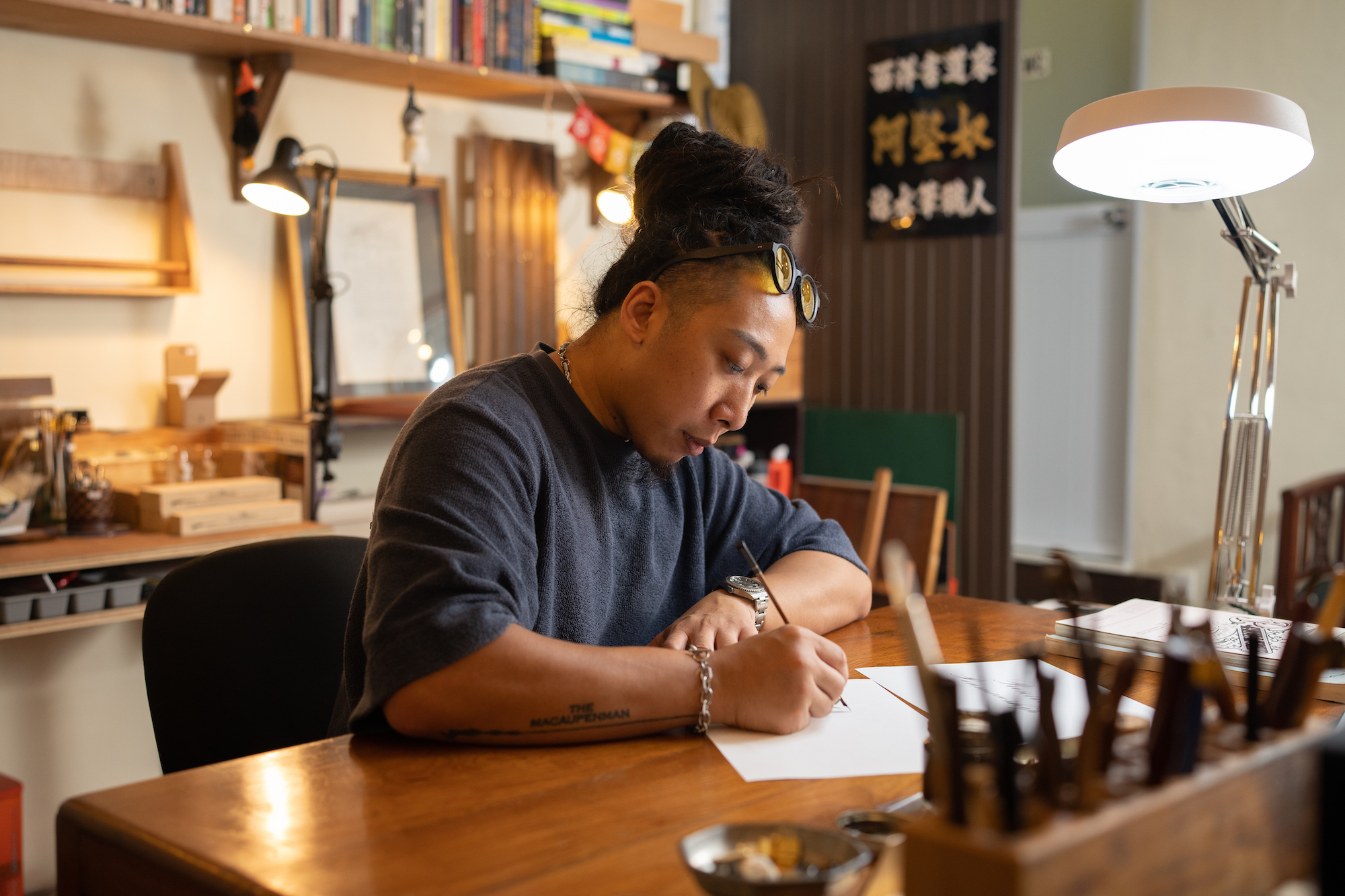 The golden age of Western calligraphy reached its zenith in Europe during the Middle Ages. As Christianity spread across the continent, monks would transcribe religious speeches and doctrines into texts by hand, often using elevated forms. When the printing press was invented, however, elaborate handwriting went by the wayside, and calligraphy declined across Europe.
While Silva was born about 600 years too late to enjoy the heyday of the artform, he seemed destined to play a part in its renaissance today.
Silva was born in 1985 to a Portuguese policeman and his Thai spouse in Macao. When he was young, he says he always enjoyed arts and crafts – the more hands on, the better – and when he enrolled in university in 2006, a focus on studying design felt obvious to him.
At the Macao Polytechnic Institute (today known as the Macao Polytechnic University, or MPU), Silva began studying graphic design, a digital-driven field with a clear commercial focus. During his first year in school, however, Silva discovered the slower, manual traditions of Western calligraphy – an art form with less obvious commercial applications. His late teacher and mentor, Henry Kwok, showed his class a typography book. It was rich with fonts and handwriting forms. The Western calligraphy section "sparked something inside me," Silva says.
A hobbyist himself, Kwok had set up an after-hours club where he, Silva and a few other students practised their penmanship using pencils and traditional dip pens, metal-tipped writing tools you must regularly dab with ink from a bowl to use – the kinds of tools associated with Western calligraphy, unlike the Eastern tradition, which uses brushes made with animal hair.
"[The club] motivated me to dig deeper into calligraphy," Silva says. Soon enough, he was buying books like The Universal Penman by George Bickham. "Any technical [skills I acquired] were mostly self-learnt," he adds.
Silva graduated in 2011 and soon got a job at the Macao Science Center (MSC). The position required his graphic design skills, putting him in charge of key visuals for in-house exhibitions. But it didn't take him long to realise his calling lay in calligraphy.
From teacher to toolmaker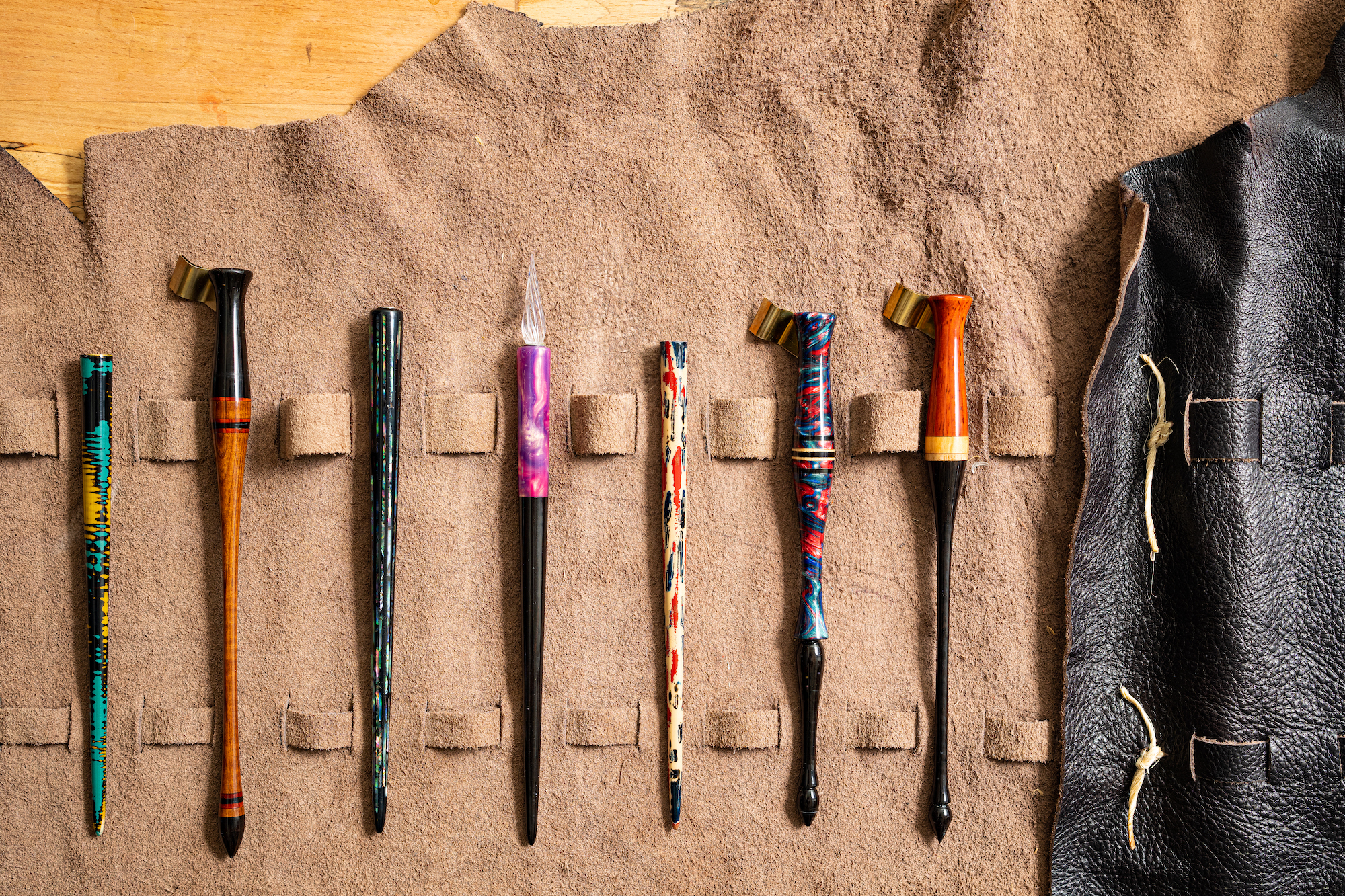 Like most niche subjects, Western calligraphy didn't have a broad appeal at first. It required some creative lesson-planning to help it find a following.
After leaving his job at the MSC, Silva got a gig teaching Western calligraphy at the Macao Museum of Art. Rather than focusing on its academic merits, he made his courses as engaging as possible, introducing students to the tools and teaching them vivid, grandiose style of writing.
Students loved it, and private education centres took note. By 2014, Silva had such a loyal following that he was able to set up a private studio. Two years later, he held his first calligraphy exhibition: "The Renaissance of Pen and Ink", hosted at the non-profit art centre Ox Warehouse.
The exhibition featured unique ceramic pieces he had made in Japan and decorated with his own pen strokes.
When Silva wasn't working on his calligraphy, he was usually getting his hands dirty. In 2016, next door to the three-storey building where he lives and works – he runs the gallery on the ground level, lives on the top floor and bases his business on the second level – he set up a workshop that would serve as the home base for the Macau Penman.
Here, he sat over his electric lathe, shaping wood into dip pens – a skill he learned by watching do-it-yourself videos online. "There were no calligraphy pen makers in Macao, and I was eager to make it happen," he says. Orders from around the world came pouring in.
Before the end of the year, he had already made about 900 pens by hand, he estimates. While he kept fulfilling orders, he began hosting workshops so others could learn to make their own. "I found that making dip pens wasn't just for my own interest," he says. "It could also be meaningful for customers."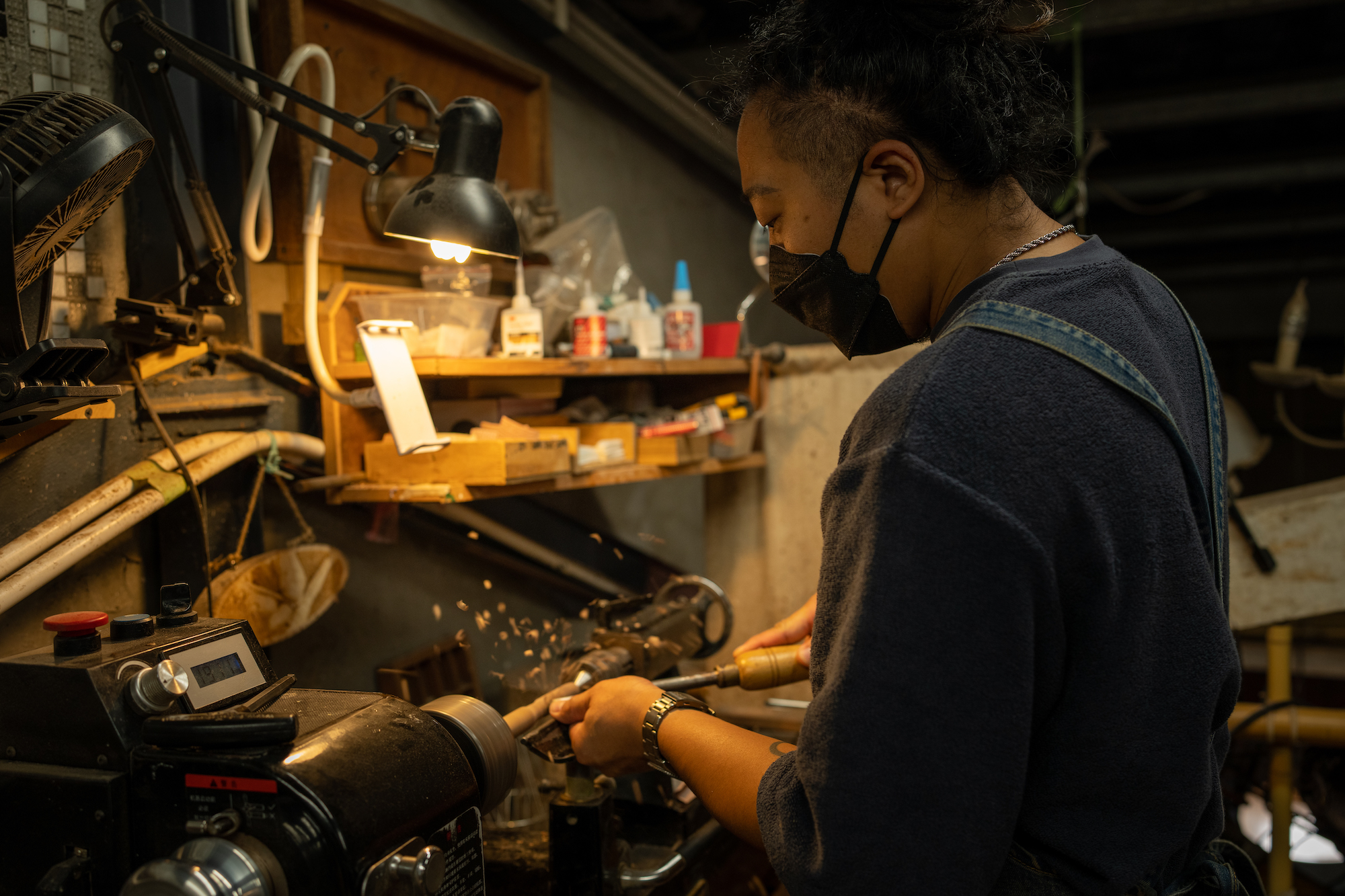 While teaching others the craft, Silva began to expand his repertoire. In 2017, he designed his first calligraphy ruler – a tool used to guide pens and make perfectly uniform writing. They were so popular that he sold 4,000 in just six months.
The only item missing was ink. Naturally, that meant Silva was going to try to make it, hewing as closely to tradition as possible.
Silva set out to produce iron gall ink, an old-fashioned ink known to dry quickly and retain its quality over time. The only problem? It was made from a mixture of tannins extracted from plant galls – growths that pop up from insect infestations – and iron salts. Those items couldn't clear customs in Macao, and so he set out to create a close substitute.
After some trial and error, "the eighth formula I made was finally satisfactory and could produce the right effect," he says – that being a subtle colour transformation, evolving from pale grey to dark brown or black as the ink reacts with the air.
Today, Silva has earned significant acclaim for his work. Apart from selling calligraphy goods through his personal website, he also sends them to stationery stores in more than a dozen countries, including Australia, Malaysia and the US, and sells them on John Neal Books and Paper and Ink – two of the world's biggest online calligraphy stores.
Advocating for the art form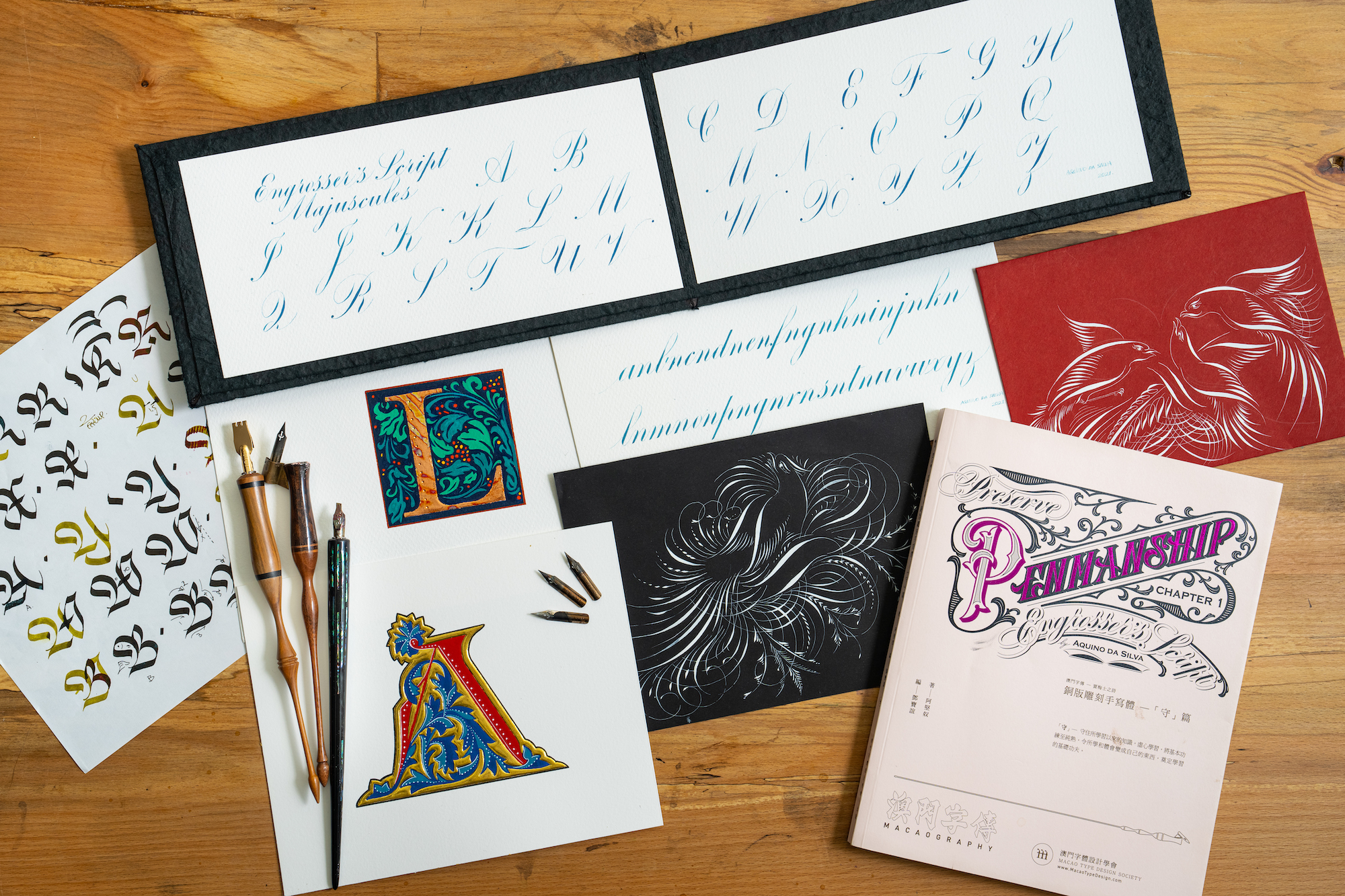 By now, it should be clear that Silva doesn't rest on his laurels. A successful educator and entrepreneur, he knew he could do even more to advance Western calligraphy.
In 2021, he solicited the help of Benny Tang – president of the Macao Type Design Society, where Silva is a consultant in Western calligraphy – to produce a book in traditional Chinese that would share the craft with a new audience.
The book, Preserve Penmanship – Engrosser's Script – featuring a prologue written by the late US President Ronald Reagan's former calligrapher, Michael Sull – instructs readers in the cursive, Latin-based calligraphy style developed in the late 1800s. It also covers the tools of the trade. In it, Silva discusses how he makes pens, rulers and ink by hand.
The book is a pioneering work, the first on Western calligraphy produced in Macao. It has also serves as a repository for some of the knowledge Silva has learned over the years.
For example, Engrosser's script is one of several dozen font styles within Western calligraphy. Silva says he has mastered only three of them – one of which, notably, is the same writing form that's carved into Rome's famed Trajan's Column, which was built in AD 113. Those forms are now preserved for an audience fluent in Chinese and familiar with Eastern practices.
But the book has also encouraged Silva to continue his mission of learning new (old) writing styles and raising the profile of Western calligraphy in Macao. He hopes that others will follow his lead, too.
"I hope that, in turn, [everyone I influence will] pass Western calligraphy on to more and more people in Macao," he says.