Chagall exhibition transports museum visitors to southern France.
The Macao Museum of Art (MAM) is showing an exhibition that transports visitors thousands of kilometres away to the southern coast of France, inviting them to experience the sharp light, deep‐sea blue, and rich colours of the Mediterranean through the work of an iconic artist.
The exhibition "Marc Chagall, Light and Colour in Southern France" showcases more than 100 works by Russian‐French artist Marc Chagall, one of the most versatile and prolific artists of the 20th century. Active well into his 90s, Chagall created a major solo exhibition at the Pompidou Centre in 1994, a year before his death.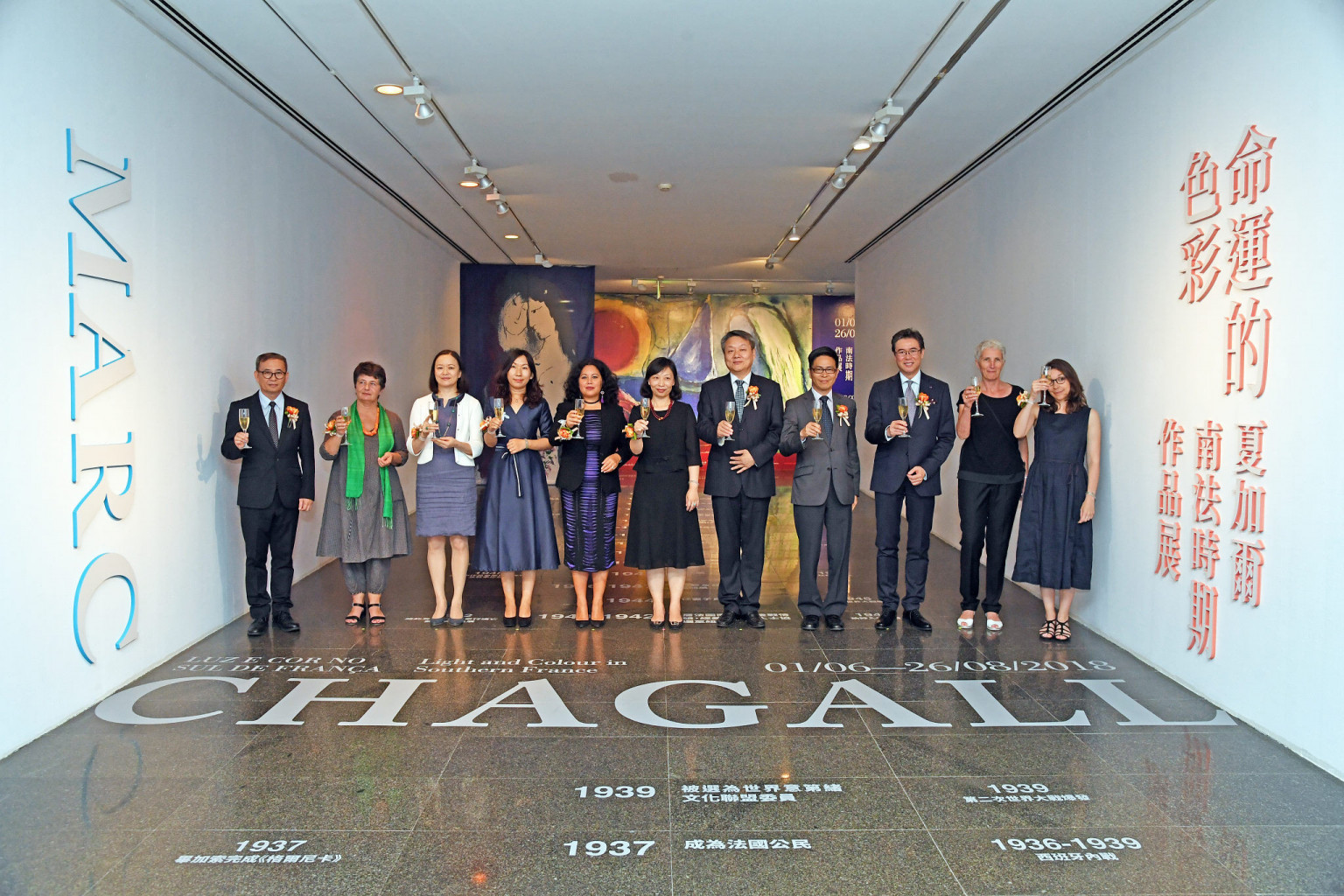 Born in the Russian Empire, in what is now Belarus, Chagall spent decades chasing his dream (and surviving turmoil) around the world. He began his art career with a move to the heart of the Russian Empire, then France, Germany, the Soviet Union and the US, before settling permanently in southern France in 1948. He also travelled in Europe and to Israel.
Decades of travel provided him with a rich understanding of landscape, geography, colour and painting styles, all of which are in evidence in the exhibition.
"I have travelled widely and visited many countries," he once said. "I have travelled many roads, across the globe in my search for colour and light." In 1950, he purchased a property in Saint‐Jean‐ ‐Cap‐Ferrat on the Cote d'Azur, a part of France he would call home for the rest of his life.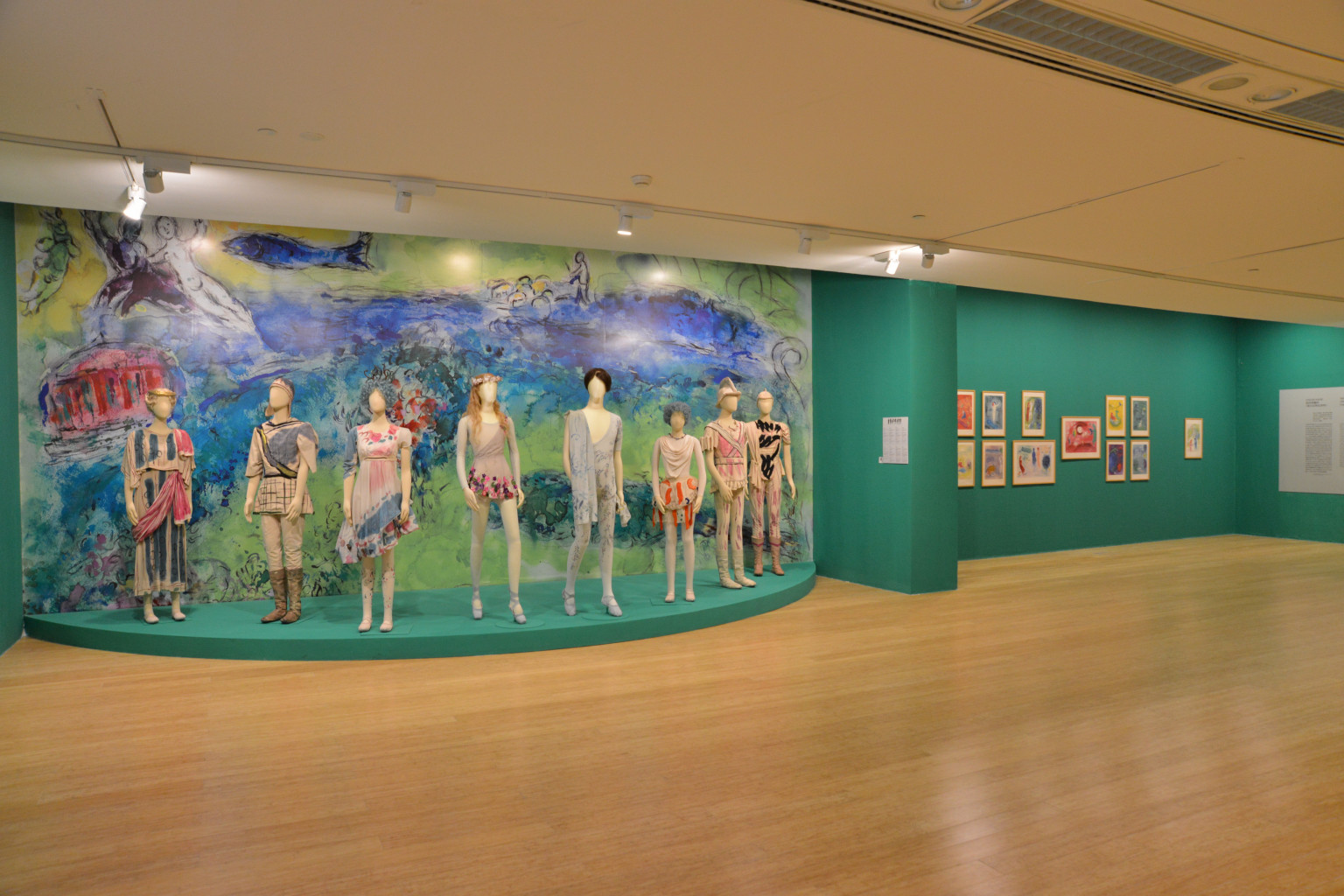 It is the works of this period that are on display at the museum. They include landscapes, flowers, trees, and scenes of southern France. He was inspired by the deep blue of the Mediterranean and the striking landscapes of the Cote d'Azur. "My heart waits and falls still. I can see the sun flowing. Its rays cover my face," he wrote.
This is the first major exhibition of his works in Macao, and highlights the incredible diversity of his creations – from oils to stained glass, gouaches to costumes, lithographs to tapestries— Chagall did it all.
A touch of France in Macao
The exhibition opened on 1 June and runs until 26 August. It is open to the public, free of charge, with Cantonese‐language tours available every Saturday and Sunday afternoons.
A highlight for both the 29th Macao Arts Festival and the 2018 Le French May, the exhibit was organised by MAM, the Macao Government Tourism Office and the Macao Foundation. Additional help was provided by the Musée National Marc Chagall in Nice, Opéra National de Paris, in collaboration with Bouquinerie de l'Institut, Cécile Léon Art Projects in Paris, and the generous support of the Chagall Estate.
At the opening ceremony, Paule Ignatio, acting consul general of France in Hong Kong and Macao, said that the exhibition allowed visitors, "to get a glimpse of this beautiful region that he loved, through his very special touch."
Ambre Gauthier, co‐curator of the exhibition, reflected on what might have been: "Marc Chagall travelled a lot during his life but never went as far as Asia. My feeling is that, influenced by many cultures, he would certainly have enjoyed and appreciated Macao as I do. Inspired by the Mediterranean atmosphere that one can feel in Macao, I decided to present artworks created during the 20 peaceful years he spent in the south of France."
A winding road
Chagall was born Moyshe Shagal in 1887, the eldest of nine children of a poor Jewish family in Vitebsk, a city in what is now Belarus. He developed an intense interest in art at a young age. When his mother tried to enroll him in the local Russian high school, she was informed that government schools did not admit Jews. Without hesitation, she offered the headmaster 50 roubles – an incredible sum – to admit the 13‐year‐old boy; he accepted.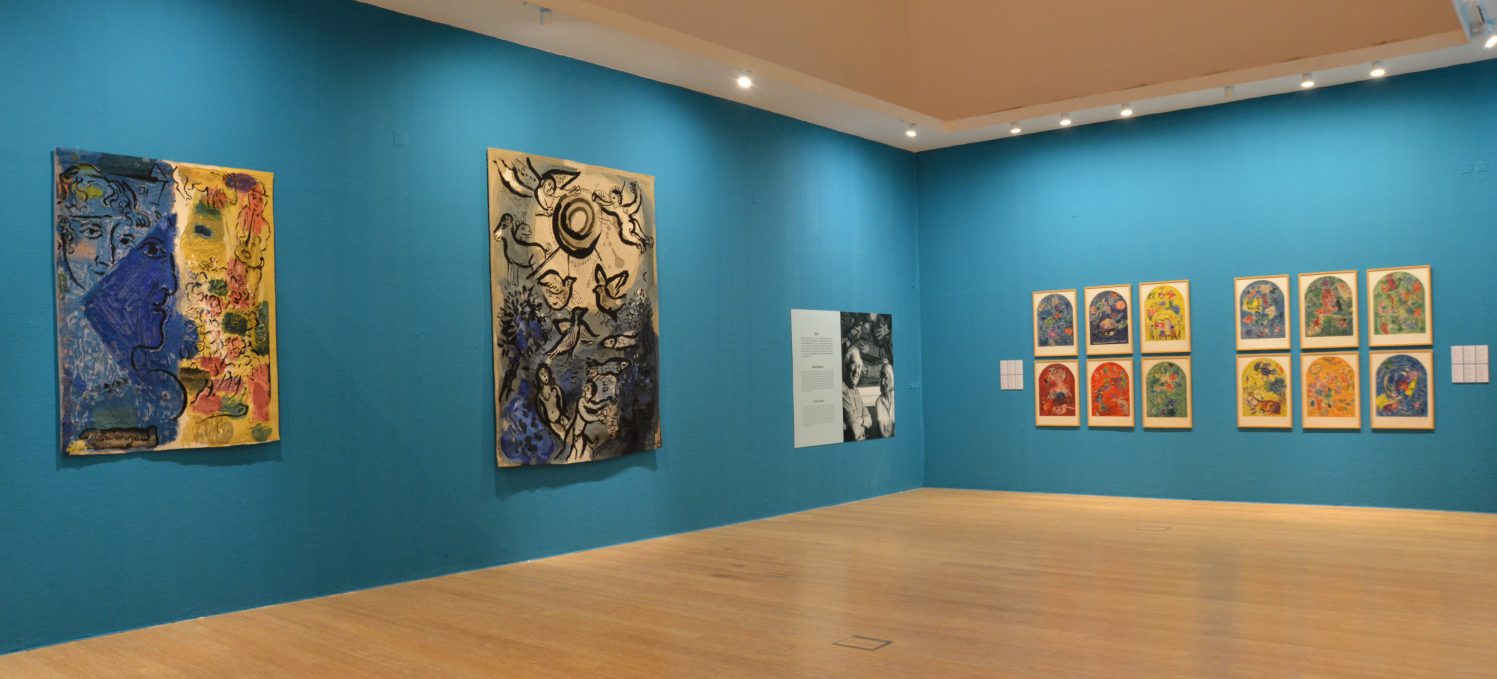 There was no art of any kind in the family home. While difficult, his time at the school proved pivotal
in the artistic life of Chagall; when the young man saw someone draw, "it was like a vision, a revelation in black and white." From 1906 to 1910, he studied art in the imperial capital of Saint Petersburg. First, at the school of the Imperial Society of the Protection of Fine Arts, then at the progressive Zvantseva School of Drawing and Painting. Since Jews were not allowed in the capital without an internal passport, Chagall obtained a temporary one from a friend.
In 1910, he left Saint Petersburg for the capital of the art world: Paris. In this new atmosphere of freedom, he continued to study and painted constantly, melding avant‐garde French influences with a gift for colour and emotional resonance, humour and unashamed sentiment not found in the city's art scene.
It was during this period that he adopted the more French‐sounding moniker, Marc Chagall.
Chagall travelled to Germany in 1914 for his first solo exhibition, staying until it opened in June.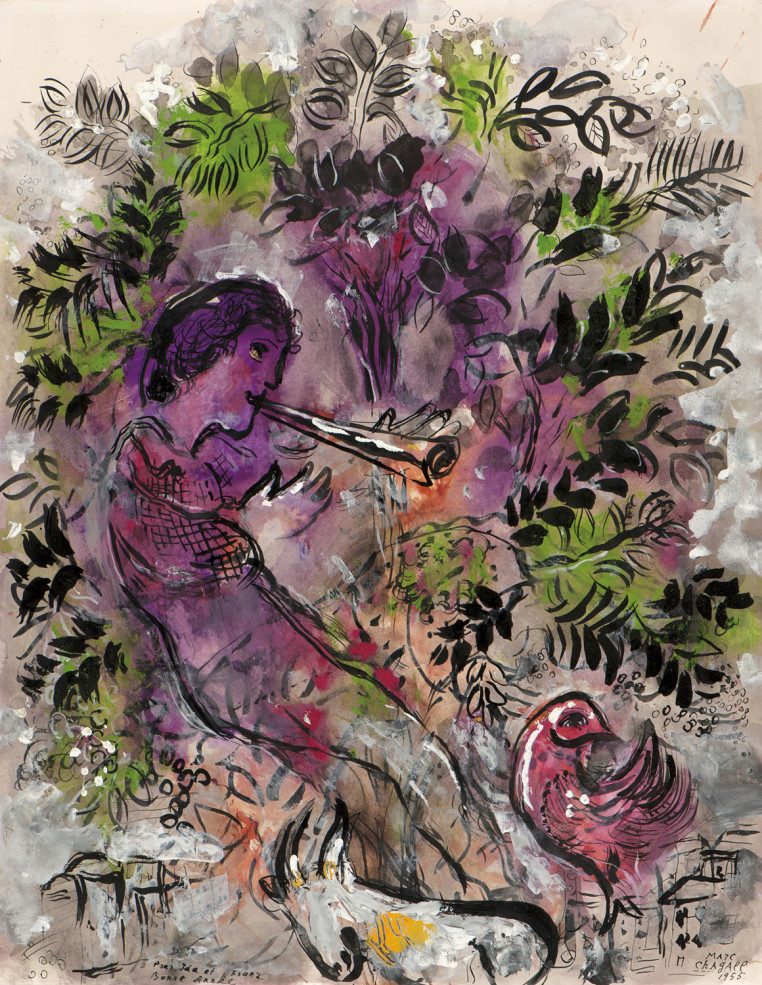 Longing to see his fiancée again, he left Berlin for Vitebsk, planning to stay a short time before taking his new wife to Paris. But when the Russian Empire entered World War I the same year, Chagall found himself unable to leave. He continued working, building his reputation through exhibitions in Moscow and Saint Petersburg, before transitioning into the bureaucratic and academic sides of art in the wake of the October Revolution of 1917.
In 1923, he finally returned to Paris; a stopover in Berlin revealed that the many works he'd left for exhibition before WWI had been lost. In the late 1920s, he visited the south of France for the first time, basking in the vivid colours and beautiful landscapes of the Mediterranean coast.
Chagall spent many productive years in France, occasionally travelling outside for exhibitions and other projects, before conflict intruded once again. Hitler came to power not long after Chagall began work on his Bible illustrations, a project that took the artist to Israel for two months in 1931; the series would not be completed until 1956.
The Jewish artist lived under Nazi occupation in France for a year before escaping with his wife to the US in June 1941; their daughter and her husband followed. Chagall would not return to Paris until 1948.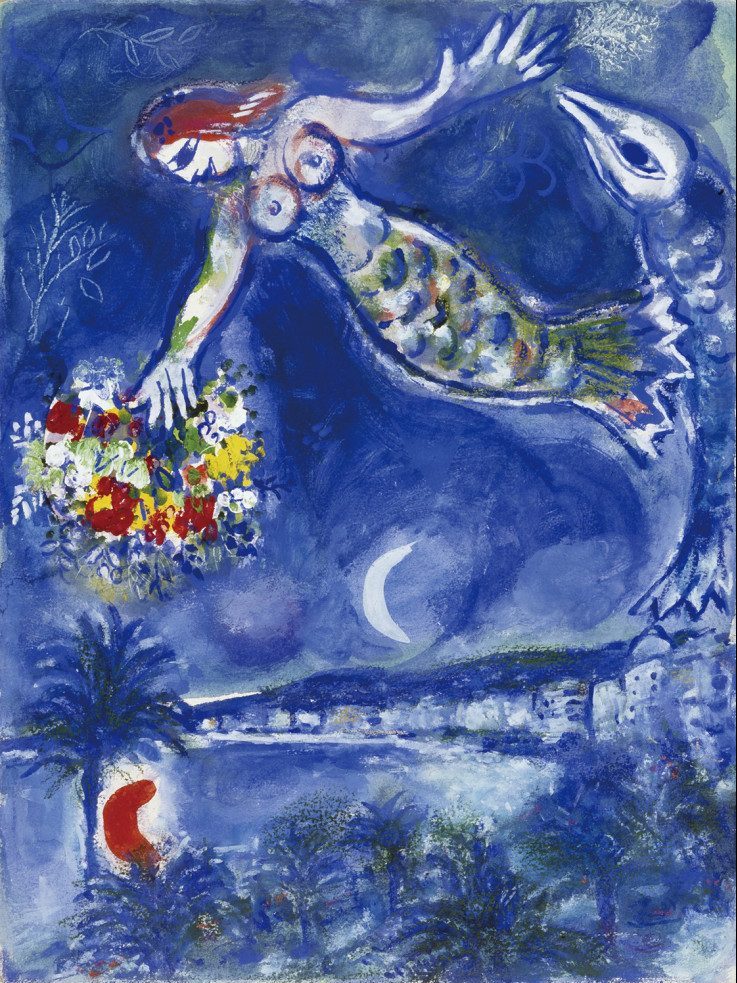 In the 1950s, after receiving French citizenship, he settled in southern France with his second wife; his first wife had died of an infection in 1944. Chagall would spend the rest of his life there, enjoying the lively art scene and temperate weather until his death in 1985 at 97 years old.
Finding new light
For a life marked by so much conflict, Chagall's art "embodies a universal message of peace," according to the MAM. "Borrowing from many 20th‐century art movements but never aligning with one, his oeuvre is distinct
and instantly recognisable, with vivid colours and warm light inviting you on a journey to far and imaginary horizons."
He said that the intensity of the light in southern France had a profound effect on him. "Greece, where he travelled in 1952 and 1954, also became a source of inspiration. Colour, in an aesthetic and a symbolic sense, is essential to Chagall, an architecture within the composition and a vector of spirituality. A thematic renaissance was also to take shape, where mythical beings, mermaids, fish and radiant suns adorn his creations, providing a Mediterranean aura to the paintings."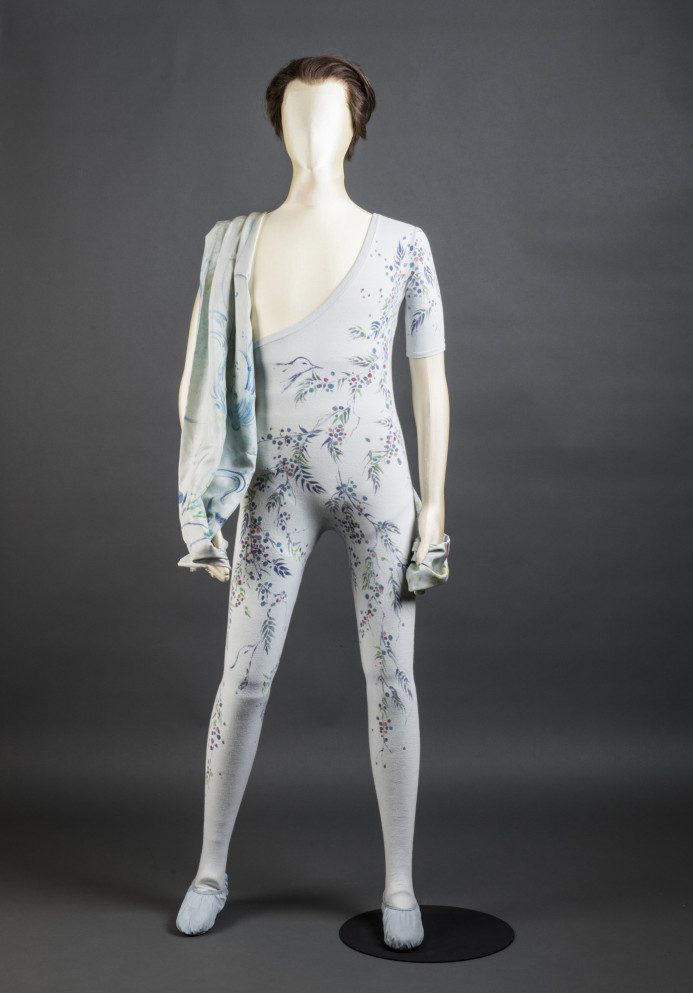 Works inspired by his visit to the Greek island of Poros appear in the exhibition, dominated by brilliant blues, as well as are also images of the Parthenon and the Acropolis. This type of ancient architecture, as well as mythological and Dionysian figures, musicians, fishermen, and fish are common themes in his work.
The exhibition includes costumes he designed for a new ballet, Daphnis and Chloë, set to the music of Ravel; he was also tasked with creating a series of lithographson the same subject.
The ballet premiered at the Brussels opera house La Monnaie in 1958. His designs for the sets and costumes were enriched with the strong light and deep blue he saw in Greece.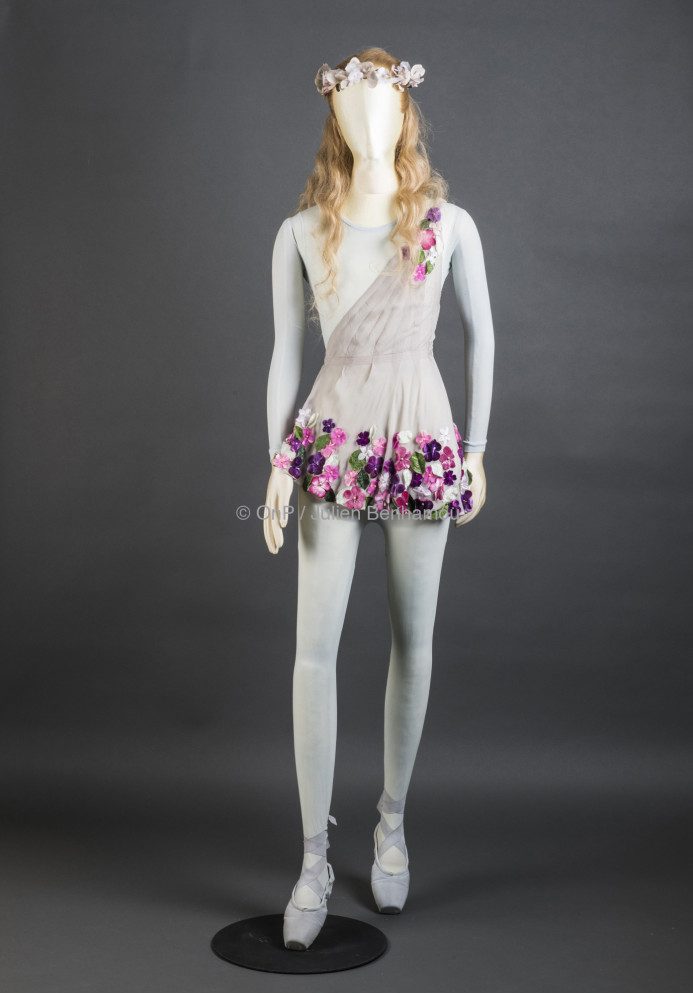 Visual poetry
His travels imbued colour into his work but Chagall's Jewish heritage nurtured and shaped the poetic quality considered to be his greatest contribution to contemporary art.
"Since my early youth, I have been fascinated by the Bible," he wrote. "It has always seemed to me that it is the greatest source of poetry of all time. Since then, I have sought this reflection in life and in art. The Bible is like an echo of nature and this secret I have tried to transmit."
The exhibition contains a number of his compositions with Biblical themes: Moses before the burning bush, Moses striking the rock and receiving the Tablets of the Law, Jacob wrestling with the angel, and Noah and the rainbow.
Since my early youth, I have been fascinated by the Bible. It has always seemed to me that it is the greatest source of poetry of all time.

Marc Chagall
In 1959, he was commissioned to create 12 stained glass windows for the synagogue of Hadassah University Medical Center in Jerusalem. Each window represents one of the 12 tribes of Israel, replete with symbolic elements – plants, animals, and colours – drawn directly from scripture and midrashim (ancient Marc Chagall in Greece (1952‐54) commentaries on Hebrew scripture). Chagall attended the unveiling in 1962. Photographs of the windows are on display in the exhibition.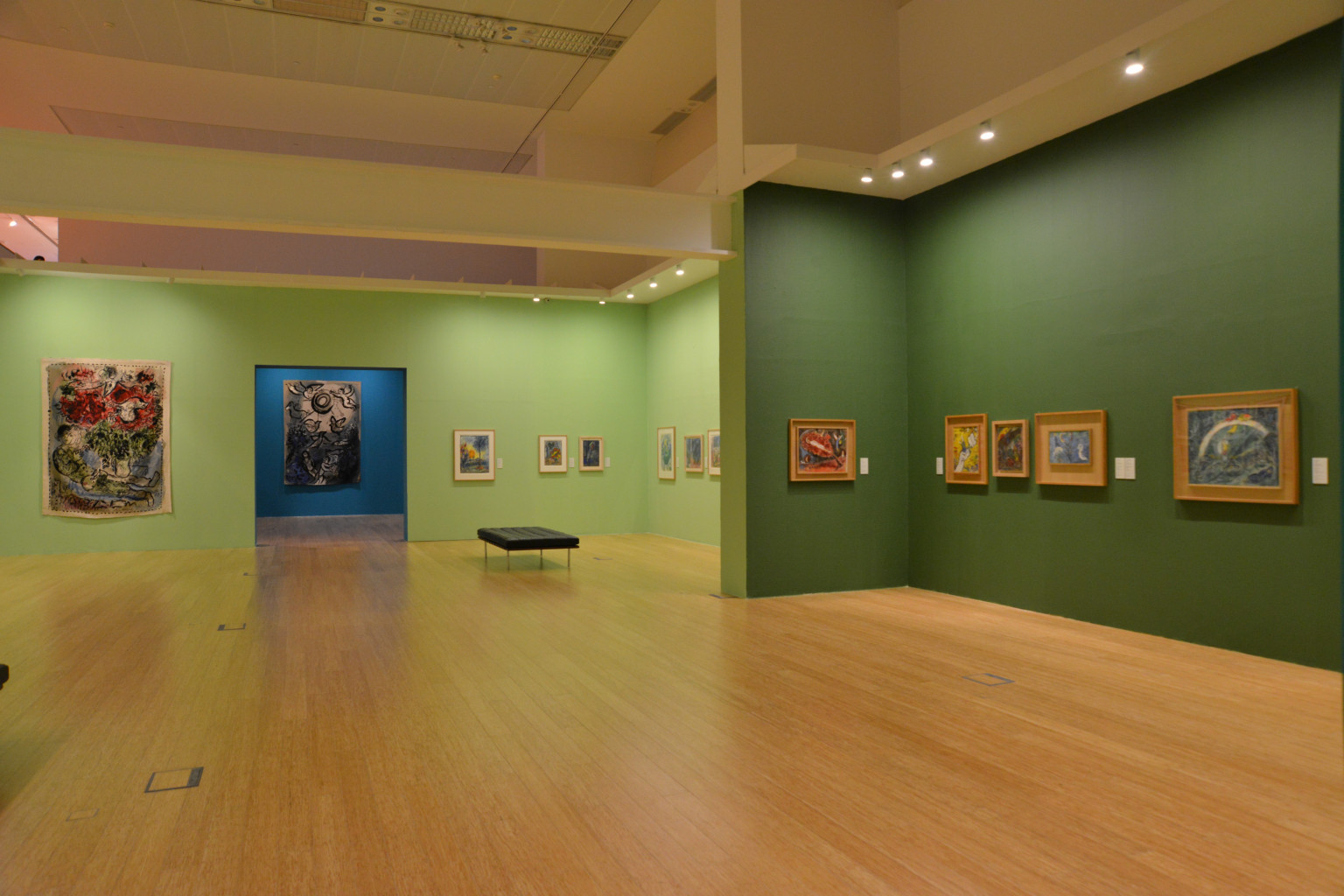 In 1963, French Culture Minister André Malraux commissioned him to create a monumental piece for the ceiling of the Palais Garnier auditorium, a painting that would span 220 square metres to cover the original, created between 1869 and 1871.
Then 77 years old, Chagall accepted the challenge and worked on the project for a year. His painting pays tribute to 14 composers and their works, with each of the five sections dominated by a brilliant hue of blue, green, white, yellow and red.
Inaugurated on 23 September 1964, the work defied early critics who felt a modern, non‐French artist was a poor fit for this vaunted hall of French culture. But his sublime use of colour – blue for Mozart's The Magic Flute, green for Wagner's Tristan and Isolde, and so on – dazzled audiences and today it is one of the opera house's most popular attractions.
It was his most ambitious project in a lifetime of art, and appears in images at the MAM exhibition. In the late 1960s, the Louvre exhibited a collection of his work that would later be given its own museum in Nice, and his exhibition at the Grand Palais in Paris was opened by the French president.
So it's no surprise that in 1977, the French government awarded him the Grand‐Croix de la Légion d'honneur, the country's highest honour. In 1984, he held a major solo exhibition – a retrospective spanning 76 years of work from the still‐active artist – at the Pompidou Centre in Paris. The last surviving master of European modernism, Marc Chagall died on 28 March 1985, aged 97, at his home in Provence.