Macao's wakeboarding tournament is the first stop of the 2018 Asian Wake Series, with over 90 riders from seven countries.
The ferry ride between Macao and Hong Kong became more interesting than ever over the last weekend of May, as passengers who looked out of the windows were likely stunned to see some spectacular wakeboarding spins.
The three‐day event, 25–27 May, welcomed international wakeboard riders to Macao's waterfront for the first time, as the city hosted the inaugural Macao Wakeboard & Wakesurf Open.
The tournament served as the first stop of the 2018 Asian Wake Series, drawing the participation of 90 riders from seven countries and cities including Macao, Hong Kong, Taiwan, China, South Korea, Japan, and Singapore.
However, even those who turned out to catch the competition may not know about the heroes behind the scenes who brought this international sporting event to their home town.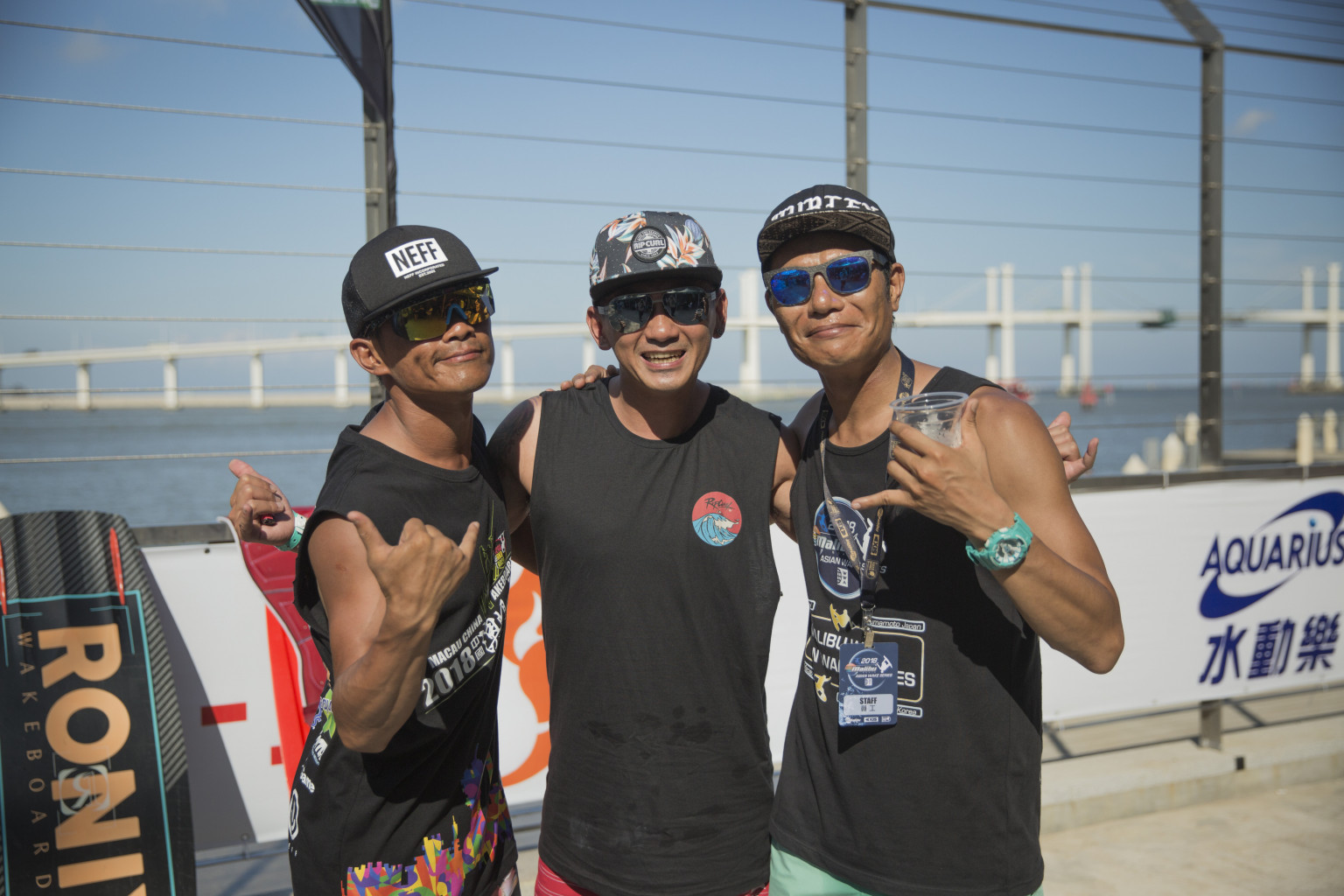 Hinata Yoshihara (left) and Yu Hamazaki (right)"It has been ten years since my friends and I established a wakeboard club to bring together like‐minded people who love the sport. We practice on the waters near Hac Sac Beach on a weekly basis," said Ricki Sio, head of the Macau Wake Trace wakeboard club
"This year, we believed we were ready to host a tournament."
According to Sio, it took the club more than a year and a half to prepare for the event, from setting the venue and inviting players from different countries, through to securing sponsors, professional MCs, and judges.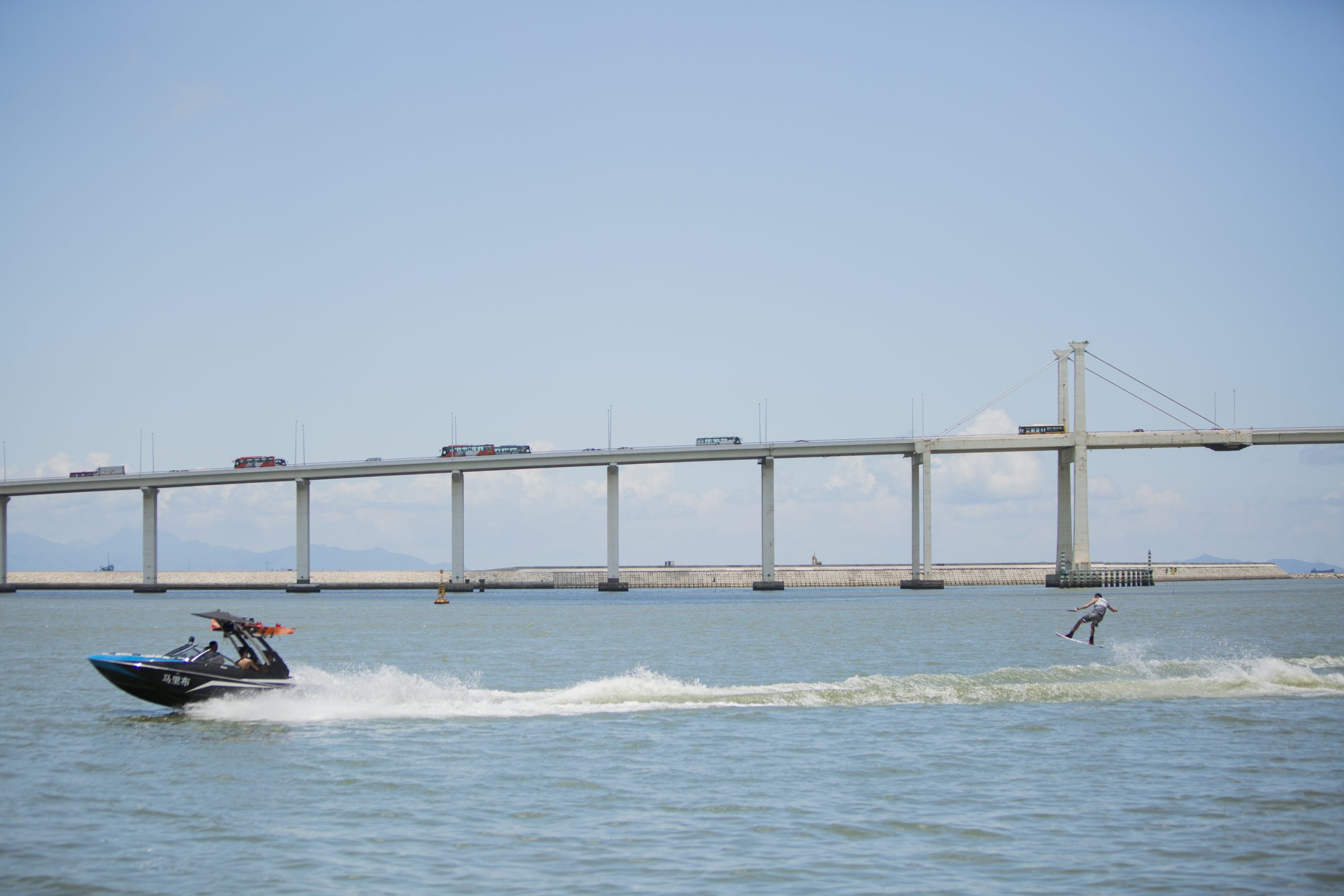 But their hard work paid off, as the event delighted spectators and challenged players as they kicked off the four‐part series. Held at Fisherman's Wharf Park, the tournament was divided into nine contest divisions, with the Men's Open being the most anticipated session, as the anything‐goes final ended with a battle among top riders from Japan and Korea.
However, the competition venue – located just hundreds of metres away from the busy waterway of Outer Harbour Ferry Terminal – created a fair number of challenges, even for the most experienced riders.
"Wakeboarding requires relatively calm waters, so that riders can perform tricks on the waves generated by the towboats," Sio explained. "We saw a lot of good riders falling off the wakeboards here, because the ferries traveling nearby were generating a lot of turbulence."
The challenging conditions attested to the skills of the winning riders, including Yu Hamazaki, a competitor from Japan with multiple champion titles. Finishing various elaborate spins and flips along a designated track of 750 metres, he was crowned Men's Open champion with a score of 88 – the perfect gift for his 17th birthday the following day.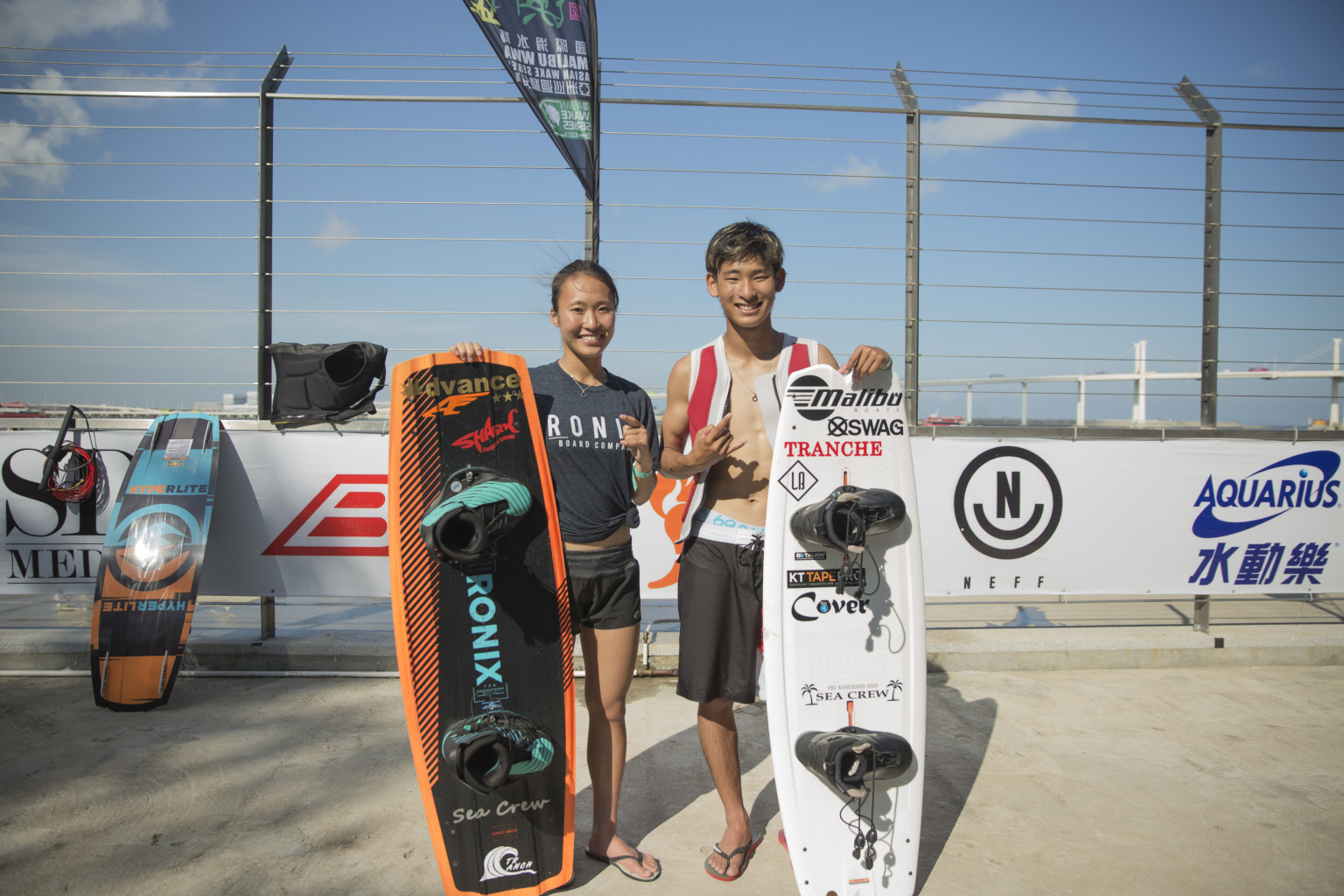 The champion title of Women's Open went to Hinata Yoshihara, also from Japan. She scored 71.67 to defeat four other players, all from Hong Kong, in the final.
Other contest divisions included Men's and Women's Novice and Intermediate, as well as Men's Advanced, allowing riders of different levels to compete for titles. They ranged from prodigies who became title‐holders at a very young age to late bloomers who prove that it is never too late to try a new sport.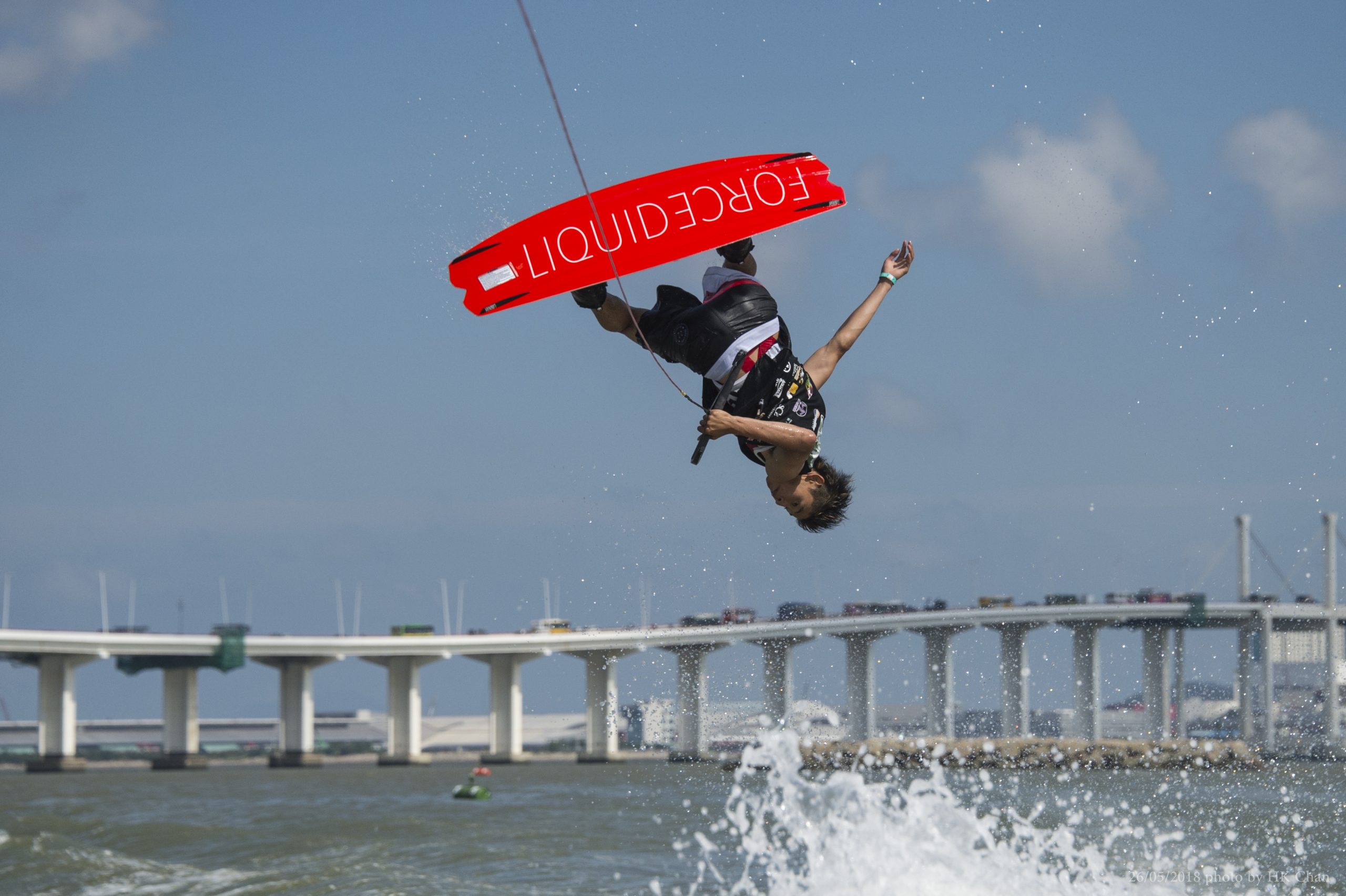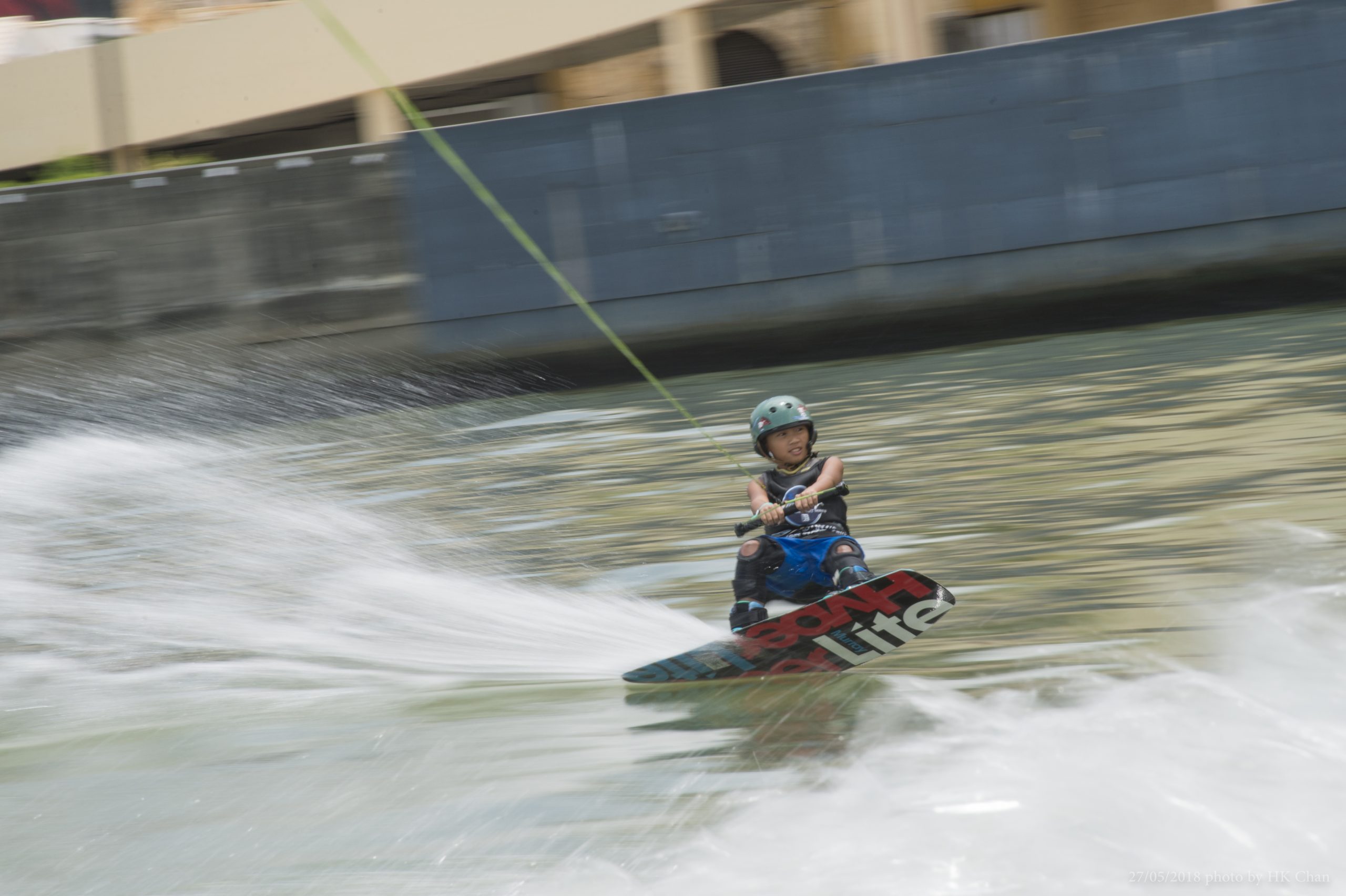 Yang Yu Yeh, who just turned 11, was one of the youngest contestants in the tournament. Competing with adult riders from Hong Kong, Korea and Taiwan, he won the first runner‐up title of Men's Intermediate.
According to his mother, Daisy Chen, founder of Mosquito Wakeboard Club in Taiwan, Yang has been practicing wakeboarding for four years and has previously won first places at tournaments held in Jiangsu, Hong Kong and Japan.
Meanwhile, Vong Chi Wing from Macao was named the top local rider after scoring 79.69 points to obtain the first runner‐up title of Men's Novice. At the age of 41, he started wakeboarding three years ago and became obsessed with it:
"It is such an exciting sport. I will continue for as long as I can." Unfortunately, for dedicated wakeboard riders, Macao may not provide favourable training conditions, as most of its waters are not deep enough to support inboard towboats that can generate big waves, especially during low tides.
Coreen Choi, chief designer of the tournament and the local female rider with the highest score, pointed to the importance of training in China or Hong Kong on a regular basis.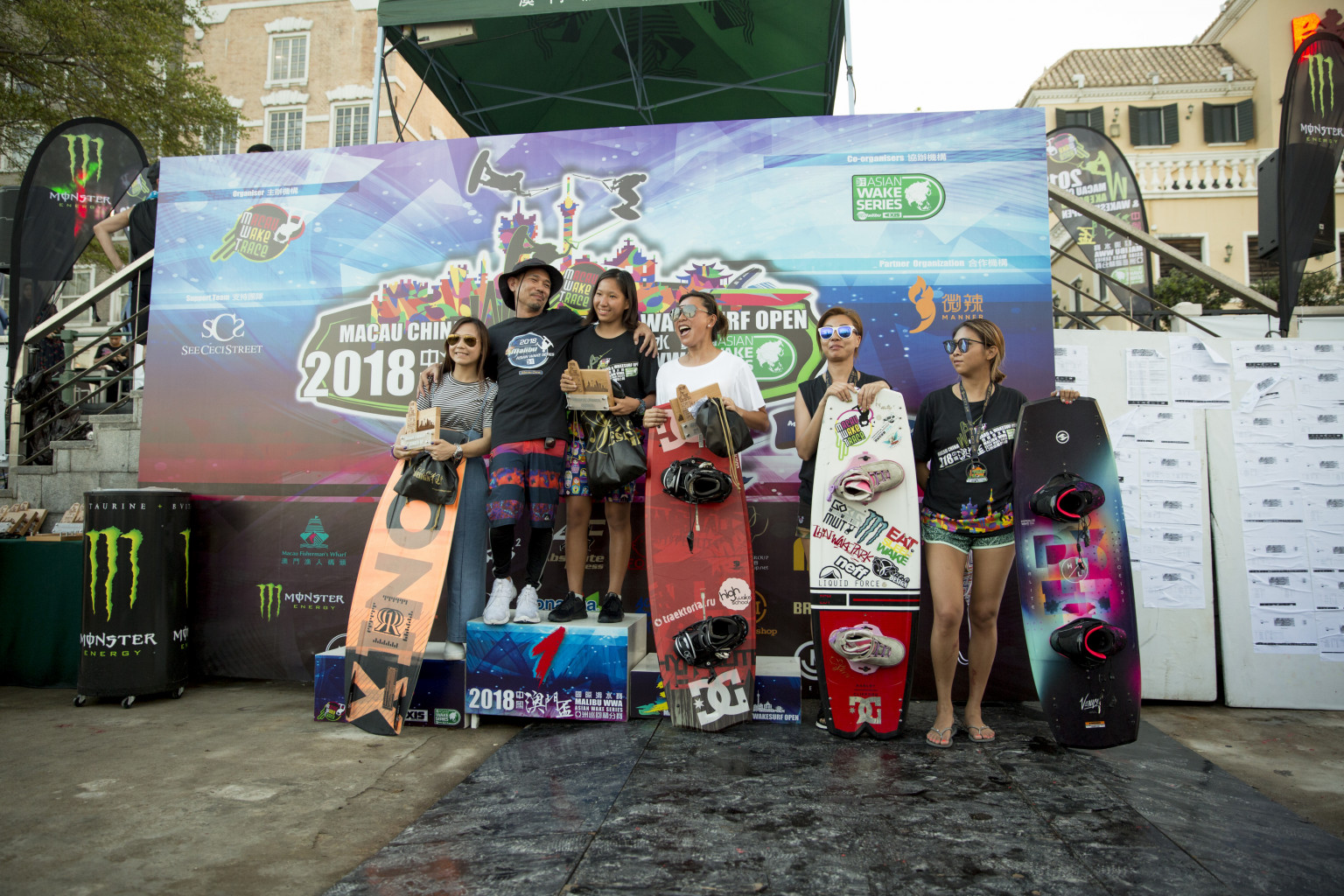 "The waterfront of Fisherman's Wharf is one of the few locations in Macao that can accommodate an inboard boat," she explained. "But for normal practices, we travel to the waters near Hac Sac Beach. We can use an outboard boat there, which generates smaller waves than inboard boat and thus the variety of tricks we can perform is restricted."
"It is a sport that requires a fair amount of time and money, and carries some risks of physical injury," Sio added. "That's why we often see people come and go." He went on, explaining the injuries he had suffered throughout the years, obstacles that did not deter him from pursuing improvement. "Because it's like a constant pursuit of a girl, who will never give you everything," he smiled. "There is no limit to this sport; you will always find room to make a breakthrough."
As the tournament ended, Sio was happy to see how much both the riders and spectators had enjoyed the event. It certainly boosted his confidence in organising a second tournament next year.
"We want to let people know how amazing wakeboarding is," said Sio – the yells and applause following each stunning spin proved that they succeeded.