TEXT Christian Ritter
PHOTOS Government Information Bureau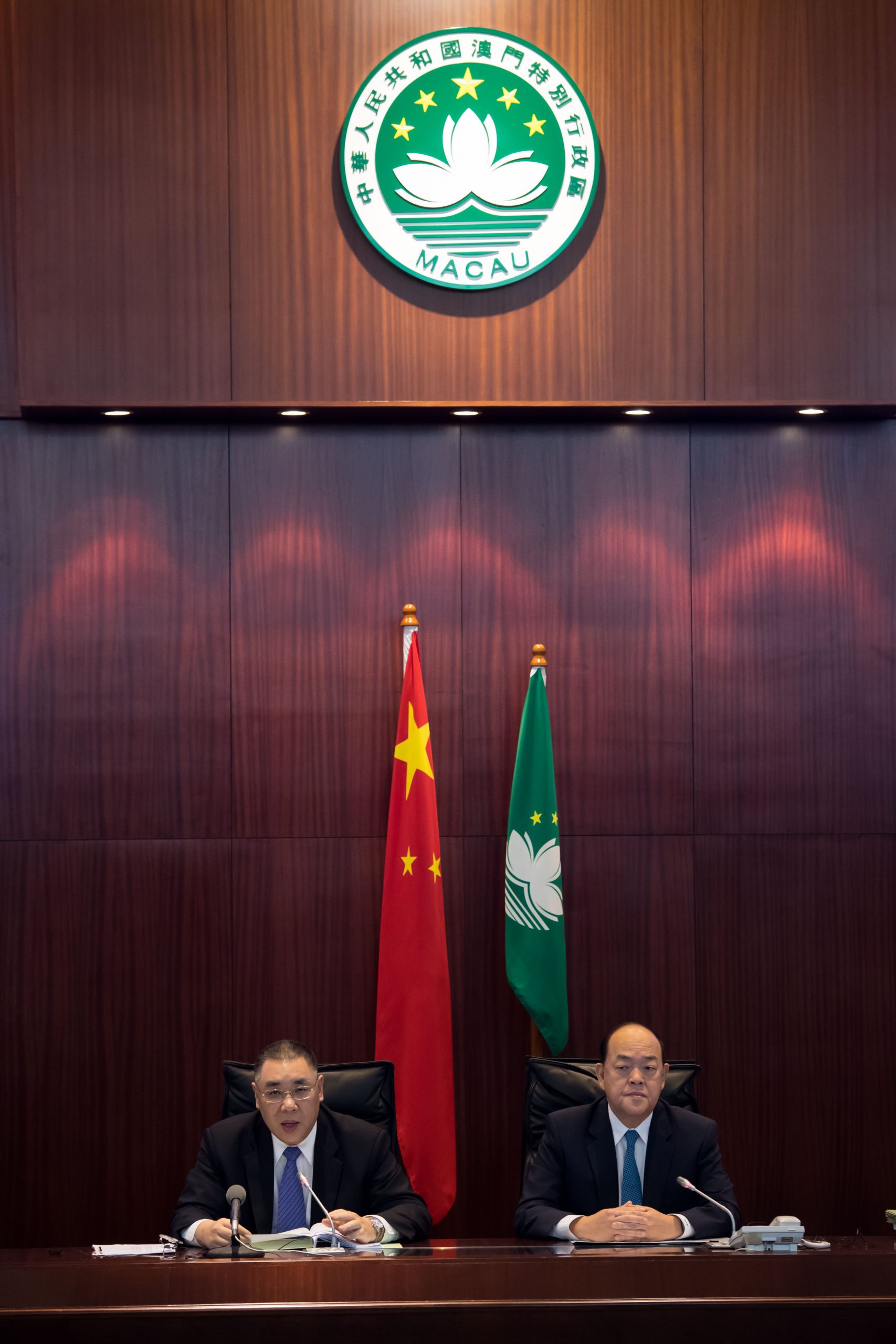 The five key priorities of the 2018 Policy Address were: building a smart city, consolidating transportation management, conserving the natural environment, cultivating Macao's cultural legacy and strengthening disaster preparedness.
Speaking before the Legislative Assembly last November, Macao Chief Executive Chui Sai On presented his 2018 Policy Address, a comprehensive raft of initiatives to enhance and expedite urban development in Macao. The initiatives focus on five key priorities: building a smart city to optimise resource management and boost competitiveness; consolidating transportation management to establish an accessible city; conserving the natural environment and supporting green development; cultivating and promoting Macao's unique cultural legacy; and strengthening disaster preparedness and response to enhance public safety.
With the devastation left in the wake of Typhoon Hato in August last year, Chui instructed the government to thoroughly reassess its existing measures to tackle catastrophic events. The strongest storm to hit Macao in more than 53 years, Hato caused massive flooding and damage estimated at over MOP10 billion (US$1.25 billion). Ten people died, 244 were injured, and thousands were left without power or running water for days.
Determined to improve its disaster preparedness and response mechanisms, the government developed a raft of short‑, medium‑ and long‑term measures aimed at addressing weaknesses exposed by the storm.
In the short term, the government plans to set up the Civil Protection and Contingency Coordination Bureau (DSPCCC) responsible for civil protection and emergency response coordination. The new bureau will enable centralised coordination of operations, promising a level of cooperation and integration not possible under the current ad hoc operations of the Civil Protection Operational Centre (COPC).
The existing by‑law on the issuing of weather warning signals will be amended, improving the typhoon forecasting process and the way the city's weather station releases information to the public. Staff at the meteorological bureau will also receive improved professional training.
Chui pledged that the Inner Harbour area, the hardest hit by flooding in Hato, will see an upgraded drainage system and other flood‑control projects, as well as a new pumping station on the waterfront. The government expects to invite bids for its construction during the first half of this year.
There are also efforts to kick start construction of a tidal gate, located between the west coast of the Macao peninsula and Wanzai in Zhuhai, to prevent flooding in the Inner Harbour during high tides and major weather events. The government aims to submit plans to the central government by late 2018, following completion of a feasibility study.
In the medium and long term, the government plans to construct a new Civil Protection Action Centre building on the peninsula, and strengthen the software and hardware development of the centralised command centre. There are also plans to set up a new professional emergency rescue team, improve human resources development for disaster prevention and reduction, and establish a third‑party assessment mechanism to review risks and response capability.
The process of drafting a comprehensive ten‑year plan for disaster prevention and mitigation (2019–2028) will begin this year.
Mindful of the utility outages experienced after Hato, Chui vowed that the government will work to increase Macao's water storage capacity and expedite the construction of the third link between the local power grid and China Southern Power Grid.
Chui also pointed to government efforts to get construction of a new electricity generation plant off the ground. According to news reports from February 2017, local power utility CEM expects to have a new natural gas‑powered generation plant up and running in five years.
Prioritising infrastructure development in new urban planning, including underground pipelines and windproof design for high‑rise buildings, will also serve to protect the city in future.
Building a green future
In laying out the government's priorities for 2018, Chui also addressed the need to preserve the natural environment. Government efforts to promote green development in the city include plans to foster green industries, enhance green education, and advocate sustainable practices among both residents and visitors. Accelerating greening work and a new tree planting and maintenance plan promise to reclaim green space in the city, while waste reduction plans, subsidies for the recycling industry, and enhanced cooperation and collaboration with regional partners seek to address underlying issues.
Government plans to transform the city's transportation system target congestion, a common complaint in the city, and growing concerns around air pollution. The government will continue to control vehicle growth and promote environmentally‑friendly vehicles while also working to offer residents better alternatives. Chui announced plans to improve the bus route network, develop a better walking environment for pedestrians, and expedite the establishment of light rail transit.
The initial phase of the smart city project, another key initiative touted in the address, will focus applications on transportation, as well as medical services, tourism, and e‑government. Environmental protection will be part of the second phase, beginning in 2019.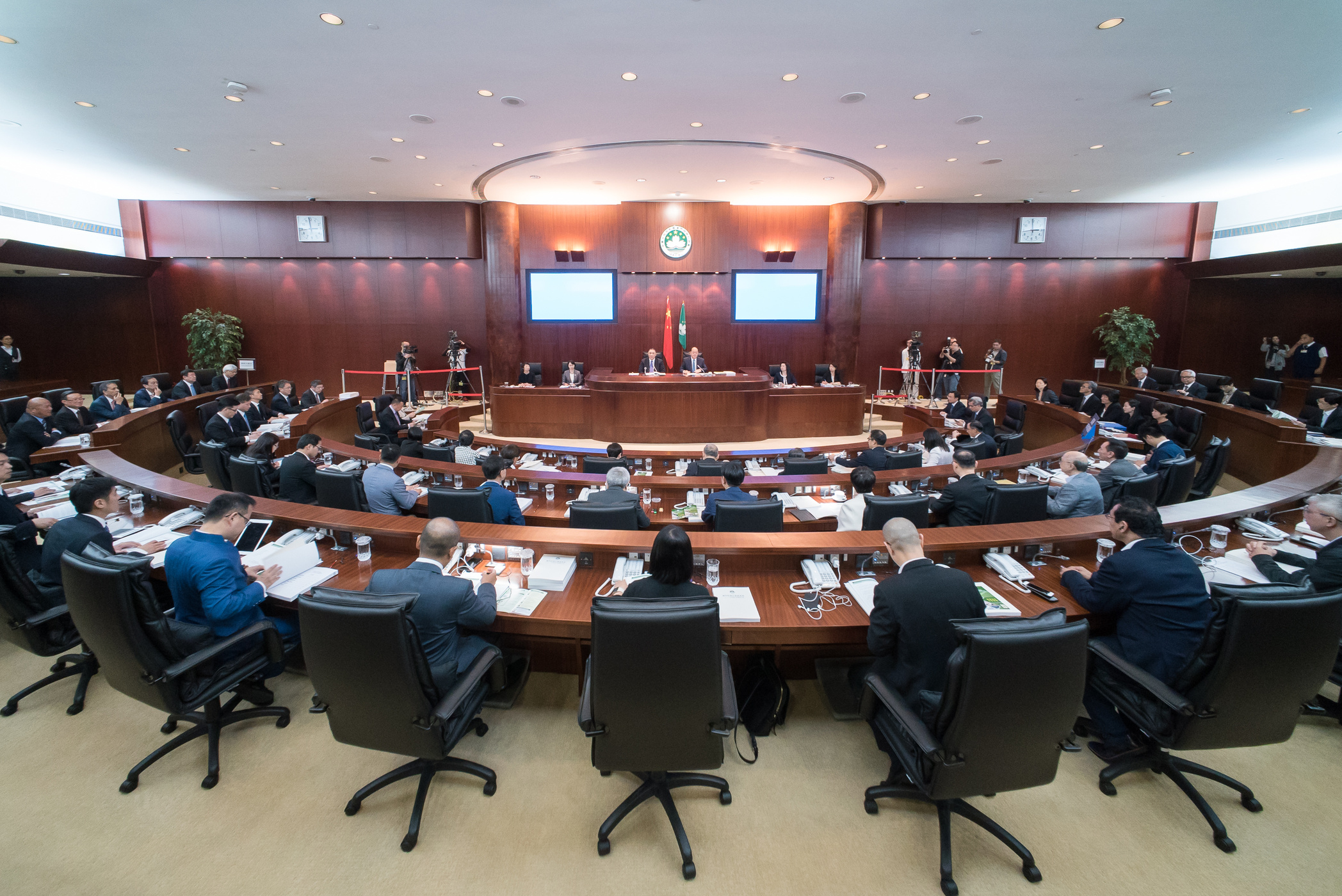 US$1.61 billion to subsidise those in need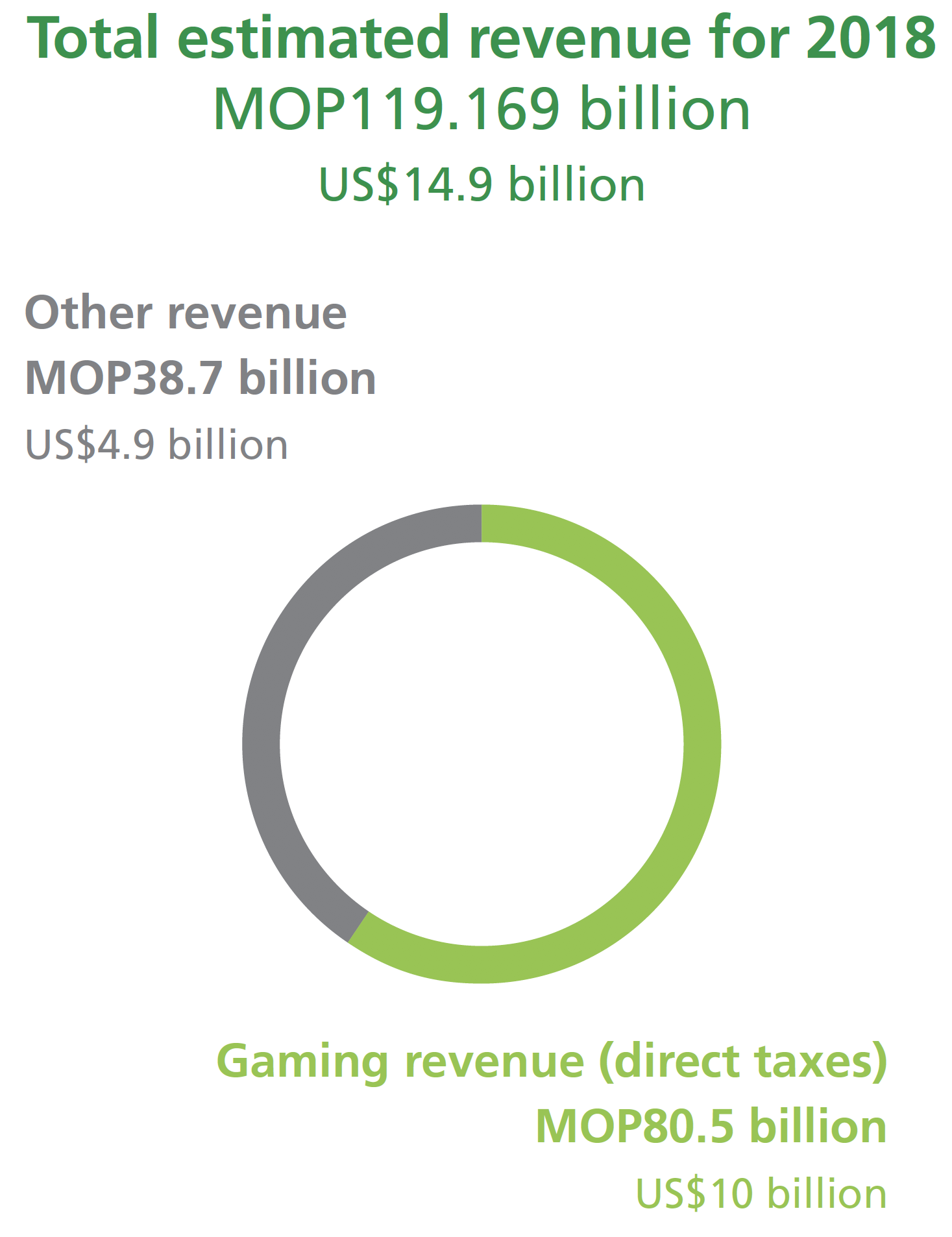 Chief Executive Chui discussed a raft of subsidies in his address, and while most will remain unchanged, others have seen increases and a new subsidy will be introduced for Macao children attending school in the Guangdong province.
Macao students attending primary and secondary‑level education in Guangdong will now receive MOP6,000 (US$747) while those at the kindergarten level will receive MOP8,000 (US$996).
The birth grant will see a dramatic increase, from MOP1,700 to MOP5,000 (US$623), while the annual subsidy for the elderly will increase by MOP1,000 to MOP9,000 (US$1,121); the elderly allowance will remain at MOP3,450 (US$430) per month for 13 months.
Macao students attending primary and secondary‑level education in Guangdong will now receive a subsidy of MOP6,000 (US$747) while those at the kindergarten level will receive MOP8,000 (US$996).
Senior citizens will receive MOP69,850 (US$8,680) next year. According to official statistics, 9.8 per cent of the population was aged 65 or over last year.
Several subsidies included in the Wealth Partaking Scheme will remain at 2017 levels. Permanent and non‑permanent residents will continue to receive an annual subsidy of MOP9,000 (US$1,121) and MOP5,400 (US$675) respectively. The medical voucher provision and Continuing Education plan for residents will also remain unchanged.
These and other welfare measures are expected to amount to MOP12.9 billion (US$1.61 billion) in 2018. Chui noted that the government's current reserves amount to MOP505.2 billion (US$62.9 billion).
Gaming revenues expected to reach US$28 billion
In his remarks, Chui expressed confidence in continued economic growth in 2018. After a 2.1 per cent decrease in Macao's gross domestic product (GDP) in real terms in 2016, the local economy grew by 10.9 per cent in the first half of 2017, according to official figures.
Following his one‑hour policy address to the legislature, Chui held a press conference at the Government Headquarters. When questioned about gaming revenues in 2018, he said that the government expected the city's gaming revenues to hit MOP230 billion (US$28.64 billion).
Gross gaming revenues during the first ten months of 2017 amounted to MOP220 billion (US$27.39 billion), a 19.2 per cent year‑on‑year increase and well beyond the expected MOP200 billion (US$24.9 billion) for the entire year.
Macao's gross gaming revenues stood at MOP223.2 billion (US$27.79 billion) in 2016.
---
Macao government spending to surpass US$13.65 billion for the first time
During a plenary session to present the 2018 government budget bill, Secretary for Economy and Finance Leong Vai Tac announced that the government expects its total expenditure in 2018 to reach MOP109.61 billion (US$13.65 billion), a 14.5 per cent increase from last year's budget.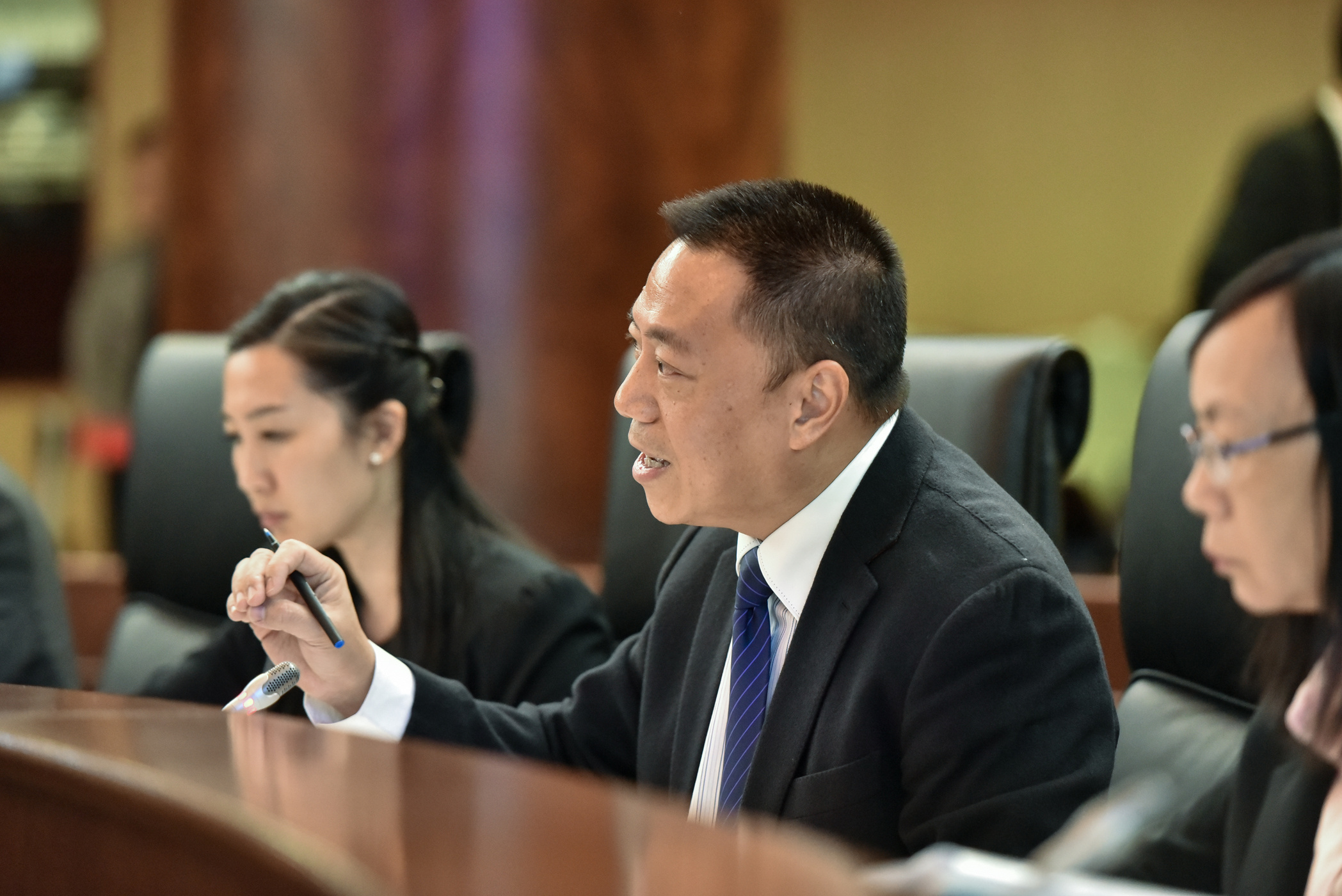 This unprecedented annual budget, the first to exceed MOP100 billion, is due in large part to a 38.6 per cent increase in PIDDA, the government's public investment plan, to MOP21.15 billion (US$2.63 billion).
According to the bill, the government expects total receipts of MOP119.17 billion (US$14.91 billion) this year, up 15.8 per cent. Leong told lawmakers that he expected the government's revenue from direct gaming taxes to amount to MOP80.5 billion (US$10.01 billion) in 2018, MOP10.5 billion (US$1.31 billion) more than budgeted for last year, up 15 per cent.
The bill proposes to increase public servants' salaries by 2.41 per cent, effective from January 2018, with total expenditure for government personnel budgeted at MOP22.2 billion (US$2.76 billion).
Leong announced plans to submit a bill to the legislature regarding the establishment of the government's investment and development fund. The operation of the fund will be in line with the Santiago Principles, ensuring proper regulation, risk management, and accountability.
During a Q&A session about his portfolio's policy guidelines for 2018, Leong explained the government's rationale behind withholding the details of its upcoming gaming concession bidding process in the run‑up to the expiration of the city's three gaming concessions and three sub‑concessions.
Leong, who oversees the city's crucially important gaming industry, stressed that a premature announcement would enable other gaming destinations to adjust their policies accordingly, intensifying competition in the sector.
Macao's three gaming concessions and three sub‑concessions will expire between 2020 and 2022, and according to Law 16/2001, a gaming concession usually cannot exceed 20 years. While the gaming industry law does allow the Chief Executive to grant a maximum extension of five years under special circumstances, Leong assured lawmakers that a bidding process will be held following the expiration rather than the government simply renewing the existing agreements.
When considering the city's gaming sector development, the government will take a number of factors into account, including how the sector can become more competitive on the international stage.
---