The centre for technology innovation in China, Guangzhou is moving into a leadership position in the Guangdong‑Hong Kong‑Macao Greater Bay Area project.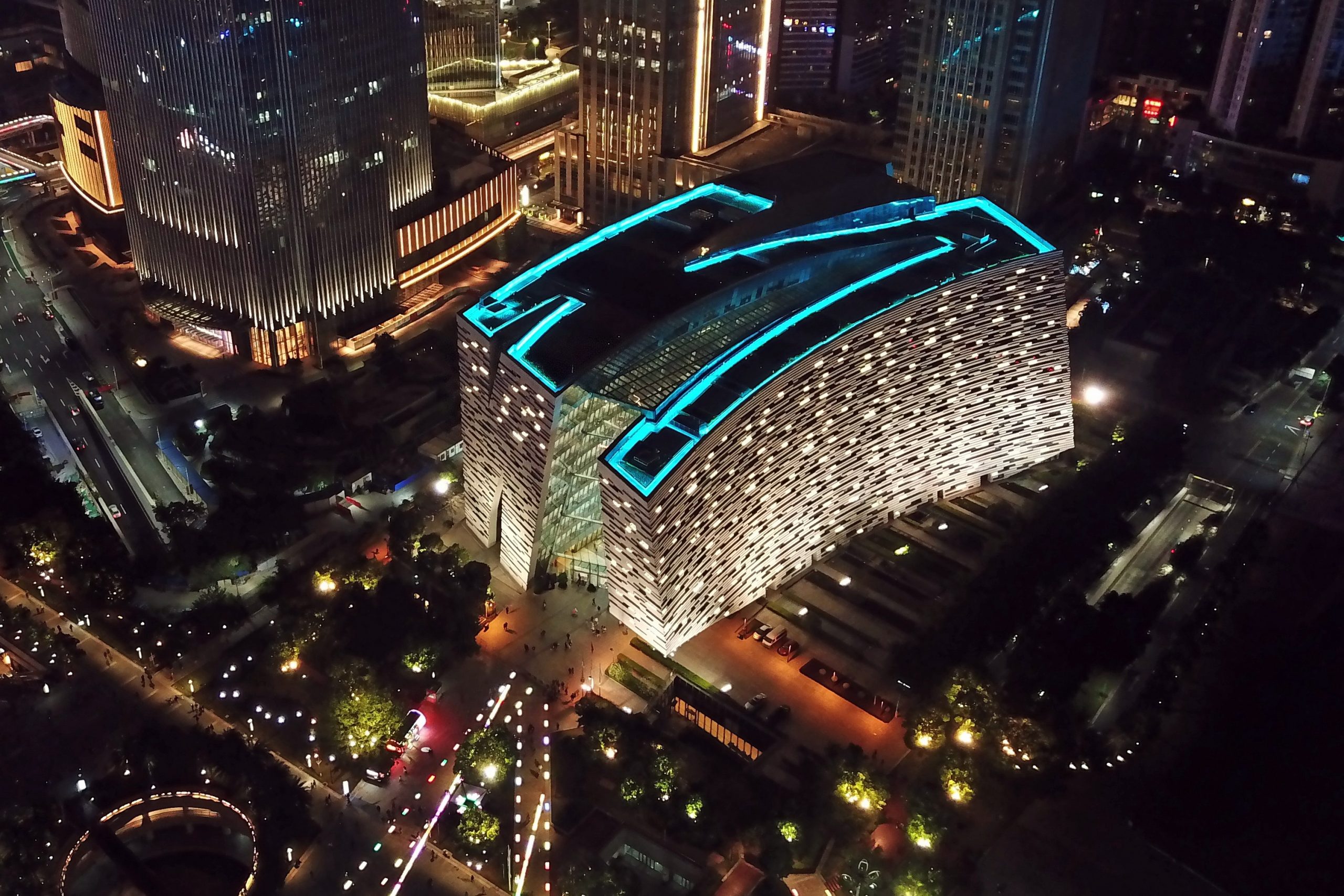 As Guangzhou intensifies its coordinated efforts to establish itself as the centre for technology innovation in China, it also moves into a leadership position in the Guangdong–Hong Kong–Macao Greater Bay Area project, a major national initiative taking shape in the coming decades.
In his annual government work report at the National People's Congress last March, Premier Li Keqiang outlined his vision for the Greater Bay Area, comprised of Hong Kong, Macao, and nine cities in Guangdong province: Guangzhou, Shenzhen, Zhuhai, Dongguan, Huizhou, Foshan, Zhongshan, Jiangmen, and Zhaoqing.
According to the timeline, a globally competitive cluster of metropolises in the Greater Bay Area will be almost fully established by 2020, while by 2030 it will become a global first‑class bay area and city cluster, as well as a global advanced manufacturing, innovation, international shipping, financial, and trade centre. It will also play an important role in implementing the Belt and Road (B&R) initiative.
In 2016, the combined GDP of the 11 cities reached RMB9.35 trillion (US$1.44 trillion). Despite having only about five per cent of the population and occupying less than one per cent of China's land, the cities collectively contributed about 12 per cent to the national economy.
Liu Yuelun, chairman of the Guangzhou Committee of the Chinese People's Political Consultative Conference (CPPCC), said, "Guangzhou ranks first in its capacity for research and development [R&D] and basic education among cities in Guangdong province. It is the transportation hub in South China and positioned as one of the five central cities across the country. In short, Guangzhou will play a core role in the construction of the Guangdong–Hong Kong–Macao Greater Bay Area."
Last December, the city hosted the 2017 Fortune Global Forum and the inaugural Fortune Brainstorm TECH International, a conference dedicated to exploring the innovation revolution unfolding in China. The concurrent events attracted more than 760 distinguished guests and nearly 400 prominent enterprises. Among them, key industry leaders, and chairmen, presidents, CEOs, and leading partners from more than 120 Fortune 500 companies, including founder and chairman of Alibaba Group Jack Ma and Apple CEO Tim Cook. Dignitaries from major foreign and domestic cities, such as Canadian Prime Minister Justin Trudeau and former US Treasury Secretary Henry Paulson, also made an appearance.
In addition to award ceremonies and sessions on topics ranging from sustainability to global challenges to health technologies, attendees were invited to experience Chinese innovation firsthand. Tours included visits to Pazhou Internet Innovation
Cluster, considered Guangzhou's Silicon Valley, and to cutting‑edge 3D bioprinting company Medprin Regenerative Medical Technologies. Attendees also enjoyed a spectacular performance as more than 1,000 Chinese‑made drones took to the sky, moving in formation with multicoloured lights that dazzled against a backdrop of the city's sparkling skyline and Canton Tower.
The three‑day dual‑event drew considerable international attention to the city, showcasing Guangzhou as an emerging global city keen to transform itself into an innovative, high‑tech industry centre,
Solid foundations
With a population of 14.04 million people in the city, Guangzhou is not only the most populous city in Guangdong province, it ranks among the 10 largest cities in the world. In 2016, it had a GDP of RMB1.98 trillion (US$304.64 billion), an increase of more than 8 per cent over 2015.
The service sector accounted for 68.6 per cent of GDP, followed by manufacturing at 30.2 per cent, with agriculture and forestry at 1.2 per cent. Eight core industries within manufacturing – automotive, electronics, petrochemicals, electrical and thermal energy, electrical appliances and machinery, general and specialised equipment, rail/ship/aviation/aerospace equipment, and pharmaceuticals – expanded, now accounting for 70.9 per cent of the total GDP.
In terms of both passengers and cargo, Guangzhou Baiyun International Airport ranks as the third busiest in China and among the top 20 busiest in the world. In 2016, nearly 60 million passengers came through the airport, which serves 100 domestic and over 50 foreign destinations. As the capital of Guangdong, Guangzhou sits at the centre of a dense network of roads and railways. It aims to connect all major cities in the province within one hour's train time of Guangzhou.
Historically, it marked the starting point of the Maritime Silk Road and during the Qing dynasty (1644–1912), it was the sole city authorised to handle foreign trade and to allow foreigners to live there. The establishment of Hong Kong as a British colony following the First Opium War (1839–1842) opened up a new path for foreign trade into China. But in the late 20th century, highly concentrated investment along the road and rail corridors to Guangzhou turned the area into the "factory of the world."
Leveraging the existing base
Manufacturing remains strong in Guangzhou even as it has developed a more diverse economic base. According to the Guangzhou Municipal Statistics Bureau, in the first 10 months of 2017, its industrial output was RMB1.63 trillion (US$251.27 billion), an increase of 2.8 per cent year‑on‑year. Trends among the three pillar industries were more mixed: automotive output grew 19.1 per cent, while electronics grew 3.5 per cent, and petrochemicals fell 9.9 per cent.
Advanced medical equipment and specialised machinery production saw the fastest growth, both over 14 per cent year‑on‑year, while output of photo‑electric goods and liquid crystal displays (LCDs) grew 69.7 per cent and 18.1 per cent respectively.
The city's foreign trade for the 10‑month period reached RMB813.96 billion (US$125.24 billion), up 17.3 per cent, compared to the national figure of 15.9 per cent. Exports rose 14.9 per cent to RMB490.17 billion (US$75.42 billion) and imports rose 21 per cent to RMB323.79 billion (US$49.82 billion).
While neighbouring Shenzhen managed to knock Guangzhou from its long‑standing position as the third-highest GDP in China in 2016, it may struggle to maintain its edge. According to Lin Jiang, the deputy director of the Free Trade Zone Integrated Research Institute at Sun Yat‑sen University, Shenzhen is facing a crisis because of its limited land area. At 7,434 square kilometres, Guangzhou is more than three times the size of Shenzhen, and increasingly open to experimenting with innovation.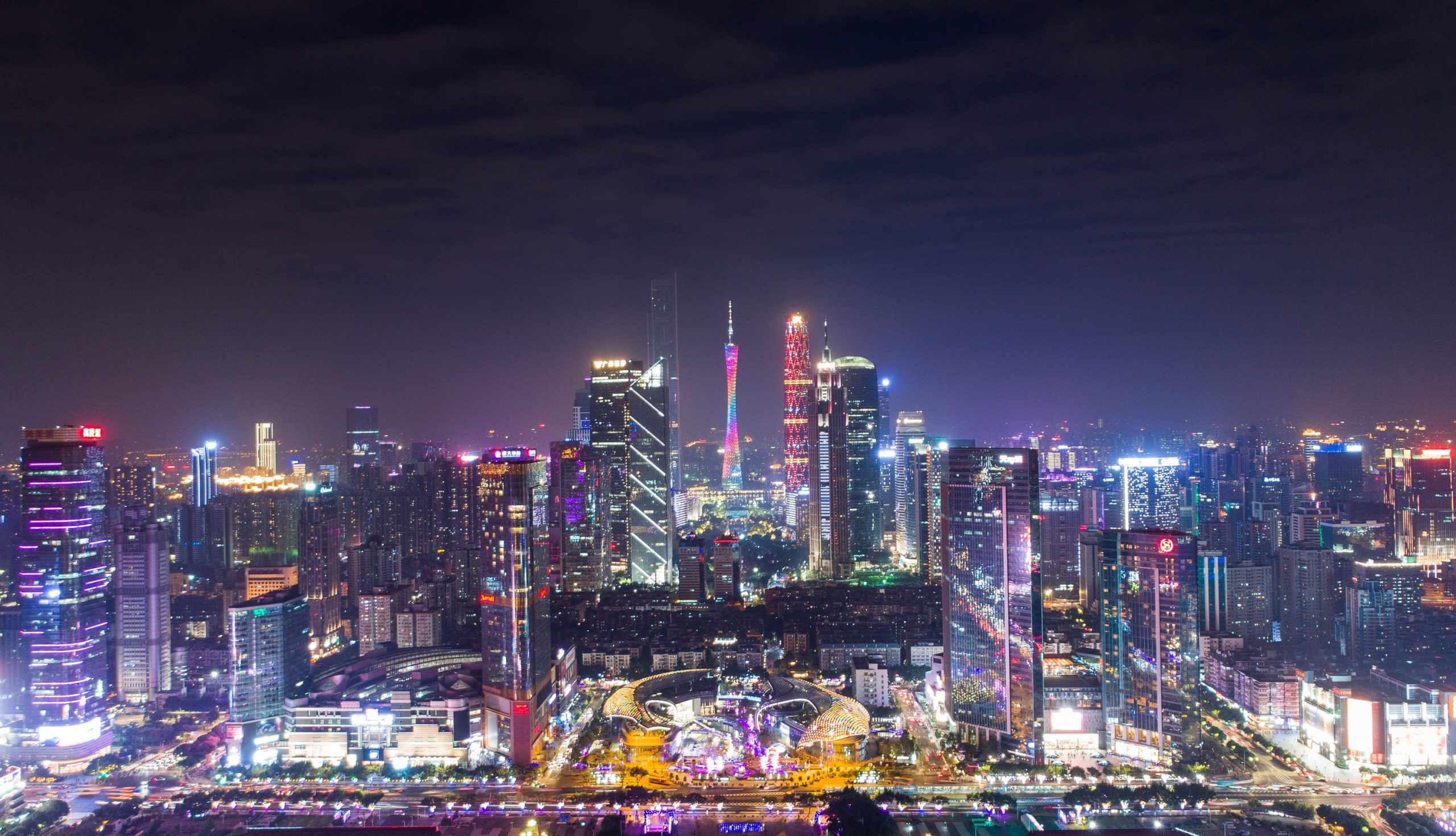 Developing future industries
High and new technology enterprises are on the rise in Guangzhou with 2,998 businesses certified in the first half of 2017. The number of invention patents applied for and granted in the city increased by 29.8 per cent and 29.7 per cent respectively. During that period nearly 800 new market entities emerged in the city each day.
Zhang Xiaobo, director of industry and information technology commission of Guangzhou, said: "Guangzhou will facilitate the development of the new generation of information technology, artificial intelligence, and biological medicine – known collectively as IAB – improve industrial quality and efficiency, and set up a new system of industrial parks."
The IAB initiative, launched in March 2017, seeks to both develop the relevant industries and to apply those gains to existing industries in Guangzhou. According to Doranda Doo, senior vice president of iFlytek, one of the world's top AI system developers, the city's long history of business and commerce offers a wealth of data and resources for building smarter industry.
In April last year, Guangzhou became a demonstration city for Made in China 2025, an initiative to comprehensively upgrade Chinese manufacturing through the application of information technology tools to production. Li Danrong, deputy inspector of industry and information technology commission of Guangzhou, said he is eager to accelerate the development of the real economy, especially the manufacturing sector, as it needs to improve its modern industrial structure and set up more innovation centres. "We will also work to help manufacturing enterprises reduce their costs by about 15 billion yuan [US$2.31 billion] annually," he said.
Increased automation is part of that effort. In 2016, Guangzhou produced more than 2,200 industrial robots, a 31.7 per cent rise year‑on‑year. That growth generated around RMB49 billion (US$7.54 billion), roughly half the RMB100 billion‑goal set by the city. Guangzhou‑based GSK CNC Equipment, China's largest manufacturer and designer of computerised numerical control (CNC) systems, is one of the only companies in the country able to operate without imported components. Other major players in robotics and smart equipment located in the city include Guangzhou Risong Technology and Sinomach Intelligence. With Siasun Robot & Automation locating its South China base in Guangzhou, the city is primed to become the largest base of robot production in the country.
"By 2019," Zhang said, "Guangzhou will become an innovation base for high‑end equipment manufacturing, a model area integrating intelligent manufacturing and services, and a crucial pivot for the Belt and Road Initiative." By 2020, the city aims to have automated more than 80 per cent of manufacturing production, and expects total output value of IAB industries to reach RMB1 trillion (US$153.79 billion).
Major investments
Even as many initiatives look to the future, several major projects are already underway in Guangzhou. The Foxconn 10.5‑generation panel plant and the Cisco (Guangzhou) Smart City project, both currently under construction, will greatly increase production of photoelectron components and mobile communication base station equipment.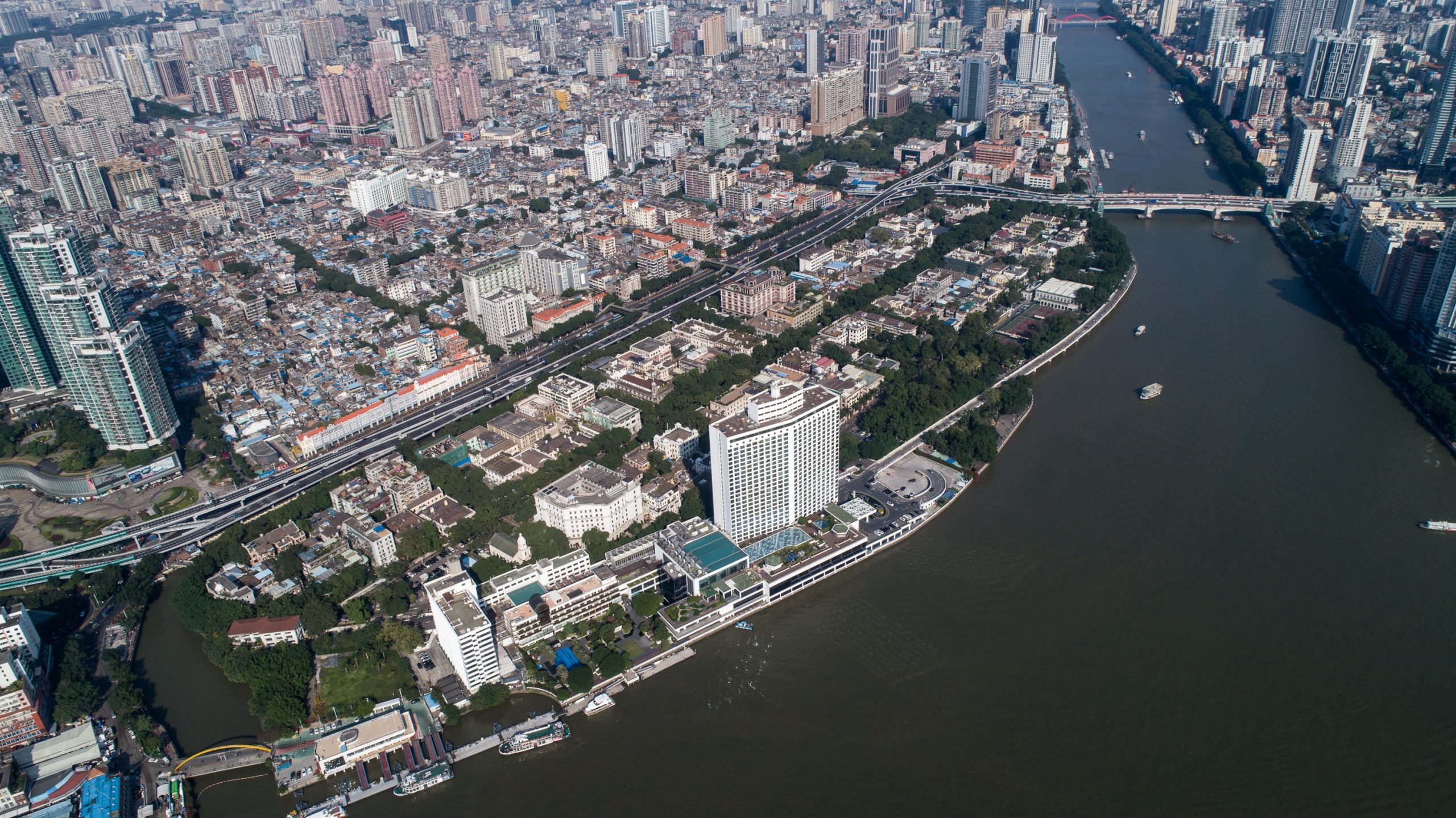 The Foxconn project marks the biggest ever foreign investment in Guangzhou. With an investment of RMB61 billion (US$9.39 billion) from Foxconn subsidiary Sakai Display Products, the factory will produce 10.5‑generation panels, substrate glass and related product lines, serving as a major supplier for Japanese TV set maker Sharp Corp, also owned by Foxconn. Construction began in March 2017. When completed, it will be the largest and most advanced 8k‑resolution factory in the world.
"It will not only be a panel‑processing factory but a concept of building an ecological town featuring high‑end technology in the city of Guangzhou," said Terry Gou Tai‑Ming, CEO of the Foxconn Technology Group, at the groundbreaking ceremony. "The 8k‑resolution technology will be widely used in TV displays and medical treatment, traffic control and smart homes, helping to build a healthier living environment featured by high‑end technologies." It is expected to create more than 15,000 jobs and generate RMB92 billion (US$14.16 billion) in production value each year.
In April 2017, Cisco broke ground on an internet R&D and intelligent operations centre, the first concrete step in the Cisco (Guangzhou) Smart City project. With an investment of RMB20 million (US$3.08 million), it is the US firm's largest internet R&D project outside North America. Cisco plans to work with its global partners to develop technology related to the Internet of Things (IoT), the network formed by internet‑enabled devices, and create an IoT cloud platform to serve industry.
Speaking at the ceremony, Cisco CEO Chuck Robbins said: "Cisco and China have partnered together for over 20 years to create an environment that embraces innovation to drive growth and digital transformation. Today marks an important moment in our history. Cisco will fully utilise its rich experience in smart manufacturing and deliver the opportunities of digitalisation."
Two other projects will fuel the growth of IAB industries in the city. In March of last year, BeiGene finalised an agreement Guangzhou Development District (GDD) and Guangzhou GET Technology Development Co Ltd, establishing BeiGene Biologics, a joint venture to build a cutting‑edge biologics manufacturing plant in the city. GE Biotechnology Park, a mega biopharmaceutical project covering 35 million square metres in its first phase, broke ground in June 2017.
With a total investment of US$800 million from the GDD, General Electric and other companies who plan to operate at the site, it is expected to generate US$4–8 billion in production revenue in the future.
"The project is also expected to play a big part in the economic development of Guangzhou," added Vice Mayor Chen Zhiying, "which is making its top priorities to develop information technology, artificial intelligence, and biopharmaceutical industries."
GE senior executive Jan Makela said: "Guangzhou is GE China's south region headquarters and an important sourcing hub for our multiple businesses. We are very pleased to extend our partnership to life sciences and bio‑manufacturing. Guangzhou is a pharmaceutical export hub for China, hosting a great deal of biotech and healthcare‑related industry companies. In the 13th Five‑Year Plan, the biopharmaceutical industry has become one of the strategic emerging industries and a key development area for Guangzhou."
By 2019, Guangzhou will become an innovation base for high‑end equipment manufacturing, a model area integrating intelligent manufacturing and services, and a crucial pivot for the Belt and Road Initiative.

Zhang Xiaobo
Outside investment and broad government support for innovative technologies is already paying off: high‑tech products accounted for nearly half of manufacturing output in 2016, reaching 46.4 per cent. And it shows no signs of slowing down. The establishment of new transportation links – including the Hong Kong–Zhuhai–Macao Bridge and high‑speed rail to Hong Kong, both set to open in 2018 – promise to strengthen regional ties and create new economic opportunities. As the Greater Bay Area comes together, Guangzhou stands poised to play a central role and become a leader in cutting‑edge technology in the decades to come.