TEXT Rafelle Marie Allego and Kary Lam
Street food is woven into the fabric of Macao's culinary heritage. But over the years it has become beset by many tough challenges – now a new generation of young hawkers is stepping in to keep the traditions alive.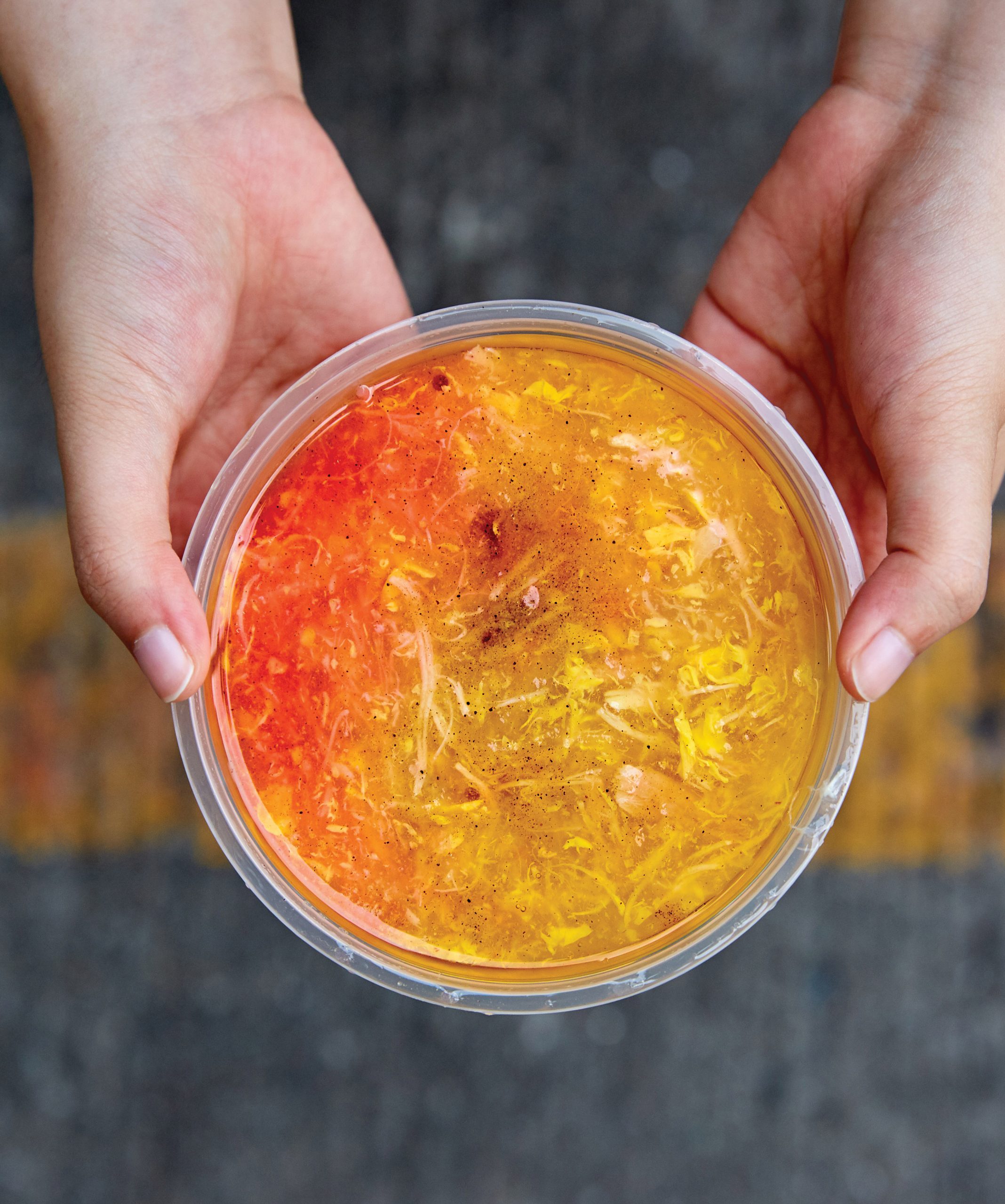 Once upon a time, the fast food scene in Macao was vastly different to what we see in the city today. Food carts lined the streets and lanes, selling anything from ice-cream and soup to Chinese tea eggs, dragon's beard candies and maltose crackers. There was seemingly at least one trolley on every busy thoroughfare, making Macao look like a huge – and hugely tempting – food court. But all this is just a distant memory in the age of the fast food takeaway.
Today, there's still a handful of street hawkers – those people who sell food or merchandise in trolleys that were once easily transported but are now fixed – out on Macao's lanes and plazas, keeping the old culinary traditions alive. They may be few and far between but these street vendors nevertheless remain popular with both locals and tourists. The same goes for those hawkers who have ditched the trolley and set up shop in small spaces dotted across the city. But in the days of McDonald's and Kentucky Fried Chicken, will this tradition – that is beset by many challenges – soon die off? Or is there hope for the street hawkers yet?
For hundreds of years there have been street hawkers in Macao. Records are scarce when it comes to exactly how many but we do know that in the 1980s, the numbers had increased into the thousands. In 1987, the government established an administrative department that was dedicated to the affairs of the hawker community and it passed new regulations on hawker licences which included a key change from the old days: the mobile vendors had to keep their carts in fixed locations and keep opening hours to fixed schedules. Street food hawkers once came and went wherever and whenever they liked but the regulations, which are still in place today, meant that those who stayed in business had to remain stationary. This is why, if you now want a street snack from a hawker, you have to find them, rather than the other way around. Although this move drove many mobile vendors out of business or forced them to buy up stalls and shops, today some are still operating. In 2008, for instance, there were still 1,200 hawkers running trolleys or small stalls in the city. Now there are just 892, according to the Municipal Affairs Bureau's (IAM) June 2020 numbers which group together those operating in hawker buildings and cooked food centres. But these survivors have kept the traditions going and they've been feeding their communities, as well as visitors to the city, for many years now.
"Good street food must first be 'down to earth' because street food should represent the intimacy between food and people," says popular Macao food Instagrammer Memo Foodie, a local gastronome who doesn't reveal his real name. "This brings out the uniqueness of the simple and delicious street food culture." Memo Foodie adds that street food should also have a 'memorable taste' – another key for a hawker's success.
Meet the hawkers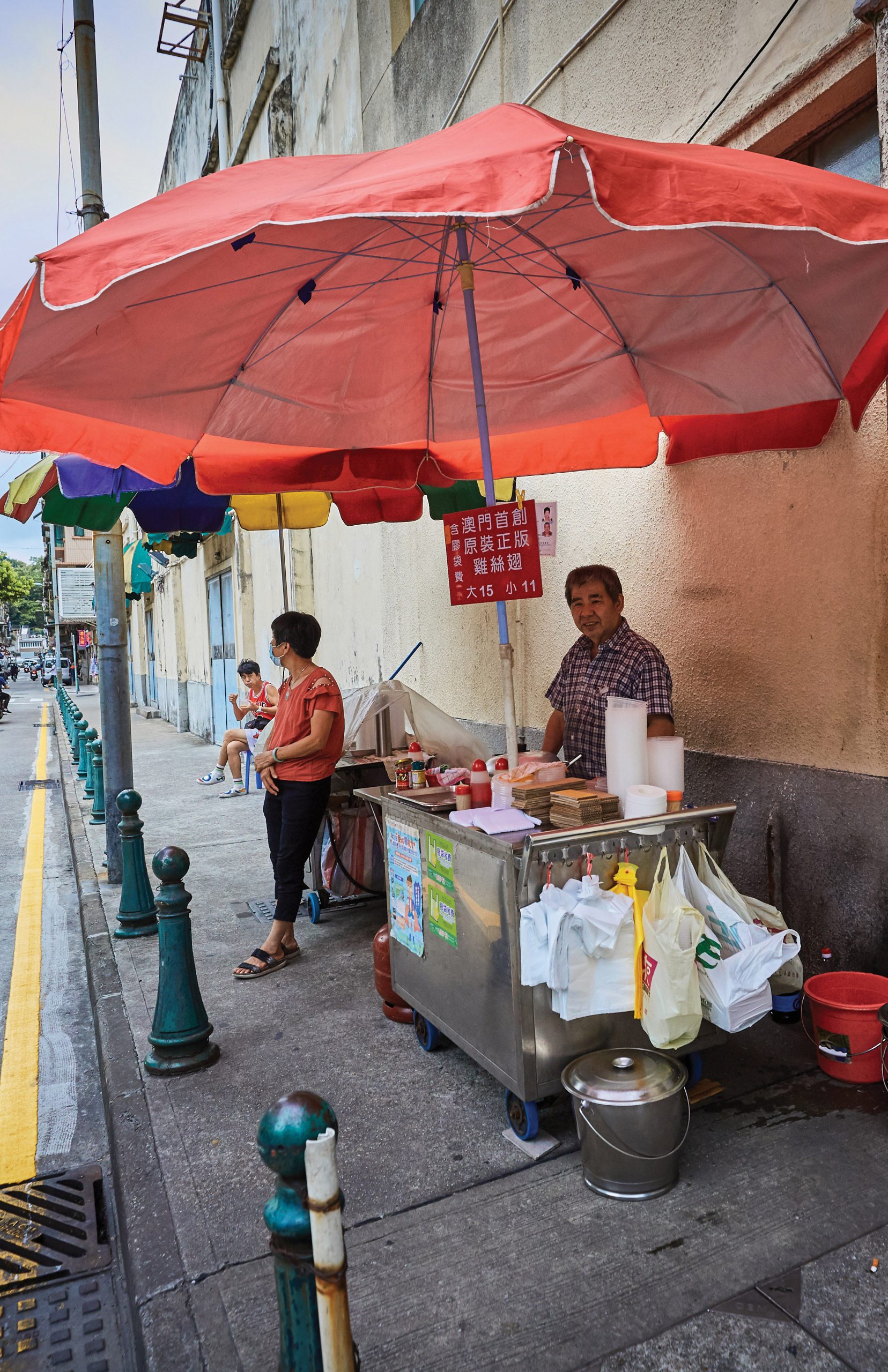 Some of the city's surviving street food hawkers are keen to speak to Macao Magazine. One of them is Cheung Kui Yuen, who runs a trolley next to the Alegria Cinema at the intersection of Travessa da Corda and Estrada do Repouso. The speciality at the cart, which is open between 4pm and 7pm every day, is imitation shark fin soup, a concoction that looks like the real deal but is instead made with chicken shreds and glass noodles in egg drop soup. A big bowl costs MOP 15 (US$1.88) and a smaller portion costs MOP 11 (US$1.38).
Cheung has been selling his soup at this same spot since October 1985. He chose the pitch simply because it was near his home. The 67-year-old moved to Macao from Hong Kong prior to launching his business so he could be with his wife but he admits he found it difficult to get a job because he is disabled with only one arm. He tried selling a number of different items on the streets first until he realised that imitation shark fin soup hadn't yet reached the city in the mid-1980s. "So," he says, "I decided to bring it to Macao."
"When I first sold the soup," continues Cheung, "no-one knew what it was. Some people even asked if it was a dessert. They asked if it was sweet or salty." He says that, over the following 35 years, Macao's street food diners have acquired a taste for his creation, adding that before the pandemic hit, he was selling up to 220 bowls of it a day. COVID-19, however, has hit his revenue by up to 40 per cent, he claims, despite him still preparing his soup at 9am before setting up his trolley at 4pm every day. Now, he only sells up to 160 bowls a day. "Due to COVID-19," he says, "there are no more tourists and locals are eating out less."
Big sister
Located opposite Macau Square in the city's CBD district, another age-old trolley lights up between 6pm and 1am on certain days of the week. Sister Congee (蓮姐粥品) has been open for 40 years and is now run by 49-year-old Ng Sio Vo, the eldest of his family's second generation. His father, Ng On On, established the trolley – which has sat in the same spot ever since he received the cart's licence – to provide for the family. When Ng senior passed away, his wife took over, with the young Ng Sio Vo helping out. Gradually, the youngster took over from his mother.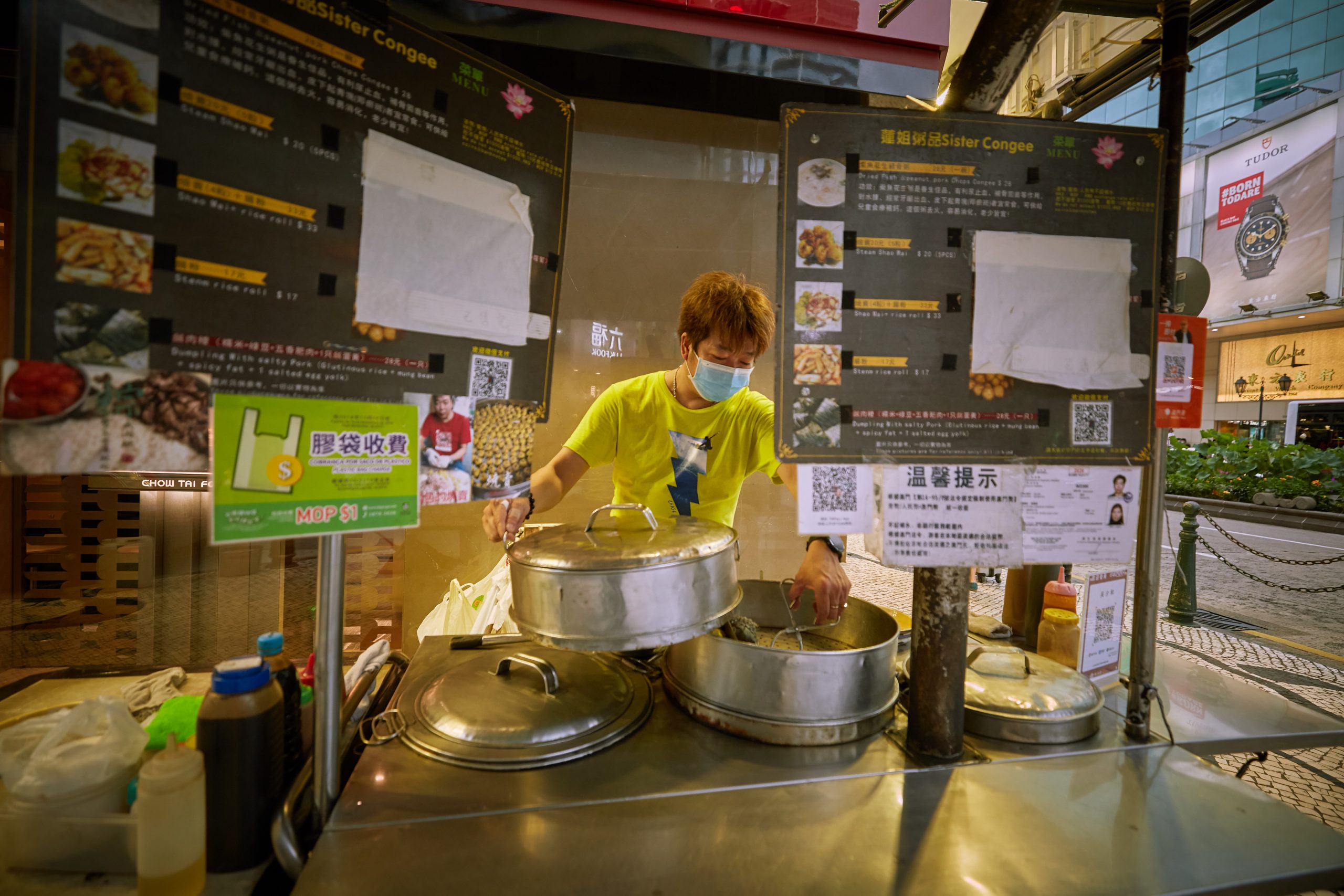 In normal times, Sister Congee sells about 100 bowls of congee and 120 plates of 'cheung fun' – or rice noodle rolls – on a good night. But since COVID-19 hit the city, Ng says there's been an 80 per cent drop in business so he's trying to come up with ways of saving the enterprise. He says he could start delivering. "But we don't have enough people for this," he admits. "There's only me and my wife." Ng says that the business used to have more customers in the past, adding that it used to open at 9pm and traded until dawn the next day. But regulations changed along the way and it was then required to close at 1am. Ng says he adjusted his business hours, opening at 7pm every day – but this missed too much trade. So he switched to the current hours. Ng says it takes two to three hours to prepare the congee at home. "We can open at any time," he says, "but we must close at 1am."
Ng says that he and his wife have met all sorts of people over the years as they have manned Sister Congee. "There was a time when a drunk guy just paid MOP 1,000 for a bowl of congee," he recalls. "He told us that no change was needed. There have also been people who have refused to pay or have said they'd pay next time…"
Keeping the traditions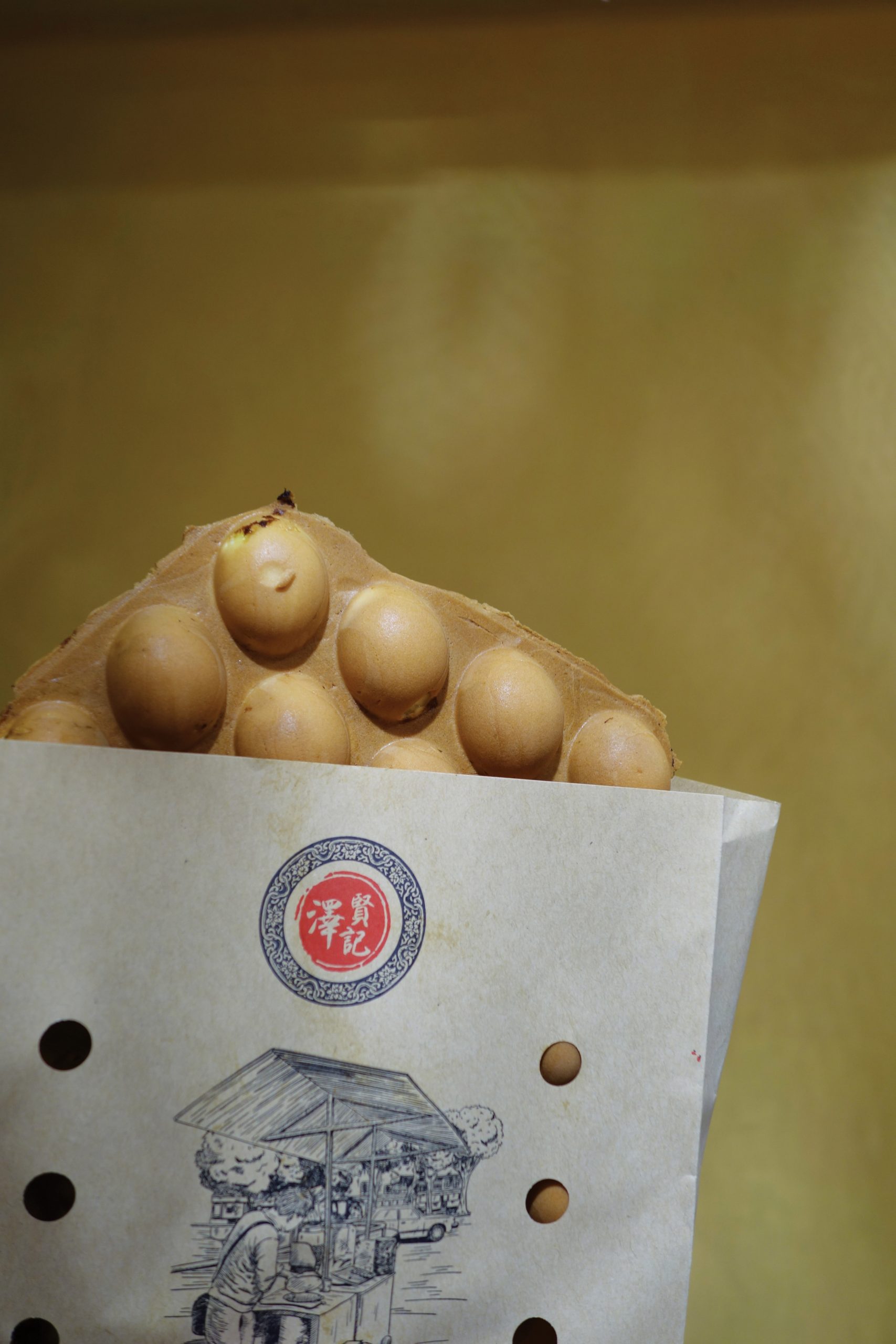 Both Cheung and Ng's trolleys once sold foods that were pretty hard to find around town. But now, many restaurants also serve the likes of imitation shark fin soup and cheung fun, so competition is stiff. Both men admit this has been challenging – and they both also say they are unwilling to pass the burden of their businesses on to the younger generation. "It's a pretty tough job," says Cheung, who says he'd like to retire soon. "It doesn't matter whether it's sunny or rainy and cold or hot. Sometimes there's no business." Ng echoes his sentiments, adding that he's not sure who would take over from him in his family. He says he 'honestly doesn't want any of them taking over the business'.
Some young people, however, are dedicated to carrying on the street hawker traditions despite the challenges. Cheong Ka Hong is one of these people. He runs the Chak In Kei (澤賢記) trolley in the Broadway Food Street next to the Galaxy Macau entertainment resort. This business is actually 75 years old and once stood in the Praça de Luís de Camões, a square just down the road from the Ruins of St Paul's. It was opened by Cheong's grandad, Cheong Chak In, who is now 98 years old and originally moved to Macao from Hong Kong. He sold egg balls – like Hong Kong's egg waffles but rounder, bigger and chewier – so he could feed his family of six. It once did a roaring trade but his son didn't take over the business – he became a firefighter instead – and so he closed Chak In Kei and retired in 1986. But in 2018, his grandson started it up again in Broadway Food Street after he learned how to recreate his grandfather's magical recipes.
Cheong Ka Hong has experimented with flavours at his trolley. His egg balls that are combined with Portuguese egg tarts have become a popular local snack. It takes the 29-year-old and his team seven hours to prepare the mix, however Cheong can sell more than 600 pieces every day. The business has done so well that Cheong has since opened five stores across town, each selling egg balls that come in an assortment of flavours, including salted egg, purple sweet potato, fruit oolong tea, wild cheese and fondant chocolate.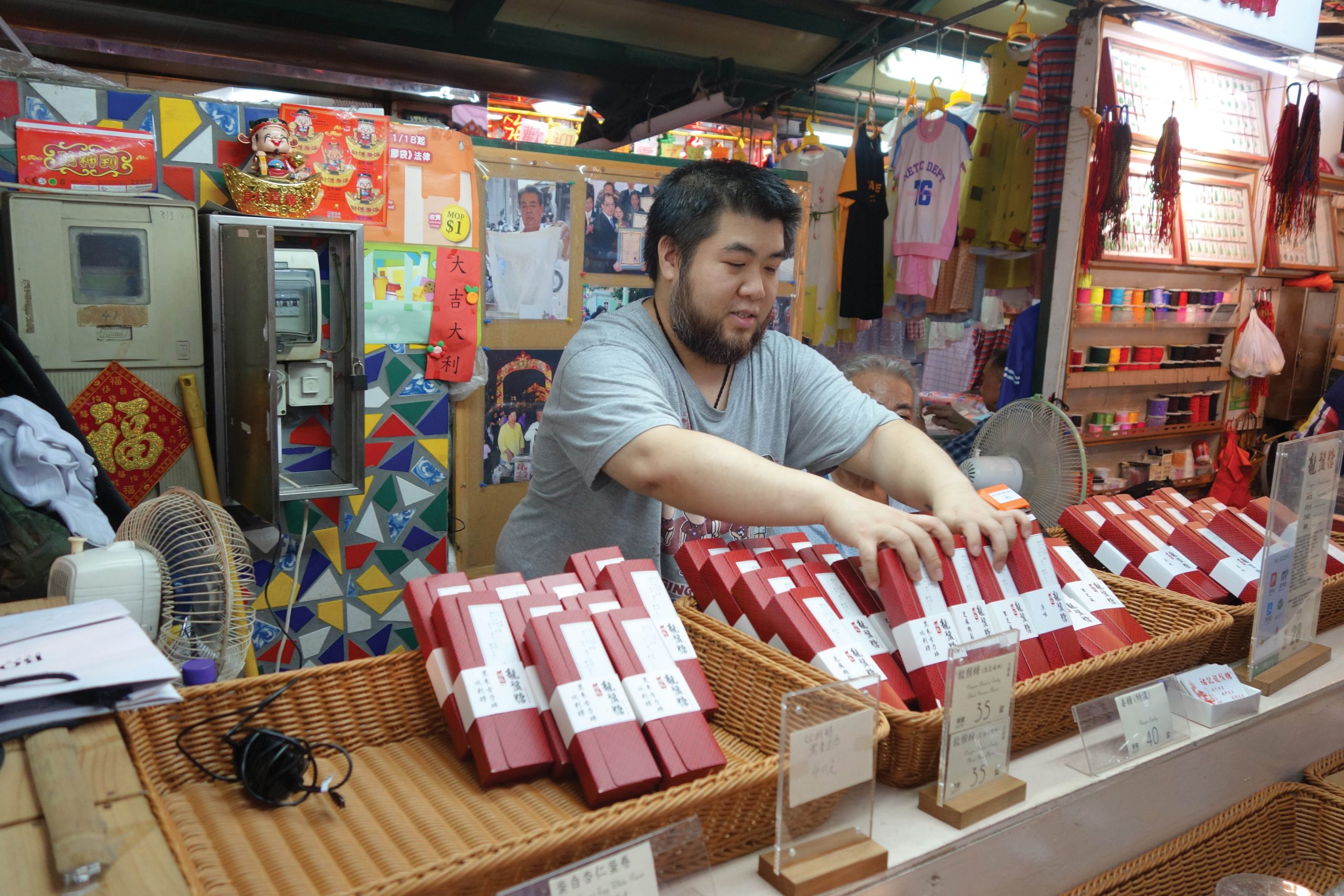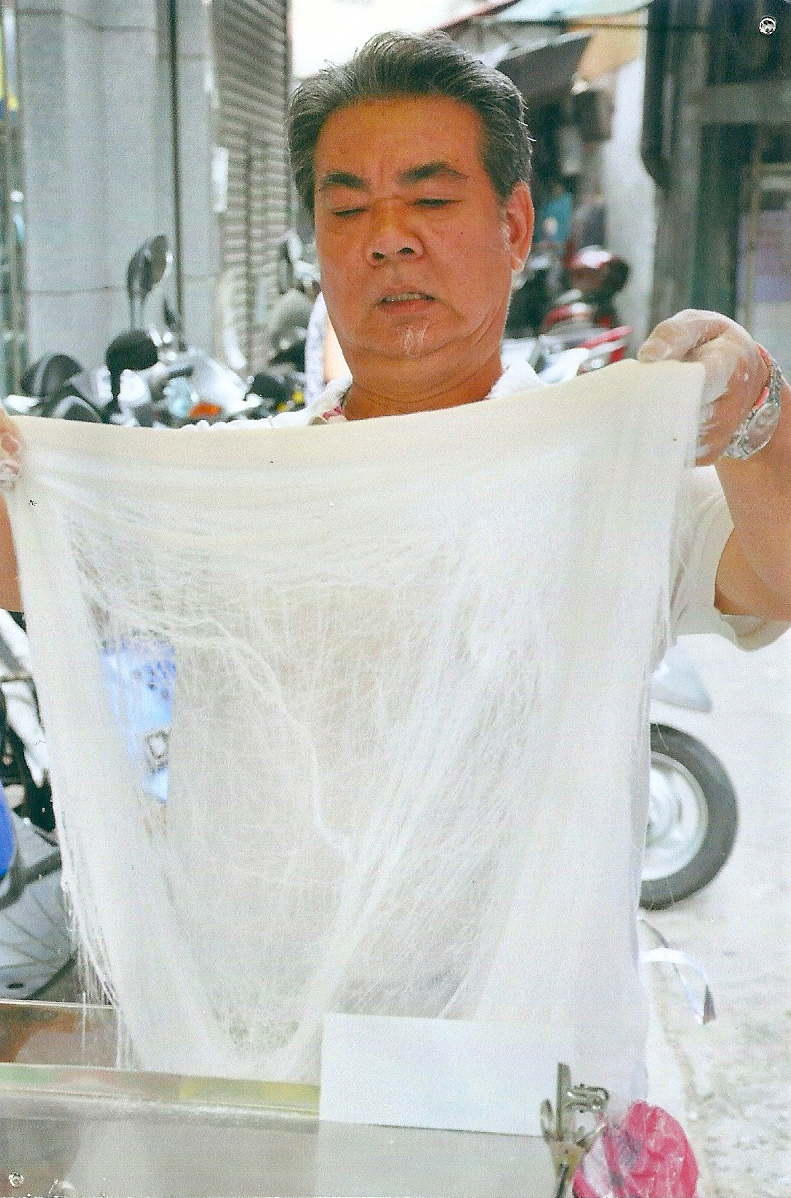 Another young man keeping the traditions going is Kenny Yuen, who runs the Yau Kei Dragon's Beard Candy booth in the Rua de Fernão Mendes Pinto hawker area in Taipa. The stall was founded by Yuen's father, Yuen Tin Yau, more than 40 years ago but now his 38-year-old son and his partner, PR manager Wong Ka Kei, manage the business. They've done so well selling the peanut-filled fluffy white candy – which has just been added to the government's new Intangible Heritage list, see page 50 – they opened a shop in St Lazarus district two years ago.
Government support
The government has supported the street hawkers over the years through efforts spearheaded by the Municipal Affairs Bureau under the Division of Hawkers Affairs. This team has provided better facilities and stalls for the hawkers and also ensured that sanitation is quality. Hawkers can rent spots from the government after following an application process. Depending on where they rent, the annual licence fee costs between MOP 2,420 and MOP 2,530 (US$303–316), which is cheaper than most commercial building rents. The most recent IAM renovation and relocation project was completed in April when the hawkers who are licenced to trade around the three-storey Red Market building in Santo António were given newly designed spacious stalls.
Yau Kei Dragon's Beard Candy is one business that has benefitted from these stalls from the government. Wong Ka Kei sees the potential in small businesses like his and reveals that he and Kenny Yuen are looking for young people in Macao who are interested in learning the trade to join their team and help promote the traditional candy. Wong says the enterprise sells around 2,000 boxes every month and adds that they are innovating new flavours 'such as ice-cream and durian' to 'bring creativity and add new elements to this tradition'.
Cheong Ka Hong is likewise optimistic about Chak In Kei's future, revealing that he has plans to open a restaurant. When asked if he expects the fourth generation of his family to continue the business, he admits 'it depends on their will'. "They can add their own new ideas," he says. "In this way, our egg balls will accumulate the wisdom of generations and become the favourite food of different generations in Macao."
While some veterans are ready to retire, they have paved the way for this new generation of street food hawkers in Macao who are not only keeping the traditions alive but also evolving and updating the old foods and recipes and making them their own. There may not be street hawkers and their trolleys peddling their wares in every road, square and alleyway anymore but the scene is nevertheless still alive and attracting a new wave of hungry locals and tourists, despite the many challenges faced every day, particularly after COVID-19 hit the city. As Memo Foodie concludes, Macao culture is reflected in its street food. 'Different people with different professions in different industries value it – and that does not only mean locals but people from around the world'.