TEXT Jamie Ha
Nuno Lopes has come a long way in his short career, successes underpinned by passion for his art and an impressive work ethic.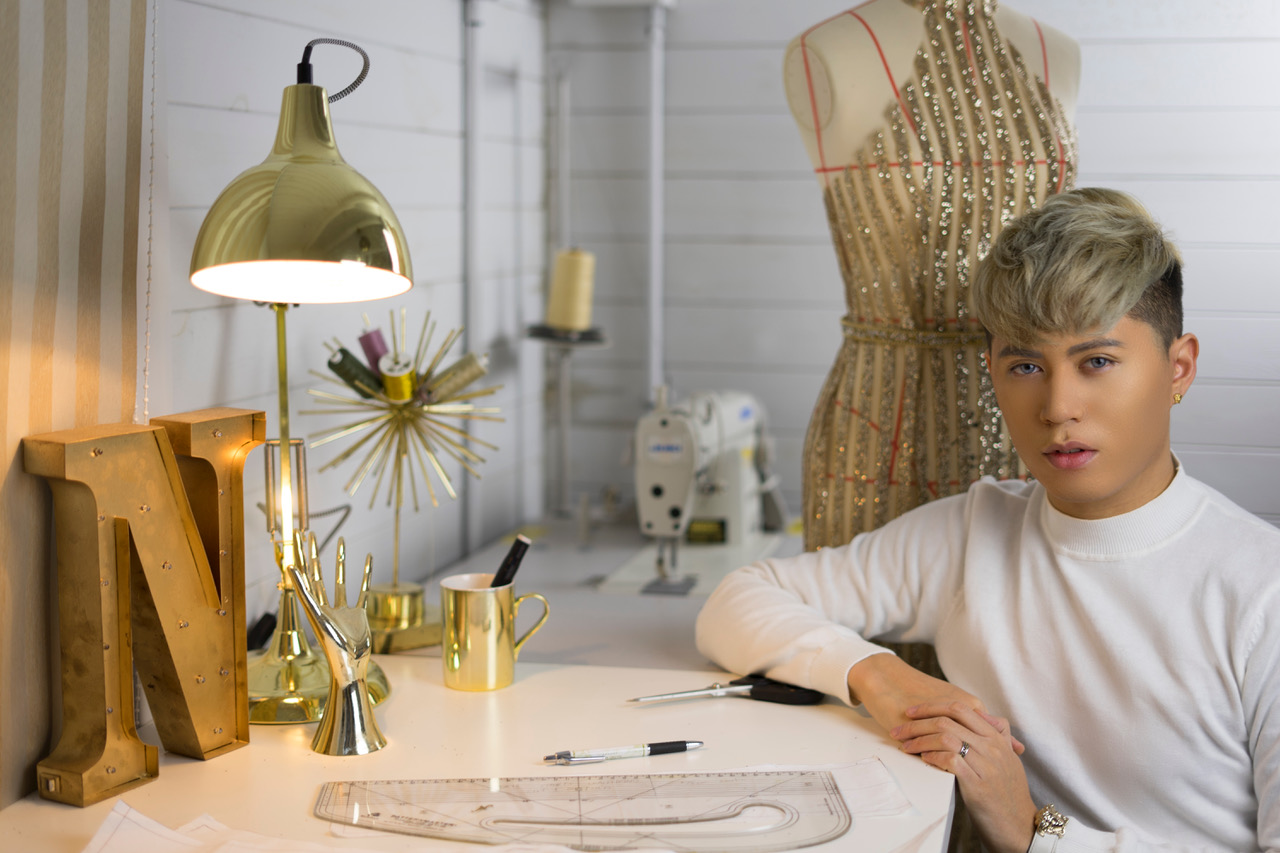 Flashing cameras at every blink; hundreds of visitors unable to peel their eyes from the runway; and exciting chatter filling the vicinity – these were just a few memorable moments from the second edition of Sands Macao Fashion Week.
The fashion week, 18–24 October, showcased leading luxury and lifestyle fashion brands. Headliner Emporio Armani – in collaboration with luxury retailer Rainbow Group – shared its Fall/ Winter 2018 collection at the invitation‐only opening gala.
The next day saw the return of the Walk on Water runway, as models strutted down a walkway suspended over the canals of the Venetian Macao wearing designs from the Spring/Summer 2019 collection of local up‐and‐coming Nuno Lopes.
Born and raised in Macao, Lopes moved to London at the age of 15 to pursue his fashion career, earning a Bachelor's in Fashion Design from London Middlesex University. His graduate show in 2015 drew the attention of British Vogue and Vogue Italia, while 2017 found him participating in London Fashion Week – all firsts for a Macao designer.
Recognised as one of Asia's Top Young Fashion Designers at the Fashion Asia Awards 2016, Lopes brought his work back to the continent the following year with a show at Shenzhen Fashion Week. Many celebrity stylists have reached out to the designer since his brand launched in mid‐2015, with clients including British synth‐pop band Years and Years and socialite Paris Hilton, a personal favourite.
Lopes has come a long way in his short career, successes underpinned by passion for his art and an impressive work ethic. Just a week before his graduation fashion showcase in London, his first show ever, Lopes was waking up in the early hours before sunrise to start work. With more students than sewing machines, he remembers rushing to the college campus each day to claim one for himself.
Day after day, he would lug all his materials and sketches to campus, half‐frozen in the peak of London's winter. He survived off English breakfast tea and Kit Kat bars, too focused on finishing his pieces to break for proper food. Lopes strongly remembers this as the moment that nearly broke him.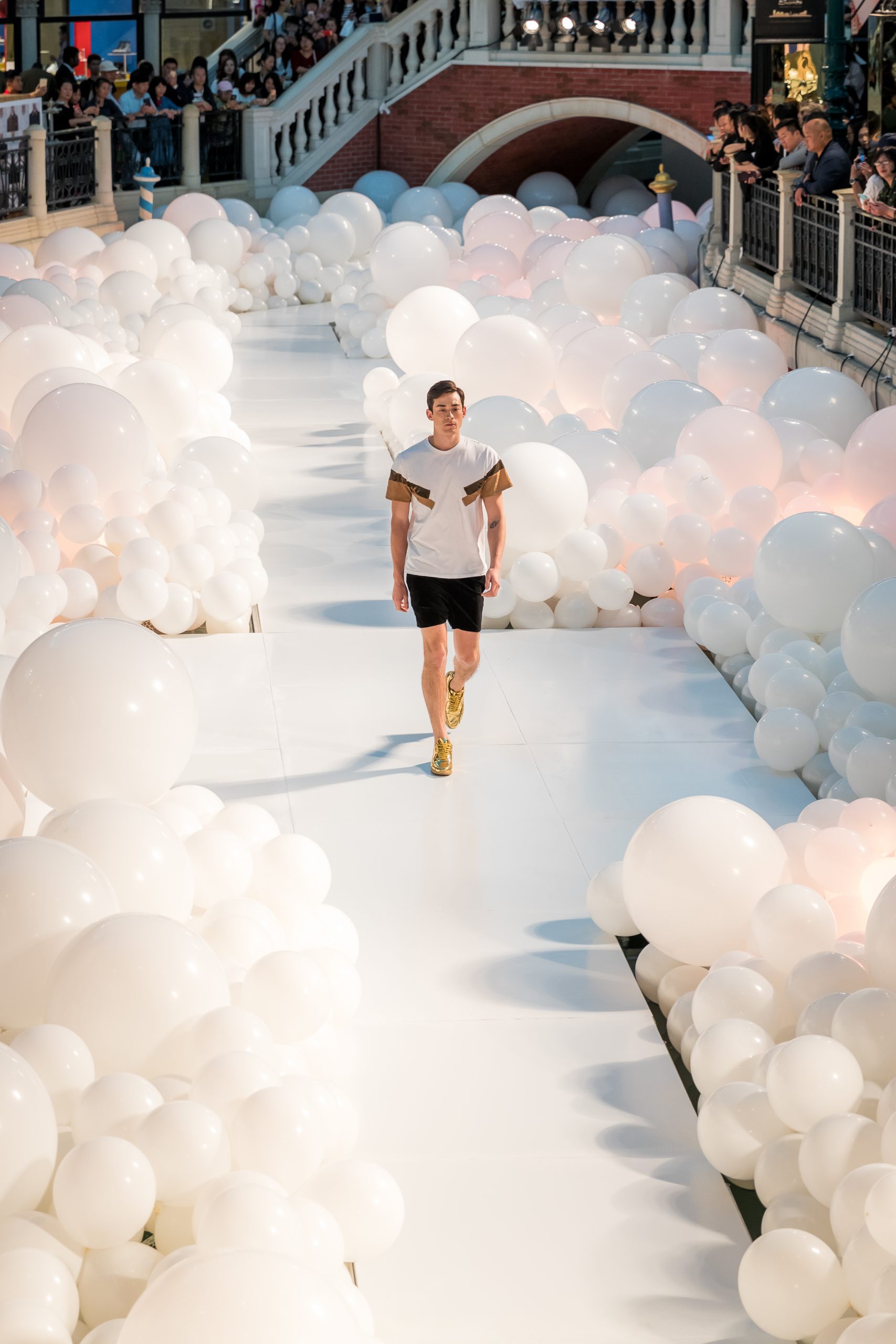 Had it not been for a reassuring phone call and text message from his mother, reminding him how hard he had worked and to stay positive, Lopes very well might have forfeited his passion in that split second. "If I had chosen to give up then, I would not be here right now, talking to you after my very own brand's show in Macao Fashion Week," he reflected.
Lopes was beaming over his first show in his hometown of Macao, expressing great appreciation to Sands Resorts Macao for giving him "such a great platform to share [his] work." The Cotai Strip is arguably the hottest tourist attraction in Macao, where all the fashion lines can be seen as "a form of connection and gateway to countries around the globe."
If I had chosen to give up then, I would not be here right now, talking to you after my very own brand's show in Macao Fashion Week.
Passion for glamour
Lopes displayed a talent for sketching from a young age, but it was the women in his life that turned his interest toward fashion. One of Lopes' fondest childhood memories is of the time his grandmother handmade a Halloween costume for him. It marked the first time he laid eyes on a sewing machine. Immediately captivated by it, the young Lopes thought to himself, 'How amazing is this machine … a simple tool for making clothes that you can express yourself with.'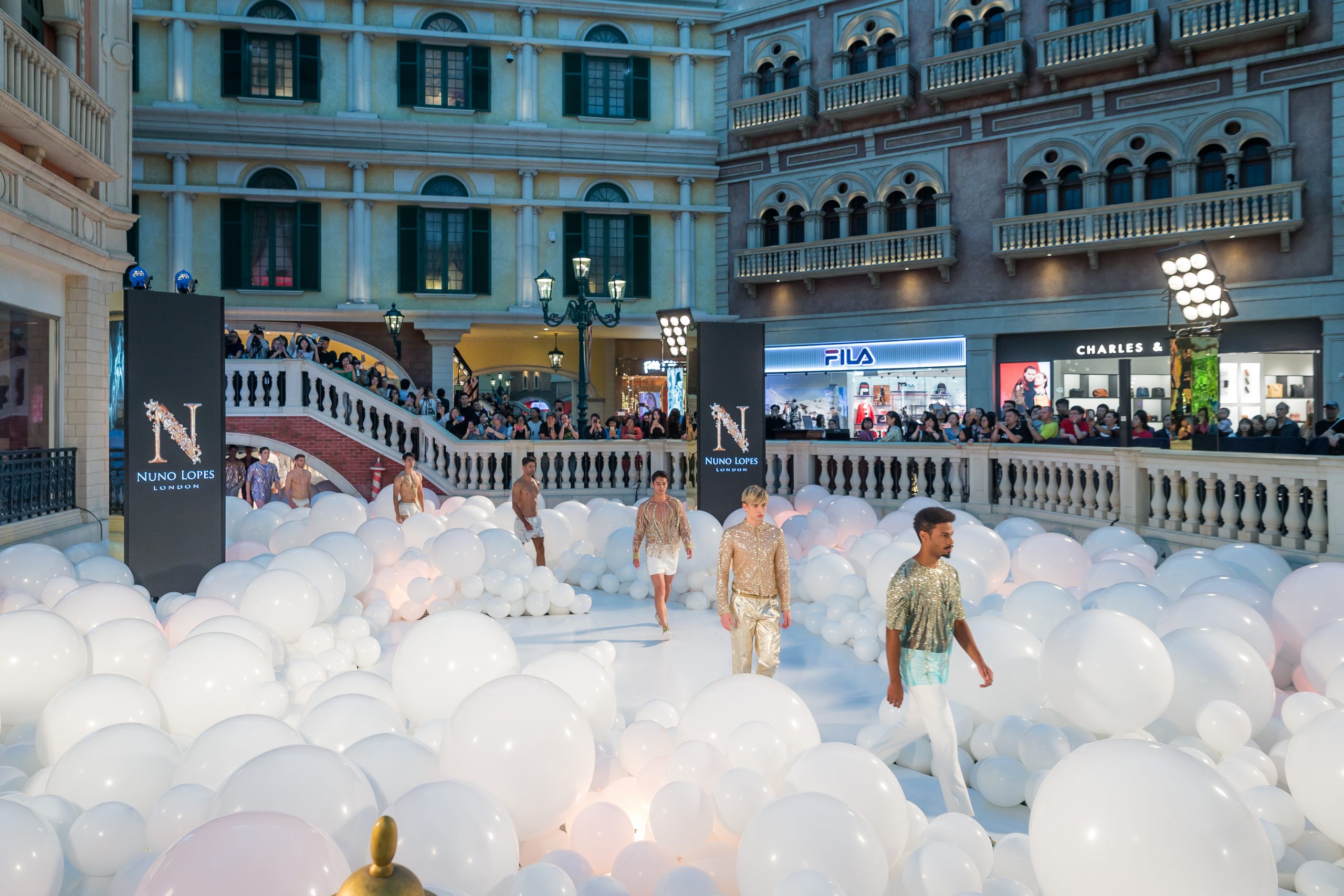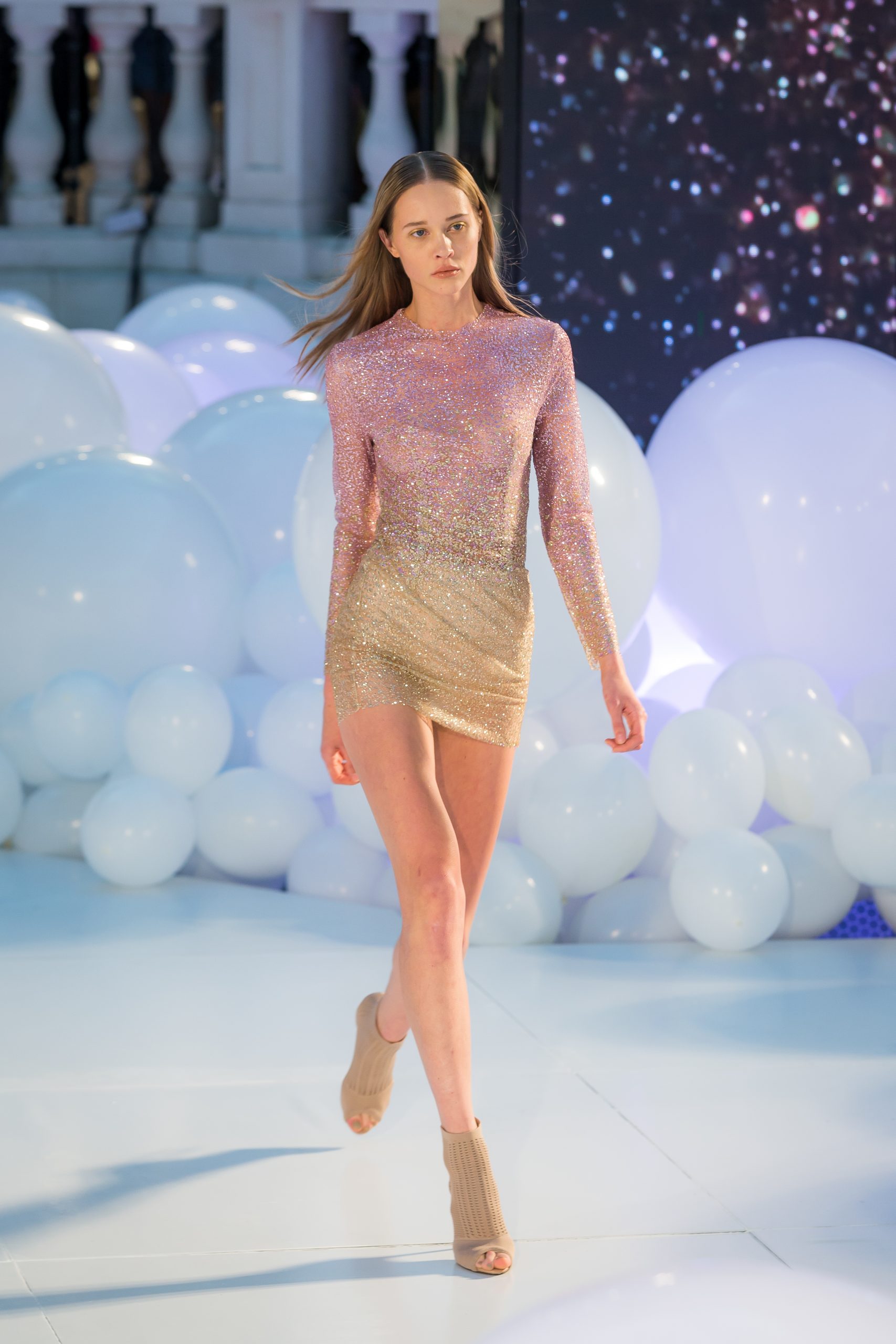 He also recalled the beautiful dresses that she wore to work, pieces that spoke to him even though he knew nothing of fashion at the time. His mother, who placed third in the 1985 Miss Macau pageant, contributed to his lavish fashion sense and love of glamourous designs – a love clearly on display in the National Costume outfit that Lopes created for his sister, Debora Oliveira, who represented Macao at Miss Grand International this October.
The design – a glittering, beautifully embroidered mermaid gown and matching fur‐ ‐trimmed stole that trailed behind her, dotted with golden lotuses, accessorised with golden bracelets, fingertips, and an intricate golden headpiece – was meant to embody the essence of Macao, a theme that runs throughout his work.
Gold became a signature of Lopes' design from his first show, a representation of the glitz and glamour of his hometown. Having lived away from Macao since his teenage years, incorporating gold into his collections helped him cope with feelings of homesickness. It is
a thread that will continue to run through his work as it evolves over time. Gold also reminds Lopes of his most admired designer, the late Gianni Versace; the Versace brand remains one of his favourite fashion lines.
Crystals and glitter appear frequently in his designs as well, enriched with metallic hues. Currently, his cherished material to work with is mesh, a delicate fabric that acts much like glass in architecture, emphasising the metallic elements with its transparency.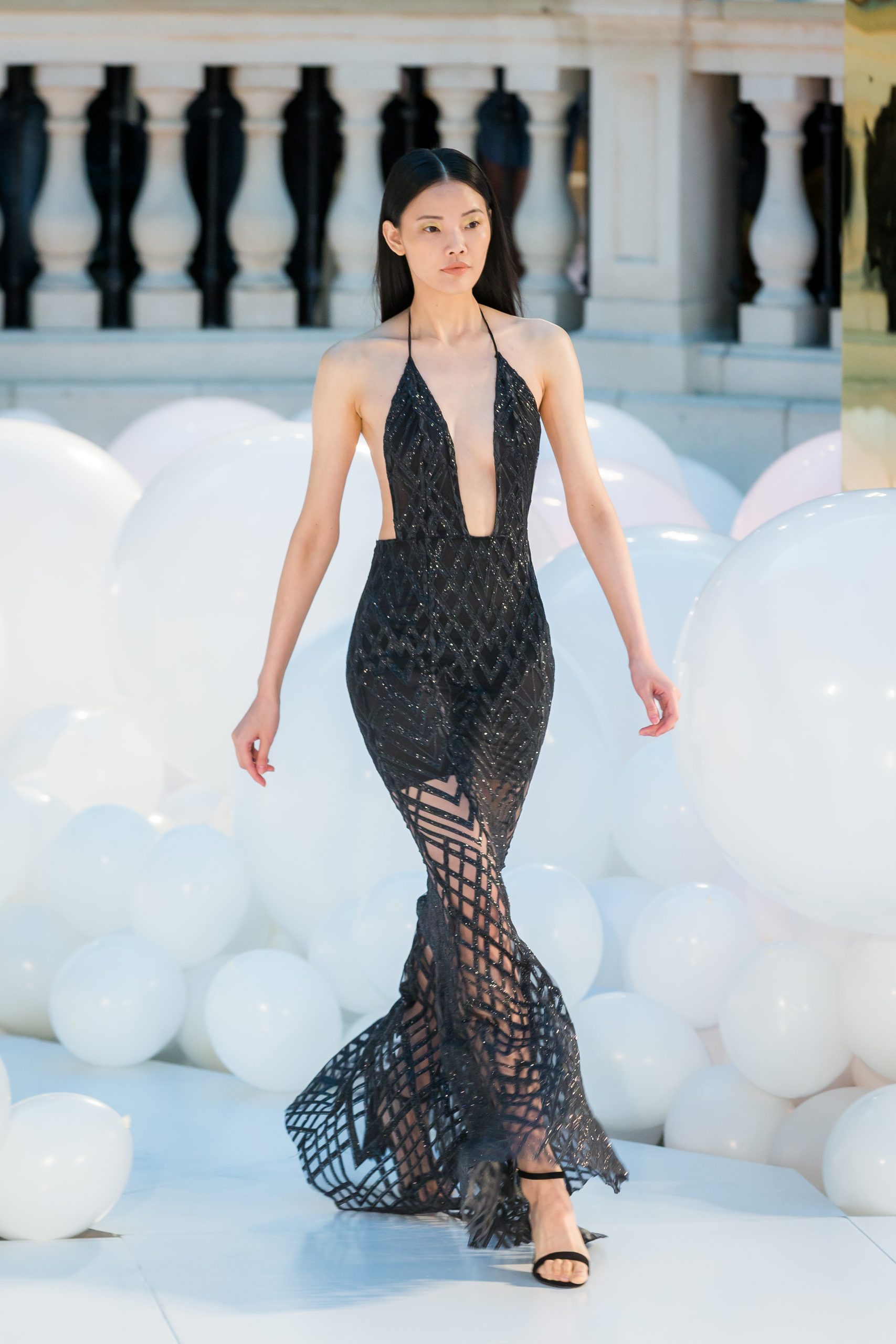 Despite being drawn to fashion through the women in his life, Lopes began his own fashion line with mostly clothing for men. "It's so hard to find exciting male clothes on the market. People usually have to go shop expensive brands and spend thousands," he explained. Thus, Lopes strives to provide affordable fashion that is both presentable and glamorous for his buyers. His line even includes a couple swimwear pieces for men.
Sharing with us his ambitions for his fashion brand, Lopes said his ultimate goal for the future is to showcase his work at Milan Fashion Week, as he feels it best suits his personality in fashion. He has his sights set on Shanghai Fashion Week in the coming years, as well.
Lopes claims there are many great fashion designers residing in Macao; several were nominated alongside him at Fashion Asia Awards 2016. But the issue they all face is the lack of strong platforms to share and express their work through. Fashion shows and events are still relatively rare in the city; Sands Macao Fashion Week itself is only in its second edition. Without opportunities to showcase their designs, breaking into the industry remains a challenge for young local designers.
Lopes sees cause for optimism, though, noting that Asia has fantastic potential for the fashion industry thanks to a growing economy and high consumer rates. He's already opened studios in Macao and mainland China to use for client fitting. The Greater Bay Area, he believes, will open more doors for himself – and other Macao designers – to reach a larger audience.
The next generation
As part of the Sands Macao Fashion Week 2018, Sands Resorts Macao partnered with Macau Productivity and Technology Transfer Center (CPTTM) to support their on‐going campaign for Macao's cultural and creative industries.
The CPTTM Fashion Rejuvenation – Exhibition of Eco‐Friendly and Functional Fashion displayed pieces in the rotunda of the Parisian Macao, unique creations from local designers that embrace sustainability in an industry known for waste. They also organised the Young Designers Runway Show, featuring collections from several Macao fashion brands, that closed out the week. Both venues provided the exact platform that young professionals in the fashion industry in Macao need.