Zhuhai Jinwan Airport aims to double its passengers by 2020
Zhuhai Jinwan Airport (ZUH) aims to establish itself as a hub for business jets and implement a pilot training facility – ambitious goals for the smallest of the Pearl River Delta's five airports all competing fiercely in the same market.
In the first half of 2016, 2.73 million passengers and 13,160 tonnes of cargo passed through ZUH – both year‑over‑year increases of 18 per cent. In the same period, the airport added 15 new routes and now serves 39 cities on the mainland. A total of 21 airlines fly in and out of the airport which has no international routes as of yet.
ZUH is famous for hosting the mainland's only international aerospace trade show endorsed by the central government. Held annually in November, it includes flying acrobatics, life‑size product displays, trade negotiations and technological exchanges, attracting a wide variety of Chinese military and civilian aircrafts as well as American, Russian and European planes.
According to the airport's website, ZUH will expand and improve its network on the mainland to create better services for flyers and more efficient transport for goods. With 24 million people living and working within a one‑hour radius of the airport and more than 200 million regular flyers on a daily basis in the mainland, ZUH intends to tap into this vast potential market for a target traffic of 12 million passengers by 2020.
However, flyers have many travel options: the airports in Guangzhou, Hong Kong, Shenzhen and Macao all offer more flights, including international destinations. Hong Kong and Guangzhou alone each handle roughly 60 million passengers a year.
Thus, ZUH is exploring ways to complement its mighty neighbours in addition to competing with them. It is currently negotiating a permit for the overflow of international business jets and helicopters coming in and out of Hong Kong International Airport, just 20 minutes away by helicopter. Setting up a civil airline pilot flight training facility has also been proposed; it would be only the second of its kind in China.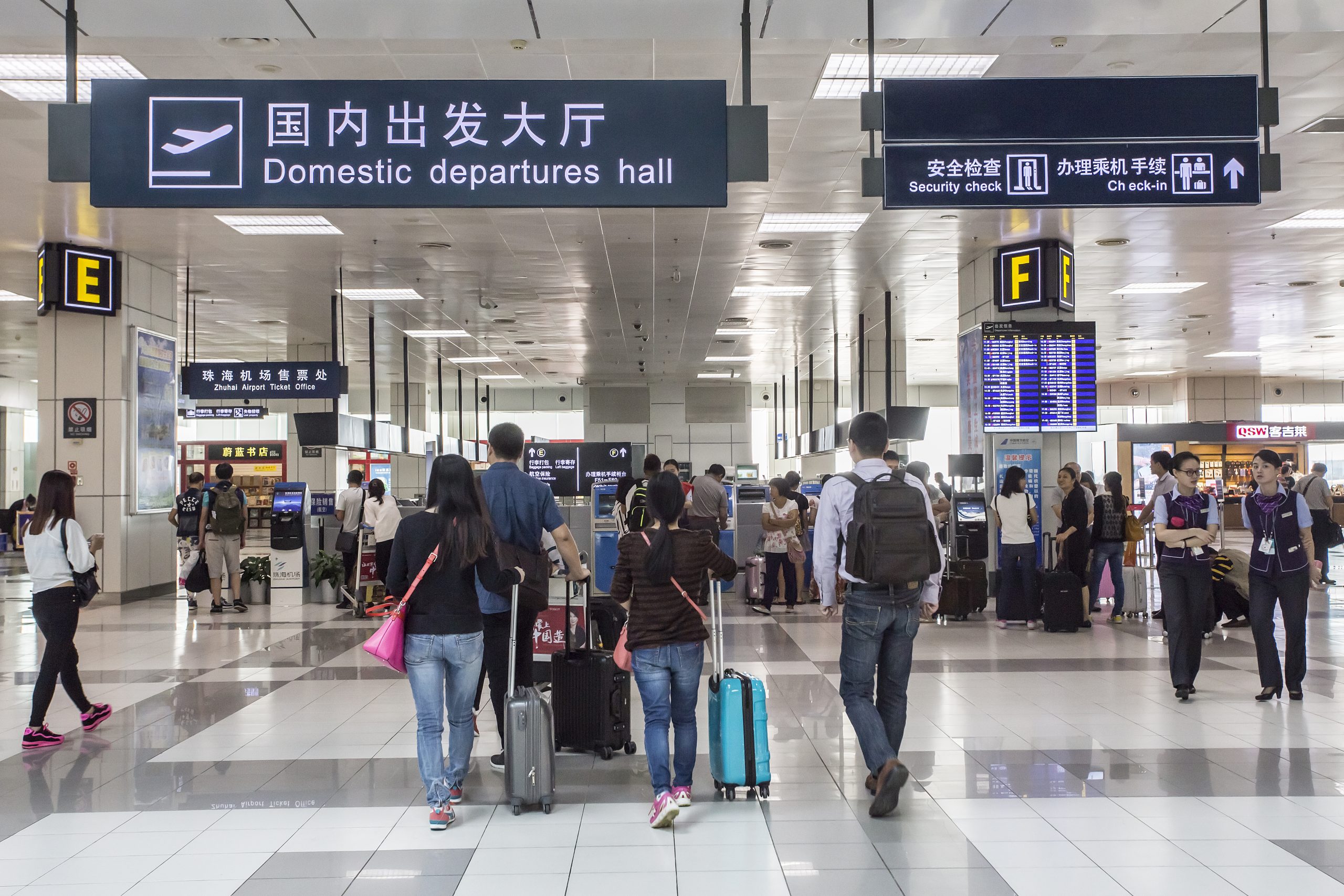 A former Japanese military airport is transformed
Zhuhai Jinwan Airport, formerly Zhuhai Sansao Airport, opened June 1995 in Sanzao township, 37 kilometres from the city centre of Zhuhai and 33 kilometres from Macao. Originally a military airport built by the Japanese during their occupation in World War II, it is situated 55 kilometres from Zhongshan and 85 km from Jiangmen, two strategic cities during the war.
With an annual capacity of 12 million passengers and 600,000 tonnes of freight, it is designed to handle 100,000 take‑offs and landings a year.
This is a much larger airport than what Beijing's civil aviation regulator had originally approved, authorising the city to build a smaller regional airport in an area already well-served by major airports in Guangzhou, Shenzhen, Hong Kong and Macao. Conflict over disregard for these instructions and the substantial debt the city incurred as a result contributed to Liang Guangda stepping down as mayor in 1995.
Hong Kong International Aiport takes over management
In its early years, ZUH lost money, operating at a fraction of its capacity. With no international flights, it was at a disadvantage compared to the other four airports in the region, all of which offered (and still do) a far wider range of domestic and international destinations. An additional handicap is ZUH's distance from the city centre. Guangzhou Baiyun (White Cloud) International Airport, one of the mainland's three major airports, is only 45 minutes' ride away for Zhuhai residents and offers flights all over China and around the world.
The Zhuhai government turned to Hong Kong International Airport to turn things around. In August 2006, the two announced the establishment of a joint venture, the Zhuhai‑Hong Kong Airport Management Company – Hong Kong holding 55 per cent and Zhuhai 45 per cent – with a registered capital of RMB360 million. The company paid a franchise fee for the exclusive right to manage and operate ZUH for 20 years.
In 2008, two years after the partnership, the airport broke even for the first time. That year, it handled 1.1 million passengers and 11,140 tonnes of cargo – increases of 7.8 per cent and 3.7 per cent, respectively, from 2007.
Formation of the Zhuhai‑Hong Kong Airport Management Company proved a wise decision. Passenger volume doubled from 2 million in 2012 to 4.07 million in 2015. There were 39,600 takeoffs and landings, an increase of 9.6 per cent from 2014, with an average of 118 flights a day to 42 cities across the mainland. Cargo shipment reached 25,800 tonnes, an increase of 16.7 per cent. Both passenger and cargo traffic were record numbers. The target for 2016 is to exceed 5 million passengers.
ZUH is served by 21 airlines including Air China, China Southern, China Eastern, Shanghai Airlines, Xiamen Airlines, Shandong Airlines, Shenzhen Airlines, Hainan Airlines and Sichuan Airlines with flights to cities all over China, including Urumqi in the far west and Harbin in the far north. As of 2015 year-end, there were 8 flights a day to Beijing, 12 to Shanghai and 3–5 to Hangzhou, Nanjing, Chongqing, Chengdu and Xiamen.
This growth is a result of the rapid development of China's domestic and international tourism markets as well as the Pearl River Delta's economic growth. Many tourists choose to enjoy Macao via Zhuhai to save money, crossing the border by day for gambling, shopping and leisure and staying in Zhuhai hotels by night.
Zhuhai, a city of 1.63 million, is also developing rapidly. Its per capita income, RMB120,000, is one of the highest in China. Additionally, it is a resort city where people from all over the mainland buy holiday apartments. In 2015, the city posted a GDP of RMB202 billion yuan, a 10 per cent increase from 2014. With 31.2 million domestic visitors, up 8 per cent, and 4.71 million international visitors, up 2.3 per cent, tourism revenue was RMB21.79 billion and US$962 million, respectively.
Zhuhai's yacht industry has an annual output of more than RMB2 billion and increasingly caters to the domestic market with its growing number of wealthy Chinese. The city boasts a Club Med on Dong'ao island and offers a wide range of water sports. Zhuhai's government plans to transform the city into a major international yachting centre.
All this traffic from vacationers, tourists and yachters – domestic and international alike – contributes to the airport's expanding market base.
Offering international business jets a new home
Since opening, ZUH has always operated well below its design capacity. A 66,000‑square‑metre air show centre next to the airport stands empty most of the year and could house up to 50 business jets. Even 2015's record‑high passenger and cargo traffic is less than 50 per cent of capacity.
Airport management is always looking for ways to utilise this spare capacity. One idea, developed in consultation with the Zhuhai‑Hong Kong Airport Management Company, is to receive Hong Kong's overflow of international business jets. Hong Kong International Airport handles more than 1,100 commercial flights daily. With fewer than 70 parking slots for business jets and even fewer landing slots, finding space for the private jets based there is often difficult, not to mention jet traffic in and out. With this new proposal, aircrafts would be able to land and offload passengers in Zhuhai instead of waiting hours for undesirable slots in Hong Kong. With the proper customs facilities in place, a 20‑minute helicopter route then could be set up between Zhuhai and Hong Kong's Central district.
ZUH has already submitted this proposal to the regulatory authorities in Beijing. While the cost of landing and parking in Zhuhai is cheaper than in Hong Kong, there is a compensation and administration fee of US$3,800 every time a non‑mainland‑Chinese aircraft crosses its airspace. The Asian aviation industry is lobbying for this fee to be scrapped in order to make the new proposal more attractive.
Training more pilots to meet China's growing demand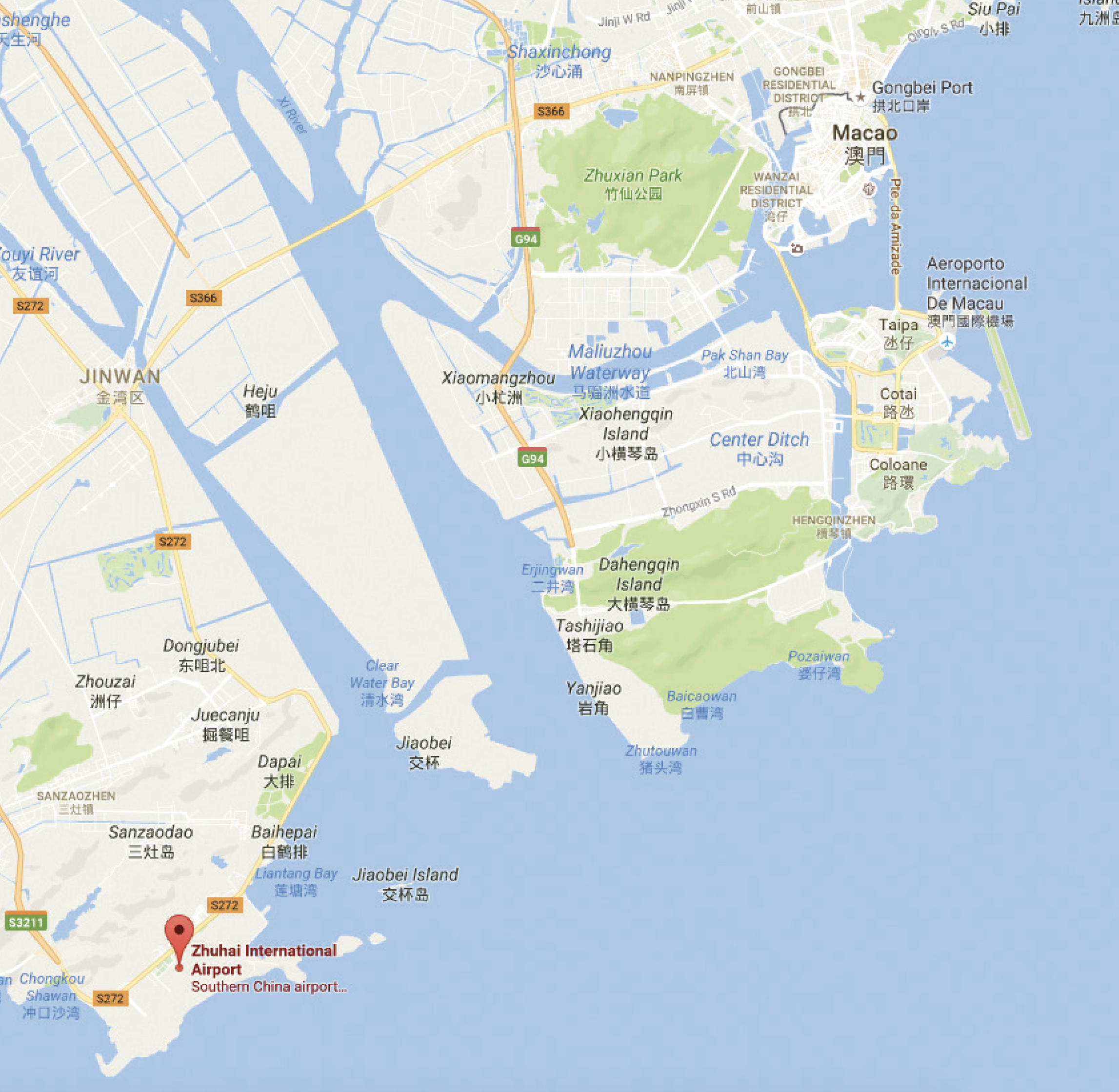 proposal is to use the airport as a civil airline pilot flight training facility for Pegasus Flight Academy (China) (PFA). This Sino‑foreign joint venture would involve an investment of US$80 million. The Asian Development Assistance Board and the Sino‑Foreign Aviation Education Associates Ltd of Hong Kong are currently in negotiations with the Zhuhai Aviation Industrial Park, the Civil Aviation Administration of China (CAAC), local aviation authorities and Chinese and foreign investors.
According to its website, "Pegasus [International Resources] has become the largest single provider of pilots to China with its ab initio training and flight training services," including flight training, career pilot development, equipment and crew leasing, business aircraft maintenance, components repair and aviation consulting.
The PFA would initially matriculate 120 students and grow to 400 over five years. Captain John Bent, former manager of the Cathay Pacific/ Dragonair Flight School in Hong Kong, is slated to be Director of Strategic Training.
Currently, the mainland's only pilot‑training facility is located in Guanghan, Sichuan. The school graduates 800 civil airline pilots a year with similar numbers trained at flight schools in Australia, Canada and the United States licensed by CAAC. With industry estimates pegging the demand for new pilots at around 2,000 a year, the growth of China's aviation sector is the fastest in the world.
Zhuhai airport is in an excellent location, in the Pearl River, home to one of the fastest-growing economies in the world. Domestic and foreign tourism in the region are booming; it is next to Macao, Asia's gambling capital.
Its challenge in the years ahead are to make best use of this location and the business opportunities it brings – while respecting its four neighbouring competitors. It must find the right balance of competition and complementarity.