Macao's own up-and-coming teenage football star could one day represent the city on an international level. Meet Yuri Pinto as he trains hard at one of Portugal's best youth teams and tries to fulfil his golden potential.
It's 2016 and a 10-year-old boy plays football in Macao's Taipa Central Park with his friends at night. He flicks the ball up, showing off his silky skills at such a tender age. This kid clearly has plenty of talent and he's not slow in displaying it. Some day he may even represent Macao at international level if he keeps his practice up…
It's now 2021 and a 15-year-old Yuri Pinto plays football with a newer group of friends in the Algarve in Portugal. He shows off the same silky skills and has clearly developed a more mature mind and body over the past five years. He's no longer playing just for fun – he is practicing with his youth team-mates for a side that's currently in Portugal's Premier League. Pinto is now one of the hottest young footballing properties from Macao as he trains for Portimonense's youth side. He's edging ever closer to playing international football in the not-too-distant future.
Pinto is on the cusp of following in his father's footsteps and becoming a professional football player. His dad, Dani Pinto, represented Macao at international level and, by all accounts, his son has the makings of becoming an even better player. Yuri Pinto was told by his coaches in Macao before he left for Portugal that he could go far in the sport and he has already exceeded expectations. He says he models himself as 'the opposite of the ng kan iu spirit' – which, in Cantonese, literally means 'it doesn't matter' and in this context refers to losing – because to him, it's all about winning and succeeding as a professional footballer.
Yuri Pinto was born and raised in Macao before he left the city in 2018 to pursue his dream career in the beautiful game. Prior to that he had played for the youth team at Monte Carlo – a club that plays in Macao's top local league. His coach at the club was Paulo Cheng, who nurtured the young star and helped him develop his skills as a hotshot striker. Cheng says that he always believed Yuri Pinto would go far. "Paulo Cheng," says Yuri Pinto, "is someone I will never forget. He will be with me always as a football player, until I die. He still texts me regularly, asking how my matches have gone and giving me encouragement."
Even though he grew up watching his father play the sport, Yuri Pinto did not fall in love with football at first sight. In fact, his first 'sport' was capoeira, the Brazilian martial art. And he did well too, winning the Asian capoeira title for his age group in Hong Kong at just eight years old. Two years later, however, he started to adore football and joined the youth squad at Benfica de Macau, one of the city's top teams. He shone quickly and even got to represent Macao at regional youth tournaments against Hong Kong and China. He then went on to play for Monte Carlo before the family made a big decision.
Benfica are one of Europe's top teams, let alone Portugal's. So when Yuri Pinto attended a football camp run by the Lisbon-based institution in 2017, he knew he was in good company. And he admits that the feedback from the club after the camp finished was really positive – so much so that in 2018, the family decided to move to Portugal to give the young talent a better opportunity to carve out a glittering career in the sport as he would have a more 'competitive setting' in the European country. He started playing for the youth squad of Vitória Futebol Clube, a team from the city of Setúbal that was once a major force in Portuguese football but these days is performing well in the country's third tier. After one season with them, he tried out at the team that was on top of the nation's Premier League as we went to print – Sporting Clube de Portugal – a club that has produced national stars like Luís Figo, Nani and the one and only Cristiano Ronaldo. He again shone and was selected for Sporting's pre-season youth team but physical problems meant that he could not make the most of the experience and his father decided it would be better to return to Vitória, where he did another season.
Last year, the family decided to move to Portugal's sunny Algarve so Yuri Pinto could be close to an international school and live in an area with many expat families. And the teenager had no problem being signed up to the region's top team, Portimonense, a club struggling at the bottom of the Premier League at the moment. But then COVID-19 hit the world and the youth team stopped playing. Yuri Pinto has only been back in training over the past few months but nevertheless it will only now be a couple of years before he could, if called on, play for the first team in the Premier League. So the following months are crucial  – if he continues to dazzle the coaches then the big dream of major international success is still alive.
Yuri Pinto, who was a forward in Macao but has now adapted as a central midfielder, says he loves playing for these top teams in Portugal. "Compared to Macao," he says, "football here is much more intense. There are kids that are bigger, faster and stronger than you. But as a team [at Portimonense], we are intelligent. We don't have to be so aggressive. It is more important to play with your head." Although he plays with both feet, he favours his left foot – and it's this magical foot that's got him noticed by talent scouts ever since he was 10. But he does admit to being 'frustrated at the lack of competitive spirit' when playing in Macao. "Sometimes a team would lose 10-0," he says, "and in the end the players would go 'ng kan iu', meaning it doesn't matter. Well, winning does matter to me. You must win in football."
When it comes to influences, Yuri Pinto, who excels at both passing and heading the ball, is not inspired by the world's biggest names like Ronaldo or Messi – he admits he is far more inspired by powerful playmakers like Paul Pogba and Adrien Rabiot from France, who he says are 'more or less like me'. "I would like to play in England one day,"  he says. "There, you never know who is going to win because the small teams are not afraid of the bigger ones. But only God knows if I go or I stay here." As for playing for Macao, the young star is keeping his options open. He could play for Macao's international side in the future or he could play for Cabo Verde as his father was born and bred there or even Portugal, as he has been there a few years already. He admits he 'feels connected' to his African family roots. "I feel Macanese, Cabo Verdean and Portuguese all at the same time," he says.
Dani Pinto, a defender, lived in Cabo Verde – the Portuguese-speaking island nation off the west coast of Africa – for many years before moving to Macao and qualifying to play for the city's team at international level. He also represented the Cabo Verde national team during his career and played regularly in the top Portuguese league at Académica de Coimbra, which is currently riding high at the top of the nation's second league. He is obviously proud of his son. He says: "Football is almost a family tradition. My older brother was a pro, as was I and even my younger brother who played for Sporting de Braga. So I really do hope that Yuri becomes much more successful than me."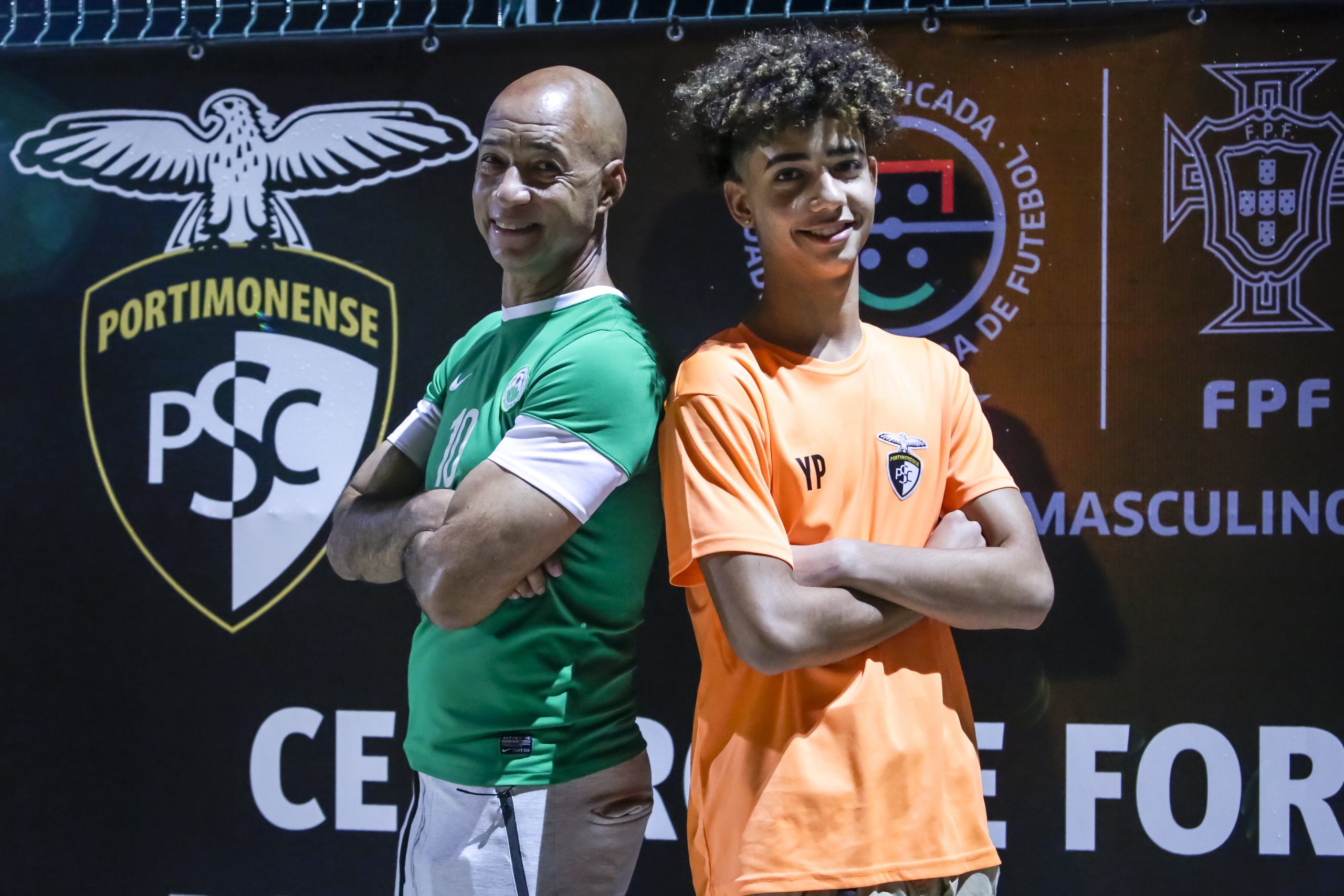 Proper competition for Portimonense's youth team is still some months away and Yuri Pinto says he can't wait to get stuck in once again. But he'll also be focusing on his studies at the international school as football is not his only dream. "I would happily become an orthopaedist," he says. "My parents say education is important. Lots of kids share my dream in football. You have to want it and be lucky. I really want it, though."
Paulo Cheng says he's still one of Yuri Pinto's biggest fans. "I like to encourage and challenge him to be a professional player," he says. "Not too many young people in Macao share Yuri's dream in football. He has a good left strike, good aggressiveness and he has the skills, tactics, fitness and mentality to be a successful, all-round player. He works hard and believes in himself." Cheng cautions that 'making it to the big clubs will depend on the coaches, the timing, the chances, the particular club and Yuri's performance' but he adds that 'going to Europe was the right thing to do as many young players in Macao only want to have fun and do not want to become professional players'.
João Tristão, Yuri Pinto's current youth team coach at Portimonense, calls the talented teenager 'respectful, joyful, good-humoured, humble and hard-working'. But he highlights that defending is something that needs work to add to the teenager's already 'strong dribbling, passing and shooting' qualities. "He is good with both feet and combines that with a strong physique," says Tristão. "He is a player with excellent capacity and ability."
Will Yuri Pinto make it to the top in Portugal? Will he then go on to even greater heights? And will he ever represent Macao at international level? Only time will tell. "He has to continue working and believing in himself," concludes Tristão. If he does that then one day, the talented little 10-year-old who used to show off his skills at Taipa Central Park could be the next Ronaldo, Nani or Figo – or, at least, the next Dani Pinto.