Meet six of the brightest young sports stars to emerge from Macao over the past few years. Each of this sextet has already notched up impressive victories in their chosen sports – but there could be much more to come from them over the coming years.
Last year was pretty much a write-off for sports across the globe. That isn't to say that sports didn't take place or weren't – when they did happen – entertaining and hard won but the pandemic, for many, put a dampener on most sporting competitions worldwide. However, there were some successes by Macao's talents, primarily 19-year-old Charles Leong's incredible triumph at the Macau Grand Prix, proving that youth is no barrier to major sporting success.
The truth is that Macao may be small but it boasts an array of young sports stars who could achieve their dreams over the next few years, just like Leong did at the Grand Prix. Here, we meet the sensational driver alongside five other blossoming talents. These six youngsters – all under 30 years old – are driven by ambition and while some of them say there needs to be improvements for certain sports in the city, on the whole Macao should be proud of tomorrow's exceptionally talented sports stars.
The dazzling driver
How many times has a teenager won a major adult motor race? Not many. But on 22 November, 19-year-old Charles Leong made history by becoming only the third driver from the city over 67 editions to win the Macau Grand Prix. His triumph followed Macao driver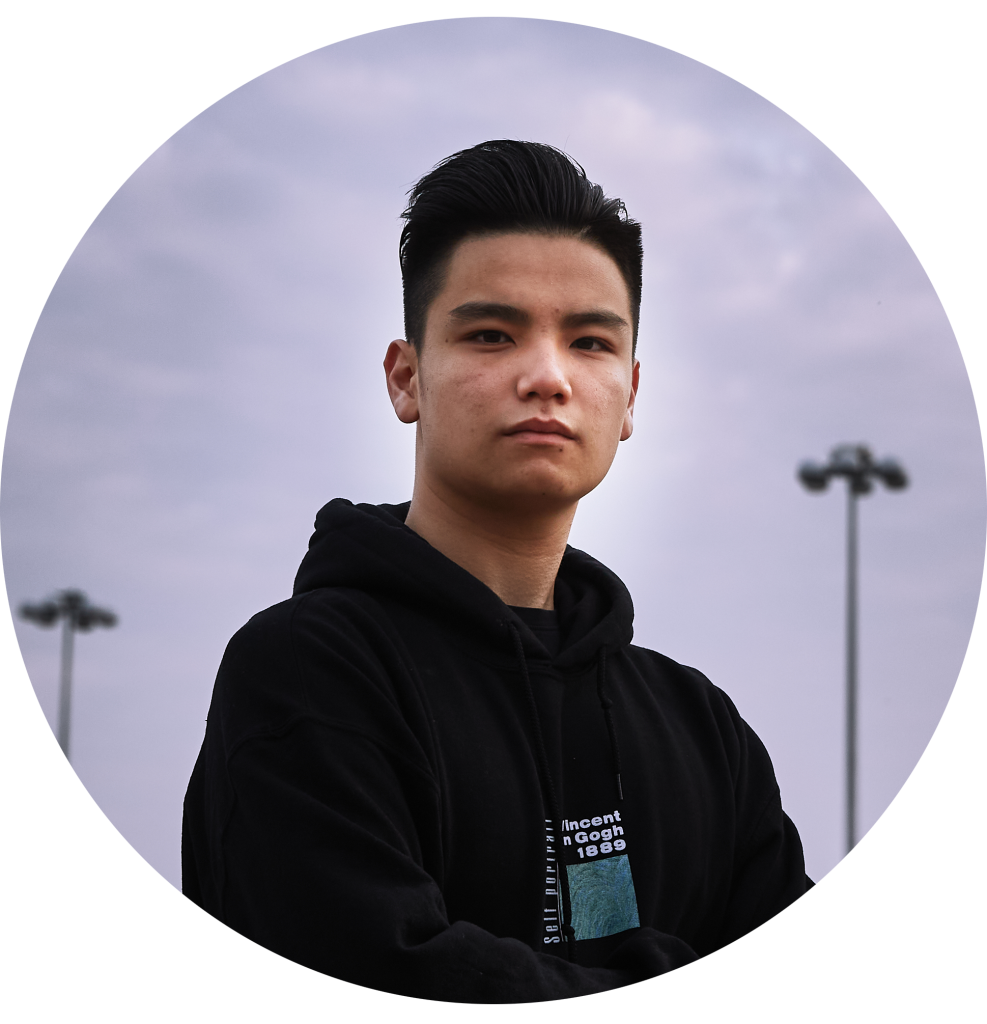 Eduardo de Carvalho's win at the 1954 edition and local talent André Couto's victory in 2000 – just under a year before Leong was even born. Of course, the 2020 edition was restricted to just local and mainland racers due to pandemic-related travel restrictions limiting foreign participation – and it was also, for the first time ever, a China Formula 4 Championship instead of an FIA Formula 3 event – but the Smart Life Racing team driver's performance was, given his age, nevertheless a remarkable victory.
"I grew up watching the Grand Prix at the Grandstand [in Macao]," says Leong when we meet him after the epic race. "This was a childhood dream. No words can really describe it." Putting his pedal to the metal of his Mygale M14-F4 car at the starting line, Leong says he was confident from the outset. "I knew the car very well," he says, "plus I'm very familiar with the circuit, so no doubt I had a boost of confidence." This confidence was clear during the race as he always led at a comfortable distance, although the second-placed driver got, as Leong puts it, 'really, really close' at the end.
Leong says he models himself on 'fast and aggressive' Dutch Formula 1 racer Max Verstappen, as well as Brazilian legend, the late Ayrton Senna, who won the Macau Grand Prix's F3 race in 1983 before moving on to Formula 1 racing glory – a move Leong believes is already out of his reach despite his young age because in racing, time is critical both on and off the track. At his age he should already be in – or at least on his way to – Formula 2. Instead, he is already thinking about Macao's next generation of racing car drivers, hoping some of them will make it to F1. He's even got some upcoming coaching projects with younger talents to help make this happen. "I would like to have a small racing simulator space," he says, "and invite some young local drivers to train [with me]." He adds that even in Formula 4, racing is expensive and some younger drivers 'have budget issues' so Leong's experience in pro-kart racing, F3 and F4 in both Europe and China can be valuable for the city's future racing stars.
"I am the most experienced in Macao at this level," says Leong, "and we need someone with this experience for future racing." He adds this does not only mean in driving but also in career management, including sponsorships. With China's Zhou Guanyu performing well in Formula 2 and one step away from F1, can Macao dream of having someone at that level in the future? "I really hope we will see that," says Leong, "but in the next few years that won't happen." For that to become a reality, a young talent must start at around six years old and then his preparation work must be continuously invested in for at least 14 years, Leong estimates. Even making the grade to F3, he cites, means '10 times the amount' needed for F4 racers. In short, big sponsors are a must.
Leong, who is enrolled at a university in the UK and does his sports management, sports science and psychology degree online in Macao, has had to rely on the financial support of his family during his 10-year-plus racing career so far. "When I was younger, my dad was basically every week on the racetracks with me in Zhuhai and elsewhere in China," he says. "I was luckier than most kids, who sometimes have to drop out young because their parents can't spend so much money. I won trophies and I think I was pretty talented growing up but that is not enough."
After taking part in nine races in the Formula Masters China competition in 2016, the next year Leong had an impressive debut in the Formula Renault AsiaCup, winning four out of 10 races before taking the title. In 2018, he was fourth in the F3 Asian Championship, sixth in the Formula Renault AsiaCup and even raced three times in the FIA Formula 3 European Championship. He also entered the Macau Grand Prix for the first time but did not finish the race. In 2019, he raced in the FIA Formula 3 Championship and also participated in three F3 Asian Championship Winter Series events. His big success came in the Macau Grand Prix – he finished it for the first time, ending in 19th place. Last year was his most stellar year yet, of course. He focused on the China Formula 4 Championship, notching up five wins, and he obviously won the Macau Grand Prix. Leong says that Macao's government has financially supported his career in F3 motor racing. His family has too but he thanks the government for its support as a 'lack of big corporate sponsors has been an obstacle'. He may think that he won't make it as a top F1 driver but Leong is nevertheless flying the chequered flag for Macao's young sports stars who are helping to put the city on the sporting map.
The swimming sensation
Leong is not the only young local talent making headlines in the city. Swimmer Lei On Kei has also notched up a steady stream of impressive wins. The 29-year-old won a silver medal in the 50-metre women's breaststroke at the 2012 Asian Swimming Championships
– the first individual medal ever scooped at the competition by an athlete from Macao – and she has broken a staggering 22 women's swimming records in Macao over the years. She's become a young legend in breaststroke, individual medley and freestyle events. Aside from swimming triumphs, she's also into her second year of a sports science PhD at the University of Macau.
"What lasts longer and I am more grateful for," says Lei, "is the mental strength I have got through swimming, like getting up early during summers and winters." This mental strength, she adds, drives her to do well in her PhD, for instance. She says she's experimenting with training protocols and testing physiological changes and reactions, and wants to publish science papers in international journals in the future. But up to this point, she's been a breaststroke specialist – something she's worked at from the age of 13.
For young athletes, daily training and competitions can often interfere with schoolwork, and time may need to be spent at, for example, an important training centre. Lei says that in Macao, 'sports life weighs less than high school, college and a future well-paid job' with some young talents dropping out of the sport due to the pressures of education. But she says she stuck at it, became a local success and is now studying hard to give herself a decent career. "There are sporting talents in Macao," she says. "Way more than you and I could imagine. But for so many years, academia has been the first priority in our society and too many talents just sacrifice sports." She says that over her 20 years in competitive swimming, nothing much has changed in this regard. "When people treat sports as entertainment or leisure activities," she adds, "athletes can only be leisure sport players."
Lei says that conditions in Macao are near perfect for athletes as it's a small city, the distances are short between home and sports venues, incomes are high, education and training fees are affordable and training facilities abound. "Even compared to America, Japan and China," she says, "things are ready and developed in Macao." The challenge, she explains, is for young talents to 'move from leisure sports to competing at a world-class level'. "In what is mostly a leisurely sports environment," she says, "it's a miracle what some local athletes have achieved in international competitions."
"The pain point," concludes Lei, "is that the current system for nurturing young athletes needs a systematic, effective plan and well-organised arrangements. Otherwise, parents and kids won't be sure about their future path and will start to lose motivation. Even so, there are still so many athletes in Macao who are willing and self-motivated to train, taking very high risks and ending up successful."
The volleyball victor
Every two years, Macao 'commends and encourages excellent local athletes and coaches' at its Outstanding Athletes awards. Co-organised by the Sports Bureau and 'Macau Sports Weekly', the ceremony has celebrated young local sporting talent for years. In 2015, local volleyball sensation Leong On Ieng was chosen as one of the city's 10 'outstanding athletes' for the year. And then in 2019, she was selected as the spokesperson for the event. Now 24 years old, Leong has played both indoor and beach volleyball over her 14 years of participation in the sport. She's captained the University of Macau's volleyball team, won a plethora of local competitions and even took a silver medal at the 2014 Lusofonia Games for Portuguese-speaking countries in India when the Macao team finished second.
Leong first got into volleyball when she was a 10-year-old pupil at Pui Ching Middle School. She excelled and never looked back. She's worked hard at the sport over her life so far, however, her goal is to represent Macao in the Asian Games beach volleyball competition. "The Asian Games is always the highest stage for Macao athletes," says Leong. "My current goal is the Asian Beach Games, which were due to be held in Sanya, China, in April but have been postponed. When they are rescheduled, I'd love to get a good result. Then I'd like to also participate in the Asian Games soon. That's my biggest goal."
If the life of a rising sports star is challenging then volleyball players have it especially hard, according to Leong. Not many people play the sport in Macao, she admits, and there are only a few schools that compete in the game. Plus, she says, there are only a few venues in the city where volleyball can be played. Because there is a shortage of space, she says, teams often can't train. "There is no place for regular practice," she says, "which eventually leads to not performing well in competitions. Children may give up quickly if they don't play well."
Money is another problem for volleyball, says Leong, because success in the sport is linked to results. "No results means no funding for more competitions," she says. "But, in fact, some people practice very hard and only through competition can they gain experience and improve their skills." Leong suggests that to improve, Macao players need to be exposed to international competition. "If we stay limited to Macao," she says, "then no matter how good our athletes are, we won't have the opportunities to grow or compete at a good level." Whether or not her dream is one day achieved, Leong is nevertheless a rising star who could be the next big thing in Macao volleyball over the coming years.
The karate kid
Another local young sports star who has also won an Outstanding Athletes award in Macao is Lou Wai Kit. The 30-year-old karate sensation won Macao's only medal in the Asian Karate Championships in 2017 – a bronze in Kazakhstan in the men's individual 84kg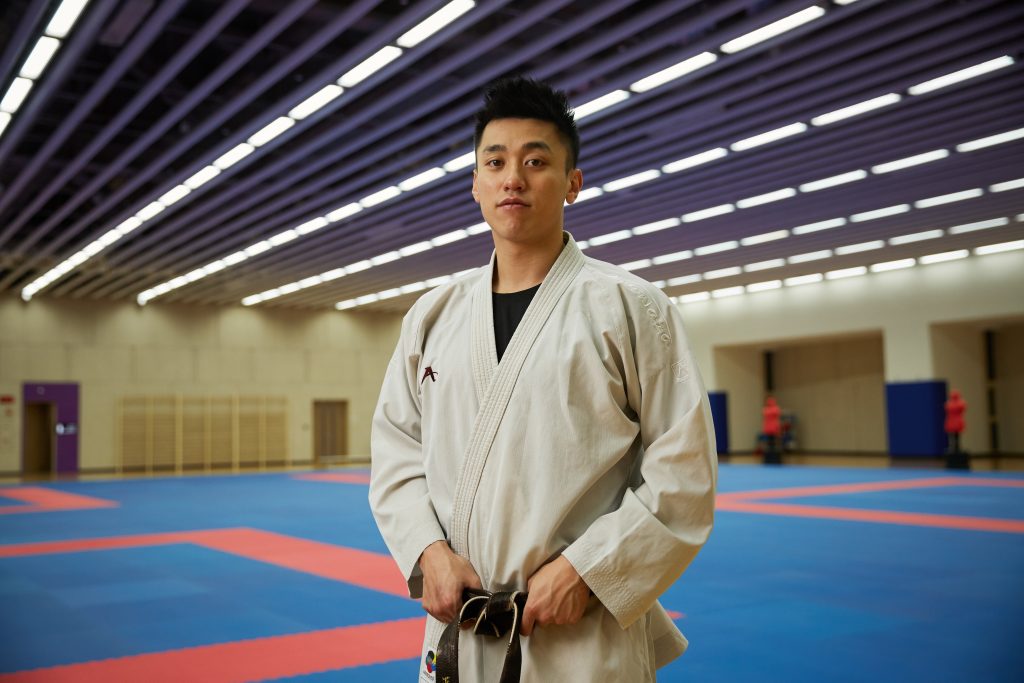 and above weight class. Due to that outstanding performance, he was then given the Outstanding Athletes award and he's been going from strength to strength in the discipline ever since.
For Lou Wai Kit, the Kazakhstan bronze came after many years of trying and much perseverance. He represented the 'lotus flower' team for 12 years, and, before winning, he had participated in no less than four unsuccessful third place fights in the Asian Karate Championships. He says that his eventual victory bore the fruits of 'dedicating ourselves to training constantly'. Success, he believes, has also seen him adapt. While he fights in the 'heavyweight' group, he is usually the lightest among the competing athletes. This means it is harder for him to get his opponents to the ground, so he says that he has compensated with speed – on his feet and with his arms.
Lou Wai Kit has trained under the guidance of local coach Mohammad Reza Rashidnia, an Iranian who has had numerous big successes over almost 50 years practicing the discipline. Before international competitions, Rashidnia organises training camps both in Macao and in Iran. To further develop Macao sports for young talents, Lou Wai Kit believes that student competitions should be strengthened in the city. He also says that support from parents is also important 'because most parents think that participating in sports is just for play and there's no future'. "If student competitions can be linked closely to a professional career where athletes can make a living [out of the sport]," he says, "then it would help Macao's overall sports development." Lou agrees that it will take a lot of effort to take Macao's athletes to the next level. "Right now, Macao is just mainly promoting sports-for-all,"
he says. "Even though the city puts a lot of resources into sports, there will be fewer people willing to trade their future for a sports career or for training."
The superb cyclist
Au Hoi Ian was faced with a major life decision when she was 18 years old. University or her beloved sport of cycling. She had just finished high school and could have gone straight to university but she chose cycling, putting further education on hold. Au is now 20 years old and she hasn't looked back since.
Au was drawn to cycling at a young age, mostly because of her father, who is a fan of the pedals. At the age of five, she was already riding a two-wheeled bike. Eight years later, she was practicing with her dad across the hills of Coloane and Taipa. Competition began in 2014, when she officially participated in the Macao Cycling League. Sadly, at one point, she had an accident and came home with scratched knees and a bruised ego. She says she considered giving cycling up right there and then. But as soon as she was healed, she was back in the saddle, criss-crossing the green hills of Macao.
And what a comeback it was to be. She joined the Macao training team in November 2016. A few months later – and with plenty of training – she entered the 2017 Asian Track Cycling Championships in New Delhi, India. She fought hard inside the velodrome in the women's junior scratch race – where all the riders start together and the winner is first over the line after a number of laps – and came away with the bronze medal. It was the first time a Macao woman had ever won a track cycling medal. "I will never forget the moment when the Macao flag was raised up," she says.
In July of the same year, Au won third place in the women's scratch race in the Japan Field Cycling Asian Cup. In February 2018, at the Asian Track Cycling Championships in Malaysia, she won third place in the women's scratch event again. In July of that year, she made another breakthrough when she won her first silver medal in Japan. She won second place in the women's junior scratch event of the Japan Track Cup I/II 2018.
Today, Au's goal is to get more medals in the Asian Track Cycling Championships. Polite and gentle, she is also focused on improving her performances in the international scene. In chasing her two-wheeled dream, she has been supported by the Sports Bureau for high-performance training in Hong Kong, as well as with finances for essentials like equipment. She says that more cycling talents are emerging in Macao all the time and that the city is 'improving constantly' when it comes to the sport. In order for it to be a mainstream sport, however, she believes it should be promoted at the school level.
The Wushu warrior
A martial art with a long history in China, Wushu is not just a complete discipline but also a full-contact sport. And young champion Wong Sam In is one of the hottest talents in Macao right now when it comes to the art. At the Asian Junior Wushu Championship 2019 in Brunei, she won the title in the southern-style boxing youth
category – a huge win that was immediately praised by Macao's government. In all, Wong – a teenager at the time – came back from those championships with two gold and two silver medals.
Wong is now 18 years old. She has been practicing Wushu for 10 years and has already amassed seven gold medals at World and Asian Junior Wushu Championships, plus she was the first local to win a medal in the China National Youth Games in 2019 when she finished third in the Girls' Group A Nanquan, a combination of the martial art that's typical in Guangdong and other southern Chinese provinces. And she now wants to participate in major international competitions, like the World and Asian Wushu Championships or even the Asian Games. "To reach this goal," she says, "I am preparing myself physically and mentally to qualify."
Wong fell in love with Wushu in third grade during a demonstration of martial arts that had been organised at her school in Macao as part of New Year celebration activities. As soon as the show was over, she says, she decided to learn the Wushu discipline. In the next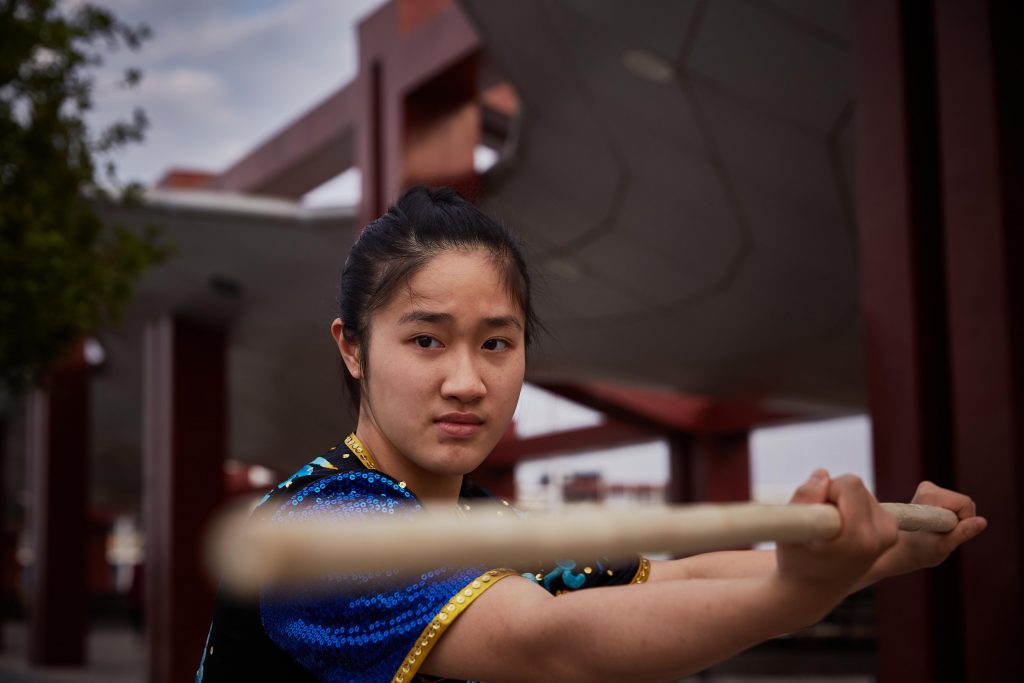 year's summer holidays, she says that her mother sent her and her sister to training at a youth Wushu school. From then on, she admits that she's never stopped in the sport.
It was not as easy as she imagined at first, though. Wong started practicing for two days a week but soon that went up to five days a week. Training is an exercise of precision of movement and repeating those movements until you've reached a natural flow. When you have reached a solid skill base, with an ample set of martial arts movements, you're expected to develop your own style – which is just what Wong did. With traditional Chinese music in the background, wearing richly adorned costumes – 'biao yan fu', as they are known in Mandarin – and with solo routines before judges measuring the precision of movements, Wushu is less 'martial' and more 'art'.
Persistence is important in Wushu, says Wong. Getting a hand or leg movement right can take dozens, sometimes hundreds, of tries. This happens on the training mat but Wong also watches old Wushu videos and even uses sensors to track and analyse her own movements. Her specialty, Nanquan, features extensive hand techniques and a vocal articulation called 'fasheng' – literally meaning 'release shout' – which is considered the predecessor of the Japanese and Korean martial art of 'kiai'.
Wushu has flourished in Macao over the years, according to Wong. She says the government has supported the discipline, as have the Wushu General Association of Macau and Macau's own Wushu team. She says the city's athletes have been given 'the ability to compete in international competitions and even to reach the top three'. At the Asian Junior Wushu Championships in 2019, Macao's Wushu team came away with seven gold medals and finished second overall. "That was the most astonishing result that we have ever had in these big competitions," says Wong.
Wong is confident about the future of Wushu as a sport and thinks improving sports medicine to protect athletes from injuries will be critical to its success. "I hope that the government can further enhance their current medical facilities to protect the athletes," she says. "With a healthy body, athletes will have fewer worries about their physical condition and they can spend more time improving and enhancing their martial arts skills."
Macao is clearly home to some ambitious, talented and determined young sports stars. And there are plenty of people and organisations to help them step closer to their dreams in the city. For instance, the University of Macau (UM) awards scholarships based on the students' athletic performance and also provides scholarships for up to 30 student athletes recommended by their high school principals, including the UM Golden Lotus Scholarship, the UM Silver Lotus Scholarship and even a one-time cash prize of MOP 5,000 (US$626).
One of Macao's greatest advocates for the development of sporting talent is the director of UM's Office of Sports Affairs, Grace Chau. She has worked directly with local sports associations and learned that often Macao's top high school athletes go abroad to further their pursuits. She says UM wants 'to encourage local athletes to continue contributing to the region and represent it in championships'. She adds that she's proud that UM has some top athletes studying there and that the university works with the government to support its sportspeople while also increasing the number of sports scholarships and giving out annual awards. "We want to support the development of our athletes," she says, "so that young people can see a future in sports. The university gives them a platform to excel in competitions."
Charles Leong, Lei On Kei, Leong On Ieng, Lou Wai Kit, Au Hoi Ian and Wong Sam In are already six of the best sports stars in Macao and, due to their youth, they could each go on to even greater achievements in their chosen sports. Each of them has been working hard to make it to the biggest stage they can – for most, that's the world stage – thanks to their own skills and perseverance but also thanks to support from the government and dedicated trainers and experts around the city. There may yet be a way to go for the development of some sports in town but, for now, there's plenty to shout about when it comes to the young stars in Macao. For a small city, there are some big opportunities for sporting gold in the future.