Premier Li Keqiang has called for increased links between China and the community of Portuguese-speaking countries, with Macao as a key player.
Li made the appeal via video link from Beijing during the opening ceremony in Macao of an extraordinary ministerial meeting in April of the Macao-based Forum for Economic and Trade Cooperation between China and Portuguese-speaking Countries (PSCs), also known as Forum Macao.
The meeting's theme, "Cooperating to Fight Against the [Covid-19] Pandemic, Collaborating for Common Development", focused on enhancing cooperation between China and the PSCs in the field of healthcare, and jointly promoting post-Covid-19 economic recovery.
Li addressed the video meeting with participants across four continents. Brazil's Vice President Antônio Hamilton Martins Mourão and the prime ministers of Cabo Verde, Guinea-Bissau, Mozambique, Portugal, São Tomé and Príncipe and Timor-Leste also took part. The meeting was held at the China-Portuguese-speaking Countries Commercial and Trade Service Platform Complex on the Macao peninsula.
Trade between China and the PSCs has exceeded MOP 810 billion (US$100 billion) for five consecutive years and reached MOP 1.62 trillion (US$200 billion) last year. Li said China wants to improve collaboration in advancing infrastructure connectivity, industrial capacity, energy conservation, and environmental protection with the PSCs and has called for enhancing trade and investment regulations.
The Chinese premier pledged that China will contribute even more to safeguarding world peace and promoting the mutual development and prosperity of all countries. He also called for strengthening unity and cooperation, defeating the Covid-19 pandemic as quickly as possible as well as promoting cooperation and economic recovery.
Li underlined that the current international situation is turbulent and that the Covid-19 pandemic is still dragging on around the world. He also warned that uncertainty and instability in the world economy have risen significantly, while the safety and security of all countries are interrelated.
China wants to increase cooperation with the PSCs in vaccines and healthcare more generally, Li said, highlighting the setting-up of the China-PSCs Epidemic Prevention Exchange Centre in Macao as one of the forum's initiatives, to improve global health governance.
The centre comes under the combined jurisdiction of China's Ministry of Commerce, National Health Commission of the PRC and Macao's secretariats for Economy and Finance and Social Affairs and Culture, and will be led by Forum Macao and Macao's Health Bureau. The centre will provide technical support for pandemic prevention and control as well as developing training programmes.
"Let's work together to make the cake of cooperation bigger so that the fruits of development can benefit the people of all countries," Li said.
The premier also reaffirmed Macao's role as a "bridge" connecting China and PSCs, adding that the central government will support Macao's consolidation as a unique service platform for business cooperation between China and the PSCs.
Anti-pandemic fight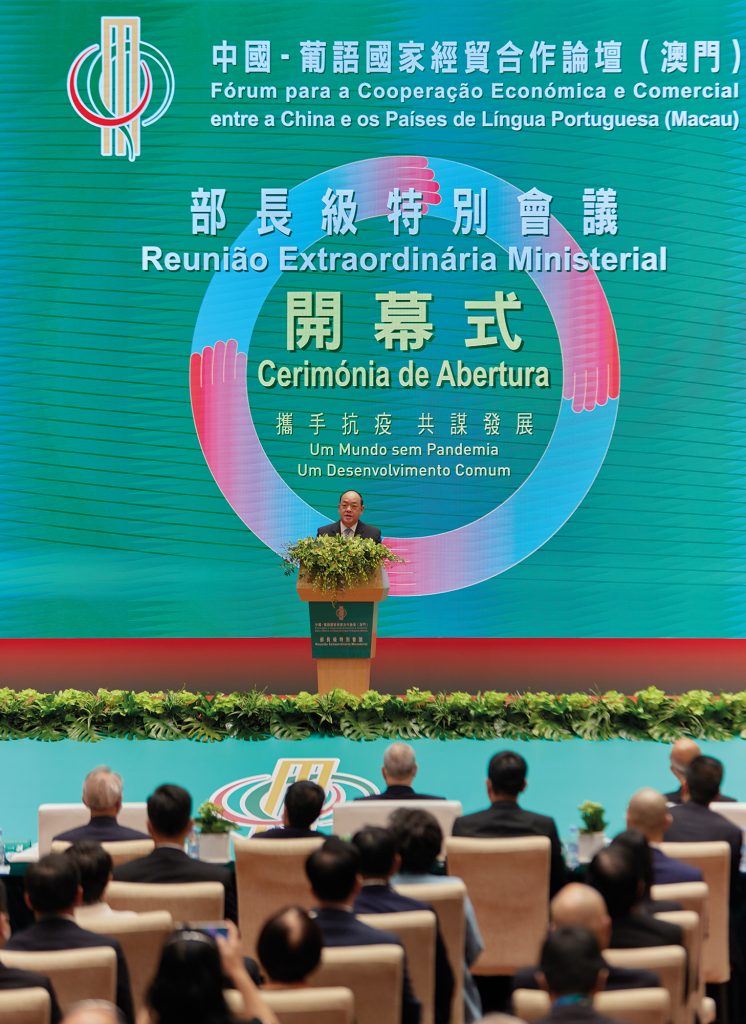 Chinese Minister of Commerce, Wang Wentao, who also spoke at the video conference, said that since the establishment of the Forum Macao in 2003, the platform has played a "core role" in promoting economic cooperation between China and PSCs.
Wang noted that over the 19 years of the Forum's existence, economic cooperation has increased enormously. The value of trade between China and the PSCs has increased about 20 times compared to 2003 while the value of non-financial direct investment has increased more than 50-fold.
Minister Wang also highlighted international cooperation in fighting the pandemic. "China has provided around 170 million doses of the vaccine against Covid-19 to Portuguese-speaking countries and remains available to share technology and productive capacity in the field of vaccines with the member countries of the Forum, supporting local production and its distribution," he said.
Wang said that the Macao platform should raise cooperation with the PSCs to "a new level" and assured that Macao and Guangdong province will be supported in the construction of a Sino-Lusophone international trade centre in Hengqin island.
Sino-Lusophone platform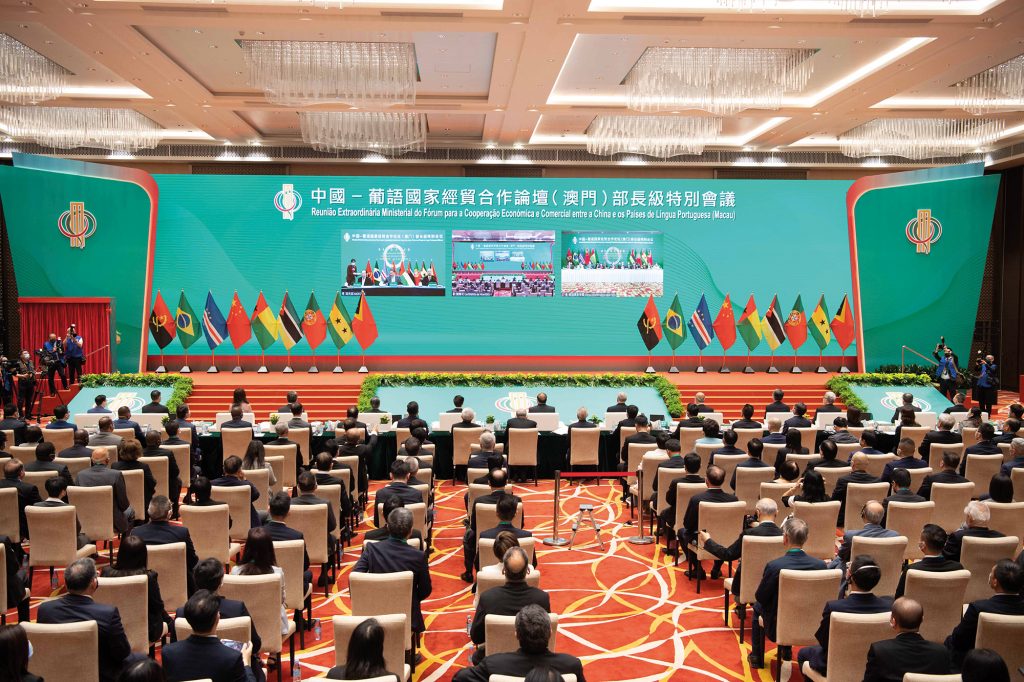 During the conference, Macao Chief Executive Ho Iat Seng said that Macao will further improve its role as a platform linking China and the PSCs and that it will speed up integration into China's dual circulation development strategy of domestic and international markets so that the territory can serve as a bridge between the mainland and the PSCs, and help build a community with a shared future.
"Macao will fully exploit its own advantages, work actively with the Forum, to improve cooperation between China and PSCs … The setting-up of the Guangdong-Macao Intensive Cooperation Zone in Hengqin will bolster Macao's role," the chief executive said.
Ho and Fu Ziying, director of the Central People's Government Liaison Office in the Macao Special Administrative Region, unveiled a plaque for the new China-Portuguese-speaking Countries Exchange Centre for Epidemic Prevention at the same ceremony.
Post-pandemic support for Portuguese-speaking countries
At the extraordinary ministerial meeting, the PSCs asked for more Chinese investment to support the post-Covid-19 economic recovery and called for a strengthening of relations between the member countries of Forum Macao.
The vice president of Brazil, Hamilton Mourão, highlighted the economic potential of Portuguese-speaking countries which are "inserted in differentiated commercial blocks" with millions of consumers and important maritime and mineral resources, and the need to promote trade and investment exchanges.
Portuguese Prime Minister António Costa spoke about support for businesspeople from the countries represented at Forum Macao and explained that Portugal is a gateway to the European Union as its ports are connected to global maritime routes and have privileged links with Latin America and Africa.
Prime Minister of Cabo Verde Ulisses Correia e Silva said that the biggest current challenge is "to overcome the pandemic" and that joint efforts, within the framework of Forum Macao, can be an opportunity to attract private investment.
Macao will fully exploit its own advantages, work actively with the Forum, to improve cooperation between China and Portuguese-speaking countries.

Chief Executive Ho Iat Seng
Nuno Gomes Nabiam, premier of Guinea-Bissau, invited investors to visit the African state and asked for China's support in the "development of productive technologies". This was seconded by the prime minister of Mozambique, Adriano Maleiane, who emphasised the need for stronger cooperation between the countries represented at Forum Macao.
Prime Minister Jorge Bom Jesus of São Tomé and Príncipe asked for financial support and the Timor-Leste prime minister, Taur Matan Ruak, recalled the "devastating effects of the pandemic", but said he was convinced that Chinese aid and the economic opportunities that exist in the Guangdong-Hong Kong-Macao Greater Bay Area can contribute to a solution.
Lastly, Angolan Minister of State for Economic Coordination, Manuel Nunes Júnior noted the importance of Chinese investment in his country and the important political reforms underway there as well as the economic measures aimed at reducing the nation's dependence on oil revenue.
Forum Macao also welcomed Equatorial Guinea as its 10th member country, the African country's membership formalised through a joint resolution. Aside from China and Equatorial Guinea, Forum Macao includes Angola, Brazil, Cabo Verde, Guinea-Bissau, Mozambique, Portugal, São Tomé and Príncipe, and Timor-Leste.
As the first online-offline event to be organised by the Forum Macao on such a grand scale, the ministerial meeting brought together leaders from around the world and a turnout of around 200 participants in Macao.
---
The Future of Forum Macao: A vision for the next 20 years
A vision for the next 20 years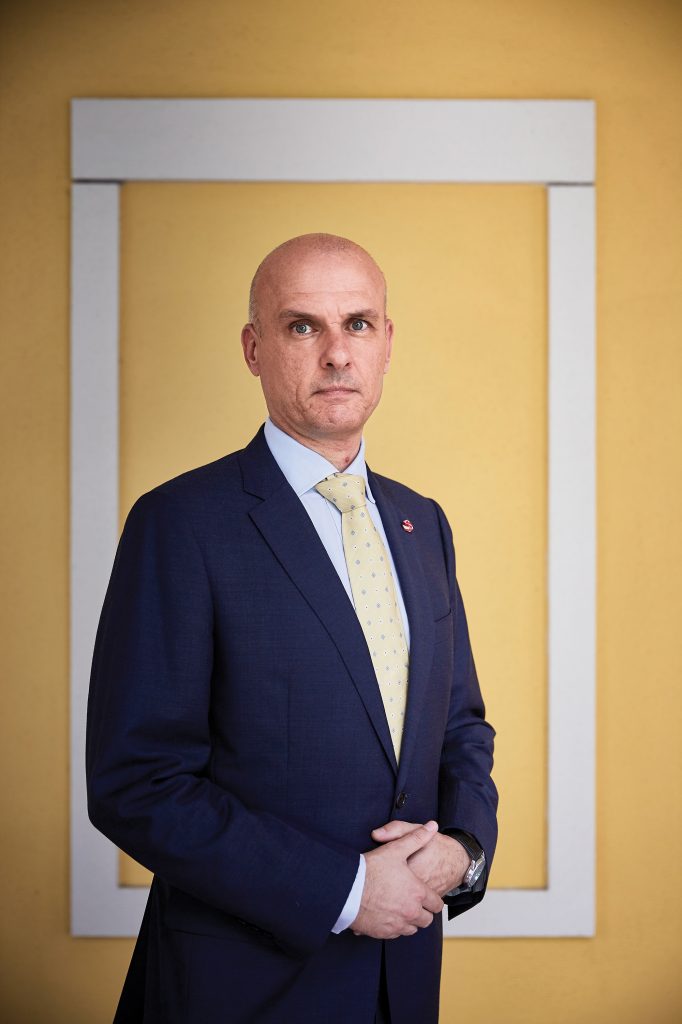 Francisco José Leandro
Associate Professor and Associate Dean of Institute for Research in Portuguese-Speaking Countries at City University of Macau
The Chinese initiative to establish the Forum Macao has proved its effectiveness, but it has yet to realise its full potential. In its nearly 20 years of existence, Forum Macao has evolved steadily, widening its membership and extending into new areas of activity, besides the core interests of economic and trade cooperation.
Since 2003, Forum Macao has reinforced the presence as well as the contribution of the eight PSCs, now numbering nine with the recent acceptance of Equatorial Guinea into membership. The aim is to strengthen trade cooperation and communication between China and the PSCs and boost Macao's role as a platform for this cooperation.
Forum Macao has carried out several organisational adjustments to increase China's national engagement and commitment to provide more information about the Greater Bay Area market in general and, more specifically, the Guangdong-Macao Intensive Cooperation Zone in Hengqin.
China has also pushed for new ideas and new cooperation areas, with the support of all PSCs.
Since its inception, Forum Macao has become deeply involved in many activities such as enhanced trade and investment facilitation, collaboration to advance key infrastructure projects, promote connectivity, encourage higher levels of industrial capacity, develop energy security options, supported cultural exchanges, and also boosted health and environmental protection with all the PSCs. This approach demonstrates China's desire to improve international cooperation and at the same time the potential of Forum Macao to contribute significantly to China's global vision of "a community with a shared future".
Consequently, the natural evolution of the Forum is its transformation from an economic and trade cooperation body with a 10-state (9+1) framework acting as a quasi-multilateral institution, into a truly multilateral association of sovereign states.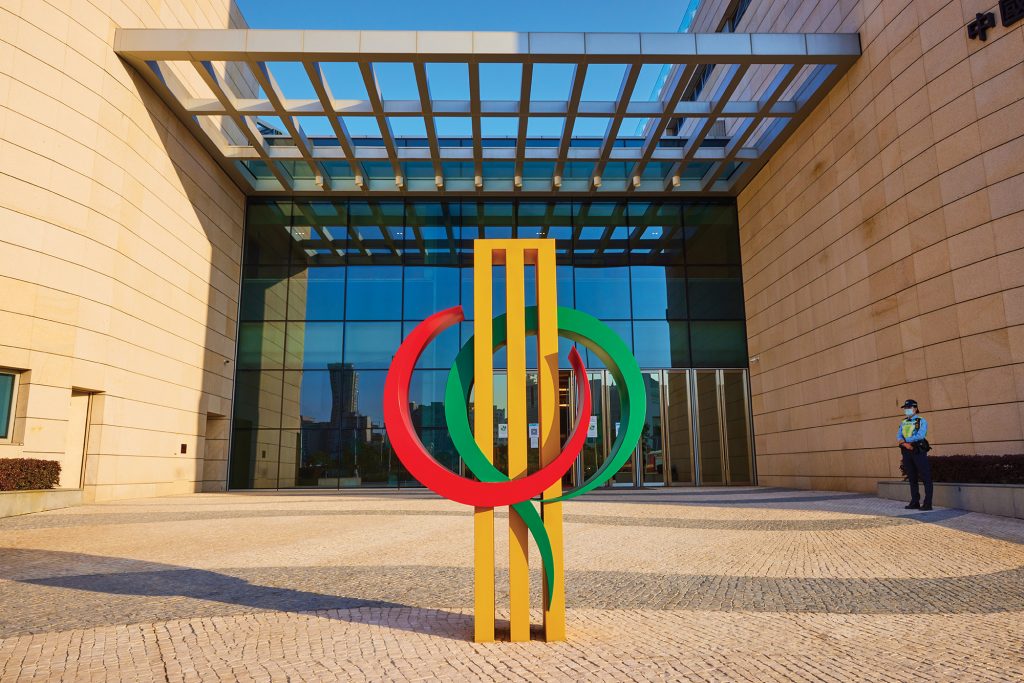 This new organisation configuration will be designed to elevate the level of sustainable development, in an integrated (multi-actors and multi-space), intertwined (different areas of cooperation), and multi-layered (different levels of cooperation) manner. Furthermore, Forum Macao can and should enlarge its geographical reach, using the PSCs to access economic communities worldwide as the image illustrates.
The potential of the GBA is enormous as it is composed of the Hong Kong Special Administrative Region, the Macao Special Administrative Region, and nine cities in Guangdong Province in southern China. This covers approximately 56,000 square kilometres, with a combined population of 70 million inhabitants, and a GDP of MOP 13.7 trillion (US$1.7 trillion).
The Macao SAR, as a World Class Tourism and Leisure Centre, and a Service Platform for Trade Cooperation and as an exchange and cooperation base for education in the GBA, offers a remarkable support framework for Forum Macao.
Training and education should be other important parts of Forum Macao's future. Macao as a cooperation platform and as a centre of education, which allows for mutual recognition of academic degrees, joint professional certification as well as promoting bilingualism and the promotion of cultural literacy is regarded, by China and the PSCs, as one of Forum Macao's most promising assets.
The longstanding pillar of Forum Macao is the mutual perception of cooperative advantages. This takes into consideration the potential of the PSCs and the GBA working together, in the context of access to all kinds of markets, including raw and manufactured materials, finding solutions for energy security, infrastructure development, improving the quality of banking and health services, facilitating technology transfer, promoting culture exchanges and education, investing in human capital, and strengthening people-to-people bonds. Therefore, Forum Macao can no longer focus merely on the promotion of economic and trade cooperation.
In this vision, Forum Macao will become a truly multilateral institution, extending economic cooperation across the world, adopting new management instruments, such as common decision-making and common budgets, and devoting itself to smart planning for development, cultural exchanges and education for mutual benefit.
Forum Macao should be an institution advancing into a common economic space for exchange and able to engage in a new world of the following 10 themes:
Cooperation for development, instead of economic and trade
Blue economy instead of maritime cooperation
Energy and food sustainability instead of oil, gas and agriculture projects
Social economic sustainable investment instead of foreign investment
Spatial development initiatives associated to quality criteria instead of key infrastructures
Tandem education to develop cultural literacy and technological skills instead of a stand alone technical expertise
Corporate social responsibility instead of shareholders engagement
Commercial and investment amicable disputes, instead of adjudicatory justice
Interculturalism instead of multiculturalism
Facilitation of flows of people, goods, services and ideas, instead of meetings, conferences, exhibitions and tourism.