In a world full of possibilities, it can be difficult to make career decisions. Just ask Vinnci Lou. From fashion design to environmental engineering to ceramic art, the 36-year-old Macao local tried it all before settling in the field of user experience (UX) design, where she designs healthcare applications that support medical professionals across the US and Europe.
Technology was not an industry Lou envisioned working in during her younger years. As a child, she dreamed about becoming an artist. From around the age of 8, she began to apprentice under Lai Ieng, a famous watercolour painter in Macao. Influenced by her parents who operated a garment factory, she also developed an interest in fashion design. When she was in secondary school at Chan Sui Ki Perpetual Help College, she started taking fashion design courses at Macau Productivity and Technology Transfer Centre during her free time.
However, when she graduated from secondary school in 2005, she moved in the opposite direction, studying civil and environmental engineering at University of Macau (UM). "It offered a promising career path because there were a lot of big hotel and casino construction projects happening in Cotai at that time," she says. But two years later, during a two-month internship in Serbia, Lou did another 180-degree turn.
Arranged by UM, the internship offered her an opportunity to work at a construction company in Niš, Serbia, as an administrative assistant. But to Lou, the most inspiring experience happened at the dormitory, where she met people from different parts of the world, such as Oman, Spain and the UK.
"Many of them were my age but they were already discussing complex topics such as politics, racism and social issues. These topics had never entered my mind because they were not in textbooks," she recalls. "At that point, I realised that I really needed to broaden my horizons and explore the world outside Macao."
And so she did. After graduating in 2009, Lou travelled to Lisbon, where she studied for a master's degree in environmental design at the Institute of Art, Design and Business – University. She didn't put her creative aspirations aside, though. During her free time, Lou painted or tie-dyed T-shirts and sold them at local flea markets. She also apprenticed under a ceramic artist and learned to make pottery.
At the same time, Lou opened herself up to networking, talking with her customers at the flea market or making new friends at events. "From my experience in Serbia, I realised how meeting new people can broaden my vision or even change my life. That's why I kept putting myself out there to meet new people."
And she was right. In 2010, Lou was hanging out with a group of friends at the Santo António Festival – an annual festival held each June that celebrates Saint Anthony, the patron saint of Lisbon.
The way Lou was sitting – in a cross-legged posture practised in yoga – caught the attention of Chris Dressel, a part-time yoga teacher who invited her to join his yoga class. Little did she know, he would later become an important mentor and introduce her to the world of UX design.
For his day job, Dressel owned a web development company and ran an innovation company called Kwamecorp (later rebranded as Impossible) in Lisbon, designing and developing mobile apps and digital services. The company was looking for an intern to prepare client pitch decks. "Since I have a background in engineering and know how to use
the Adobe Creative Suite (a software suite offering graphic design, video editing and web development applications), they brought me onto the team," Lou explains.
Bridging logic and creativity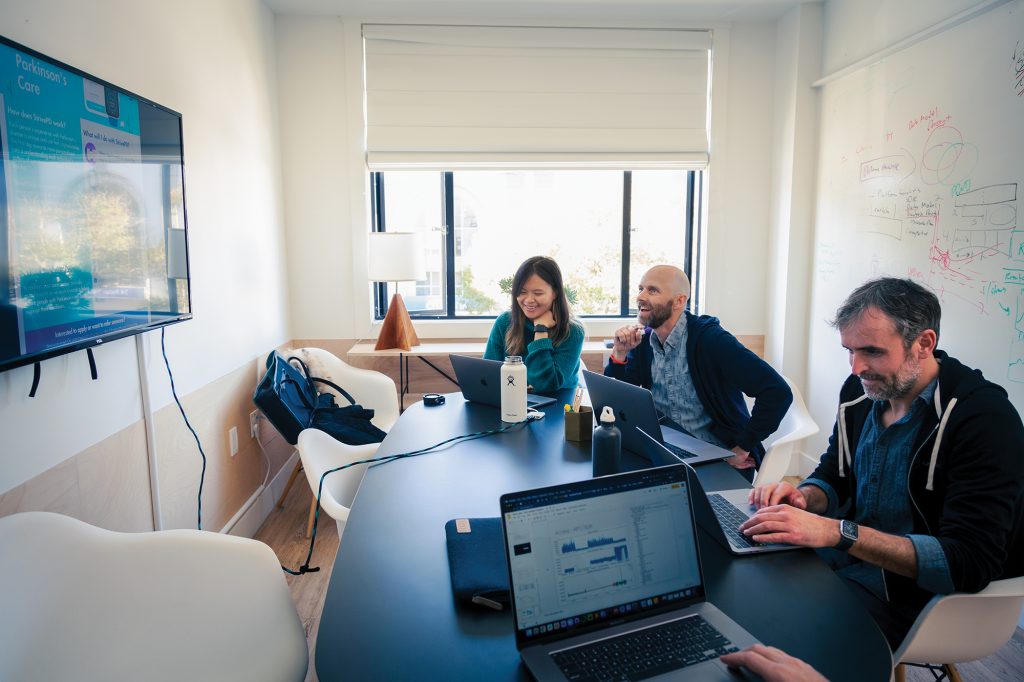 In the beginning, Lou worked as an assistant and was responsible for digitising design concepts and ideas for client presentations. But under Dressel's mentorship, Lou started to pick up some design work. She learned how to create wireframes – a tool that establishes the basic structure of a webpage or mobile app page before adding visual design elements and content – and worked with engineers to transform ideas into applications.
"UX design is about problem solving," she explains. "We need to empathise with users' feelings, anticipating why they seek for a tool, what they want to gain and what problems they want to solve. We optimise their experience so that they can solve their problems painlessly and complete their goals intuitively."
Thanks to her background in art and engineering, Lou has an ability to think both logically and creatively, which impressed Dressel. After a few months, he promoted her to full-time UX designer and within two years, she became the lead designer.
During her time with Impossible, Lou has worked on many design projects, including Samsung operating systems, management platforms for startups in San Francisco, and communication platforms for factories in China. An oncology informatics platform project for Roche, a Swiss multinational healthcare company, in 2015, solidified her passion for UX design. "It was the first time I realised that being a designer can also make a contribution to people's health and wellbeing," she says.
When the collaboration began, Lou was already leading several projects and managing various clients. Since she likes to work on complicated systems involving multiple users and problem solving, Impossible assigned Lou to lead the design of Roche's clinical decision support platform.
"Basically, my team needed to design a platform which provides a patient's current situation and overview," she explains, "so that the oncologists, surgeons, pathologists and radiologists can access the patient's information on a centralised dashboard when they discuss possible treatments for the case."
That's where UX design comes in. With a goal of making the user experience as easy and intuitive as possible, Lou can help clinicians save precious time and focus on key information. "By effectively showcasing or highlighting certain important details, such as the location of the tumour, diagnoses stage or biomarkers (a biological molecule found in blood, other body fluids, or tissues), the dashboard can help doctors better understand a patient's situation and identify a more effective treatment," she says. "This gives me huge satisfaction knowing that my design might be able to help cancer patients."
After several months, Lou's leadership skills and ability to work at a high level independently wowed Impossible, and she was soon promoted to design director. She relocated from Lisbon to Impossible's newly launched San Francisco Bay Area office, where she took on more admin responsibilities, such as running workshops, recruiting and training new employees, and pitching for new clients. Within two years, she and her team launched the first version of the Roche platform.
Lou has continued to work on various healthcare projects with Roche and Samsung Digital Health ever since. In 2017, her team collaborated with Roche to create a web app, which enables cancer researchers to assess how potential immunotherapy drugs would stimulate immune cells to attack cancer cells.
Fighting Parkinson's Disease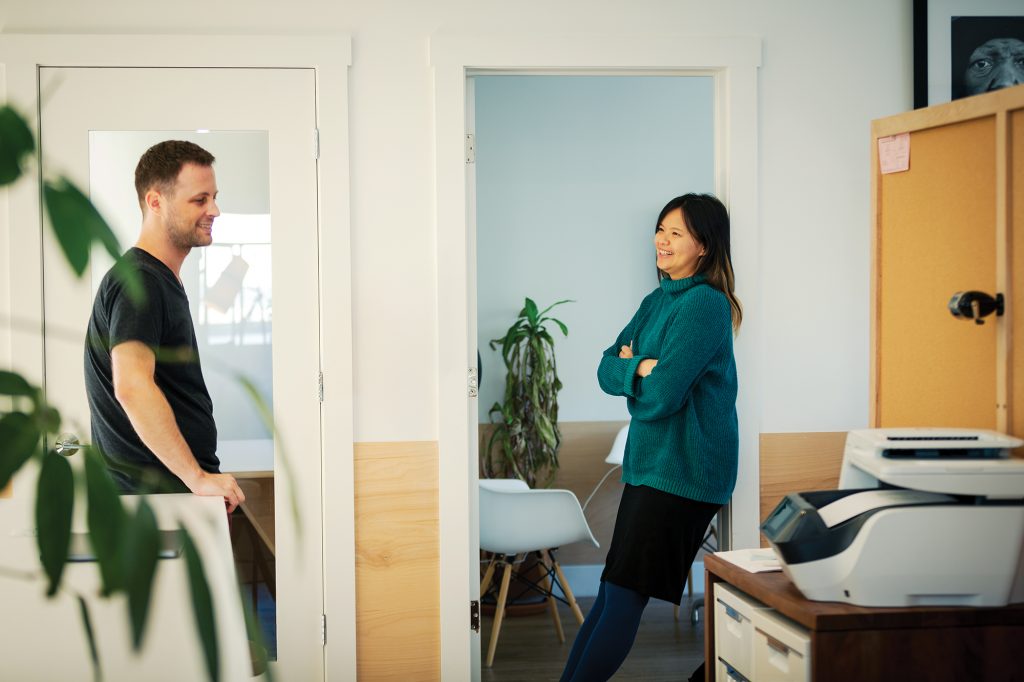 After 10 years with Impossible, Lou took a one-year break to work as a freelancer. In May 2021, she took a full-time job with Rune Labs, a software platform based in San Francisco that helps med-tech and pharmaceutical companies collect, organise and analyse brain data. She started as a lead product designer, and the company promoted her to design director this January.
She says Rune Labs has offered her the opportunity to work on one of the most meaningful projects in her career to date. The company is currently developing StrivePD, a program that collects electrophysiological brain readings, as well as neurological imaging data and information, to facilitate new treatments for Parkinson's disease, a brain disorder that causes uncontrollable movements such as shaking, stiffness, and difficulty with balance and coordination.
The program compiles data from three sources: deep brain stimulation (DBS) devices, a brain implant that records signals directly from the patient's brain while delivering mild electrical current to the brain for treating Parkinson's disease; an Apple watch app, which captures a range of Parkinson's symptoms, including tremors, dyskinesia (uncontrolled, involuntary movement such as wriggling and swaying of the body), sleep, gait and heart rate variability; and a mobile app, which enables patients to track their symptoms and medication usage.
Lou's team is responsible for designing a software for neurologists and researchers accessing the brain data collected by the implant, as well as the mobile app and the Apple Watch app. "The technology allows doctors to access brain data of the patient even when they are not in the hospital, and the immense amount of new data may ultimately lead to the discovery of more precise treatments," Lou explains.
"The key is to put the patient's brain data, together with data of their symptoms and behavioural health, in a meaningful and digestible format," she adds. "We arrange the same set of data in different formats to serve different purposes for different users."
For instance, the mobile app allows patients to log medications, symptoms and side effects, which help them better understand their health status and manage the disease.
Meanwhile, the clinician dashboard helps neurologists understand their patients' statuses at a glance and identify better treatments. For researchers, the dashboard highlights patterns across groups of patients, enabling them to discover new therapies.
Looking back, Lou's career path might be a far cry from what she envisioned, but she wouldn't change a thing. What's more, Lou believes that her upbringing in Macao has played a key role in shaping her into who she is today.
"I got to where I am today with the support of many people. They were willing to help me not only because of my work performance, but also because of my attitude," she says. "I have been praised by many colleagues for being humble, sincere and dedicated to my work. I guess that has a lot to do with the culture that I grew up in, which values integrity, responsibility and collective interest."