For centuries, porcelain has embodied the definition of beauty, meeting with universal adoration across Asia, Europe, the Americas and Africa thanks to its delicate material, intricate patterns and classic white-and-blue colour palette. Believed to have originated during China's Eastern Han dynasty (25-220 AD), the art flourished under the Ming dynasty because the imperial court took control of industry, elevated production techniques and exported wares around the world.
Celebrating the rich legacy of Chinese porcelain and the contributions of Ming dynasty leaders, the Macao Museum of Art (MAM), is hosting the "Quintessence of Imperial Kiln Porcelain" exhibition through 6 March 2022. Co-organised with Beijing's Palace Museum, located within the Forbidden City, the exhibition features 120 pieces of imperial kiln porcelain.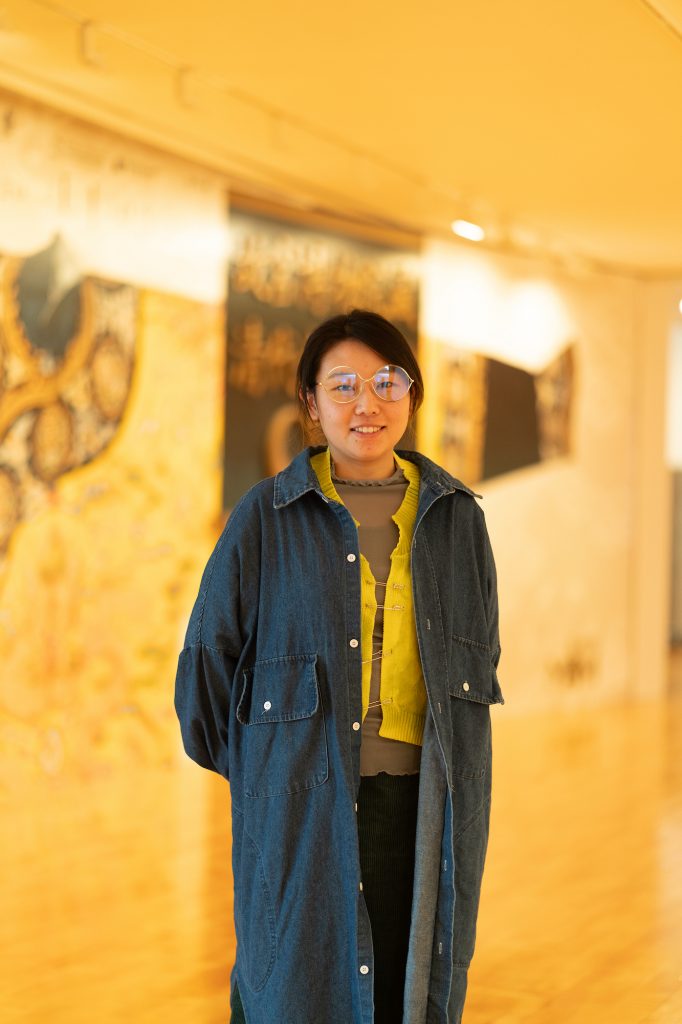 "The Forbidden Palace was the imperial residence of the Ming and Qing dynasties, and the Palace Museum [in Beijing] is the national museum that owns the largest collection of Ming porcelain," says MAM exhibition coordinator Irene Hoi Ian Chio. 
Over the course of a year, curators carefully selected each exhibit from the Palace Museum's vast collection of over 3.6 million pieces. They have chosen to display them in chronological order to showcase how the artform evolved in terms of motifs, colouring, shapes and refinement.
This is not MAM's first exhibition dedicated to porcelain. In 2010, "Fire and Colour: Imperial Kiln Porcelain of the Qing Dynasty from the Palace Museum Collection" met such a warm reception in Macao that MAM felt compelled to revisit the topic through another lens.
"In Macao, quite a few people love porcelain, not to mention professionals who love to collect porcelain pieces," Chio continues. "We hope to show these delicate works to Macao people."
The rise of 'China'
Porcelain was already a well-established craft by the time the Ming dynasty came into power, but it found new momentum during their rule from 1368-1644. It all started when Emperor Hongwu set up an imperial kiln in Jingdezhen, a town in Jiangxi province, in 1369. Why Jingdezhen? The area is home to kaolin – a soft, special clay used to make the gleaming white porcelain that we know today.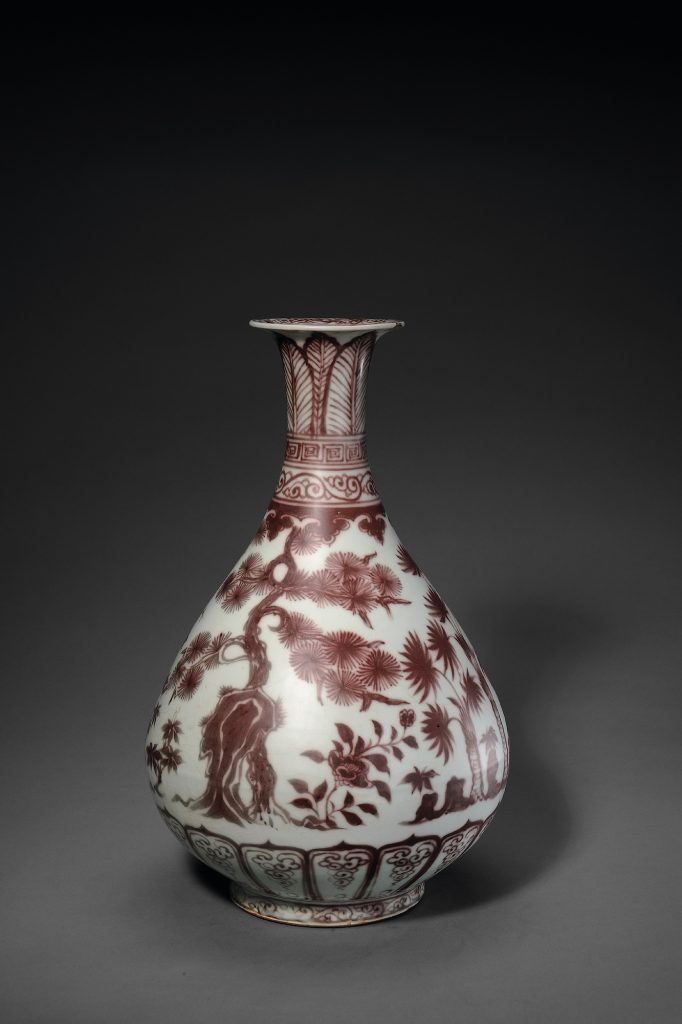 Taking control over the entire porcelain industry – from production to design, distribution and usage – Ming royals began using the beautiful material for everything from decorative wall and roof details in palaces to vessels for religious sacrifices, tributes to officials, and diplomatic gifts.
With the artform under the royal purview, Ming rulers not only consolidated their royal power but also took it to new heights. As a result, many beautiful porcelain motifs, colours and shapes emerged and became even more refined in the Ming dynasty. "Imperial kiln porcelain was produced at the highest standard in terms of skills, colours and shapes because the pieces were for royal use," says Chio. 
Between 1405 and 1433, Ming Admiral Zheng He undertook seven maritime voyages across the South China Sea, the Indian Ocean and beyond. Along the way, he exported a considerable volume of Chinese goods, including porcelain, to the West. Trade proliferated in the early 16th century, when Portugal developed more routes in Asia. Westerners fell in love with Chinese porcelain, or "China" as they called it, and the exported vases, bowls and plates quickly became a sought-after commodity among art lovers and collectors alike.
Since the Ming dynasty controlled Chinese porcelain production, these exports gave the empire a chance to showcase the country's manufacturing capabilities while enhancing China's international political and economic relationships.
Mastering underglaze techniques
The ongoing MAM exhibition focuses on the Ming dynasty's contribution to porcelain, offering rare examples of imperial kiln porcelain work made in Jingdezhen across the reigns of 13 emperors. What is it about porcelain that makes it so beautiful? One key element is the colour, says Chio.
She points to an underglaze red porcelain yuhuchun vase from the Hongwu period (1368–1398) with a pine tree, bamboo and plum design. Producing underglaze red porcelain wares requires care and technique, says Chio.
To create this style of porcelain, the artist must first paint their decorations on the clay, then add a clear glaze before firing the piece in a high temperature. Due to copper oxide, which was used as a colouring agent, some colours turned dark red in an ultra-hot kiln. Artists could only use a select few shades – including red, brown and blue – and had to be very skilled in firing to achieve clear, crisp colours. Red, in particular, was one of the hardest colours to control.
"In the Ming dynasty, such colour was produced at its best but you can't find underglaze red porcelain [across] the entire dynasty, because it requires high skills and attention to the temperature," says Chio. "The composition of the humanistic motifs [pine trees, bamboo and plums] combined with the shape makes this vase extremely elegant. It really represents excellent imperial kiln porcelain production."
During the reigns of the third and fifth Ming emperors – Yongle (1403–1424) and Xuande (1426–1435), respectively – imperial kiln production peaked in technique and sophistication.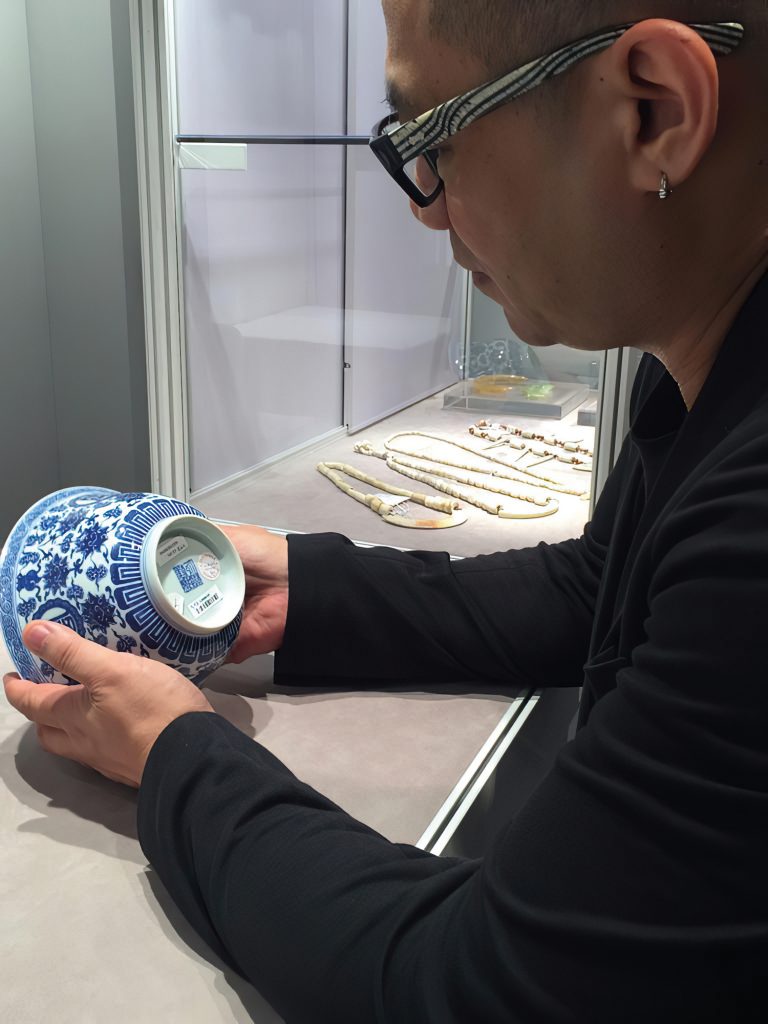 It was during this time that blue-and-white porcelain became the prominent and revered style. "There was a boom of artists and painters during the Ming dynasty. The motifs and patterns on porcelain were usually drawn by painters, rather than technicians, so they have great artistic value," says local painter, art collector and conservator Chao Chi Chun.
The porcelain's brilliant blue colour also saw an upgrade around this time, thanks to a new material – cobalt – imported from abroad. "When [Ming Admiral] Zheng He took his voyages, he brought [back] cobalt and the material was heavily used during the Yongle and Xuande periods," says Chao.
At the exhibition, a blue-and-white press-hand cup adorned with lotus scrolls exemplifies the elegance of porcelain from the Yongle period. A must-see for many art collectors and lovers, the piece is one of just three that remain at the Palace Museum.
Designed to be held comfortably in the palm of your hand, the cup showcases incredible details, such as an intertwined lotus scroll that symbolises luck and growth. The motif has appeared on porcelain for many centuries, seeing notable popularity during the Yuan, Ming and Qing dynasties.
The cup also represents a turning point in porcelain production. At this time, Emperor Yongle began adding his reign mark and an inscription – "Yong Le Nian Zhi" (meaning, "Made in the year of Yongle") – in archaic seal script inside the cup. This precious piece is one of the first to feature a reign mark, and the trend continued well into the Ming and Qing dynasties as emperors wanted to mark their precious porcelain.
During the Yongle period, however, only a handful of porcelain wares featured the emperor's reign mark. "In Chinese culture, there is a superstition that it brings bad luck to have something [plates, bowls, glass, vase, etc] broken," explains Chao. "The emperor was superstitious, so he didn't want to take any chances in case something with his reign mark would be broken."
Colours in concert
Multi-coloured glazed porcelain – especially bright red, dark blue and white – emerged in the middle of the Ming dynasty. Despite a fitful reign, culture flourished under Emperor Chenghua (1465–1487) whose passion for the arts paved the way to great accomplishments. 
Among the most impressive pieces to emerge from this era are the internationally chicken cups – tiny cups with metaphorical illustrations of chicken, roosters and hens that depict Chinese values, such as continuing the family line. This time period also gave us a porcelain painting polychrome technique called doucai, which means "contrasting colours".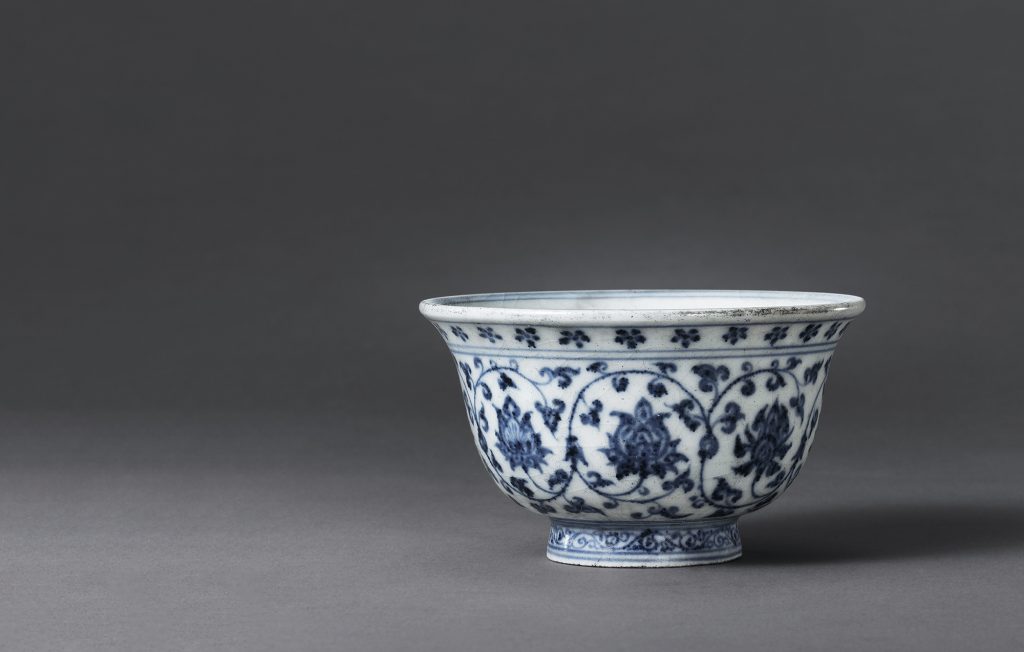 "Doucai combines two different techniques: underglaze blue and white with overglaze colour. Such a technique is complicated, because once a porcelain vessel is shaped, the design is outlined in blue on the vessel, which is then painted another layer of transparent glaze," says Chio. "It then requires another firing in high temperature. After the firing, various colours – red, yellow, green and purple – are painted on the vessel, which requires techniques, such as stippling, overlaying and filling."
She points to a doucai stem cup with lotus scrolls as another highlight of the exhibition. "The featured colours range from red to yellow to green, and they are at their most splendid. The lotus scroll is so delicately painted," gushes Chio. "It's an example of elegance."
In the late Ming dynasty, between the periods of emperors Jiajing, Longqing and Wanli (1522–1620), the economy started to decline and imperial kiln porcelain followed suit. Designs and quality started to slip as producers looked for more economical methods. This gave way to larger, heftier pieces, which required less effort and attention to produce than small, delicate ones, says Chio.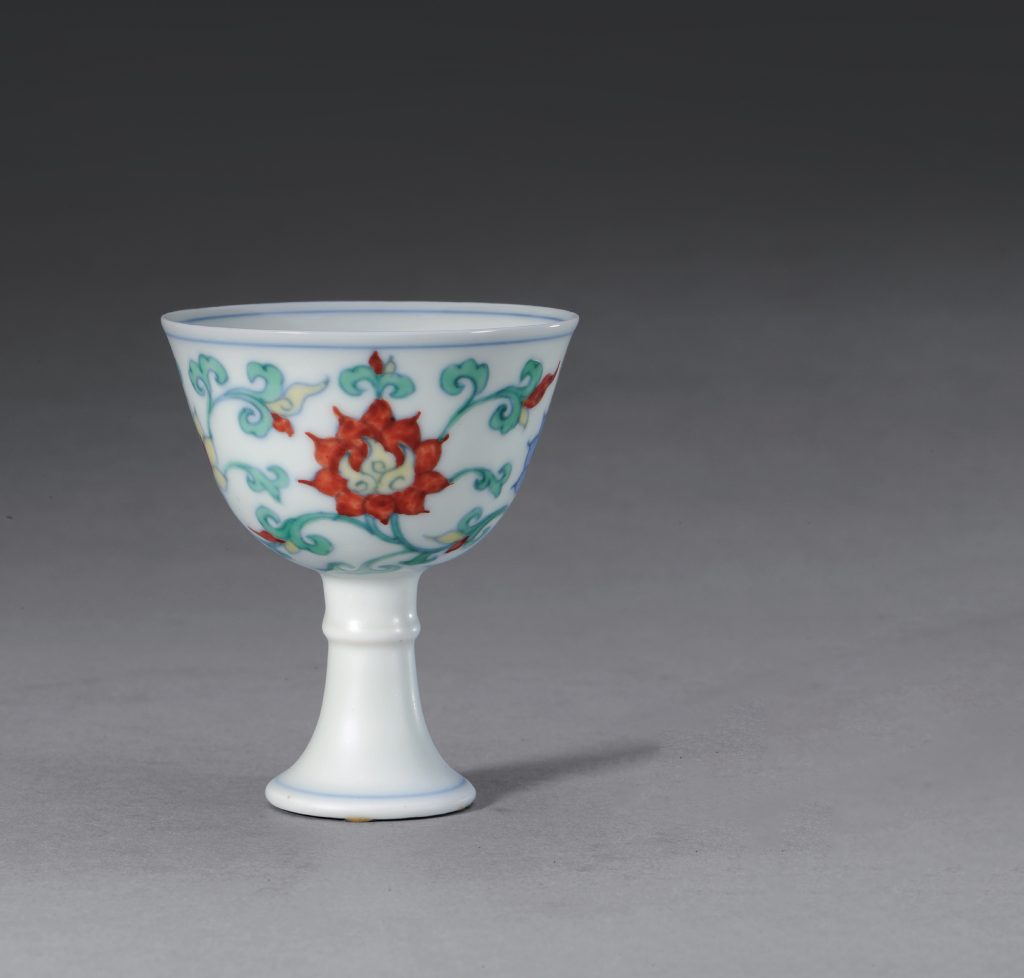 However, producers also expanded the artform's use of colour, she adds. "In the late Ming dynasty, [merchants sold] a lot of Chinese porcelain to Europe, and also brought popular [Western] styles and motifs [back to China]," she explains. "This triggered colour exploration and innovation in Jingdezhen – and radiant colours also reflected the emperors' tastes."
The East-West cultural exchange gave way to the emergence of wucai, a painting technique that combines many vibrant hues. Wucai is similar to its predecessor, doucai; but the two techniques use the colour blue differently. Doucai uses blue for the whole design, while wucai applies blue as part of a design where colour is used widely and freely.
Chio references an unforgettable wucai example from the Wangli period (1573–1620): a polychrome vase shaped like a garlic bulb that's covered in radiant flowers, willow trees and birds.
"The whole vase is packed with beautiful details, and the colours are brilliant," says Chio, adding that this vase reflects the aesthetic principles and radiant colours beloved in the late Ming dynasty.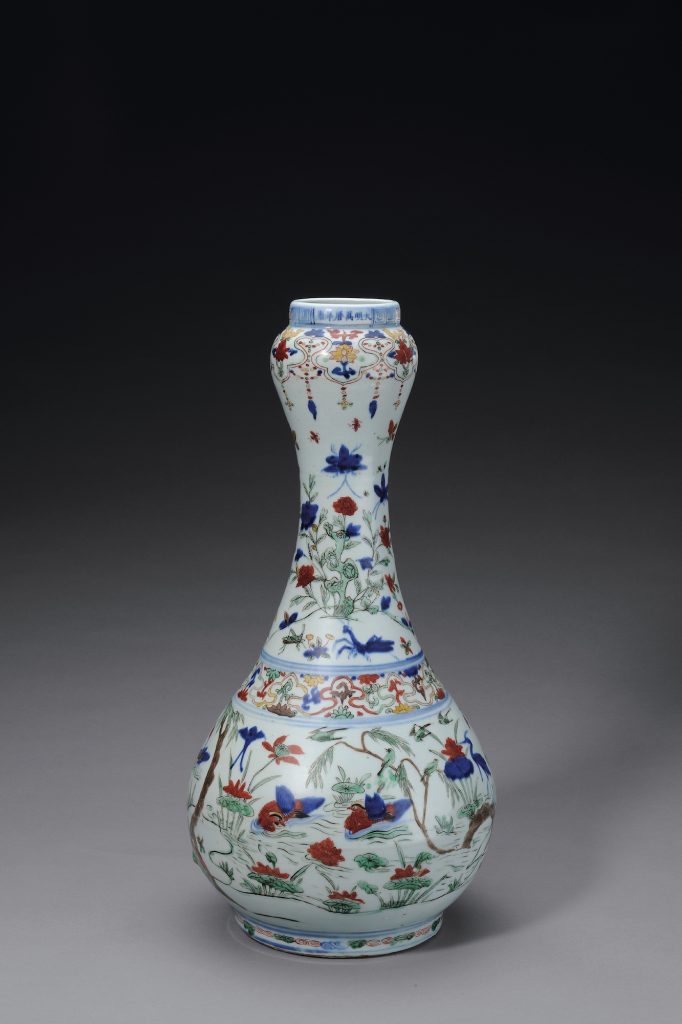 A lasting Legacy
From the early red underglaze techniques in the Hongwu period to the joyful kaleidoscopic designs during Emperor Wanli's reign, the MAM exhibition tells a captivating story of how porcelain came to be a quintessential Chinese artform under the leadership of the Ming dynasty.
As a complement to the vast exhibition, MAM will be hosting a talk with Wang Wei Weng, a researcher from the Palace Museum, to provide more insights about the colouring and techniques seen during the different eras of the Ming dynasty.
Whether enjoying the wares at the exhibition or attending this special discussion, the programme will undoubtedly cultivate a deep appreciation for the beauty, technique and history behind Ming dynasty kiln porcelain wares.
The artform's exceptional production methods and aesthetic principles not only consolidated the dynasty's power, but also greatly influenced porcelain production and artistry for centuries.
"When Emperor Hongwu started the imperial kiln in the second year of his reign, it officially established the imperial kiln standard, and created porcelain exclusively for the emperors. During porcelain production history in China, the Ming dynasty is the third important period, especially in Yongle and Xuande periods when blue-and-white porcelain was at its best in the Mins dynasty. From art collectors, historians, to even ordinary people, the Ming imperial kiln porcelain has greatly influenced its research values and cultural significance."