Lam Wai Kao was around 10 years old when he began to make wooden ship and boat models. As a child, he would often play by the shore and experiment to see if his tiny vessels could float on the water.
"That was my hobby when I was little because I loved the sea," he says.
Lam always felt that pull of the open water and eventually took a job in the shipbuilding industry at the age of 18. Today, the 70-year-old retiree still builds ships, just smaller versions of them, like the ones he made when he was a child.
Almost every day, Lam goes to the Shipyard Workers Association of Macao headquarters in Coloane Village to build model wooden ships: 10 to 15-centimetre-long boat miniatures, 20 to 30-centimetre-long sampans and over 1.5-metre-long ship models. "I spend at least 300 days a year in this place," he says.
Lam is not labouring alone. Several other former shipbuilders have shown interest in preserving Macao's shipbuilding traditions by making small wooden replicas, either with the association or independently. Although it hasn't always been smooth sailing, their efforts to keep Macao's maritime heritage afloat through miniature wooden models might pay off.
Winds of change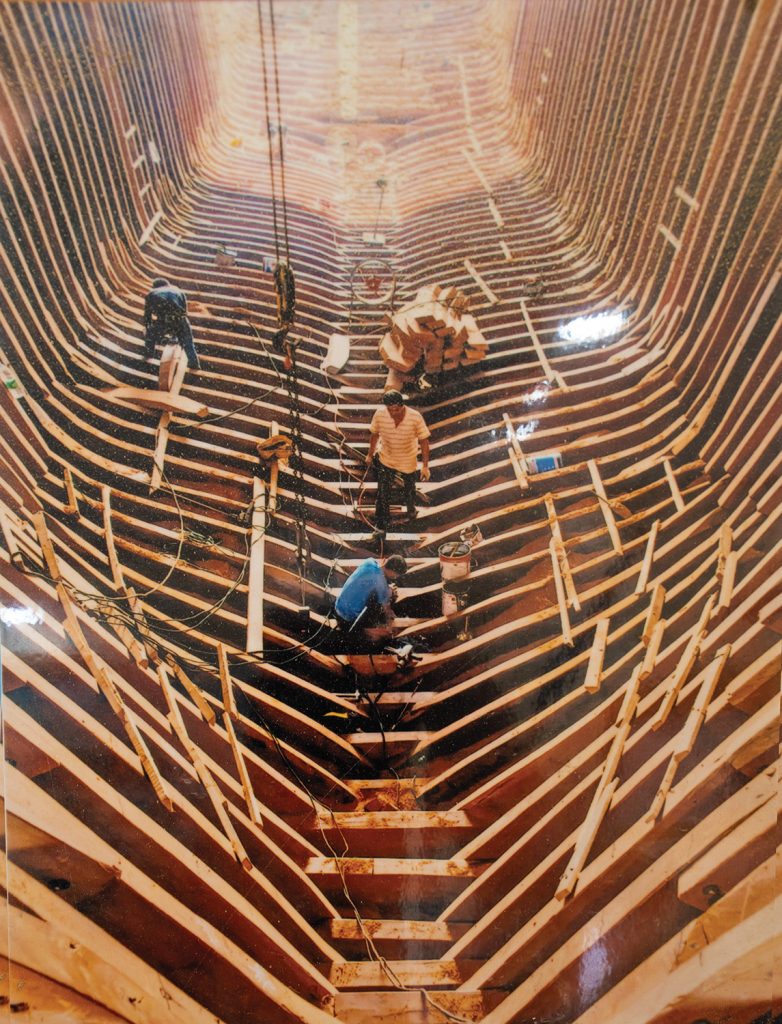 Macao's fishing and shipbuilding industries experienced a golden era between the 1970s and 1990s, when almost everyone in Macao wanted to be part of it. Back then, the city was still a fishing village – not yet the metropolitan hub it has become today – and the shipyards were seen as the lifeblood of the city. Coloane was once home to more than a dozen shipyards, which were located in Lai Chi Vun Village.
Macao's wooden ships and dragon boats were so renowned that even Hongkongers sought out shipbuilders in Macao, despite having its own industry at home. According to Lam, Macao builders were known for using high-quality wood and expert craftsmanship – both of which attracted Hong Kong buyers, who typically used the boats for fishing. Usually, they would purchase a couple of ships from Macao each year until about the mid-2000s when the city's industry ceased building ships.
"Shipbuilding was Macao's No. 1 or 2 industry in those days. It was like the gaming industry of that time – how it was connected to at least five other industries, including machines, wood, and even food and beverage," says Tam Kam Kwong, the association's president and a close friend of Lam.
Between the 1970s and 1980s, it would cost several hundred thousand Hong Kong dollars to buy a Macao-built wooden ship. The price went up to one to a few million dollars per ship in the 1980s and 1990s, a golden era when the industry employed several thousand people in Macao, according to Tam, who took a job as a shipbuilder at a family friend's shipyard in 1972.
"That included freelancers," says the 64-year-old who, like Lam, transitioned from building full-scale wooden ships to crafting models in 1999, when the industry began to decline.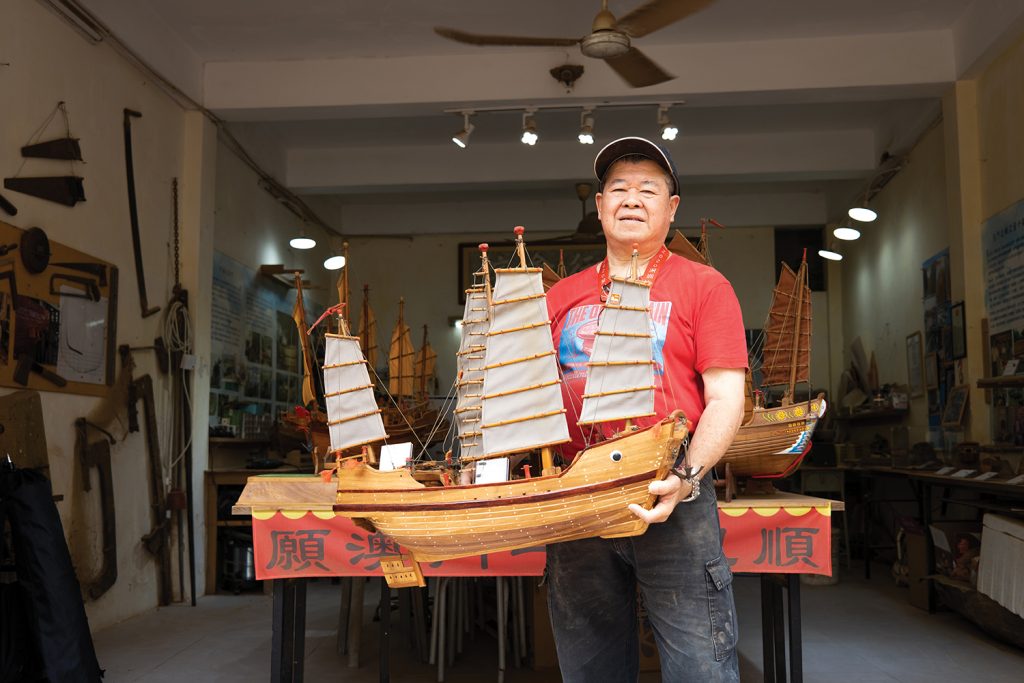 In the 2000s, steel ships became more popular because they were cheaper and faster to build, as well as more durable than wooden ships. In addition, people became more aware of environmental issues associated with logging, material shortages and the higher risk of fires on wooden boats. The combination of concerns, coupled with the rise in steel manufacturing, impacted the local wooden shipbuilding industry, according to both Tam and Lam.
"People stopped cutting trees for wood, so no more materials were shipped to Macao to make large wooden ships," Tam recalls. "This is something we [could not] do anything about and had to accept, as the whole world [was] changing. The shipbuilding industry changed from using wood to using steel to build ships."
Even so, Tam believes it has been a positive development in the broader scheme of things. "I'm okay with people no longer cutting [down trees for wood] because it can protect the environment. Besides, I think it's better for the fishermen these days to use steel ships, which are better in quality and more stable."
But the two friends aren't letting Macao's wooden shipbuilding legacy fade. Lam and Tam together are working to pass down the tradition by hand-crafting miniature ships at the association's headquarters-turned-studio. Currently, the association has dozens of wooden ship and boat models on display, some of which are works in progress, revealing the detail and effort that go into their work.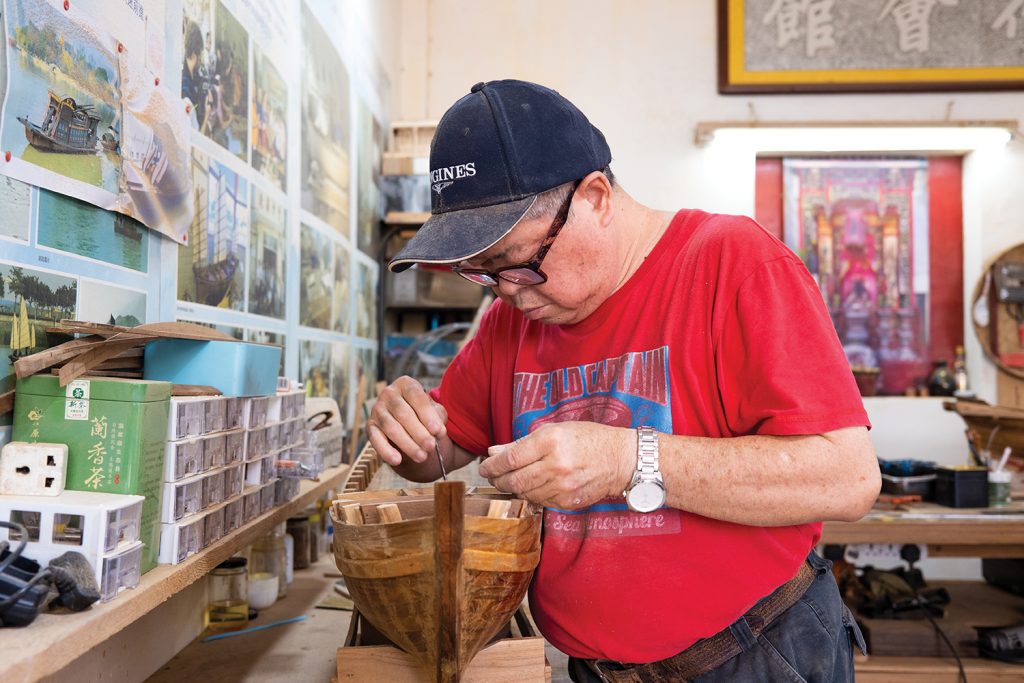 It can take about three months to complete a medium-sized model that's about 1 metre in length if two people work together on it every day. "Some people even need a longer time," says Lam.
Tam and Lam use many types of equipment and materials to create their models, from traditional wood to costly modern cutting and sharpening machinery.
In the past, local shipbuilders used to make full-scale wooden ships using Borneo ironwood, teak, intsia and camphor woods. Lam and Tam still use ironwood and teak, and have since added beech wood, to make the miniatures – all imported from Sandakan in Malaysia and the Indonesian part of Borneo.
Making each model can cost anywhere from a few hundred to several thousand patacas depending on the size. In the past, Lam and Tam have sold models for up to MOP 10,000, but they very rarely found buyers. That's why Lam counts it as a hobby and often gifts his creations to other people or organisations like Shenzhen University as souvenirs, or keeps them on display at the association.
All hands on deck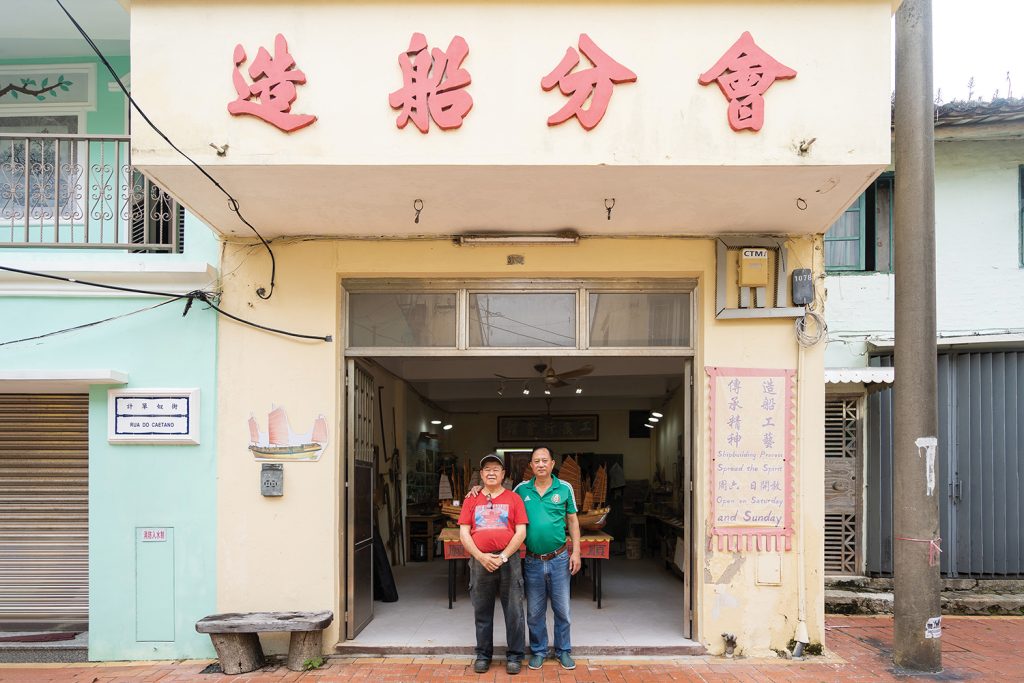 Over the last 160 years, the association itself has played a key role in keeping the shipbuilding tradition alive and celebrating Macao's maritime heritage. Established in 1854 as an informal group of workers and employers in Macao's shipbuilding and repairing industry, the association originally provided a place for shipyard workers to discuss work and socialise.
However, it wasn't officially registered until April 1980, when the group established a framework of labour rights for workers in the trade. In the decades following, the association became very active in defending its members' rights.
Since the turn of the century, the association has mainly focused on promoting love for "the country and Macao" by hosting cultural and recreational activities and promoting the arts, such as model boat craftsmanship. But today, membership numbers are dwindling as former shipbuilders pass away, making it simultaneously harder to pass on traditions and more imperative that they do so.
Tam, who has been a member of the association for more than 30 years, including as president over the last six years, says membership numbers have shrunk by half from 1,000 to about 500 in the past two decades. "Maybe only 10 of us still make ship models," he notes.
"Our youngest members – the last batch of shipyard workers who joined the industry – are all over the age of 60. We do not have younger members because there's no more shipbuilding industry in Macao," he adds.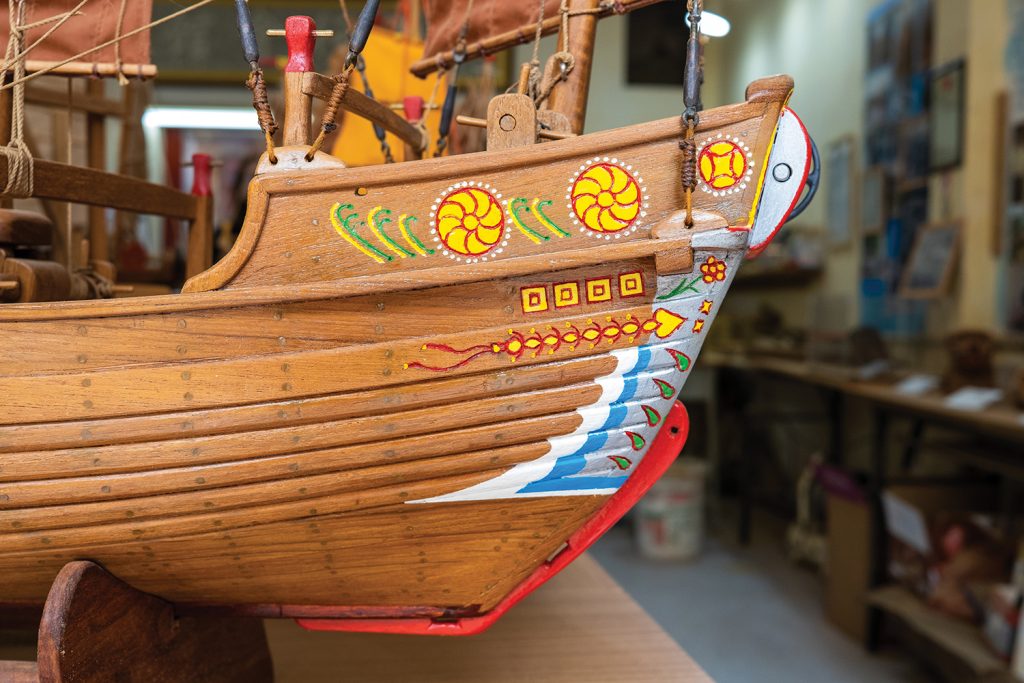 Even so, interest in the craft – at least in reproducing miniature models of old junk boats and sailing ships – still exists. But the association's small headquarters, located in a building built in the late 1960s, poses a different problem.
"We don't have enough space to accommodate the students," he says. "We hope the government will provide us with more space," a level of support that many Macao associations receive.
At present, the association has three students – all in their 30s and 40s – learning the craft at the headquarters. But they have a few rules: "The students cannot be too young or too old", and they must have insurance before they can join, according to Lam. There's a good reason for both policies.
"Our place is not big enough, so some of the machines and equipment that we use can pose some danger to people, like when we cut the wood. If they're too young, they're not mature enough, and above 50 years old is too old [to start learning] to do this craft," he says.
"It's harder to make models than real, big [ships]. You can have about 20 to 30 people working on a big ship at the same time, while usually only two people make one ship model together," Lam explains.
"This hobby can be quite expensive, too," he adds. In some cases, such as for competitions, some will even spend tens of thousands of patacas on their models. That is why Lam teaches the skill for free – students only need to bring their own materials. "The only thing I ask is for them to keep doing this tradition and pass on the ship model-making techniques. I want more people to know about it," he says. "I don't want it to disappear."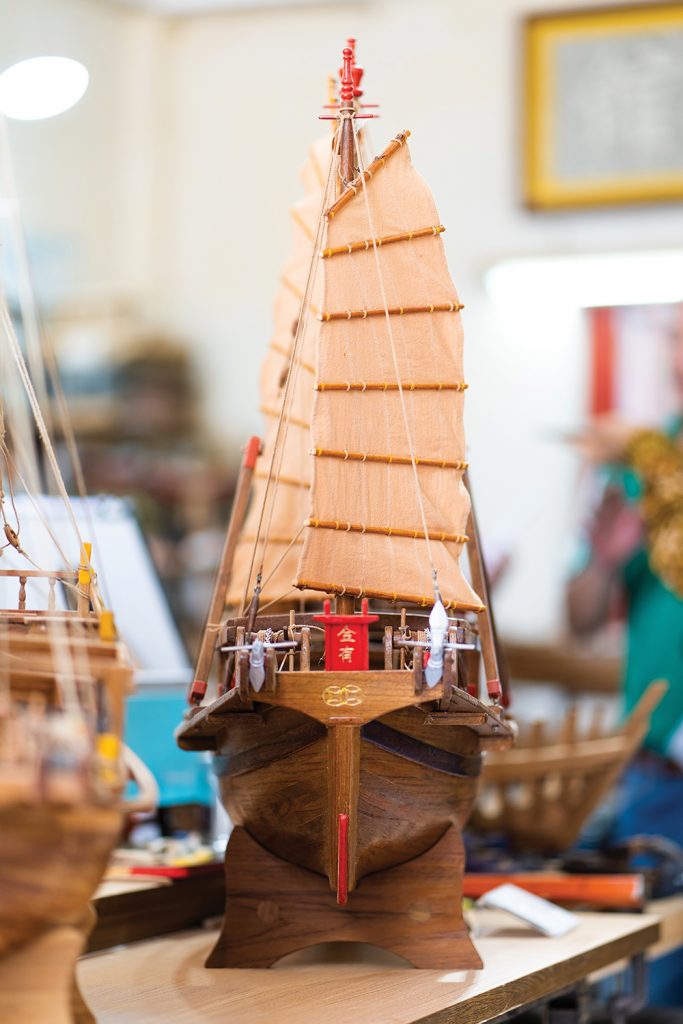 Whenever they can, Lam and Tam join competitions in the mainland, too. Despite pandemic restrictions, they managed to join the 2020 Shenzhen Scale Model Competition. The duo won third place, but the top three all came from Macao – including the winner, 41-year-old Guangzhou native Sam Chen, who is one of their three students.
Chen moved to Macao in 2009 to work for a company that makes car models, Sun Star Models. Almost immediately, he learned of the Shipyard Workers Association of Macao and came under the tutelage of Tam and Lam, channelling his lifelong obsession with ships. "Making different kinds of models has been my hobby since I was a kid," he says.
"It is harder to make wooden ship models than car models because you must have some knowledge and skills in woodcraft. That's why this art is important, and if we don't pass it down to the next generations it will disappear and it would be such a pity if it comes to that," says Chen.
Lam, of course, agrees. Currently, he's trying to generate interest in the craft among his two grandsons, aged 1 and 4.
"They both love playing with the ship models, and the older one, especially, always asks so many questions about ships. But they are too small so I cannot teach them yet," he says. No matter. Lam will wait until they reach an appropriate age and, even if they never want to learn from him, he'll keep doing what he has always done.
"I will continue to make ship models until I can no longer do it," he declares.