TEXT Professor Chao Peng, Director of "One Belt, One Road" Research Center at the City University of Macau
The Belt and Road initiative is China´s state‑level vision to promote common prosperity through regional co‑operation. As an important member of this national effort, Macao needs to participate and work hard to come up with its own regional vision based on the Belt and Road theme.
Such kind of planning is absolutely necessary for Macao. It will provide the city with direction in the Belt and Road development. It will also enable Macao to exercise its comparative advantage and consolidate regional co‑operation.
Taking into account of Macao's economic structure and demographic constraints, the Special Administrative Region (SAR) should take a practical step by step approach. Then tackle the easier issues first, and move with a steady pace in implementing the Belt and Road vision – we propose: One Objective, Two Levels, Three Regions, Four Sectors.
By One Objective, we mean the use of the Five Co‑ordinations (to be explained below) to draft plans; and the Two Levels refer to the policy and implementation levels. With the Three Regions, we refer to the positioning of the Guangdong‑Hong Kong‑Macao Greater Bay Area as the central region of Macao; Macao's co‑operation with Fujian to build the core area of the 21st century Maritime Silk Road; and the further expansion of co‑operation with Portuguese‑speaking countries.
As to the Four Sectors that will receive priority attention, they are: legal, cultural and commercial services serving Portuguese‑speaking countries; offshore and port economy; specialised financial services; and maritime resources.
One objective
In proposing the Belt and Road initiative, the Central Government uses the Five Co‑ordinations as its overall objective; they are the co‑ordination of policies, connectivity of facilities, unimpeded trade activities, ease of capital flow, and people‑to‑people links. The aims are to facilitate the joint development of countries along the Belt and Road route, and to promote co‑operation in areas such as culture, economy, finance and infrastructure development. When Macao drafts its top‑level regional vision, it should also use these Five Co‑ordinations as its main objective.
Two levels
Macao should formulate specific policies and plans at both the governmental and operational levels. There will also be a government‑designated committee to reorganise the SAR's various special governmental departments. This is to abolish the existing constraints on job responsibilities. There will also be the facilitation of relations with various public organisations, institutions and enterprises, to formulate concrete and feasible plans.
Three regions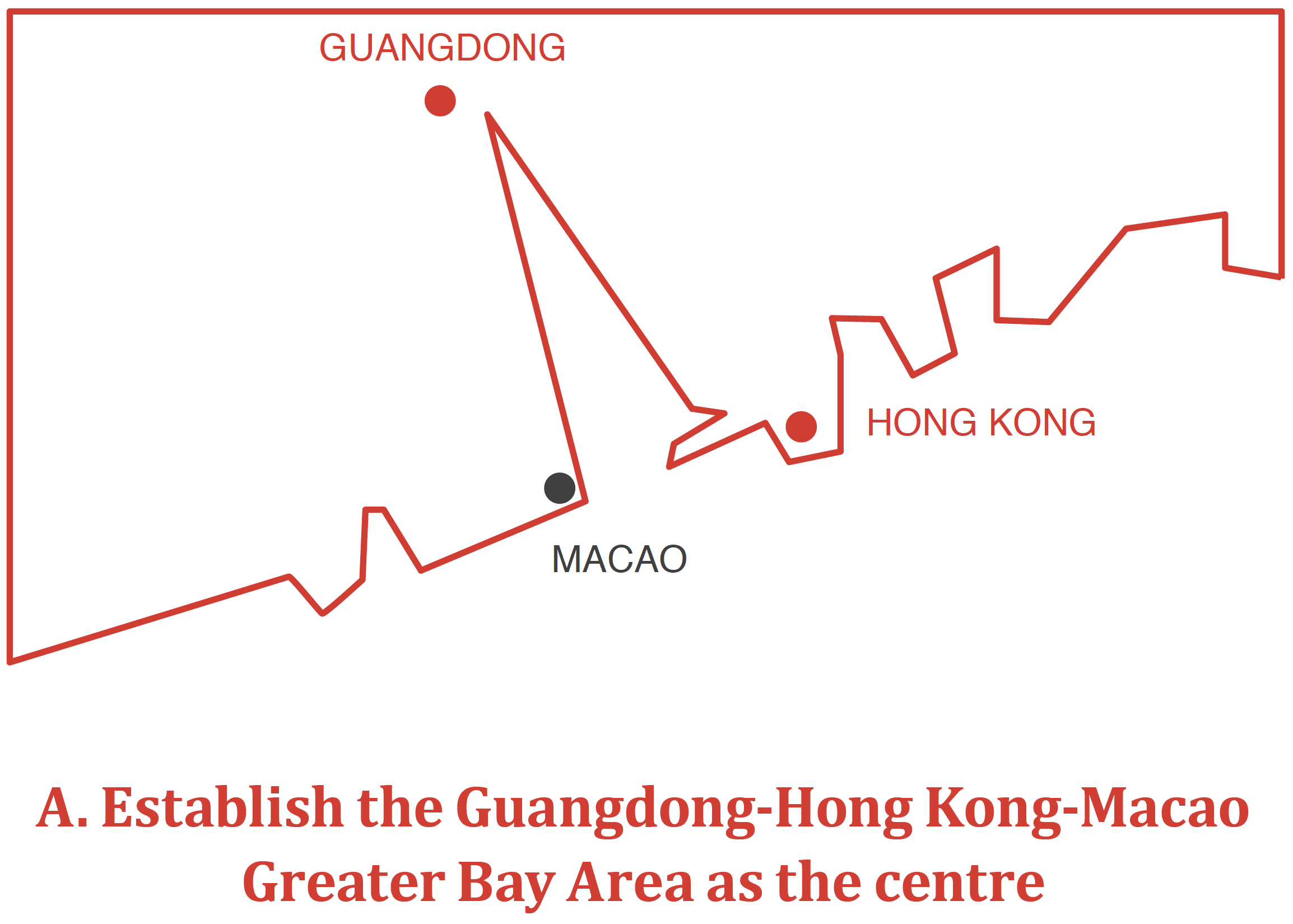 At the policy level, the Guangdong‑Hong Kong‑Macao Greater Bay Area concept is a decision by the Central Government incorporated into the State Council's Guidelines concerning the deepening of co‑operation within the Pan‑Pearl River Delta region. It will take co‑operation between the nine provinces and two SARs (Hong Kong and Macao) that constitute the delta to a higher, deeper and wider development level. It will be an important gateway linking up to the Belt and Road route.
Geographically speaking, Macao is an inseparable member of the Greater Bay Area. Macao is linked to the Hong Kong‑Zhuhai‑Macao bridge, Xijiang (West River), the Shenzhen–Zhongshan bridge and the area that includes Zhongshan, Guangzhou, Shenzhen and Hong Kong; all these places complement each other economically. So, location‑wise, Macao is a land and sea intersection point of the Belt and Road route. Macao also has a unique culture that cannot be replaced by other Bay Area members. Therefore, taking the Greater Bay Area as the centre of Macao brings it in line with both the Central Government's and Macao's own long‑term planning and development needs.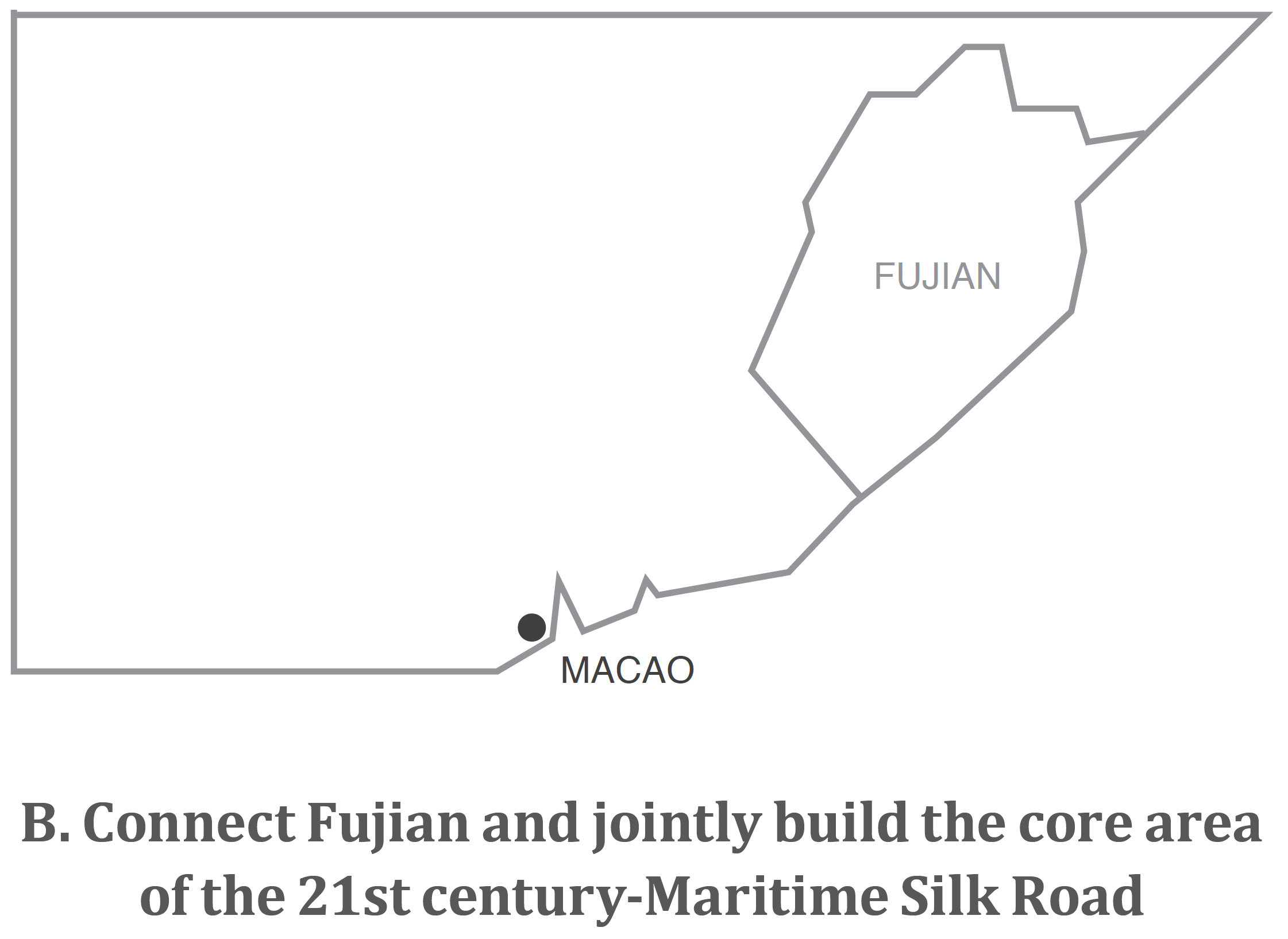 Fujian was an important starting point and birth place of the ancient Maritime Silk Road. It was also an important window for China's foreign trade and cultural exchanges, especially with Southeast Asia, Central Asia, the Middle East, and other countries and regions.
According to the Vision and Actions on the Promotion and Joint Construction of the Maritime Silk Road Economic Belt and 21st‑Century Maritime Silk Road, China supports Fujian as the core area of the 21st century Maritime Silk Road. Of the 15 ports in Belt and Road key development plan, three are Fujian's Fuzhou Port, Xiamen Port and Quanzhou Port. This gives Fujian a competitive advantage in the Maritime Silk Road. If Macao and Fujian jointly build the 21st century Maritime Silk Economic Belt, it will not only speed up the construction of Belt and Road plans, but also promote the long‑term development of Fujian and Macao.
Fujian and Macao have a long and deep history, with a close affinity in geography, people and culture. This forms a good basis for co‑operation, with great potential in the joint participation in the Belt and Road initiative. This is a win‑win situation that is favourable to the development of Macao as a World Tourism and Leisure Centre. The two could also further explore how to better manage, utilise and protect marine resources and culture.
Macao and Portuguese‑speaking countries have always maintained a close historical and cultural relationship. Since the establishment of the Forum for Economic and Trade Co‑operation between China and Portuguese‑Speaking Countries (Macao), the Portuguese‑speaking countries have gained a deeper understanding of the SAR and increased their trade and economic co‑operation through Macao and mainland China. The degree of industrialisation is not high in African and Asian Portuguese‑speaking countries. If they use the Forum Macao as a platform for co‑operation with China, these countries will have great potential in their economic development.
Both Chinese and Portuguese are the official languages of Macao, with Macao and Portuguese‑speaking countries sharing a similar administration and legal system. Macao's culture, food and architecture give a sense of cultural exchange and integration; this increases the chances of success for Macao to realise its potential abroad and attract foreign investment.
From the long‑term perspective, the relationship between Macao and Portuguese‑speaking countries in the Belt and Road vision is unique. Such a distinct advantage forms the focus of Macao's future development. So the SAR is not only developing itself as an economic and trade services platform for China and Portuguese‑speaking countries; it should further use its competitive advantages to expand further co‑operation with those countries and make progress in the development of the Maritime Silk Road.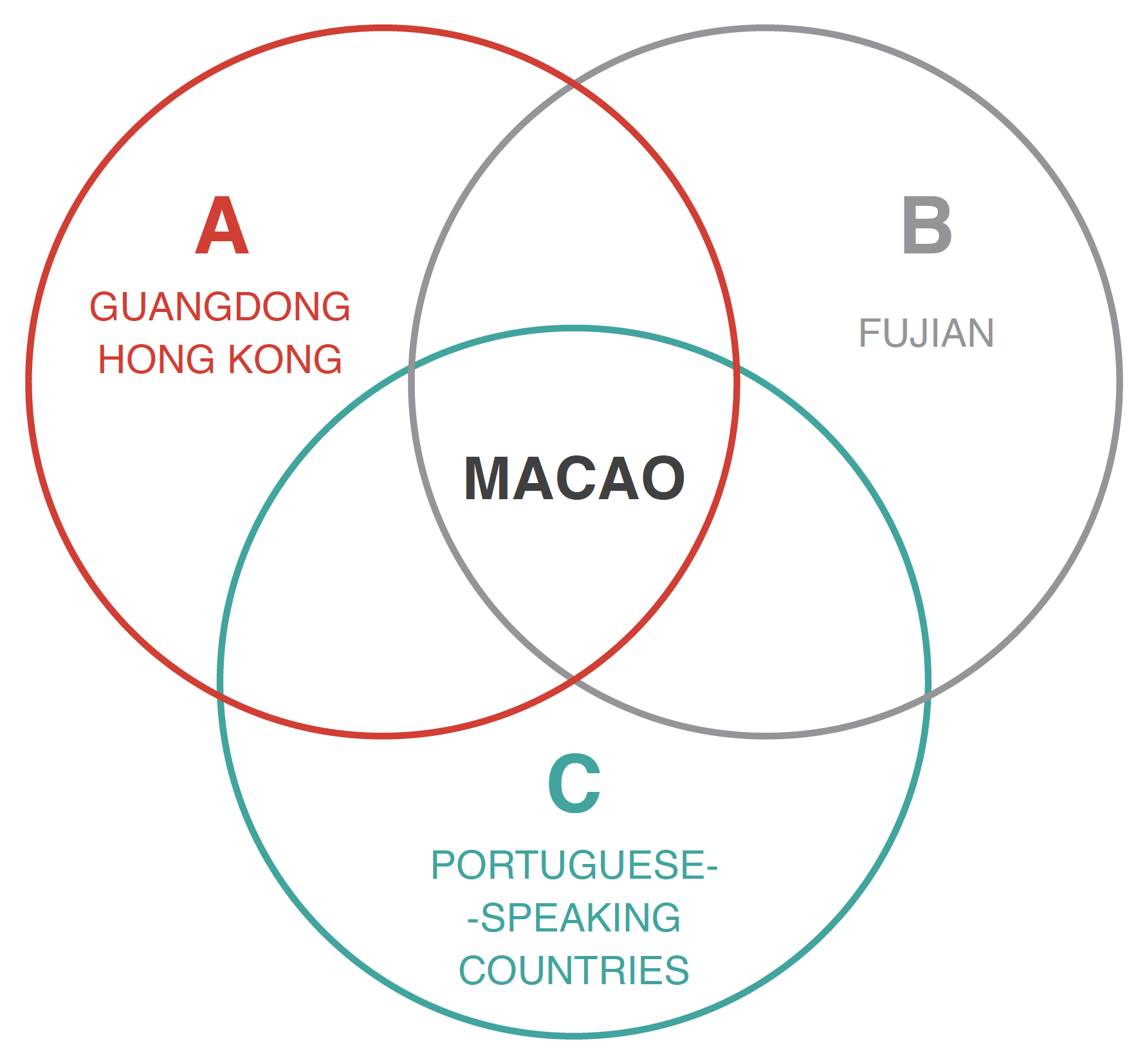 Four sectors
The four priority development sectors are selected in consideration of Macao's shortage of manpower, land and other resources. The choices are made to ensure sustainable development, involving limited use of manpower and resources but which produce results quickly.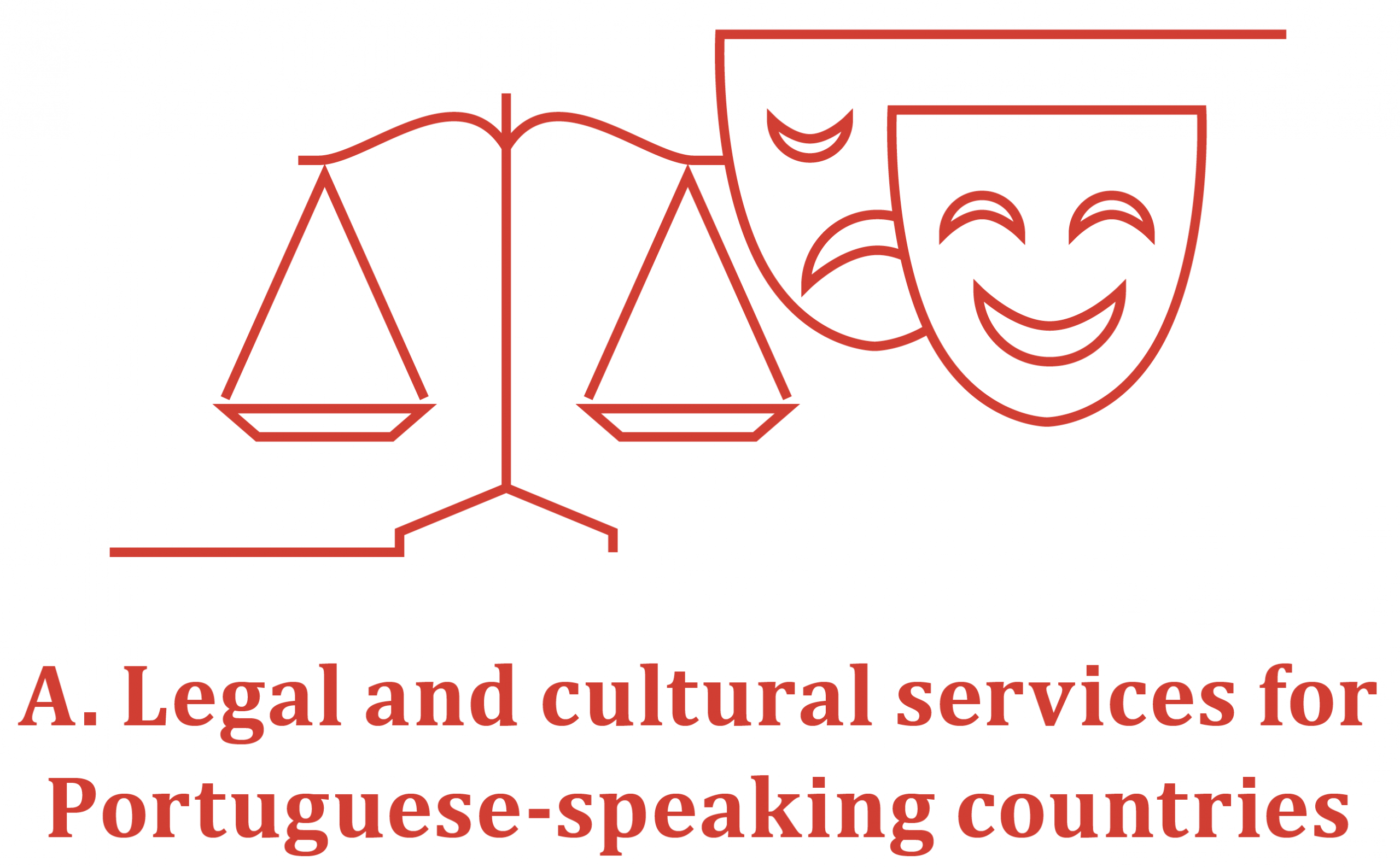 1) Establish a national commercial law service centre for Portuguese‑speaking countries. Law is essential in policy communication and trading. Macao can start from the commercial law of Portuguese‑speaking countries, compiling and publishing the commercial law of these countries. It can train local people in such commercial law and it can establish a centre in the future Service Platform Building for Commercial Co‑operation between China and the Portuguese‑speaking countries for this purpose. Its graduates can provide advice and hold legal training courses for foreign institutions and enterprises setting up in China. The centre can offer accommodation for legal practitioners familiar with such commercial law, so that they can provide related services. Universities in Macao can set up non‑academic courses on commercial law.
2) Establish a training centre for Portuguese language and culture. With its rich history with Portuguese‑speaking countries, Macao has an abundance of Portuguese‑speaking talent. But, in the long term, the city still needs more talent to develop trade further with these countries. Therefore it should establish a training centre for Portuguese language and culture. This can develop language training and nurture more Portuguese‑speaking talent equipped with this unique communication skill.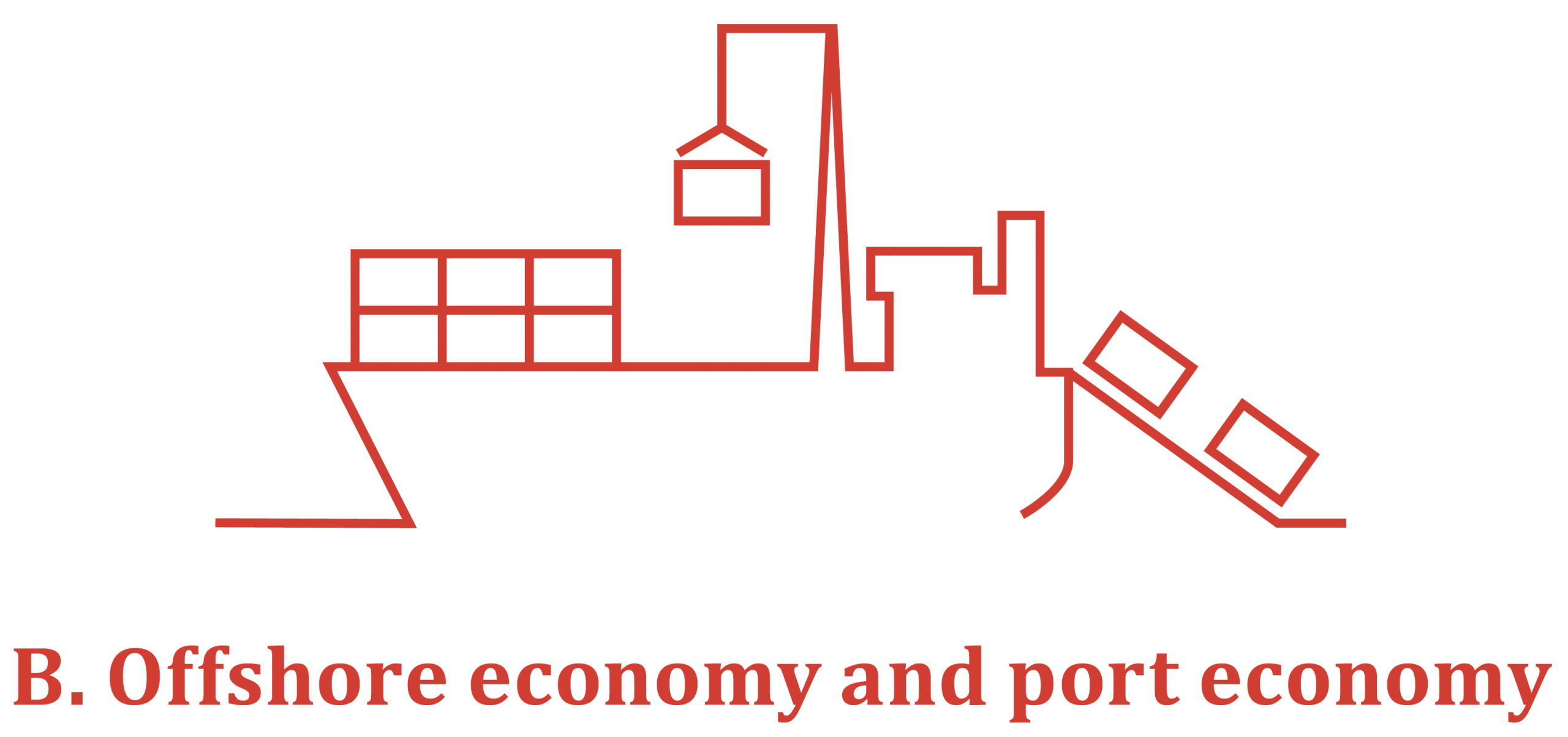 Macao should make full use of its status as a free port and as an offshore economy. It should take advantage of the latest trends in international development and digital technology and provide resources to facilitate the Belt and Road initiative. Despite its small size, Macao has many ports and should maximise their economic role. Near these port areas, it could set up markets selling high‑quality merchandise and gifts catering to international taste, to meet the demand of tourists and attract buyers to source what they need in Macao.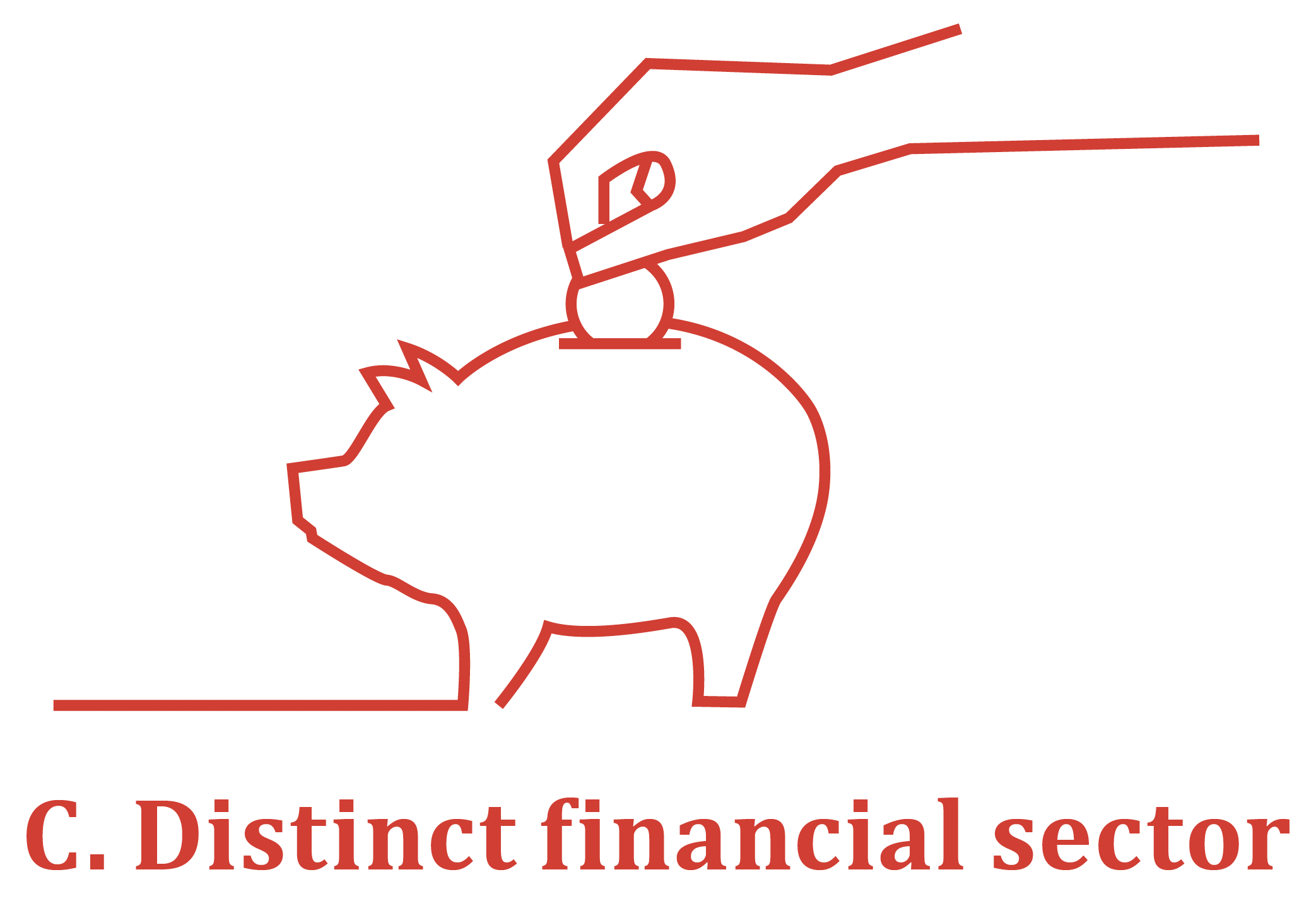 Although Macao's economy is not large, it has its own financial characteristics and advantages. It needs to make best use of its financial sector and create a distinct platform that includes banking, insurance and leasing for the business of construction, fine arts and creative industries.
It is important to point out that fine art finance is different from the selling of arts works. Macao is a city with abundant finance and remarkable art pieces. It requires talent that can appreciate, identify and evaluate the value of such pieces. Macao has many skilled artisans that make beautiful jewelry and it also has many middle class collectors who are passionate about art. Opportunities abound for the development of future markets of art financing.
In addition, this kind of financing will create many businesses, including insurance, exhibitions and processing of art products. A good example is Jieyang city in Guangdong province, the world's leading jade manufacturing base. Its revenue in the trading of jade exceeds RMB10 billion (MOP11.6 billion).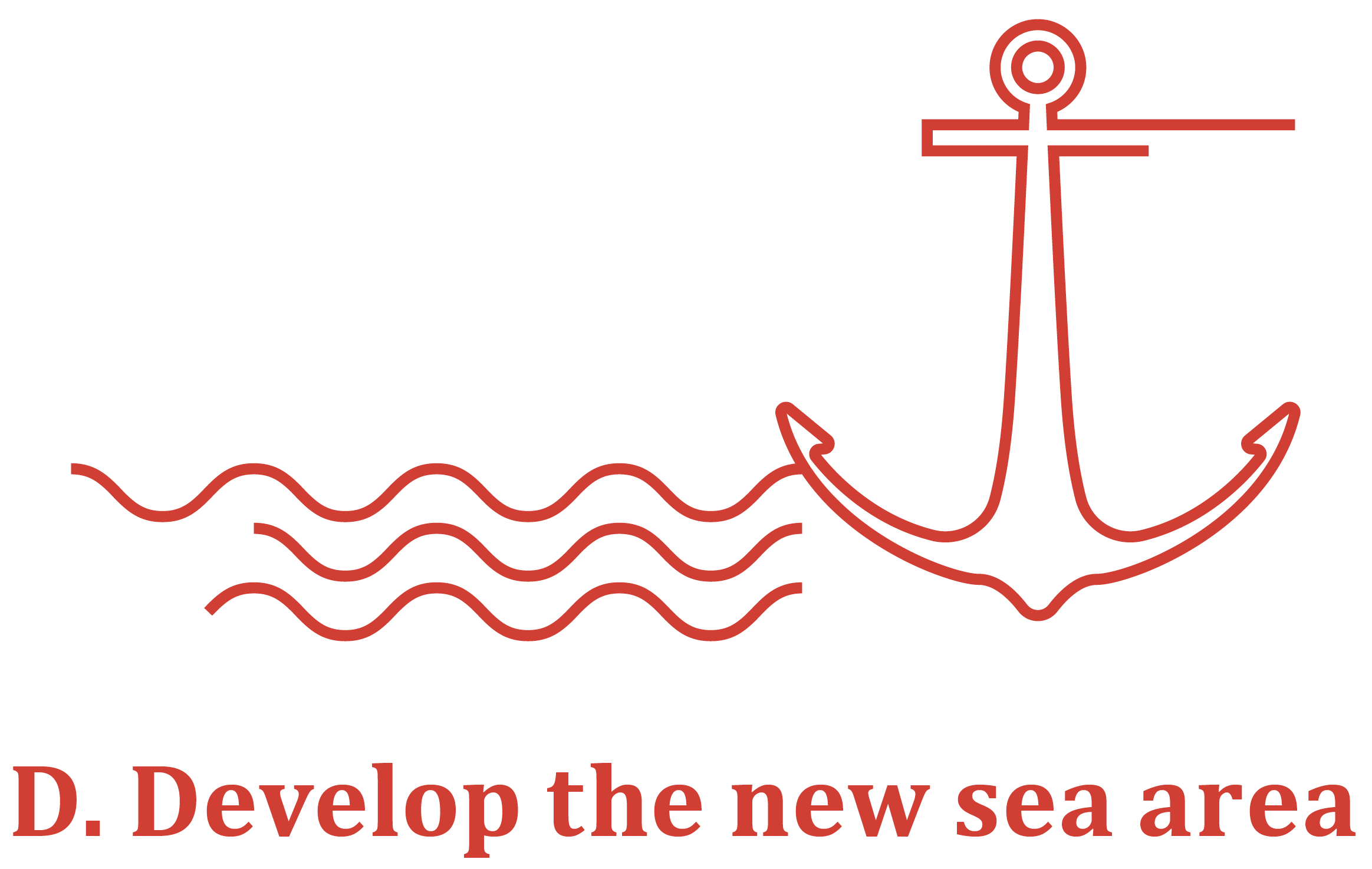 Macao has a special geographical location, connecting land and waterways. This has made it an important city throughout history and given Macao an important role in the Belt and Road initiative. In addition, the Central Government has granted 85 square kilometres of sea territory to Macao for its long‑term development and diversification.
Therefore, it is very important to make use of this new marine territory. Macao has received more room for development which can promote the economy. This makes it easier for Macao to work with other regions taking part in the initiative. The city was the ancient starting point of the Maritime Silk Road. At the same time, Macao is new to this sector, so there is room to expand research and protection of marine resources, marine culture, water boundary development and the marine economy in general, to connect to the Maritime Silk Road and beyond. Macao should build deep water ports with sand‑pumping islands and dredging, and build solar and wind power generation systems.
With the Central Government's Five Co‑ordinations for Belt and Road initiative, it is the best time for Macao to set sail on the 21st century Maritime Silk Road.