2003 was a remarkable year for the young Macao Special Administrative Region (MSAR). Just as the economy was busy recovering from a pre-handover recession, a strange and deadly coronavirus struck the region: severe acute respiratory syndrome (SARS). SARS sparked a major health crisis across the mainland, Macao and Hong Kong, hindering the region's economic rebound – and especially hurting tourism-related businesses.
Thankfully, that outbreak was contained within a few months and the latter half of the year brought good news. Macao's economy did bounce back, achieving 11.6 percent growth by the year's end.
One reason for this was the Closer Economic Partnership Agreement (CEPA), a free trade agreement between the central government of China and its two Special Administrative Regions, Macao and Hong Kong. World Trade Organization (UNWTO)-compatible CEPA was signed in June 2003, boosting economic cooperation through trade in goods, services and investment facilitation. It represents a successful application of the "One Country, Two Systems" principle.
For Macao, the most important part of CEPA was the introduction of the "Individual Visit Scheme" (IVS). IVS allows residents of an increasing number of mainland cities to apply for travel permits to visit Macao as individuals, rather than as part of tour groups. The move transformed tourism in Macao, boosting its restructured gaming sector by millions of patrons, all eager to experience the SAR's brand new luxury hotels, restaurants and shopping facilities.
As Macao's authorities introduced new gaming concessions and integrated resorts – some operated by internationally acclaimed gaming corporations – the city finally saw economic growth of unprecedented proportions. Since then, it has become one of the most valued gaming destinations in the world.
But Macao also has an exceptional comparative advantage as a bridge between China and Portuguese-speaking countries (PSCs). Common history means that Macao's legal and administrative systems share similarities with other PSCs. For instance, it is easy for someone in Mozambique or Brazil to understand legal concepts and administrative behaviours in the MSAR. These commonalities foster mutual trust.
Forum Macao: capitalising on historical ties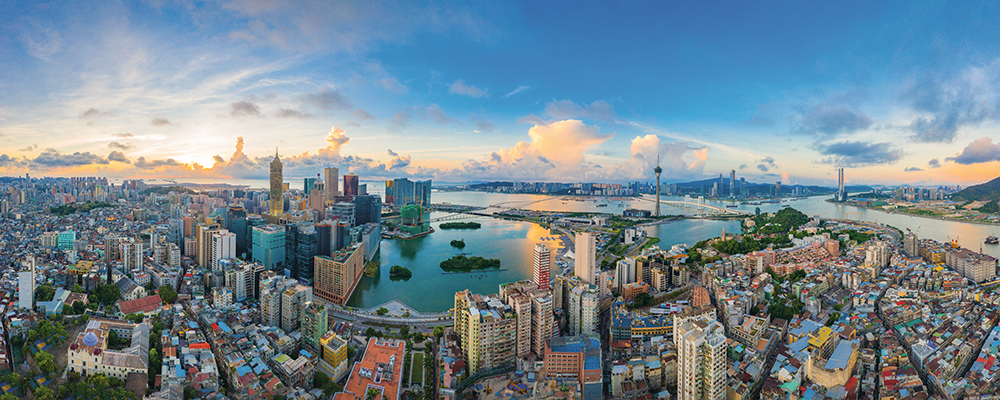 In 2003, China was fast gaining momentum on the world stage. It had recently joined the UNWTO and other international multilateral institutions, and Chinese authorities were keen to capitalise on well-connected Macao's historical ties with overseas Chinese communities across Asia, Europe and Portuguese-speaking countries around the globe.
Forum Macao – short for the Forum for the Cooperation between China and Portuguese-Speaking Countries – was founded in a ceremony presided by then-Vice-Premier Wu Yi in October 2003, in Macao. All Portuguese-speaking countries holding diplomatic relations with Beijing are part of Forum Macao. Initially, this was Angola, Brazil, Cabo Verde, Guinea-Bissau, Mozambique, Portugal and Timor-Leste. São Tomé and Príncipe joined later, in 2017, and Equatorial Guinea joined in 2022.
Forum Macao has similarities with the China-Africa Forum, founded three years earlier in 2000. Both are innovative, China-led strategies for international engagement and trade promotion. But there are relational differences, too. China has had decades of political solidarity with many countries in Africa, since the early years of the People's Republic when China supported Africa's independence movements in the 1950s, '60s, and '70s. There's also been economic solidarity through the substantial economic aid Beijing has supplied the continent to support nation-building in the post-decolonisation period.
Forum Macao's institutional DNA comes from a different source, however. It is based on the fact that Macao, as a Special Administrative Region of China, has the Portuguese language enshrined in its Basic Law. That commonality of language between Macao and the PSCs adds an extra dimension to institutional constructions built on the basis of political, economic and geopolitical shared interest.
Moreover, the Forum would probably have never happened if Macao's full retrocession from Portuguese-administered territory into the Chinese motherland had not been managed so smoothly by both parties. It would also have been a struggle if the majority of Portuguese-speaking countries were not already enjoying excellent relations with Beijing. Even São Tomé and Príncipe, which had no diplomatic relations with China until 2017, was still regularly invited to attend Forum Macao's events.
Twenty years on
Over the past 20 years, Forum members have organised hundreds of joint initiatives to promote trade and investment. Thousands of professionals, technical experts, government officials and business people have attended these, as well as a wide number of training programmes carried out in Macao and the mainland. Such events offer the chance to learn new things and facilitate the exchange of ideas and cross-cultural dialogue between people.
But some observers question the effectiveness of the Forum, and even its relevance. Their scepticism is based on the fact that during all these years, trade between Macao and PSCs has remained so insignificant it's not even covered in relevant published statistical reports.
According to the Forum Macao, trade between China and PSCs came in at US$215 billion in 2022 – a 36-fold increase since 2002 while Chinese investment into Portuguese-speaking countries also increased significantly between 2002 and 2021, and now exceeds US$86 billion. These increases illustrate the deepened bilateral relations between China and PSCs, going beyond the Forum's primary role.
During Forum Macao's 20th anniversary celebrations held in Macao in March, representatives and officials called for a boost in the platform's activity. They wanted to see it further develop its horizontal reach, particularly to address the need of small and medium-sized businesses in China and Portuguese-speaking countries. They also wanted to see more cooperation in other areas, including culture and people-to-people interaction. and dialogues. The Lusophone Games, for example, should eventually be revived (they last took place in 2014) – adding to the multidimensional remit of the Forum, along with Macao's annual Lusophone Week.
It is important to note that the Forum is endowed with a permanent Macao-based secretariat, as well as permanent representatives of PSCs who are also based in Macao.
Scope for cooperation during economic recovery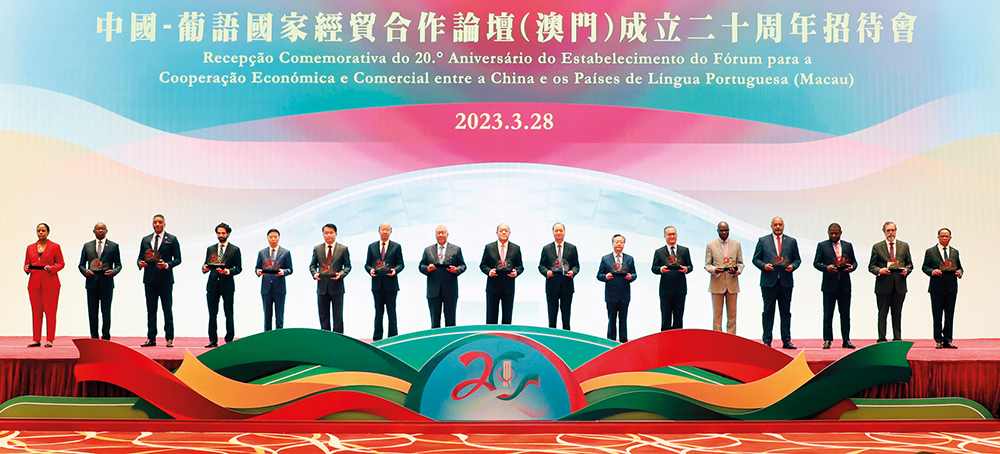 In 2020, an external evaluation conducted by the Evaluation Group of the Academy of Social Sciences based in Beijing concluded that the Forum Macao had both created a new model of intergovernmental cooperation and successfully forged a new path for economic and trade cooperation between China and the PSCs. It also noted that the MSAR had fully played its role as a platform linking China and the Portuguese-speaking countries.
But that doesn't mean the job is done. The report candidly acknowledged yet-to-be explored opportunities between China and PSCs, highlighting the vast potential Forum Macao still holds as a service platform – especially as effectiveness and efficiency improve.
Macao's second five-year plan (2021-2025) identifies sectors and economic activities towards which diversification efforts must be directed or reinforced. The likes of traditional Chinese medicine in the Hengqin cooperation zone, cutting edge financial services, and sports industries present opportunities for the SAR to become the cultural hub of content exchange between China and PSCs – as well as the creative centre for the Portuguese-speaking talents in the Greater Bay Area.
Macao should be the obvious base for anyone learning the Portuguese language in the region. In the same token, universities in Macao must have better programmes to attract students from PSCs, as well as Chinese students from the mainland, interested in studying Lusophone cultures, engineering and architecture, medicine and tourism.
Now, in 2023, Macao is again recovering from the outbreak of a virus: Covid-19. Economic recovery, centred around diversification, will be challenging and complex. Forum Macao, at the intersection between Macao's own economy and the broader Chinese economy, provides the SAR with unique and singular opportunities. Wielded effectively, it can raise Macao's role in broader national development as well as in the construction of the Greater Bay Area and the Belt and Road Initiative – all while diversifying its economy. It is a demanding yet potentially win-win process, promising huge rewards.
To make it work, Macao's government needs to use all necessary resources to develop the concept of "One Platform and Three Centres". It must intensely promote Macao's role as a platform and involve the whole of society in achieving this objective. The government also needs to make additional efforts to smooth the way for local business operators to engage in economic and cultural exchanges with Portuguese-speaking countries.
The China-Portuguese-speaking Countries Cooperation and Development Fund could help here. Officially launched in June 2013, with US$1 billion funded by China Development Bank and the Industrial and Commercial Development Fund of Macao, the fund aims to facilitate Macao's integration in the Belt and Road Initiative and the Greater Bay Area.
So far, it has leveraged total investments by Chinese companies in PSCs to up to US$4 billion, mostly in large-scale projects. Some observers have noted the fund should also look into economically sound investments of a smaller scale, however. Projects that would contribute to the industrial capacity of PSCs, improve livelihoods, and add jobs to local communities.
In April, Macao Chief Executive Ho Iat Seng travelled to Portugal for the first time since becoming CE, accompanied by a formidable business delegation, to promote bilateral opportunities between the SAR and its former administrator. The fact that Portugal was so high on Ho's agenda after he spent the past three years managing the Covid-19 crisis shows how important relations between Macao and PSCs are for the city.
Most Portuguese-speaking countries are making good headway with their post-Covid recoveries. The current global environment, however, is characterised by great geopolitical competition, accelerated inflation, financial instability and the continued disruption in global supply chains – with very negative repercussions on global value chains. In this context, solidarity and cooperation networks between countries and peoples – the likes of Forum Macao – are more important than ever.
Forum Macao is indeed a very rich and unique platform. It plays a positive institutional role in that it fosters trust and familiarity between participants. It reduces the cost of cultural distances that are a natural feature when cooperative arrangements are made with players from across separate geographical areas – even continents apart – and cultural shocks are more the norm than exception.
---
Chief Executive Ho Iat Seng at the 20th anniversary of the Forum Macao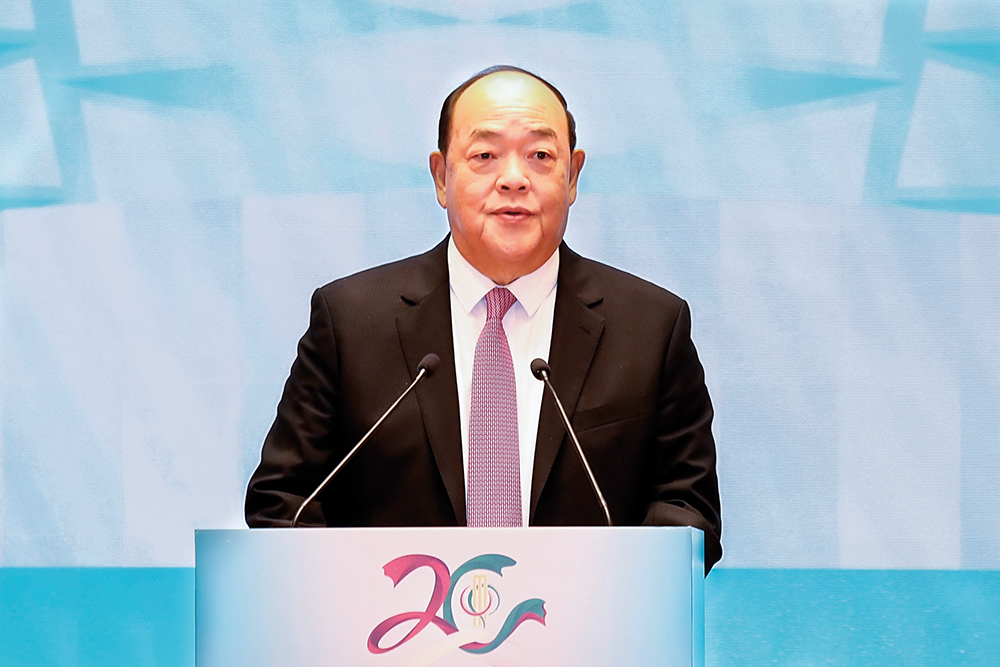 Forum Macao, in helping Macao realise its strategic position as a commercial and trade cooperation service platform between China and the Portuguese-speaking countries, has the full support of the government of the Macao Special Administrative Region.
I hope that Forum Macao would make even better use of the Macao Special Administrative Region's unique advantages, and opportunities arising from the development of the Guangdong-Macao Intensive Cooperation Zone in Hengqin, in conjunction with Macao's "1+4" strategy for appropriate economic diversification. This would help Macao enterprises to play a greater role in promoting economic and trade cooperation between the mainland and the Portuguese-speaking countries, and facilitating people-to-people exchange among these countries.
The economic and commercial cooperation between China and the Portuguese-speaking countries has achieved encouraging results, with strengthened ties in various fields. All these efforts have helped in boosting Macao's influence in the international community, and in promoting the city's development.
As such, the government of the Macao Special Administrative Region will give its full support in assisting Forum Macao and will spare no effort in expanding Macao's role as a platform between China and the Portuguese-speaking countries. The result will be a joint exploration of fresh opportunities, in the interests of a brighter future for all.