Jovinia António was "as disposable as a piece of dust". So said her former employer in 2018 when she resigned from her full-time job as a graphic designer. But she didn't let those hurtful parting remarks bother her – she used them as fuel for her dream to start her own business.
Four years ago, António launched her brand Stardust Journey, as well as a store called Stardust Studio. In a space beside the Social Welfare Bureau's eye-catching, blue-coloured building in the São Lázaro district she hosts workshops on pattern-making and paper marbling (a technique that produces patterns similar to marble) and displays her vibrantly coloured products, ranging from carpets, cushion covers, blankets, teapots and umbrellas to bags, clothes, scarves, scrunchies, ribbons and eye masks. 
"I refer to myself as stardust, something very small that can one day become a planet," António says. "I can grow and glow in the universe."
Discovering art at an early age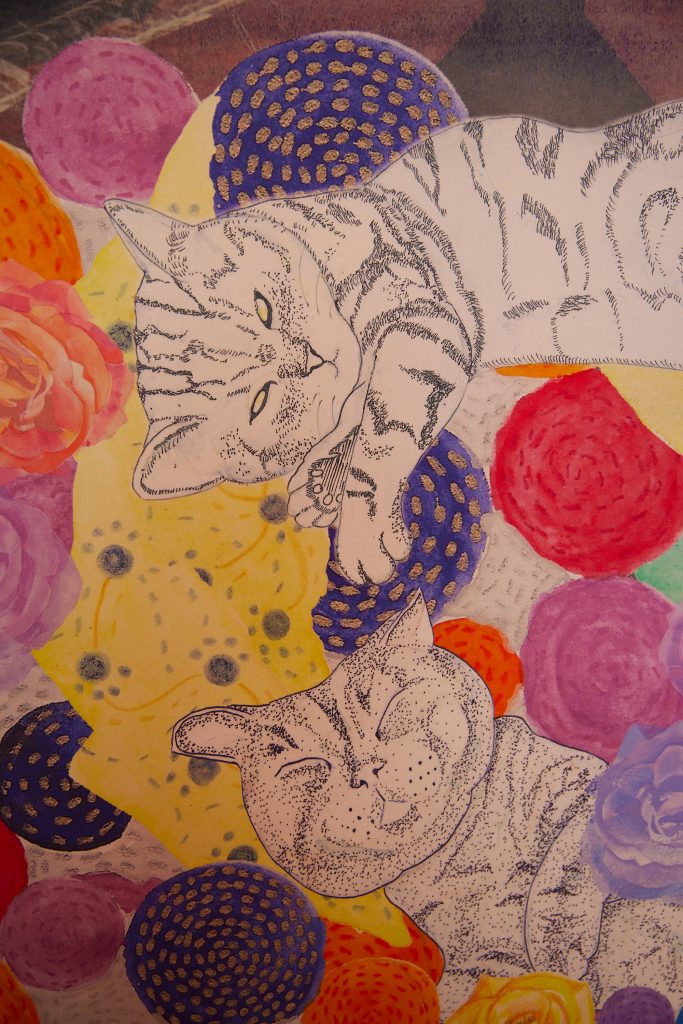 When the 32-year-old Macao-born artist was young, she would visit relatives from her Macanese father's side of the family in Portugal almost every summer. She recalls being drawn to the collection of books about art her uncle, an architect, kept on his shelves. "Although I did not know Portuguese, I always looked through the pictures in those books. My uncle once said 'maybe you will like art'," she says.
"Art runs in my family. Apart from my uncle, another aunt and a cousin of mine are also architects. My father said I always liked drawing as a little kid, although I don't remember it," she says.
António didn't become an architect like others in her family, though. She took a different path, focusing on fashion and textiles.
After graduating from Pui Ching Middle School in 2009, António went to the United Kingdom and completed an art and design foundation year at Chichester College before continuing her studies at the University of Brighton.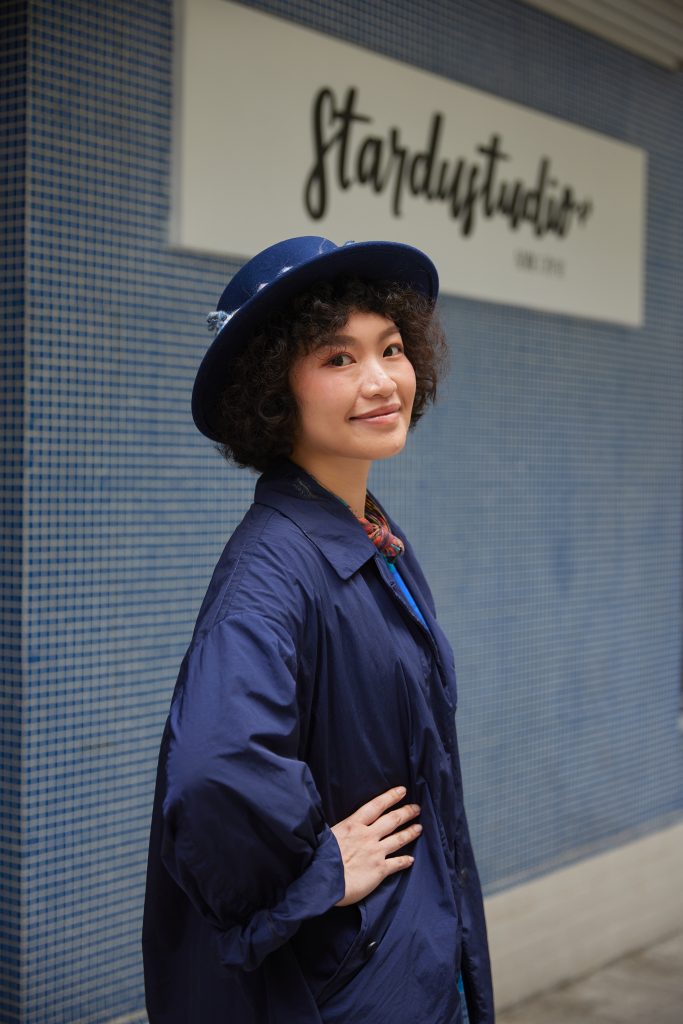 "Before I went to the UK, I thought there were only interior, fashion, graphic and architecture design [programmes]. Originally, I was thinking of studying graphic design. During my foundation year, I found out about textile design through one of my tutors, a textile designer," says António.
"I like fashion but I only like styling. And I don't like making clothes; I just like the design. I [also] like drawing, but at that time I wasn't good at drawing. I love colours too," she explains. "My tutor said, 'I think what you like is actually my subject, textile design', then she introduced me to a couple of textile designers and artists and gave me a couple of book references."
António switched tracks and never looked back. She graduated from university in 2013 with honours in textile design and stayed in England two more years, doing professional courses in buying, merchandising and space management at the London College of Fashion.
From craft markets to textile workshops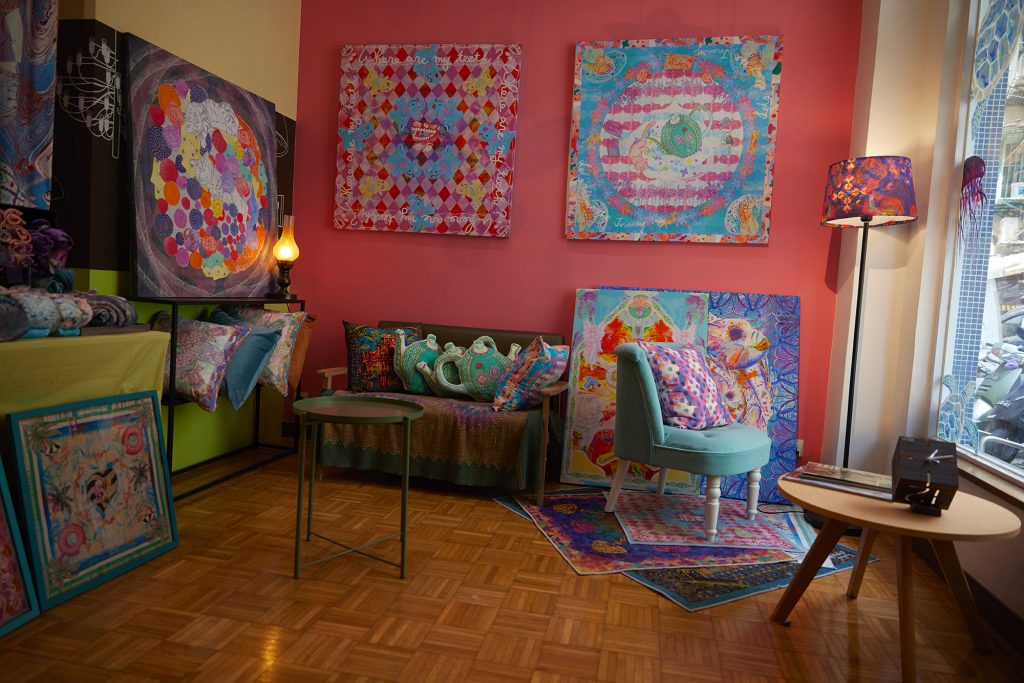 António returned to Macao in 2015 and found work as a merchandiser for a local fashion company, then she joined a graphic design company (the one that would spark the idea for her brand name). While working full-time, she started selling products online – mostly past work from her university days that she had turned into products, such as a line of silk scarves with patterns depicting a trip she had taken to Barcelona.
She also began participating in Macao's bi-annual Tap Siac Craft Market and saw her customer base begin to form. "Then a friend encouraged me to open a studio," she says.
In 2018, she did just that, opening a studio behind the Portuguese Consulate with the help of a silent business partner – the same friend who encouraged her to branch out on her own.
In March this year, António moved her studio to its current location near the Social Welfare Bureau. In this new space, she continues to hold workshops on paper marbling.
"I think marbling is the key to the door of textiles. If people want to get into the textile world, they should learn about patterns and marbling," she explains.
Since 2018, more than 200 people have joined António's workshops, including marbling on other mediums, such as shoes, boots and bags. She holds four to six workshops a month, each limited to a maximum of three people. "I want the participants to have a personal experience, not just a class," she says.
Her studio also serves as a home base for her business. Here, she comes up with new patterns and then applies them to product designs. Once the designs are finalised, she sends them to a factory in Shanghai where they are brought to life.
The finished products are then sent back to Macao, where they are available for purchase at Wynn Palace's gift shop, Tria Spa's gift shop at the MGM Cotai and the Macao Fashion Gallery on Rua de S Roque No 47 (near the St Lazarus Church).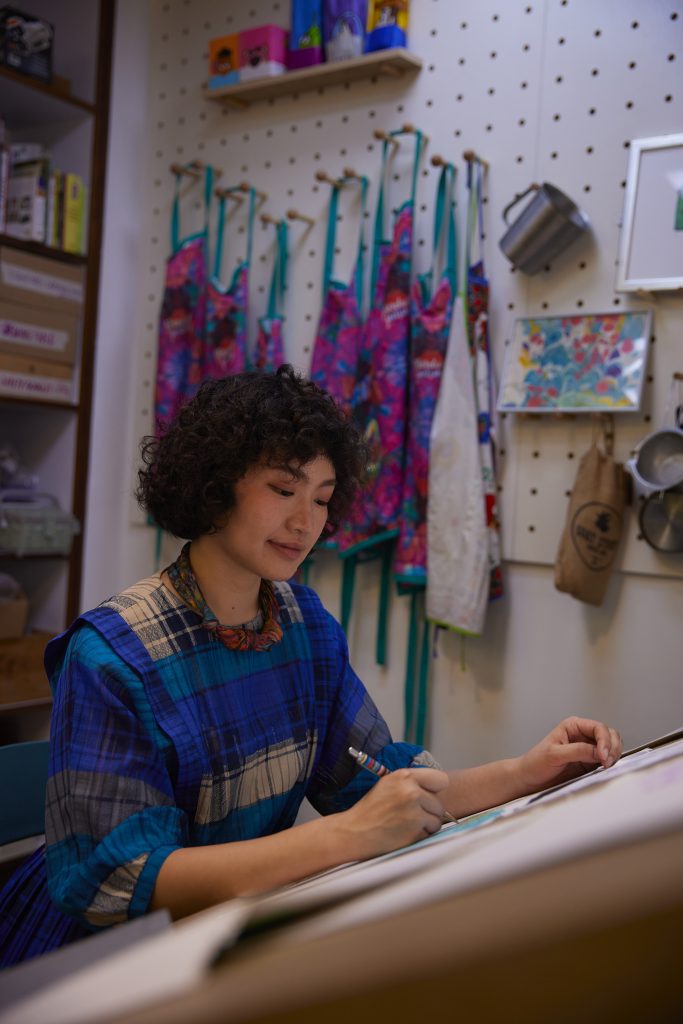 Her collections combine different types of eye-catching patterns and bright colours. "I believe colours can heal like therapy. Colours make you happy. I think when you first see me you will think that I'm a happy person because I always wear a lot of colours," she says.
They are also inspired by her travel experiences across Europe and Northern Africa, as well as some of her personal stories. Her first collection was about Barcelona, a city she visited during a university break. Then she created products inspired by Morocco. For one of her next travel collections, she says she plans to revisit one of her favourite places in Europe.
Sometimes António eschews marbling to use her work to raise awareness of social issues.
When the Yat Yuen Canidrome racetrack closed in 2018, hundreds of greyhounds were abandoned by their owners. António felt driven to cover it through her art, and so she created a pattern about these uncared for "retired dogs". She has also tackled elephant ivory poaching, which she depicted in a pattern design titled "Where are my teeth?".
Recently, she broached a burning issue for all of us: the upheaval caused by Covid-19, depicted in a pattern she calls "Bed of Roses".
"In Macao, we all live in this very safe bubble while we know that people outside are struggling, so we need to cherish our bed of roses," she declares.
Although most of her customers are locals, the pandemic has nevertheless affected her business. But she has started to see signs of improvement. Three months ago, she set up an online sales platform, hoping to attract buyers from outside Macao. "Last year was really bad, but now it's getting better," she says.
Spreading her stardust
António admits she has a long way to go in her career, but she is proud of her achievements so far.
"My business is still [growing] but at least after five years I'm still in business, still surviving," she says. "There is a lot left to be done." Not just at her studio, either. She hopes to inspire more artists and fashion designers in Macao to embrace textile design, especially pattern design and marbling, to boost competition across the industry.
"If the market gets bigger, it will create more opportunities [for everyone]. This is the dream," António says. "There's a long way [to go] for this stardust to become a planet but at least it has some sparkles now!"