With over 400 years of history, Macanese cuisine is one of the world's first fusion food cuisines. It emerged during an era of commerce and cultural exchange, as Portuguese merchants established extensive trade routes around Asia and Africa.
Macanese cuisine emerged from an amalgamation of influences, with Portuguese and Chinese as the foundation. The cuisine is also rich with influences and ingredients from Malaysia, Indonesia, India and even parts of Africa, where the Portuguese had a footprint.
For a long time, Macanese food was relegated to home kitchens. Older generations often pass down recipes – some of which are closely guarded secrets – to their children to keep the delicious traditions alive. But more recently, restaurants around the city have tapped into this treasured culinary heritage with hopes of celebrating and sharing Macanese cuisine with more people.
Here, we have rounded up a few of the most classic Macanese dishes and where to find them. Some restaurants serve them just like Macanese grandmothers used to make them, others elevate the classics with professional techniques and equipment.
Minchi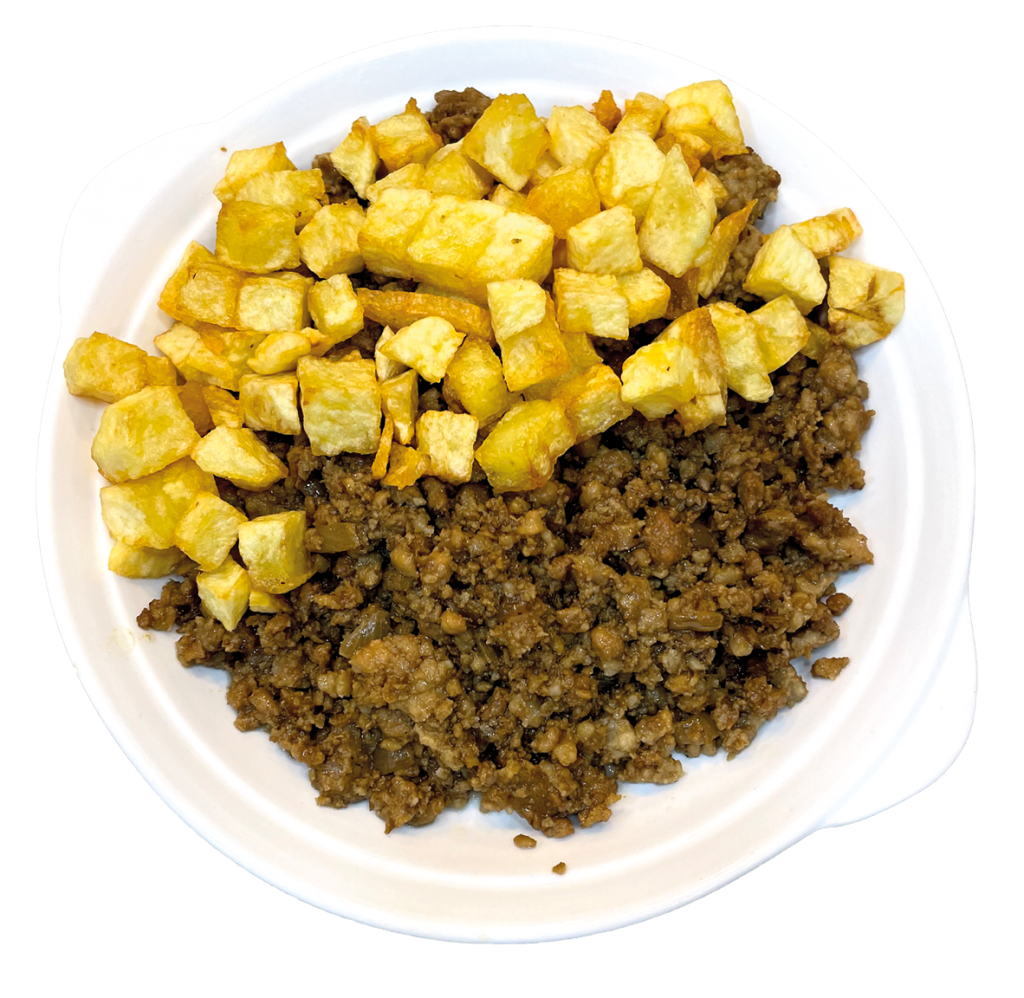 One of the most well-known Macanese dishes is minchi, or minchee. The stir-fried minced meat dish comprises either beef or pork, or sometimes both, mixed with fried cubed potatoes, diced onions, garlic and soy sauce, among other ingredients, served on white rice. A fried egg almost always serves as the finishing touch. Some say this dish has been influenced by the Goan beef mince, which also uses green peas and tends to have a wetter texture.
Manuel António de Jesus, the 74-year-old owner of Cozinha Aida (meaning 'Aida's Kitchen' in English), says minchi was a staple growing up. "When I was little, the mothers would cook it at home on a daily basis, and the kids liked it because there are no bones," he says. "There's no season for this dish; it's our everyday food."
Jesus opened Cozinha Aida in April last year, just about a month after his mother Aida Rafaela Rosa de Jesus – dubbed the 'Godmother of Macanese Cuisine' – passed away. He started his Macanese restaurant in her memory, carrying on the legacy of the late Macanese food celebrity, who for decades ran another well-known Macanese restaurant, Riquexó (meaning 'Rickshaw' in English), with her daughter.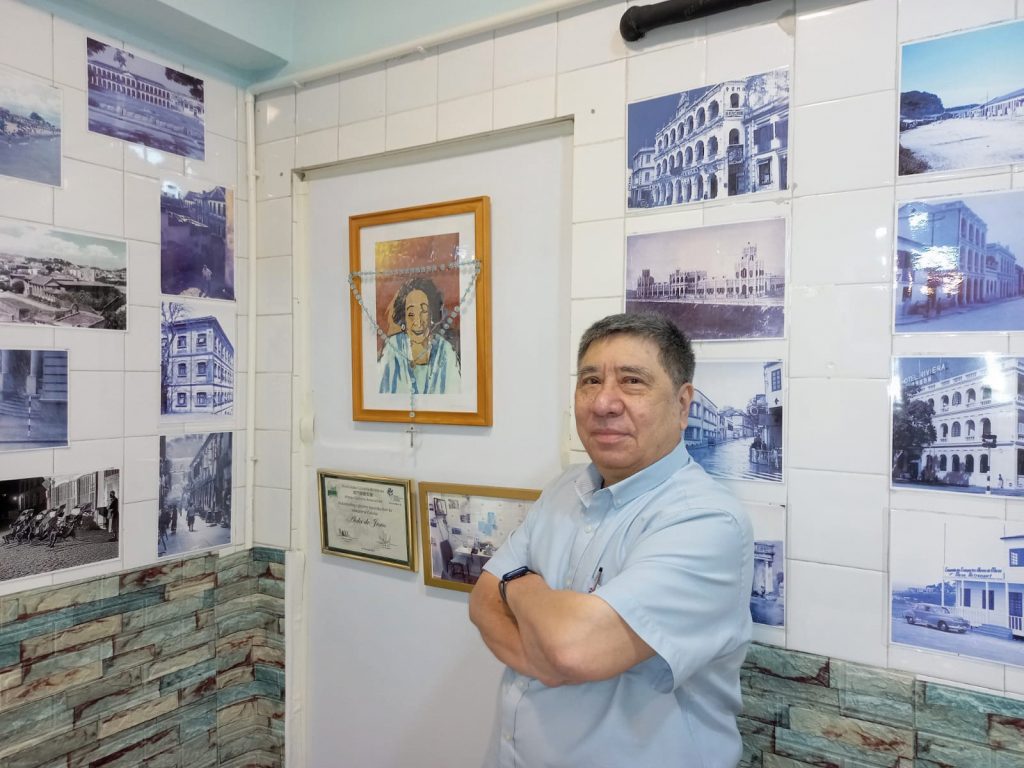 Unlike other Macanese restaurants, Cozinha Aida uses only pork in its minchi, and the fried egg is optional.
Jesus, who goes by 'Gito', explains: "We only add the egg when customers ask for it and we do not use beef because a lot of Macao people like pork better than beef. [My mother even] stopped using beef [at Riquexó] about 15 years ago."
Other highly recommended Macanese dishes at Cozinha Aida include tacho and the Macanese chicken curry dish called galinha à Portuguesa (Portuguese chicken).
Tacho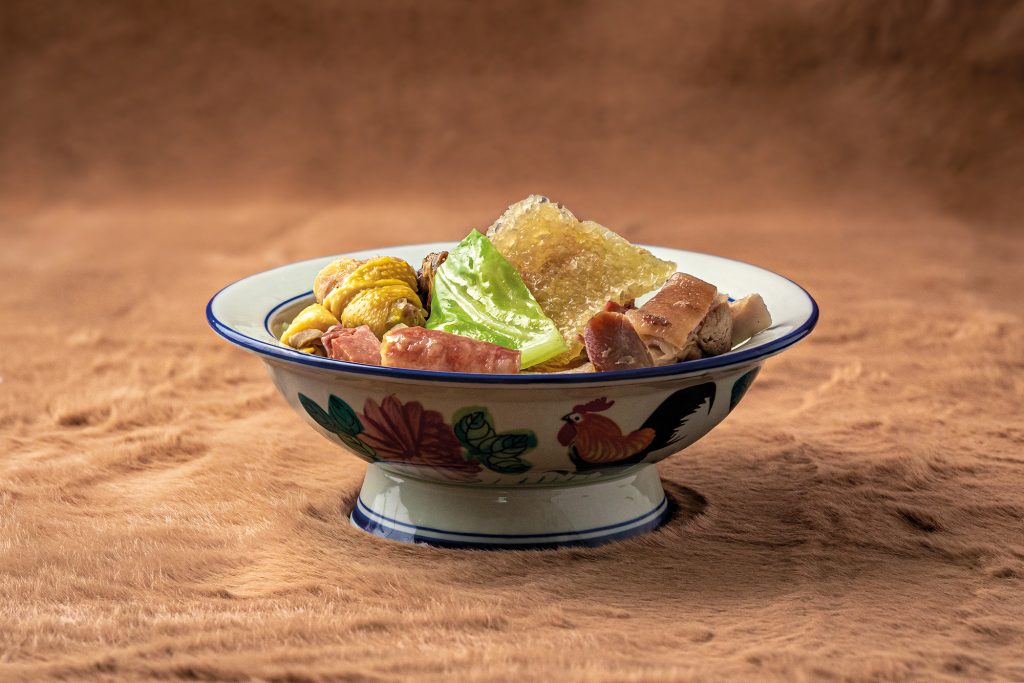 Also known as chau-chau pele, tacho (meaning 'pot') is a variant of a Portuguese dish called cozido à Portuguesa (Portuguese stew). Although recipes vary, most tacho recipes call for pork ribs or pork knuckle, pig skin, Chinese ham, Chinese sausage (lap cheong), chicken, daikon, cabbage, beans, carrots and potatoes – which takes two to three whole days to prepare and cook. Another common way to make tacho is with fish maw, pork rind, pig's trotters and balichão (shrimp paste).
Generally considered a winter dish, tacho is usually eaten during celebrations like Christmas and Easter – even birthdays – which is perhaps the reason some believe it was first created by leftover holiday feast ingredients. In the past, it was predominantly eaten by wealthy families and, even today, it's rarely seen on menus in Macao, as it can be costly to make.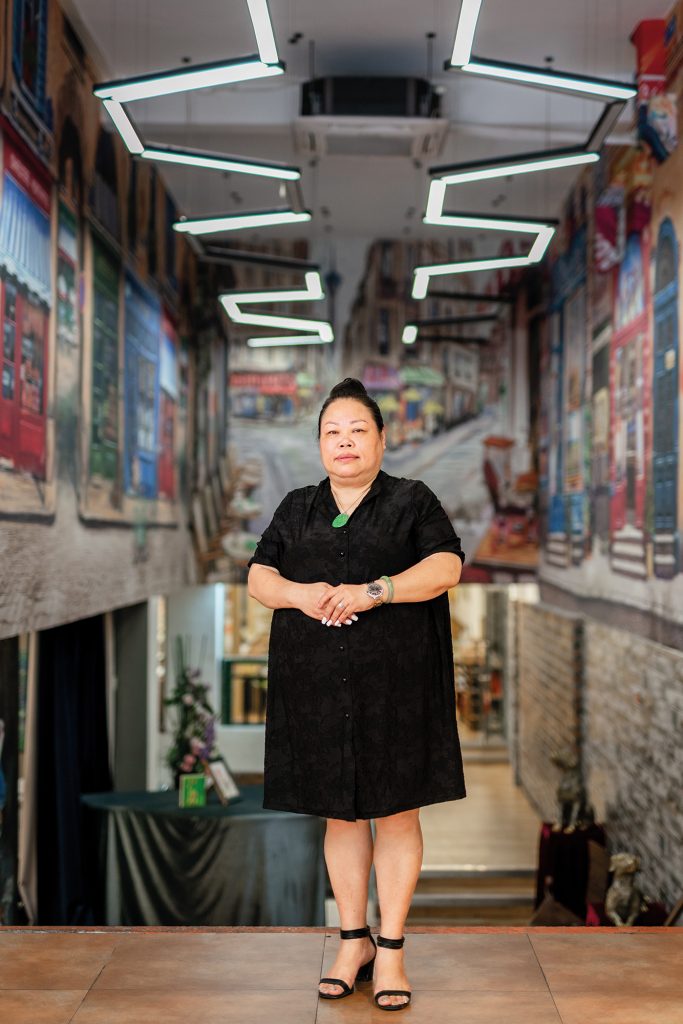 Even so, you can still find tacho at some Macanese restaurants in town, served either on a weekly basis or made to order. It's on the menu at both Cozinha Aida and Riquexó, for example, and restaurants like Restaurante Litoral make it specifically during special holidays.
At Riquexó, tacho is one of the best-selling dishes, according to restaurant manager Moon Tong. "Most of our customers are local-born Portuguese and Macanese," says the 55-year-old manager. "They say our tacho and minchi taste very authentic."
African Chicken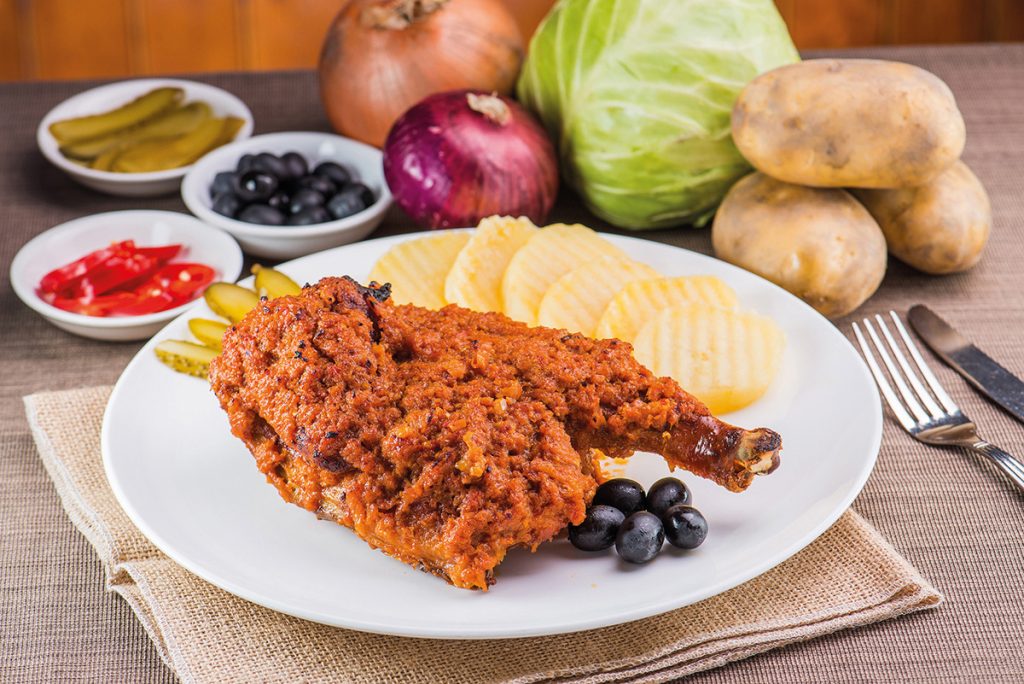 Also known in Portuguese as galinha à Africana, this renowned Macanese dish features a piri-piri sauce-glazed barbecued chicken with signature African chicken sauce. That special sauce, many Macanese food experts say, was created in the 1970s by Macanese chef Américo Ângelo, who brought the beloved recipe for the dish to Macao after visiting some former Portuguese colonies in Africa in the 1940s.
The famous sauce combines African spices – mainly from Mozambique and Angola – with garlic, peanut butter, coconut milk, tomato, peppers and wine. Of course, like most Macanese dishes, the recipes vary from family to family, restaurant to restaurant.
At Restaurante Litoral's Taipa branch, Filipe Ferreira, the 38-year-old managing director, considers African chicken to be the restaurant's top dish.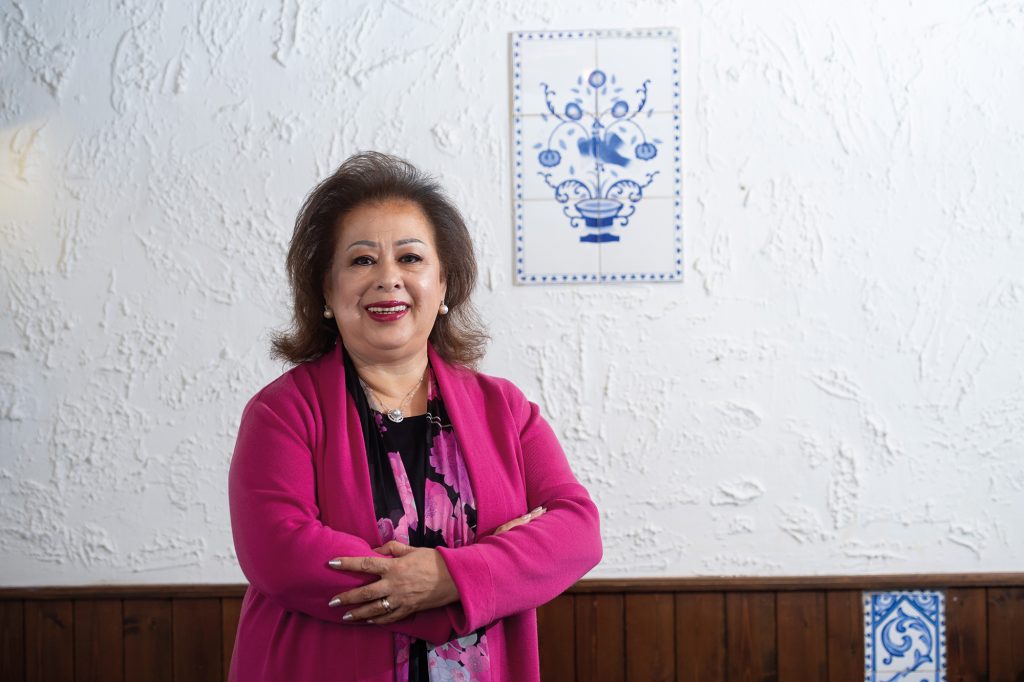 "Américo Ângelo created the sauce because a lot of people in Macao at that time did not like barbecued chicken to be dry," says restaurant owner Manuela Sales da Silva Ferreira, 69, who is also Ferreira's mother. She learned to make the sauce from Ângelo while working under him at Portas do Sol restaurant at Hotel Lisboa when she was just 17.
"When I opened Litoral in 1995, African chicken was the first dish that I included in the menu," she says, adding that the casquinha (a deep-fried and baked stuffed crab dish) is also a contender for most popular dish at the restaurant. Manuela inherited the crab recipe from her late grandmother, who also worked alongside Ângelo at the long-gone Pousada de Macau during the inn's glory days in the 1940s.
Pato Baffasá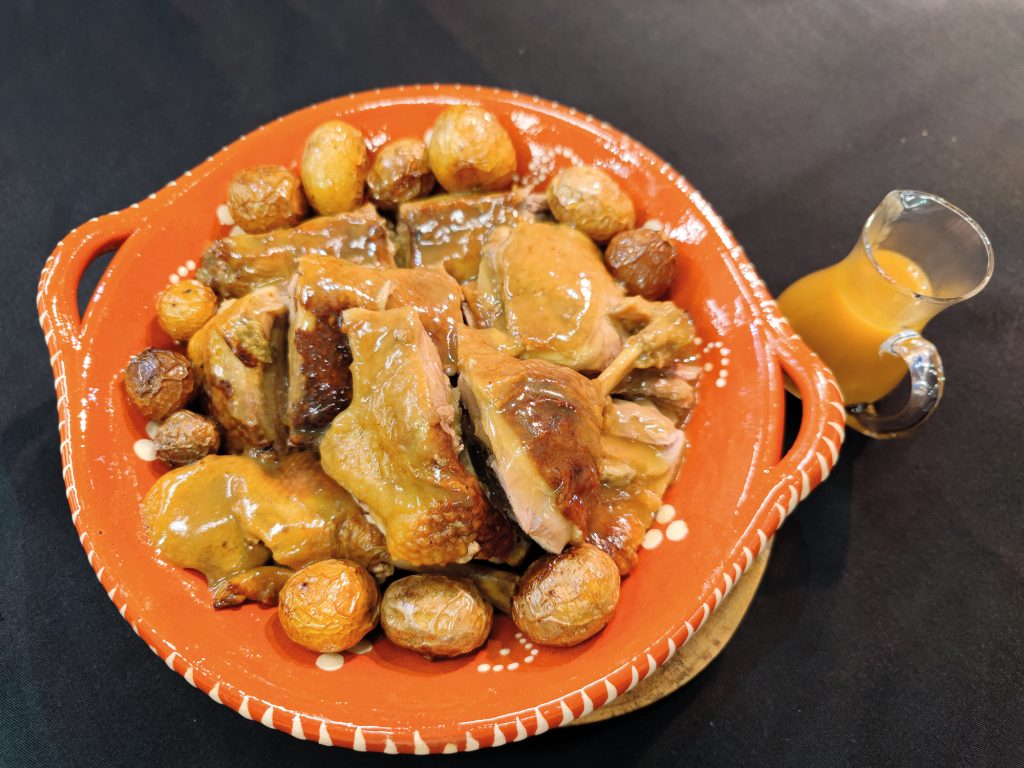 Based on the Macanese dish porco baffasá – pork tenderloin marinated in a turmeric-laced sauce then braised and baked – pato baffasá, or baffasá duck, is another beloved Macanese dish. It's first braised with a turmeric sauce then baked in the oven to achieve a golden brown crust and tender, juicy meat.
The name comes from the words bafa (braised) and asá (roast) in the critically endangered Macanese language of Patuá, a Portuguese-based creole with influences from Cantonese, Sinhalese and Malay.
Charles Un, a 28-year-old chef at the Macao Institute for Tourism Studies (IFTM) Educational Restaurant, says that baffasá duck rarely appears on restaurant menus because of its lengthy preparation and cook time.
"We need to marinate the duck overnight," he explains. Next, the chefs have to stir-fry onion, garlic and turmeric, then add the duck, water and braise it for around two hours. "We also add some balichão inside and use American duck, so it's meatier," Un adds.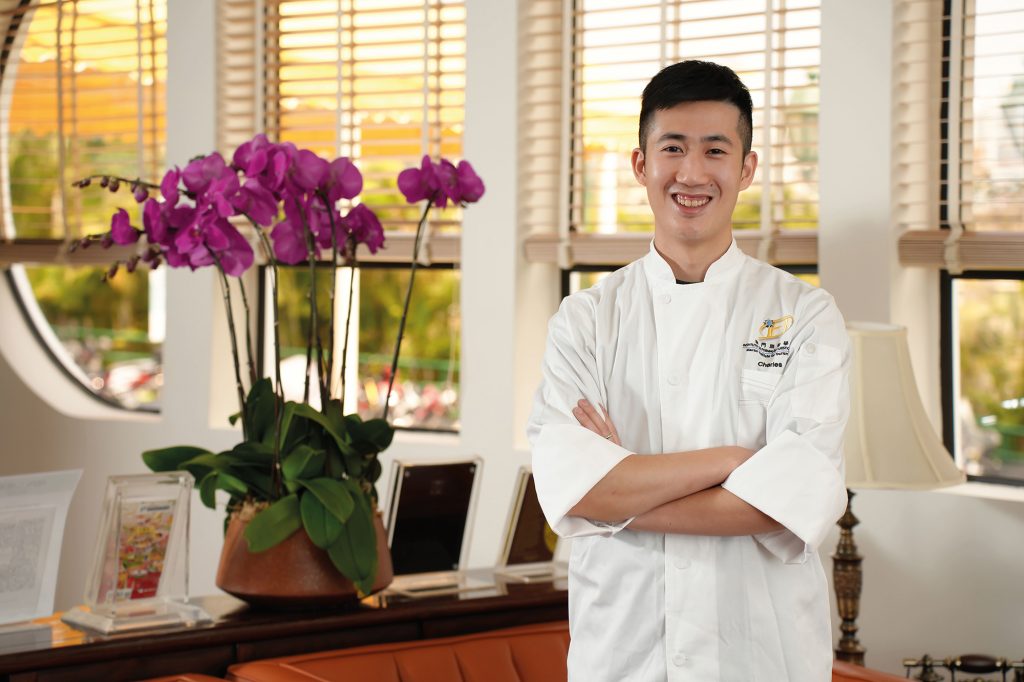 Un's head chef, Hans Lee Rasmussen, says that the restaurant began to focus on Macanese cuisine after the United Nations designated Macao a UNESCO Creative City of Gastronomy in November 2017.
"But it [Macanese cuisine] has always been an important part" of the restaurant and the IFTM, which has been recognised by the Macao government as a 'protector' of Macanese gastronomy," adds Rasmussen.
Other must-eat dishes at IFTM Educational Restaurant are porco balichão tamarinho com arroz carregado, a tamarind pork dish with Macanese shrimp paste and pressed rice; sopa lacassá, a laksa-like Macanese prawn soup; and, for dessert, Macao's very own coconut milk custard, bebinca de leite.
For two years in a row, IFTM Educational Restaurant has earned Macao's first – and so far only – Michelin Green Star, an annual award recognising restaurants for their sustainability efforts. Keeping Macanese dishes alive and celebrating the city's heritage is part of that sustainable mission.
---
More on offer
More restaurants serving Macanese food:
A Lorcha
Café SAB 8
APOMAC Canteen
Chef Ip Café
Cravings Macau
La Famiglia
Other popular Macanese dishes include:
Capela (meatloaf)
Pastéis de Bacalhau (fried salted cod balls)
Feijoada (pork and beef with beans stew)
Serradura (a combination of whipped cream and Marie biscuit crumbs)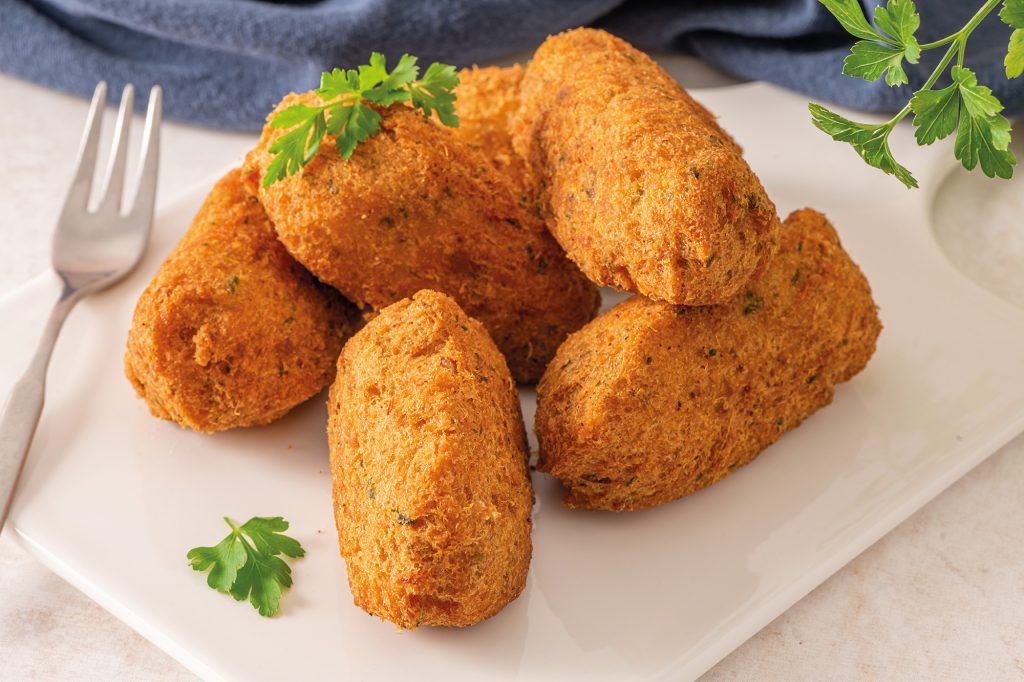 ---
Bacalhau Green Pea Risotto by Chef de Cuisine Hans Lee Rasmussen
Rasmussen says this dish borrows inspiration from two European classics: Italian risotto and a green pea soup called crème ninon, that's popular in French cuisine. Top that off with the famous Portuguese bacalhau fish and you've got yourself a Portuguese-inspired recipe! Scan the QR code to see how to make this mouthwatering dish.