Photos Xianhua News Agency and Shutterstock
With an economic output forecast at RMB150 billion by 2020, today, Qianhai is Shenzhen's innovation and commercial hub.
When Qianhai was officially declared an innovation zone of Shenzhen in 2010, it was a half-barren reclaimed area west of the booming city. Today, this 15 square-kilometre district has been transformed into a commercial hub of Shenzhen. Scores of new high-rise office and residential blocks, most ready for sale and rental soon, have transformed the skyline while bridges and boulevards connect this formerly remote border spot to the city centre and to the rest of the Pearl River Delta.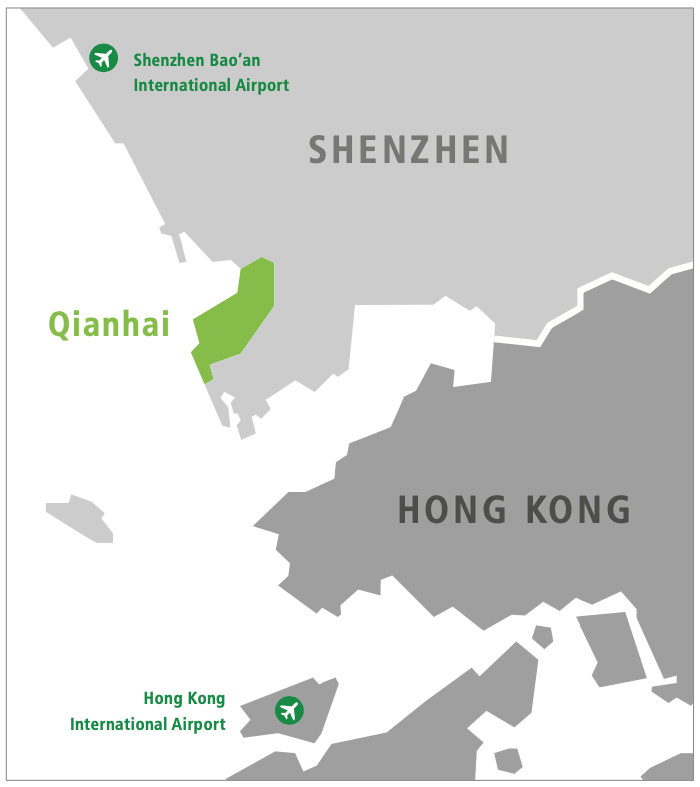 Much like Hengqin for Macao, Qianhai will serve as a demonstration zone for cooperation between Guangdong and Hong Kong, thanks to the zone's close proximity to the SAR. It targets four major sectors: finance, modern logistics, information and technology services.
Officially known as Qianhai Shenzhen-Hong Kong Modern Service Industry Cooperation Zone, it aims to have 150,000 residents and create 650,000 jobs by 2020. Its economic output is also forecast to grow to RMB150 billion (US$21.98 billion).
Qianhai appears on track to achieve these goals. According to official figures from the zone's administrative authority, Hong Kong alone accounted for 10,800 companies registered in Qianhai by the end of 2018, with a registered capital of US$102.15 billion.
Many of these firms are in financial services, including HSBC, Hang Seng Bank, Bank of East Asia, Standard Chartered and China Merchants Bank, which have all set up branches in the zone. In addition, there are insurance firms like Anbang and asset management companies like Franklin Templeton and Value Partners, as well as those in the securities, leasing, and small loan sectors.
Other Hong Kong investors in the zone are Kerry Group, Chow Tai Fook, New World Development, and Wharf Holdings. Internet giants Tencent and Alibaba also have operations there.
Dr Dominic Lam, an economist and China specialist based in Hong Kong and chairman of World Eye Organisation said: "Qianhai is a project approved by President Xi Jinping. The central government considers it a key point of the Belt and Road Initiative. It is attractive for Hong Kong investors in science, education, and economy. Many young people from the mainland want to study in Hong Kong but are unable to; they could attend schools in Qianhai set up by Hong Kong institutions. This will take time."
Yet Qianhai faces intense competition from neighbouring cities: in the recently announced official blueprint for the Greater Bay Area, almost all have the same, or similar, economic goals as Qianhai.
Some analysts say Qianhai has been slow in developing its most important designated role as a financial hub. "Had Qianhai been willing to allow one major foreign institution to take charge of its financial sector, greater progress could have been made," argued Dr Thomas Chan, director of the One Belt One Road Research Institute at Chu Hai College in Hong Kong. Instead, he said, local efforts seem to have centred more on developing the property sector and generating revenue from it.
Dr Witman Hung, principal liaison officer for Hong Kong of the Shenzhen Qianhai Authority, remains upbeat about the future of the zone: "Qianhai has just started to take off. It has now repositioned itself as a 'core engine' of the Greater Bay Area. I am certain that Shenzhen and Hong Kong will have greater cooperation via Qianhai."
A zone of possibilities
Qianhai began its path toward development nine years ago when, in August 2010, the State Council first approved the overall development plan of the zone.
In 2011, the Shenzhen Qianhai Authority was granted administrative power equivalent to that of a city, with authority to approve non-financial projects and streamline the approval procedures to attract more investment to the zone.
In June 2012, the State Council published 22 broad guidelines to support innovation ventures in Qianhai. They covered finance, tax and fiscal matters, the legal system, personnel, education, healthcare, and telecommunications.
Qianhai has since passed a series of supplementary policies to facilitate the flow of capital, talent, and business to the zone.
In early 2013, new measures were added to further encourage certain sectors in Hong Kong to set up joint ventures, as well as schools and hospitals, in the zone. While Qianhai continues to focus predominantly on drawing investment and interest from nearby Hong Kong, by 2014, that focus had broadened to include Taiwanese, overseas Chinese and others, but especially Macao.
That July, the Qianhai government introduced two preferential tax incentives: eligible companies registered in Qianhai are subject to a 15 per cent corporate income rate, and eligible professionals employed there are exempt from personal income tax. The zone is one of the few places on the mainland with such favourable tax rates. These concessions aim to encourage certain non-mainland businessmen and professionals to set up companies and work in Qianhai.
In April of this year, Qianhai announced 36 new measured designed specifically to attract young people from Hong Kong and Macao, open to any SAR residents aged 18–45 who are interested in working, interning or launching a new business in the zone.
Qianhai aims to provide 1,000 subsidised internships on an ongoing annual basis, with the amount of subsidy based on the duration of the particular internship. Certain start-ups with core members from the SARs will be eligible for subsidies of as much as RMB50 million (US$7.33 million); furthermore, companies founded in the two SARs will be awarded up to RMB2 million (US$293,080) if they are successfully listed in Shanghai, Shenzhen, Hong Kong, London, New York or Tokyo.
Other measures include one-off subsidies, ranging from RMB20,000 (US$2,931) to RMB50,000 (US$7,327) depending on academic degrees, for Hong Kong or Macao professionals working in Qianhai. Low-rent homes and transport allowances will also serve to encourage young SAR professionals to choose Qianhai.
The zone has already attracted some young entrepreneurs. As of 2018, the Qianhai Shenzhen-Hong Kong Youth Innovation and Entrepreneur Hub, a prominent start-up incubator in the zone known more simply as E Hub, has helped develop 356 entrepreneurial teams. Some 176 of them came from Hong Kong and Macao.

Building a hub among hubs
In 2013, Qianhai took its first steps toward developing a legal environment conducive to promoting business confidence with the establishment of the Qianhai Anti-Corruption Bureau and introduction of the Shenzhen Court of International Arbitration to the zone. These, along with the Qianhai Tribunal, also serve to draw Hong Kong closer through collaborative development of international legal services and adaptation of Hong Kong laws into its own legal framework. The zone hopes to become an international commercial dispute resolution centre.
These and other measures are aimed at turning Qianhai into a business-friendly zone, especially for the financial sector. "Qianhai plans to become a regional financial centre through expanding with Hong Kong, one of the major international financial centres in Asia," said Wang Jinxia, deputy director of the Qianhai-Shekou Administrative Committee.
Qianhai's sights are set on the offshore renminbi (RMB) business, an area in which Hong Kong is a world leader. "Hong Kong is the world's largest offshore renminbi market. A lot of money is sunk in Hong Kong with limited outlet," said Fang Zhou, research director of the One Country Two Systems Research Institute in Hong Kong. "Qianhai could be a platform for experiments on how to efficiently use such offshore capital."
Qianhai aims to do exactly that, operating as a cross-border RMB innovation zone in order to expand the scope of RMB financial services. It will support issuance of RMB loans from mainland banking institutions for international projects (Macao is taking a similar, if more focused, role as a full-service RMB clearing centre for Lusophone countries). Meanwhile, Hong Kong banks based in Qianhai will handle RMB loans to onshore mainland entities in the zone. This has opened a new channel for the inflow of RMB funds from abroad.
Currently, about 30 per cent of companies in Qianhai are in financial services. There will be more in future, with greater cooperation in green finance and financial technology between Hong Kong and Shenzhen. Macao will support this development, as well as related efforts in Guangzhou, while also studying the feasibility of establishing its own green finance platform.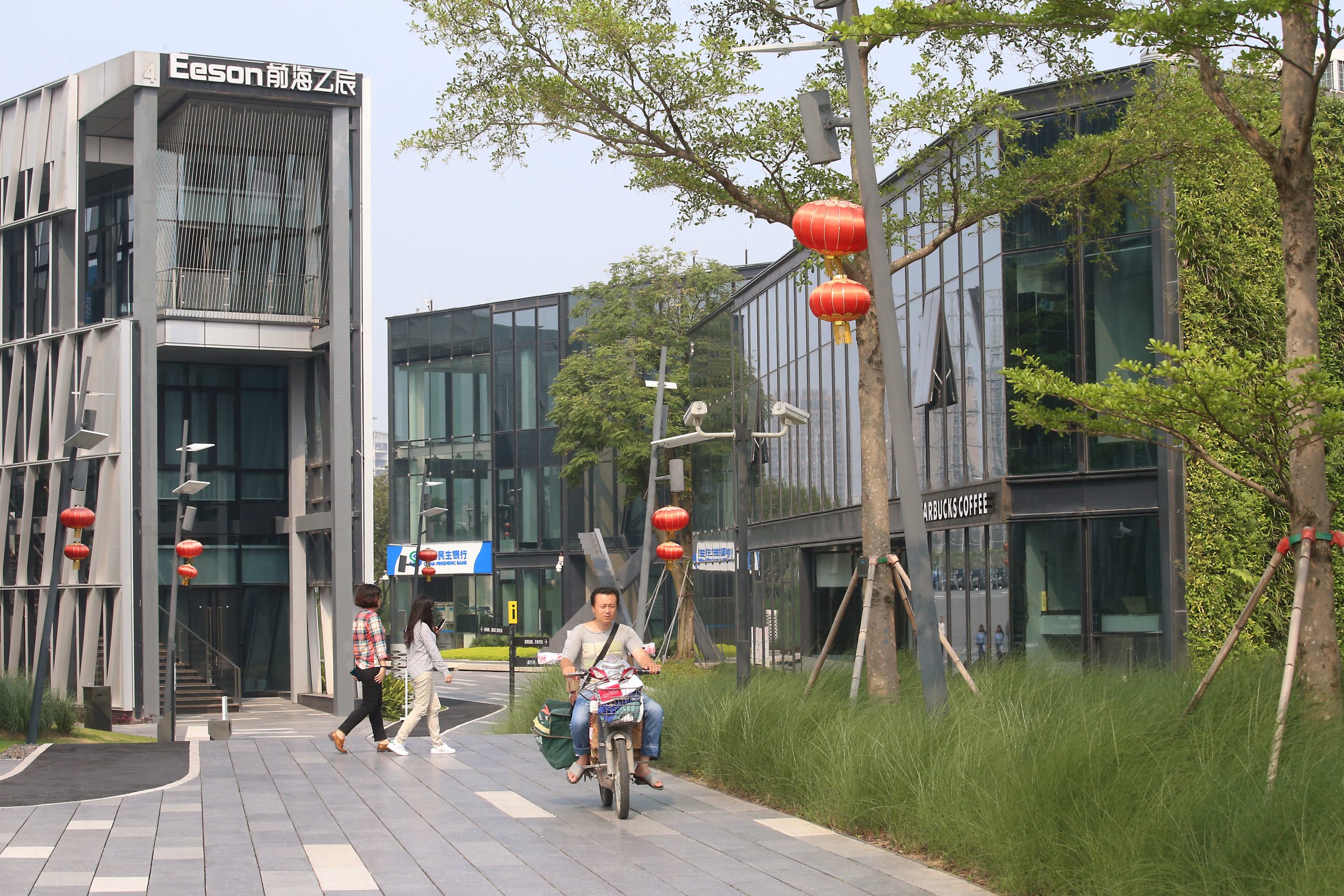 In 2017, HSBC received approval to set up a majority-owned securities joint venture based in Qianhai. Dubbed HSBC Qianhai Securities, it marked the first such approval for a foreign financial institution in China. Its business includes equity and debt underwriting, equity research, and advising on domestic and outbound mergers and acquisitions.
Late 2018 saw the establishment of the Qianhai Mercantile Exchange (QME) in the zone, controlled by Hong Kong Exchanges and Clearing. It launched spot trading with alumina (the raw material for aluminium) and plans to expand to include aluminium ingots and T-bars, as well as copper, by 2020.
Despite these successes, Qianhai still has a long way to go toward becoming a financial centre. Analysts say that, unless Beijing relaxes capital controls and allows greater convertibility of the renminbi, Qianhai or anywhere else on the mainland cannot pursue many of the financial services provided by free-market Hong Kong.
Building up and extending out
Still, Qianhai remains ambitious about its long-term goals. Hung of the Shenzhen Qianhai Authority said in March that the Shenzhen government had approved an expansion of the zone to 70 square kilometres, which would make it the largest free trade zone in South China.
During the annual meeting of the National People's Congress held in Beijing, he announced that he was "working on expanding the application of Hong Kong laws to all of Qianhai." Currently, such laws only apply to business disputes between Hong Kong companies in Qianhai.
"The common law system in Hong Kong is friendlier to business activities," he noted. "A common law system is more flexible than the written laws in the civil law system of the mainland."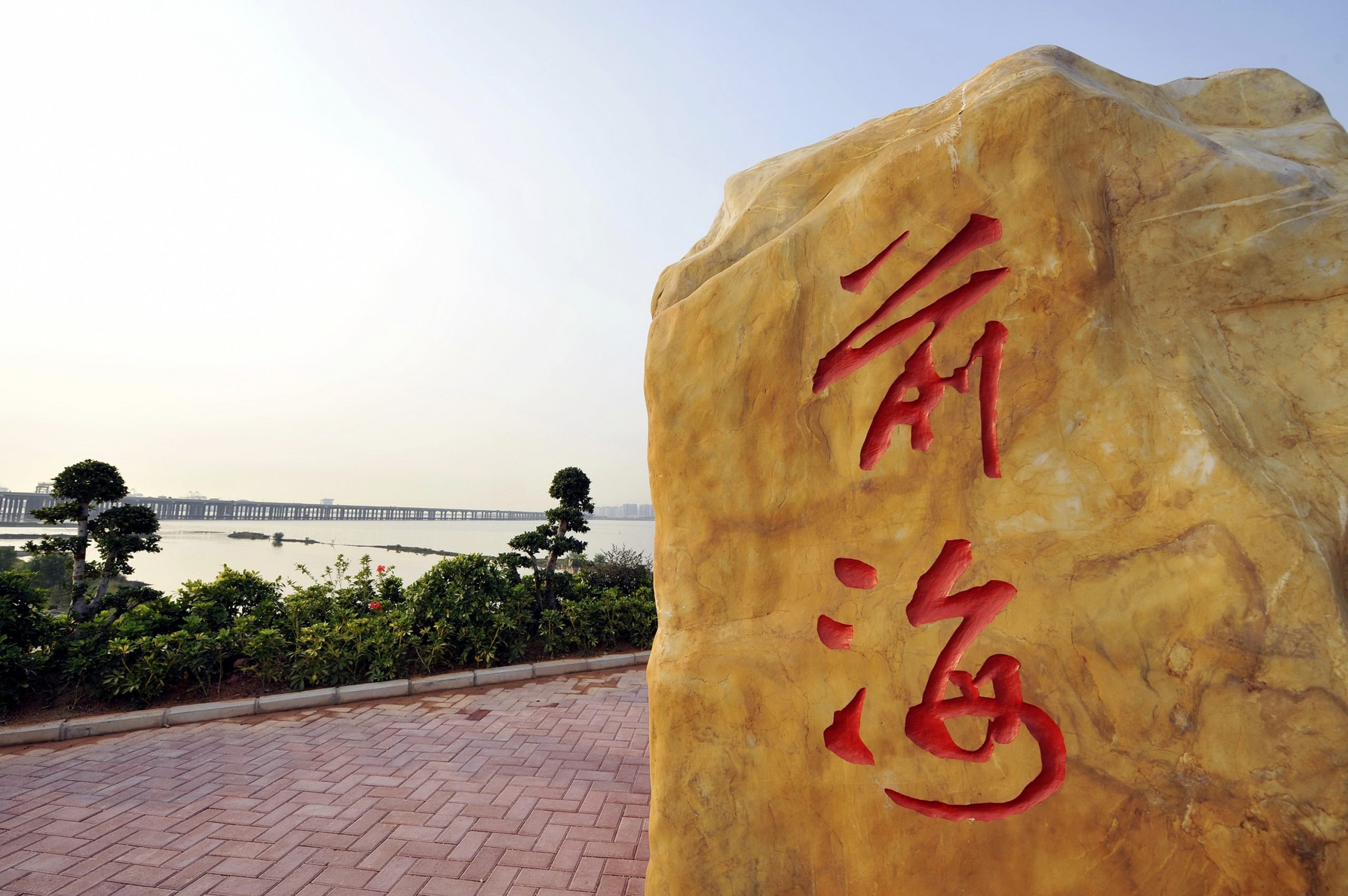 Hung also proposed a 'Bay Area card' to facilitate travel of professionals in the Greater Bay Area, including Qianhai. It would apply to business people, scientific researchers, and education professionals – including non-Chinese – who move frequently between the two SARs and Guangdong. For a zone that plans for its working population to outnumber residents by some 500,000 people, such easing of travel restrictions may prove critical to its success.
Infrastructure to improve travel between Qianhai and the rest of the Greater Bay Area is already in the works. In February, zone officials announced plans to construct an intensive transport network, including 18 metro and railway lines to put Qianhai within a 60-minute travel radius of the rest of Shenzhen, as well as Guangzhou, Zhongshan, and Zhuhai.
Three intercity rail lines will link to Hong Kong, including one connecting the two international airports of Shenzhen and Hong Kong, and the extension of the Guangzhou–Dongguan–Shenzhen intercity line linking Qianhai to Hung Shui Kiu in northern Hong Kong. The other three intercity rails will connect Guangzhou, Dongguan, Huizhou, and Zhuhai.
One bridge, linking Shenzhen to Zhongshan, is under construction while a second, to link Shenzhen and Zhuhai, is being planned. The latter will carry both trains and motor vehicles.
The transport blueprint also includes a checkpoint and a helicopter service station to cover the cities of the Pearl River Delta.
Qianhai has already begun a three-year plan (2018–2020) with an investment of RMB140 billion (US$20.52 billion) in 219 projects to develop a new city centre. It will include the Qianhai Convention and Exhibition Center, the Shenzhen branch of the National Museum of China and an International Finance Exchange Center, as well as international schools and hospitals.
"As a 'core engine' of the Greater Bay Area," said Wang Chunxin, a senior researcher at the Bank of China (Hong Kong), "Qianhai is integrating the sectors of consumption, production, finance, and manufacturing. The key to its success will be innovation."