When it comes to food, Macao brings a lot to the table: regional Chinese specialties, traditional Portuguese fare, seasonal Italian, authentic Japanese kaiseki meals and transcendent French cuisine. Whether you're looking for a quick bite at a 24-hour noodle bar or a luxurious 12-course tasting menu, there's something for everyone.
But Macao hasn't always been a dining mecca. Before the days of integrated resorts and booming tourism, the sleepy Portuguese territory was better known for its quaint antique shops, charming Portuguese buildings and local casino scene. In the 1980s, the concept of fine-dining was limited to the 'Excelsior' (now Artyzen Grand Lapa) and Hyatt Regency (now Regency Art Hotel). When the late Joël Robuchon was invited to bring his award-winning French cuisine to the city at the turn of the century, the chef later told the South China Morning Post that he couldn't even find Macao on a map.
Of course, the past is the past. Now, any ambitious chef worth their salt knows exactly where to find Macao. The city has evolved at a rapid clip in just two decades,
and so has its dining scene. Macao was named a UNESCO Creative City of Gastronomy in 2017, and many of the city's restaurants feature year after year in the MICHELIN Guide, Forbes Travel Guide, Asia's 50 Best Restaurants and the Dianping Black Pearl Restaurant Guide.
"Over the last 20 years, our tourism numbers have just continued to grow," says Maria Helena de Senna Fernandes, director of Macao Government Tourism Office (MGTO). "In the year 2000, Macao had a total of 9,000 hotel rooms; today we have over 44,000. There were around 100 restaurants, and now there are over 500."
So how did this once quiet, humble territory transform into what Forbes Travel Guide has described as the "world capital of Five-Star dining"? It comes down to a mix of rapid and robust tourism development, the emergence of outposts by internationally acclaimed chefs, and evolving clientele who grow hungrier for diverse, sophisticated flavours with each passing year.
A series of culinary catalysts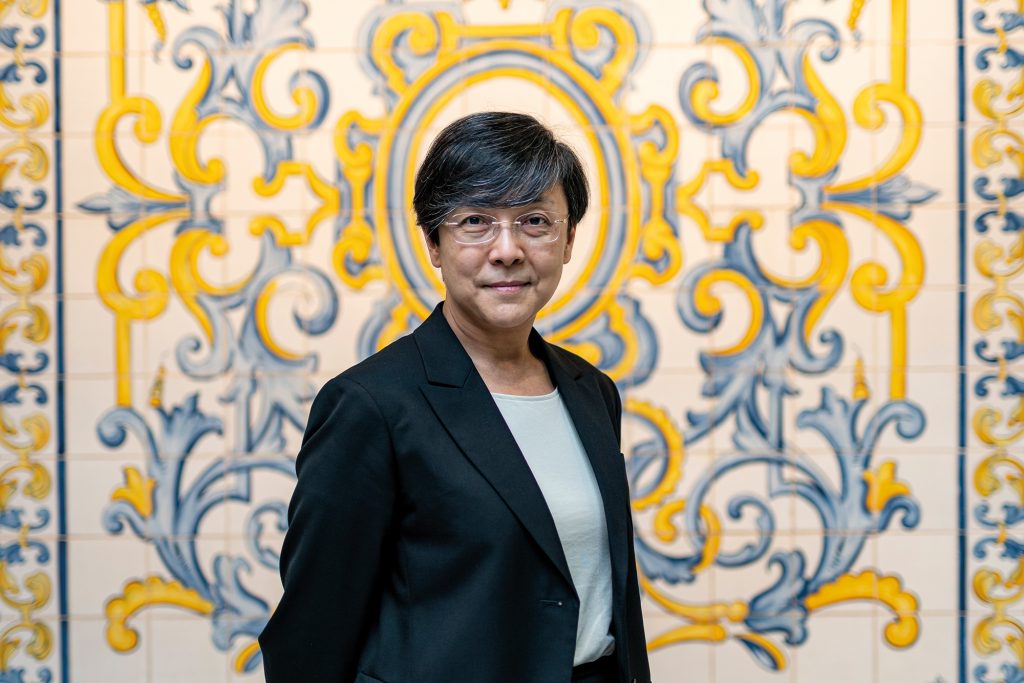 Macao's transformation began in 2002 when the 40-year gaming monopoly held by Hong Kong casino mogul Stanley Ho came to an end, and the city opened its doors to international companies such as Las Vegas Sands and Wynn Resorts. Ho set the tone for a new era of Las Vegas-style haute gastronomy, having brought in "Chef of the Century" Robuchon a year earlier to launch Robuchon a Galera at Casino Lisboa (which later relocated to the Grand Lisboa Hotel and became Robuchon au Dôme).
"One of the areas which the hotels put a lot of effort into was getting more restaurants of the highest standards to come into Macao. Every one tried to bring signature restaurants, whether on a collaborative basis or with their own chefs, which uplifted the local fine-dining scene. F&B [food and beverage] has always been one of the strong points of our tourism offerings and one of the reasons why a lot of people come to Macao," explains Senna Fernandes.
In 2004, the first integrated resort opened in Macao. Over the next few years, big-name resorts opened one after the next and with each opening, Macao's culinary bar inched higher and higher.
The next major catalyst came in August 2008, when Macao scrapped its 15 per cent wine tax in a bid to become a more dominant and sophisticated culinary hub.
Macao began to establish itself as a five-star dining destination, catering to those looking to spend their hard earned – and won – money on something truly special, be that premium ingredients, artfully plated dishes or a rare vintage of Bordeaux. To many, wine is an inseparable part of a fine-dining experience. Restaurants with a vast wine list are sure to win over luxury enthusiasts and connoisseurs.
"Guests at that time were a real mixed bag," says Mathieu Gaignon, beverage director at The Seasons (Macau University of Science and Technology Training Restaurant) and former head sommelier at Robuchon au Dôme who was part of the restaurant's opening team in 2011.
"Many VIPs would purchase the most expensive bottles of wine. Then we had other guests who were more knowledgeable about wine, and others that showed a real interest in tasting new wines and learning more about what we had to offer."
Star-studded city
The seismic shifts in Macao's dining scene didn't end there. Senna Fernandes says the international market is very important when it comes to fine dining. To be recognised as a fine-dining destination, you need global recognition – from facilities to standards – and international benchmarks, such as the MICHELIN Guide or Forbes Travel Guide, are essential to setting those standards.
When MICHELIN Guide Hong Kong Macau launched its debut edition in 2009, the ensuing accolades thrust Macao firmly into the culinary spotlight. That first year, six restaurants in Macao earned a Michelin star – a number that continues to rise year after year. Today, the city counts more than 20 Michelin-selected restaurants. Among them, Robuchon au Dôme, The 8 Restaurant and Jade Dragon hold three Michelin stars.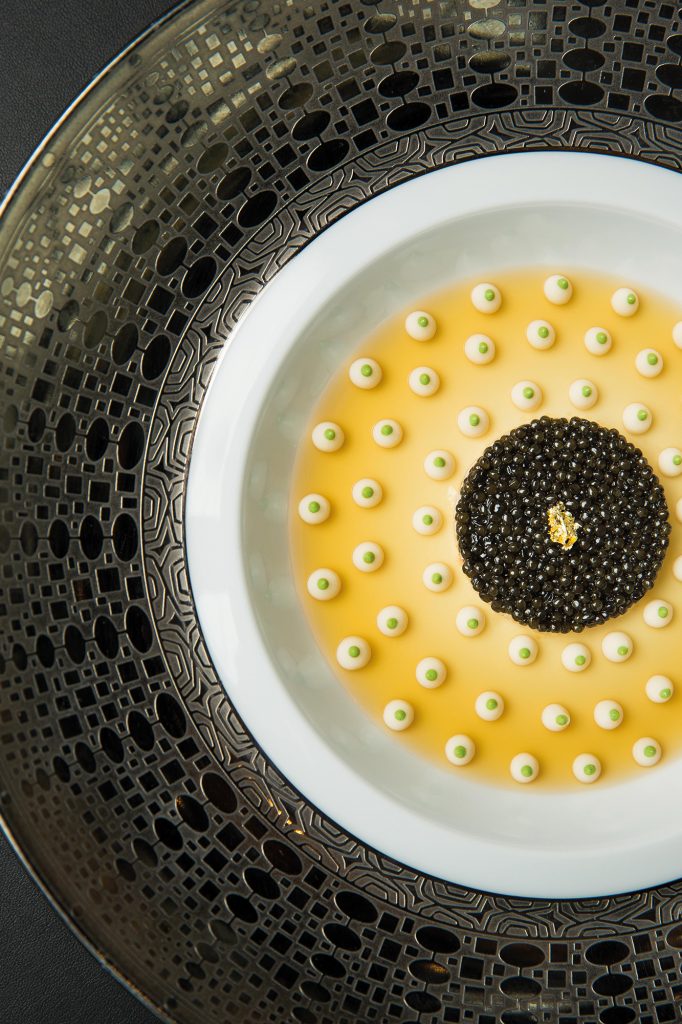 Another influential awards list, Asia's 50 Best Restaurants, launched in 2013 with a mission to celebrate gastronomy across the region. Every year, the list is selected by a group of over 300 restaurant experts called the Asia's 50 Best Academy. Macao restaurants have regularly made appearances, with Robuchon au Dôme taking the 37th spot on the inaugural list in 2013. In 2022, Wing Lei Palace ranked 47th and has been on the list for four consecutive years. Macao has hosted the awards ceremony three times so far, including the online 2022 Awards Ceremony, which took place on 29 March.
In 2014, Forbes Travel Guide (formerly the Mobil Travel Guide) – the oldest travel guide in the US and the only independent global rating agency for luxury hospitality – further burnished the city's image. That first year, Forbes Travel Guide showered Macao with a total of 14 awarded restaurants: five Five-Stars and nine Four-Stars.
"Precision in service sets Macao apart," says Amanda Frasier, executive vice-president of Standards & Ratings for Forbes Travel Guide, when asked what prompted the guide to venture into Macao. "When dining at the Five-Star restaurants in Macao, you can expect everything from the plating to the service ware arrangement to be executed with the utmost attention to detail."
As the city's dining scene expanded, so too has its collection of star-rated restaurants. In 2022, 21 restaurants made the Forbes Travel Guide cut, of which 20 received Five-Stars. And perhaps even more impressive are the restaurants' consistent commitment to quality: Four of the restaurants that received Five-Stars in 2014 – Aurora, Golden Flower, Wing Lei and Jade Dragon – have maintained that status ever since.
Reaching full boil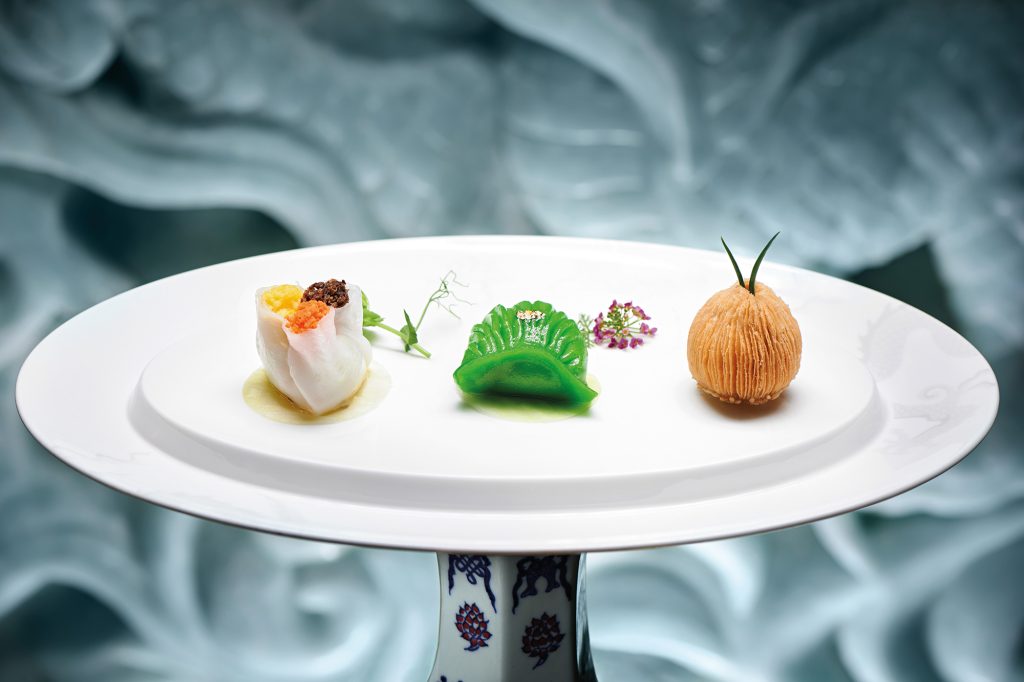 In 2017, Macao became one of three cities in China to be listed as a UNESCO Creative City of Gastronomy. Recognised for its 400-year-old legacy of Macanese cuisine and its emerging status as a leading culinary destination in Asia, the accolade, says Senna Fernandes, is about more than just delicious meals.
"It's about our history and how it relates to food," she says. "We are a city of gastronomy not just because we have good restaurants, but because we have other things that can help the city become sustainable through food or gastronomy."
The UNESCO honour fuelled even more momentum behind Macao's thriving dining scene. "It certainly helped in providing awareness of Macao as a top dining city," says Alex Gaspar, executive chef at The Londoner Macao. "But besides that, it also highlighted the local Macanese cuisine, which is in the spotlight much more now. It's great to see – it's a fantastic cuisine, and it should be promoted."
The new status raised the city's gastronomic profile and a series of international events soon followed, including Michelin-branded dinners in November of 2017. The MICHELIN Guide partnered with global wine publisher Robert Parker Wine Advocate (RPWA) to host a dining series in Hong Kong and Macao, building up to the Michelin and RPWA Gala Dinner. For the gala, which took place at the Studio City Grand Ballroom, seven chefs from starred restaurants in the 2016 Hong Kong Macao guidebook presented an extravagant six-course meal for 700 guests, complemented by top-rated wine selections by RPWA.
In October 2017, Macao became a Gastronomy member of the UNESCO Creative Cities Network and, as part of the commitment, embarked on a four-year action plan that kicked off with the 2018 Macao Year of Gastronomy. In addition to celebrating the city's culinary legacy, the initiative also highlighted international collaborations, walking tours, educational opportunities, and support for food-centric events like the Macau Food Festival, the Macao Gastronomy Carnival and cooking competitions.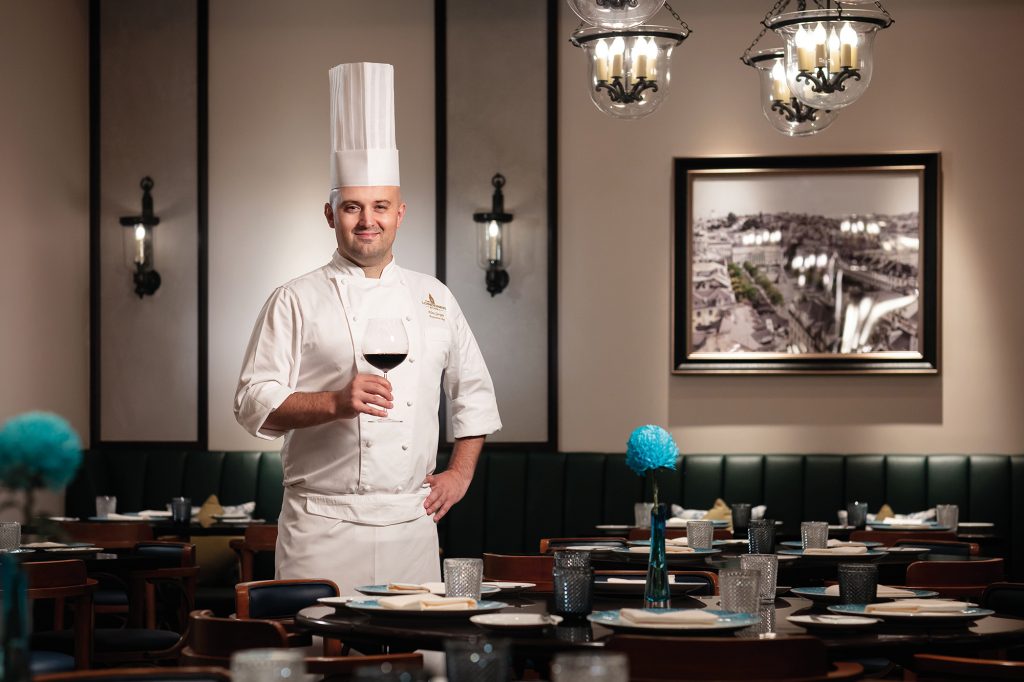 By 2018 Macao had become a magnet for some of the world's greatest chefs. Big names like Umberto Bombana and Pierre Hermé had set up outposts in 2015, while French great Alain Ducasse followed suit at Morpheus in 2018. The city also welcomed Mauro Colagreco of Grill 58; Mitsuharu Tsumura, known for his Nikkei (Japanese-Peruvian) menu at Aji; Henrique Sá Pessoa of Portuguese restaurant Chiado; André Chiang of Sichuan Moon; and Gordon Ramsay, although Gordon Ramsay's Pub & Grill has yet to open.
"The top Macao restaurants have always had impeccable style," says Frasier. "But the destination now has some of the most over-the-top restaurant designs in the world, such as Yí at Morpheus, designed by Zaha Hadid, and newcomer Palace Garden with an immersive art experience by Yang Yong Liang."
That same year, the Black Pearl Restaurant Guide (which aims to promote Chinese culinary culture and perspectives) launched its first issue and held a press conference to announce the winners. Of 330 listed, 13 were from Macao. Two of those – Jade Dragon and The 8 Restaurant – achieved the highest three-diamond rating, regarded as "must visit once in a lifetime" destinations. In 2022, the guide included 11 Macao restaurants, with Jade Dragon and Robuchon au Dôme earning three diamonds.
"We have a close relationship with Asia's 50 Best and usually the hoteliers [and integrated resorts] bring in these sorts of brands and the MGTO works with them as a supporting entity. Through these [events] and different kinds of cuisines, Macao's profile as a centre of tourism and leisure will continue to grow. The branding of Macao as a city of gastronomy is very important to sustain," says Senna Fernandes.
Diverse and delicious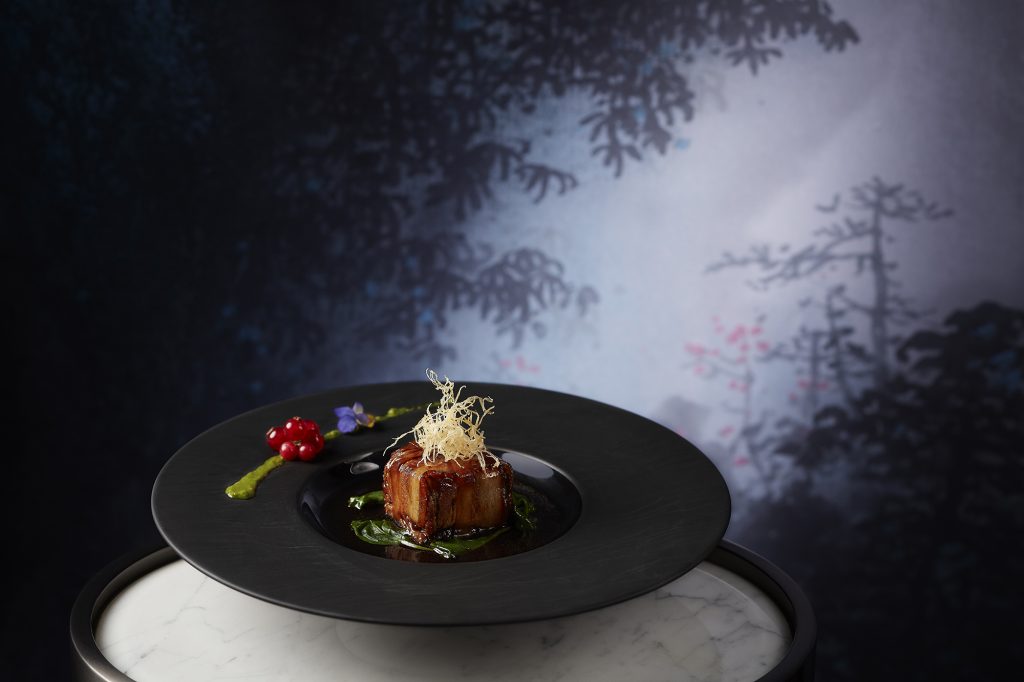 Since Macao is a relatively small city with just 650,000 people across 33 square kilometres, the explosion of restaurants from 100 in 2000 to over 500 today, could have led to an oversaturated market. But Macao avoided such a dilemma with diversification, says Gaspar.
"It became very important, not only for diversification, but also to differentiate between the resorts, to give each one their own identity and point of difference," he says. "Our senior vice president of F&B Tom Connolly creates a wonderful theme and story for each new restaurant. I then work within those frames and try to bring it to life in terms of kitchen design, finding the team, and creating those key touch points that make a restaurant very special."
The city's dining scene has evolved alongside guests and visitors, he adds. Gaspar, who came to Macao in 2007, says his guests have grown more "discerning" and are "looking for new experiences."
Gaignon of The Seasons agrees. "The younger generation wants to learn more," he says. "The mentality has changed – they have been travelling and been exposed to other cultures, and they are a lot more curious."
That curiosity has paved the way for a wider range of restaurants to thrive, from Japanese to Sichuanese, Italian, Thai, Portuguese, Shanghainese, Nikkei and elevated Macanese. "It was a real turning point when resorts realised that fine-dining restaurants could focus on other cuisines besides the typical French or Cantonese," says Gaspar. "We have some wonderful restaurants now, showcasing Sichuan cuisine, Huaiyang cuisine, and a Thai restaurant in development. These kinds of things were hard to imagine back when I first arrived."
Despite suffering setbacks during the Covid-19 pandemic, the future of Macao's dining scene is bright. "Post-pandemic it will continue to grow and become even more important in terms of promoting tourism," continues Gaspar. "Sustainability is also something that everyone is talking about – I'm excited to see how it keeps growing and gets incorporated into all facets of restaurants from design to operations."
Senna Fernandes echoes this optimism, though she believes the boom is likely in the past. "There will be continuous development, just not at the same speed as before," she says. "Macao restaurants of the future will all have their own unique selling points. And I'd love to see a Macanese star-rated chef. Now that would be something special."
---
Michelin by the Numbers
If the 2022 MICHELIN Guide Hong Kong Macau is any indication, Macao is fast becoming a powerhouse food city.
51 selected restaurants: 3 Three-Star restaurants; 5 Two-Star restaurants; 7 One-Star restaurants; 7 Bib Gourmand restaurants; 8 Street Food establishments; 20 MICHELIN Selected restaurants