Prepare for more tourists to hit Macao over the coming years. In the past two decades, the city has become a hub for visitors – and heritage projects to protect its history – but the future looks even busier, say the experts.
Over the past 20 years, Macao's tourism sector has grown an average of 8.6 per cent year-on-year. It now accounts for more than 50 per cent of Macao's jobs and the lion's share of its GDP. More striking still, the industry shows no signs of slowing down – it's on track to hit nearly 40 million visitors by the end of this year.
Last year, the city saw more than 35.8 million visitors in town. As a result, it earned a total of MOP 302.85 billion (US$37.6 billion) in gaming revenues and the number of hotel rooms on offer expanded to almost 40,000. It was another strong year for tourism – however, the city's success as a tourist hub really began in 1999 when Portugal handed Macao's administration to China. At the time, the tourism industry was nascent: the territory welcomed 7.4 million people and counted roughly 9,000 hotel rooms that year. The majority of visitors came to try their luck at the gaming establishments since Macao was – and still is – the only place in China where gaming is allowed.
After the central government liberalised the gaming industry in 2001, however, international corporations joined the market and tourism exploded. Macao eclipsed Las Vegas in gaming revenues in 2006 and, last year, the revenues were more than three times that of its Western counterpart. But while gaming has played a major role in the rapid development of Macao's tourism industry, it's far from the only reason to visit the city. Religious tourism, architectural tourism and gastronomic tourism, for starters, pull the visitors in.
Peering into the future, the experience in Macao is expected to further evolve, with travellers perhaps becoming less fixated on the baccarat tables and more interested in the city's history, culture, arts and food. "We take 1999 as the turning point," explains Maria Helena de Senna Fernandes, director of the Macao Government Tourism Office. "I would say that 20 years ago, people were still looking at Macao as a casino destination. Nowadays, people still look at it as a gaming destination but there are a lot more aspects. Even the gaming we talk about now is very different from before."
Senna Fernandes says today's gaming experience is associated with leisure and entertainment within the integrated resort complexes, while the city's rich cultural tapestry has become another major calling card. "Now Macao has two UNESCO brandings," she notes. "One is World Heritage, which we obtained in 2005 for the Historic Centre of Macao, and the other was in 2017 for the Creative City of Gastronomy. This all adds up to a much more diversified Macao."
More than just games
The MGTO has been pushing Macao away from gaming and towards diversification for many years to avoid 'putting all the eggs in one basket', says Senna Fernandes, citing the MGTO's Macao Tourism Industry Development Master Plan. Unveiled in 2017, the step-by-step blueprint outlines plans to build a 'holistic tourism destination' over the coming years, by 2030.
The vision increasingly turns a spotlight on experiential travel, with hopes to re-brand Macao as a multi-day destination rather than a 'day-trip from Hong Kong'. Currently, the average visitor stays an average of 2.2 days – compared with Las Vegas' 4.4-day – however, the department is designing multi-day packages that emphasise culture, heritage, creative industries, family-friendly entertainment and food to change tourists' perspectives.
"I would say the mix of Portuguese and Chinese heritage very much characterises Macao," says Senna Fernandes. "It comes in the food, it comes in the buildings and our everyday way of life. We say it's like a meeting between the southern Chinese and the southern Europeans, so although the pace of life has gotten a little bit quicker, you will see a very relaxed atmosphere in Macao." Gastronomy is particularly important because it serves as an edible expression of Macao's unique East-meets-West culture. To emphasise gastronomy in years to come, the MGTO's initiatives include more gourmet food tours, events and festivals.
The entertainment sector has been propelled by the development of Cotai over the past decade. Built on reclaimed land between Taipa and Coloane, the city's hotel and entertainment hub has 22,000-plus hotel rooms alongside ever-sophisticated facilities such as the Cotai Arena and the now-iconic House of Dancing Water at City of Dreams. "Today's tourists are not like before," explains Senna Fernandes. "Before maybe they used to come to take a few photos at the main tourist sights, then go shopping – and that's it. Now, our tourists are demanding more lifestyle products and experiences. Visitors are looking for more cultural products, enjoying lifestyles in different parts of the world and exploring history more deeply."
Keeping pace with changing preferences, MGTO increasingly markets the city's unique festivals – be that religious events like the Procession of the Passion of Our Lord, the God Jesus, on the first weekend of Lent or the annual Macao International Fireworks Display Contest, which paints the sky in neon every autumn. Then there's extensive arts programmes including Art Macao – a city-wide cultural show that ran for the first time from May to October – and a wellspring of heritage attractions to discover.
In the coming years, Senna Fernandes says tourists may encounter more nature-driven experiences, such as a series of new water-based sightseeing tours that will shine a light on the city's coastal beauty. Or they could be more futuristic. As an example, Senna Fernandes points to Fisherman's Wharf, which has just announced it will develop a VR Zone with games and experiences in collaboration with Japan video game company Bandai Namco. Then there's the forthcoming Grand Prix Museum, which is slated to emerge from an overhaul next year. The museum will be six times larger and feature tech touches, including virtual reality and multimedia exhibitions.
Embracing the past
While Macao has one eye firmly on the future, it has not forsaken its past. In fact, in recent years, the city's heritage has seen renewed protection and appreciation following UNESCO's 2005 decision to name the SAR's 'Historic Centre' a World Heritage site. "The successful application of Macao as a UNESCO World Heritage site has helped the whole world re-frame our city," says Macao heritage expert Guo Zhan, who served as the vice-president of the International Council on Monuments and Sites (ICOMOS), a professional advisory body on world cultural heritage affairs recognised by UNESCO, between 2005 and 2014. "There is no other town in China – in the whole world – where Chinese and Portuguese culture and other foreign cultures blend on such a scale."
After UNESCO honoured the region's unique urban tapestry, the SAR established its own set of Intangible Cultural Heritage elements – a mix of ancient practices and arts, performances and languages that form Macao's cultural identity. Announced earlier this year, the 12 Intangible Heritage items include cultural treasures such as medicinal Chinese tea, wood carvings, Cantonese opera, Macanese gastronomy and events like the Procession of the Passion of Our Lord, the God Jesus. "It is important to further promote heritage protection and make it play a more vivid role in human life," says Guo. "Macao's policies for the protection of its Intangible Cultural Heritage will enhance the sustainability of the city's comprehensive characteristics and exert a greater, more extensive and lasting influence on tourism."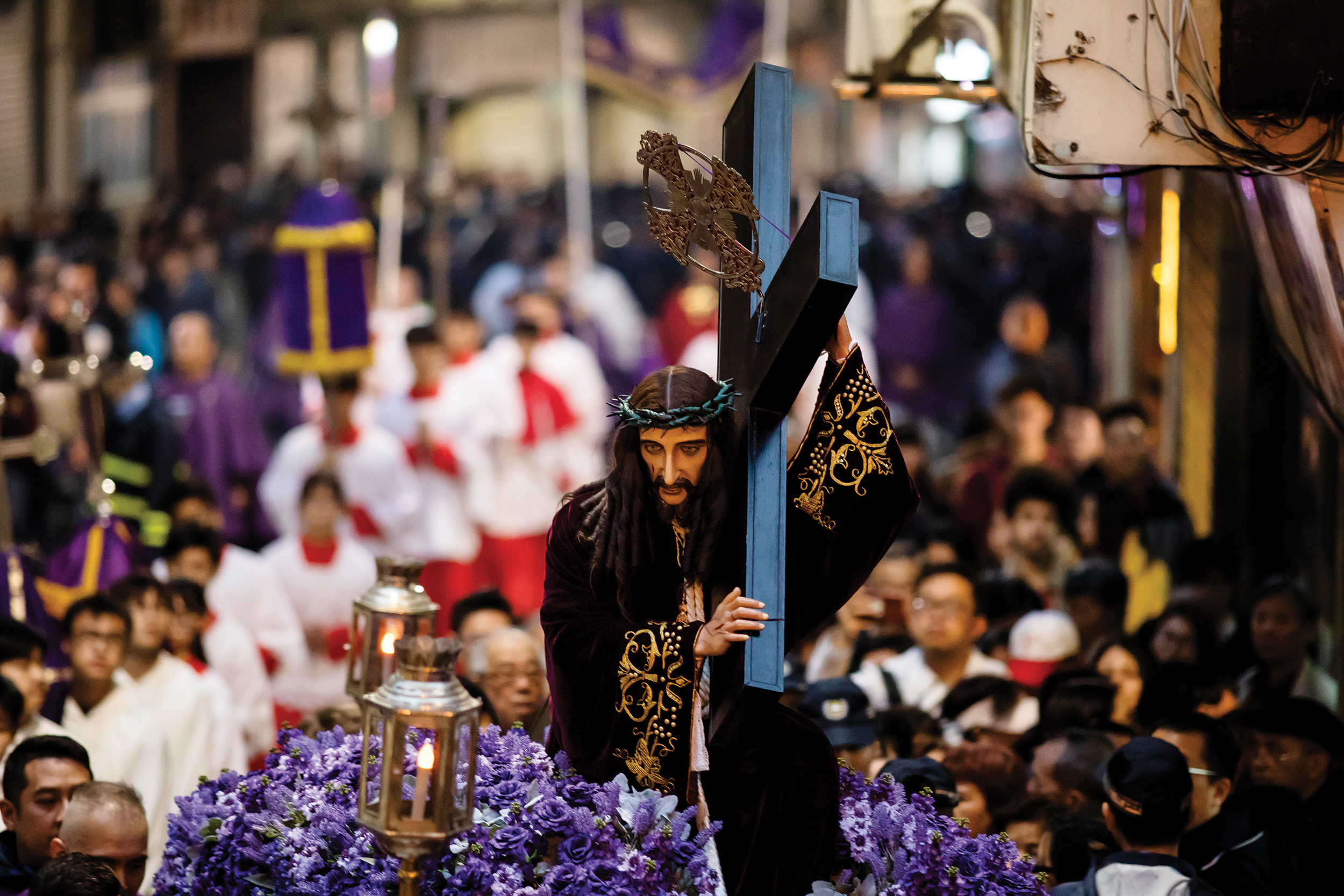 There are still many opportunities when it comes to seizing Macao's potential as a cultural hub in Asia. Guo recommends tapping into the city's coastal roots as a hub of fishing and international trade, saying: "There is significant potential for a seascape tour – a historic route of imagination and association, landscapes and seascapes, and tangible and intangible experiences."
Leaning into the city's unique history is imperative, says Guo, in the face of growing competition from Asian neighbours in the gaming industry. "The instability of the gaming industry will have an unpredictable impact on the lasting stability and prosperity of Macao," he explains. "But now the calling card of UNESCO World Heritage has provided a permanent and attractive fame for Macao, becoming a guarantee of glorious identity and sustainable development in the future."
New neighbours and smarter tech
The development of the Greater Bay Area should provide new opportunities for Macao, including multi-destination travel, relaxed visa policies and an opportunity to transform the city into a tourism education and training base. As the GBA comes to fruition, Macao aims to establish more direct flights and overland connections across the region. Asia currently accounts for more than 90 per cent of all visitors to Macao, with 70.6 per cent coming from Mainland China, 17.7 per cent from Hong Kong, 3 per cent from Taiwan and 2.3 per cent from South Korea as of last year's figures. However, many still visit Macao via Hong Kong as part of a two-city experience.
The Hong Kong-Zhuhai-Macao Bridge, which opened just one year ago, is a case in point. It has already made a tremendous impact, serving as the port of entry for more than 1.05 million visitors in 2018. "Traditionally, we've had to rely on Hong Kong to feed us international travellers because that's the main gateway," says Senna Fernandes. "But we've seen that airports like in Guangzhou are becoming more prominent in terms of their network, so we think there will be a lot more gateways out of the GBA and we may benefit from that."
With the number of travellers set to increase over the next decade, the MGTO also plans to introduce new ways to help develop Macao into a 'smart city'. Overcrowding is one of the key issues: if you visit Senado Square, say, on a weekend, you're more likely to remember the crowds than the architecture. When an average of 98,092 visitors descend on Macao every day, there's bound to be gridlock. To better accommodate the influx, the MGTO is working with Alibaba Group's Alibaba Cloud on three projects: a 'tourism information interchange platform' platform, 'application for visitor insights' app and 'smart application for visitor flows'. Essentially, this trio of tech solutions aims to analyse visitors' behaviour, traffic flows and density at the city's major attractions and points of entry. The platforms can then predict periods of high congestion and provide useful, real-time advice to travellers or tour operators.
In the future, key advancement for tourists will also include widespread cashless payment systems, integrated one-stop tourism mobile apps and the expansion of the MGTO's Wi-Fi Go service. The latter currently provides 200 internet hotspots across the city but the MGTO plans to expand coverage and upgrade internet speed in the coming years. "The majority of people – particularly young people – are consuming information on smartphones and tablets," says Senna Fernandes. "So we definitely need to catch up with technology, as well as be on alert as to what technology is coming next. I would say VR, AR or maybe something we haven't even seen yet – it changes fast."
---
Looking ahead to 2025
What the city's tourism industry will look like:
Total visitor arrivals in 2025
38 TO 40 MILLION PEOPLE
(35.8 million in 2018)
Visitors' non-gaming spending in 2025
US$13 TO 14 BILLION
(US$8.6 billion in 2018)
Average length of stay for overnight visitors in 2025
2.3 DAYS
(2.2 days in 2018)
Number of hotel rooms in 2025
51,900
(38,809 in 2018)
Hotel average occupancy rate in 2025
84%
(91.1% in 2018)
*Figures are taken from the MGTO's Macao Tourism Industry Development Master Plan's 'modest visitor growth scenario' for 2025, based on 2015 figures. Comparisons are for 2018 only.