The five-month arts and culture festival that is Art Macao has already captured the imagination of artists, residents and visitors – and there's plenty more to see before it ends in October.
Italy has the Venice Biennale. Scotland has the Edinburgh Fringe. The US has South by Southwest – and even our neighbouring SAR has the annual Art Basel Hong Kong. These major festivals showcase and promote arts and culture – from painting to theatre – from across the globe as a way to bring tourists in and to give locals an artistic and culturally enriching experience.
But Macao has never had such a festival. It is home to the Macao Arts Festival – which celebrated its 30th edition earlier this year – but it has never been able to bring its public and private entities together to create such a grand arts and culture extravaganza that would appeal to visitors from across the world – as well as its own residents. Until now.
On 6 June, the first-ever Art Macao was launched – a five-month festival of art, culture, dance, drama and music, encompassing almost the entire city, indoors and out. Unlike the Macao Arts Festival, Art Macao brings in works and artists from across the world, giving the entire June-to-October programme a distinctly international flavour.
An arts festival like no other
The festival is already being touted as the city's longest – and biggest – arts and culture festival and one of the key components to that grandeur is the starring role of the SAR's six gaming operators who have joined forces with the government in its creation. As a result, the entire extravaganza has a budget of MOP34.6 million (US$4.3 million) – with MOP16.6 million (US$2.1 million) coming from the government and MOP3 million (US$372,000) coming from each of the gaming operators.
Known as Arte Macau in Portuguese – and translating as Art and Cultural Gathering in Macau in Chinese – the festival is made up of at least 40 events being held at 44 venues across the city, including entertainment resorts, hotels, consulates, museums, higher education institutions and an array of other indoor and outdoor areas. More than a dozen private and public entities are participating and the government has said that Art Macao aims to break through the limitations of space to present the art festival and to 'surely turn each landmark' that is part of it 'into a photography hotspot'.
The aim of Art Macao, ultimately – which is jointly organised by the Cultural Affairs Bureau and the Macao Government Tourism Office – is to promote art and culture in the city, as well as helping to transform the SAR into a new destination for cultural tourism. It is also all about adding new tourism products to the city's portfolio and, of course, bringing various styles of arts and culture straight to the Macao community.
The Secretary for Social Affairs and Culture, Alexis Tam Chon Weng, said at the opening ceremony in June that 'with the economy of Macau developing well', the people were 'in need for a more spiritually enriched and culturally exquisite Macao', adding that 'Art Macao will take on this important role, allowing artistic creativity to spread and cultural innovation to bloom here in the city'.
Prior to the opening he had noted that the new Outline Development Plan for the Guangdong–Hong Kong–Macao Greater Bay Area tasked Macao with the goal of developing into 'a base for exchange and cooperation with Chinese culture as the mainstream and the coexistence of different cultures' – and that 'this strategic positioning provides enormous momentum for Art Macao to grow and flourish'.
The festival also ties in with the events this year in Macao that celebrate the 70th anniversary of the founding of the People's Republic of China, the 40th anniversary of the establishment of diplomatic ties between Lisbon and Beijing, and the 20th anniversary of the return of Macao's administration to China. The consulates of Portugal, Hungary, Belgium, Japan and Italy are also taking part.
From the Renaissance to the modern
Some of the events began before the launch of the festival in June, such as the Macao Museum of Art exhibitions 'Italian Renaissance Drawings from the British Museum' – which showcased 52 drawings by 42 Italian masters, including Michelangelo and Leonardo da Vinci – and 'Beauty in the New Era – Masterpieces from the Collection of the National Art Museum of China' – which celebrated Chinese paintings and included works from the likes of Qi Baishi and Zhang Daqian.
However, Art Macao officially began with the opening of the festival's core exhibition at the Macao Museum of Art on 6 June. 'Art Macao: International Art Exhibition', which is open throughout the whole course of the festival until October, features a multitude of artworks, including sculptures, paintings and multimedia installations. The aim of the entire festival is apparent upon entering the exhibition as posted at the front is a quote from philosopher and educational psychologist John Dewey, saying that art is a form of experience that connects with everyday life – mirroring the organisers' mission to connect art with tourists and the residents of Macao.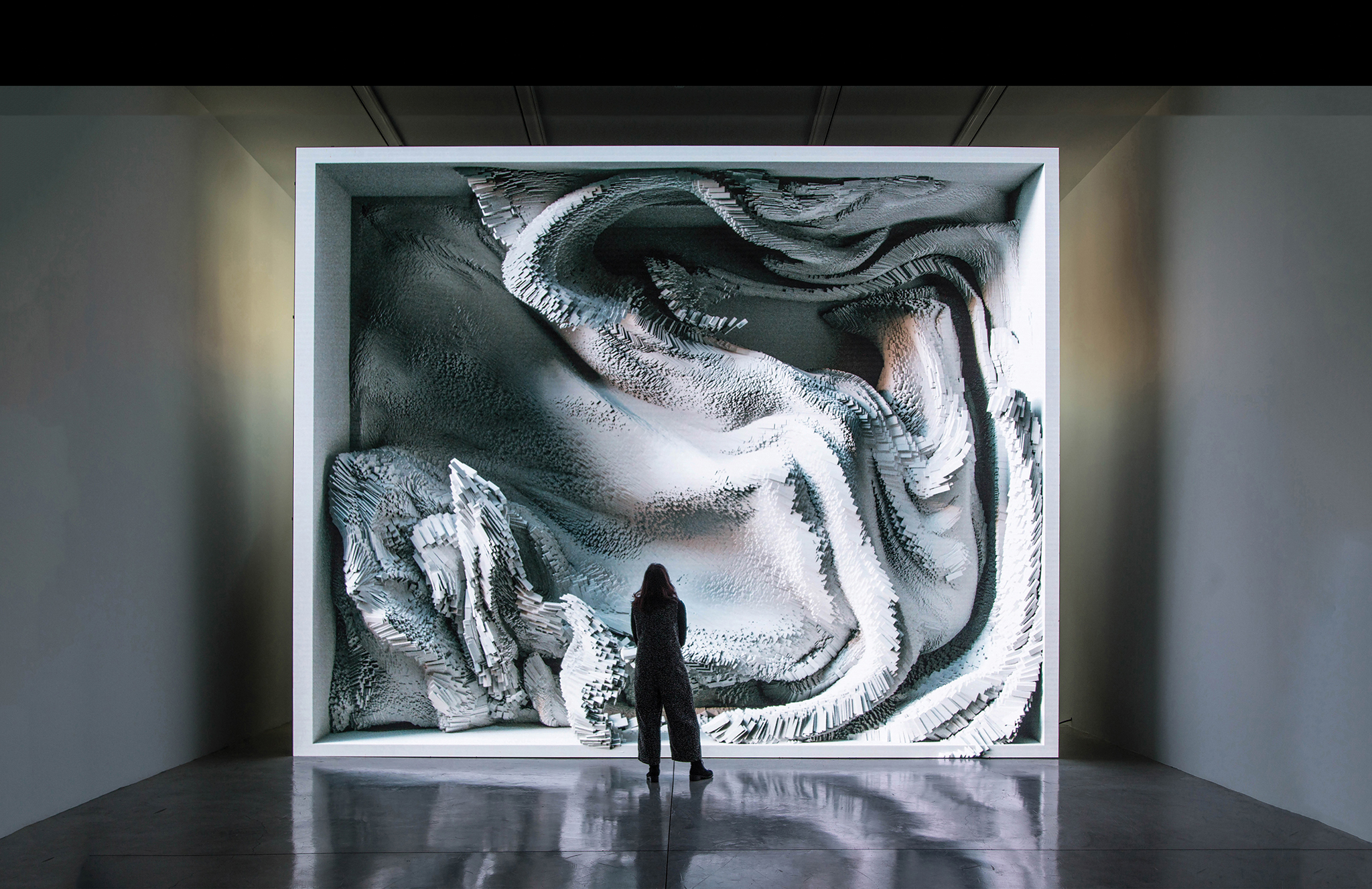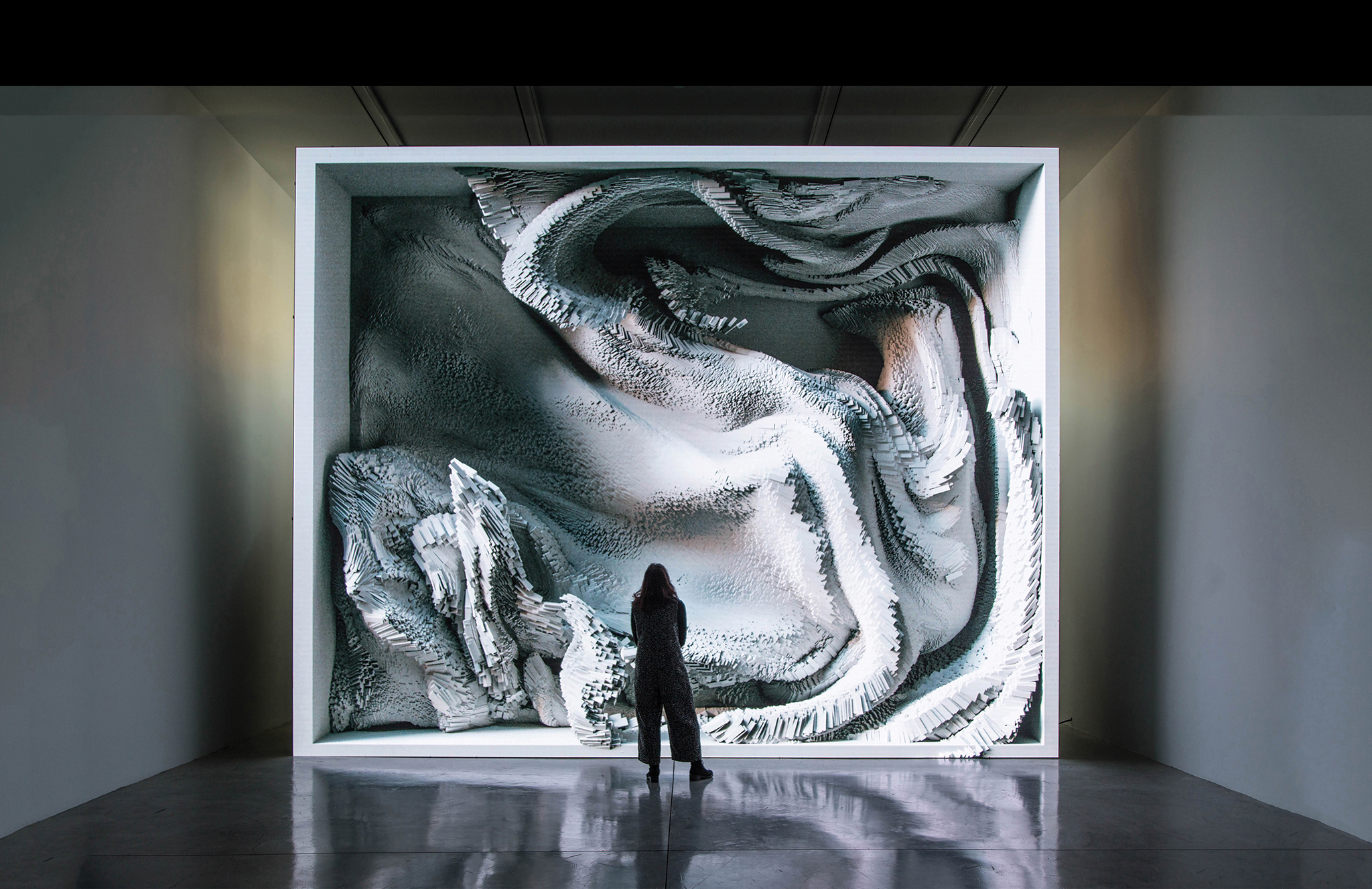 There is plenty to see and experience inside the exhibition, however one highlight is Turkish artist Refik Anadol's 'Macau Currents: Data Paintings', three LED screens that are inspired by high-frequency radar data recorded in 30-minute intervals. Anadol, who also has another artwork, 'Melting Memories', at Wynn Palace, did a 30-day study of Macao's sea surface and transformed the data into a moving poetic experience.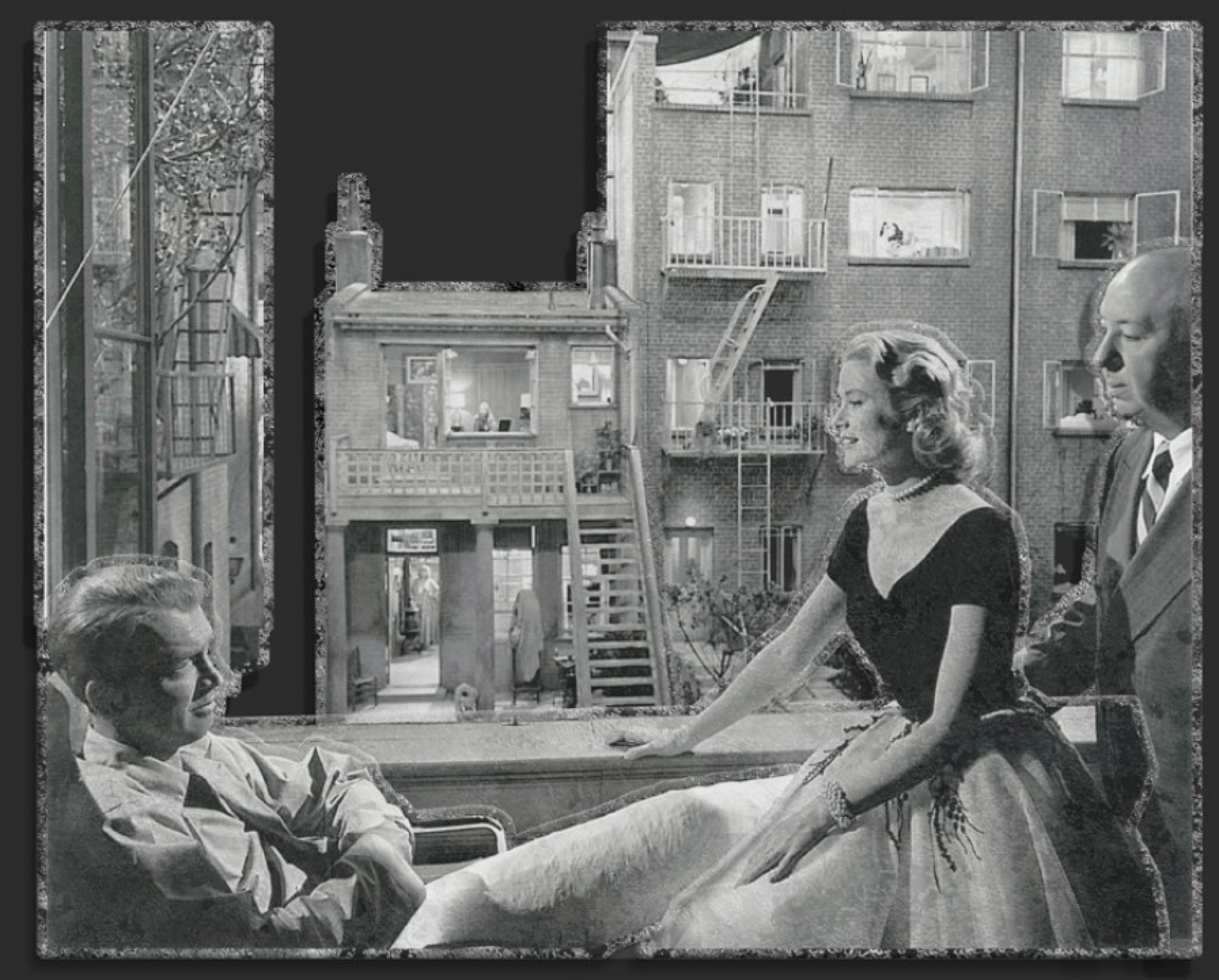 The Macao Museum of Art houses the main exhibition, however it also takes place at other spots across the city, including Ox Warehouse, the Old Court Building and the Macao Contemporary Art Centre. Ahead of that opening, one of the gaming operators pre-launched their Art Macao offering, becoming the first of the six to exhibit works. The Galaxy Macau opened the 'Grace Kelly: From Hollywood to Monaco' exhibition, which celebrates the life of the legendary Hollywood movie star, with an array of artistic works and fashion that show how the icon served as many an artist's muse more than half a century ago.
The other gaming operators opened their shows soon after – each one running until August, September or October. Melco's Morpheus Hotel at the City of Dreams is staging the 'Unexpected Encounters' exhibition, which makes use of its own collection – including 'Fat Convertible' by Erwin Wurm and 'Good Intentions', a statue by KAWS.
'Wynn – Garden of Earthly Delights', an exhibition including modern, contemporary paintings, installations and digital art pieces, is being presented by Wynn Macau at both of its resorts in the city. The exhibition is inspired by the work of Dutch painter Hieronymus Bosch, who painted a stunning masterpiece called 'Garden of Earthly Delights' during the Renaissance.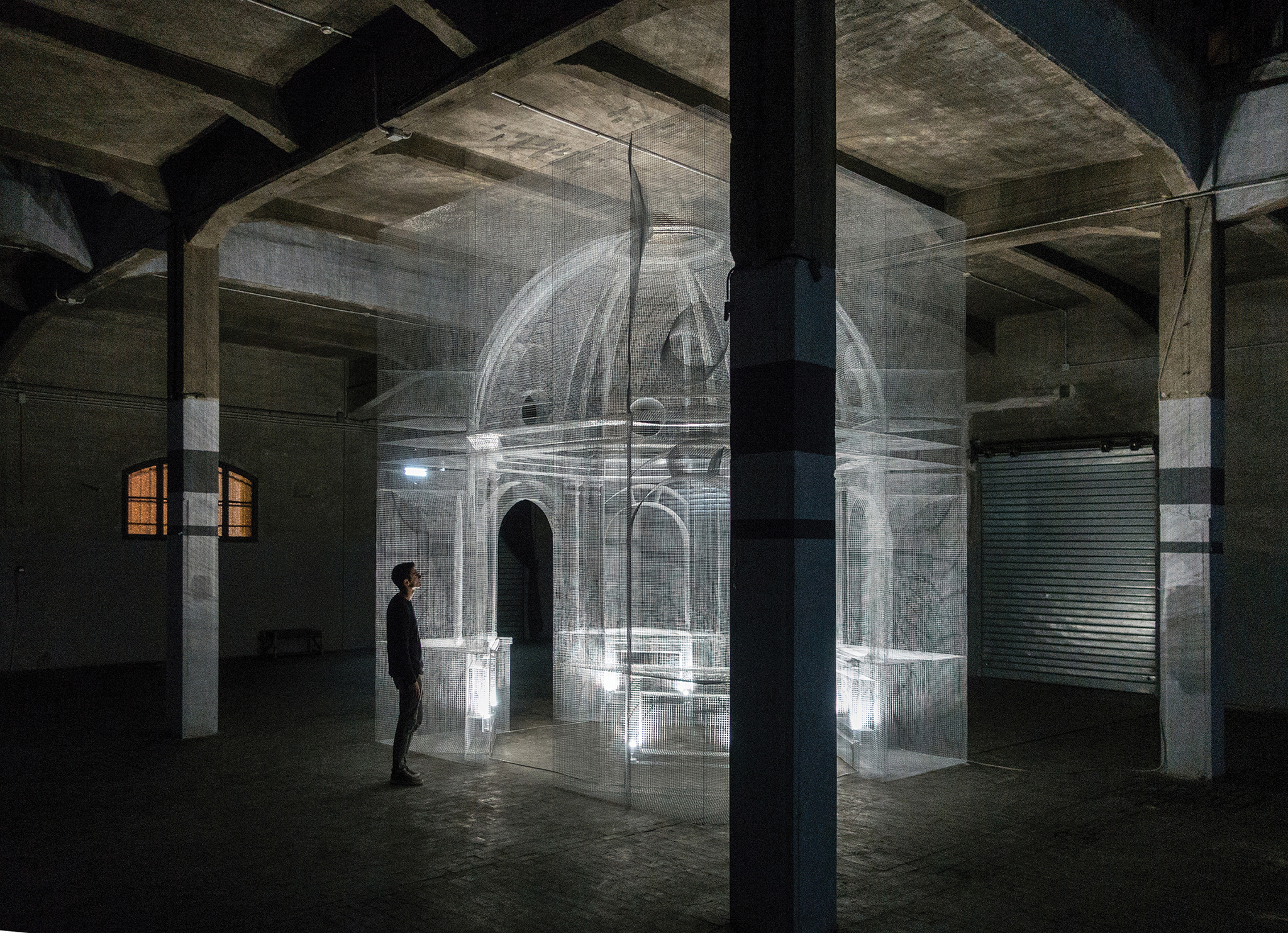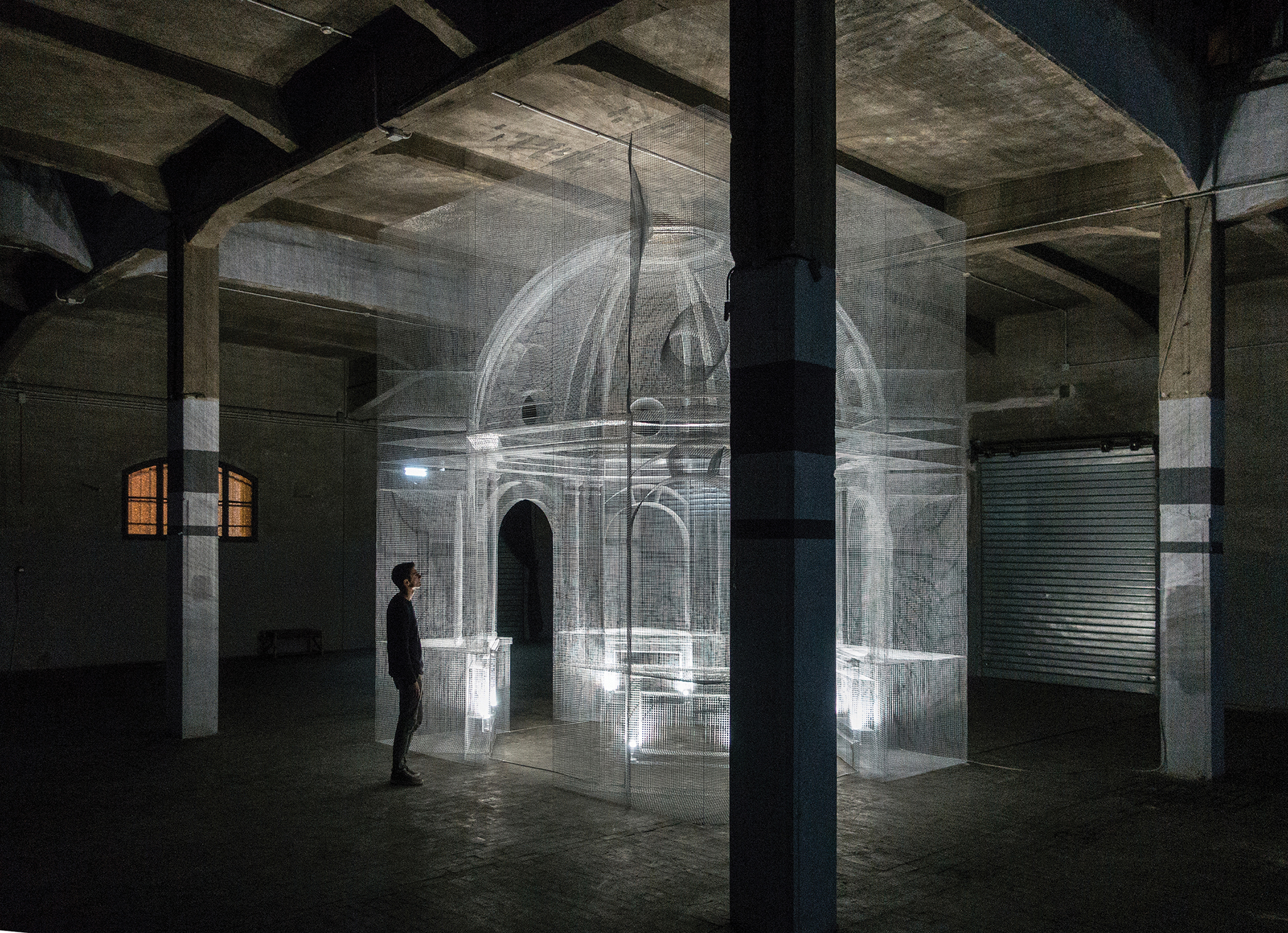 Refik Anadol's pieces are on show, as well as big names like Edoardo Tresoldi, Herb Alpert and Jennifer Steinkamp. Linda Chen, vice chairman and executive director at Wynn Macau, says: "Some of the art pieces are on display in Macao for the very first time, giving visitors an opportunity to interact and enjoy up-close encounters with various media forms such as paintings, installations and digital art pieces. Each work of art illustrates the unique and diverse cultural styles of the artists."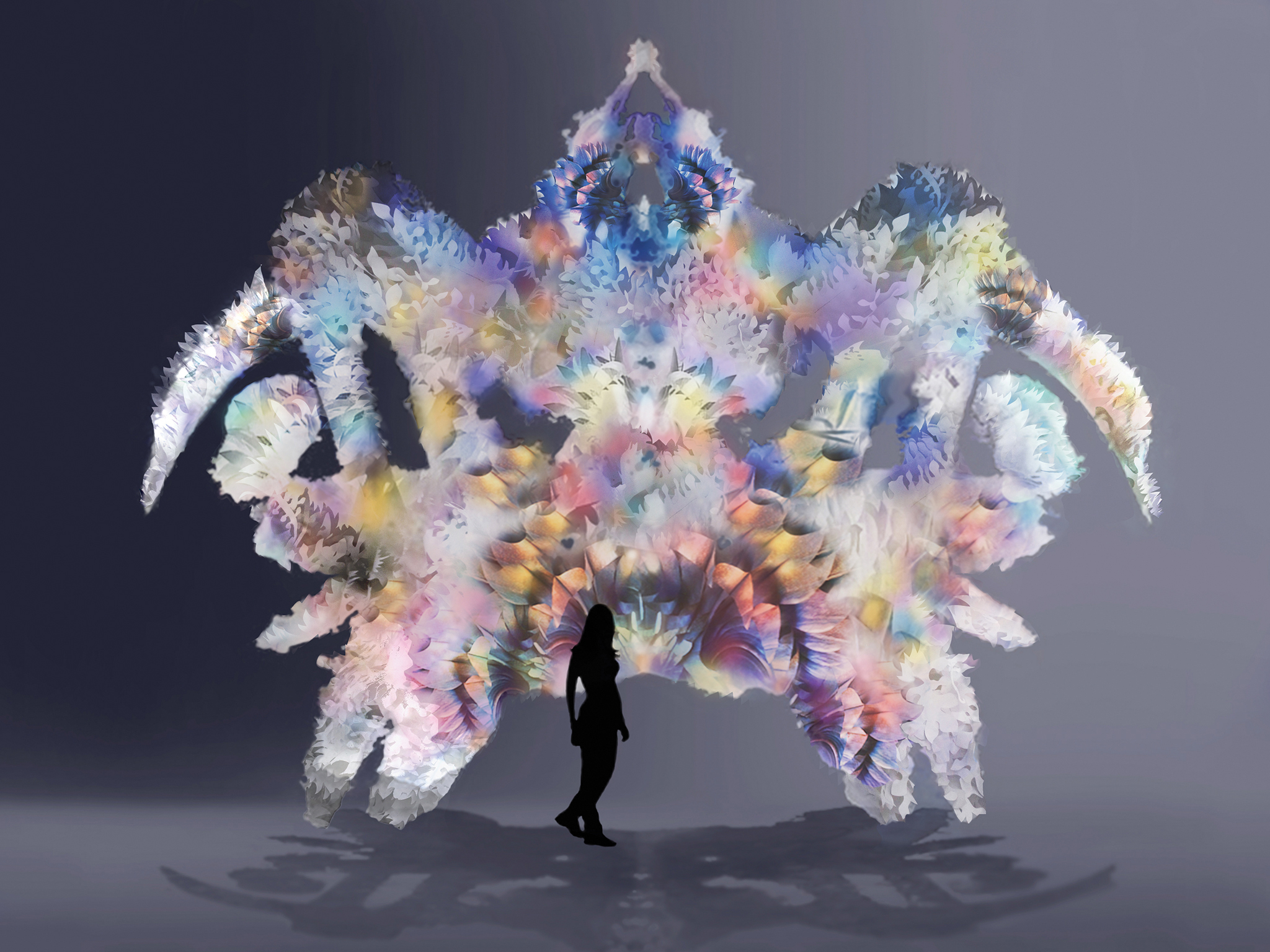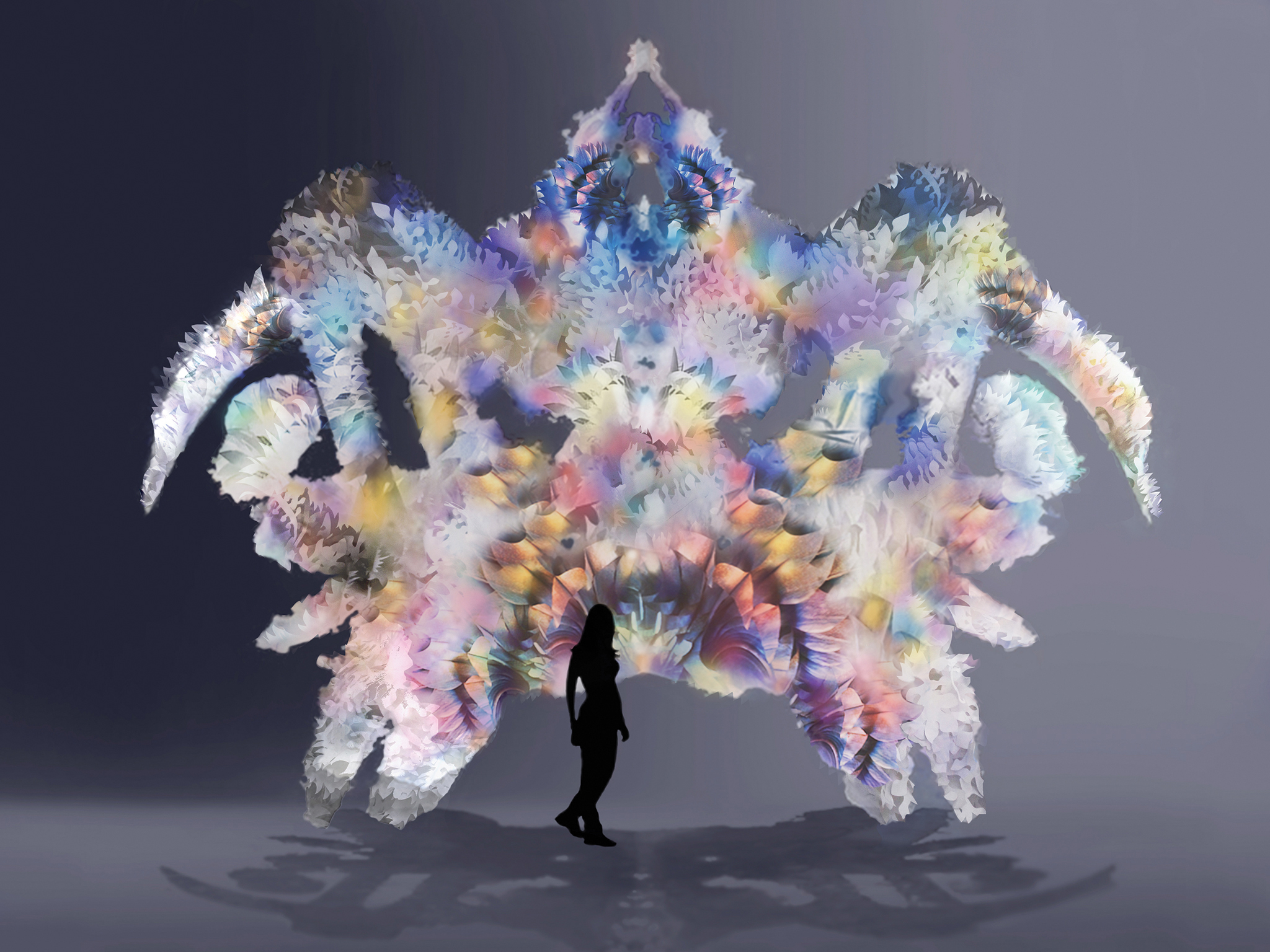 At MGM, the 'Hua Yuan' exhibition focuses on contemporary ink painting art. It includes a large-scale multimedia installation called 'A Metamorphosis: No End To End' by Jennifer Wen Ma and the resort is also presenting a one-act opera performance of 'Paradise Interrupted'. And works by French sculptor Gabrielle Wambaugh are highlighted in 'Interspace' at the Riviera Hotel. These pieces reflect on the integration of space and art.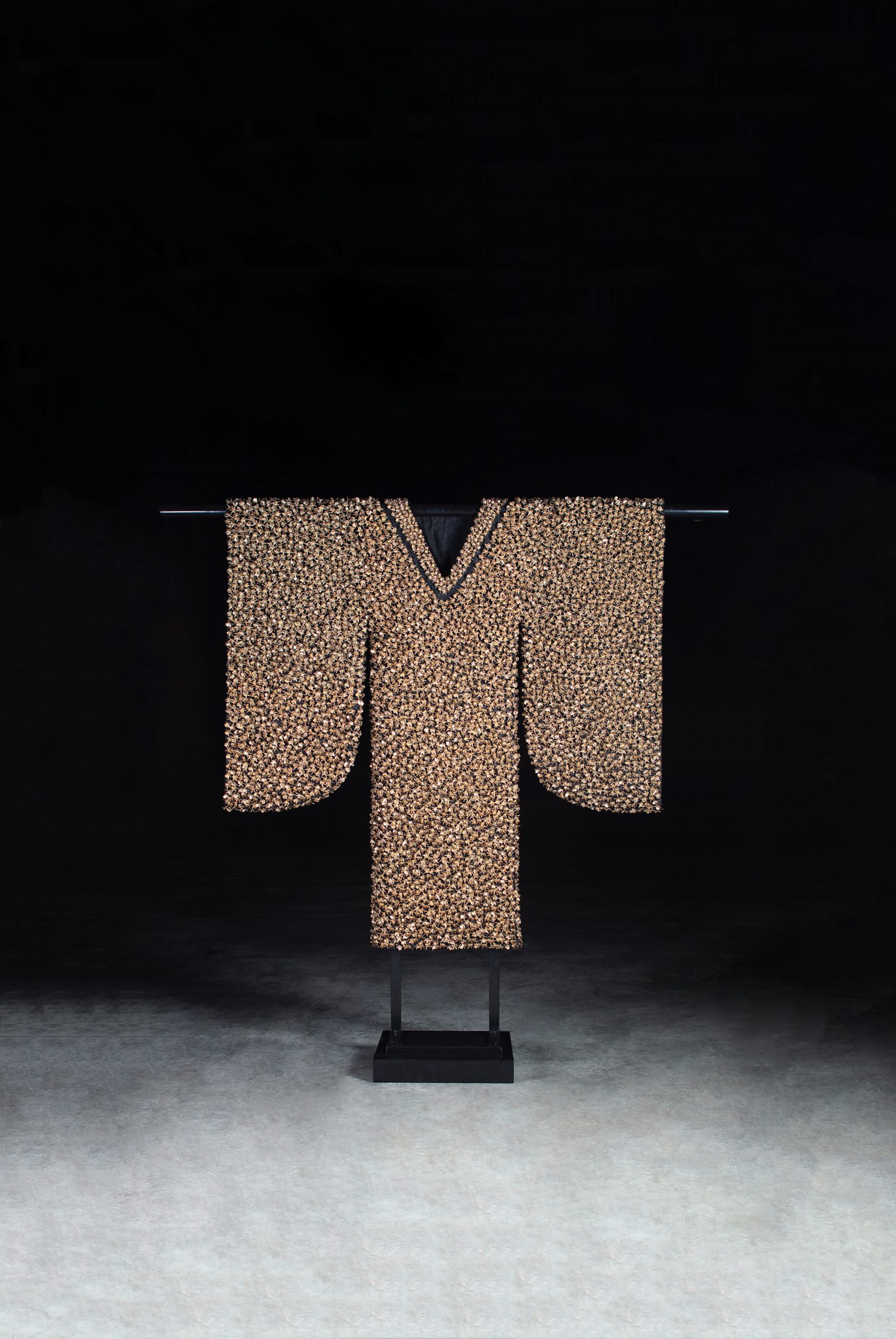 Ninety ceramic masterpieces by 27 artists, all under the theme of 'All That's Gold Does Glitter', are presented at Sands China's four resorts, making for the biggest international ceramic art exhibition in the Greater Bay Area this year, paying homage to Macao's rich history as a centre in the global ceramics trade more than 400 years ago. It was curated over 10 months by ceramic artist Caroline Cheng whose works on display include beautiful butterfly dress 'Prosperity', which is embroidered with porcelain butterflies and glazed with gold.
Caroline Cheng says the creative concept of the dress comes from China. "China as a whole," she says, "is a large country that looks like a hen and foreigners think we all look similar. But when you take a closer look, it contains Chinese people of different cultures, looks and characteristics. Just like my dress – from afar, it's just traditional ancient Chinese attire but when you look closer, it contains tens of thousands of golden butterflies of different forms and sizes made by Jingdezhen artisans. It is an artwork that's worthy of a deeper appreciation. Also, porcelain is called china too because it's rooted here. That's why it makes my work more meaningful." Cheng says the show consists of 'many works of different styles' and that visitors 'can find at least one piece that they like'. She adds: "We hope this exhibition will lead the way for top exhibitions in Macao in the future,"
Finally, seven multidimensional exhibitions that celebrate cultural heritage are being featured across SJM's hotels over all five months under the theme of 'Art∙Appreciation∙Legacy'. Displays include 'The Early Encounter of the East and the West: 20th Century Chinese Artists Abroad in France' this month, 'Visions of Chinese Tradition' and 'Art in Motion: Video Art from Portugal' next month, 'Portuguese-speaking Authors: Works from the Collection of the PLMJ Foundation' and 'Celestial Sphere: Contemporary Glass Art Exhibition by Meng Shu' throughout October.
Putting on a performance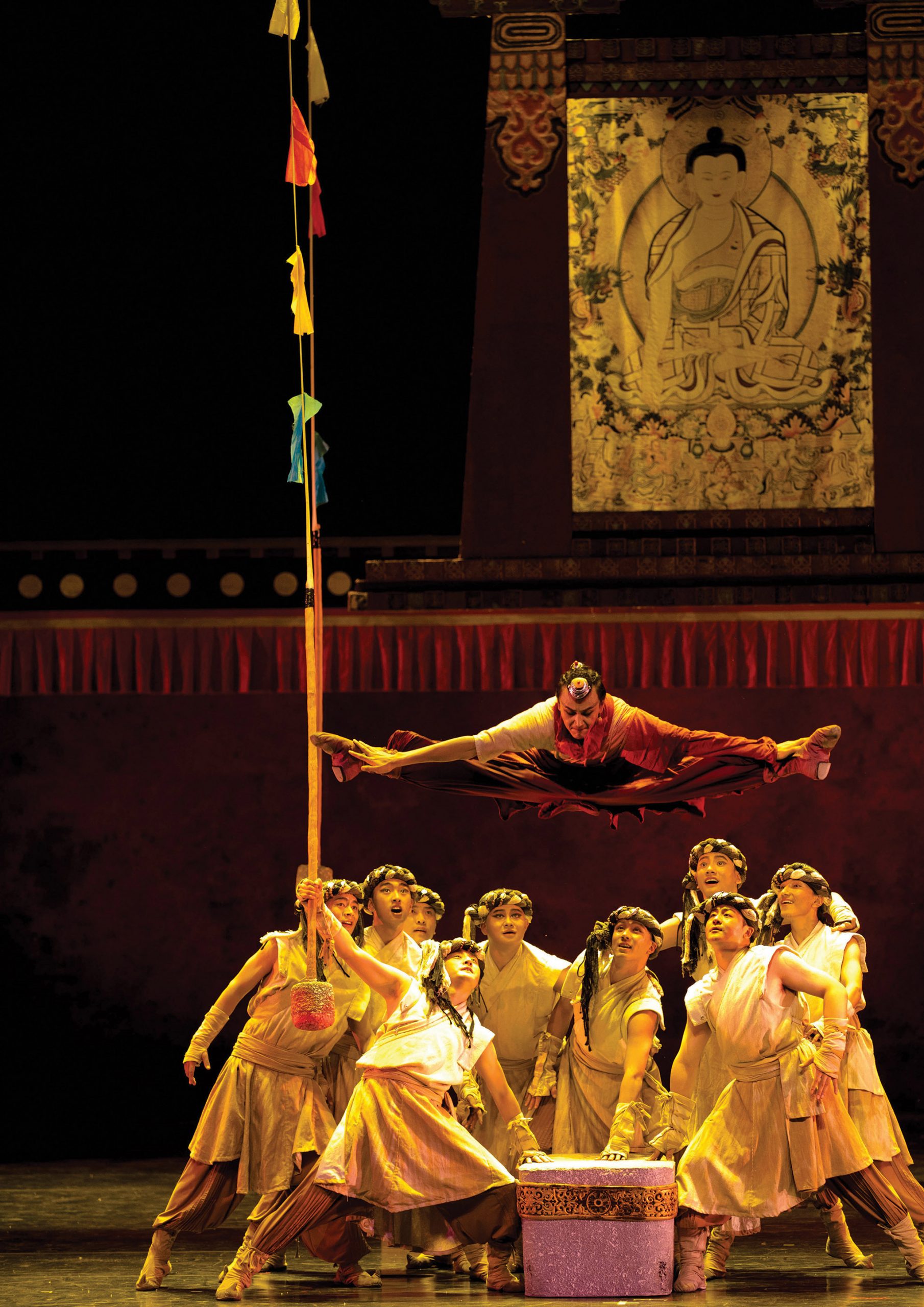 Art Macao is not just about visual arts and exhibitions, however. Music and stage are also at the heart of the festival. The Macao Chinese Orchestra will tune up the band in its 2018-2019 season finale with a concert celebrating China and the Macao Orchestra closes its season with famous pianist Kirill Gerstein during a night dedicated to Romanticism and including Schubert's 'Ninth Symphony'. The orchestra later opens the 2019-2020 season in August with globally acclaimed cellist Alban Gerhardt in a concert that will feature Dvorak, Tchaikovsky and Shostakovich masterpieces from across the ages.
Another major draw is the International Youth Music Festival, which is a regular festival that is now part of the whole Art Macao programme. The same goes for the International Youth Drama Festival and the International Youth Dance Festival. There is also contemporary dance production 'Under Siege' by Yang Liping to look forward to, as well as Haojiang Moonlight Night Dance Drama 'Thangka' and the '2019! Outloud Street Art Festival' that features street artists from across the world and includes graffiti wall painting sessions and artwork displays.
Photography exhibitions, art exhibitions, graduation exhibitions by students and video exhibitions, as well as thematic talks and guided art tours are also available across the city. Plus, there are large-scale outdoor art installations across the city, including 'Sanctuary'. João Ó and Rita Machado, founders of Macao multi-disciplinary studio practice Impromptu Projects, are behind the piece, which sits within the defence walls of Mount Fortress. The pair use bamboo from local scaffolding firms in its creation with the aim of 'complimenting the city with its ancient constructive methods, bringing a sense of belonging to the local community and, thus, advocating the continuity of the collective memory'.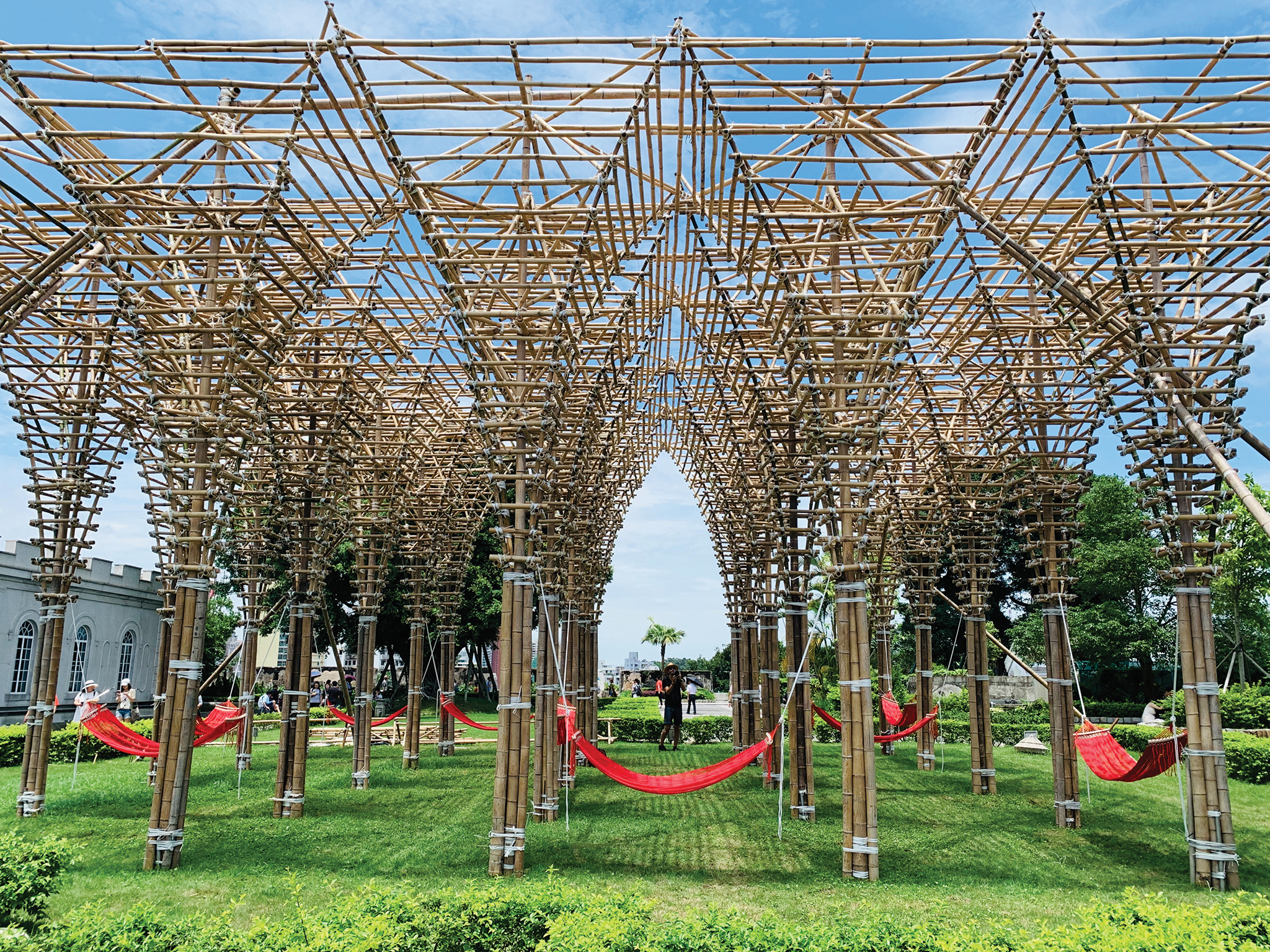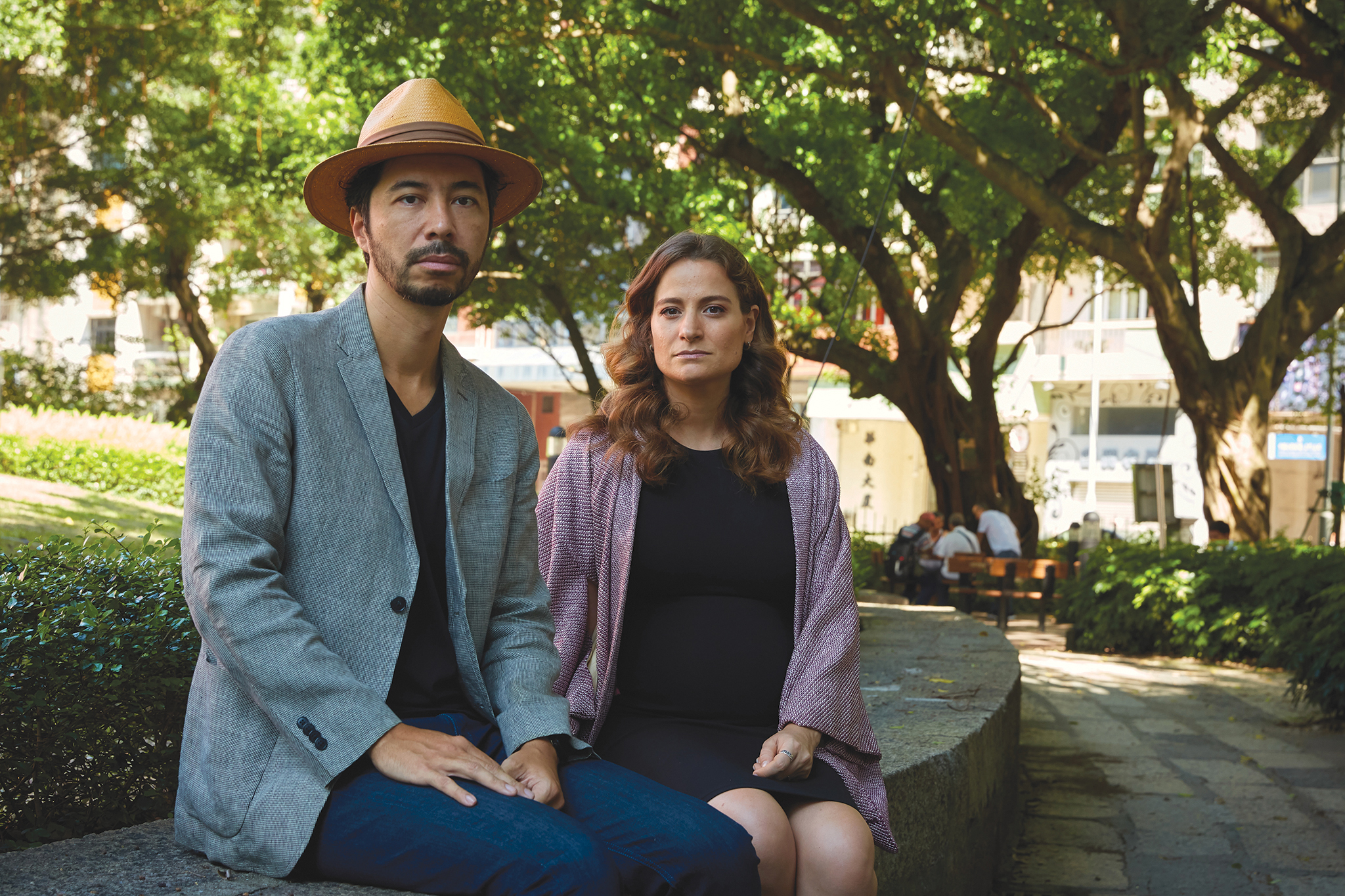 João Ó says: "It is from the weight of the history embedded at Mount Fortress that this temporary bamboo structure reveals its meaningful strategy, a shaded canopy to protect the passersby from the elements and give peace of mind, rest and contemplation before their departure to the next destination."
Rita Machado praises Art Macao for its varied itinerary and range of locations 'from Macao to Coloane and from the hotel resorts to the heritage sites'. "We think it's an exciting initiative," she says, "and has the potential to develop over the coming years and consolidate a strong position in the culture and art scene within the Pearl River Delta region."
Another outdoor installation is 'The Wanderer', a piece inspired by Portuguese poet and writer Fernando Pessoa. The exhibition at the Taipa Houses is made up of 22 pieces, each made of coloured fiberglass that have been designed by local artist Wong Ka Long in a bid to invite visitors to understand more about the spiritual world. And around the Macao Museum of Art, a stainless steel sculpture by Hong Kong artist Mok Yat San called 'Contemplation of Lovingkindness' combines Chinese ink painting with modern landscape elements in three dimensions – and in surreal proportions.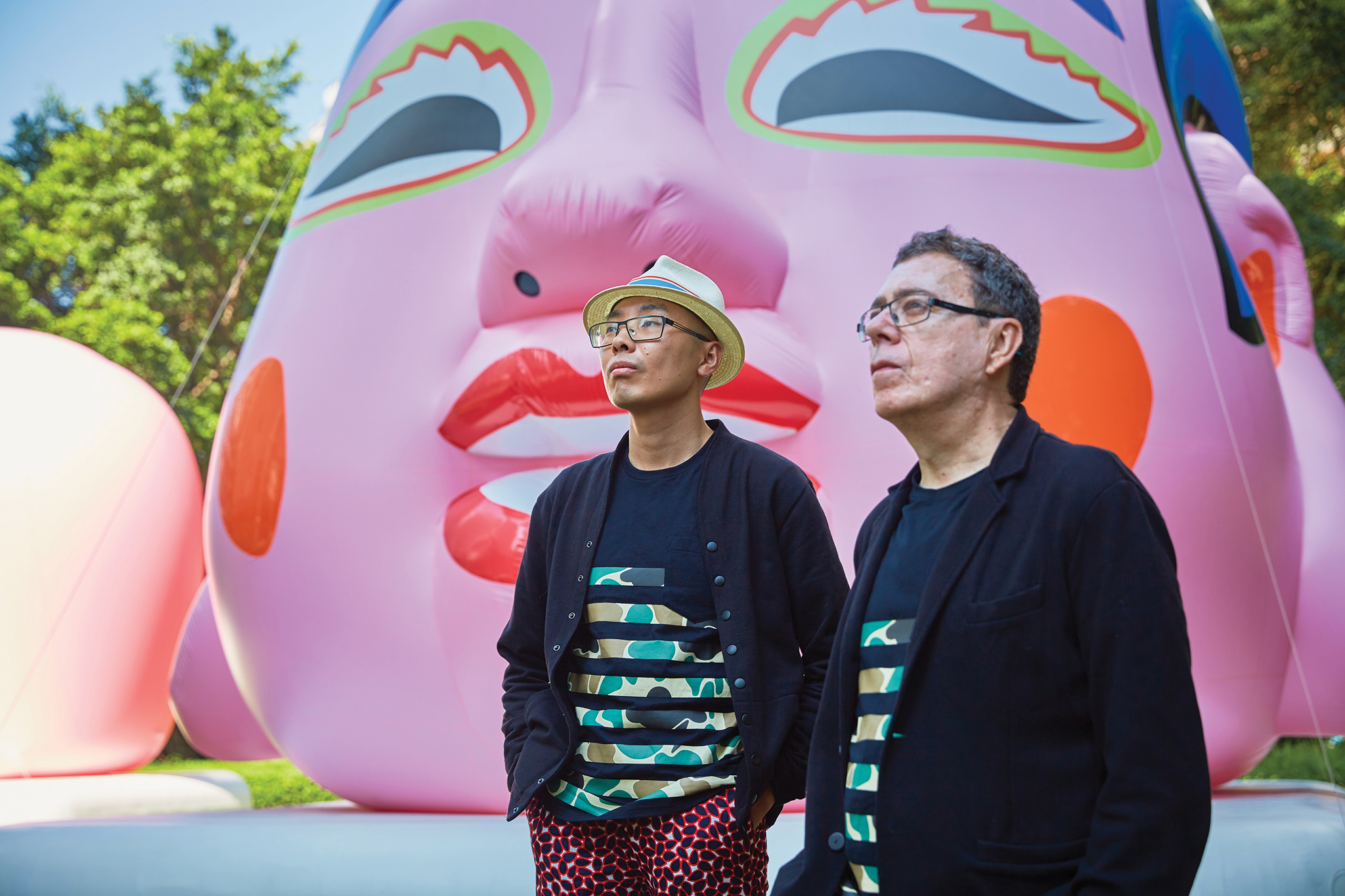 One major highlight (featured on the cover of this issue) is 'Happy Heads'. Benoit+Bo are two artists from Brussels, Belgium with French and Chinese heritages who are behind the 'Prosperous Years' exhibition at the Old Court Building in Avenida da Praia Grande and the 'Happy Heads' outdoor installation on the parkland just outside. Sponsored by Melco Resorts and Entertainment and supported by the Belgian Consulate, 'Prosperous Years' includes a series of artworks from over the past decade, with some of the works showcasing Macao as a prosperous city but with complexity in 'a world of social, environmental and economic problems'. And the two inflatable 'Happy Heads' stand out in the business district due to their 'bright colours and strangeness', bringing smiles to the faces of those who walk past.
Benoit says: "We see Art Macao as a beginning of a new big international art event. We can feel a lot of energy, a lot of willingness and ambitions, a lot of potential through this first edition. There exists a kind of energy without any limits." Bo adds: "A lot of elements in our art come from traditional Chinese and Western cultures. Maybe that reflects the heritage of Macao. We think the combination of Macao's local identity and artworks from across the world will make this festival a success."
A dazzling and inspiring festival
Mok Ian Ian, president of the Cultural Affairs Bureau, one of the organising bodies says 'Art Macao: International Art Exhibition' features Chinese and foreign masterpieces from different historical epochs, ranging from 'dazzling timeless classics' by Gauguin, Wu Guanzhong and Andy Warhol to contemporary artworks 'all of which are sure to impress with their insightful, intriguing, elegant, glamorous and sumptuous qualities, offering the audience a memorable and highly inspiring experience'.
She says: "From early summer to mid-autumn, Macao will be imbued with the fascinating spirit of creativity. People will pay more attention to arts and culture, their artistic horizons will be broadened and the image of the city will be elevated. Macao may still be some way off from the status of exceptionality but this is the goal that we are striving to achieve, allowing the world to see a more beautiful 'cultural Macao'!"
Art Macao is indeed an epic festival that may focus on bringing in international works and performers but also has some grassroots elements that give service to the local talents who, one day, may themselves be the five-month extravaganza's leading lights. Hong Kong may have its Art Basel show but now Macao also has something to shout about on a global level when it comes to arts and culture.