TEXT  Irene Sam
Macao is a hotbed of talent. We meet six up-and-coming young creatives who are shaping the future of the arts scene in the city.
Macao may have a population of more than 640,000 people but few residents would call themselves artists. Over the years, the city has produced some fine works and some exceptional creatives, whether in film, theatre, music, visual art or otherwise, however the SAR is hardly known as a focal point in Asia for arts and culture – until recently. With the launch of Art Macao, we may be seeing a transformation in the city's status as an arts hub.
With any art-focused city comes a responsibility to create a grassroots scene that sees the young and the talented given the support to rise, experiment and find success in their chosen medium. But the talent must be there to start with. Macao's geographical location and history as a melting pot of cultures may be part of the reason as to why the city can produce unique artists. As globalisation and technological innovation play an increasingly important role in society, young artists from Macao feel confident and free to pursue new endeavours at home and abroad.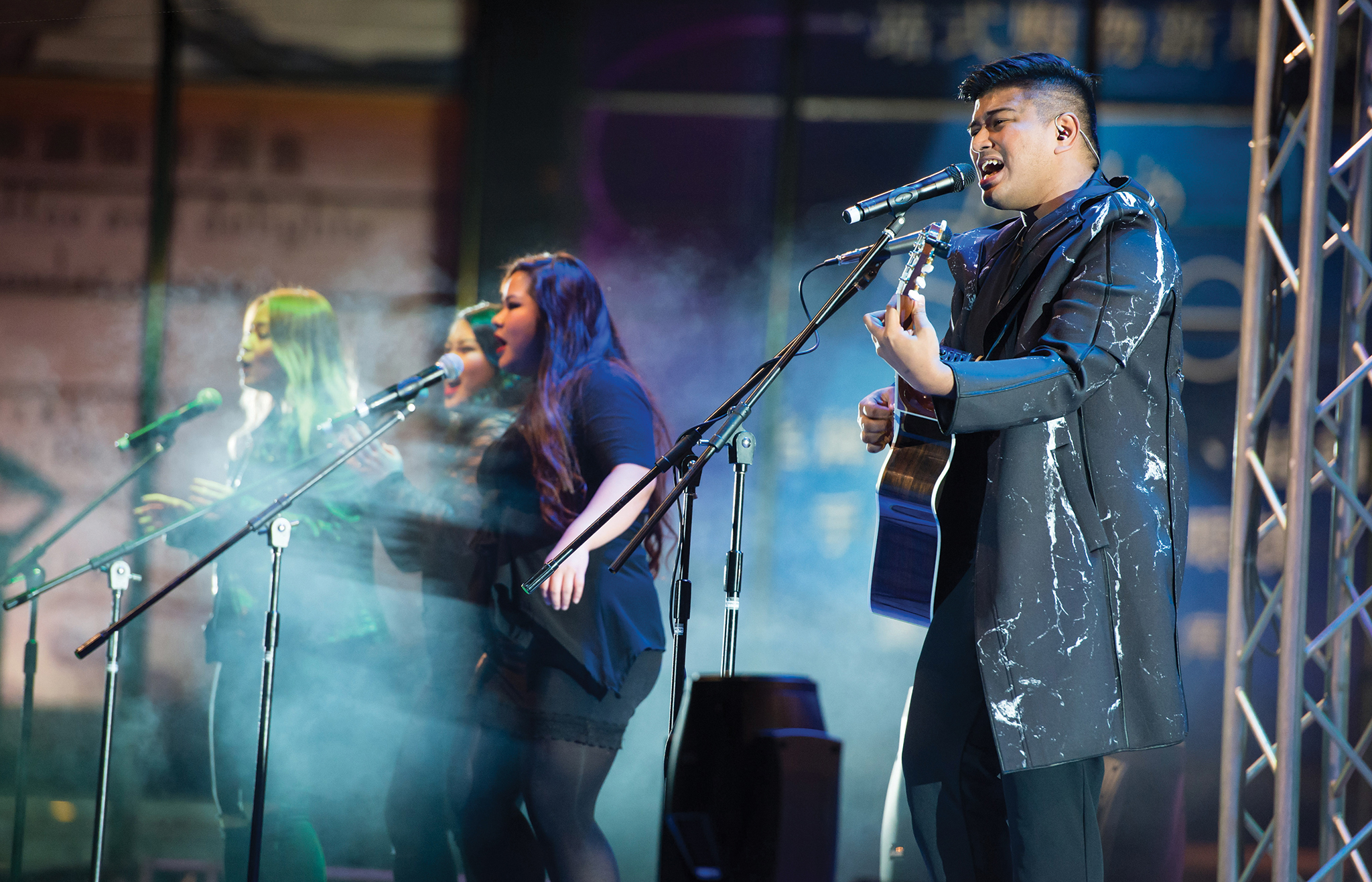 Macao-born singer, songwriter and musician Ari Calangi is one such young artist. The 29-year-old is carving out a successful career as one of the most recognisable musical talents in the city. In 2016, the funky, rocky acoustic guitar player took the crowd's hearts in mainland China reality series 'Sing! China', previously named 'The Voice of China', which can turn armchair musicians into megastars. Instantly recognised as a great talent by a handful of artists, Calangi was invited to tour Southeast Asia with Taiwanese reggae artist Matzka, performing on stage with the star.
Since then, he has been offered a songwriting deal by Beijing record label, Elevenz Music, and he has been performing in Macao, Hong Kong and the mainland, giving his music more regional exposure. He has worked with stars like Chen Chu Sheng and Karen Mok and last year he was the assistant musical director for A-Lin's China tour, 'I'm A-Lin'. "I always have to explain to people that my family comes from Spain, Indonesia and the Philippines," says Calangi, "because they look at me and they can't figure out why I am from Macao. Macao's musical culture is very diverse. For example, growing up here, I have been able to get in touch with Brazilian music and learn about Latin America's musical instruments and sounds."
Calangi acknowledges that there are more opportunities all the time in Macao for young artists, whatever the medium. However, he also says that, for him, he wants to explore his career outside the SAR for maximum exposure. "As a young artist," he says, "I want to go abroad as much as I can in the near future, to see the world and maybe even live in various places for periods of time. Macao's integrated resorts are bringing in a lot of entertainment. This helps to entertain people but, for me, the fun and exposure are more out there."
Prize-winning talent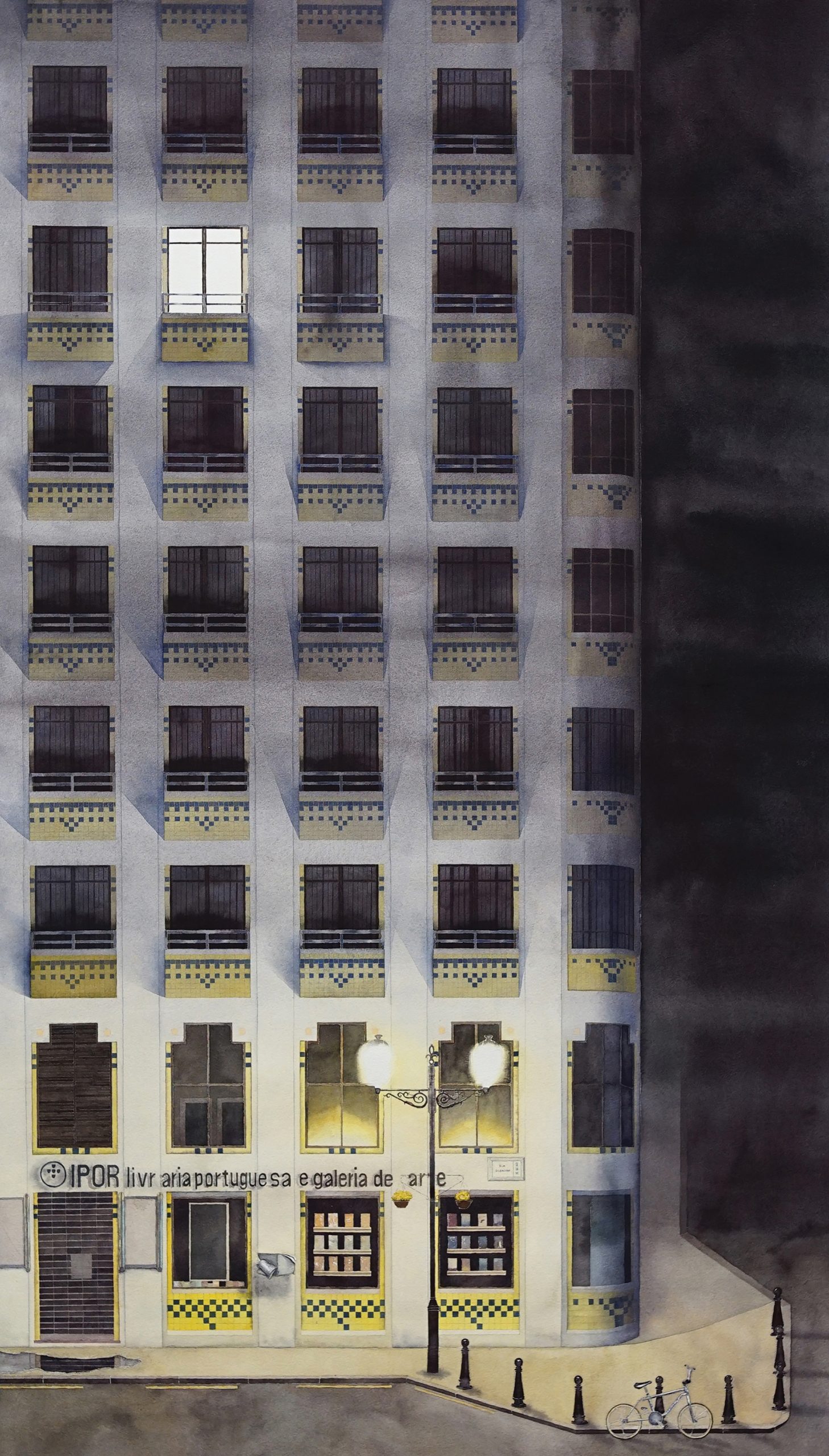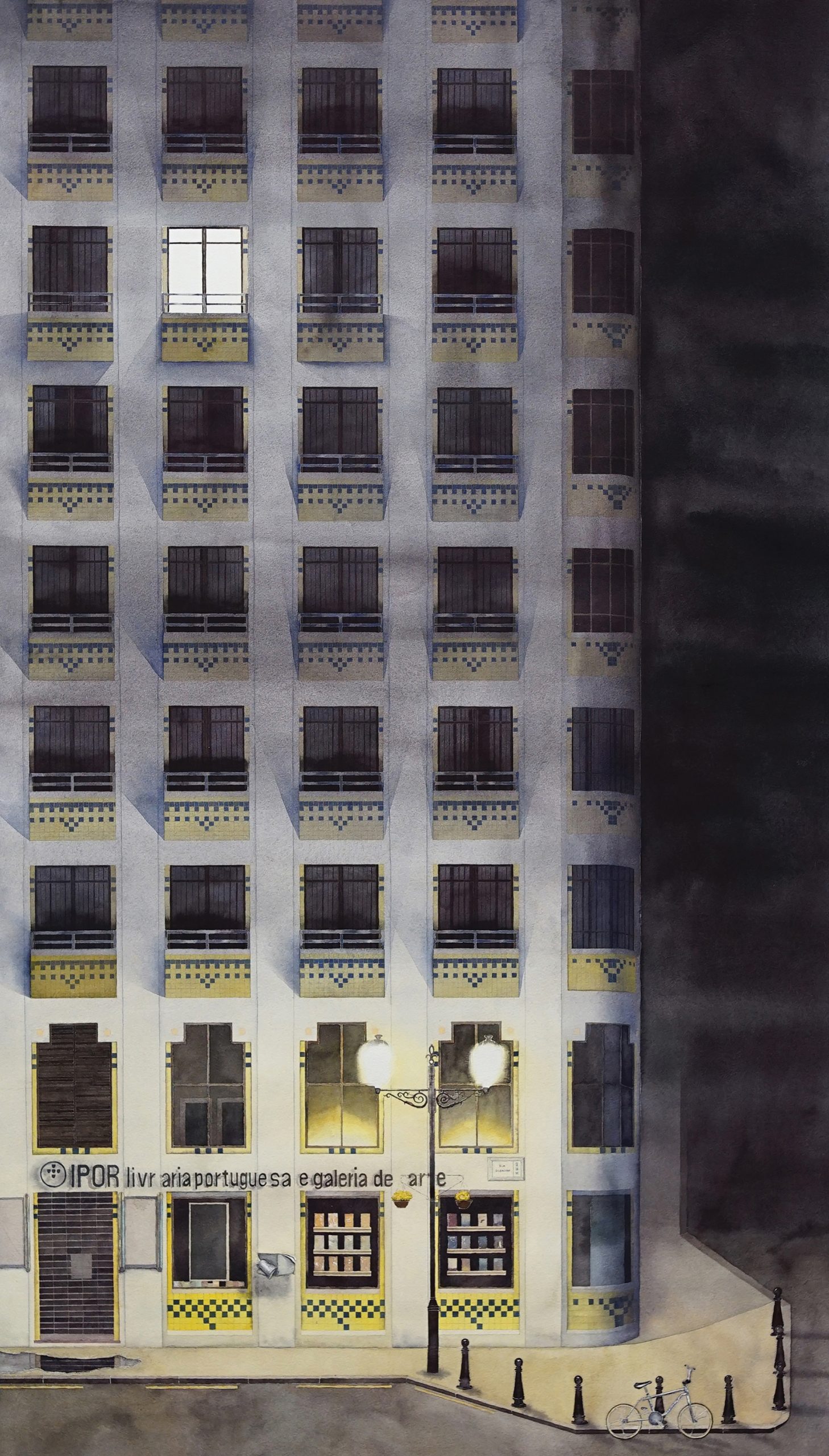 Calangi is not the only young talent with big aspirations in Macao. At 30 years old, Filipe Miguel das Dores is already an accomplished artist with accolades behind him, including the John Purcell Paper Prize for his painting 'Mario Night' in 2015 and the second prize of The Leathersellers' Award for 'Working Alone' in 2016, both awards from the Royal Institute of Painters in Water Colours in the UK. The Polytechnic Institute of Macau graduate, who wants to pursue a master's in contemporary art in Edinburgh, Scotland, has garnered much attention for his painting and sculpting over the past few years.
Born in Macao to a Macanese family, Dores says he was rebellious at a young age but became interested in painting after visiting his cousin's studio. "To me," he explains, "Macao has changed a lot in past decades. I still enjoy the tranquillity of old Macao, so in my painting you will find the mood to be calm and dark. I enjoy working during the night."
Nostalgic of the past, Dores chooses to paint historical buildings and scenes that relate to old Macao with precision and style, which is why it takes him months to complete a piece. Hungry for knowledge and technical skills, he wants to go abroad to learn more. "In Macao, if you talk about abstract art or show someone a painting on the street," he says, "he or she might not be able to appreciate it. It is not only the lack of exposure to artworks but also the education in art appreciation. Therefore, it is important for those who go abroad to learn and bring more knowledge back so that the rest can benefit."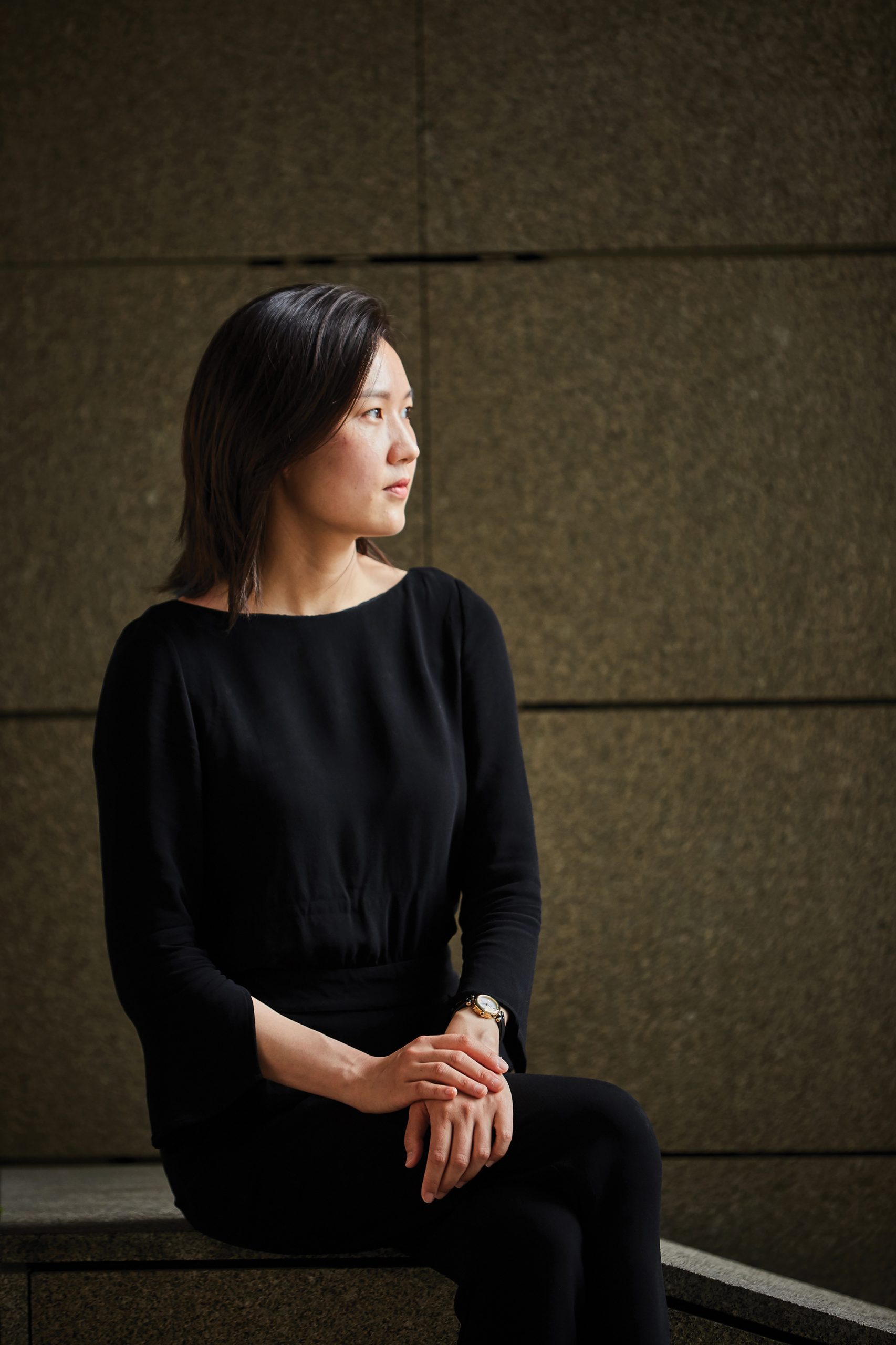 Both Calangi and Dores are keen to explore their careers across the world and bring their experiences back with them to Macao. Kay Zhang, on the other hand, is staying in Macao and teaching people art appreciation while also exploring her own creativity. Born in 1991, Zhang moved to Macao from the mainland when she was 10 years old. The contemporary artist, having earned her master's in fine arts from the China Central Academy of Fine Arts, now works as a painter and book-maker. Her first solo exhibition, 'Innocencepedia', which showcased a series of painted artworks, was well received in 2016 and was followed in 2017 with her being nominated for a Sovereign Asian Art Prize, becoming the youngest and only Chinese artist from Macao to make it to the final of the prestigious art prize.
Zhang, now an art and design teacher at the University of Macau, is preparing for a new exhibition in the city that explores her conscious and unconscious relationship with her father. "My father always wanted to have a boy," she says, "but I turned out to be a girl, so subsequently he raised me like a boy when I was growing up. There are things I would like to communicate to him but not in words. Therefore, this time, my work serves as a communicative tool for me."
Zhang says she feels fortunate to have a stable teaching job that provides her with an income so that she can create artworks without struggling financially. "I always take my teaching position at the university seriously," she says, "but increasingly I find it to be more and more meaningful in my life. In a way, through teaching art appreciation, I am shaping the society. It is like providing the right soil for flowers to grow in the future. As an artist, I am ambitious and during various moments of my life I am going to make different types of art. These artworks will become traces of my life but teaching to me is just as important, if not more, because it will affect the next generation and more to come."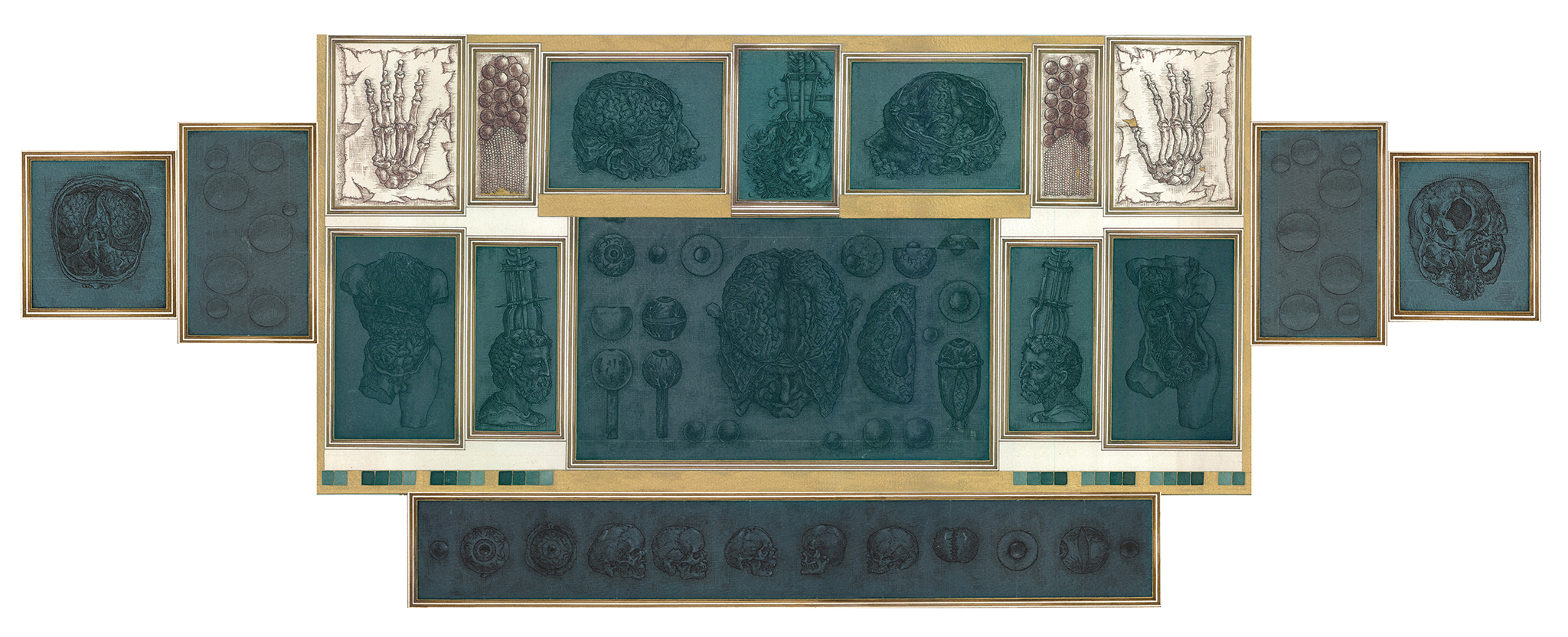 Drawing on inspirations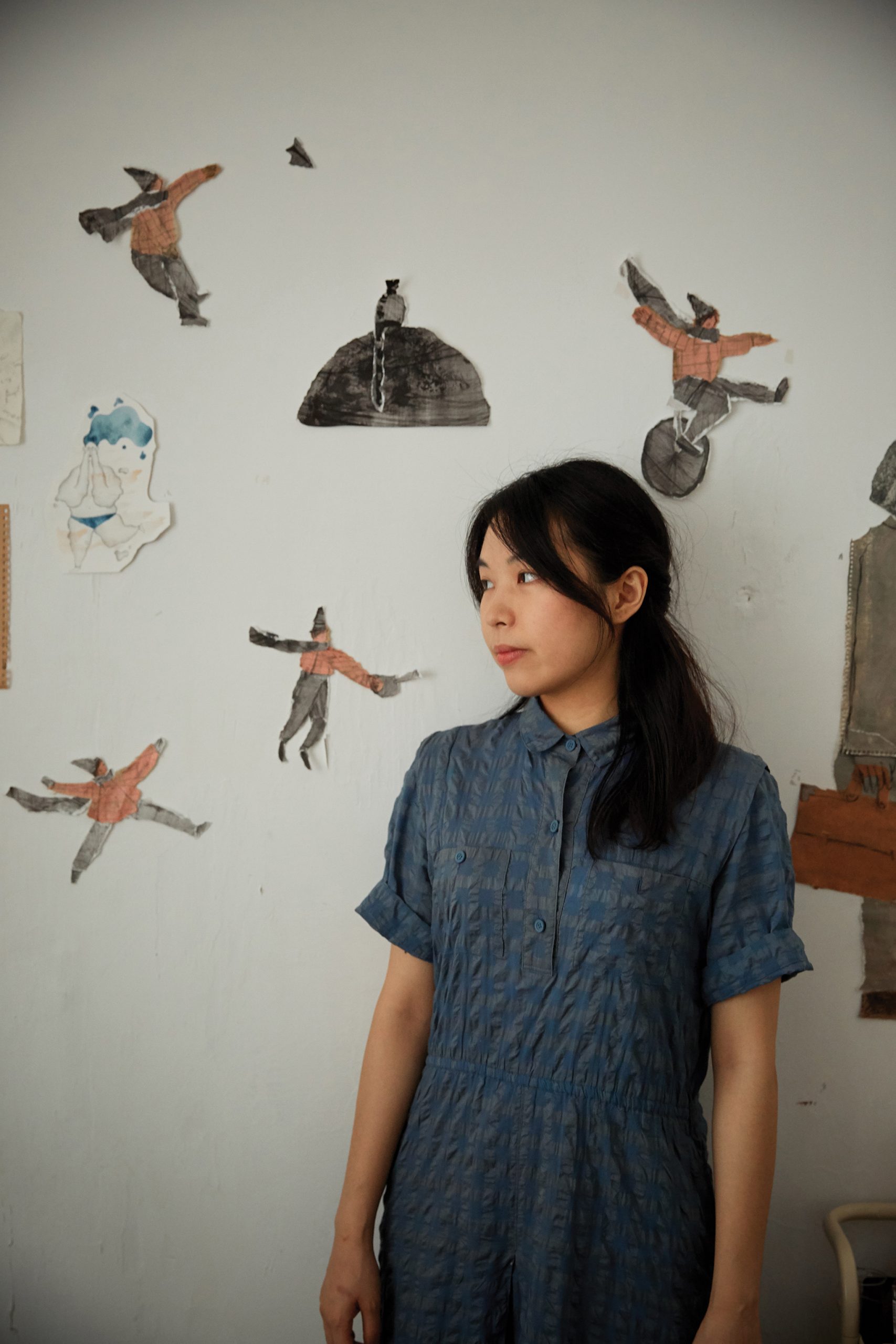 All artists struggle financially at some time or another, particularly if they are young and yet to hit major success. Zhang may well be able to survive with the money she earns from teaching but 27-year-old Macao illustrator Yang Sio Maan gave up her regular daytime art gallery administrative job to pursue her dream of being a full-time artist. "It was just too tough to have a daytime job and do creative work at night," she says. "I was drained. Although the job gave me a stable income, I couldn't do it any more."
Yang became interested in drawing when she was studying English literature at the University of Macau. She graduated and then headed to the south of England to further hone her illustration skills at the University for the Creative Arts. Now, she has her own studio and her goal is to become financially independent through her freelance work.
"With the internet," she says, "you can now pretty much work anywhere in the world as an illustrator but I prefer Macao because my family is here and you can take much inspiration from our city. Yes, if you live in a big, metropolitan city, you may get exposure to lots of artistic and cultural elements for inspiration but I feel Macao inspires me all the time. I am now holding a solo exhibition at Ox Warehouse until 4 August where I can showcase my illustrations to the public. I'm grateful to have met different artists in Macao. They inspire me in different ways, which is really encouraging for me as an emerging artist. Macao is a great city to be an emerging artist."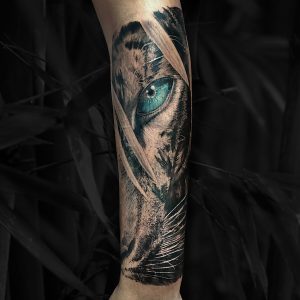 The sentiment is shared by Vincent Métayer. The Macao-born tattoo artist, who was born to French parents in 1992, says he tried hard to excel in school but dropped out twice during his college years. Eager to turn his passion into a living, he travelled to Thailand to learn tattoo art but soon returned to Macao and started to become well known in tattoo circles and beyond. He soon opened his own studio and his clients now come from all walks of life.
"Recently I had this group of ladies in their 50s come in," he says. "They all wanted one tattoo each at first and then they really liked it and came back for more. Business is good for me now as it seems like there are not many tattoo artists in Macao. I feel very safe and comfortable in this city and that is why I stay here. As an artist I have the freedom to do whatever I want here, which is amazing."
Métayer says that, in the past, people have 'viewed tattoos as something that is only done on the skin of gangsters' but now he concedes that attitudes have changed. "Regular people also get them done," he says, "and with me it is always very artistic. I work with the client to tailor-make creations for them. That gives me a lot of happiness. It is a great way to make a living."
The voice of youth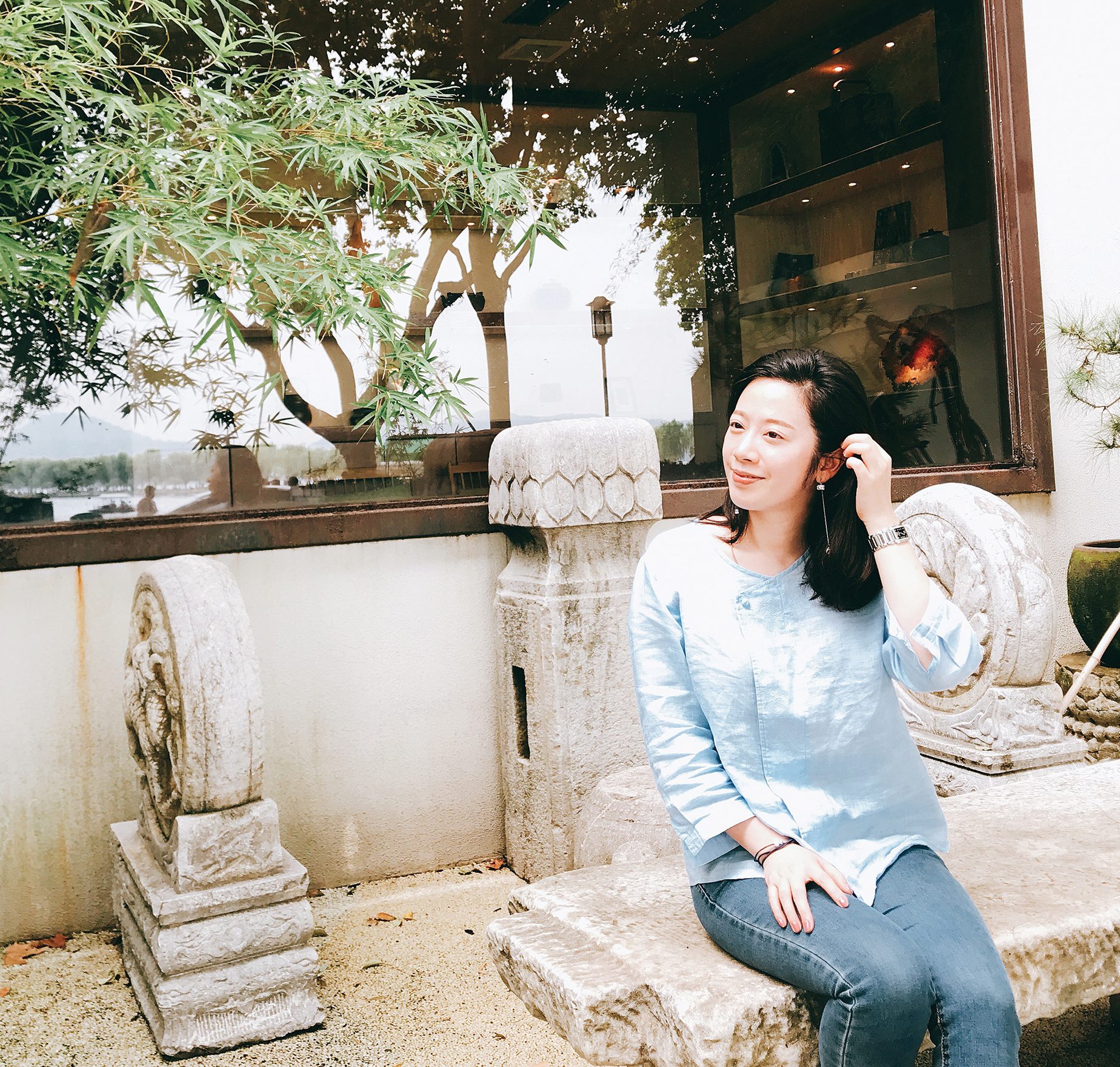 For Ally Li, a 35-year-old entrepreneur who jumped from working in the media as a business development professional to becoming a Kun opera singer, making a living has not been difficult but acquiring the knowledge and skills at a level which allows her to perform on stage confidently in a traditional form of Chinese opera has not been easy. "I have been in love with Kun opera for a long time," she says, "but it was not until seven years ago that I started to really learn the basics and train myself to be a performer. In Macao, there are no Kun opera instructors, so I travelled to Hong Kong to learn the basic steps in a group session but I realised that movements are tough to learn and having a one-on-one instructor is a must. Luckily I won an opera competition in the mainland with plain singing and it encouraged me to go further in the field."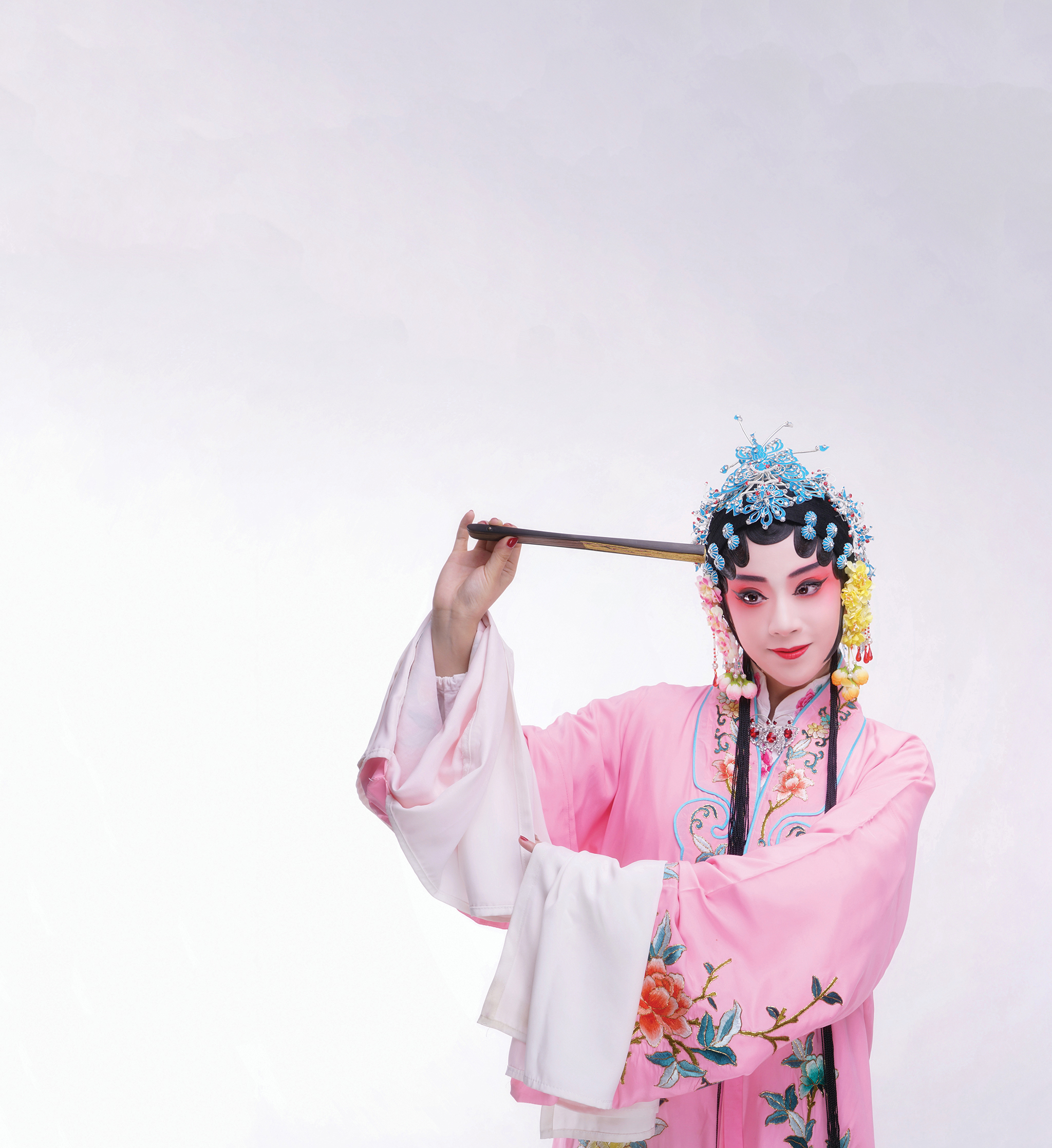 Li, who was born in Guangzhou but moved to Macao when she was 12, now performs twice a month around the Greater Bay Area and works with Chinese opera instructor Zhang Guo Jing. "I can still remember," says Li, "the judges at the competition said to me 'we are all very impressed by the fact that you are from Southern China with a Cantonese background but can still articulate the sounds so well'. Their comments touched me."
Six young artists with different backgrounds and mediums. But each one celebrating the opportunities in Macao for young creatives. And then there are more experienced artists in the SAR who understand the importance of nurturing these talents. Artist Konstantin Bessmertny, who is based in Macao and Hong Kong and knows Macao's arts and culture landscape well, says: "Art, culture, crafts or whatever you call anything that creative people are doing exists only in places where people with high intellectual standards have sufficient income to support it. In societies where money and power is concentrated in the hands of not so-very-intellectual people, art is substituted by entertainment and pop.
"The advantages Macao had for me [when I first arrived] were cheap studios and an environment for artists but even though this is changing, the situation for artists in Macao is much better than anywhere else in the world. The government is generous in helping with subsidies and supports different art initiatives. I just hope for better coordination and bigger initiatives."
Hopefully, with young creatives like this talented sextet, there will indeed be bigger and better things on the horizon for Macao's up-and-coming artists as the SAR strives to become known as an arts hub for Asia. 
---
All the right steps                     
Another young artist from Macao, Weng Teng Choi, is dancing her way to the top.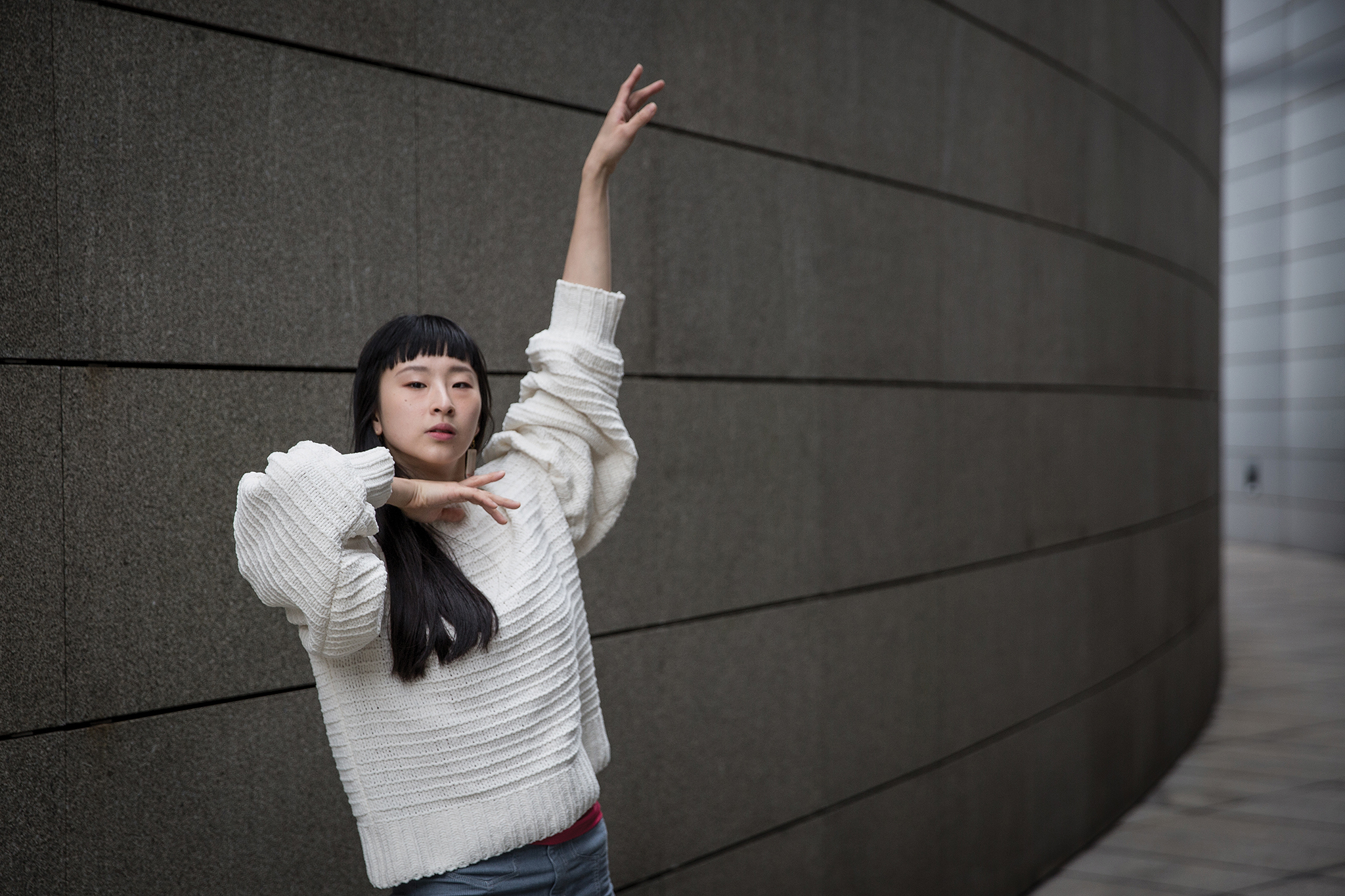 Free-spirited and stylish, Weng Teng Choi walks confidently through the streets of Nape in her thick platform heels. The young lady in bell bottom jeans and an oversized white top is a striking professional dance artist who was born in Macao in 1992 and started her career at the age of just 13 years old.
"I was classically trained in ballet until the age of 13 but it was tough for me," she reflects. Physically, one has to have long legs and arms for it. As an art form, it also has a lot of restrictions." The turning point came when she entered the Macao Conservatory. "They exposed me to modern dance and it enabled me to cultivate a good level of creativity," she adds. While many of her schoolmates went to Shanghai and Beijing for higher education, Choi rejected an offer from the Dance College of Shanghai Theatre Academy in favour of exploring contemporary dance in Europe.
"I felt like I needed to see the world," says Choi. "I knew [Europe was] avant-garde and wanted to learn more but was not sure where to go." Unsure how to research it on her own, she decided to first spend a year at the Hong Kong Academy for Performing Arts before relocating to Europe, where she discovered that her ballet training and modern dance exposure from Macao 'gave me a good base to broaden my horizons'. Having lived in various cities in the continent while honing her skills in contemporary dance, she now returns to Macao periodically, entertaining audiences from all walks of life with her work.
Choi choreographed a piece this year which questions the fundamental difference between knowledge and wisdom. "Knowledge is what humans have accumulated and recorded throughout history," she explains. "It is communicated through words. Wisdom, on the other hand, is intangible. One needs to experience it. The experience can be unique for each individual." Throughout Choi's performance, there are numerous interactions with the crowd. Three individuals from the audience are invited to use a typewriter to type on a piece of paper. In the beginning, one of the performers types first, followed by the audience members, eventually creating a poem. "In another performance involving papers, we fold them," she reveals. "While folding papers, we give birth to an experience and the folds of the paper record that experience. For both of these segments, we have a stage where my husband and I dance."
Choi's husband, Austrian street dancer and filmmaker Elias Choi-Buttinger, collaborates with her in choreography and heavily inspires her work. "My husband is more experienced than I am," she says. "Considering that I have a ballet background and he comes from the street scene, our visions and aesthetics are not similar but sparks fly between us."
When Choi became pregnant with their first child, she kept dancing until the seventh month and although dance remains a constant, motherhood has changed her perspective. "I am now able to make decisions and cherish time," she says. "In the past, I had many ideas but I would not execute them. Now, I am determined to execute my plans and I don't wait."
Choi dreams of having her own dance troupe in the near future. Her experience at the Macao Conservatory, with its free learning environment, proved to her that although the city is relatively small, it holds a lot of talents. She now teaches in schools, sharing her knowledge with youngsters and anyone who loves dancing and she is also eager to further her own dance education. "At this moment," she says, "I am a student of my husband because I want to learn more about street dance." Choi-Buttinger, who's been breaking since 2003, dances for three hours each day on his own. "The funny thing is," says Choi, "now our daughter also dances when she hears music. It is a family affair."