TEXT Vivianna Cheong 
Running an independent bookstore in Macao in 2021 is challenging to say the least. But some of these shops have been coming up with unique ways to help get the customers in so they can survive.
The COVID-19 pandemic not only took many lives worldwide in 2020 but it also battered economies across the globe. This included retail outlets in practically every country. Plenty of businesses in Macao experienced financial losses too but, for some, the challenges were already written on the wall before COVID-19 ever raised its head. This includes independent bookstores – an age-old niche industry that started its decline in Macao years before the pandemic added further misery.
Most of the blame when it comes to the decline of the physical bookstore is laid squarely at the feet of the virtual one. Giant online retailers, coupled with the advent of ebooks, have presented so much cutthroat competition that it looks like the independent bookstore will never win, particularly as the younger generations favour their mobiles, tablets and laptops over that simple pleasure of holding a physical book. Prior to the pandemic, some countries announced a slight revival of the independent bookstore industry but, on the whole, the trend over the past couple of decades has been of slow decline and many closures. And this is even before we mention the pressure from the big physical retail chains – some of them just an hour away in nearby Hong Kong.
Bookshops, however, have upped their games over recent years by offering online sales, packed events and book launch schedules, talks, coffee and cakes, stationery options and even sales of local community souvenirs. In Macao, the trend is no different, as its stores have been doing all they can to survive. But a readership made up of a diverse range of language preferences alongside the cost of some property rents in the city make Macao arguably one of the toughest places in the world for an independent bookstore to flourish. And now, following a pandemic-stricken 2020, the challenges are many for the handful of surviving stores in the SAR.
It's hard for bookshops to survive nowadays but some of Macao's local ones have found their own way to get along, like us.

– Anson Ng, owner of Pin-to Livros & Musica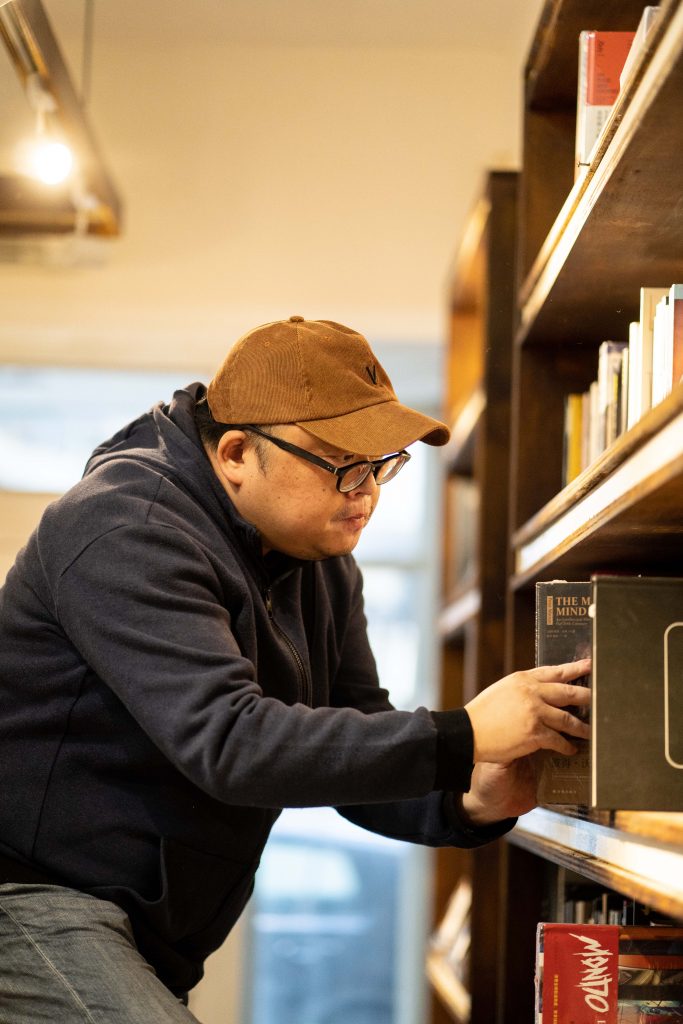 But a local indie bookstore's heart beats strong. Dotted modestly around town, these shops are destinations in their own right and they are enjoyed as much by their loyal patrons as they are by casual visitors and tourists. They learned years ago that selling books is not the only way to make money so some of these vendors offer an entire package of goods and services to keep the punters coming back. We speak to five local indie bookstores in Macao to find out how they stay relevant, stay popular and stay in business.
Tomes and tunes
Pin-to Livros & Musica is just a two-minute walk away from the Ruins of St Paul's, so it's certainly in an excellent spot to attract foot traffic. And it's worth the visit as this store sports books covering a wide range of subjects like the arts, architecture, history and contemporary literature, as well as a plethora of vinyl records. It's all quirky and modern and, despite having, in part, a Portuguese name, most of the books here are in the Chinese language – but there are still reads in Portuguese and English available to buy.
Due to its sophisticated 'n' quirky vibe, Pin-to – which literally means 'where' in Cantonese – has garnered a dedicated local following over the years. It originally opened on the second floor of a tiny building in the busy Largo do Senado in 2003 and grew from there. In the early to mid-2010s, it had become a place of pilgrimage for bookworms who would climb a staircase flanked by two walls covered in local arts event posters on their way in before spending time listening to cool music and browsing the shelves once inside.
In 2017, the bookshop moved to the community area near Praça de Luís de Camões, shying away from the madding crowds but still taking advantage of the footfall due to its proximity to St Paul's. However, owner Anson Ng, a jazz enthusiast and expert, reveals that the tourist footfall was not the reason for the move. On the contrary, he says the old site received more holidaymakers. "It used to be packed with tourists," he says, "but we wanted to reach our target readers – the local community. It was the right move. We also made many changes to how we operate and it worked. We're here for anyone who wants to pick up something inspiring – but, most of all, we're here for our loyal community."
Many businesses will cite high rents as their main challenge – and many will have a point – but Ng says that Pinto's rents don't break the bank. He feels 'thankful' that the shop 'has reached a plateau' of 'relatively low rents' due to 'a supportive landlord who respects our industry'. He also says that 'our supportive readers' bring in enough money for the business to be turning over a decent profit while other bookstores are feeling the pinch. "It's hard for bookshops to survive nowadays," he admits, "but some of Macao's local ones seem to have found their own way to get along, like us. We all have our own characteristics."
"It's quite funny and ironic that our extra offering is music," continues Ng. "The sales of CDs or records started declining even earlier than books did because of the popularity of online downloading. But we still sell music well. We pick the music we sell based on our own interests, which we believe matches the interests of our customer base. We are doing okay." Ng says that the store has changed with the times, though, as it offers a swift online booking service for recent releases. He also claims that one of the shop's biggest competitors is online bookstore and one of Taiwan's largest internet retailers, books.com.tw, also known as Pok'elai. "A few years ago, when they started to target Hong Kong and Macao readers," he says, "they launched free delivery to the cities for a while, under some specific terms and conditions. Many booksellers went crazy. But we adapted with our online service through social media and now we try our best to deliver books or music as quickly as possible."
Picture books and storytelling
Located just off the busy Avenida do Ouvidor Arriaga, Cuchi-Cuchi Bookhouse is a parent's dream. This small, quirky bookshop that runs weekend storytelling events for kids specialises in Chinese and English children's books, arts and crafts. There are toys for the young ones to play with inside the store and, on the whole, it's just the perfect place for mum and dad to take the tots for some family time. Owner Lily Wong stocks plenty of picture books in the space. She believes these books carry plenty of life lessons for kids. "I used to work in a Hong Kong church as a social worker," she says. "The church used picture books to help young people deal with emotions and learn to respect others. It was magical. Cuchi-Cuchi also does this. It is all about respect for wisdom. I want to spread this message."
Wong, who grew up in Macao, returned to the city a few years back after spending time as a social worker in Hong Kong. She then decided to do something a little different with her career. She started up a 'book bike', which she would take to local parks in a bid to spread the message of reading. With help from teenage volunteers from a community group, she would ride the bike, laden with tomes, to a park and introduce people to reading, suggesting good books for them. She says it was 'a great feeling' to 'share the wisdom of reading' with random individuals but it wasn't long before she wanted her own space and also wanted to focus on toddlers, children, parents and young people. So in 2018, she opened Cuchi-Cuchi.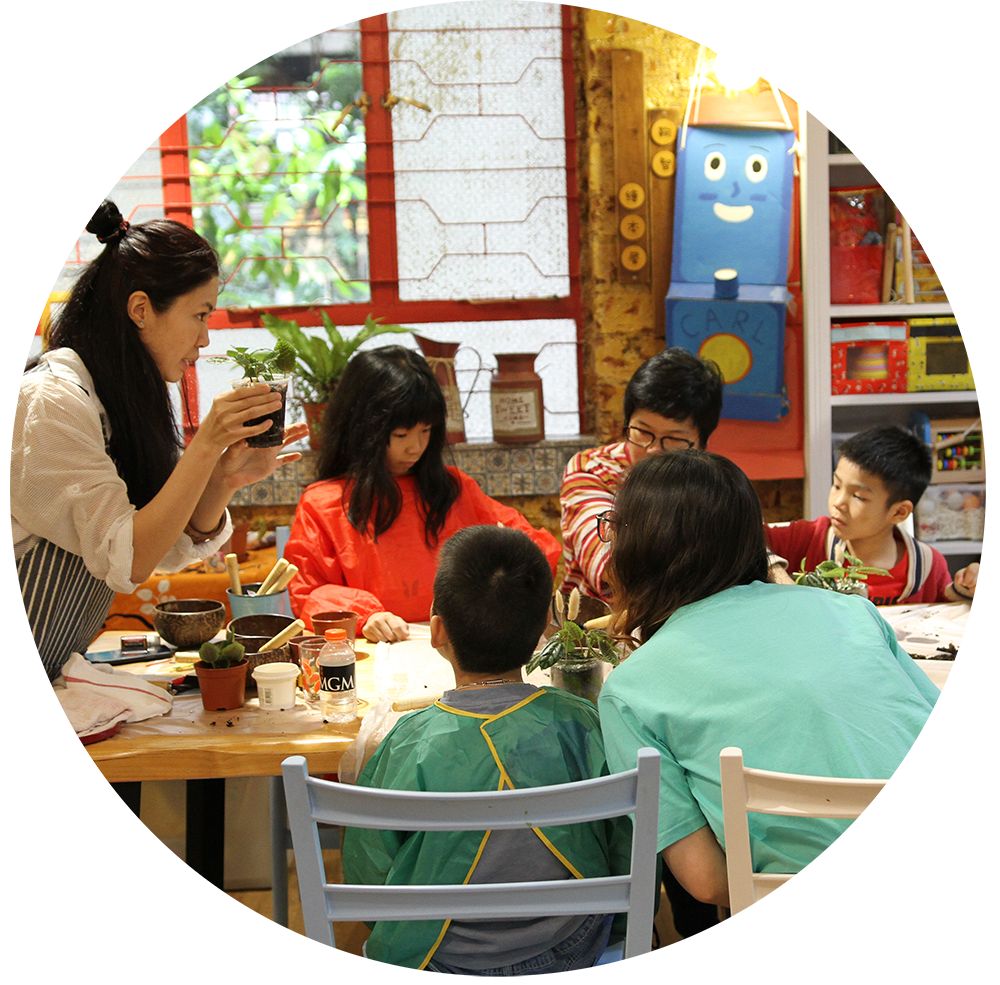 Wong's role at the store aside from owner is storyteller, promoter and store operator all rolled into one. She runs regular storytelling and craft-making sessions for kids which, at the same time, give the parents a chance to browse through the store's picture books and select some of the titles they can take home for the youngsters. "I want to show parents that the story within the pages of each picture book continues beyond these sessions," she says. "You can read a story numerous times and learn different things. If you pick up a book and read it with your kids, they will develop good reading habits. With encouragement, they can also learn how to concentrate despite the temptation of nearby electronic devices."
Wong says the pandemic hit her store hard last year. She says it was a 'double whammy' for her as she closed the shop for a while, meaning she wasn't able to sell any books or organise any of her regular storytelling events. But she says that business has picked up over the past few months and her events are again in full flow. "It was hard when we had to close," says Wong, "but now we're doing great again. Sure, bookstores in Macao and across the world have been on the decline for many years now, so if you want a solid business you have to go the extra mile. Cuchi-Cuchi has succeeded because we don't just sell children's books. We put on events and create a community of local families who then support us. We'll be here for a long time yet!"
Quirky vibes and a playground
Just a few minutes away from the historical St Lazarus' Church is a bookstore that delights children and adults alike. Júbilo 31 Books is where design and arts fans head to for a browse or deep thinking session, and young readers hit up for its extensive range of picture books. The indie space takes on an edgy air as it sits alongside quirky coffee shops and vintage stores in this hip neighbourhood. Mainly Chinese language products are on sale, although there are a good few English options too and the store even has a bijou indoor children's playground for the little ones. The name means 'joy' in English and it is indeed a joyful space.
Júbilo 31 is run by a team of three who say they all believe in the power of visuals. One of the owners, freelance graphic designer Chiwai Cheang – better known as 'CK' – is a big fan of picture books and he says the store stocks plenty of these for kids and adults. "Everyone should read picture books," he says. "It is frustrating that picture books are still widely regarded as comics or something for entertainment. They can be hugely educational. Visual images play an important role in our lives. They are everywhere and they convey messages and meanings. In our bookstore, we try to attract readers by connecting picture book visuals with life."
Last year, under the theme of 'city and visuals', the bookshop invited local illustrators and professionals to lead a workshop series called 'Read A(nd) Painting Collections | City: Past, Present and Future'. Cheang says: "In these workshops, we returned to the basic concepts of drawing, reading and illustration, and we presented accessible concepts of a city. The participants gained interest in these concepts and, as a result, started to read more of our books, especially the picture books."
Cheang says it's a challenging time for bookstores worldwide but, like with Cuchi-Cuchi, 'you must go the extra mile'. The workshop series was a great example of this, making book sales as a result, and Cheang says there will be more workshops planned this year. He also notes that Júbilo 31's 'plus' is not actually the books – many of which, for adults, are on design, arts or culture – but the shop's 'intellectual concepts'. He says: "Books provide all kinds of wisdom in life. They are not only references or textbooks that are used as tools. We deliberately avoid selling textbooks."
The bookshop, according to Cheang, also plays a role in promoting local culture. For instance, the designer once drew a map of local graveyards and sold it to both locals and tourists. This sort of endeavour is another example of 'going the extra mile' to survive, he says. Cheang notes that the map 'drew a lot of attention from tourists from, say, mainland China or Japan' but 'hardly any attention from people from Macao'. "Some local people lack enthusiasm and confidence in our local culture," he says. "They tend to seek excitement and inspiration from the world outside but not within. But Macao is a treasure. I hope to create a connection between our local culture and local people through events and initiatives like the map. Our city is worth this sort of local love and attention."
Reading and writing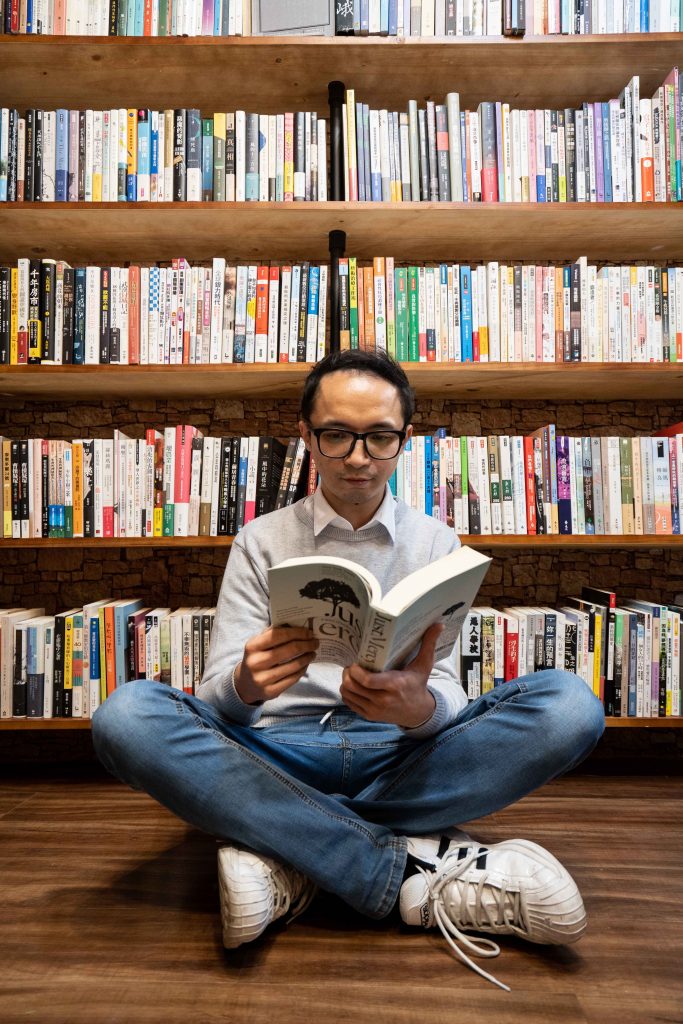 Literally just down the road from Júbilo 31 – and a far more modest affair – is Slow Tune Book Shop. This relaxing store in Rua do Pato stocks plenty of Chinese books for all ages, as well as some Macao souvenirs. It also specialises in calligraphic materials and has some much-sought-after stationery brands on the shelves, including Lan Lan Cat from Taiwan. Graphic designer Jeff Lo and his wife – both passionate books, crafts and calligraphy lovers – founded the shop in 2016.
Lo admits that it is difficult running an indie bookstore. "It is hard," he says. "We do have passionate readers and customers but we are not talking about a tremendous amount of people. Our location is not perfect. We even once had no visitors in an entire day. It was frustrating." Lo says he is 'extremely thankful' to his loyal customers for their support and he also claims that the store manages to survive because of the events it offers. "We do sell books but we know we have to offer more to survive," he says. "For instance, we offer calligraphy workshops that are popular among the 20s and 30s age groups. We can charge for these and they don't just teach the participants calligraphic skills but also give them a chance to relax in our space. In 2019, Taiwanese calligrapher Ya Yeh led an excellent calligraphy workshop and it was full in no time!"
The books on Slow Tune's shelves are mostly from across Asia, as are the stationery and calligraphic products. "We sell brands from places like Hong Kong, Taiwan and Malaysia," says Lo. "But now we see a growing number of local brands emerging and some of these are really creative, such as book wraps, bags and handkerchiefs from Forest and cat-themed bags from Osanna Design." Lo says that he has been planning to create his own products in the shop. However, due to the pandemic, he hasn't been able to get around to it yet. "Business has obviously been tough due to the pandemic," he says, "but we are starting to see a healthy upturn and now we're probably going to be running events again, we hope everything should be good again as we enter 2021."
Paintings and pages
Universal Gallery & Bookstore is all about both the reads and the arts. Located in the Taipa Houses-Museum No 3 along the tranquil Avenida da Praia, this gallery-and-bookstore offers a wide range of tomes on humanities subjects, social sciences, current affairs and art and design in both Chinese and English. There's also an exhibition space here that's used for arts displays and workshops, and there are decorative paintings and locally designed souvenirs for sale throughout the two-storey space.
The shop has only been open since 2019 after owner Ruby Chen got permission to transform the government space into a gallery and bookstore. In the same year, the gallery featured nine exhibitions from local artists and organisations including one by the Hong Kong Teaching Resources Centre but last year there were much less, of course, due to the pandemic. Chen says that the gallery itself is a source of profit as exhibitors rent the space for a period but she also says that her books sell well, so business is good.
"Our public libraries provide great services, so many people in Macao tend to borrow books instead of buying them," says Chen. "However, we do see a growing interest in the sale of books published by the government, especially those by the Cultural Institute. They explore local history and culture so we always have some of them in stock here." Regarding reading habits, Chen says: "Many local readers do not go to bookshops. It's not part of their lifestyle. But we hope to keep on offering what we find interesting and we hope that many locals will find us, follow us and come into our store regularly. It is challenging running a bookstore in 2021 but, like the books themselves, we don't see an end to this industry right now as there are still just too many people out there who prefer the real thing to the virtual one."
Yuen-yi Lo, an artist, writer and lecturer at the University of Macau, once exhibited her work at Universal. She says that the city's bookshops are good places for 'creatives and readers to explore what's out there' in a more hands-on way than you can do online. "There are not many independent bookstores in Macao," she says, "but what we do have is to be treasured."
Running an indie bookstore in Macao in 2021 is a challenge – there's no debate in that. The internet and the giant book retailers are an ongoing threat to the future of the industry worldwide, let alone in Macao. But every store in the city is digging deep and trying to offer something new and unique – usually in the form of events – in a bid to keep the readers coming in and buying their wares. The pandemic hasn't helped but as we enter 2021, each of the store owners we've interviewed is optimistic and is already seeing business getting back on track. As locals look to help their nearby independent shops survive this year, perhaps a new chapter is being written for Macao's bookstores, especially those who think outside of the box and offer something fresh, exciting and immersive.
---
The index

Here's a list of bookstores in Macao and where to find them…
Chinese Baptist Press, Macao Bookstore
3 Rue da Madre Terezina
(853) 2832 3476
facebook.com/macau.bookstore
Chu San Book Shop
11E Rua de Sacadura Cabral
(853) 2842 1307
Cuchi-Cuchi Bookhouse
12 Avenida do Ouvidor Arriaga
(853) 6881 6286
facebook.com/cuchicuchibookhouse
Elite Book Store
10 Rua da Palha
(853) 2836 5532
Livraria Portuguesa
16-18 Rua de São Domingos
(853) 2835 6537
facebook.com/portuguesebookshop
Livraria São Paulo
11 Travessa do Bispo
(853) 2832 3957
Livraria Seng Kwong
3-7 Calçada Do Monte
(853) 2837 5570 and
Meng Tak Building, Macao Polytechnic Institute, Rua de Luis Gonzaga Gomes
(853) 8599 3110
skbooks.com.mo
Livraria Uma
47 Rua De Pedro Coutinho
(853) 2858 1418
facebook.com/1stbookcentre
Museum Shop, Macao Museum of Art
Avenida Xian Xing Hai
(853) 8797 7243
mam.gov.mo
Plaza Cultural Macau
32-G Avenida Do Conselheiro Ferreira De Almeidano
(853) 2833 8561
pcmbook.com
Pin-to Livros & Musica
47 Rua de Coelho do Amaral
(853) 2833 0909
facebook.com/pintolivros
Slow Tune Book Shop
18 Rua do Pato
(853) 6228 2820
facebook.com/slowtune
Universal Gallery & Bookstore
3 Avenida da Praia
(853) 6324 3737
universal-artspace.com
Weng Tak Bookstore
25 Rua de Martinho Montenegro
(853) 6636 5433