TEXT Andrea Lo and Jamie Ha
Take a long look at rare works of art and contemporary pieces inside Macao's gaming establishments.
Macao's hotels and gaming operators are well known for providing an abundance of restaurants and entertainment facilities, yet you might be surprised to find that some of them also showcase historical art pieces and contemporary works of art.
The best part? These displays aren't designed to be admired from afar. Much of the artwork inside hotels is placed in locations with high foot traffic, and most lack the glass enclosures commonly found in museums – so it's well worth slowing down to take a closer look.
MGM Cotai: immerse yourself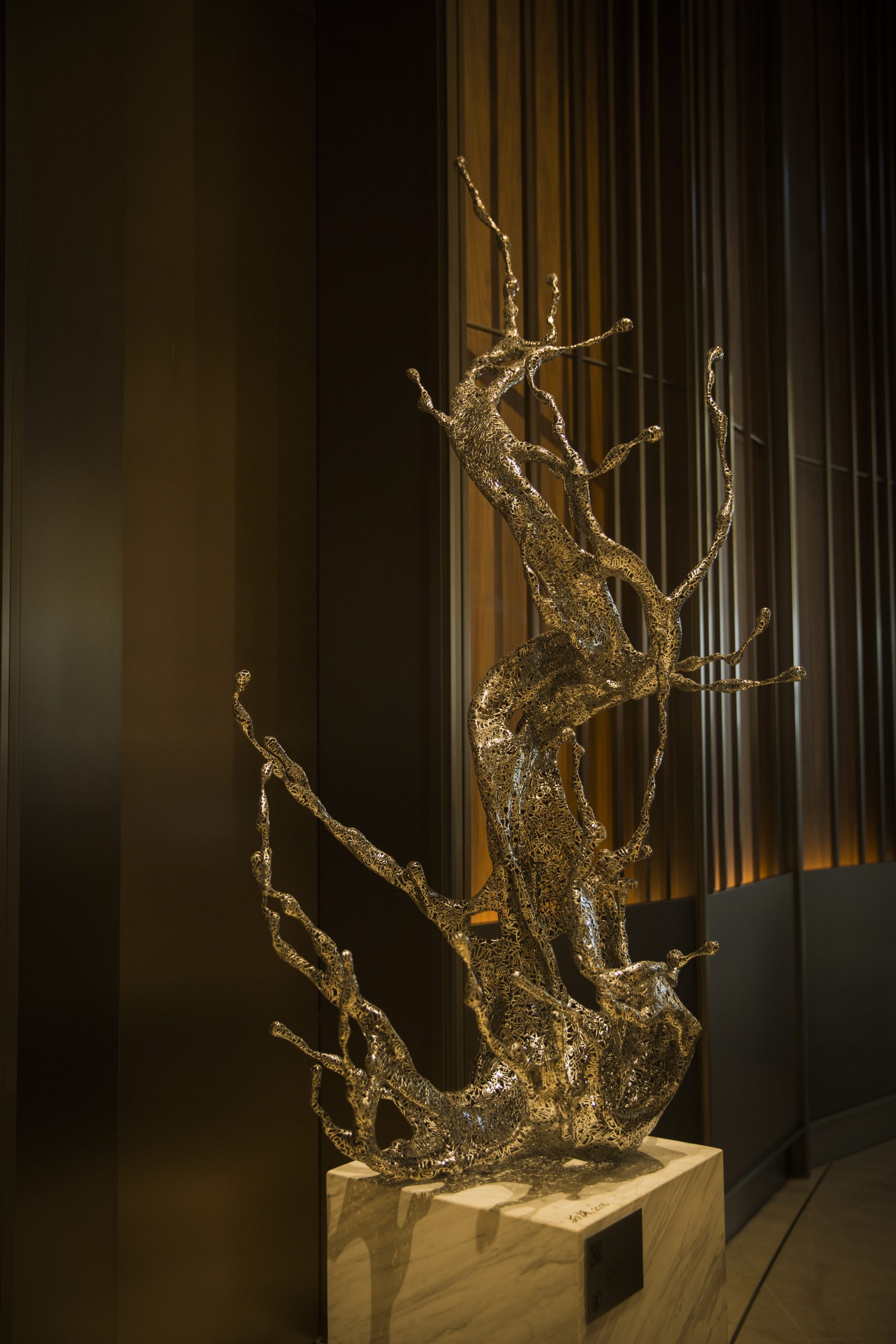 Opened this year, MGM Cotai boasts an art collection numbering more than 300 pieces – from paintings and sculptures by contemporary artists in Asia, to a series of antique carpets that date back to the Qing dynasty (1644–1911) in China.
Among the works, the Chairman's Collection comprises over 40 contemporary art pieces selected by MGM chairpersons Pansy Ho and Jim Murren, who worked with renowned Hong Kong gallerist Calvin Hui. Organised around the theme "A World Linked Through Art," there's an emphasis on the connection between East and West, as well as between people and places.
"We've always embraced arts and culture as a very important part of our company," said Cristina Kuok, director of Arts and Cultural Development at MGM. The hotel's sister property, MGM Macau, has a dedicated art space, she noted, and with the opening of MGM Cotai, the team decided to take a new approach: "There's a story… [behind] why the art is put there, or why the artist has created that piece of art," she explained.
In the main lobby, guests will find Water in Dripping, a pair of steel sculptures by Beijing artist Zheng Lu. Challenging the notion of sculptures being "solid and grounded," Lu's hollow sculptures are inspired by the movement of water and appear in the shape of gravity-defying waves.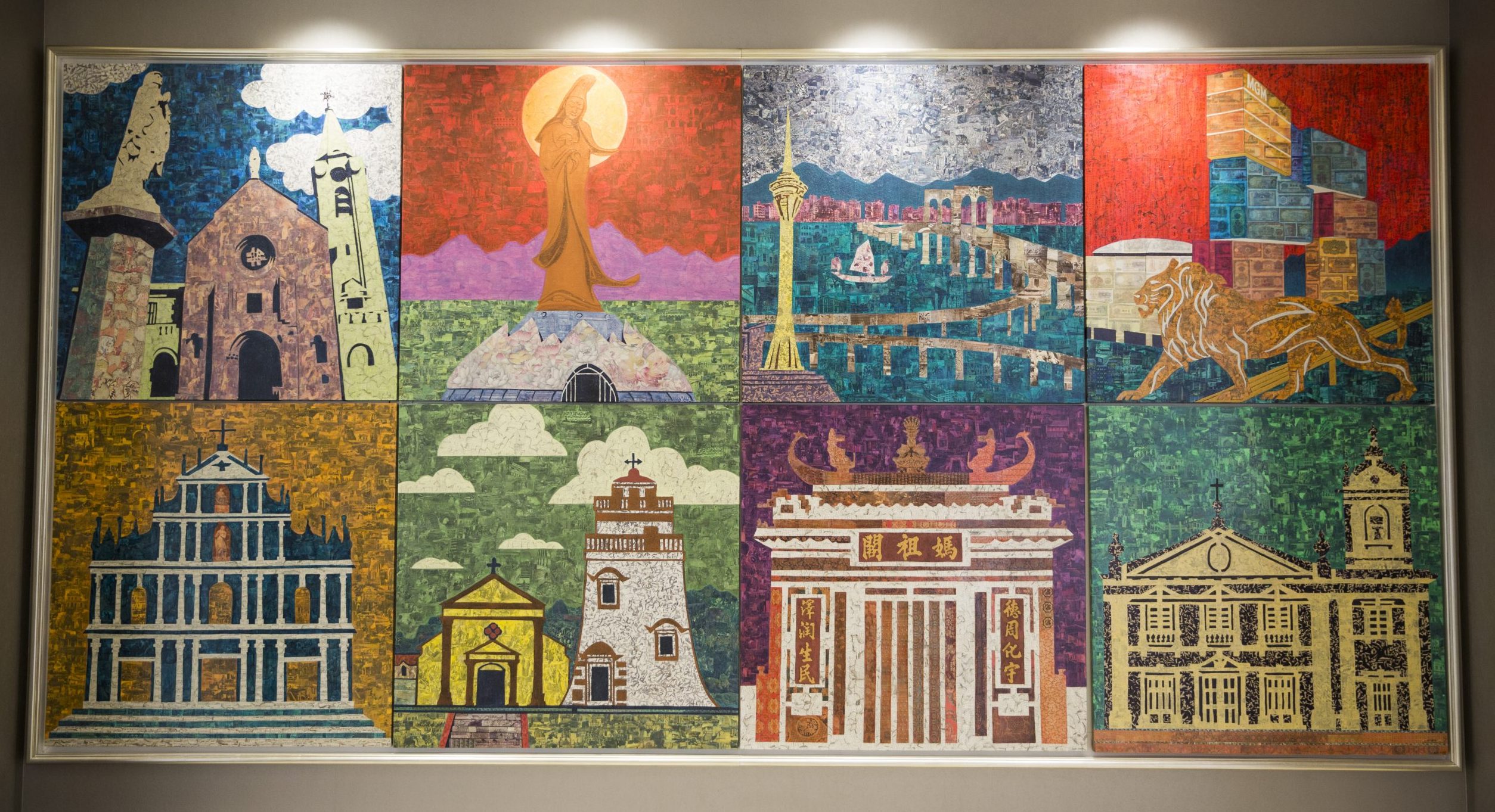 Around the corner, the large-scale collage Eight Views of Macau dominates one wall. The brainchild of Chinese artist Xue Song, this piece features eight of the city's landmarks, such as the Ruins of St Paul's and the Kun Iam statue. It's created entirely from printed materials about each of the sights, like newspaper clippings, which were burned before being applied to the canvas.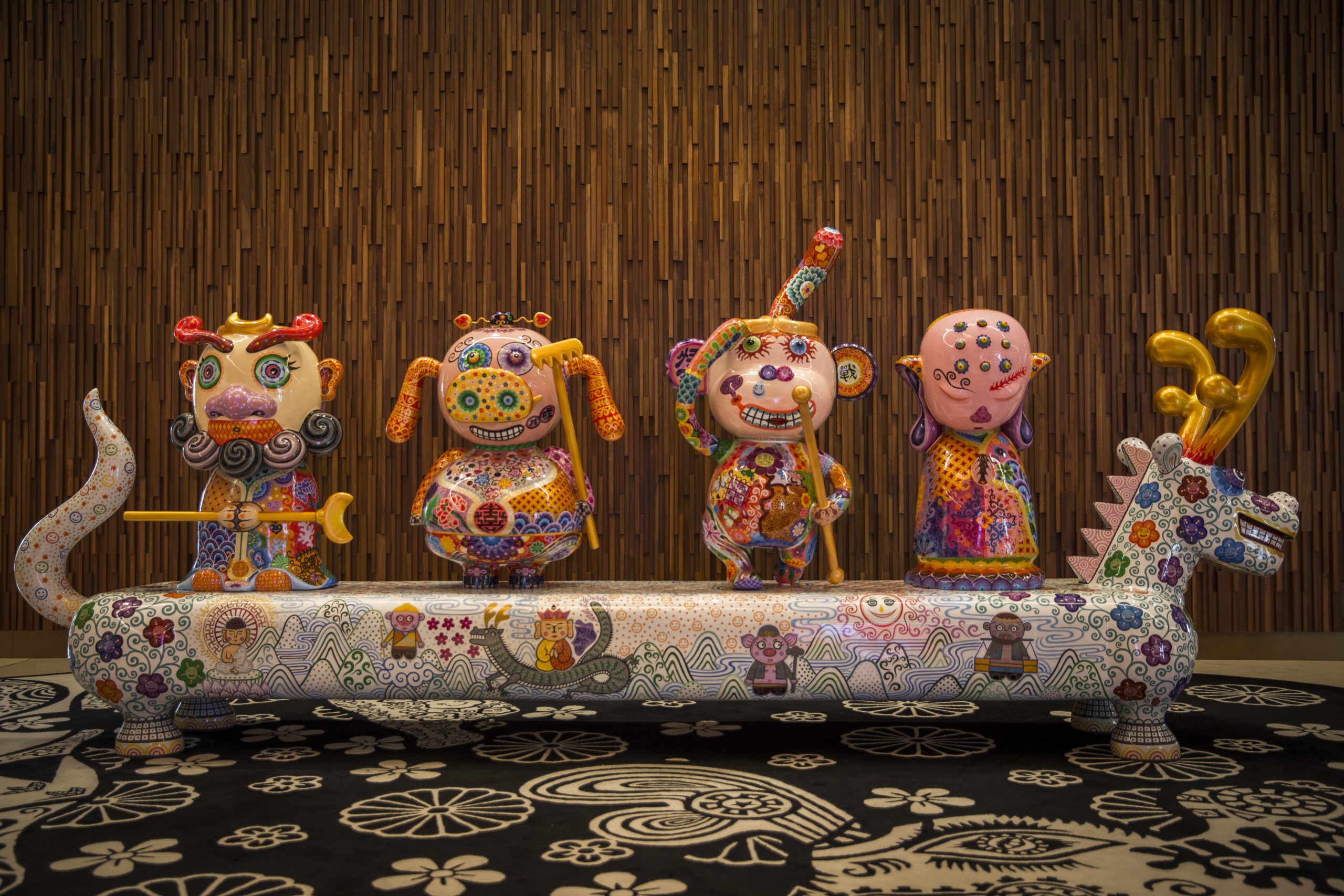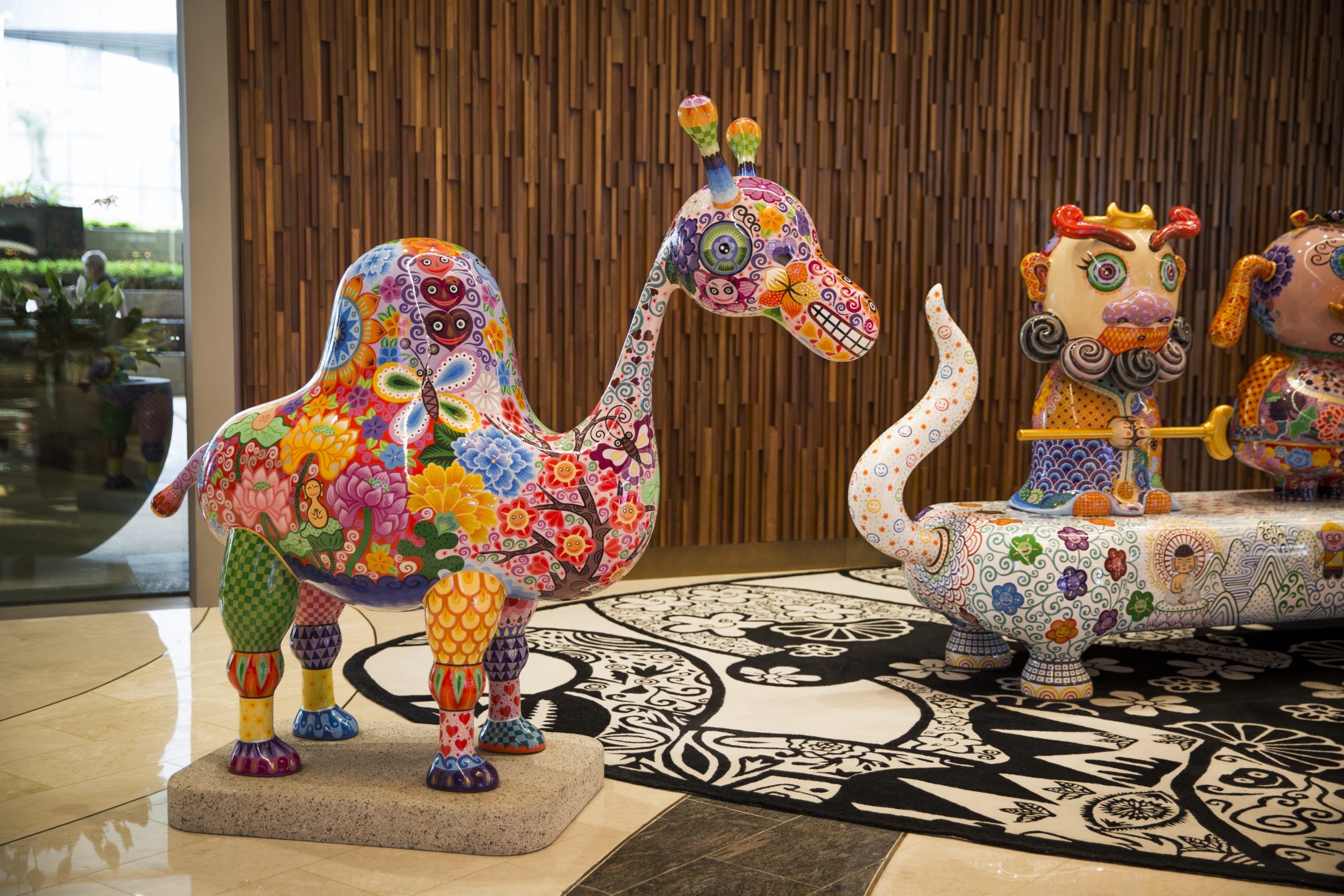 In the Lion Lobby, Journey to the Great West by Taiwanese artist Hung Yi was inspired by the legendary 16th-century Chinese novel, Journey to the West. The four characters of the novel are brought to life as baked enamel statues with a modern approach. A fifth statue depicting a camel completes the piece: it pays tribute to the backdrop of the story, which takes place across a desert.
Kuok noted there isn't necessarily a "rigid system" behind where pieces are positioned: it depends on the style and purpose of the location and the art itself.
The 28-piece imperial carpets collection is displayed in the Emerald Lobby. These historic carpets, once used at the pavilions of the Forbidden City, feature intricate designs and motifs that have symbolic meanings – think dragons and phoenixes.
Made using silk, gold, silver or copper threads, they were created by the imperial workshops of Beijing and Xinjiang, which were established under the reign of Kangxi (1661–1722) and responsible for manufacturing furniture for the imperial court.
There's also interactive digital art installed at the Spectacle, a large space near the main lobby. Twenty-five LED screens display ever-changing images of Asia – its nature, art, music, languages, and cultures – and digital art from around the world, but that's not all: "Depending on the movement of the people, the camera actually picks up on that and translates [them] into a mosaic or kaleidoscope effect on the screens," Kuok explained.
MGM Cotai offers guided art tours, which are "about the aesthetics as well as providing context."
"It's not just about the artist or the art," she said. "It's also [about] explaining the whole aesthetics of the artwork, [how it] blends into the particular location, and the story behind it."
Wynn Palace: a modern take on chinoiserie
From a rare collection of 18th-century vases from the Qing dynasty to a giant three-ton sculpture by American artist Jeff Koons, historic pieces and contemporary art are found in the midst of Wynn Palace's fine-dining restaurants and designer boutiques.
It's part of an effort to ensure that the pieces are not placed at a formidable distance. "The philosophy about art at Wynn Palace has always been that it is meant to be shared with everybody," explained Roger Thomas, executive vice president of design for Wynn Design and Development. "This is why all art pieces are not protected in special glass containers at the resort."
The collection was acquired over six years and at a cost of US$125 million. Of the 14 pieces on display, the majority appear in the hotel's public spaces, while others are in garden villas and penthouses.
There are different inspirations behind the curation, but first and foremost, there's a desire to "honour Chinese culture," said Thomas. "Wynn Palace is designed to showcase a 21st-century reinvention of chinoiserie, the great artistic encounter between East and West in the 17th and 18th centuries."
The philosophy about art at Wynn Palace has always been that it is meant to be shared with everybody.

Roger Thomas
Take the Buccleuch vases, a set of Qing-dynasty antiques that date back to c 1750. They once belonged to – and are named after – notable 19th-century Scottish art collector, Elizabeth Montagu, Duchess of Buccleuch. Made with porcelain, the vases feature Buddhist and Taoist designs. What stands out about the quartet of vases is not only their historical value, however. They sit on mounts that are believed to have been created by a French artist as a later addition, making them truly one of a kind.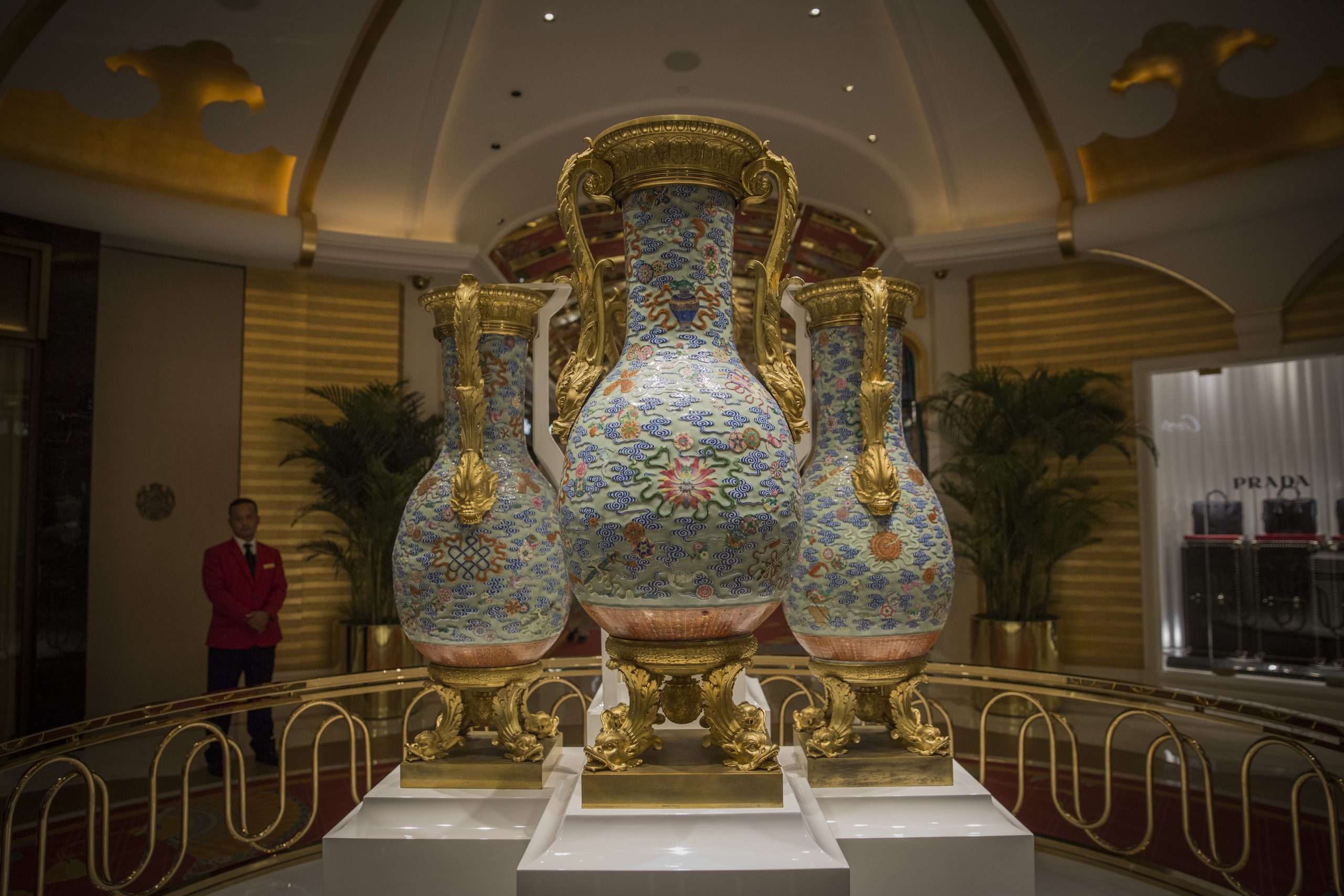 Then there's The Harvesting of Pineapples, a whimsical piece created c 1775 by master weavers at Beauvais, a prominent tapestry workshop in France. The story goes that the tapestry was created by master weavers as a reimagining of the Chinese royal court, after hearing tales of it from French monks who visited. It forms part of The Story of the Emperor of China series, which features scenes that depict life during the reigns of Shunzhi (1644–61) and Kangxi (1661–1722). Located within Wing Lei Palace restaurant, guests can observe the piece at close range.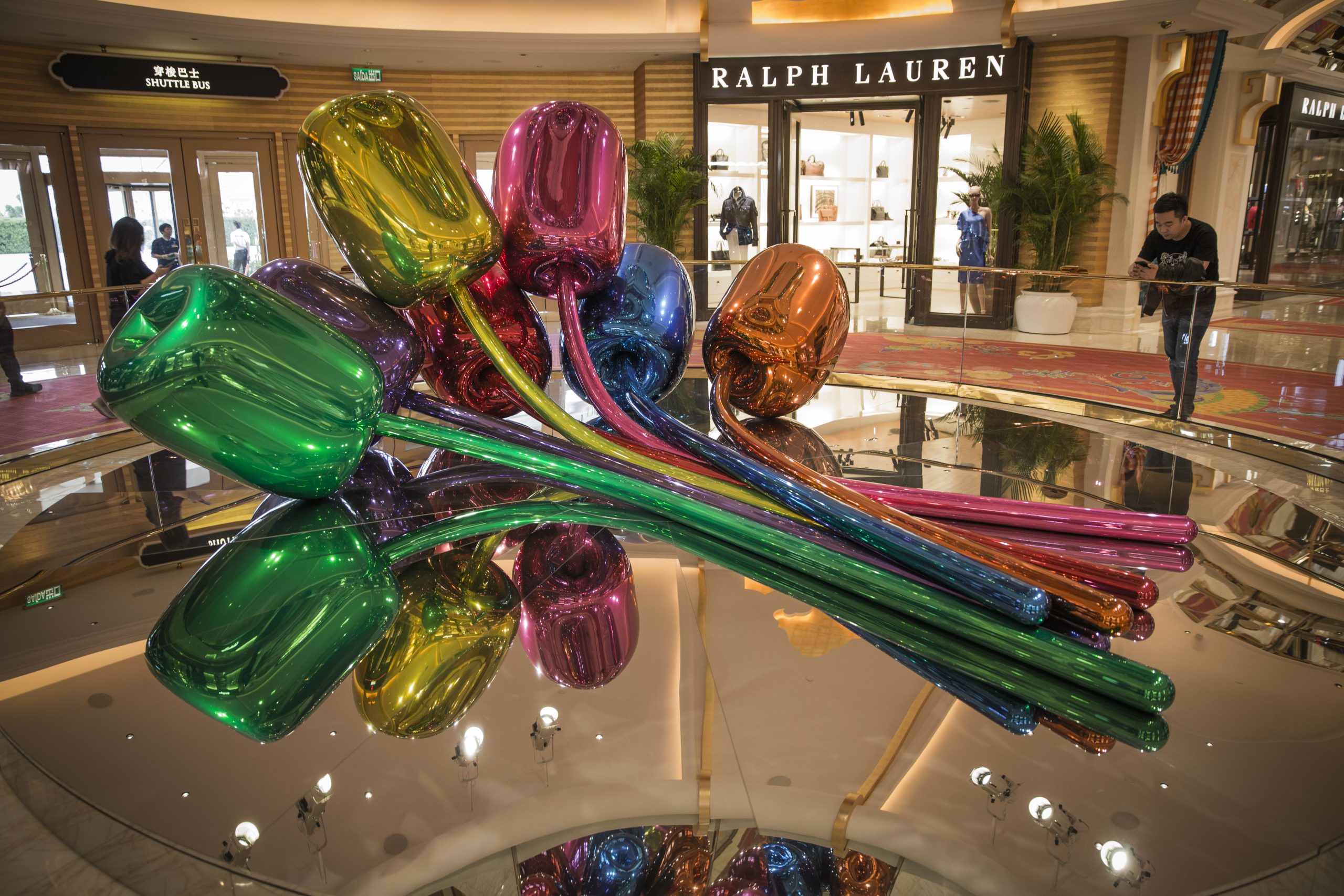 Alongside the chinoiserie theme, said Thomas, art is placed "in the context of a magical escape into a vivid and colourful floral wonderland." This is evident in Jeff Koons's Tulips, positioned by one of the entrances. Created between 1995 and 2004 as part of the Celebration series, it depicts massive tulips rendered in shining, colourful stainless steel. The series focuses on bringing grown-ups back to simpler times – to allow them to "experience the wide-eyed wonderment of childhood and feel small again."
A more tongue-in-cheek creation is the Fake Antique series by contemporary Chinese artist Liao Yibai, from 2013. Comprising nine pieces, the collection mimics cultural treasures from the imperial dynasties of China with modern, often humorous, details. The intention? To mock the thriving fake antiques market in China while nodding to the artistry of the forgers.
Grand Lisboa: fine art meets bling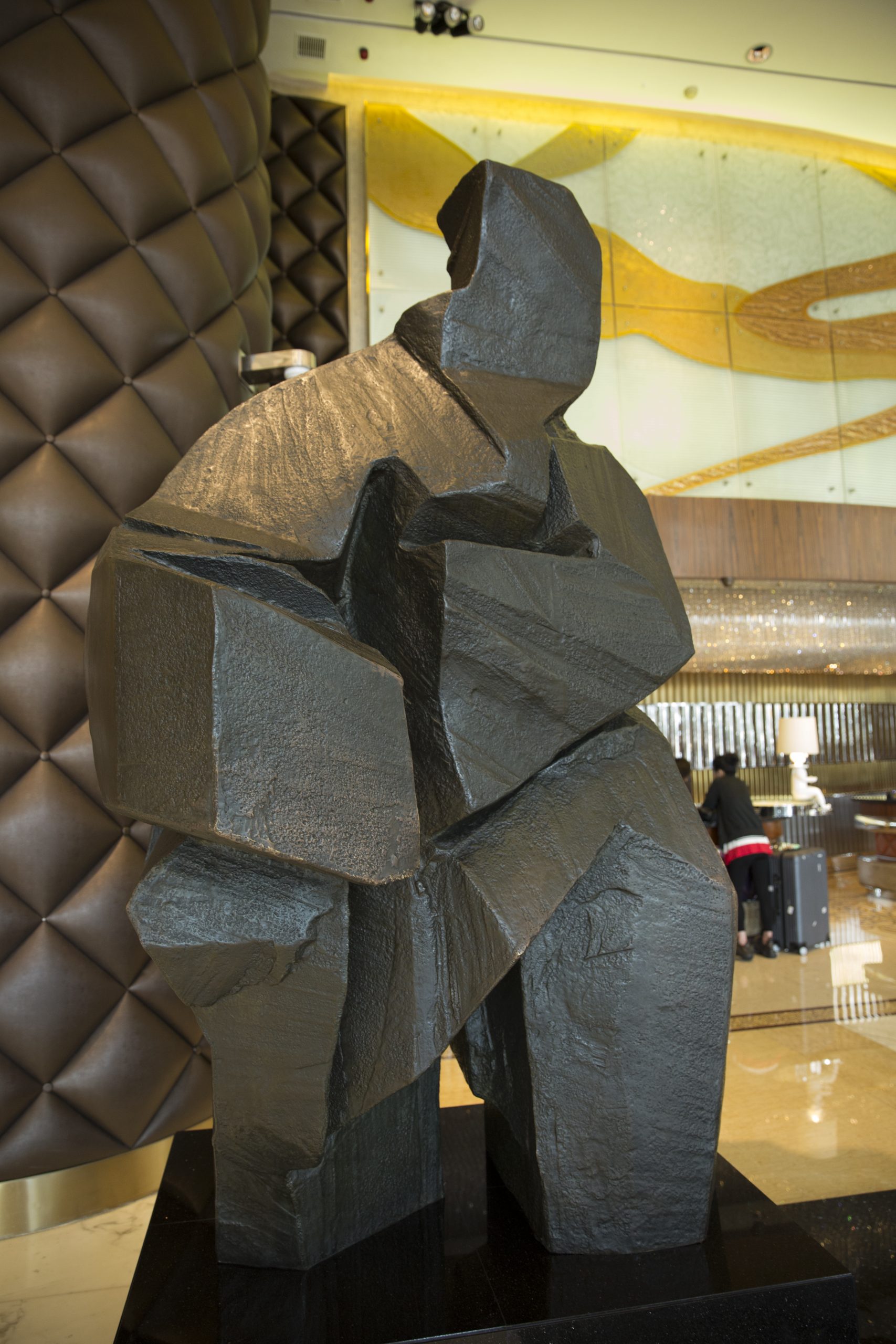 An impressive line-up of art and jewellery are exhibited at the Grand Lisboa's lobby – the majority borrowed from owner Stanley Ho's personal collection.
The Art of Taichi, a pair of copper sculptures by Taiwanese artist Ju Ming, were inspired by the Chinese martial art practice. Ju practices tai chi, and he's known for a series of works that depict it. There's a "spiritual aspect" to his works, according to the Ju Ming Museum in Taiwan, and his vision as an artist aligns with the spirit of the martial art, where there's a "respect for the existing structures of nature."
Arguably the most valuable items on display: the Star of Stanley Ho, a 218.08-carat diamond, the largest of its kind in the world. There's also the Great Fortune Emerald, weighing 210.34 carats and certified by the Swiss-based gem lab Gübelin as the world's rarest. Their precise value remains undisclosed.
Regency Art Hotel: hip, contemporary art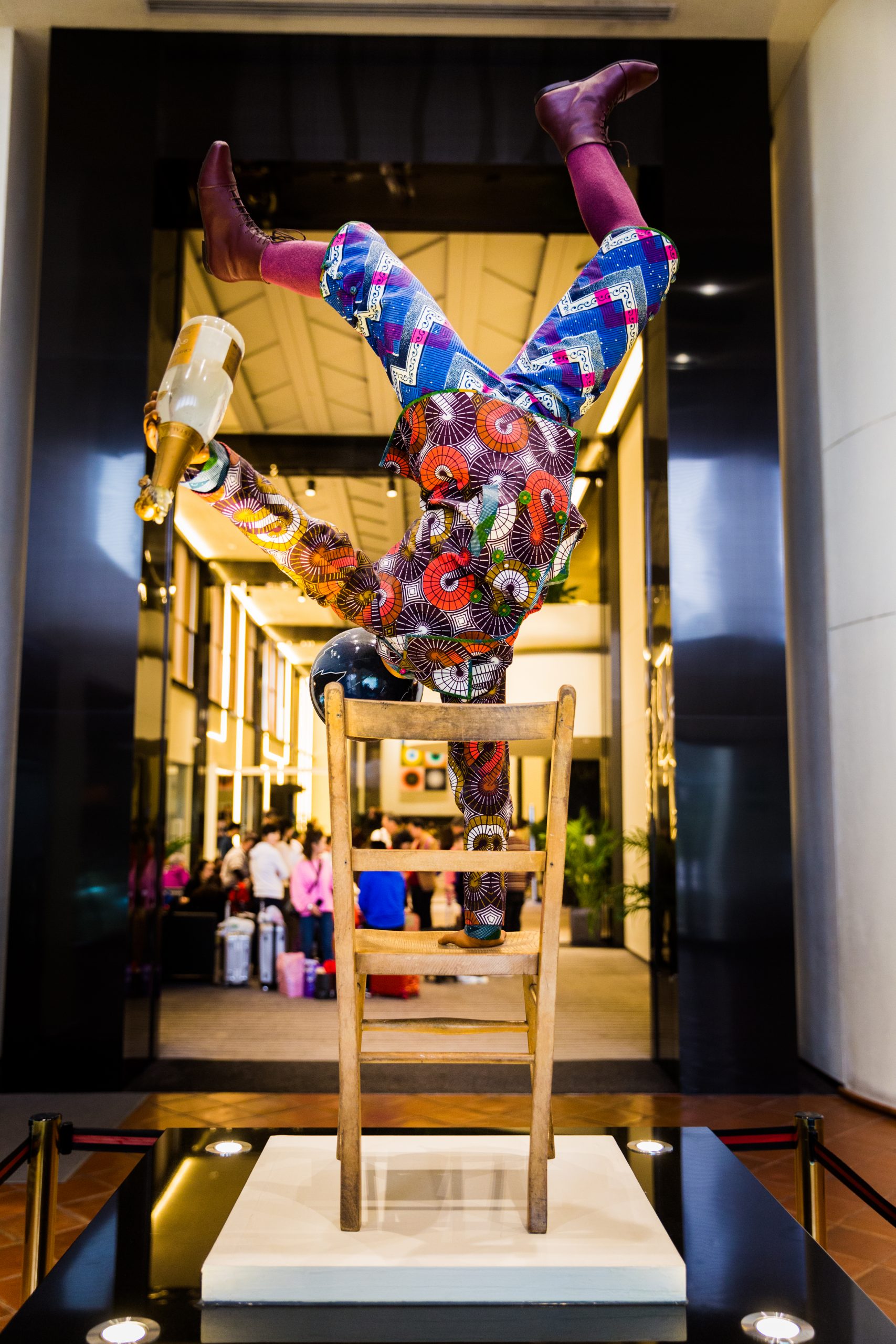 Formerly known as the Regency Hotel, this establishment underwent a rebranding and redesign, emerging in 2016 as an art-oriented property with a contemporary vibe.
Three eye-catching pieces sit in its lobby, all from the 2013 Champagne Kid series by British-Nigerian artist Yinka Shonibare. These abstract, life-sized mannequins with globes for heads appear in different positions attached to chairs: "swinging," "balancing" and "stepping" – all while holding a Cristal champagne bottle. One of the materials used is Dutch wax African printed textiles; the artist is known for exploring themes of cultural identity, colonialism, and post-colonialism in his works.
The hotel's transformation was spearheaded by Sabrina Ho, a scion of the Stanley Ho family. She also runs Chiu Yeng Culture, a platform she founded in 2015 to promote arts and cultural exchange in Macao.
The Venetian: Return of the Renaissance
Mega-resort Venetian Macao is famously inspired by the City of Water. Gondoliers ferry visitors down San Luca canal, flanked on both sides by shops designed to mimic the architecture of Venice. The theme continues indoors, with opulent Venetian-style interiors and recreations of famed Renaissance-era art.
But just because they're replicas doesn't mean they're boring: a huge, golden armillary sphere sits atop the lobby fountain in a nod to their prominence during the Italian Renaissance (Galileo was said to have owned a large collection). The history of these devices, however, dates back much further – and much closer to home: some of the first armillary spheres were developed in China in the fourth century BC.
Primarily used to measure sea water levels and star positions, they were also used to decide the best time of the day to conduct certain activities – like gambling!
City of Dreams: Morpheus by Zaha Hadid
With the grand opening this past June, Morpheus is officially the world's first free-form, exoskeleton, high-rise architectural development. Designed by Zaha Hadid Architects, it is a true representation of 'innovation meets luxury'. The hotel lobby itself leaves guests captivated, resembling the inside of a giant kaleidoscope. As much as the exterior leaves visitors in awe, it's what's inside that makes it a paramount destination for art lovers within the City of Dreams.
Visitors are free to roam around Morpheus to enjoy the themed exhibition "Art of the City", a collection of contemporary work by international artists. Eight of the eighteen art installations for this exhibition are located specifically within Morpheus' parameters. Each piece is integrated smoothly into the luxurious décor and shopping stores; giving the hotel a fun and quirky taste, with extra pops of colour.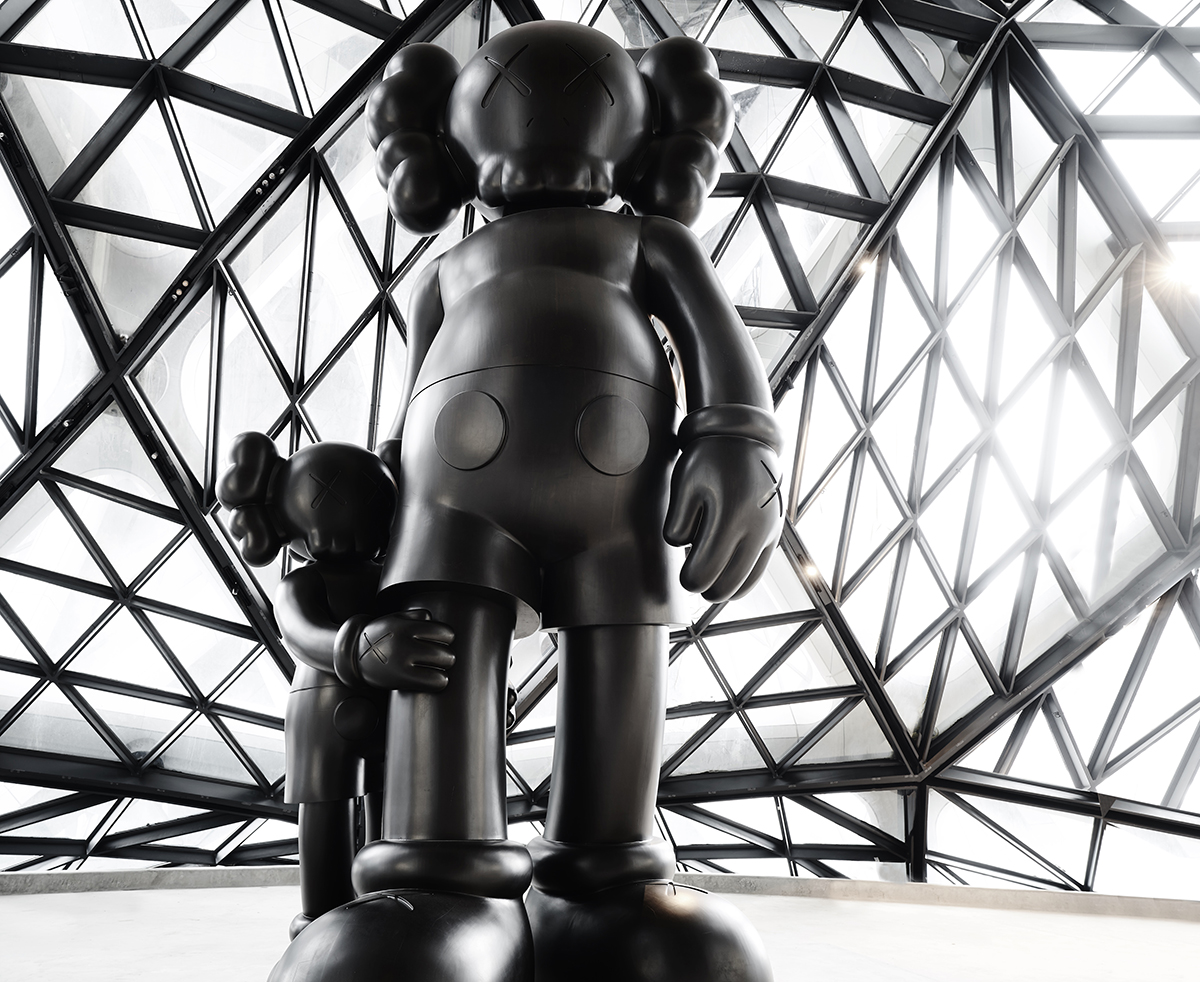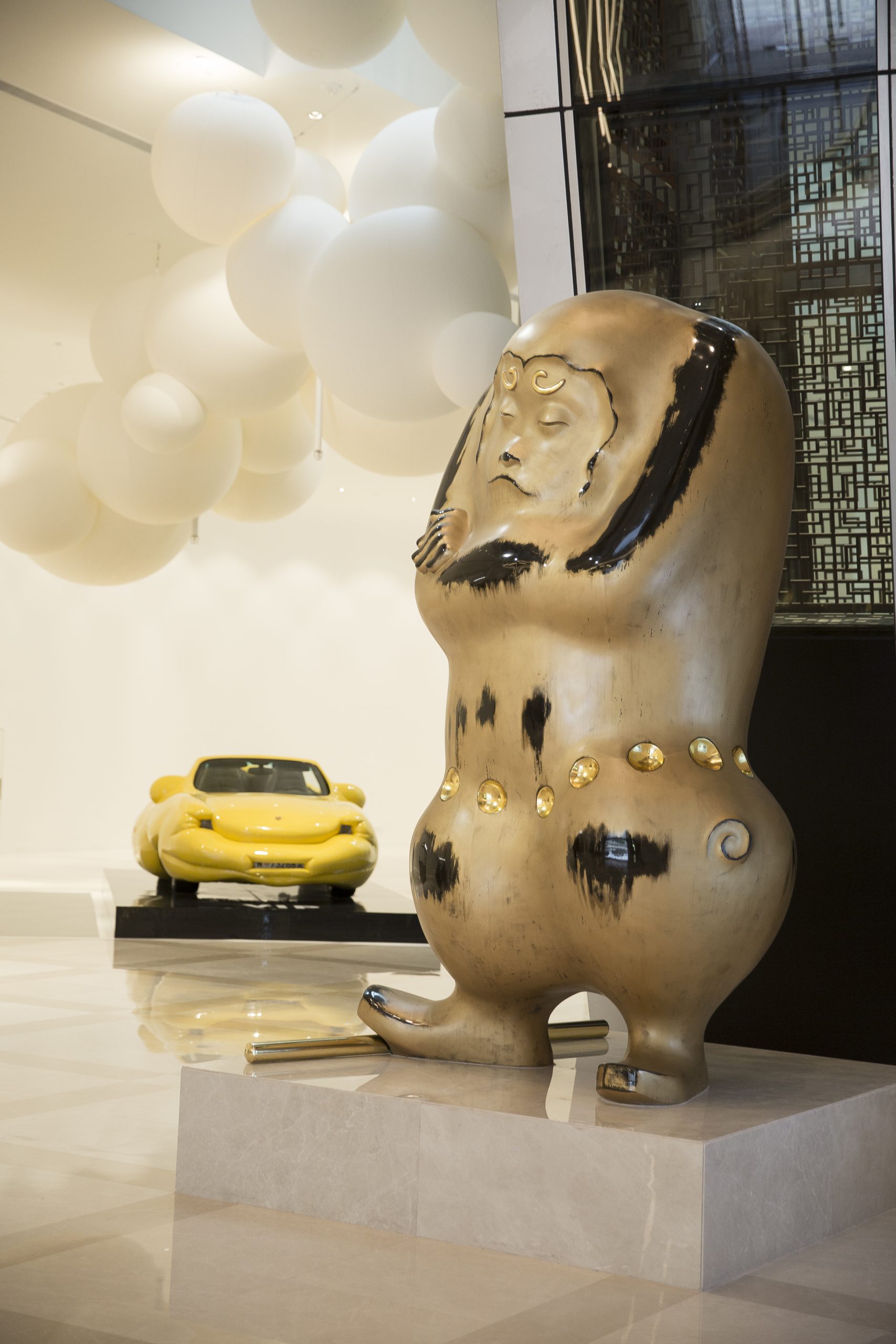 To highlight just a few, starting off introducing Good Intentions by the New York based artist KAWS. Many of KAWS works are influenced by popular culture in society, all of which are toy-like figures that combine the characteristics of Mickey Mouse, a clown, and a skull. This particular installation at the Morpheus comprises two figures acting as companions, sharing a human relationship representing that of a parent and child. However, unlike the other pieces, this one is specially located on the 23rd floor of Morpheus.
Closer to the northwest entrance is the 200 Litofairhour by Charles Pétillon. It is a grand cluster large of fabric spheres in a wavey-like formation, mimicing the looks of clouds floating 3.5 to 6 metres in the air. The most unique part of this installation is the title, based off the fact that 200 litres of air per hour is requried to sustain; representing our own vital need to for oxygen as humans.
Along with these bold installations, Shinji Ohmaki created Echos of Infinity which was inspired by Da Vinci's Tree of Life. Overtaking the walls are vibrantly colored plants filled with flowers and fruits to represent an abundance of imagination and diversity. The forest-like walls lead visitors into an infinite realm of fantasy, to bring back the youth, and represent the diverse personalities of each individual.
As a way of making this art exhibition even more exciting and interactive, visitors can follow along the Game of Thrills map to navigate the property and seek out these installations so as to not miss a single one. Endless forms of entertainment and prize-winning promotions allow guest of all ages to enjoy their stay around the City of Dreams.
In with the new
Hotels and gaming operators are not alone in their efforts to promote fine arts and culture. Today, the arts scene in Macao continues to go from strength to strength.
2018 saw the launch of Photo Macau, which bills itself as Asia's newest international art fair dedicated to art photography and new media art. It is not the first international arts festival to take place in the city: in 2013, international visual art fair Art MO was established, and 2017 saw the launch of the Women Artists International Biennial of Macao, already the largest event of its kind in the world.
These are exciting developments alongside the city's art mainstays, like the Macau Museum of Art, which has been open since 1999. Last year, local art association Art for All Society (AFA) – the non-profit responsible for Macao Art Garden, a building dedicated to artistic pursuits and exhibitions – celebrated its 10th anniversary, renewing its dedication to enhancing the development of contemporary art in Macao, facilitating local art creation, and assisting the government with the development of local cultural undertakings. With art on the rise in so many arenas, the city's dedication to diversification and expanding the creative arts has a promising future.