Since the Venice Biennale of Architecture (Biennale Architettura) was established in 1980, the exhibition has provided a space for the world's most creative minds to explore architectural concepts, prototypes and ideas. By combining form and function, architecture can provide solutions for social problems, enhance urban environments and bring communities together – challenges that are ever more prescient given the ongoing pandemic.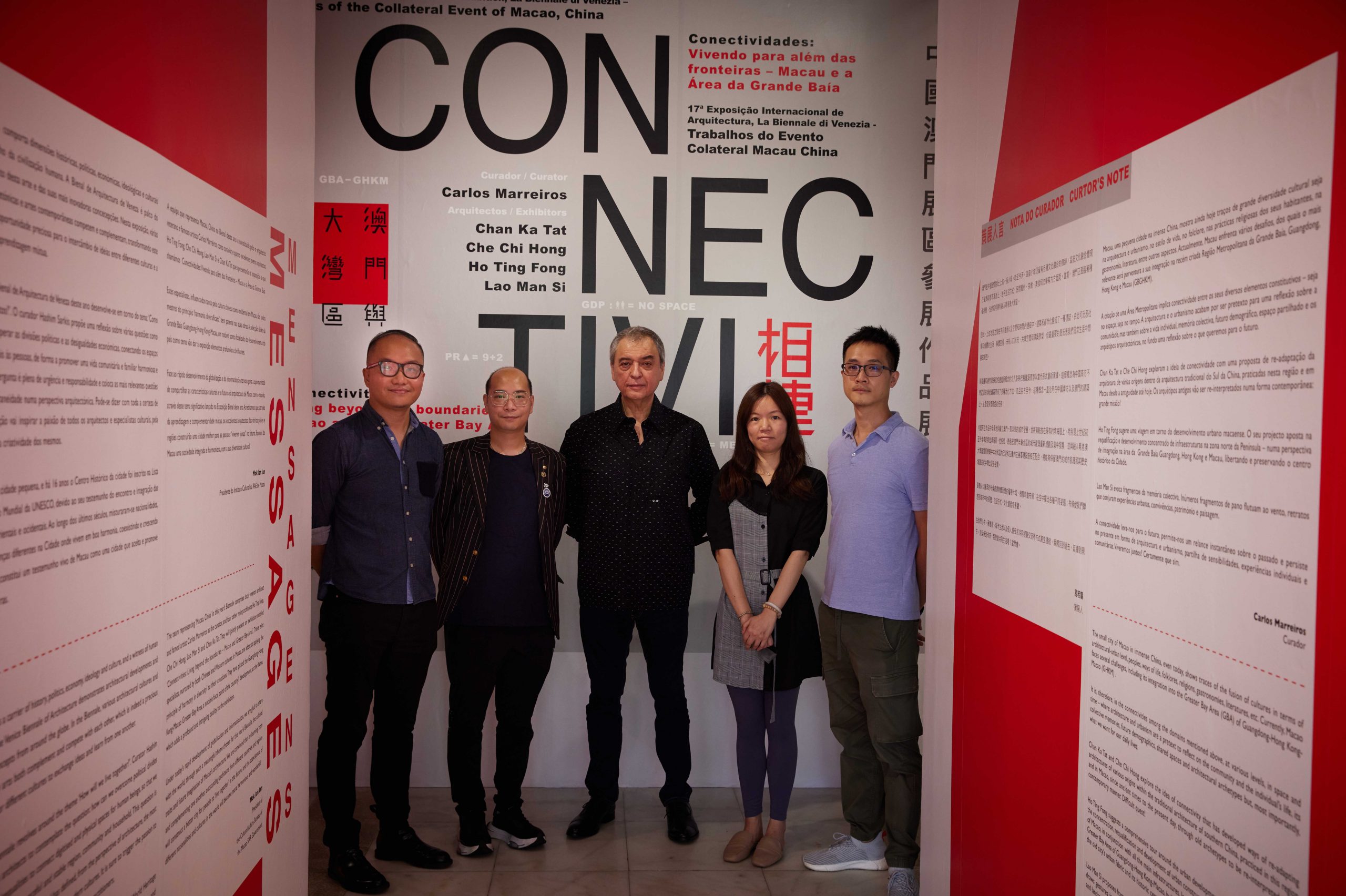 And that's exactly what this year's Biennale hopes to explore. On 22 May, the international exhibition sought to address the question, 'How will we live together?', in reference to the conditions created by Covid-19. Participating for its fourth year, Macao approached the quandary through a local lens, presenting a group entry with a shared theme of 'Connectivities: Living beyond the boundaries – Macao and the Greater Bay Area' with a total budget of roughly MOP 500,000, or MOP 125,000 per installation.
With organisational support from the Macao Museum of Art (MAM) under the Cultural Affairs Bureau (IC), three acclaimed architects – Chan Ka Tat, Asai Che Chi Hong and Daniel Ho Ting Fong – and one urban planner – Ina Lao Man Si – offered compelling visions of a truly integrated Greater Bay Area (GBA) through a mix of abstract, mixed-media installations.
Curator Carlos Marreiros of MAA Marreiros Architectural Atelier says that the connections between the GBA – formed by Macao, Hong Kong and Guangdong – will play a vital role in a post-pandemic world that is increasingly globalised.
"We live in a completely interconnected region," says Marreiros. "We're living beyond the boundaries. And Macao's future depends strongly on the GBA. Macao has to do its best to integrate in this region, while protecting our own identity, culture and industries. It's very important."
The code of coexistence
One of the four participating entrants, Ina Lao Man Si was the lone urban planner among the Macao talents. She is currently the Macao Urban Planning Institute's board council treasurer – a role which helped Lao devise a concept for her installation, called 'Coexistence'.
"The people, buildings and the districts of Macao co-exist very well," says Lao. "When I imagine the future of Macao and the GBA, I think we need even better co-existence to develop a more inclusive community." As Lao explains, this can be achieved through the preservation of architectural design codes, which can help to visually and culturally link nearby cities.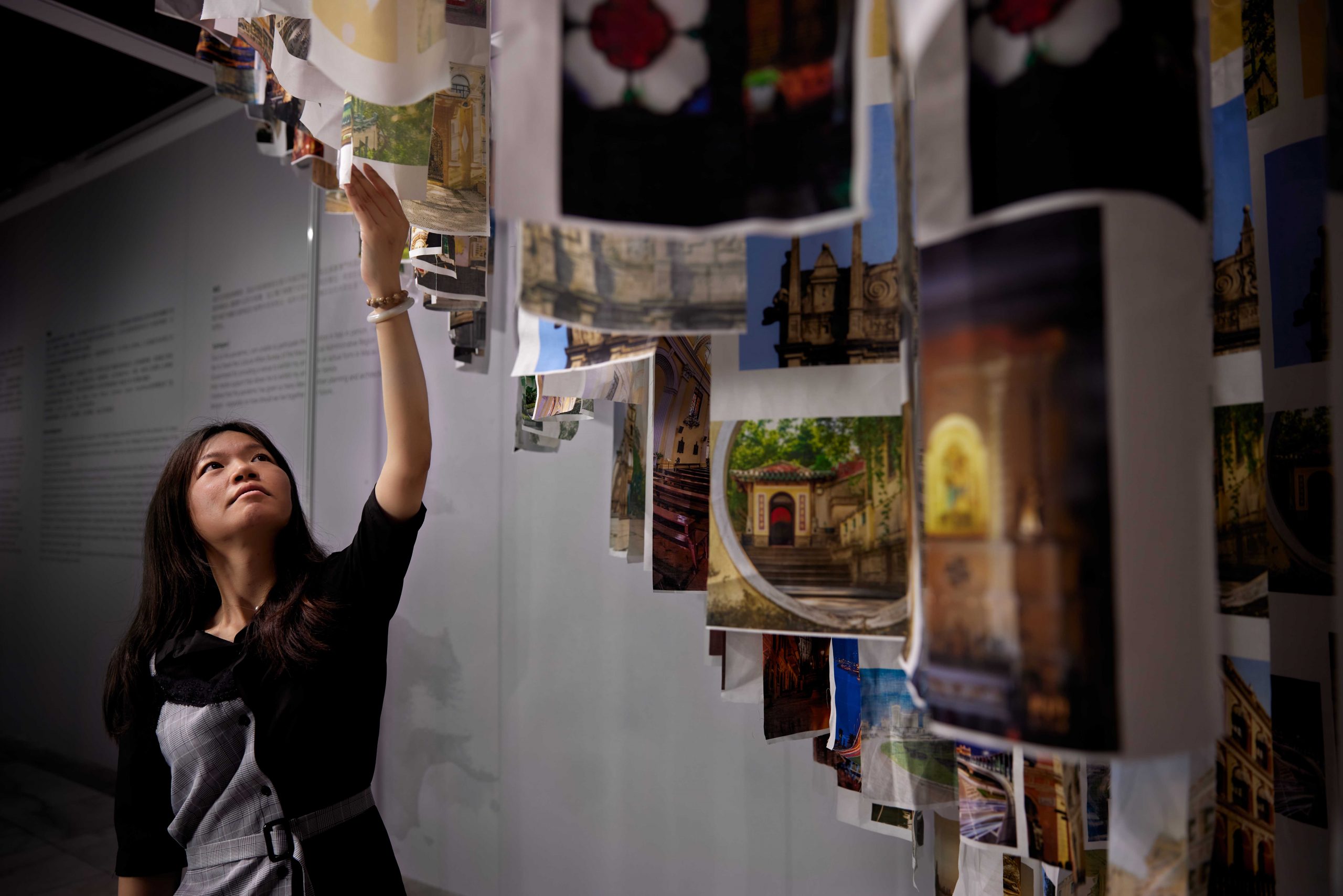 In celebration of the city's cultural diversity and collective memories, Lao set out to showcase Macao's 'multicultural beauty' in her photo-driven installation, which hangs from the ceiling like a mobile. "I chose to use canvas cloth because of its simplicity and dynamic qualities," she says. The material is also recyclable and low impact which she hopes symbolises Macao's environmental protection efforts.
To bring the exhibition to life, Lao partnered with a friend who is a photographer, António Leong (known on social media as Antonius Photoscript). They printed 77 images of Macao onto the canvas cloth, with the photos divided into three different sections: past, present and future.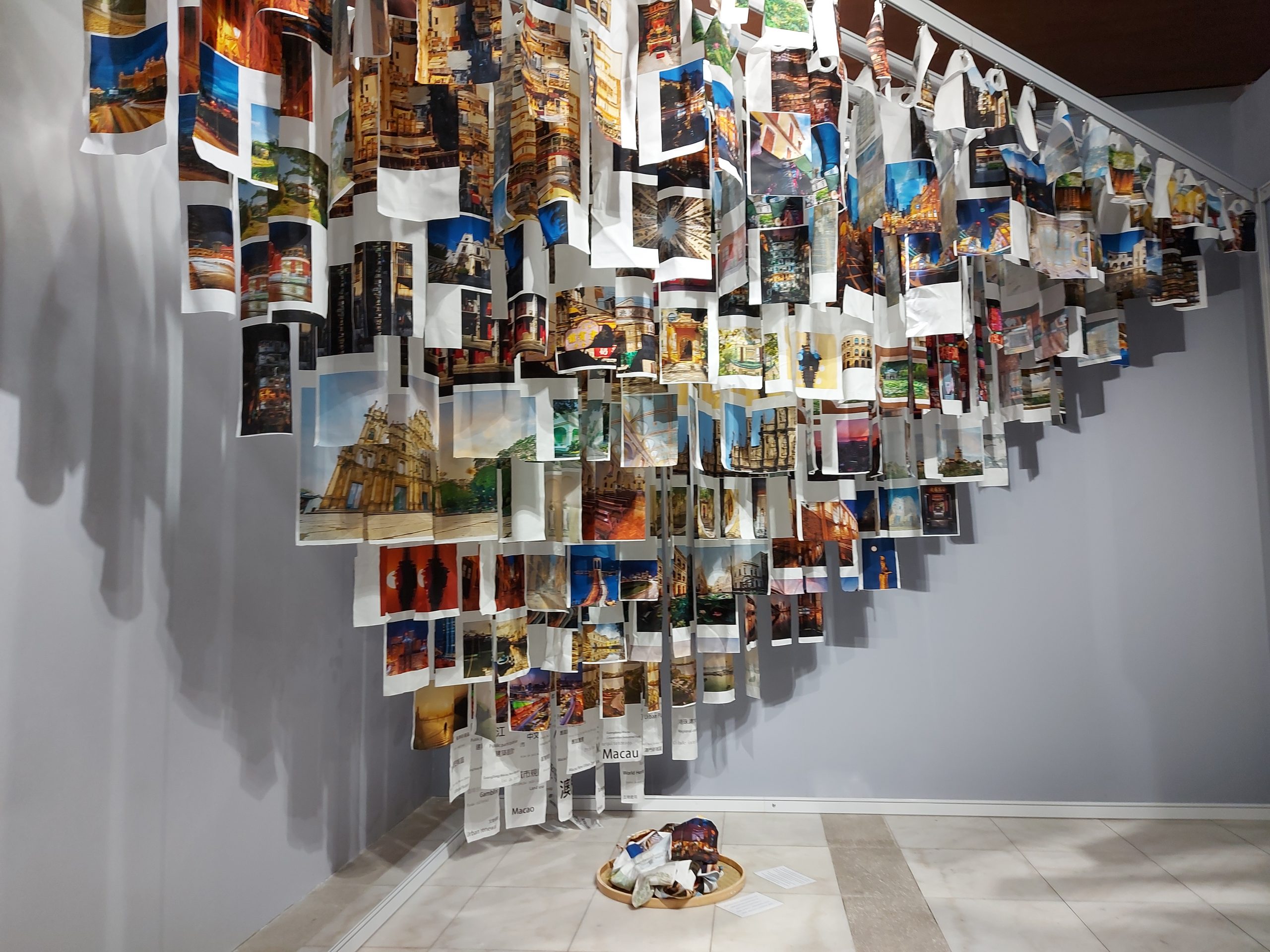 Starting at the top of the arrangement, Lao showcased Macao's heritage buildings and old districts to represent the past. The next strata shows current living areas and buildings to symbolise the city's present. And at the bottom, Lao uses text – phrases like 'urban renewal', 'public participation', 'Macao New Urban Zone' and 'World Heritage' to represent the city's unknown future in relation to the Hengqin New Area and the GBA.
"The division between the layers and time periods isn't very clear,"she says, which serves as a testament to Macao's interwoven past and present. "I also got a lot of help from friends, making me feel like I'm truly living in a society that embodies the topic of my work – co-existence."
Using the excess cloth from her installation, Lao created canvas bags for exhibition guests to take home with them. "I hope visitors can imagine the city's future through my exhibit and the many possibilities for the development of Macao," Lao says.
Deeper connections
When visitors approached Chan Ka Tat's 'Connected' exhibition, the first thing they saw was a burst of colour and dynamic lights. The installation – a mixed-media display, a map of the region, and one lit-up archway framing a mixed-media background explore what's in the pipeline. Symbolically connecting Macao on one side and the GBA on the other, the arch represents fast-moving information, people, technology and skills and his vision for a 'constant flow of life' across the region, says the architectural designer.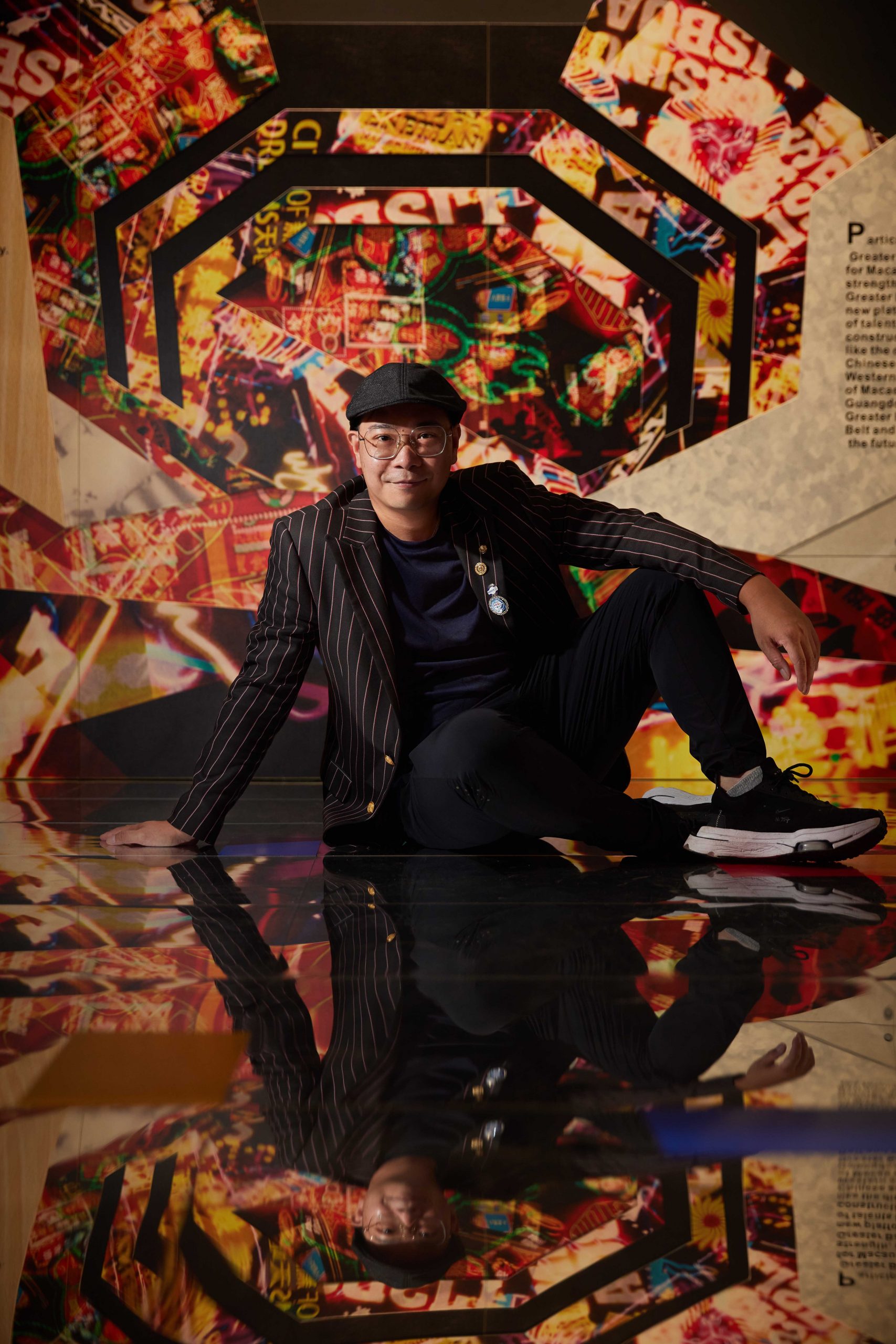 Chan foresees a future where people will operate around the clock, while safeguarding their own culture and identity. This vision, he says, is best communicated via his installation's mirrored, multi-colour floor, which was based on a Chinese saying that 'Water is as smooth as a mirror' (水平如镜). "It's like a calm body of water, reflecting the arch's high-energy image. They complement each other like Taoist yin and yang."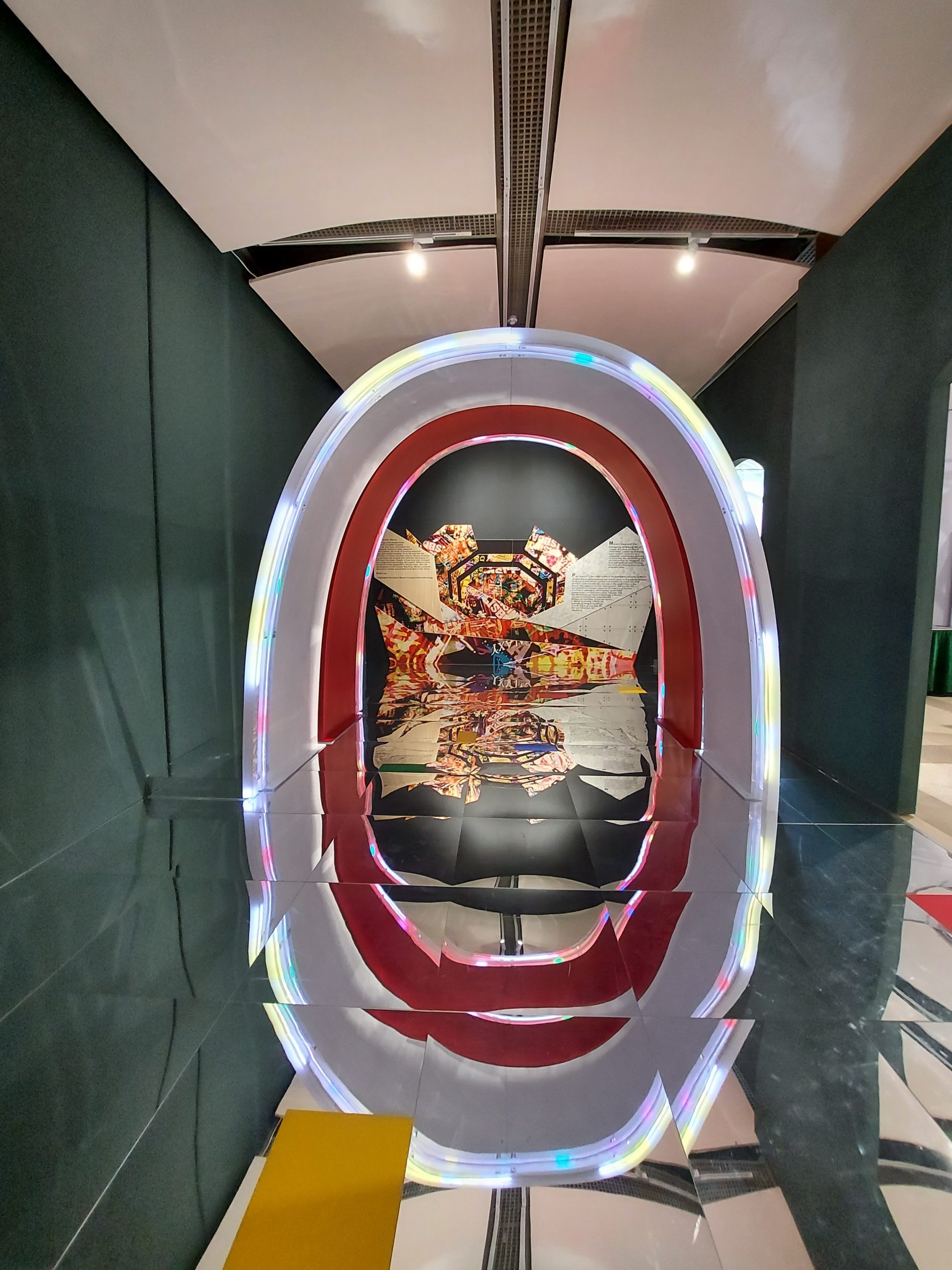 For him, water – equivalent to the mirror in Chinese culture – has always served as an open bridge between China and the West, which made Macao's history as a port even more significant. Now, it's more important than ever for Macao to find its place in the GBA, says Chan. "Of course, we still have to promote our unique culture – Macao's Sino- Portuguese culture," says Chan.
In the pipeline
When approaching the theme, architectural designer Asai Che Chi Hong set out to unpack the importance of fluidity and connection in the context of the GBA. As a result, his exhibition, dubbed 'Connectivity is from point to point!', harnesses water as an apt symbol. "Macao is a coastal city and our origin was as a small fishing village," he says. And since water can be found in many different states – from liquid to gas to solid it symbolises the city's adaptability and fluidity, he adds.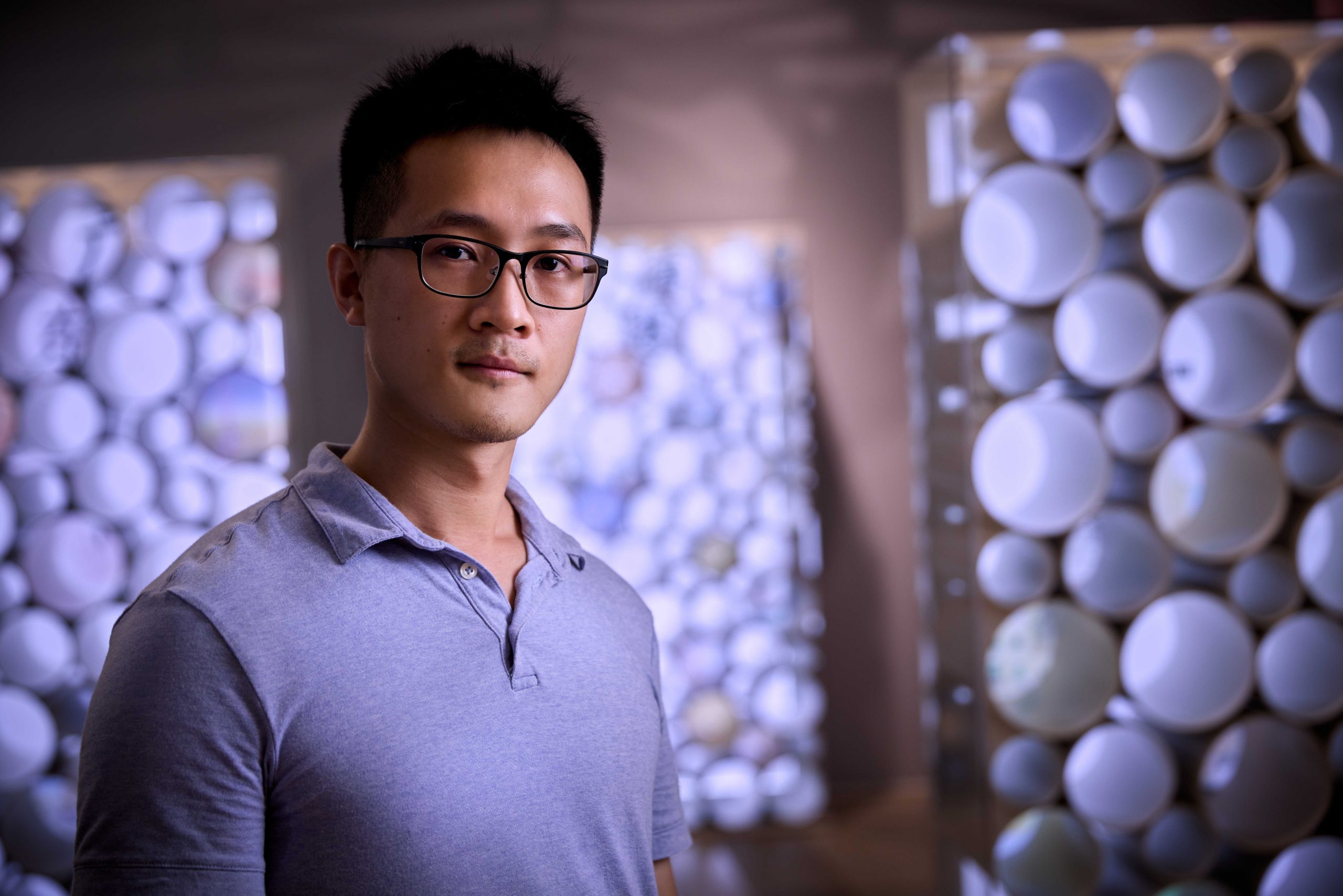 To create his interactive exhibition, Che cut over 300 white PVC pipes into irregular sizes and organised them inside three acrylic boxes – representing either Macao, Hong Kong or Guangdong. Inside each pipe, he hid data, text and images related to the three places, which viewers could explore and discover. "It's quite fun to see people be child-like as they peer into the tubes to see what image they might find then start talking and reminiscing about these places," he says.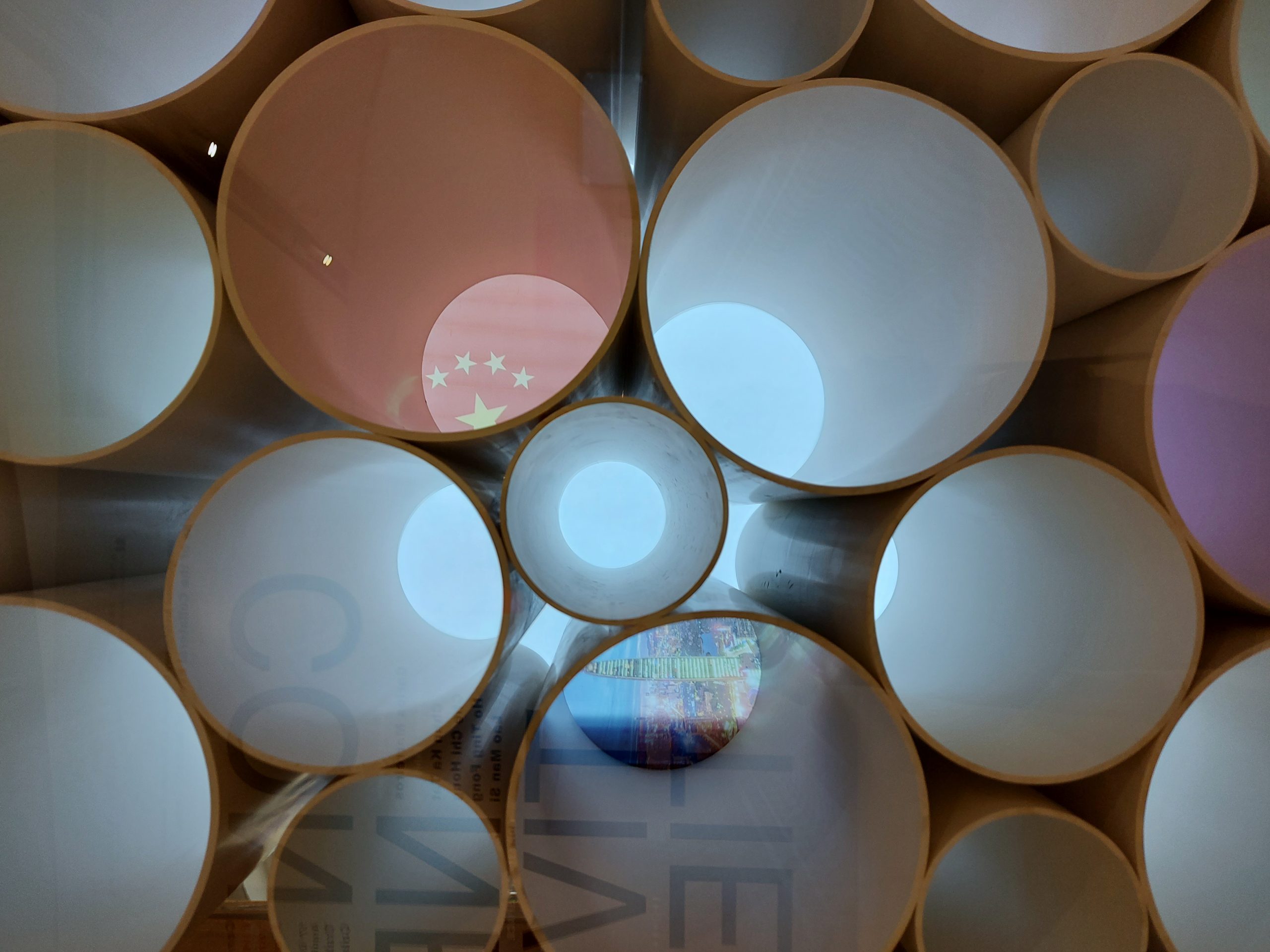 The installation speaks to Che's belief that, in the future, Macao will need to deepen ties and cooperation with the GBA for economic strength and to stay competitive. "Geographically, Macao has an advantage that we should utilise," Che says. "Because of the different opportunities and platforms across the region, the connection between the GBA and Macao is increasingly important."
Up and away
Daniel Ho Ting Fong's 'Boundary Verticalisation – the Collision of Two Different Urban System' exhibition aims to raise a question, rather than provide an answer. While researching, Ho mapped Macao's physical expansion over the years and GBA's impact on the city, particularly along the border. He found that land reclamation, infrastructure, and mega-projects along the city's periphery have grown larger and larger over the years, dwarfing Macao in size and scope.
Experimenting with possible architectural solutions, Ho proposes that Macao must build vertically – not horizontally – due to a lack of land and space. That's how he came to his elevated community model, which is a more 'sustainable compact urban system, integrating different purposes – commercial, residential, leisure and public urban life into each vertical community'.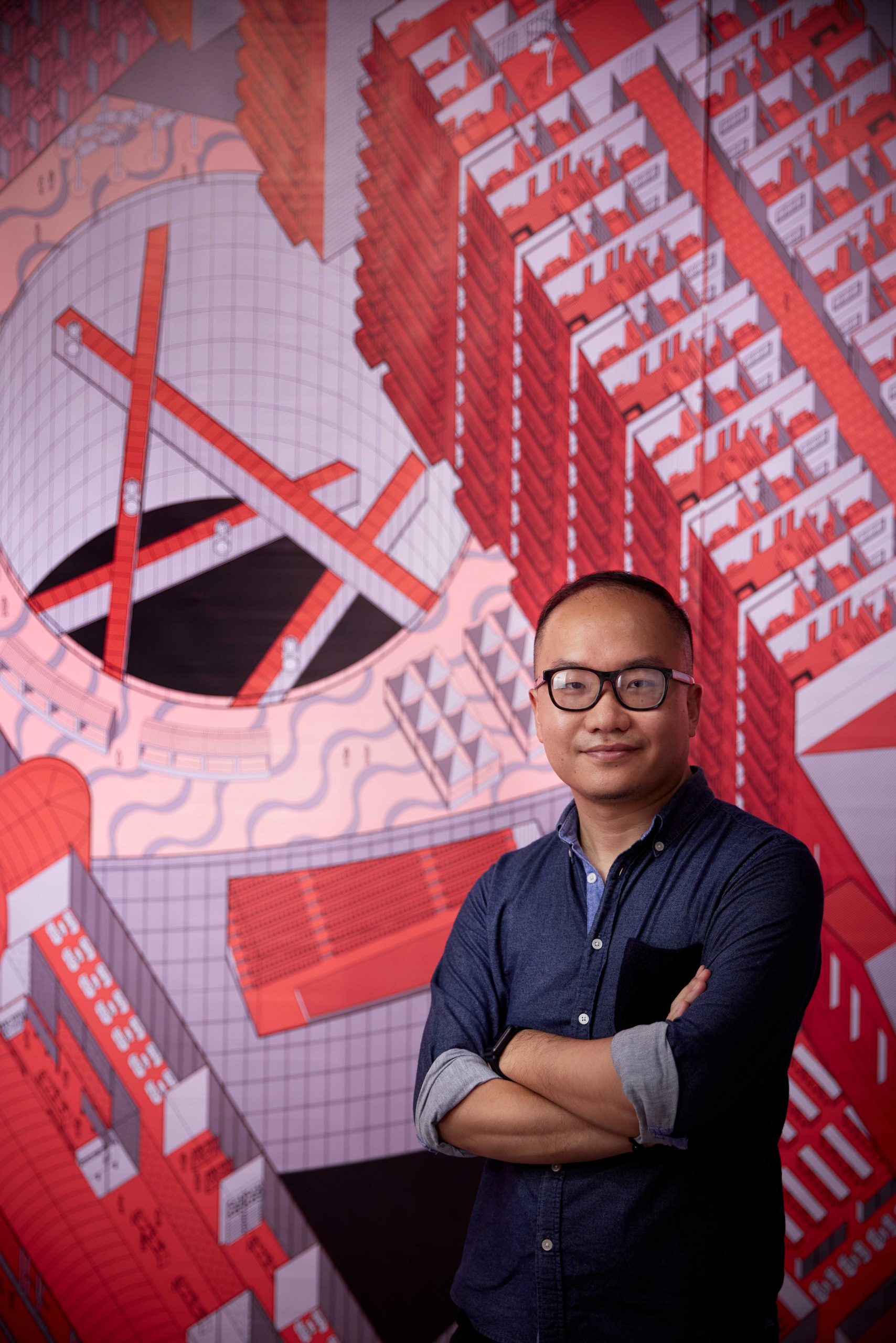 At the Biennale, he presented a floor-to-ceiling digital drawing – which took him around a month to complete – that shows the community's activities and functions, such as theatre, travelling tubes, shopping malls, playgrounds, art galleries, hotels, housing and offices. For Ho, the communities of the future will need to serve diverse functions, rather than simple housing blocks with only one purpose. "My wish for my exhibition is to provide a place where visitors can think and reflect on this," he says.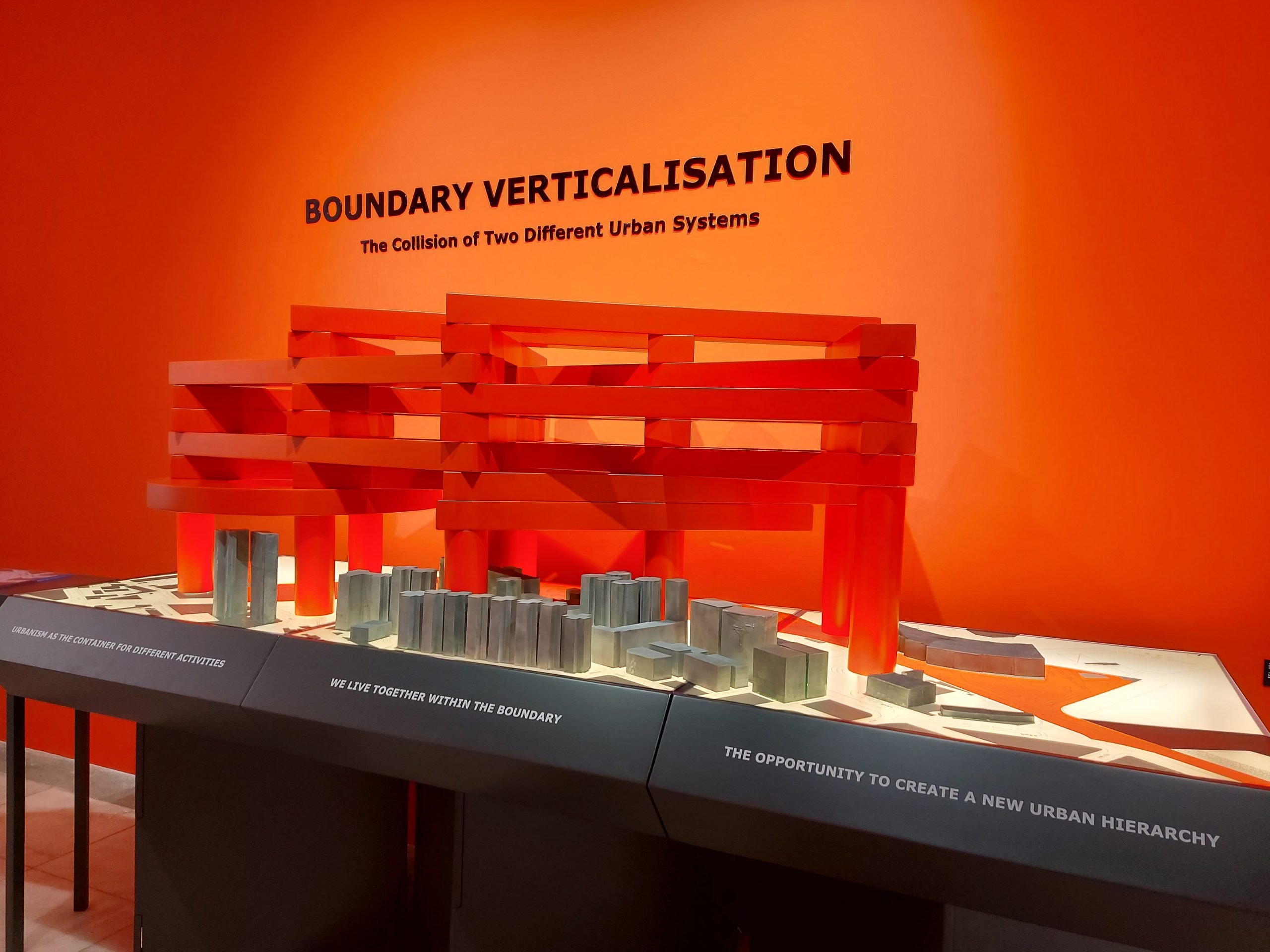 New challenges, new opportunities
Though disappointed that they could not travel to Venice, the four first-time exhibitors felt honoured and excited to have an opportunity to present their models, experiments and ideas to the city and the world. This summer, their works will be screened on-location at the Macao-China Pavilion in Venice, where visitors can get a taste of what Macao is capable of in the realm of architectural planning and design.
The digital nature of the exhibition further supports the theme of 'connectivities', showcasing the city's innovative thinking and technological abilities. However, challenges exist. When it comes to architecture and construction, Macao's information and technology centre needs to advance more rapidly to keep pace and integrate with the Greater Bay Area, says Ho. "If Macao's industry can adapt to this challenge, the entire construction industry and our whole society – will be able to develop and progress," he says.
As demonstrated in all the four exhibitions, Macao and the GBA are quickly growing closer and more interconnected year after year. "With Macao's limited land and lack of natural and energy resources, the city will be very dependent on the GBA to develop further," says Ho.
Marreiros, the curator, agrees, adding that preparation is essential if Macao is to thrive within the GBA. "Urban connectivities flow like the arteries, simultaneously carrying our collective memories of the past, the present and possibilities for the future," he says. "Just as you need to prepare the body for optimal health, a well-prepared Macao will have a bright future."
---
Connectivities: Living Beyond the Boundaries – Macao and the Greater Bay Area
 Inaugurated on 18 June, the exhibitions will be displayed in the 'Exhibitions Gallery' and 'Nostalgic House' at the Taipa Houses–Museum from 19 June to 24 September. Admission is free and is open to the public from 10 am to 7 pm daily (except Mondays), including public holidays.