When Dave Wan took over his father's woodworking business 10 years ago, his knowledge of the craft was far from deep. Wan, now 46, was a web designer by trade. While he'd helped out in the workshop as a kid, in exchange for "store-bought toys" instead of the hastily carved ones he'd usually make do with, carpentry hadn't seemed like the career path for him.
Wan's grandfather was the first carpenter in the family, building small fishing boats. Wan's father took up carpentry too, but he specialised in traditional wooden construction materials. Both men worked in the city of Zhongshan, in Guangdong province, where Wan was born.
In the late 1970s, job prospects in Zhongshan were grim. Wan's dad – like many other mainlanders at that time – left his hometown to start a new life in nearby Macao, where there were more opportunities. He arrived in the city alone and spent a few years getting settled. Wan was 10 when he moved across the border.
Wan's father reckoned his best chance for success in Macao was to start another carpentry business there, which he did in the early 1980s. Weng Hong Wood Workshop, as the business was named, initially focused on construction materials. Over time, however, Wan's dad transitioned into made-to-order furniture pieces such as dining tables and sideboards.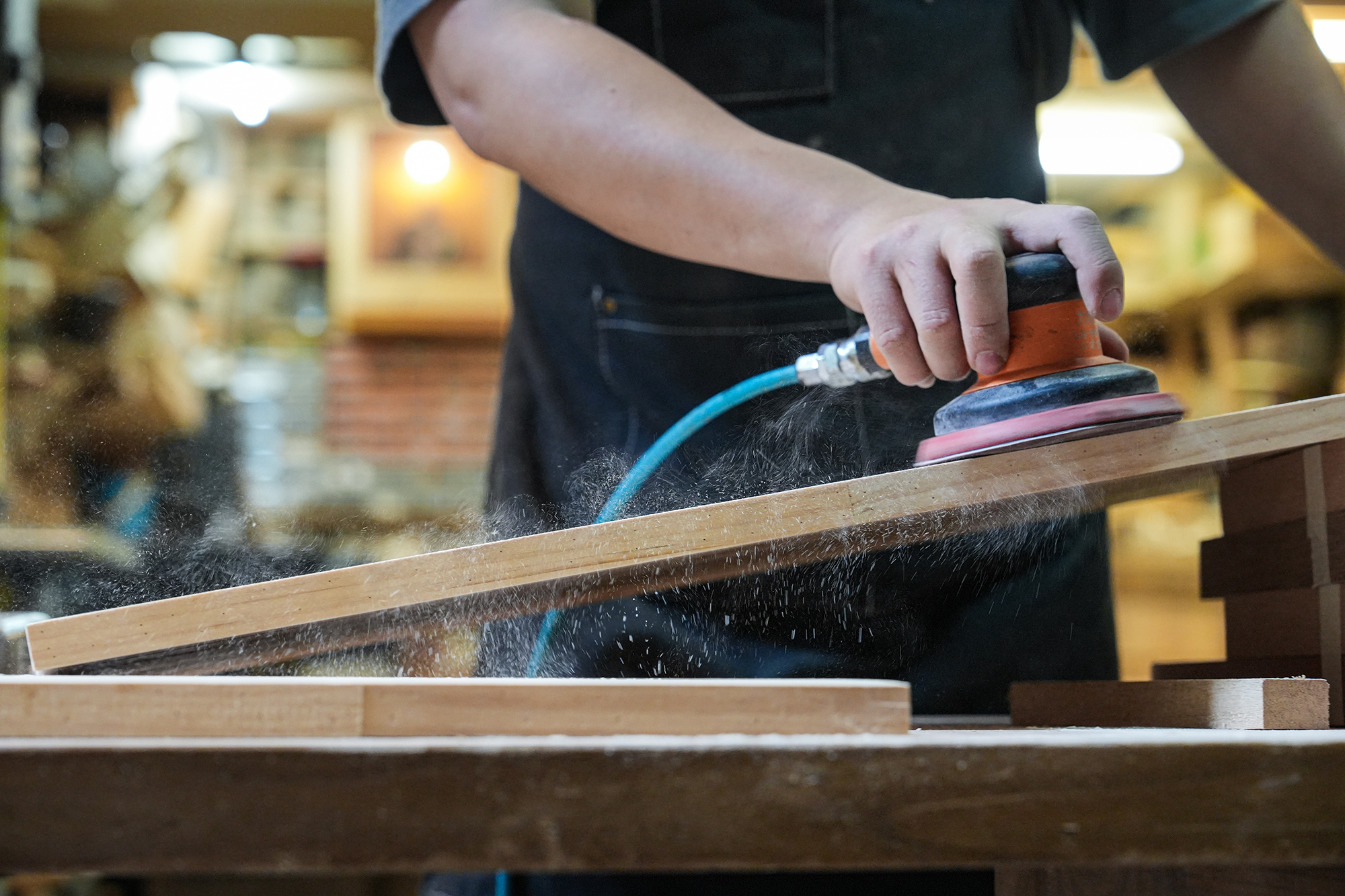 Carpentry was a competitive industry back then, but Wan recalls high enough demand to keep everyone busy. His dad eventually purchased his own premises, in a small alleyway next to the Sacred Heart Canossian College. As his dad worked to meet furniture orders, Wan went off to university, graduated, launched a career in web design and got married.
When Wan's father retired in 2011, Wan felt sad to see the little carpentry business his dad had built from the ground up – the legacy of two generations – come to an end. While the workshop was closed, Wan's father was reluctant to sell its building or even rent it out. The lifeless space made Wan reconsider his future: should he quit his stable, decade-long career in web design to make furniture for a living?
By 2012, Wan was feeling drained by long days at the computer spent coding. The idea of a more artisanal job appealed more and more, and carpentry fit that bill perfectly. Even though he was inexperienced in woodwork, he could count on his father for guidance. Wan decided to become a third-generation carpenter after all, much to his dad's satisfaction.
Adapting a traditional business to the modern world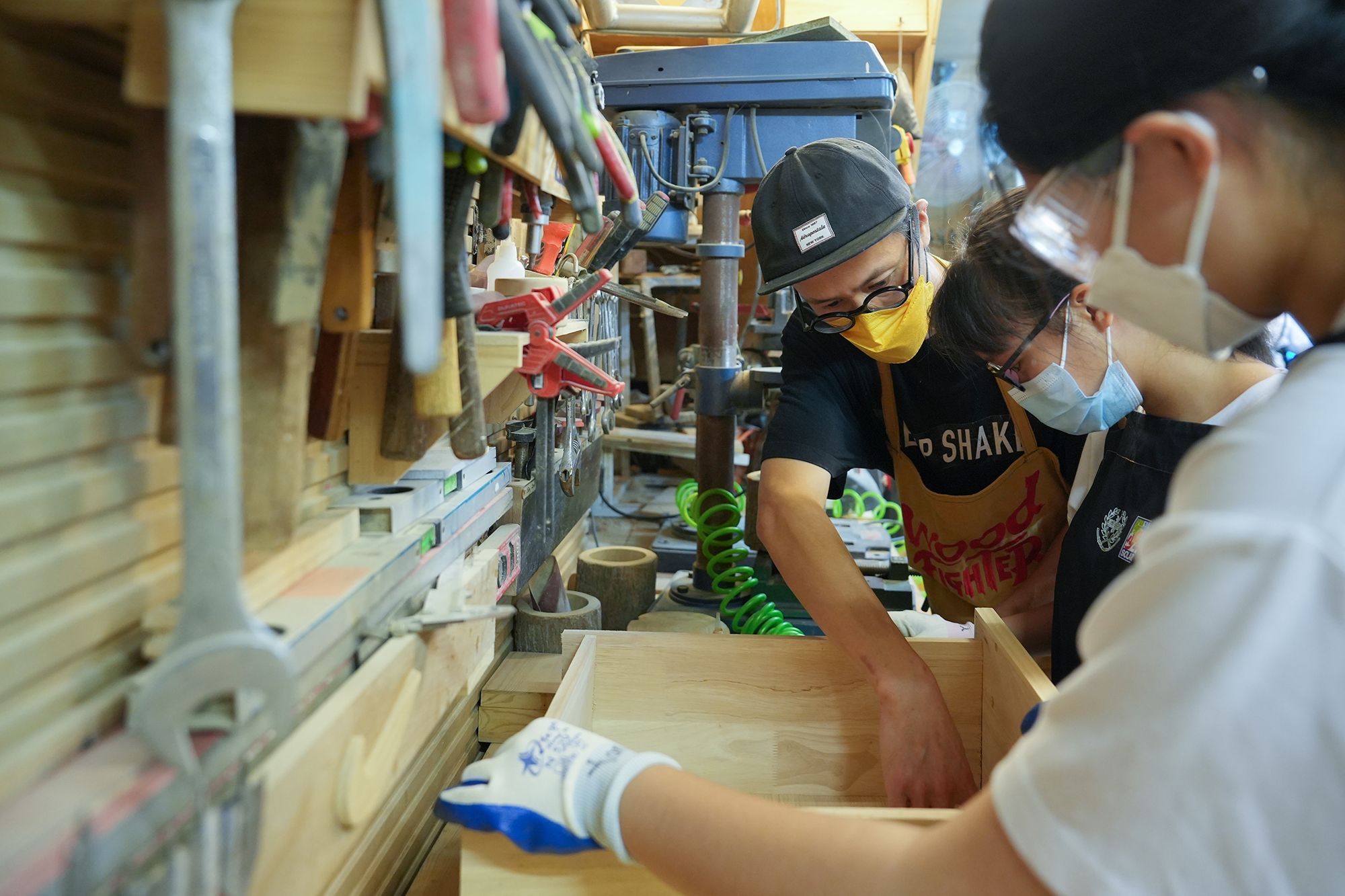 Wan's digital skills proved more applicable to his new line of work than he'd initially suspected, especially when it came to modernising the business. First, he rebranded Weng Hong to Zawood (宅木), which means 'the wood from home'. He then set about developing Zawood's online presence. Having a website and social media pages let Wan reach potential customers beyond Macao's borders. They could scroll through existing furniture designs – Zawood's style is modern, yet visibly inspired by the natural world – and order customised items if nothing quite suited.
Wan became a skilled enough carpenter to produce furniture himself, but is more focused on the management and design sides of the business. One of his tasks is making 3D renders of his made-to-order pieces, to send customers for their approval. Pre-pandemic, once a design was finalised the piece was either crafted at Zawood by Wan's staff carpenter or by a partner carpenter in Zhongshan. Then it'd be shipped off to the mainland or to Hong Kong.
Zawood was doing well before Covid-19's arrival in early 2020, but struggled in its wake. The business's strong digital presence meant a large portion of its sales were already being made online; disruptions and rising costs in shipping were the major problem. As was the economic hardship hitting Wan's customers. Zawood's high quality, bespoke style of furniture – made out of solid ash or elm from the mainland – was a luxury people could no longer afford. They turned instead to cheaper options made from plywood. It didn't help that Macao's first IKEA opened at about the same time as the pandemic began, offering its famously affordable furniture designed for easy assembly at home.
"Our furniture sales plummeted to less than half," Wan recalls. To save the business, he realised he'd have to change tack. Fortunately, Wan had already developed a side-hustle teaching basic carpentry skills after noticing his customers' interest in how their furniture was made. To sate their curiosity, Wood Fighter has been running workshops since 2018.
Before the pandemic, Wood Fighter accounted for about 20 per cent of Zawood's income (premium furniture sales made up the bulk). Now, however, the workshops are the business's biggest earner. Social media is propelling Wood Fighter's popularity; Wan keeps the brand's Facebook and Instagram profiles updated with photos of engrossed-looking rookie woodworkers sanding, sawing and glueing. He holds an average of 15 workshops a month for groups of around 8 students.
Wood Fighters unite
Nowadays, a team of two carpenters and one salesperson assist Wan in Zawood, while he focuses on Wood Fighter. Wan conceptualises each workshop: he decides what will be created, plots out step-by-step instructions, and selects the right techniques to teach attendees. Nature, music and simple everyday objects are Wan's main sources of inspiration for what gets made. He's a fan of the old adage, "One man's trash is another man's treasure," too. Most of the Wood Fighter creations are made out of cast aside pine wine boxes, which are easy to come by in Macao.
"It's great because we get to repurpose something that would otherwise end up in a landfill, plus we don't have to pay for it and the quality of these wine boxes is high," says Wan. "It's pine wood that has been treated so we know there's no risk of it having wood bugs."
Conveniently, Wan loves to teach, something he discovered through parenthood (his two children are aged 9 and 7). His students learn how to make the likes of wooden lampshades and kung fu stools. They've also made traditional African musical instruments called kalimba (also called a 'thumb piano') and asalato (a handheld drum), leaning on a personal passion on Wan's – world music. Wan says the most popular Wood Fighter project has been a carved Game Boy, a replica of the 1980s smash-hit handheld gaming console.
As Wood Fighter's fan-base has expanded, schools and institutions have started reaching out to Wan to organise workshops for their students. Among others, he has collaborated with The International School of Macao, Yuet Wah College and University of Saint Joseph, teaching their pupils new, practical skills.
While most Wood Fighter workshops are held over a single session, Wan developed a more in-depth course for a group of design students from the University of Saint Joseph. They took control of the project, from brainstorming ideas, to learning about tools and how to use them safely, to actually creating the pieces. Wan says he loved the experience and hopes one day to teach woodworking as an academic discipline.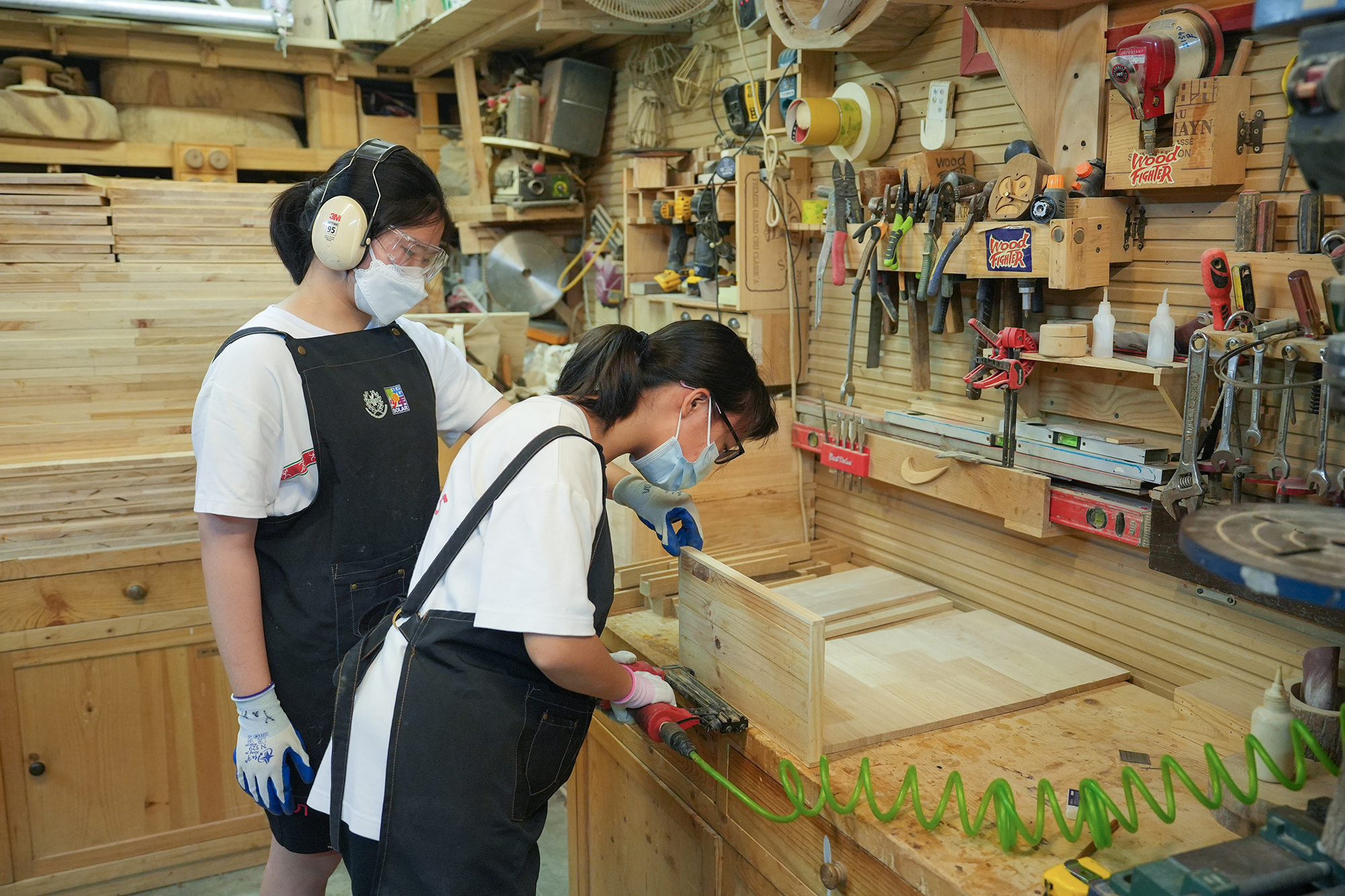 Recently, Wan joined forces with the Sin Meng Charity Association, a local humanitarian organisation dedicated to helping disadvantaged groups in Macao. Through this partnership, Wan teaches volunteers how to make furniture for elderly folk living alone. Sin Meng first assesses what type of furniture would be most useful (mostly storage cabinets, as it turns out). Then small groups of volunteers each craft one piece of furniture under Wan's guidance. Pine wine boxes are also used for this purpose.
For Wan, it's easy to understand why his woodworking workshops have become so popular with people. He says they get to experience the same sensation he did when he quit web design. "Many of us have jobs that require us to use our brains only, not our hands, so we don't get to create something that is palpable," he explains. "I think what makes the woodworking experience so appealing is that when people create a piece, their brains and hands are in sync, and that allows them to enjoy a moment of relaxation." Wan also believes that, since wood is a natural product, Wood Fighter is a way to "experience a sensorial connection with nature" – another challenge in a modern, screen-based world.