Famous for his technique of combining acrylic paints with ink and tissue paper, abstract artist Denis Murrell has created hundreds of paintings over nearly 30 years in Macao
Australian‑born artist Denis Murrell discovered his unique mode of artistic expression here in Macao, where he's resided since 1989. Over the last three decades, Murrell has created about 400 paintings characterized by a mix of vibrant colours and a particular textural appearance achieved through a technique that has become his hallmark. 
The Macao Foundation supported Murrell's most recent solo exhibition, Down and Up, in the Rui Cunha Foundation Gallery. Many of the 31 abstract paintings on display were created in the past three years. According to Murrell, they reflect the transformation in his technique, artistic taste, and style over the years. 
"Gluing different shapes of tissue paper with acrylic paint on the canvas is still the dominant technique, but now I am also using techniques I have never used before, like dotting and pouring paint directly onto the canvas," he explained, pointing to an abstract creation named Untitled; most of his paintings share the same non‑title, reflecting his belief that an actual name restricts the imagination.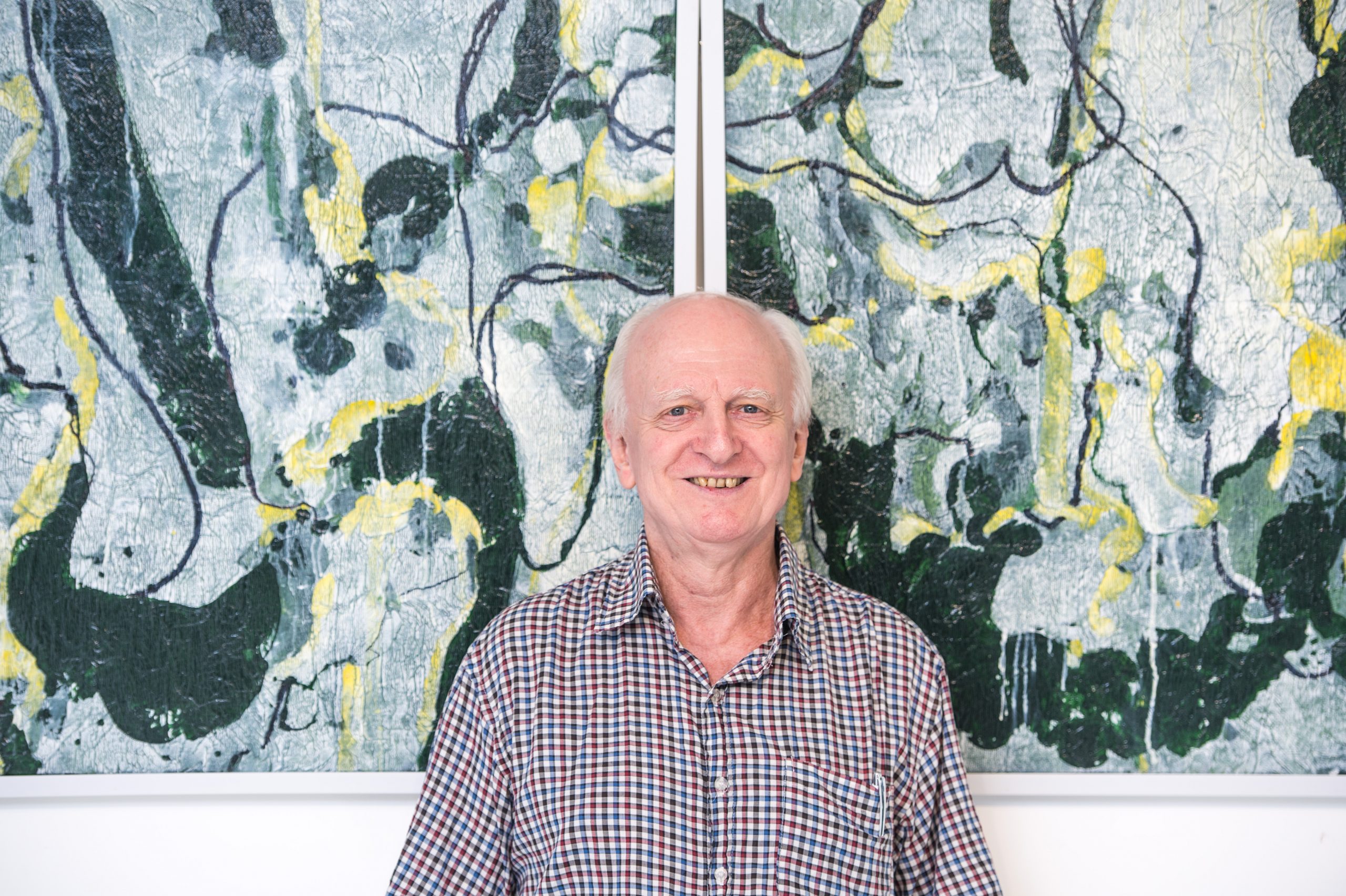 "I also use different kinds of material, such as toilet paper, restaurant tissues, cloth rag, and even denim," he added. "I will try everything to create an interesting texture on my paintings." 
A Different Approach 
Finding the creation of realistic paintings "absolutely boring," Murrell's preference for making abstract art began when he was a teenager in the 1960s. When Murrell's high school art teacher told the class to draw fire, most of his classmates produced predictable images of blocks of wood with flames coming out. Murrell created an image of wood already burnt, blackened with little flicks of red coming out of it. 
"I just want to do the things other people don't," Murrell said. "I like to search for a new way to do something." 
When he relocated to Macao some 30 years later, that same adventurous spirit in artistic expression led him to the unexpected discovery of his signature technique. 
"I was painting in my apartment one day in 1991, and I accidentally dropped some paint on the floor. I cleaned it up with a piece of toilet paper and I was surprised to find that the colour actually looked great on it," he recalled. "I glued it onto my painting and then thought, I'd like to do more with that." 
As an established artist of abstract creations, Murrell is often asked about his thought process when he is painting, but he admitted he never has an answer for that question. 
"For instance, people like to ask why I use this or that colour; my answer is, because it's lying nearest to me on the table!" he chuckled. "I believe all kind of things going through three lines – like, what time is breakfast, who is that person I met yesterday, would I put this line here or there… now and again you go back to painting, and then you drift off to something else."