Few places on Earth do food better than Macao. From the luxury Michelin-starred restaurants in the entertainment complexes to the small eateries that are hidden away in the city's alleyways and shopping centres, there's a wealth of incredible dishes to sample and enjoy. Behind each masterful creation, there's a chef with an immense talent. In short, despite its small size, Macao is home to some of the best culinary maestros in the world.
In 2017, Macao was designated by UNESCO as a Creative City of Gastronomy. It was a fitting award for a city that has excelled at cuisine for centuries. What this honour brought was a spotlight on the SAR's culinary scene – not least, its own homegrown Macanese offerings – for tourism purposes as well as a spotlight on the city's talented chefs, whether they hail from Macao or from countries across the globe. And ever since, this elevation of the gastronomic scene has encouraged young locals to follow their dreams and train to become top chefs. Some will stay and some will leave for faraway lands – but each of these up-and-coming creatives is part of an ever-growing pool of talent for the future of Macao's food industry.
In every issue of this magazine, we shine a spotlight on six young talents. This month, we meet six of the most gifted young chefs – all under 31 years old and all either born and raised in Macao or at least have lived in the city for a good while – who have honed their exceptional crafts at some of the best restaurants and institutions in Macao. And each one has seized the chance to make their mark on the gastronomic scene by learning from the masters and using their skills, passion and imagination to create inspiring and flavoursome dishes. Meet the next generation of top chefs in Macao…
The French connection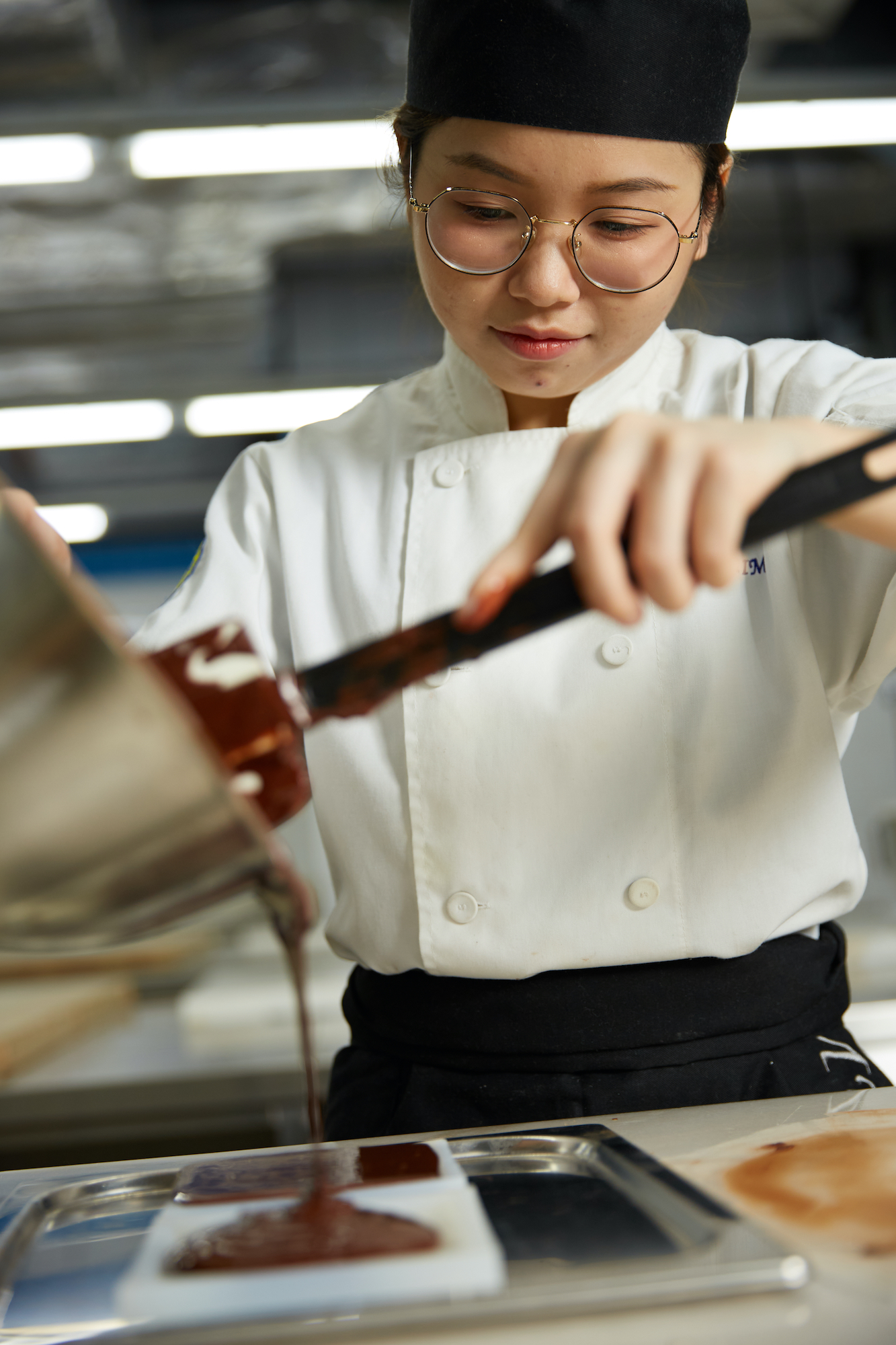 There's a long-standing tradition of French food in Macao. For many years, there have been restaurants and stalls offering classic Gallic pastries and cakes across town. Carrying on this tradition is Winnie Im, a 21-year-old culinary art student who specialises in creating decadent French desserts. Im, who also knocks up a range of delightful chocolate creations, studies at the Macao University of Science and Technology (MUST). She is passionate about the art of baking and looks forward to setting out on a culinary career that could one day shape the pastry scene in the city or beyond.
Im may not yet work full-time in one of Macao's restaurants but what sets her apart from other culinary students in the city is that she's already a local baking champion. Last year, she won the Macao stage of the 11th Guangzhou/Hong Kong/Macao/Chengdu Youth Skills Competition for pâtisserie and confectionery after an intense five-hour cook-off against five other talented young Macao pastry and confectionery chefs. She stole the judges' hearts with her refreshing and unique milk chocolate Earl Grey with yuzu cake, one of her favourite recipes created by both herself and her mentors. She was the only MUST representative in the contest and she is now waiting to be one of three Macao representatives at the regional final up in Chengdu in Sichuan province this summer after a period of postponement.
The Macao leg of that competition gave Im a 'great hands-on opportunity', she says, to help her rapidly advance her skills as a pastry chef. "I was able to learn various skills during the contest," she says, "such as time management and teamwork. The competition was quite intense but I was extremely moved when I saw the final product and how my hard work was appreciated. I am very grateful for the support from my mentors, friends and family who've supported me unconditionally." She describes the process of making pastries as 'fighting a big boss in a video game' – extremely challenging but extremely satisfying come the end result. "I still remember my first time making sponge cake with my friends," she says. "We messed up the proportion of the ingredients and made biscuits instead. But we finally succeeded after several attempts and with a lot of practice."
Despite her love for the art, Im admits that being a pastry chef can be challenging at times. She once did an internship at luxury hotel, the Mandarin Oriental, Macau, and says it was a tough initiation into the industry. "During my internship," she says, "I worked overtime regularly and, throughout those shifts, I had to stand. There was no sitting down to rest. I cleaned the kitchens and did a lot of other routines during every shift. It was really tiring." Despite the fatigue, she enjoyed her internship and considers it 'a rewarding experience'. "Little things like writing messages for cake toppers such as 'Will you marry me' or 'Happy Birthday' made me really happy," she explains. "I enjoyed working as a team with the master chefs and carrying out many different tasks every day."
Im may be young but she is highly motivated. She hopes that she can one day use her skills to educate more people in Macao about cooking and baking. "After I graduate," she says, "I want to refine my professional skills by working in hotels. I want to gain more inspiration and creativity from these experiences. And I also want to broaden my horizons by visiting other regions and countries. I hope that, one day, I can own my own French pâtisserie and teach others how to excel in this culinary art."
Land of the rising bun
Kathine Kuok is another talented pastry enthusiast in Macao, however the 29-year-old's interests lie in Japanese-style creations. Kuok, a pastry chef at the MGM Macau, had her first brushes with the art thanks to her father, who is a traditional Chinese pastry chef at a local bakery. She would watch him work and learn from him as a young teenager – but she admits it hardly ignited any passions at the time. "My dad tried to teach me how to make traditional Chinese pastries because he thinks it's important to acquire a specialty in order to make a living," she says, "but I was being rebellious and did not end up doing that back then." Instead, she says she 'fell in love with pastry' when she took up a part-time job at a local café at the age of 16 and began knocking up her own creations. "I felt very satisfied when I received positive feedback from the customers," she says, "and it's only now I realise that my father has influenced me throughout my journey."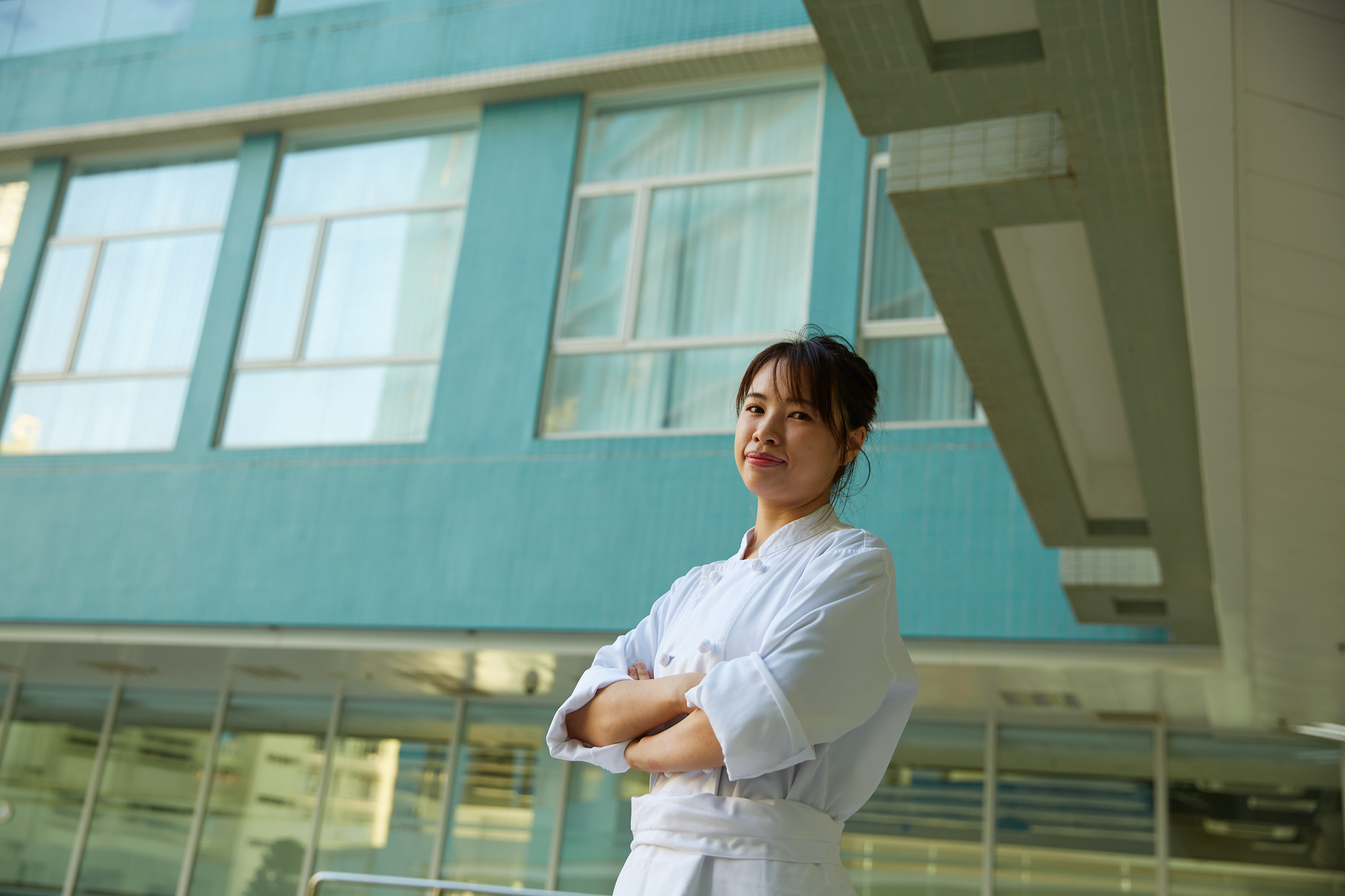 "I often learn new skills from chefs who come from countries across the world. I'm looking forward to learning much more in my career as a pastry chef in Macao."

Kathine Kuok
In 2009, Kuok undertook a hotel management degree course at MUST. It was here that she honed her skills – particularly when she studied for a special pastry and bakery diploma while on the degree course. She also worked part-time at the MGM Macau Pastry Bar during the same period. "I could only study a diploma in pastry and bakery at that time," she says, "because a degree was not provided then."
After she graduated from MUST, Kuok worked even harder to master the art of the pastry by immersing herself in the beauty of Japanese baked goods. "I spent two years in Japan," she says. "I tried different styles of Japanese cakes. I found their style is very distinct and unique. For example, I really love Japanese strawberry shortcake, which is a sponge cake covered with cream and has strawberries on top. It is a classic dessert that is so light and fluffy. It looks so simple, but it requires good fundamental skills." After returning to Macao, she worked at the Galaxy Hotel for two years and joined the pastry team at the MGM Macau in 2017.
Kuok, who was shortlisted for the Macao leg of the Anchor Food Professionals pastry chef challenge in 2018, says her dream is to own a Japanese-style café in Macao that is 'cosy, warm and welcoming' – a space where she can always engage in conversations with her customers. But she admits that this will be a massive challenge to achieve if she is unable to get enough funding. "There is an increasing number of bakeries in Macao and the quality of each varies a lot," she says. "But the rent in Macao is expensive, so I am planning to continue to work at local hotels as this will provide me with a lot of learning opportunities to work with other professionals from all across the world. I'm looking forward to elevating my career as a pastry chef in Macao."
On top of the world
Robuchon au Dôme, which sits atop the Grand Lisboa Hotel, has three Michelin stars and is quite simply one of the most opulent restaurants in Macao. And in the heart of the excitement in the kitchens at this luxury eatery is Nicole Yiu, a 26-year-old chef who has so far excelled in her culinary career. Compared to other professionals in the gastronomic field, this passionate chef has been on a fairly unusual journey to get to where she is now. She admits she 'grew up as a foodie' in Macao and became 'enthusiastic about cooking' when she was studying for a degree in sociology four years ago at the University of California, Los Angeles (UCLA). "During my years studying," she notes, "I developed my cooking skills when I learned how to cook for myself. I am a huge foodie and no-one was there to take care of me. I found that I really enjoyed the process of cooking."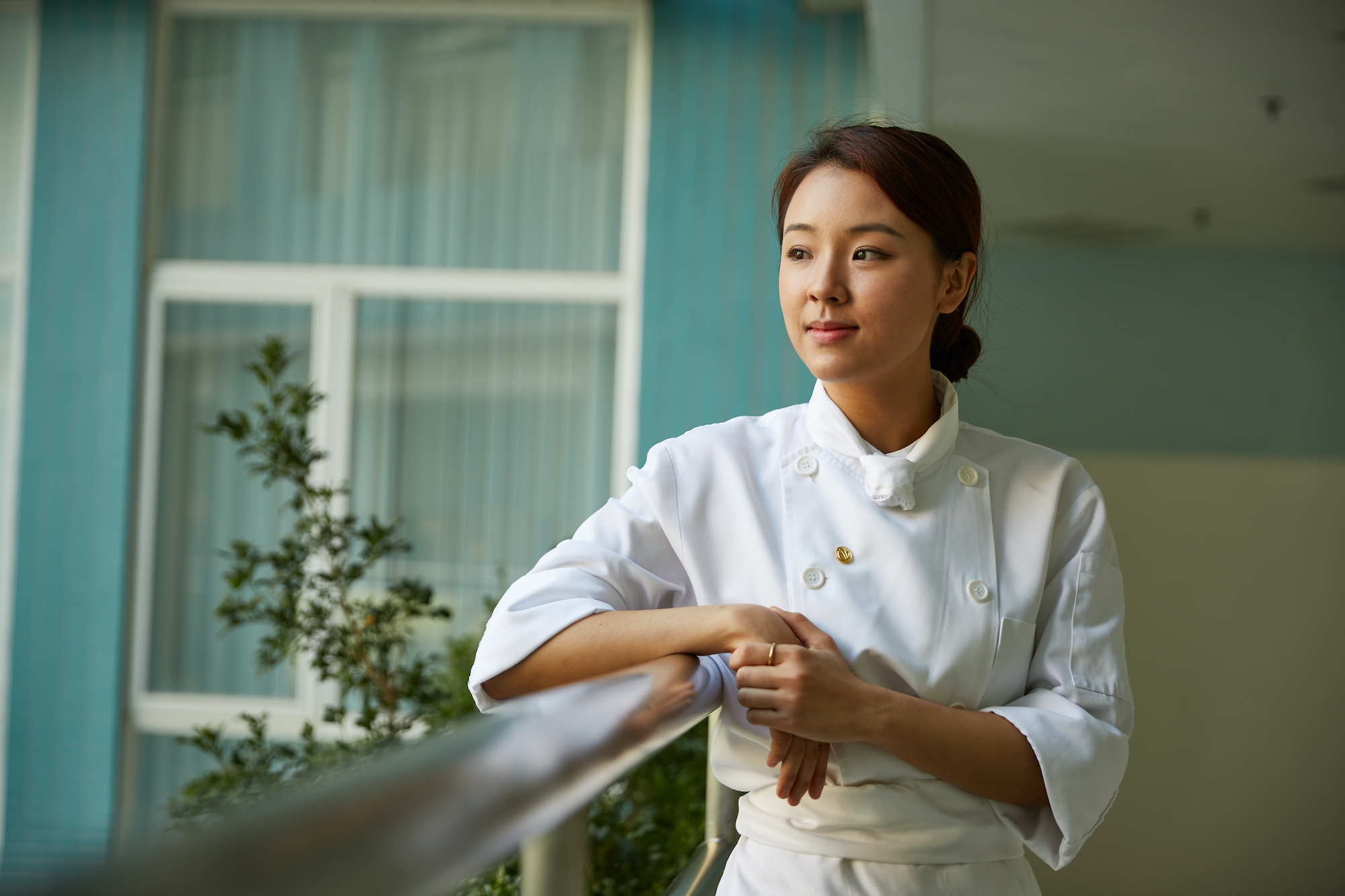 The pivotal moment for Yiu was when she was working her first job at a food media company in LA after she'd graduated. She found she was able to 'learn a lot about the food industry and food service professionals' and started to develop a passion for the art of gastronomy – the first rung on the ladder towards becoming a chef. "I found that the lifelong passion of so many chefs really fascinated me," she says, "and it planted a seed in my mind. So I decided to go for it and I applied for a Le Cordon Bleu culinary and management programme in London." Le Cordon Bleu London is a leading culinary arts, wine and management school which has been in the UK since 1931. Yiu was accepted. "At first, I was worried that I could not handle it," she admits, "because cooking can be a totally different experience when it becomes your job. But I went for it and luckily I've survived until now."
After graduating from Le Cordon Bleu, Yiu did some gruelling work experience for a year at Michelin-recommended Italian restaurant Luca in London. She single-handedly took charge of the eatery's appetisers section immediately after a brief introduction on her first day. "I basically did not know how to behave properly in the kitchen in that first month," she recalls, adding that her duties included anything from cleaning to purchasing and the handling of goods – and that she was under an immense amount of pressure. "I had a hard time falling asleep at the beginning," she says, "but in hindsight, I am grateful for that work experience because it sharpened me in so many ways. I started from zero and I was heartened by recognition from the chefs." Based on her experience during that year, Yiu admits that what viewers can see in celebrity chef Gordon Ramsay's '24 Hours to Hell & Back' television show – where there's always chaos in the kitchens – is 'no exaggeration'.
Yiu returned to Macao and joined the team at Robuchon au Dôme in 2019 and her role now is as a chef garde manger – the French term for a cold food chef. She says she enjoys incorporating her pastry skills into the making of pâtés, savoury sorbets and mousses. She also thanks her parents for their support, saying they have been her 'strongest backbone' throughout her culinary journey. She thinks that there are many open doors in Macao's gastronomy field for local chefs – if they work hard. "Compared to the UK," she says, "there are more resources in Macao and employees can also benefit from the excellent labour laws. In the UK, I only had a 15-minute lunch break every day and had to work much longer hours. I am grateful to be able to work at Robuchon au Dôme and to be surrounded by so many highly skilled chefs."
A taste of Portugal
It's hard not to think about Portuguese cuisine when it comes to Macao's gastronomic culture as it's had such a heavy influence on the city's food scene for more than 450 years. As a result of this influence, there are many talented chefs in the SAR who specialise in both creating traditional dishes from the European country and in Macanese cooking, which grew out of the diets of the city's early Portuguese residents. One executive chef who is an expert at Portuguese cuisine is Pedro Almeida, who shares his time between the kitchens of three Portuguese-style restaurants in Macao – Albergue 1601, 3 Sardines and Portucau – and a small bakery he co-founded called Pastéis de Chaves. These four businesses are all just a stone's throw away from the Ruins of St Paul's.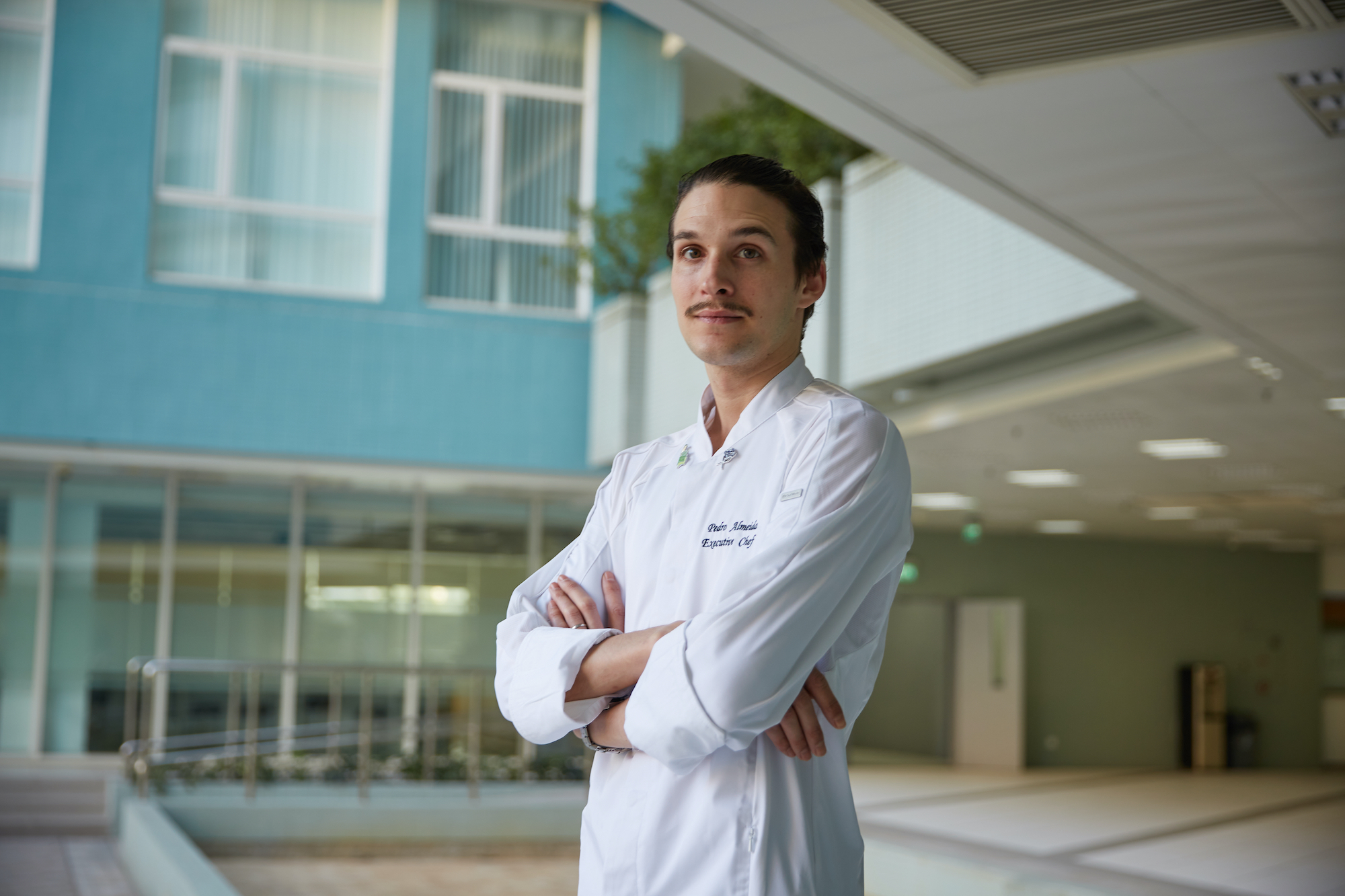 Almeida, who is also setting up a new craft beer shop in Macao called Lazaro Brew, has an advantage on some of the competition – he was born and raised in Portugal. The 28-year-old, who is also an F&B import and export merchant, grew up in the city of Chaves in the north of Portugal, spending his youth in the kitchens of his family's food business from a young age. When he was 15 years old, he attended a professional culinary school in Chaves while doing a side job helping his brother in a restaurant's kitchen. His brother, who is five years older than him, was already a chef. "I went to culinary school to study the theoretical side of cooking and gain culinary knowledge," he says. "That complemented the professional experience I gained in my side job."
By the age of 22, Almeida had amassed nearly a decade of culinary experience in Portuguese kitchens. And then came his big break. He's managed a Facebook page called 'Chefes de cozinha' – where others in the food industry in Portugal regularly post job vacancies – for years. A Portuguese man in Macao posted a recruitment advert for an executive chef at a Portuguese restaurant in the city, Toca, and Almeida replied. He was accepted and within a week, he quit his job at the Vidago Palace Hotel – not far from Chaves – and embarked on a life-changing adventure. "I didn't know how to speak English or Chinese when I came to Macao," he says. "So, I had to catch up with these languages in a few months. I went to the local market every day and the people there taught me to speak Cantonese. Now, I am comfortable talking with my suppliers in Cantonese."
Having lived in Macao for nearly five years now, Almeida says it's been an 'amazing experience' that has exceeded his expectations. "Being a chef is important in Portugal," he admits, "but it's not as important as it seems to be in Macao. People here really like to know their chef. Everyone is a foodie in Macao. I'm a social person, so interacting with my customers is my favourite part of the job. I love to make sure people have an enjoyable overall experience." He adds that Macao is a great place for him to improve his skills and be creative. "Macao is a very interesting place," he says, "because it has such a diverse culture including people from mainland China, Portugal, the Philippines, India, Japan and Vietnam. As a chef, you can always incorporate different styles into your recipes and improve your knowledge. It's interesting to me that such exchanges between people from all over the world are so natural in Macao. This just doesn't happen often in many other places."
Nevertheless, Almeida explains that the challenge at the three restaurants he cooks at is to 'distinguish your food from other Portuguese restaurants in Macao'. "This is why we always try to create something new that goes beyond the food," he says. "For example, right now we are creating a beer brand. That's something new for a Portuguese restaurant in the city." He adds that communication with the staff members at the three restaurants is 'extremely necessary' given that many of them hail from different cultural backgrounds. "For some street restaurants, for instance," he says, "hygiene may not be prioritised and some staff members may not be knowledgeable about hygiene standards. But at the restaurants I work at, I am always clear about the importance of hygiene, whatever background the staff come from." Aspirational and diligent, Almeida concludes that Macao is a great space for all culinary professionals. "I love what I'm doing right now," he says. "Although the workload can be overwhelming at times, I enjoy it!"
Macanese maestro
It would take a fairly long time to count up all the culinary cultures that have influenced and shaped Macanese cuisine over the years. But it's generally agreed that its main influences hail from Portuguese, Chinese, Indian, African, Malaysian, South American and continental European cooking. One young chef in Macao who takes each of these influences seriously and dedicates himself to preserving the authenticity of Macanese cuisine is Jeronimo Reinaldo Calangi. The 31-year-old executive chef at Soda Port – a new Macanese restaurant at the entertainment complex Macau Fisherman's Wharf – lives, loves and breathes the city's homegrown cuisine.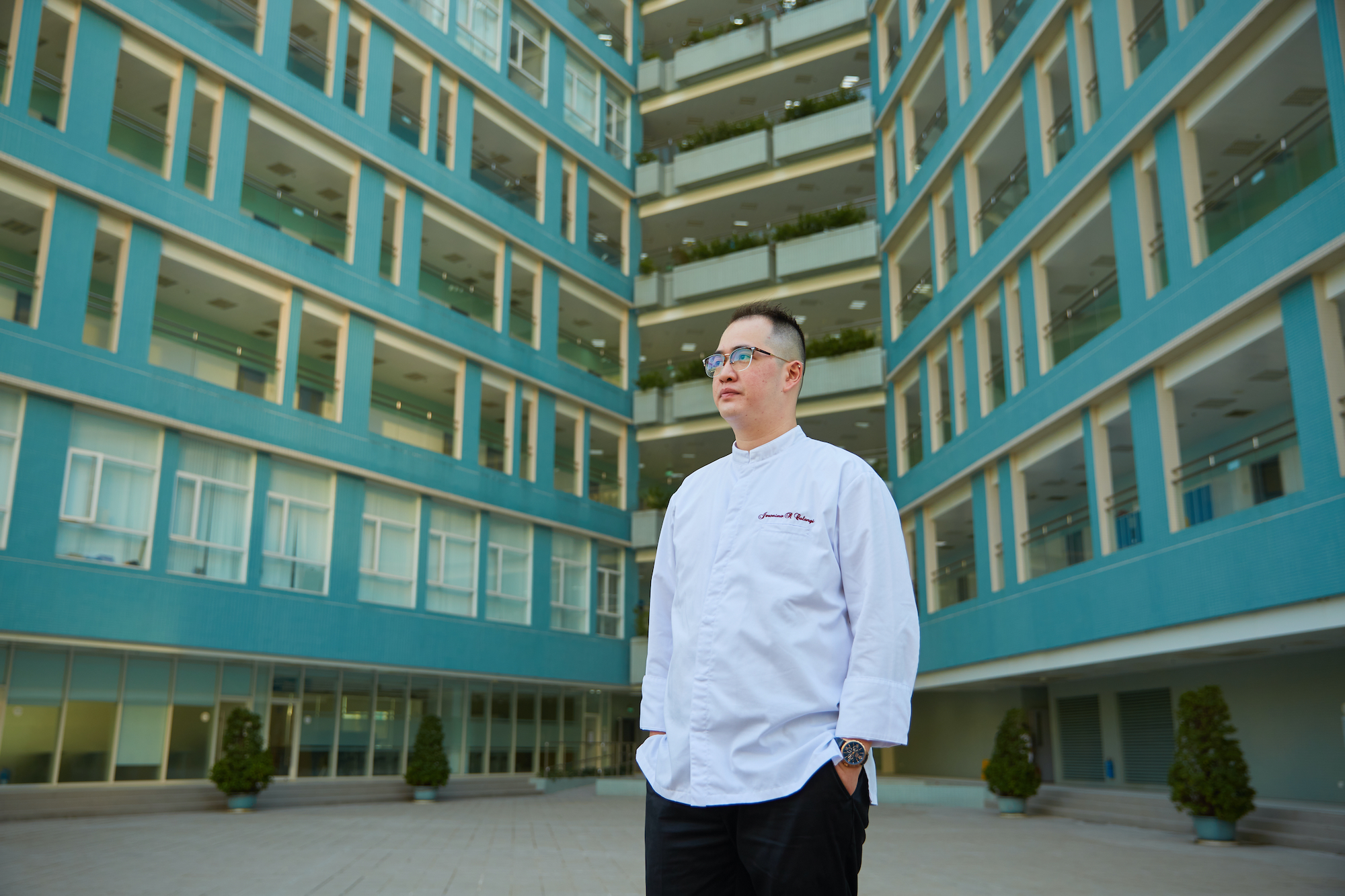 "I see food in Macao's restaurants as a valuable sharing moment that's created by a group of chefs from different cultural backgrounds. That's really enthralling to me."

Jeronimo Reinaldo Calangi
Calangi has a deep commitment to bringing authentic flavours to diners. He was born and raised in Macao but went to France when he was 15 years old and earned a degree in hotel management at the well-respected Lycée Hôtelier du Touquet Paris-Plage on the country's north coast. While attending the school, he undertook an internship at a restaurant, during which he gained an extreme interest in cooking and thus decided to become a professional chef. He says: "I was mesmerised by the work environment in the kitchen. I did not follow the path that had been suggested by my parents. Instead, I followed my heart and became a chef because I felt happy, satisfied and passionate when I was in the kitchen."
Calangi admits that being a chef is a high-pressure and exhausting job, but he says that the pressure is outweighed by the sense of fulfillment he gets when he cooks. In fact, he doesn't even call it cooking. He calls it 'creating a sharing moment' that connects the chefs and their guests. "You become completely engrossed in what you're doing because you're making food that makes people happy," he explains. "I see food as not just a link between people but also a valuable sharing moment that's created by a group of chefs who come from different cultural backgrounds. That's really enthralling to me."
Specialising in Mediterranean as well as Macanese food, Calangi has been expanding his culinary skills throughout his career. His already vast experience comes from placements at a host of top dining destinations, including a three-year stint at the Mandarin Oriental, Macau and another year at the Mandarin Oriental, Paris. He also spent four years at the BarCelona Tapas & Rice restaurant in Macao, as well as a year at the St Regis Zhuhai luxury hotel. "I was born and raised in Macao," he says. "So, I really hope to make Macanese cuisine stand out among the best cuisines in the world in the future."
Calangi also says he is excited to showcase Macanese cuisine at Soda Port. "Macao is such a cultural melting pot," he says. "It's really amazing that the city still keeps its own local culture while mixing with so many others." In addition to this, he also thinks Macao provides abundant resources to the professionals. "Compared to Europe," he says, "chefs in Macao are flooded with resources." However, in order to further elevate the Macanese culinary experience, he thinks diners must keep an open mind when it comes to authenticity. "The biggest difficulty I've encountered as a chef," he says, "is that sometimes it's difficult for the guests to understand and differentiate authentic cuisine from their personal preference of palette."
The reason, says Calangi, that 'not many people are willing to accept and appreciate the authenticity of different cuisines' is because of their 'cultural differences and distinct lifestyles'. But he nevertheless illustrates the importance of authenticity using a French saying: 'A meal is a meal and you should enjoy every meal as it is'. "I think our subjectivity sometimes limits the beauty of authenticity and the whole culinary experience," he says. "But I believe it will gradually gain acceptance and people will even ask for more authenticity as the food landscape in Macao continues to blossom over the coming years."
On the right train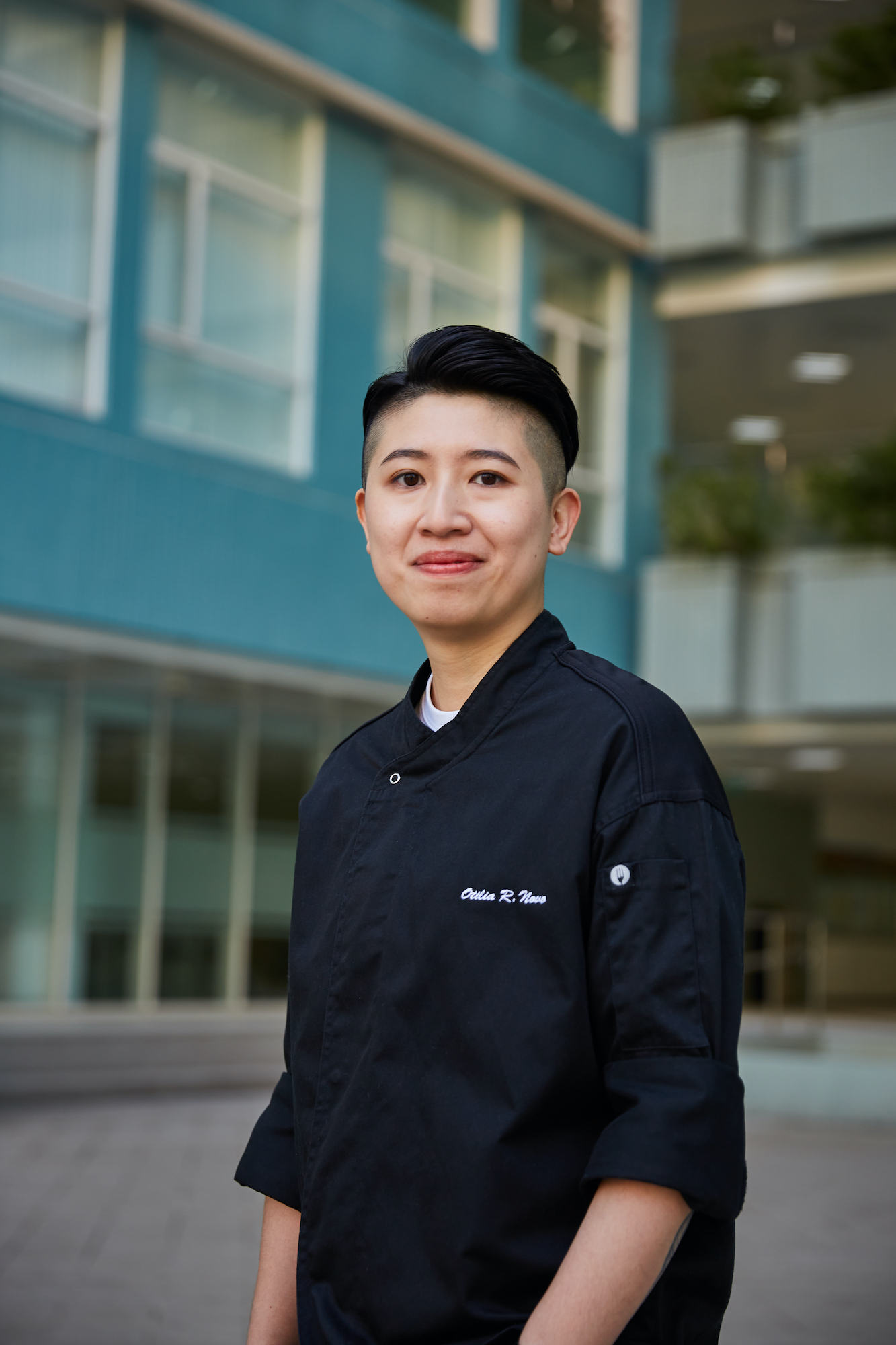 Unlike the previous five chefs, Otilia Novo doesn't cook for customers or for her own culinary studies. At just 29 years old, she teaches others. Novo is a culinary trainer at the Wynn Food & Beverage Academy, an institution that coaches both current chefs and the young cooks of tomorrow at the Wynn Macau and Wynn Palace entertainment complexes. She is responsible for providing in-house training programmes and workshops to the complexes' culinary teams, which cover topics like food safety and gastronomic culture. She's already built up a wealth of culinary experience and she's well qualified – in 2015, she was one of the first people in the city to graduate from the culinary arts management degree course at the Institute for Tourism Studies (IFT). She then worked at a modern Italian restaurant for two years before undertaking a year's work experience at The Manor – a fine dining restaurant at the St Regis Hotel – in 2017.
Novo was born and raised in a Macanese family in Macao. She cut her gastronomic teeth when she grew up cooking with her parents. "My father is a good cook," she says. "I enjoyed cooking with him when I was young because I was not the kind of kid who would just sit and behave." Since those early days, Novo – who is a certified culinary mentor, food safety instructor and even an examiner in the subject – has enjoyed a life of winning awards. In 2013, she won the first-ever Young Macanese Cooking Competition, which is now run every year by the Macau Culinary Association (MCA) and held at the IFT. A year later, she won a gold prize at the Tasty Europe Cooking Competition in Macao, which was run by the European Union and assessed how good local chefs were at dishing up meals inspired by the continent's cuisine. In 2017, she won the IFT's 10th Young Chef Competition, two years after she had studied at the institute.
When she turned 26 years old, Novo says she quit her full-time job at The Manor because she felt the urge to 'broaden her horizons in the culinary world'. "I felt like it was time to step out of the city and learn more about other cultures," she says. "So, I went to Florence in Italy with my friend for a year." That was in 2018 and it was in that historical city that Novo took on a one-year course called 'master in Italian cuisine' at the Florence University of the Arts. She claims the course and qualification 'served as a springboard' for her career as a trainer as it improved her technical experience and knowledge in the kitchen. She also says it was a 'remarkable journey' that allowed her to delve into the food culture of European countries and exchange culinary ideas with other talents across the globe. She returned to Macao after graduation faced with important career decisions. "I eventually chose to work in the training sector in Macao," she says, "because this sector goes beyond food. It gives me a more complete picture of the food and beverage industry."
Sociable and insightful, Novo says that her trainer role 'perfectly aligns' with her expertise and personality. "In hindsight," she says, "I believe my DNA is in the food and beverage sector but I also enjoy working with culinary teams." She thinks the role as a trainer allows her to 'step back' and see the importance of the different segments in the food and beverage industry, helping her to gain a much deeper insight into the local food service industry. And she is also alive to changing her communication skills depending on who she is training – older, more experienced chefs or the new generation of talents. "In the future," she concludes, "I want to continue in this training role so that I can help nurture future chefs. Cooking is an art. It can take years to successfully develop your own style and I would like to help the next generation along its way."
Mentoring is key
Young chefs in Macao have many organisations to turn to for help when they're crafting their art. One of them is the MCA, a non-profit association which is committed to connecting and supporting young chefs who are either studying food-related courses or who are undergoing internships and apprenticeships at restaurants and food institutions. The association offers these young talents a wide range of opportunities to foster their professional and personal development in the field. MCA president Matt Helm, who has headed up the kitchens in some of the world's best eateries over many years, believes that innovative and eager young chefs in Macao thrive when provided with 'good mentorship, workplaces and influences'.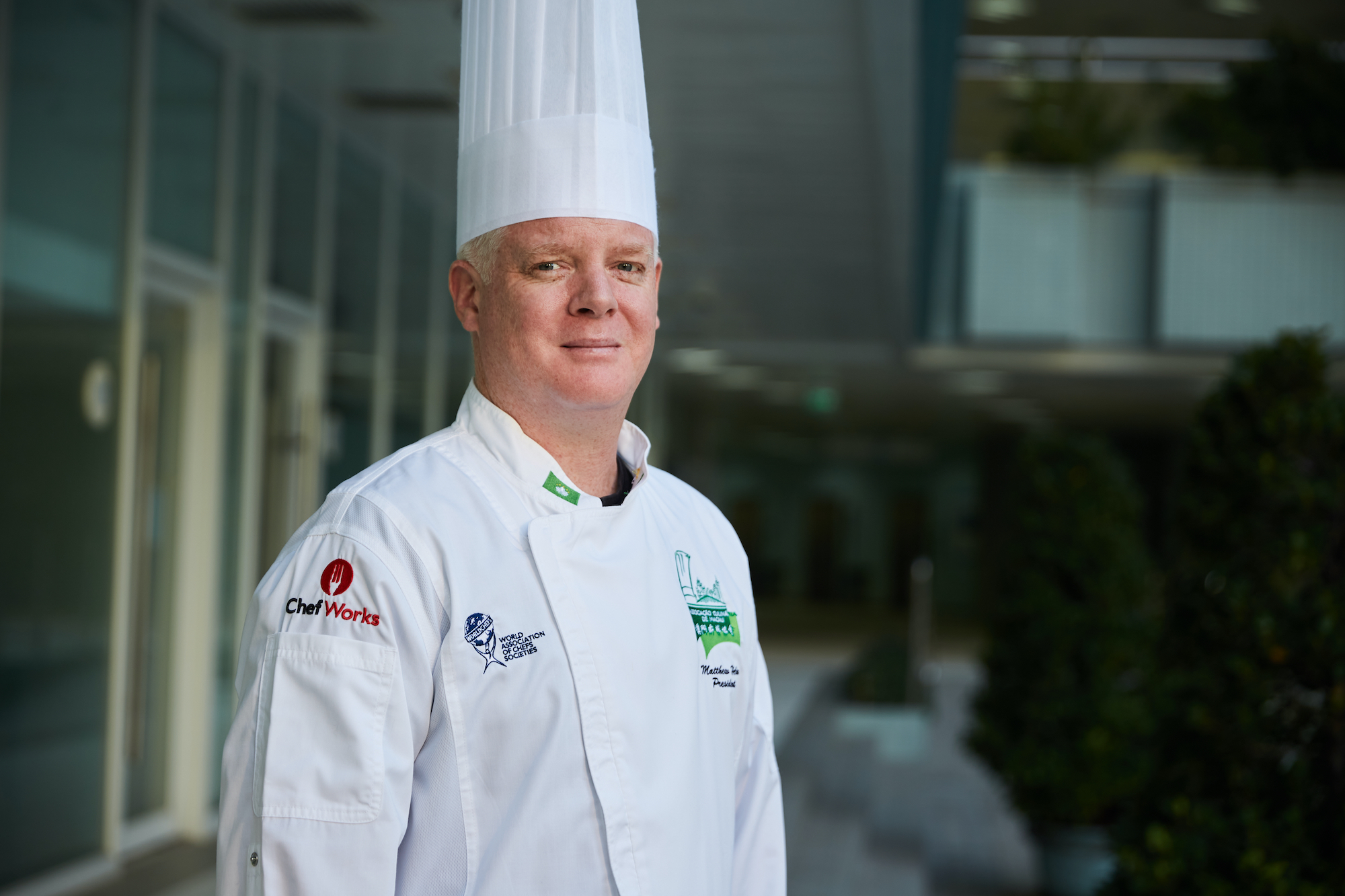 Helm says that the MCA is 'dedicated to providing a platform for annual local culinary competitions where chefs can showcase their creativity and skillsets while also providing opportunities to create new networks that have the potential to open new doors'. "It is very satisfying to put people together and help them to network, evolve and communicate," he says. "We have a lot of professionals in Macao who are willing to give their time and experience to mentor these young chefs and we've noticed that a lot of them are looking for new ways to be innovative. That could mean, for instance, how to publicise themselves, their talents, their cuisine or their establishments, as in the beginning it can be quite daunting. To be able to assist and witness these young chefs rise to their aspirations is extremely inspiring."
Macao is an 'extraordinary city with a hospitable community', according to Australia-born Helm. "People here are from all walks of life and they love to help each other," he says. "I hope that young chefs in the city can remain passionate and learn as much as they can while also keeping an open mind and being flexible. They must always be positive and humble and appreciate their surroundings." With so many young chefs cooking up a storm in Macao, it's up to everyone else to be positive about the future of gastronomy in the city and to appreciate the culinary surroundings that are already being built by this new generation of extraordinary talents.