TEXT Marco Carvalho
Imagine: a chip that harnesses energy from thin air, another that uses body motion and temperature to recharge itself, or a third that allows energy transfer among different devices wirelessly. Researchers at the State Key Lab from the University of Macau are making this a reality. Their work may prove pivotal in China's bid to challenge the technological superiority of the United States.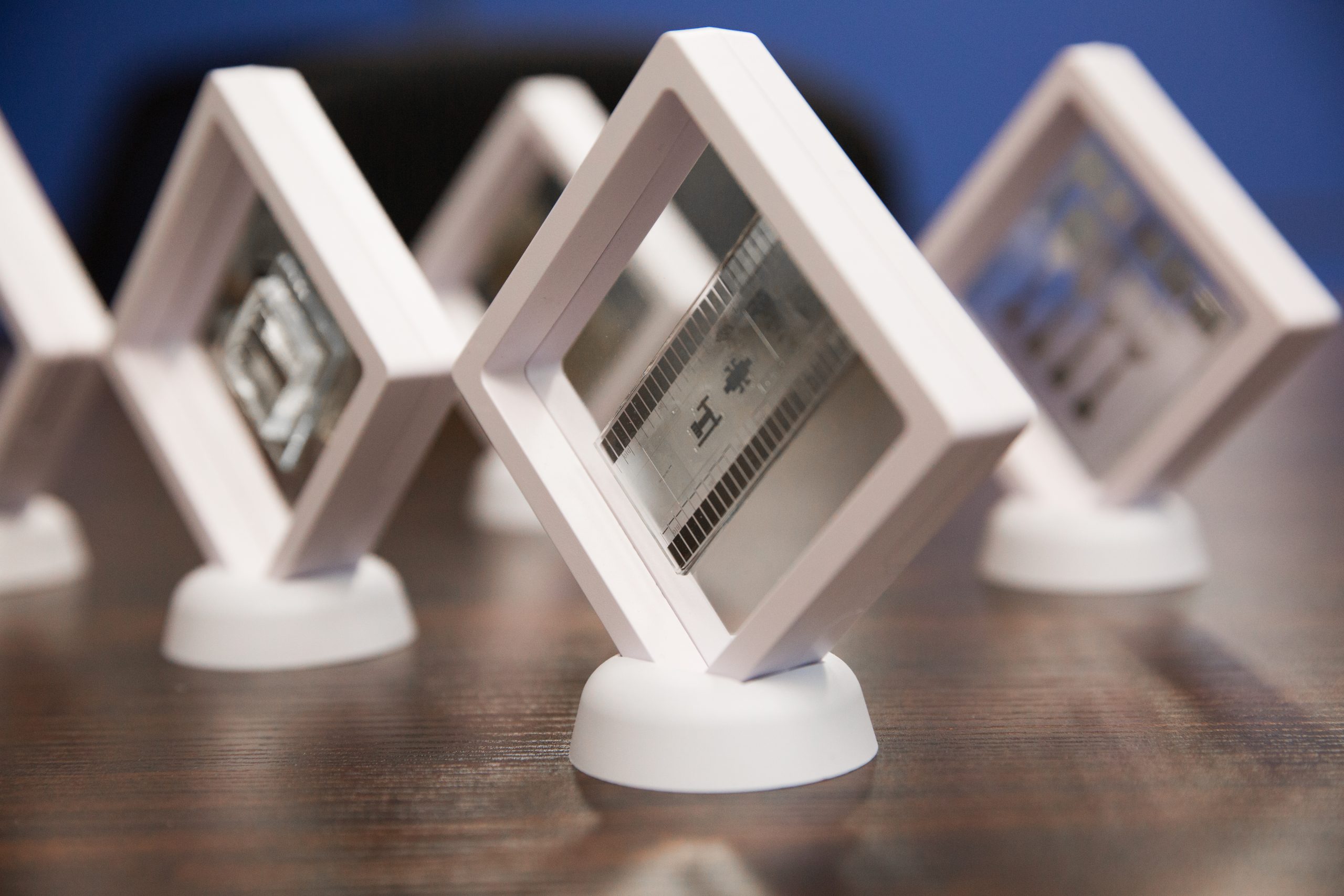 Gaming is big business in Macao, but the best chips the city has to offer might not be the ones that clack all over the gambling tables of the many casinos of the SAR.
Behind all the glitz and the glamour of the bustling resorts, there is crucial research work being done that can help China fulfil one of its most elusive goals: to become a technological powerhouse, able to challenge and rival the United States' primacy in fields such as biomedics, data transmission or even the kind of wireless energy transmission, that was envisaged more than a century ago by Nikola Tesla.
At the Hengqin campus of the University of Macau (UM), a group of locally bred researchers have been working relentlessly for most of the last decade to assist China in becoming less reliant on foreign technology, namely on American chips and semiconductors.
The work conducted by Pui‑in Mak, Seng‑Pan U, Sai‑Weng Sin, and several others gained a particular prominence last April, when China's second largest telecom‑equipment maker – Shenzhen-based ZTE – was banned from buying US technological components for seven years for allegedly breaking an agreement reached after it violated US sanctions against Iran and North Korea.
While a deal was struck between the company and the US administration that allows ZTE to continue buying its chips and integrated circuits from US companies, the incident exposed some of China's vulnerability in terms of technology and innovation.
"Integrated circuits, not oil, are China's main import. People think that China buys a lot of oil from its partners, but it buys even more silicon [modified sand] to be used in chips manufacturing," explained Rui Martins, vice rector for Research at UM, putting in perspective Beijing's reliance on foreign‑made chips.
China imported US$227 billion worth of integrated circuits in 2016, more than it imports of crude oil, iron ore, and primary plastics combined. The central government made chip development a key aspect of its Made in China 2025 drive to bolster its expertise and strength in technology against more developed rivals, such as the US, Japan, South Korea, and Europe. Unveiled in 2015, the Made in China 2025 policy defined 10 sectors – such as robotics, semiconductors, and advanced medical technology – in which Chinese companies are expected to dominate in the domestic market and compete globally.
In an ambitious drive, the government wants local chips to make up at least 40 per cent of China's semiconductor needs by the middle of the next decade. This goal means that the work being made by Martins and his students in the Beijing‑backed State Key Laboratory of Analog and Mixed‑Signal VLSI (microelectronics) will be at the forefront of China's technological policies for the next few years.
"Every year, China's National People's Congress sets out a handful of priorities in terms of technology. This year, the task of promoting the Chinese industry of integrated circuits tops the list," recalled Martins.
The vice rector, who also heads the Lab, claims that the drive for innovation has always been a concern for the Chinese authorities, despite a previous focus on Chinese manufacturers reverse engineering with the aim of replicating imported chips, rather than independent innovation.
Four years ago, in 2014, when President Xi Jinping visited the State Key Laboratory, he inspired the Lab's scientists to "lead by innovation" – something which the Lab has been doing since its inception, according to Martins.
Talent 'Made in Macao'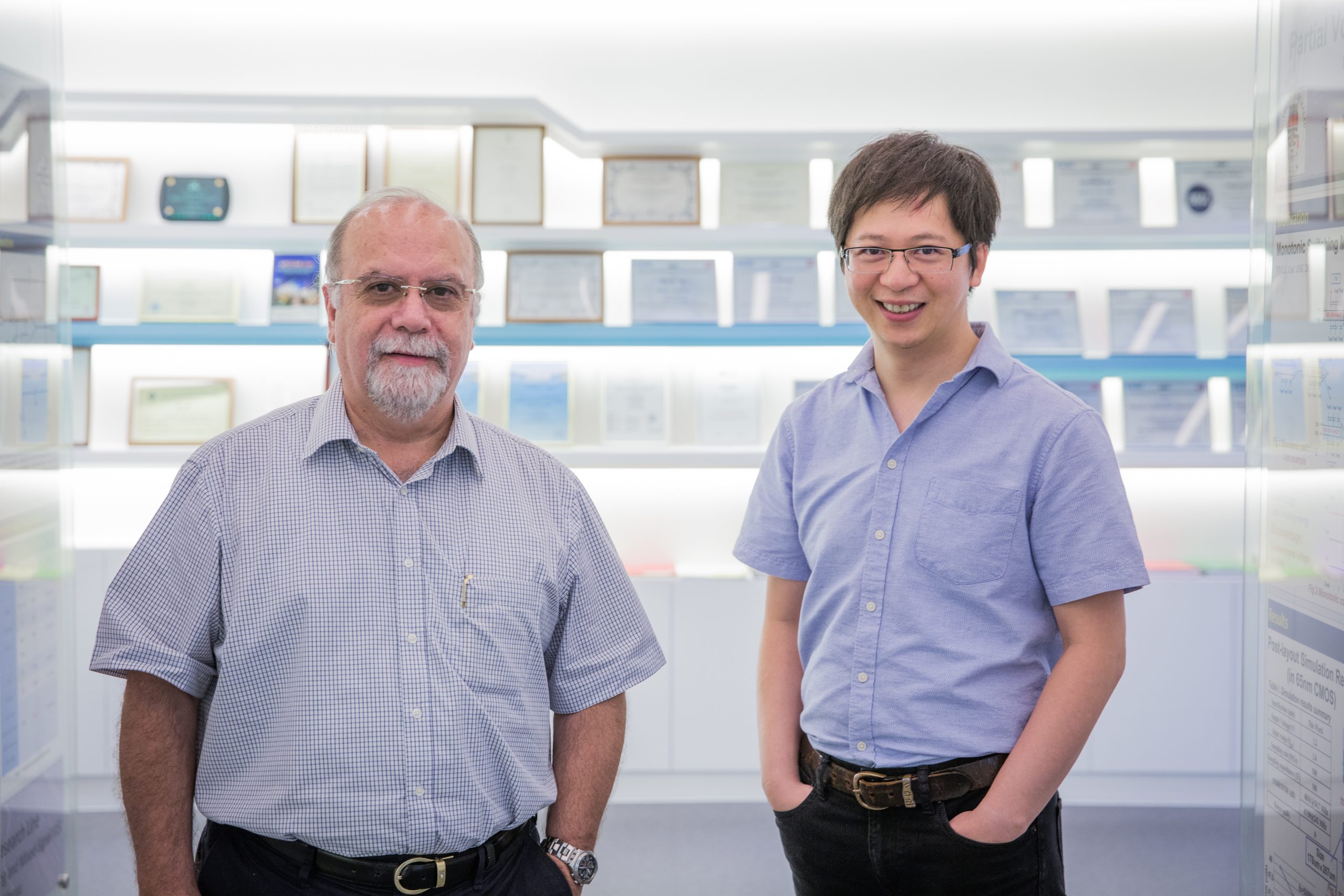 Young, hard‑working and straight‑laced, the researchers working with China to secure its technological autonomy are not the usual bunch of tech buffs. Far from household names in Macao, they are nonetheless among the very best chip designers available. Their work over the better part of the last decade, conducted under the supervision of Martins, transformed the University of Macau into one of the most respected institutions worldwide in the fields of microelectronics and integrated circuits design.
With a total of 30 patents registered in the US alone, the researchers of the State Key Laboratory of Analog and Mixed Signal VLSI (AMSV) are among a small group of elite scientists who managed to obtain extensive recognition at the International Solid‑State Circuits Conference (ISSCC), the most competitive event in the world in the field of chip design. At this year's edition of the conference, which took place in San Francisco this February, UM successfully submitted seven papers (and as many integrated circuits) to the organising committee of the event, making the State Key Lab one of the top six global institutions in terms of state‑of‑the‑art chip conception.
Rui Martins, vice rector for Research at UM (left) and Pui‑in Mak, State Key Lab associate director for Research (right)
"The ISSCC is a benchmark in the area of micro‑electronics. It's extremely difficult to have papers published in this event," noted Martins. "The level of acceptance of research papers is fairly low: only 30 per cent of the papers submitted by universities or commercial ventures are accepted by the organising committee. We submitted eleven, seven of which were accepted and discussed in the conference."
The biggest tertiary education institution in Macao was only outranked by technological giants such as Samsung and Intel Corporation, and a handful of distinguished research universities with which both companies have co‑operation agreements, like the Korea Advanced Institute of Science and Technology (KAIST); Delft University of Technology in the Netherlands, or the Georgia Institute of Technology – better known as Georgia Tech – in the United States.
Such a showing at the world's leading event on solid‑state circuits and chip conception showcases UM as a leader in the field of microelectronics among Asian universities, in general, and Chinese universities in particular.
Together with a pre‑doctoral Achievement Award and three student research previews, a team from the State Key Laboratory of AMSV received the 2017 edition of the prestigious Takuo Sugano Award for Outstanding Far‑East Paper. The prize, which was awarded for the first time to a Chinese team, distinguished a project – and its corresponding chip – called "A reconfigurable bidirectional wireless power transceiver with maximum‑current charging mode and 58.6 per cent battery‑‑ to‑‑ battery efficiency."
Not the catchiest title to laymen, yet beneath those technical terms may lie the future of the devices that have become central to our lives. The project aims to make tangible the technological process developed over 120 years ago by Nikola Tesla, the pioneering Serbian‑American scientist who dreamt of creating a way to supply power without stringing any wires.
Tesla nearly accomplished his goal when his experiments led him to the development of the so‑called Tesla Coil, a device that managed to harvest high‑voltage, high‑frequency alternating currents over short distances without having the ability to harness that same energy.
Today, wireless power transfer seems to be at the critical point of an explosive growth, and scientists stand on the brink of enabling mobile devices to charge others without any additional hardware.
"If you think about it, there's nothing very unusual about the possibility of recharging devices wirelessly. Right now, most of the mobile phones are already equipped with technology that allows wireless data transfer. If, for any certain reason, you don't have the possibility to use your data, I can transfer some of my data to your device," explained Martins.
He sees a near future where mobile phones have power hotspots, too. No more lugging around a collection of cords or vying for a spot close to the outlets, power hotspots would allow for the wireless transfer of energy between two independent devices.
This, and other technological achievements that are being carried out by State Key Lab researchers, should have a decisive impact on near‑future trends and concepts like the Internet of Things (IoT) or the plans to turn analog, linear cities into smart, planar ones. The future, maintained Martins, is all about autonomy and UM's PhD graduates have been working the last few years on compact, state‑of‑the‑art solutions that will allow future devices to operate without the need of external or complimentary power sources: "We are working, at the State Key Lab, to make chips and integrated circuits entirely autonomous."
The IoT – a web of devices sharing data to manage processes and improve outcomes – cannot function properly if forced to rely on external sources of energy. "They will have to make use of their own capacity to generate the energy that will keep them connected to the web and to the world," underlined Martins.
Tapping into the energy
around us
Most of the work which is being carried out at the State Key Lab at UM is based on the premise that energy is all around us. It's simply a matter of capturing and processing it in the right way, whether that means using the body as a natural power station or developing the capacity to acquire and transform the flow of energy that surrounds each and every thing. Two of the papers accepted at this year's edition of the ISSCC focused precisely on self‑sustaining chips able to run on bioelectric power or other types of low‑range energy source. 
"One of the papers that got accepted in the International Solid‑State Circuits Conference was about a Bluetooth low‑energy receiver, which is basically a semiconductor that makes use of Bluetooth technology to gather energy from the outside world," noted Martins. "Another one has at its core a bioelectric energy harvest rectifier – this is a circuit that was conceived to receive and transform energy from the human body, whether it is through the body's own movement or its temperature." 
Authored by Yan Lu, Seng‑Pan U and Martins of UM, along with Professor Mo Huang of the South China University of Technology (SCUT), the development of a microchip that will allow smartphones or tablets to recharge batteries in other gadgets is just one of the projects being researched at UM. Macao's biggest, and oldest, university is working to provide a solid, game‑changing push in Beijing's ambition to challenge United States' technological superiority in areas ranging from the nano world of chips to the mesmerising expanses of the cosmos.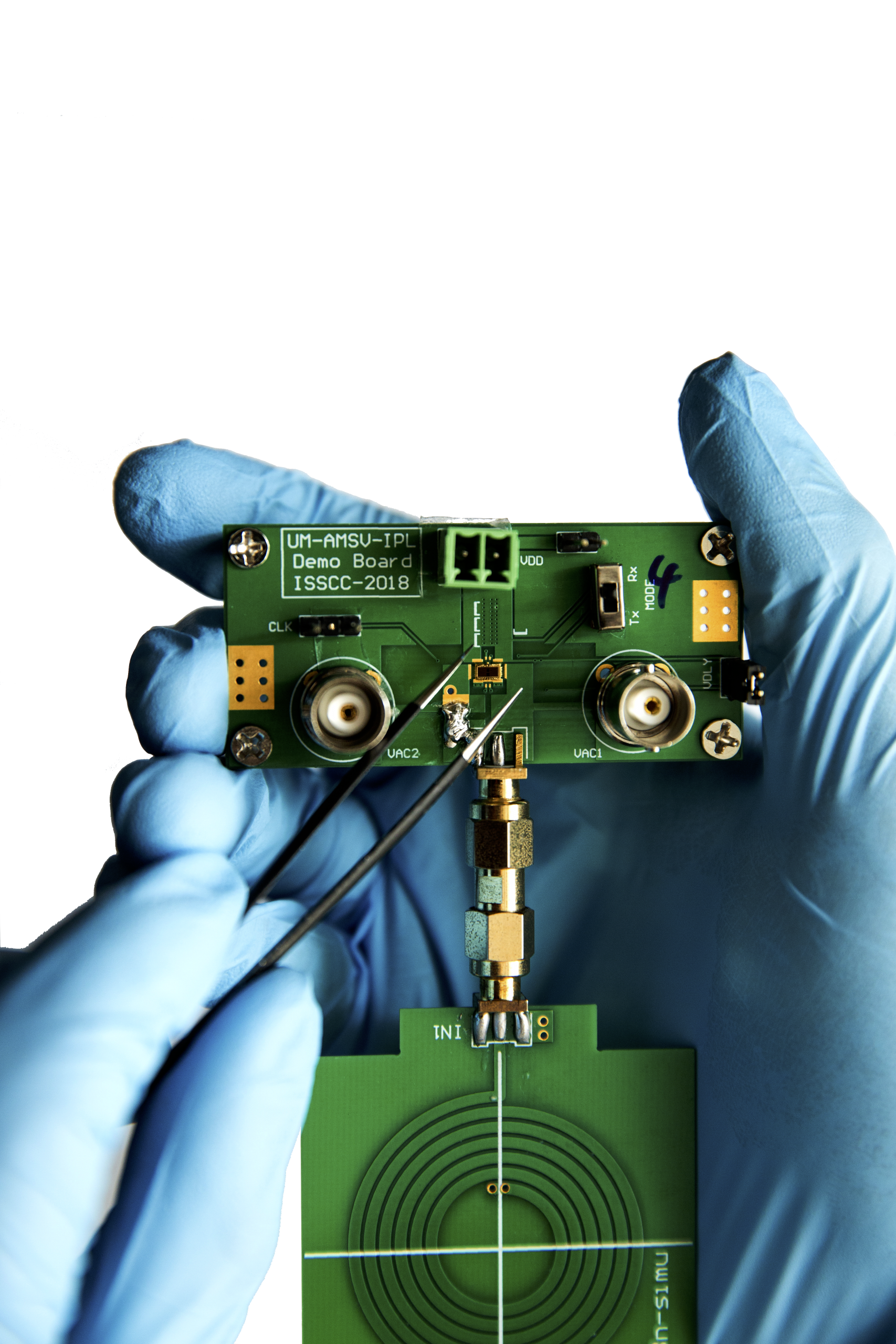 Developing ideas
and innovators
Apart from propelling China to rival the United States' supremacy in microelectronics, the city's two State Key Labs – the other one, divided between UM and the Macao University of Science and Technology (MUST), has been focusing exclusively on traditional Chinese medicine since 2010 – it can help Macao in the drive to diversify its economy, which remains undeniably dependent on the chips being wagered in the gaming tables of the city. 
Fuelled by the results obtained by both institutions over the last eight years, Macao is in the process of setting up two more state‑level laboratories. China's Ministry of Science and Technology is set to give the green light to a new laboratory on smart cities and the IoT that will be based at UM. A second one, on planetary science, will be housed at MUST. 
To "lead by innovation" is the main design of the research team commanded by Rui Martins at the State Key Lab of AMSV, but it's not the sole purpose of the institution. Apart from devising the future in fields such as wireless charging technology or biotech, the Lab's investigators have been training Chinese graduates to develop the kind of independent research that can make China a leading power in terms of technological development. 
"We are an educational institute and we need to understand and focus in our position. If a university gives up on education, who will educate the next generations?" posited Pui‑in Mak, the associate director for Research at the State Key Lab. In his view, the Lab's primary role is precisely to serve as an incubator to critical thought and to a new generation of researchers. 
"We generate knowledge, we prepare it for the industry, and that's the most important thing that we can do. We generate wisdom, ideas and qualified people. If, instead, we were to focus on manufacturing, what would companies do?" Mak added. He believes, nevertheless, that the students that leave the Lab – and in the last few years several of them have joined the ranks of technological giants such as Qualcomm or MediaTek – must be prepared not only to excel in research, but also triumph as entrepreneurs, if that is the path they choose to take. 
The metamorphosis of a scientist into a businessman takes time and a considerable financial effort, but money doesn't seem to be a problem in a country such as China eager to grow and advance. 
The researchers at the State Key Lab of AMSV can hardly complain about financing. Since 2011, the Science and Technology Development Fund has granted the Laboratory between MOP9.7 million (US$1.2 million) and MOP20.2 million (US$2.5 million) each year, a more robust amount than granted to similar laboratories in mainland China.
Nevertheless, the budget of the institutions shall be reinforced in the upcoming months, after Beijing's announcement that, under new directives issued by President Xi, the two State Key Laboratories based in Macao – and the 16 currently operating in Hong Kong – will enjoy greater access to state funding.
While important, financing has never been an issue for Martins' research team. Instead, technology transfer – or the ability to turn promising research papers into revolutionary products – has posed the biggest challenge to researchers.
The leadership team of the State Key Laboratory in microelectronics has been trying to tackle the issue of technology transfer in two ways: by giving technical support to some of its former students that have shown interest in starting their own business, and by striking co‑operation deals with mainland companies, such as HiSilicon, a subsidiary of tech giant Huawei.
"We are working on a project with Huawei in the so‑called analog to digital conversion field. Analog to digital conversion is very important," revealed Mak. "Our Lab is very good at analog to digital conversion, it is one of our main focuses of expertise. Our work with Huawei is very important."
Mak could not reveal any details about the ongoing project, only that their performance target is "very high" and the success of the Made in China 2025 policy "depends on this technology."
From world quality to national quantity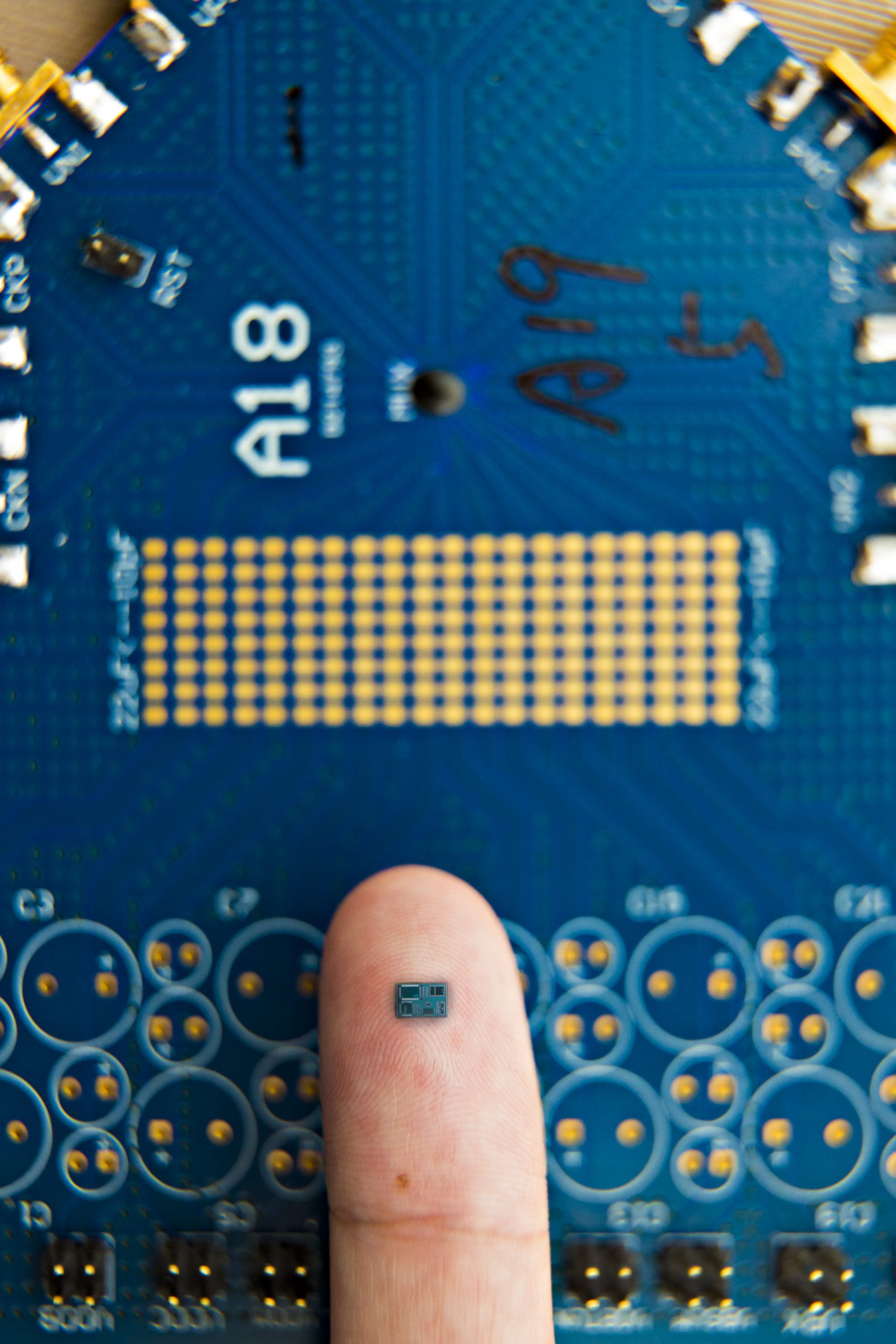 The best way the State Key Lab can fulfil its duty to help China, is by keeping faithful to his motto: "Locally, from world quality to national quantity."
Over the last decade, the institution has been running under the slogan, which summarises not only its ambition but its main purpose as a state‑backed research centre: "'Locally' because most of our researchers were born and raised in Macao. 'World quality' because our work has been broadly recognised in the most important events in the field of microelectronics and 'national quantity' because we have the duty, as a State Key Laboratory, to give our contribution to the development of science and technology in China," Martins explained.
Martins, who moved from Portugal to Macao in 1992, believes the laboratory significantly bolsters the advancement of technology in China through the transfer of knowledge it generates to Chinese companies with the financial resources to transform their ideas into something tangible. "If we follow this path and manage to keep the know‑how in China, in ten years' time we probably won't have to import any more chips from the United States," Martins asserted.
Notwithstanding the international recognition that their work has obtained, the award‑winning chips that are being developed at the University of Macau are still a world away from becoming readily available solutions for users.
The most evident exception comes from a pioneering field in which UM is a world leader: "In the last few years, we developed a new area that bridges biology and microelectronics. We are world leaders in this domain and a former student of ours is currently at Harvard developing some projects in this very area," Martins noted. 
"In our State Key Lab, we developed a few prototypes that allow virus detection and medical diagnosis in a faster, less aggressive way. You know CSI? This device will allow the kind of diagnosis that the CSI investigators make, but without all that bulky equipment," he explained.
The project caught the eye of the Science and Technology Committee of the neighbouring province of Guangdong. The state organisation will partially finance the production of the device by a private company, under the supervision of a few former students of the State Laboratory of Analog and Mixed Signal VLSI.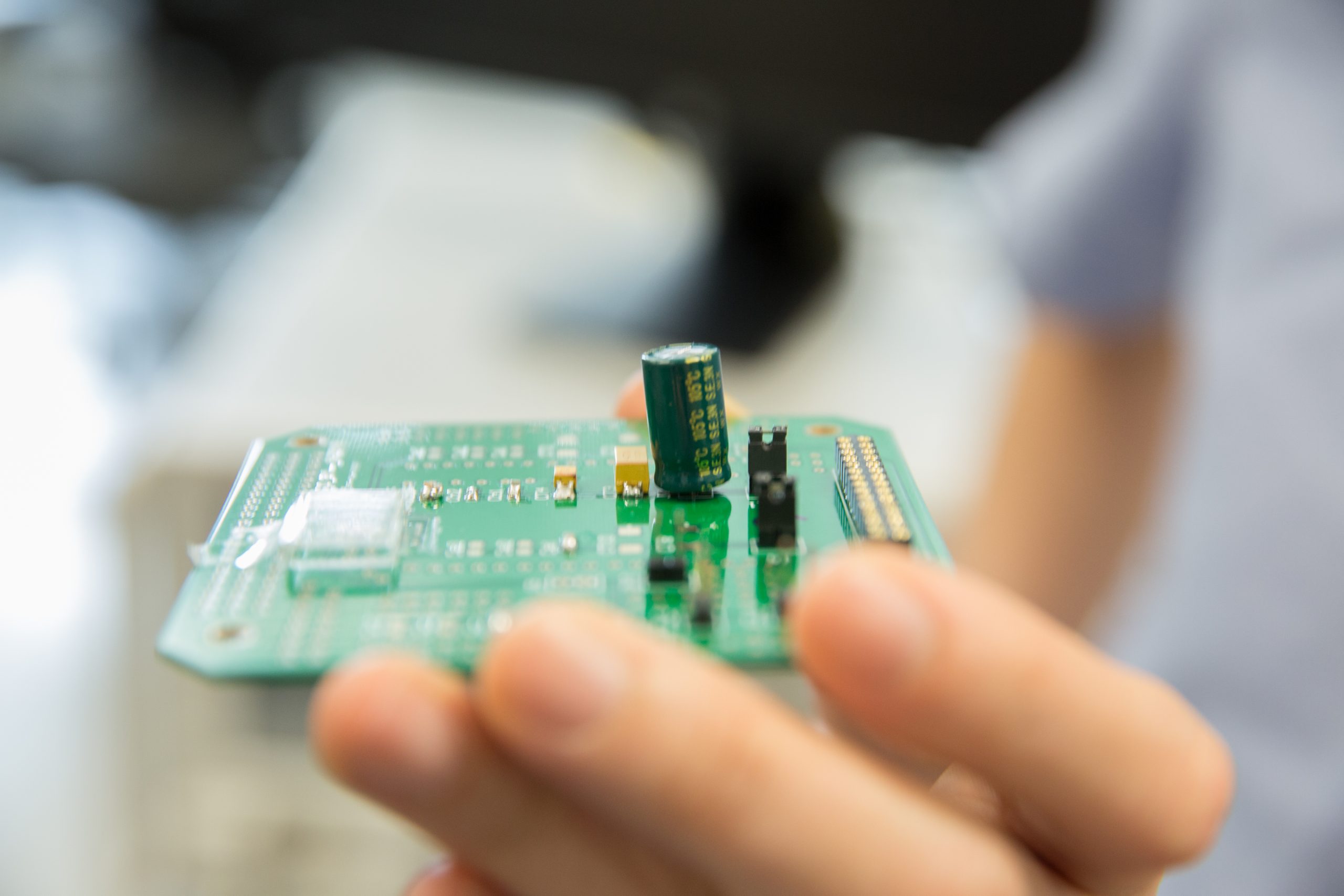 The project, Mak Pui‑in believes, might trigger a revolution in the way health care services are provided: "Our vision, with this device, is to decentralise medical care. We are talking about a small portable device, the size of a mobile phone. You just need to put a small sample, wait for the results and it will tell you about a lot of diseases and a lot faster," he claimed.
"This is a very big vision, not only for China, but also for a continent like Africa, where people, most of the times, live very far from centralised hospitals. In Macao, we are also a platform for the Portuguese‑speaking countries. This device's contribution can be very significant for the African countries where Portuguese is spoken," maintained Mak.
This device too has a long road to cover before it sees the type of widespread use predicted by Mak. Reliability, he noted, is a key issue and often means the difference between failure and success when projects of this magnitude are developed. "What we want is to have a very robust solution and this might take time. The biggest challenge is that this kind of device cannot fail. It must be very reliable. We need to ensure that device will still maintain the quality after massive manufacturing," he pointed out.
If the device succeeds, it will bring Macao one step closer to the vision Martins nurtures about the future of Macao, a city he has called home for almost thirty years now. "Macao was always known for its casino chips. Now, it might be also known for its electronic ones," reflected Martins, with a smile on his face.