It's something for a tiny territory to celebrate: most of the world's top racing drivers have burned rubber here, in the Macau Grand Prix. Now, a selection of these greats – including Ayrton Senna and Lewis Hamilton – can be viewed at the recently revamped Macao Grand Prix Museum. Not quite in the flesh, but close. In wax, courtesy of Madame Tussauds Hong Kong.
Macao's first-ever car race took place in 1954, in a 51-lap face-off lasting four hours. Since then, the city's famous Guia Circuit has seen almost-annual fast and furious action. This year marks the storied sporting event's 70th anniversary; there's no better place to delve into its history than at its namesake museum.
In 2017, the Macao Government Tourism Office (MGTO) decided it was time to "bring the Macao Grand Prix Museum to life," says MGTO Director Maria Helena de Senna Fernandes. After a public tender, then nearly MOP 379 million (US$46.9 million) renovation taking four years, the museum reopened in 2021.
Its four storeys are now packed with interactive displays, exhibitions and awe-inspiring vehicles from past races including the Macau Grand Prix, the Formula 3 (F3) Macau Grand Prix, the Macau Motorcycle Grand Prix, the Macau GT Cup and the Guia Race.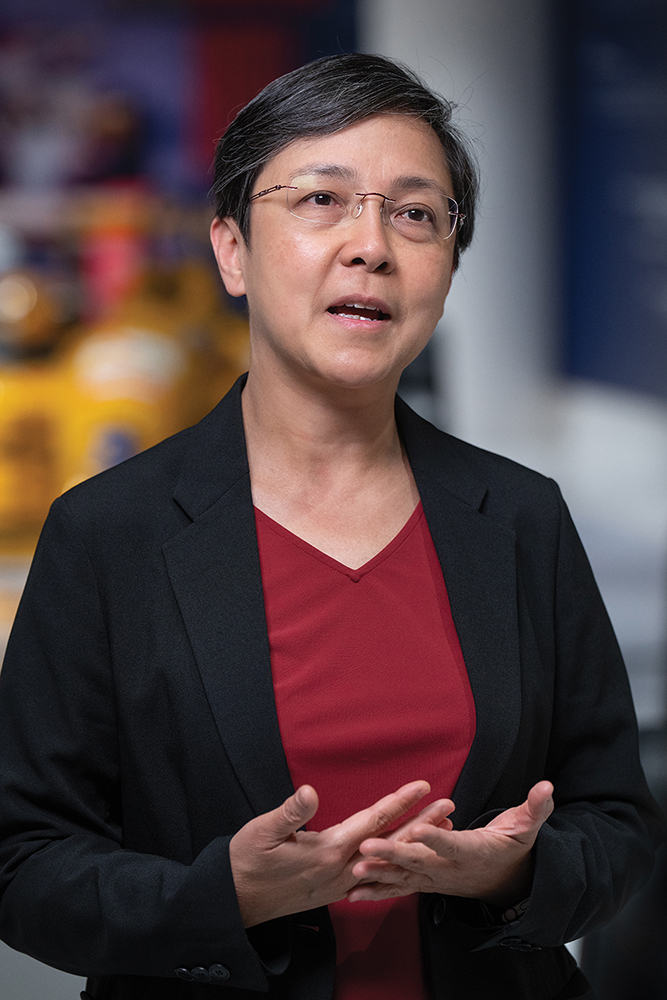 Visitors can also get a taste of race day action through life-size control rooms (where race directors manage the action on track) and pit garages, where cars stop during a race to get their tyres changed. You can experience the g-force a driver feels as they accelerate at mind-bending speeds. Or give the Batak Reaction Challenge a whirl, which is how drivers test their reaction times before a race. There's also a podium where kids can get photographed and a display that lets them suit up, virtually, in different racing outfits.
One of the notable highlights of the revamp is how the museum is more accessible for people with disabilities. There are tactile warning strips on the floor that help visually impaired people, tactile museum maps, and tabletop induction loop systems to assist the hearing-impaired, whether at museum displays or ticket counters. There are even specially tactile racing cars so the visually impaired can get a better idea of how such vehicles work.
Then there are the wax figures of racing legends. The collaboration between MGTO and Madame Tussauds Hong Kong has been a long time coming. Conceived in 2017, it wasn't until March this year – seven days before the unveiling – that the museum announced who its eight wax racers would be.
The pandemic didn't help. With its strict border entry controls, members from Madame Tussauds Hong Kong were unable to come regularly to the city. But MGTO was in constant contact with the team at Madame Tussauds through Zoom calls. Five of the eight wax figures are brand-new waxworks, while the other three are recasts. All of them were made in England.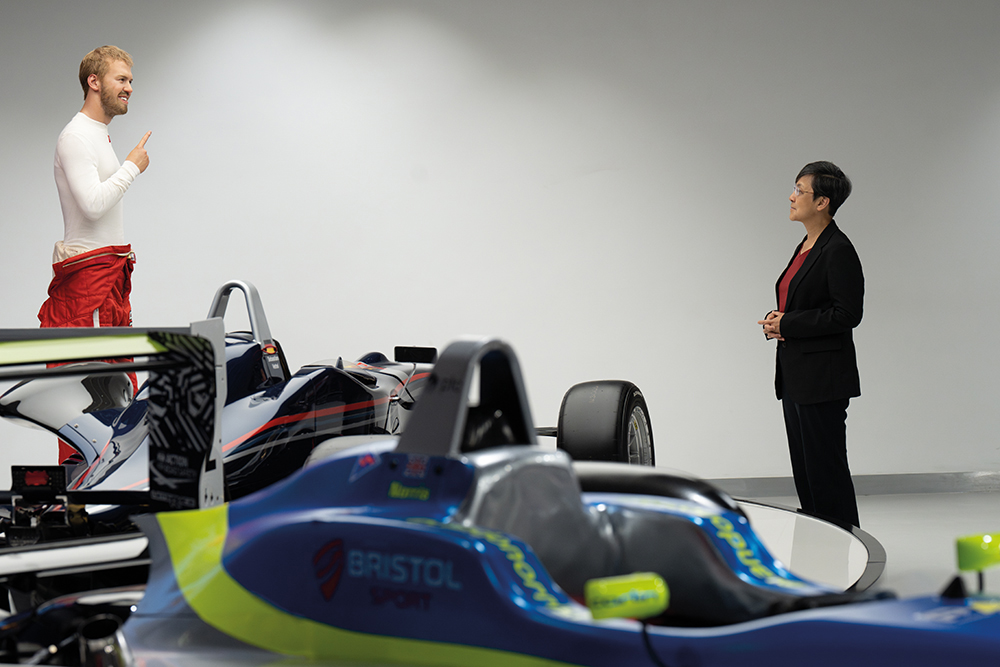 "We came up with a wish list," says Senna Fernandes. "Obviously more than the eight that we can finally have, but the process had to involve the personalities themselves, or their families. So that's how the final list came about."
The eight are Brazilian Ayrton Senna; Britons Lewis Hamilton, Michael Rutter, Robert Huff and Ron Haslam; German Sebastian Vettel; Swiss-Italian Edoardo Mortara; and the UK-born John MacDonald, who raced for Hong Kong. They have all either made their mark globally or on the Guia Circuit.
The racers or their representatives "had to feel comfortable, whether or not our museum is able to host their wax figures. Are we able to provide the best possible environment so that the wax figures can stay here and have a very good way to display them? So this was a very special collaboration with Madame Tussauds," says Senna Fernandes.
Michael Rutter and Robert Huff attended the official unveiling ceremony on 27 March. According to Senna Fernandes, the two men could not believe their eyes when their respective doubles were revealed. Rutter and Huff dressed up in their racewear for an iconic photoshoot with their lookalikes. The resulting photos make it clear: from their race suits to skin tone, hand veins to hairstyles, the wax figures do look uncannily real. To keep them in the best condition, the temperature inside the museum is now set at 24 degrees celsius or below.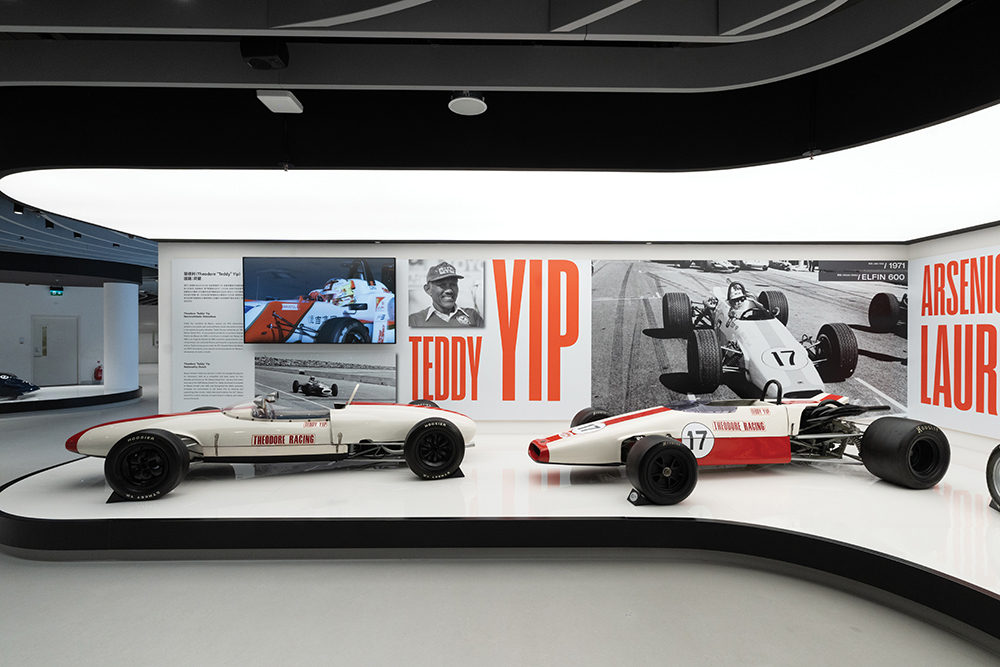 Other noteworthy attendees included Chief Executive Ho Iat Seng, Secretary for Economy and Finance Lei Wai Nong, Vice President of Sports Bureau Lam Lin Kio, and Head of Sales and Marketing, Hong Kong Cluster, Madame Tussauds Hong Kong's BoBo Yu and Senna Fernandes herself.
Pandemic-related restrictions meant just 35,850 people visited the Macao Grand Prix Museum in 2022. But numbers have improved with the ending of travel curbs. The first quarter of this year alone saw 24,150 visitors. Senna Fernandes says the museum's future looks bright, with its full calendar of family-friendly activities, workshops, and special events for the rest of 2023.
Visitors can now be assured of a welcome from some of the greatest names in racing. The Macao Grand Prix Museum figures don't just immortalise the racers themselves but Macao's own deep-rooted connection to motorsport. "This is very much an important step for Macao," says Senna Fernandes.
---
Immortalised in wax
Ayrton Senna da Silva (b.1960, d. 1994)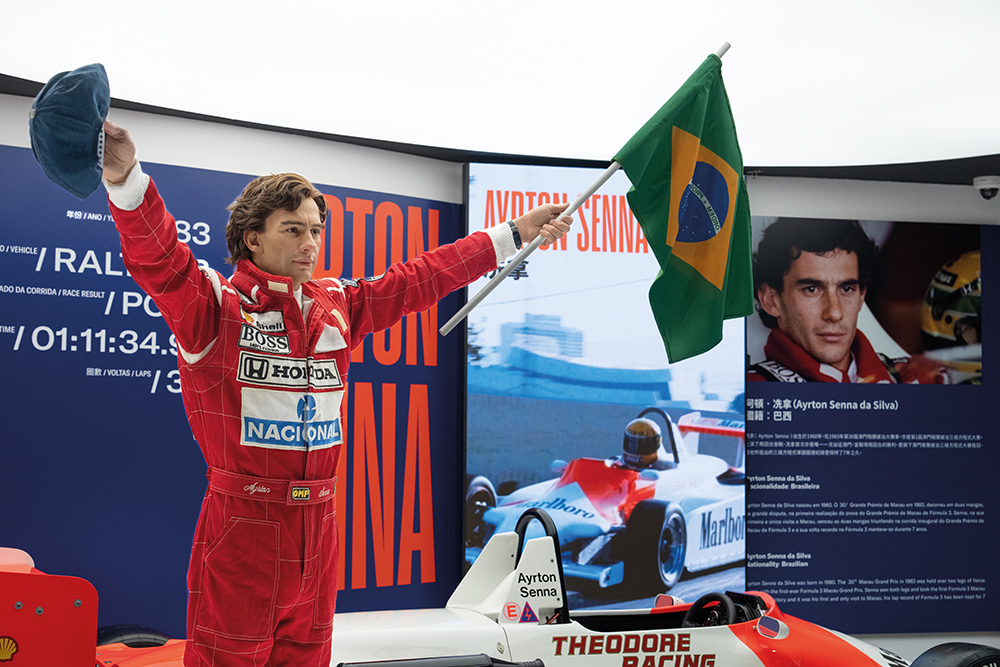 The late Ayrton Senna is one of motor racing's greats. The Brazilian started go-karting when he was 13 years old and made his Formula 1 (F1) debut in 1984. In Macao, he is remembered for his remarkable race at the Macau Grand Prix inaugural F3 race in 1983 – his last F3 season. He was invited by Theodore Racing to drive their iconic Ralt RT3 after winning the British F3 title. Senna went on to win the race before he joined the F1 team, Toleman.
Lewis Hamilton (b. 1985)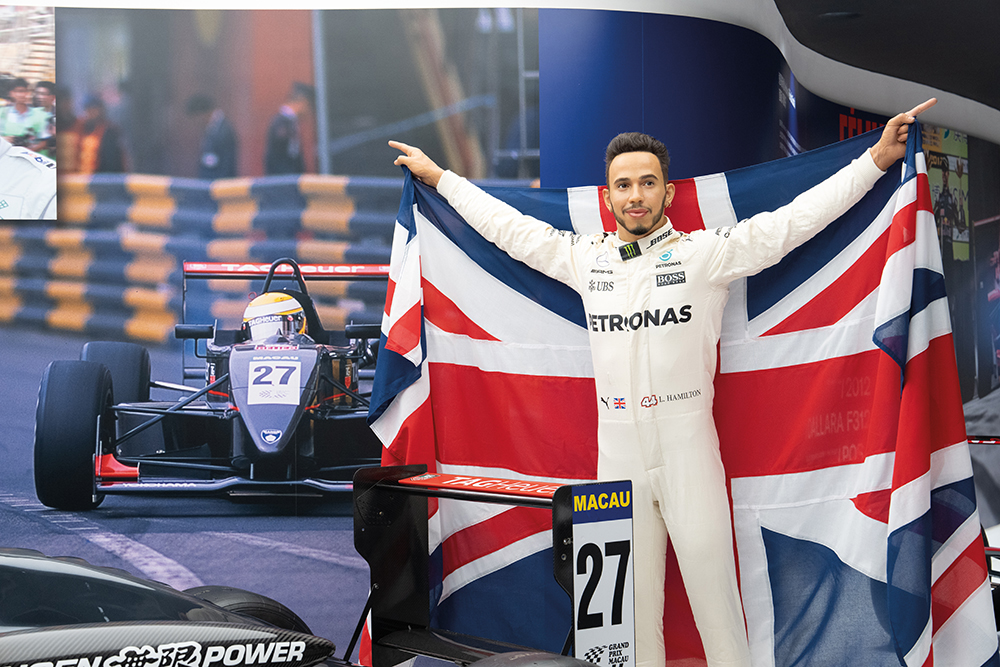 British racing driver Lewis Hamilton has won seven F1 World Championship titles, a record jointly held with German racing legend Michael Schumacher. Hamilton raced in Macao twice, in 2003 and 2004, before becoming the first Black driver to win an F1 race – a feat achieved in 2008. The Brit's first Macao race ended with a tire puncture that forced him to retire early after leading the group in the opening laps, but he managed to finish in second during during the Qualifying Classification in the following year and 14th at the race.
Sebastian Vettel (b. 1987)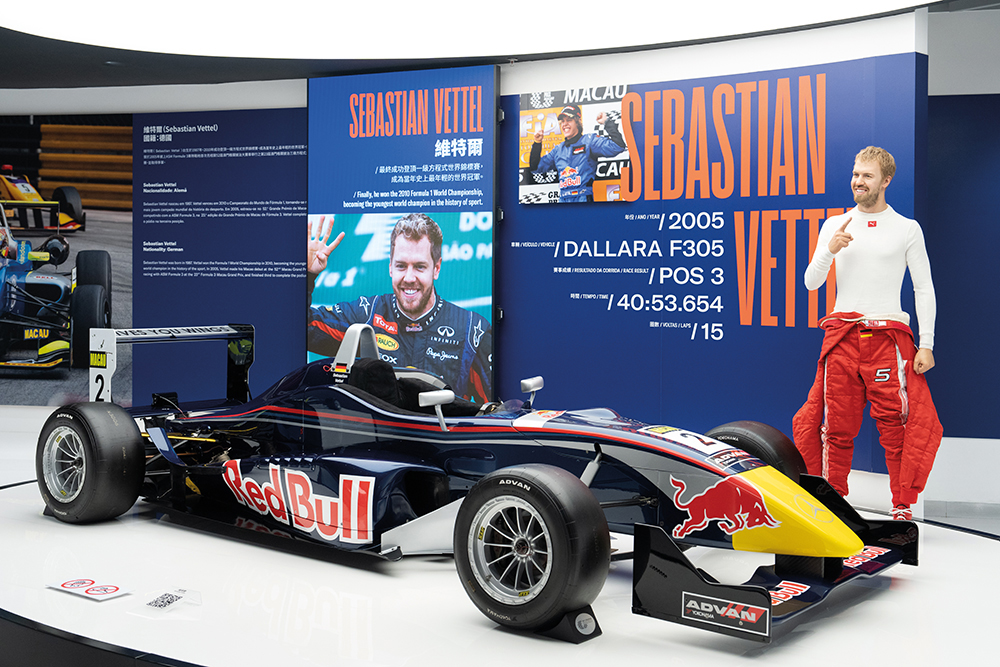 Four-time F1 World Champion Sebastian Vettel made his Macau Grand Prix debut in 2005. The recently retired German driver was racing as the favourite, but came in third place. In 2010, a 23-year-old Vettel became the youngest person to win an F1 World Championship title.
Edoardo Mortara (b. 1987)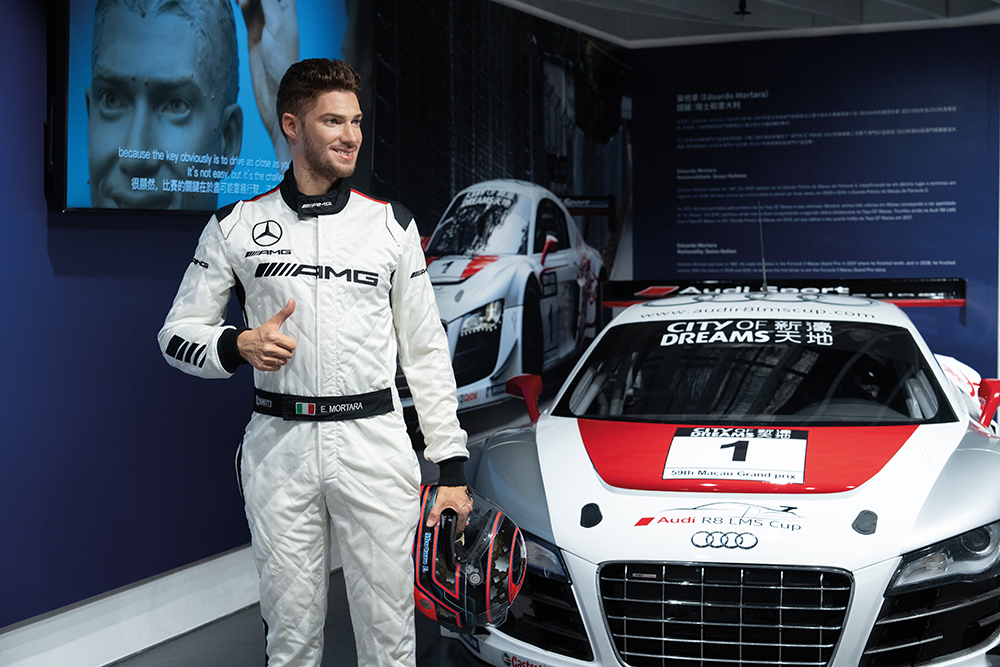 Edoardo Mortara has won at the Macau Grand Prix seven times in the Macau GT Cup race, F3 and the Audi Sport R8 LMS Cup. Nicknamed 'Mr Macao', Mortara is set to feature yet again at the Macau Grand Prix at the Macau GT Cup in a new Audi race car. During his teen years, Mortara enjoyed football and even saw himself going pro, but was set back due to an injury. The Swiss athlete tried to balance both football and karting, but in the end decided to choose racing and has no regrets to date.
Michael Rutter (b. 1972)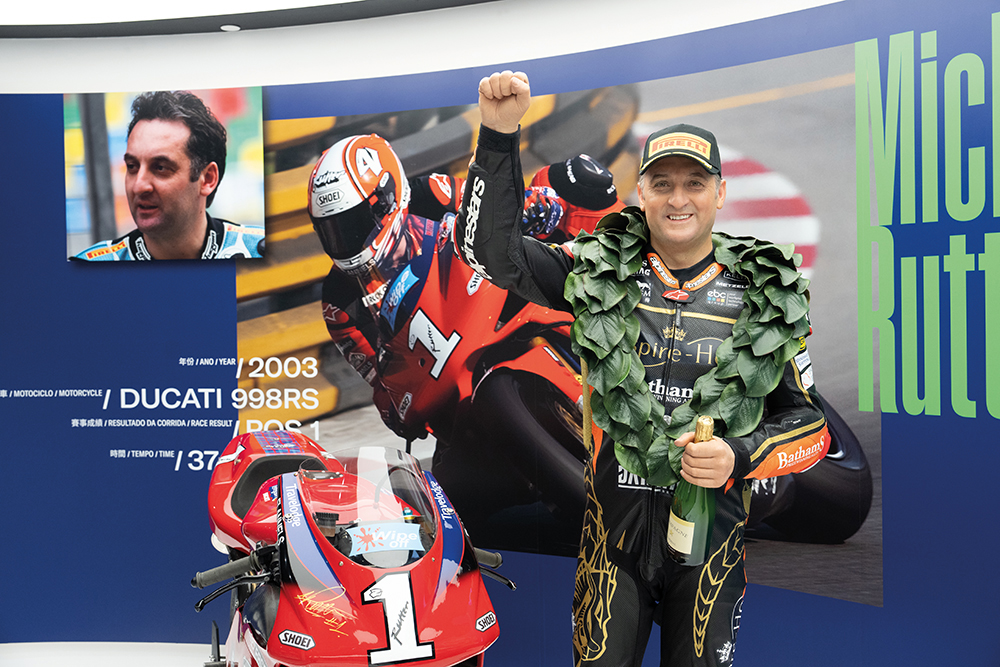 The motorcycle legend got his first win in 1998 and since then, has won at the Macau Motorcycle Grand Prix eight more times, making him the holder of the record number of wins. Rutter has also won 29 British Superbike Championship races, most recently in 2010.
Robert Huff (b. 1979)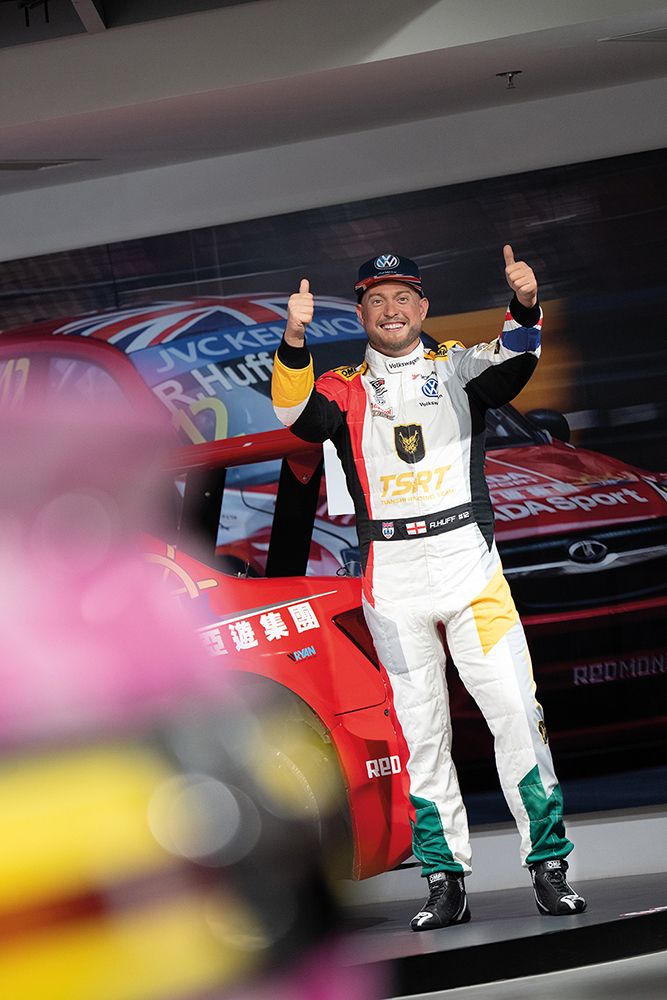 Huff is a well-known competitor driving for Zengő Motorsport at the World Touring Car Cup (WTCR). He began his career in 2000 after winning the Formula Vauxhall championship and his flair behind the wheel led him to the British Touring Car and WTCR. Huff claimed his tenth victory at the Macau Grand Prix in 2022, driving an MG5 XPower TCR.
Ron Haslam (b. 1956)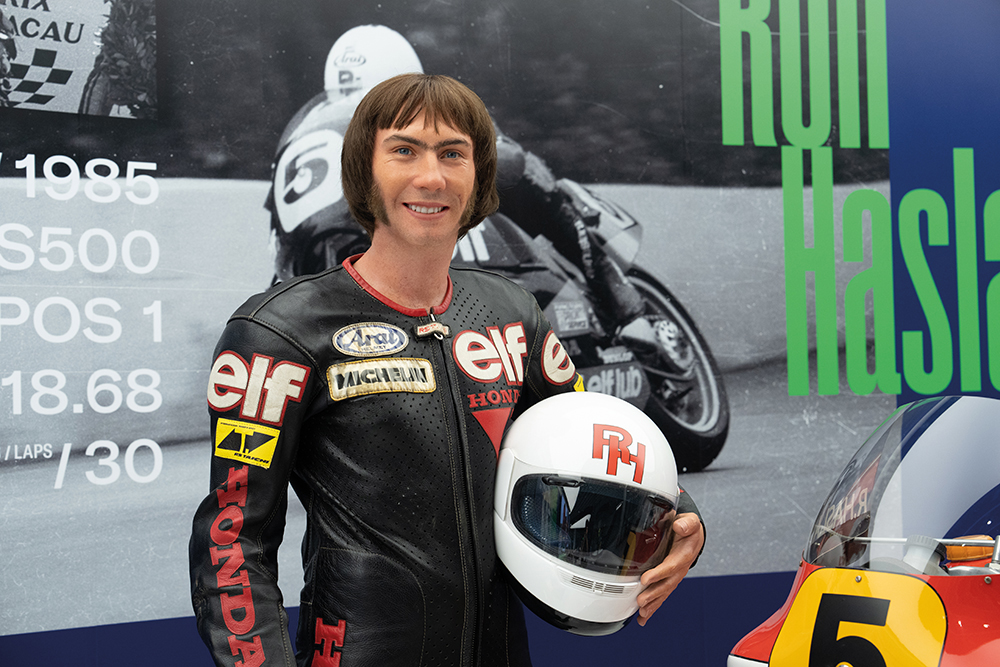 Talk about a serial winner. British motorcyclist 'Rocket' Ron Haslam won each of his six Macau Grand Prix appearances, the first in 1981. Haslam, who retired in 2004, comes from a racing family. Tragically, the sport took two of his brothers' lives. Haslam's son, Leon Haslam, also races motorbikes.
John Macdonald (b. 1936)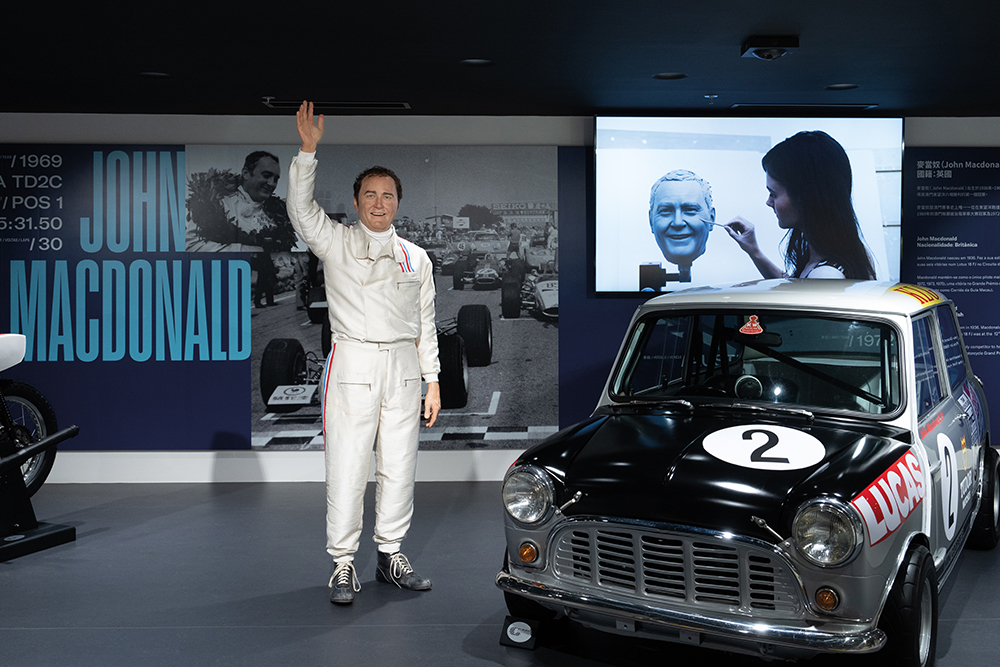 British driver who raced for Hong Kong, John MacDonald accumulated six wins in all three headline races on the Guia Circuit Macdonald remains the only competitor to have won all three headline races on the Guia Circuit, with four Macau Grand Prix wins (1965, 1972, 1973, 1975), a win in the 1969 Macau Motorcycle Grand Prix, and victory in the first running of the "Guia 200" in 1972 (which is now known as the Macau Guia Race). That made him the Macau Grand Prix's most victorious driver for a time. To this day, MacDonald is still the only racer to win all three international events: the Macau Guia Race (previously known as Guia 200), Macau Grand Prix and the Macau Motorcycle Grand Prix.