Macao has long embraced its East-meets-West heritage, celebrating each beautiful layer of diversity that has emerged over time. And nowhere is this more apparent than in Taipa Village, which has transformed from a fishing village and fireworks manufacturing hub into an epicentre of lifestyle, dining and culture.
The village's modern cafes and boutiques sit side-by-side with historic architecture and businesses, from the now-defunct Iec Long Firework Factory to the Taipa Houses-Museum, a Portuguese church, Chinese temples, and traditional eateries.
Among the local icons of Taipa Village is Pastaria Fong Kei. Opened in 1902 by Fong Kou, a fisherman turned pastry chef, the bakery was originally a tea house. But over the course of the past century and three generations of Kou owners it transformed into the bakery that customers know and love today.
Fong Kei's sweet and savoury Chinese baked goods are a household name in Macao. Fong Kei serves a wide range of hand-filled pastries, from chicken pastries to walnut cookies, Chinese shortbread, sesame pastries and Wife Cakes (a flaky pastry filled with candied winter melon), but the signature pork-flavoured biscuits have garnered the most acclaim. These salty, crunchy bites are baked fresh daily using a secret family recipe that includes pork, fermented bean curd and sugar.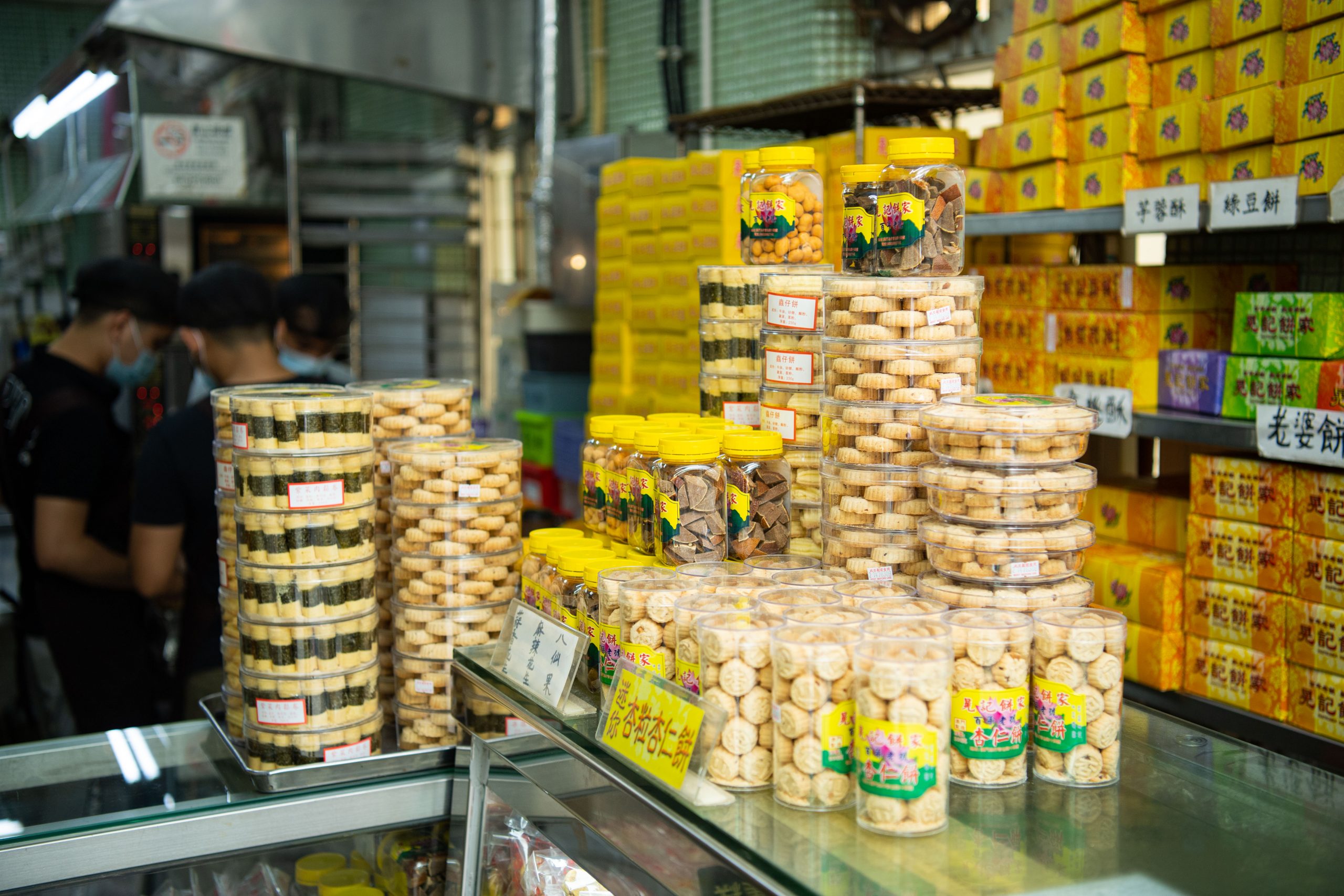 In 2016, when the Michelin Guide Hong Kong Macau launched its first street food guide, the guide shortlisted Fong Kei as one of 12 recommended addresses. Five years later, the pastry shop still holds a coveted Michelin Plate recommendation – a testament to the quality and craftsmanship of Fong Kei's creations. What's more, the Macao government added the confection of Chinese pastries to its list of Intangible Cultural Heritage in 2020 – only enhancing the bakery's significance.
"In the old days, a lot of things were handmade, such as milk tea or egg rolls. That was the norm," says Alon Kou, the current owner and grandson of founder Fong Kou, about the bakery's rising profile. "But now, people treasure handmade products because so many things are machine-made."
A century-old family business
The tiny, 119-year-old shop along Rua do Cunha feels like it's been preserved in a time capsule. At the entrance, an old-fashioned iron gate greets customers with a 'Fong Kei Teahouse' engraving, while inside, the shop features green-andwhite tiled walls and floors, ceiling fans, nostalgic photos with famous visitors, and a large black-and-white portrait of Fong Kou.
This humble, nostalgic atmosphere serves as a fitting setting for a traditional Chinese bakery.
After all, baked goods have been an important element of Chinese culture throughout history. In the early 20th century, Macao was still primarily a fishing town and many locals relied on these meat-filled, starchy pastries to fill their stomachs.
Even as Macao evolved into an international city with a thriving economy, residents never lost their appetite for baked goods. It's still common to enjoy these savoury bites as a daily snack or at festivals, wedding ceremonies and other family events.
Fong Kei has evolved right alongside Macao, having been passed down through four generations of Kou men over the past century. Today, the shop is run by Alon Kou, one of founder Fong Kou's six grandchildren. Alon took the reins in 2007, after a 30-year career as a civil servant.
"My brother [Kou Pui Kei] was about 60 and wanted to retire, so I started learning to make pastries and took over," says Alon, who is now 60 himself.
Many things have changed since his grandfather and father ran the bakery. "In the old days, we cut the biscuits with a large bamboo tube and the tea house opened at 3 am every day," says Alon. "Many Taipa residents and staff from the fireworks factories enjoyed afternoon tea here during their breaks. At that time, there were not many cafés. My father led the kitchen and made all the pastries. He was young and strong, so he ran everything on his own."
As the tea house industry declined, the business transformed into a pastry shop in 1972. That was two years before Governor Nobre de Carvalho Bridge opened, becoming the first bridge to connect the Macao Peninsula and Taipa Island. Thanks to the bridge, more residents from central Macao visited Taipa, and business picked up as a result. "I was only 10 in 1972, but I still remember that moment," he says.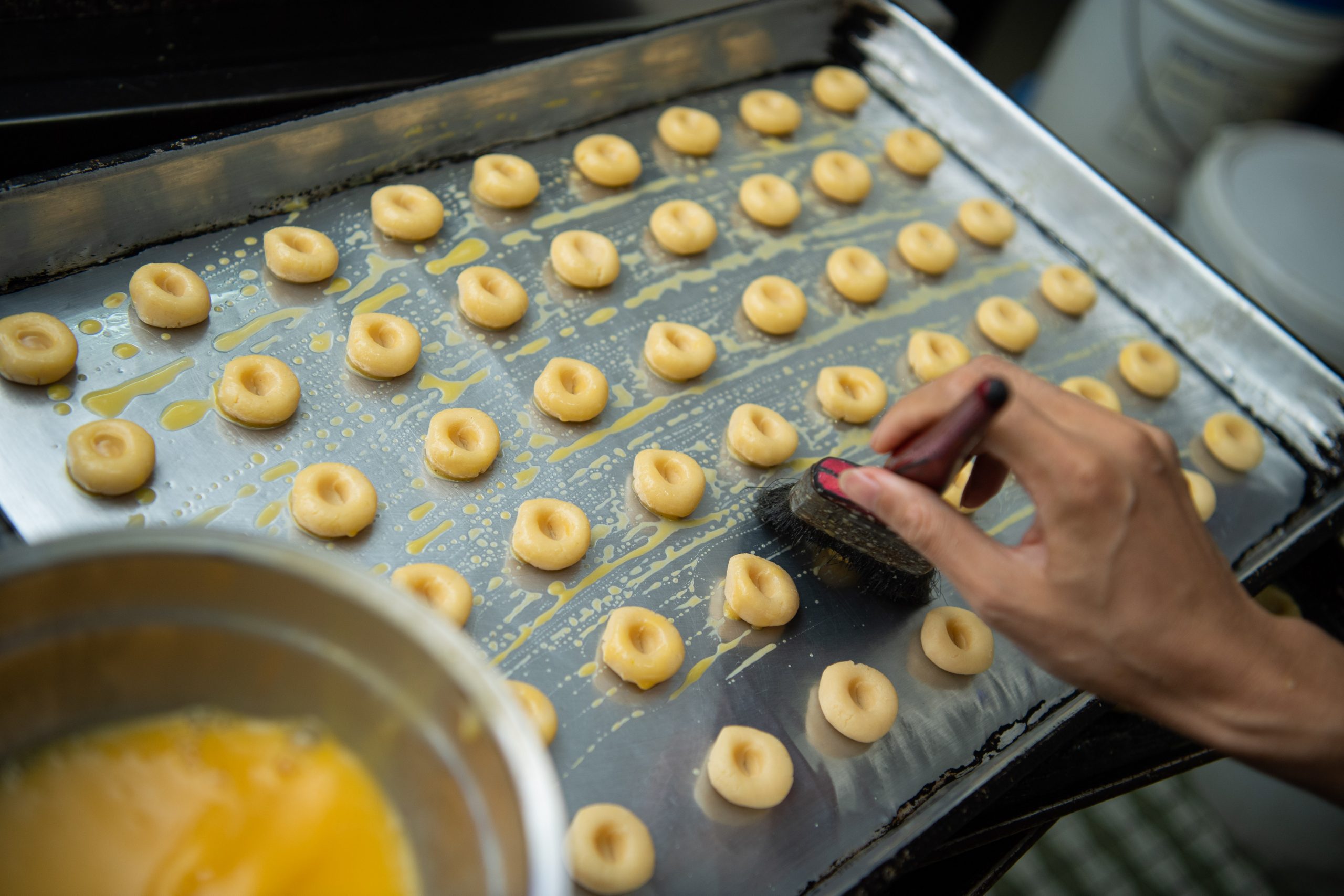 The fourth generation
While Alon manages the bakery, his son, Tedmond Kou, is hard at work upstairs in the kitchen. Donning a flour-splattered apron, the 26-year-old joined the family business in 2017 at the age of 22, right after earning a bachelor's degree in Business Administration at Boston University.
When Tedmond joined, his uncle, Kou Pui Kei, taught him to make pastries. "We didn't have step-bystep, fixed lessons where I could learn each type of pastry one at a time," says Tedmond. "Whatever my uncle needed that day, I had to learn the recipe and all the skills on the spot."
Over the last four years, Tedmond has been practicing the art of Chinese pastries and he now manages 15 kitchen staff. "Every morning, I start around 8:30 am. I am the one who makes the dough, which is divided into smaller pieces so the team can create various kinds of pastries … my mother helps make some fillings, so she starts earlier than me," he explains, adding that so many women in the family including mothers, wives, sisters and aunties have been instrumental to the bakery's success over the years.
With so many family members helping out, each bag and box full of baked goods is truly a labour of love. "It takes two days to make the pork flavoured biscuits. On the first day, we make the dough and let it sit in the fridge overnight, then cut it into slices the following day. Otherwise, the dough would be too soft to cut."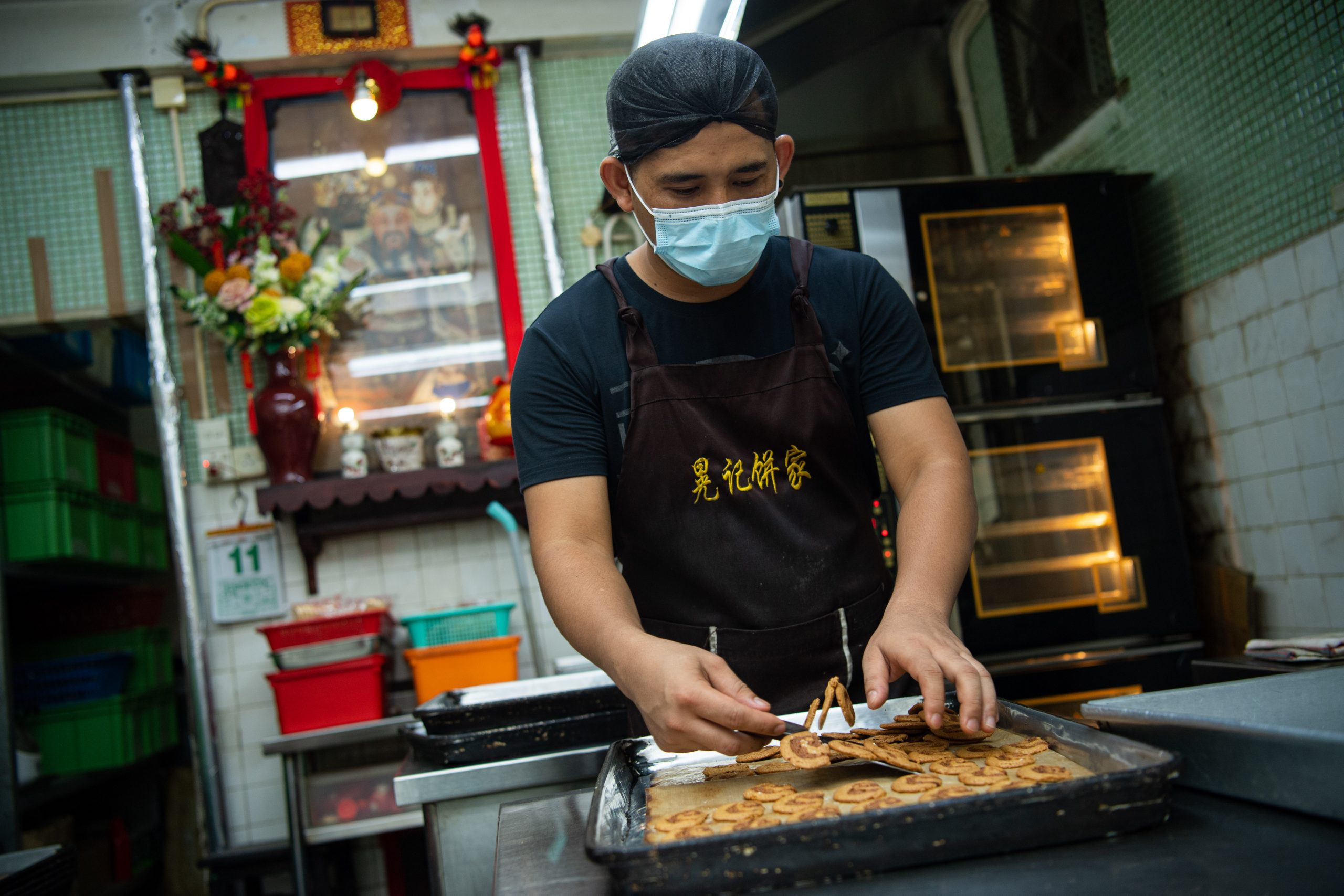 Among all of Fong Kei's pastries, Tedmond says the Chinese shortbread is the most difficult to master. "Our recipe, which has been handed down through generations, does not specify the exact amount of flour needed. You have to feel the dough with your hands until it's spot on."
Tedmond, who will eventually take over the bakery from his father, Alon, says he feels a sense of responsibility to keep the business and traditions alive. "It would be a shame not to continue the business; I would feel guilty," he says.
But it's hard work – and not everyone is cut out for it. "When I started, it was challenging. There is no air-conditioning [because it is an older building]. Every day, I used to sweat a lot and sometimes I would ask myself: Why don't I get a 9-to-5 job in an air-conditioned office? But now I am used to it. And when I hear and see people enjoying our pastries, I feel a sense of achievement."
Of course, the pandemic has thrown another challenge their way. "When it was busy [in 2019], I had to make dough for six hours non-stop," says Tedmond. "Now, business is quieter. I make about six or seven pieces of dough every day." Each piece of dough is enough to make a few hundred chicken pastries and around 1,000 slices of pork-flavoured biscuit slices, he adds. What's more, Tedmond estimates the shop's business has dropped by 80 per cent, and they currently produce about 10 per cent as many pastries as they did pre-pandemic.
But Tedmond says he is thankful for government support. Even before Covid-19, Tedmond says the government;s heritage preservation projects benefited the bakery. In 2019, for instance, the government named Fong Kei a 'Macau Classic Brand' along with 11 other shops as part of efforts to celebrate homegrown establishments in operation for more than four decades. With help from the government, the shops will be restored and rejuvenated by 2022, as of the most recent report. "During the pandemic, the government continues to promote our brand," adds Tedmond. "In addition, it launched the [consumption] benefit package and [increased] consumption."
As he readies himself to take over the bakery in the future, Tedmond and his father are committed to keeping the tradition of Chinese pastry-making alive in their nostalgic spot on Rau do Cunha. "I think it is very important to pass on such traditions. In Macao, there used to be many Chinese pastry shops but some closed down because the younger generation did not want to take over or the family emigrated," says Tedmond.
But he feels the future of Chinese pastry is very promising, especially when tourism picks up again. "Travellers often buy Macao pastries as souvenirs, which really encourages the younger generation," says Tedmond. "As for our shop on Rua do Cunha, we can't mass produce our pastries, because they are all made by hand. To pass on our craft and ensure high quality, we will keep the one and only Fong Kei in the family."
---
Did you know?
Rua do Cunha, or Cunha Street, was named after Pedro Alexandrino da Cunha, the 81st governor of Macao, in 1884. The Portuguese Navy captain was one of the first victims of cholera in Macao, and he died of the disease in 1850 – just 37 days after his arrival in Macao.
The street that takes his name became Macao's first pedestrian zone in 1983. At 121 metres long, the street features snack bars, restaurants and souvenir boutiques where tourists can shop for the must-buy almond cookies, peanut candies and egg rolls.