TEXT Cathy Lai and Mariana César de Sá
In an interview, Sports Bureau President Pun Weng Kun shared how Macao is strengthening its sports sector – from developing new facilities to organising international sports events to creating subsidy schemes to fully finance citizens who want to become professional athletes.
When you took office two years ago, the Sports Bureau set organising large sports events, training local athletes, and expanding Macao's public sports facilities as key priorities. What are the most significant accomplishments the Sports Bureau has achieved so far?
I took up the post in the first half of 2016, and have been working on several directions. Firstly, the focus has been on how to improve athletes' ability to increase their participation in international sports events. Secondly, how to increase, and improve sports facilities and venues. Thirdly, the hosting of large‐scale sports events such as the Wushu Masters Challenge. It was a challenging task as it was the first time we organised such an event, but we received support all around – from our colleagues to different parties. This year, we are entering the third year of organising this event and we feel a lot more prepared and confident after two years of hard work.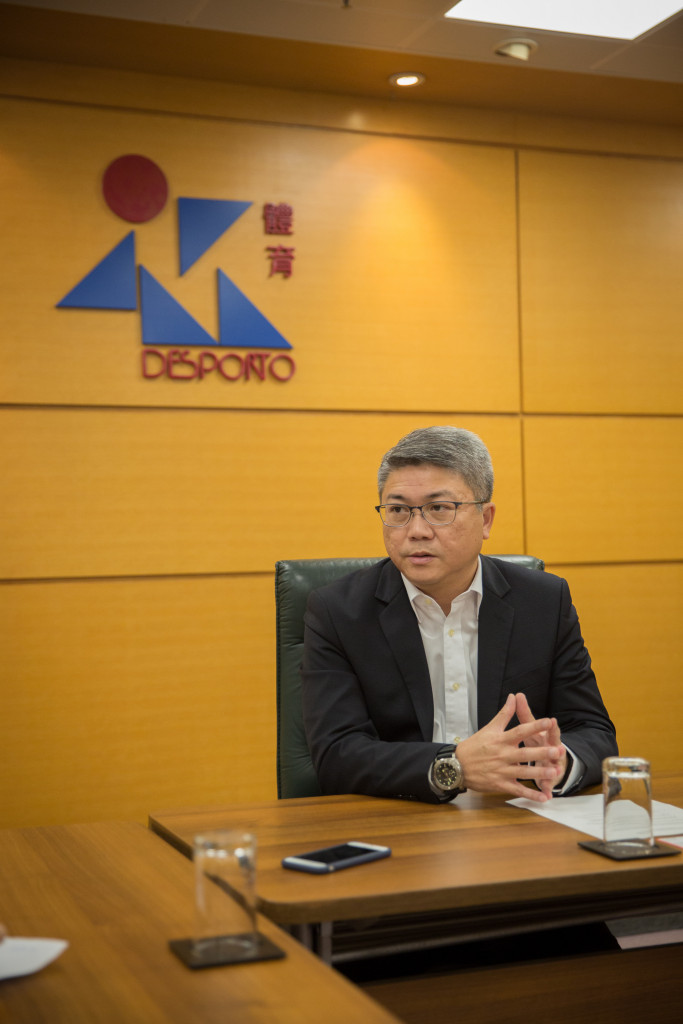 We have continuously tried to push for an increase in the number of events, be they car races or marathons, because our team members are very collaborative and professional.
By using these events as a platform, other than the sports tourism element, we also added cultural and creative elements to our events to add diversity. Also, through our large‐scale sports events, we hope to benefit different industries in Macao. In the past two years, we have noticed more businesses and industries have become involved with our events – I believe this is because each event has at least 10,000 participants and can be a great platform for them.
The Wushu Masters Challenge is in third year now. Has it grown? And will any new elements be added to make it more diverse?
When we organised the Wushu Masters Challenge the first year, we were both familiar and not familiar with it. We were familiar because we fully understood Chinese Wushu as a sport, but the question was how to link different activities together in the four‐day schedule for Macao's citizens and tourists. During our first year, we were still exploring. Now, we have reached the third year and our event has become more established and internationally recognised.
At the end of 2017, the International Wushu Federation (IWUF) approached us in the hopes of including the World University Wushu Championship at the event. This will be the first‐ever such championship worldwide.
The IWUF will be joining the championship to learn more about it and holding their board meeting during our event. This is extremely encouraging to us because it shows that we are internationally recognised and that we have been successful thus far.
You mentioned many large-scale events have included cultural and creative elements. In fact, Macao has given high‐priority status to the cultural and creative industries. In your opinion, what are the possible synergies between the cultural and creative industries and sports?
There are infinite opportunities for collaboration. Macao has a lot of young people and many of them are talented in these aspects. But in the past, they may have been hindered by the fact that there were too few platforms for them. In the past two years, they have observed that our platform, compared to others, has a larger visitor flow and the internationalism of the events is significantly higher. Whether it is for the products from the cultural and creative businesses, or other goods, these events are able to attract more people to visit or purchase their products. These events also serve as a showcasing platform to the world.
How is the Athletes Training and Formation Center progressing? Are there any updates the Sports Bureau can share with us?
The Macao athlete‐training centre is a building that many people in the Macao sports circle
have wanted. However, the centre's construction is still in progress; we estimate that the first phase will be completed by October 2019. Of course, more time will be needed for the final round of completion, but by then we will be able to enter and use the training centre, which will be able to benefit more athletes.
Could you give us an overview of the centre, details such as what types of events can be held and what kind of trainings can take place?
Our training centre has three major functions. The first is the training stadium, which contains what we call "large spaces." These spaces will provide better conditions for all types of sports. Another element is the dormitory for athletes; we plan to be able to accommodate 300–400 athletes in this space, and of course a canteen will be included. We will also have a Sports Medicine Centre, which will be located in the training centre – we will have doctors specialised in sports medicine along with research experts.
The Sports Bureau is negotiating with the University of Macau to utilise its facilities. Has the Sports Bureau reached any formal agreements?
Yes, most of the sports facilities on the Hengqin campus havebeen open to the public or sports associations to use through the Public Sports Facilties Network– even their football and athletic fields will be solely managed by us. We will allocate the time slots for school trainings and for the Macao football team, for example.
In the past two years, we have noticed more businesses and industries have become involved with our events.

Pun Weng Kun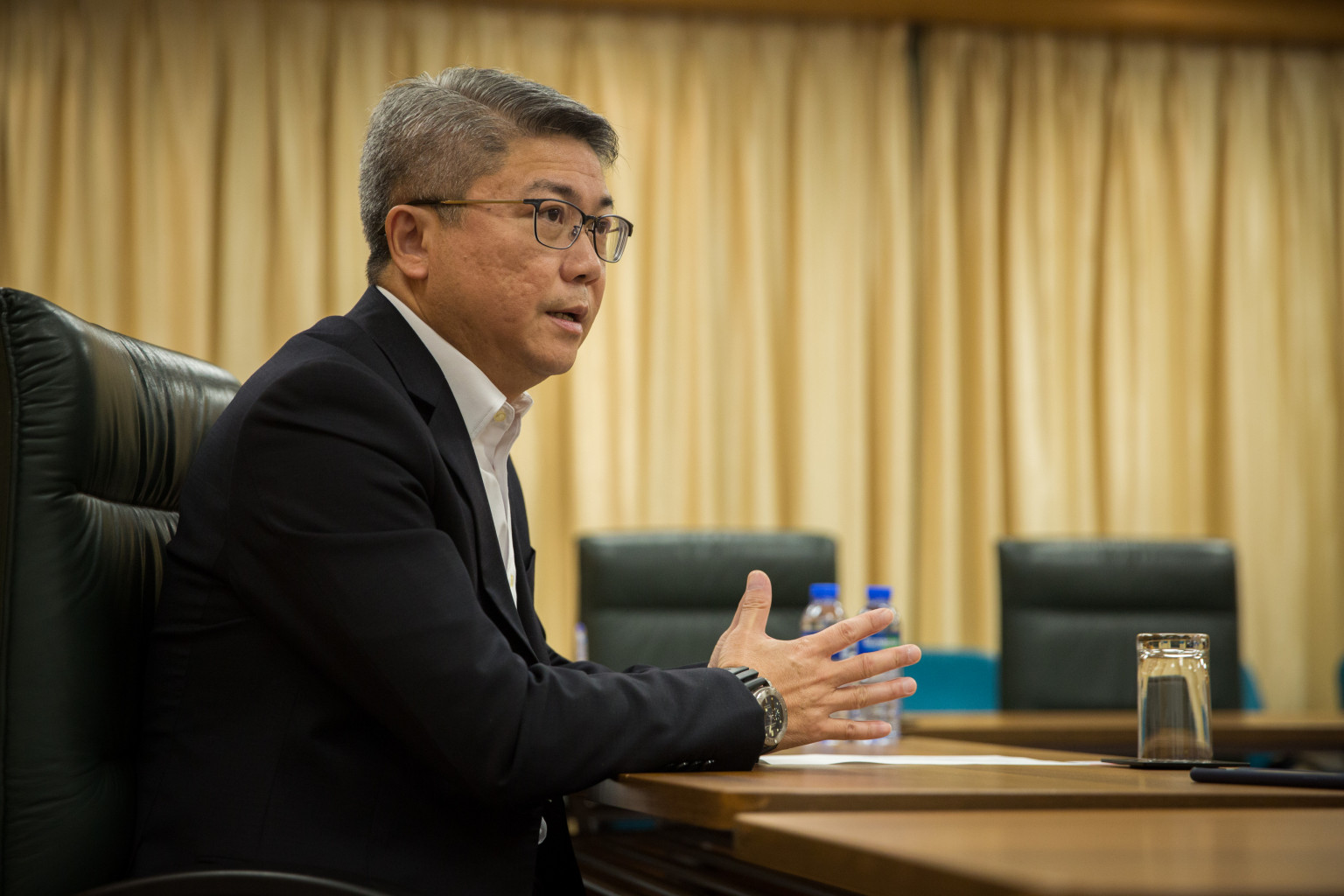 Will the 2018 Macau Grand Prix in November see significant changes?
This year, the Macau Grand Prix is celebrating its 65th anniversary. We will have six races; three out of the six are world cup events, including Macau Formula Three Grand Prix with the FIA Formula Three World Cup, and the FIA GT World Cup.
We also have the Guia races, which we used to call WTCC but now call WTCR [World Touring Car Race] and the final round of the championship, which will also be held in Macao, because of the historical significance of the circuit here.
We have also prepared a series of celebration events such as branding November as the
Car Racing Month. We will be continuing our auto show at Tap Seac Square while also adding new activities for parents and children. We hope to engage children from an early age to encourage their interest in Macao's car races. We are planning some opportunities for participants to get up close to the Guia Circuit, maybe by organising some running events. We have never tried this before and we are still in the planning stages.
Could you please share more information on the activities for parents and children?
We would like to develop a simulation of the Guia Circuit for children at the Tap Seac Square. We have prepared some cars for them to experience it first hand. Parents will be able to join them
in this simplified racecourse too. It's a concept under development but we hope that every citizen in Macao, no matter how old they are, be they adults or children, can participate and celebrate the 65th anniversary of Macau Grand Prix.
The FIVB Women's Volleyball Nations League has just ended – has it fared well? Do you see any room for improvement at this event?
Macao has been organising women's volleyball competitions for 18 years and every year has also improved. In 2018, the format of the International Volleyball Federation changed and with it, the name also changed.
Before, competitions were held over a three‐day weekend but from this year onwards the competitions will be held on Tuesday, Wednesday, and Thursday. When we started, we thought holding the event on weekdays would be challenging, but the results surprised us. Competitions held on weeknights attracted more audiences to watch onsite – especially during the last day of the event, it was a full house – creating a very different, and significantly more optimistic, atmosphere on the courts.
How many international sports events does Macao participate in and will this number increase? Do local athletes face any challenges when competing abroad?
It is hard work for Macao athletes as many of them are amateurs. They train or attend competitions after school or work, but the Sports Bureau has tried to be supportive to every sports association to encourage them to participate in different international competitions.
It's hard to estimate the number of competitions we have attended; on 18 August this year, Macao will be participating in the Asian Games, which will be held in Jakarta, Indonesia. We have a delegation size of more than 160 athletes competing in 16 sports. We carefully selected these 16 sports. Our technical committee selects the attending athletes based on their performance during their trainings and international competitions. We have expectations, but also don't want to put too much pressure on them.
What does the Sports Bureau envision for Macao's future sports development?
There are two aspects of Macao's sports development: one is competitive sports and the other one is sports for all.
We have a grand mission for sports for all. We hope to attract more citizens to participate in sports, which can help improve their health. We hope to encourage athletes, if they can, to become full‐time athletes during their golden period, or almost full‐time athletes.

Pun Weng Kun
As for competitive sports, we are actually facing great challenges. Macao's population size is small; to select elite athletes is not that easy. Unlike other countries with millions or hundreds of millions of people, we only have hundreds of thousands of people. Luckily, Macao athletes work very hard. In some particular sports, they can be more outstanding, and we try to give them resources to better support them. For example, for sports like martial arts, diving, etc… where athletes show greater potential, the Sports Bureau is willing to train them full‐time and provide them with full support.
What type of support can the Sports Bureau offer citizens who are interested in becoming full-time athletes? Can you provide some examples?
One plan is to support current athletes; we allocate allowances according to their competing level. For an athlete new to the training team – mostly made up of youngsters – we are talking about an allowance of a few hundred dollars per months, we hope this allowance will encourage them to keep it up. For other athletes we are talking about MOP20,000 (US$2,475) or 30,000 (US$3,717) per month. This allowance is solely for them; the Sports Bureau still fully covers coach fees and outbound trainings.
We often say that an athlete's golden period is not very long and wonder, what should they do after retirement?
We offer a subsidy scheme for retired athletes. We hope to encourage athletes, if they can, to become full‐time athletes during their golden period, or almost full‐time athletes. Upon their retirement, we provide some perks for them. For example, after their athletic careers, we hope they can pursue advanced studies, hopefully go back into universities. We will cover their tuition fees for the duration of their university degrees. We will also continue to provide them the allowance they received prior to their retirement. We fully subsidise them. We hope they don't have to worry much about their living costs, and they can pursue a university degree, which can provide for a better future life.