TEXT Hélder Beja
Carlos Marreiros' architecture firm has been selected to design the new Macao Central Library. "It's an important project and also a pleasure to contribute with such a building to my hometown."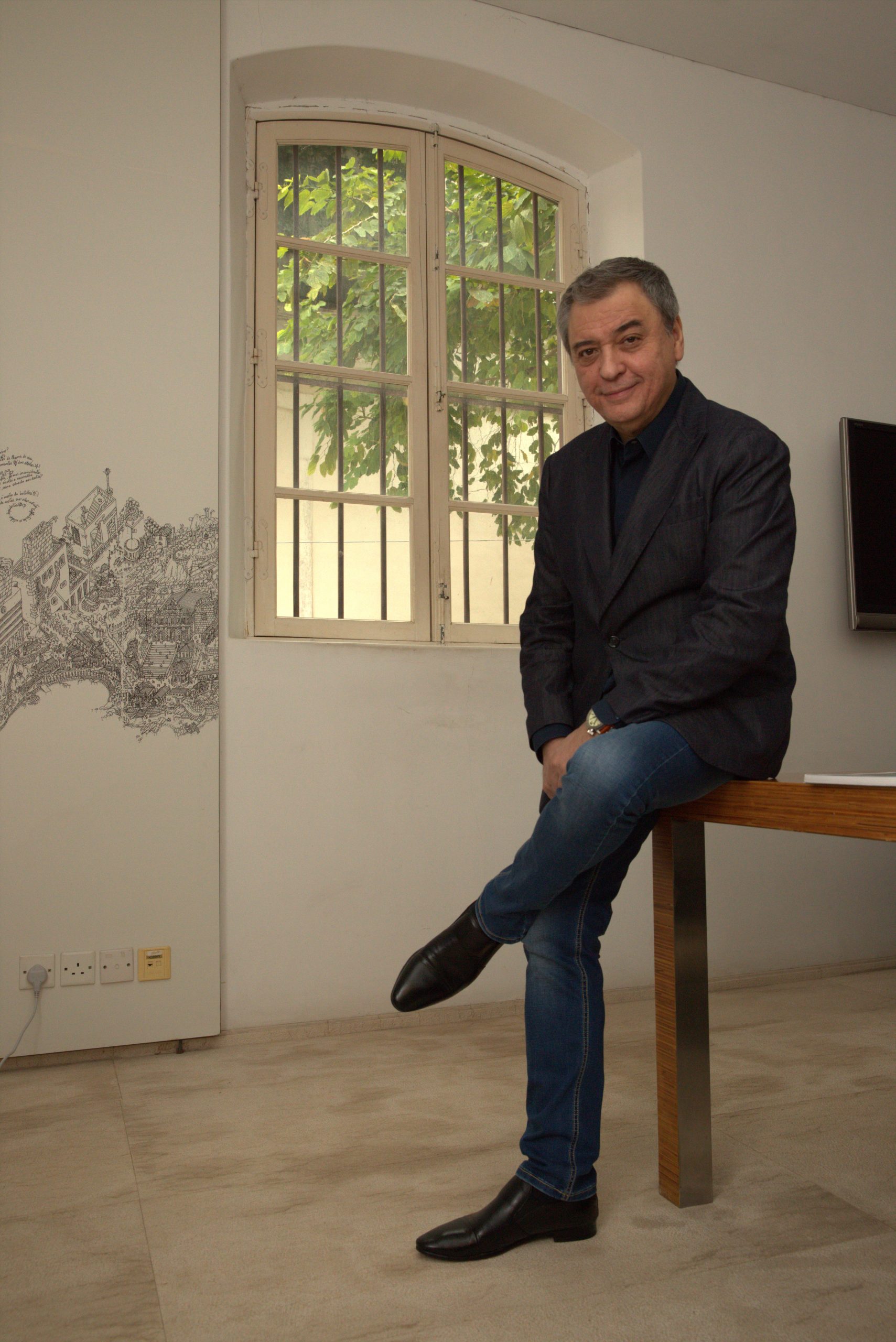 "I have always imagined Paradise as a kind of library," wrote Argentine poet Jorge Luis Borges in his "Poem of the Gifts." Designing such a paradise, with all of the particularities and functions of a library, is no small task. Local architect Carlos Marreiros, a confessed lover of books and literature himself, is taking up the challenge in 2019. He leads the team that will design the new Macao Central Library during this year, an 11-storey building meant to change Macao's cultural landscape and bring new life into the city centre.
Macao's new Central Library will be formed by the current Old Court Building, the former Judiciary Police headquarters, and a brand new structure that will bring all three pieces together and rise to a maximum of 45.8 metres. Marreiros' architecture firm, MAA Marreiros Architectural Atelier Limited, won among nine bids accepted by the Macao government, presenting a cost of MOP18.68 million (US$2.3 million) and a design period of 268 days.
"We had three main aspects to take into account here: the characteristics of the lot, the urban context, and the pre-existent heritage building," said Marreiros, sitting in his offices in the São Lázaro district.
"As you know, the land there is quite sloppy, rocky, and it moves from Praia Grande Avenue – the main entrance of the Old Court Building – to Rua Central, where we can find the former building of the Judiciary Police," he continued. The lot is 3,524 square metres with a plot ratio of 6:4, a "low occupation usage of the land," according to Marreiros.
The architect sees it as a big responsibility to intervene in such a big lot, right in the heart of Macao. "The challenge was to build something which is clearly contemporary, simple, that metaphorically resembles book shelves and drawers of file archives – the organisation of knowledge through compartments – so you can share it with the people using this building," he explained. "That was the idea for the facade."
The striking facade recalls medieval structures – narrow interior apertures expanding out, deepened by the thick facade – as well as the modern architectural lines of famed Brutalist Le Corbusier's Chapel of Notre Dame du Haut in Ronchamp, France. "The constraints of developing this project with the pre-existent building are very specific," Marreiros stressed.
"I know many libraries, and have visited several, but I have no knowledge of a library that was built from a pre-existent building like this," he remarked.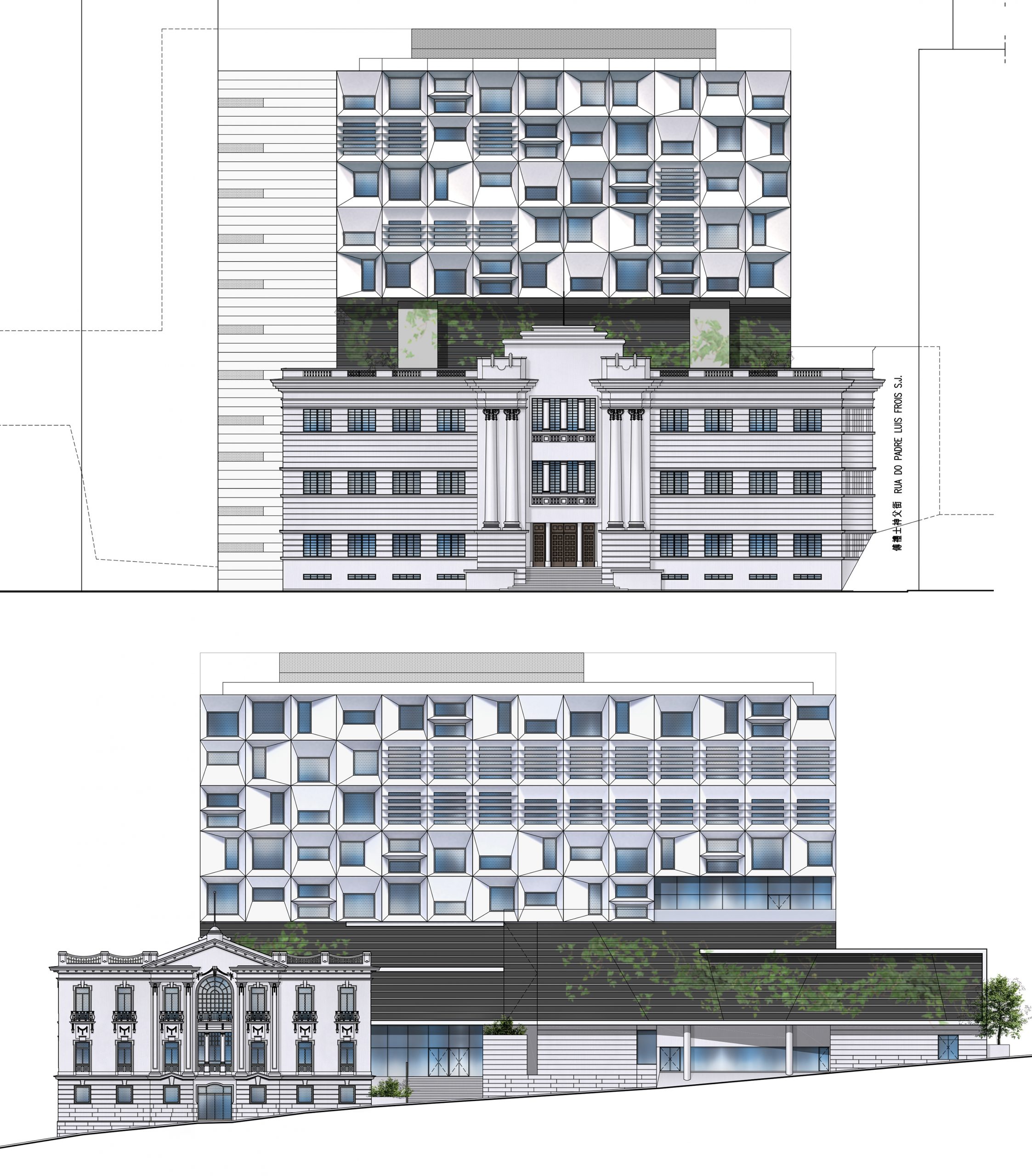 Blending old and new
Carlos Marreiros had one thing very clear from the beginning: "We wanted to do a very simple building. Sometimes architecture should be more joyful, colourful – speak a little bit loudly to be noted – but there are times when you don't need architecture to speak so loudly; it can be contained."
Marreiros and his team steered away from added colours and LED lights in favour of developing a more nuanced visual interest. "Our idea is to have something quite white, with dramatic shades and shapes, sculpted by the sun during the day and with simple lights in the evening."
The Old Court Building is "too interesting," an element Marreiros would rather complement than compete with. Besides, he said, "in that area, all the surrounding buildings are high rises, so I wanted something serene, tranquil, that has its own charm to attract people."
The architect intends to work with geometric shapes and light colours, very much in line with his Brutalist inspiration. Some elements, such as distinctive horizontal lines, appear in the existing buildings and the new construction, and two large columns will be erected to support the new structure. "These six new floors won't touch the Old Court Building," Marreiros noted, "we'll build them with a technique called cantilever, projecting and sustaining the new building."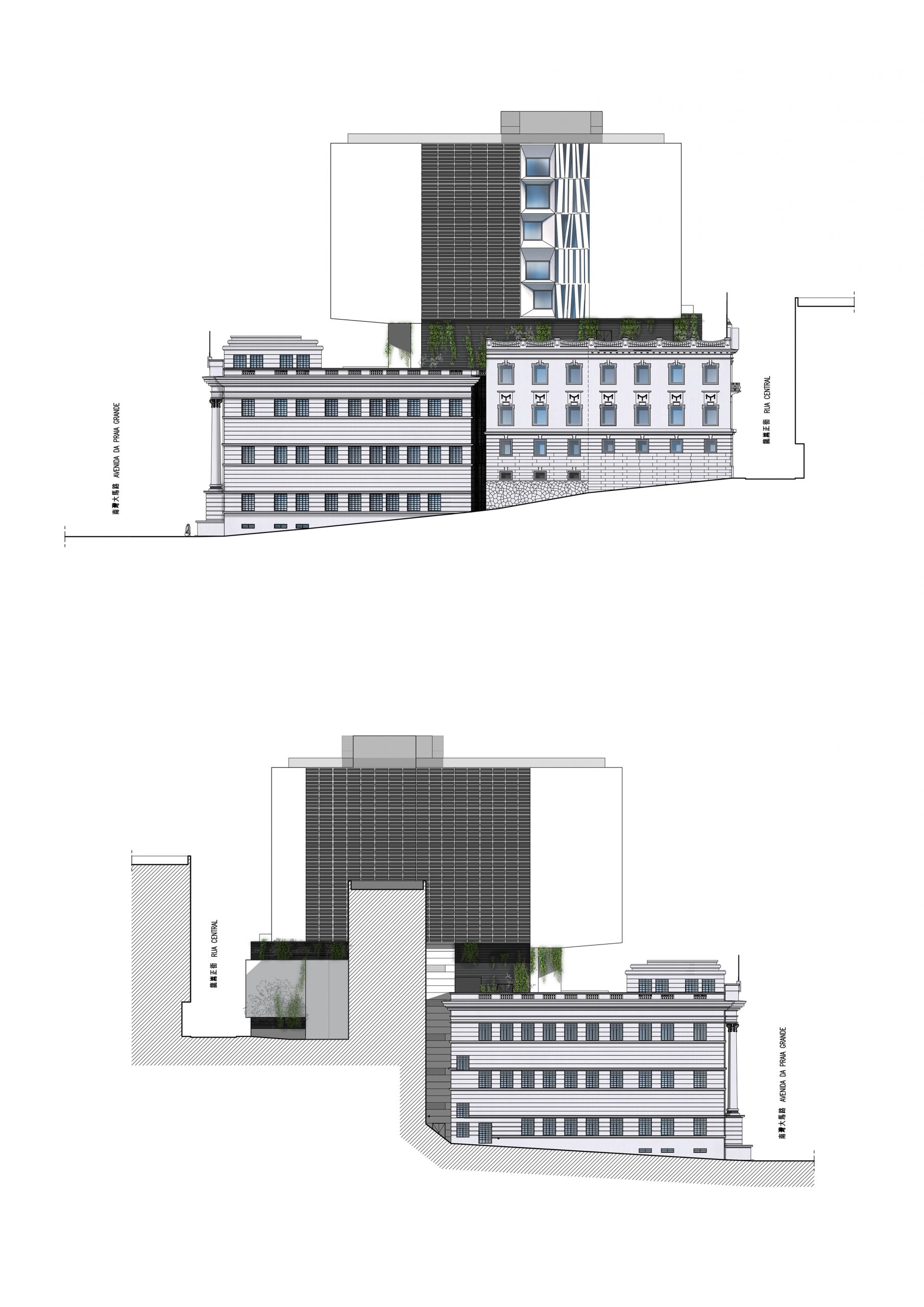 Touring the different floors of the architectural project while checking his pile of papers on the table, Marreiros kept pointing out different elements: rooftop gardens, photovoltaic panels, escalators in dramatic positions to give a sense movement and, in the middle of it all, a large atrium that will serves as the "new heart" of the building.
While the old Judiciary Police building is expected to be demolished, the winning project for the new Central Library "can protect around 80 per cent of the pre-existent Old Court Building," according to Marreiros, though he believes that some elements may not be worth keeping. "The staircases, for example, are amazing. But the tiles on the floor are not good enough. The facade is in Shanghai Plaster, a material used a lot because it resembled granite, and was cheaper and very fashionable, and they're great."
How much will go? "We'll see. For some things, I think we can do better."
The goal is to blend old elements and new to produce a relevant "cultural and educational building" that serves its purpose as a public good. "I hope we can deliver a good project for the pride of local people, and also an equipment in the sense that you can train young generations for free thinking, civic education, and good habits of reading."
A multifunctional library
Visitors will be able to do much more than just reading inside the walls of the new Central Library. In addition to the already announced Judiciary Police Museum, the project features recreational and cultural facilities, a cafeteria and snack bar – there's even the possibility of having a restaurant. "We've positioned it in the terrace roof of the existent building, to use the roof as an extension of the restaurant, an esplanade," said Marreiros.
The building is designed with seating for around 2,000 people. There are 1,120 seats in the reading areas and some more specialised rooms for research, plus another 800 seats in different recreational spaces – a small theatre for 300 people and rooms for interactive activities, exhibitions, and more.
"This equipment, in this part of the city, is and will be very important because as far as I know, we don't have a large, significant space for festivals, exhibitions, talks and so on. Without this, the city centre would lose a bit of its spirit. Theoretically, we could have almost 2,000 people inside if all the seats are used, but then you'll have people moving around, so it will be more than that. We will further study the circulation around and inside the building," he added.
Part of the library's circulation of people will run for 24 hours a day, with a part, accessing from Rua Central, that will always be open. "We haven't studied it," he admitted, but statistics gathered from the Patane Library showed "that the reading habits of the local population are good, even during the evening." With that in mind, the government included a demand for "a 24-hour area, easy for surveillance and without having much staff" in bids for the project.
Regular business hours will feature a much larger staff at the new library: "They expect to have 120 to 130 workers – this ratio is quite interesting, having one staff for every 16 users." Marreiros hopes they adopt a "very informal" management style for areas used by kids and young adults, citing the Centre Pompidou in Paris as a good example.
He also applauded that building's architects, Renzo Piano and Richard Rodgers, for their take on Brutalist design. "They showed all the services as part of the architecture speech: they didn't hide the aircon boxes, they didn't hide the ventilation, the cabling and so on; they've used them, they gave them a new importance, and most of the beauty of that building is precisely the services."
Their approach, while challenging to some, resulted in an iconic piece of 20th-century architecture that nonetheless conveys to visitors "the idea of informality, like a train station. This was in the 70s," Marreiros reflected. "I went several times to Paris to see the evolution of that building, it was one of my passions."
Books and architecture are two passions Marreiros is now able to combine in this library project. For 268 days, a team of 40 to 60 people – plus external experts for some specific matters – will be working on deepening the design studies. "This is only a preliminary study, now we'll detail a lot," he added. If all goes according to schedule, the public tender for construction could be launched by 2020.
During the long and complex building process, the architect hopes that the Old Court Building can keep being used by local artists groups, as it is now, something he believes to be possible if the construction works are planned phase by phase. In the future, Marreiros would like to see the Central Library still being used by local theatre troupes and other artistic groups. "I think that concentrating different art forms and activities at the library is very good," he said.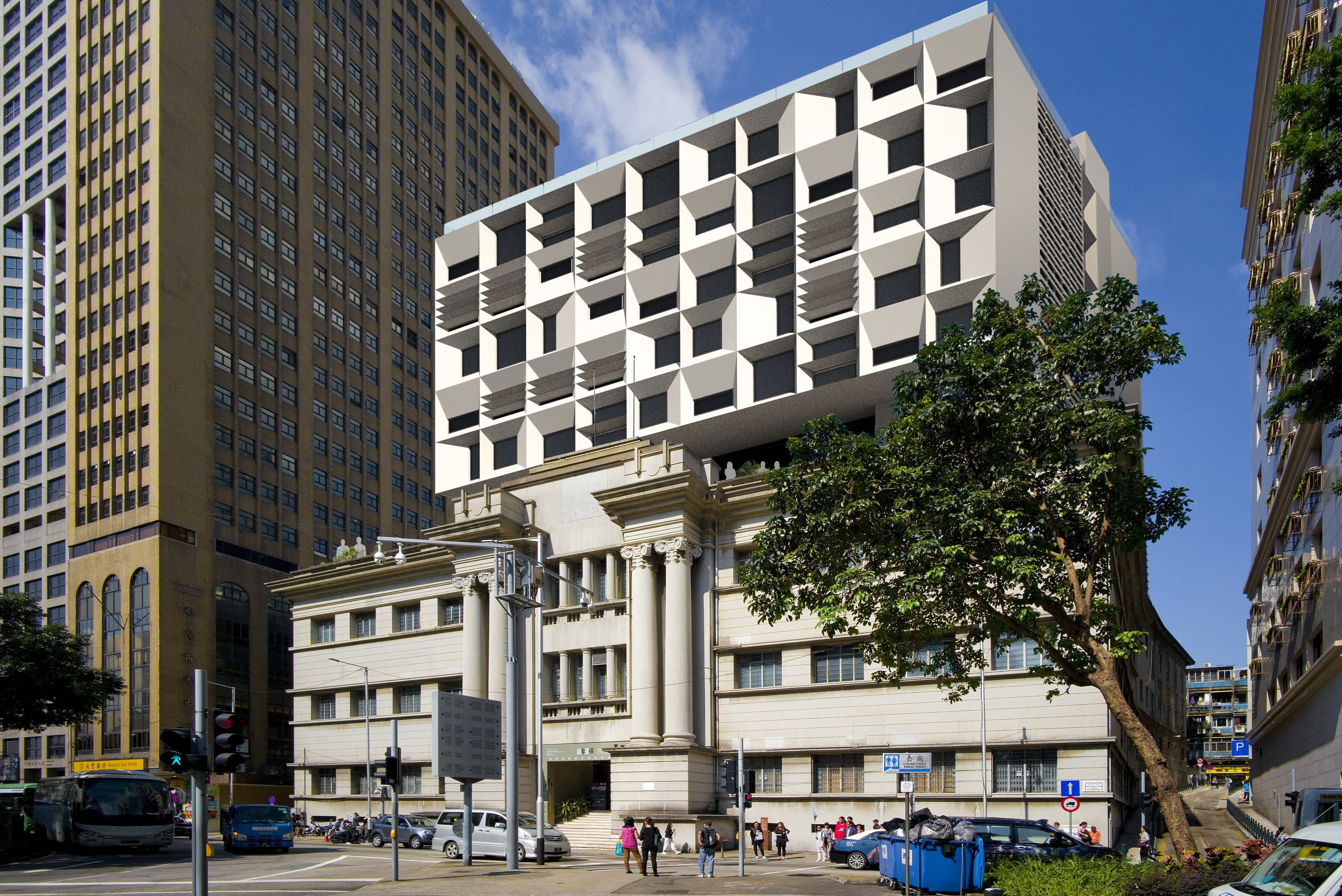 Working with a team that is 100 per cent local makes Carlos Marreiros "proud" and that is something he can't stress enough. That and the pleasure of conceiving such a landmark as the new Macao Central Library. "Sometimes you may do a very large building, but not a very interesting one. Everything about this one is very interesting – it's an important project and also a pleasure to contribute with such a building to my hometown."